2015 India News Archive
2015 India News Archive
All Women Bike Rally Event On the Occasion of International Womens Day at Thane - News and Photos
16 March 2015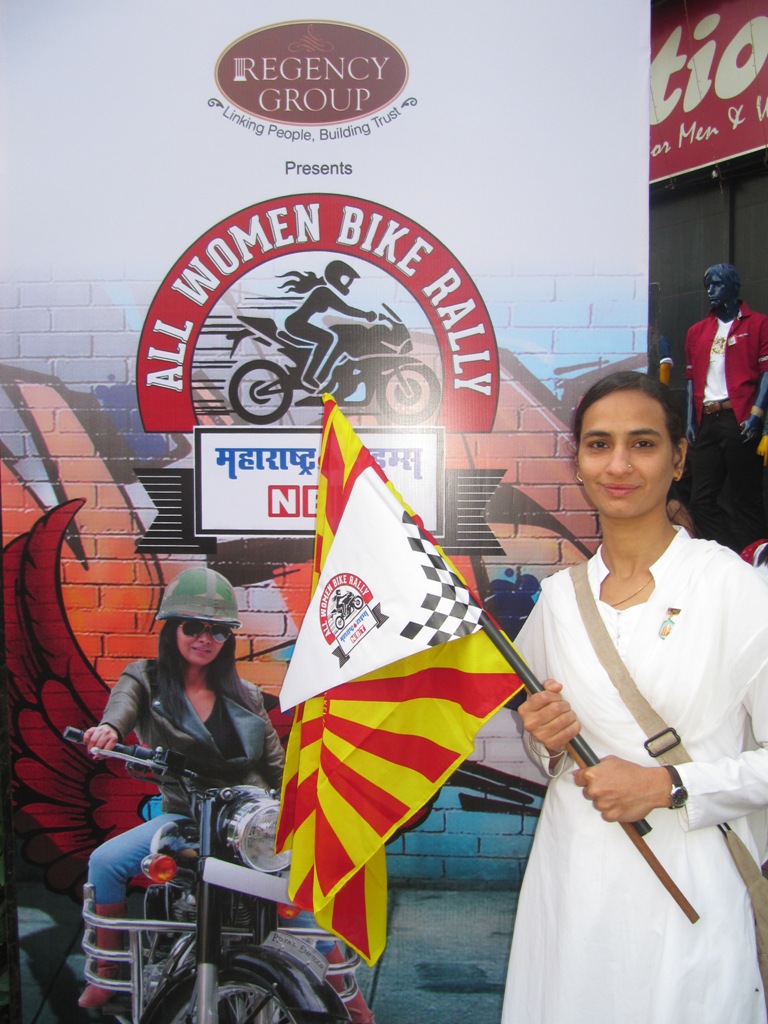 On the International Women's Day, in the city of Thane, Navbharat Times organized a "All Women Bike Rally" in which women participated with a lot of enthusiasm. 10 girls from the BrahmaKumaris also participated in the rally with each one holding a Baba's flag in their hand. Actors Ayushman Khurana and Bhumi Padnekar started off the rally by waving a green flag. Each participant of the rally also received a certificate of participation.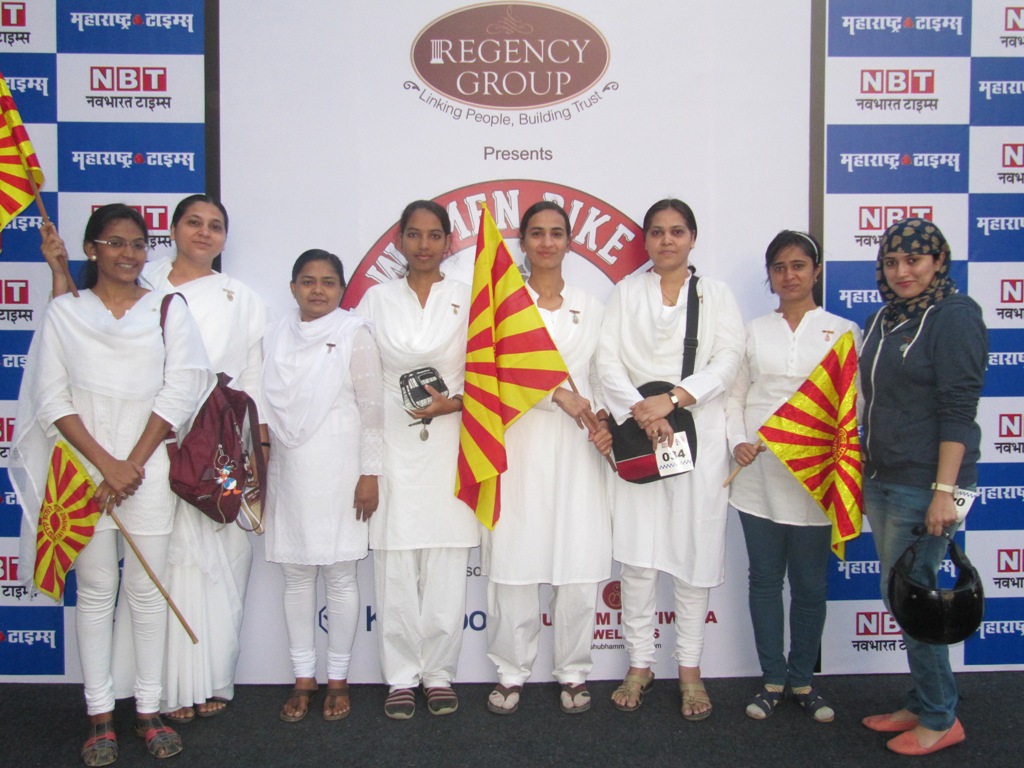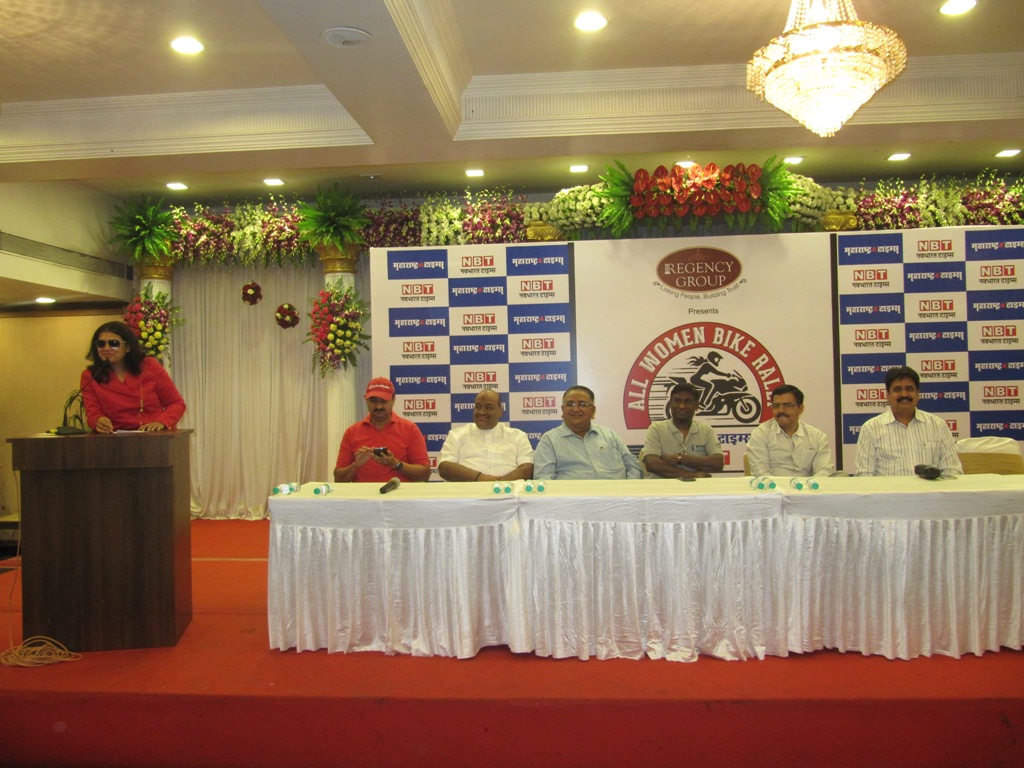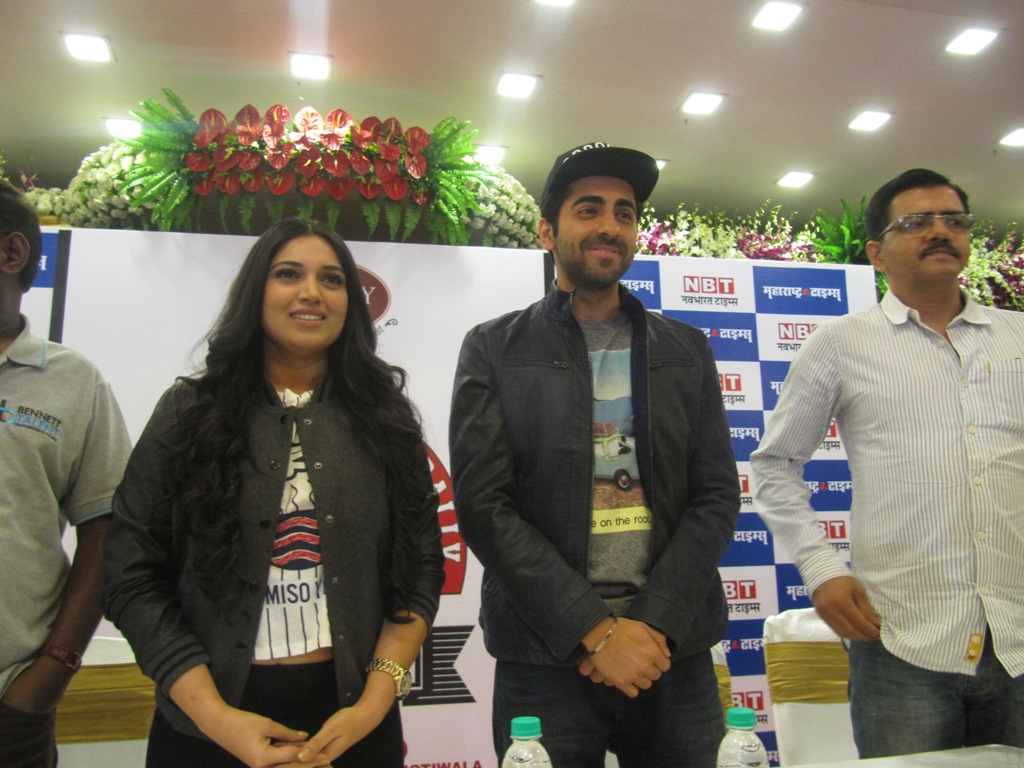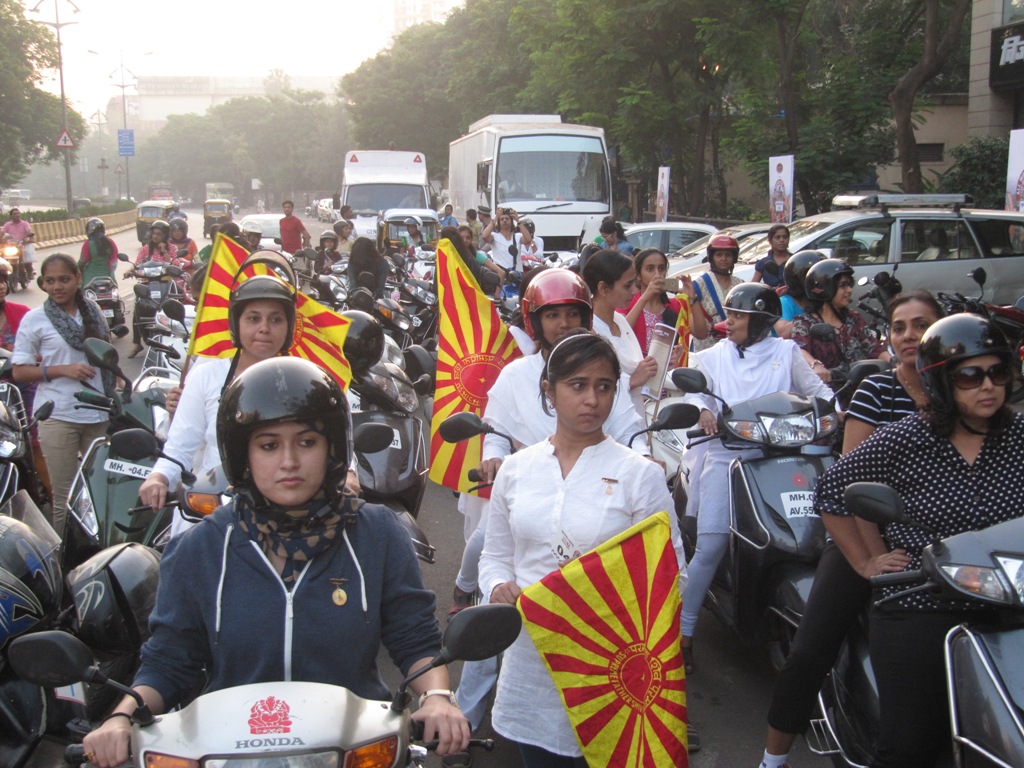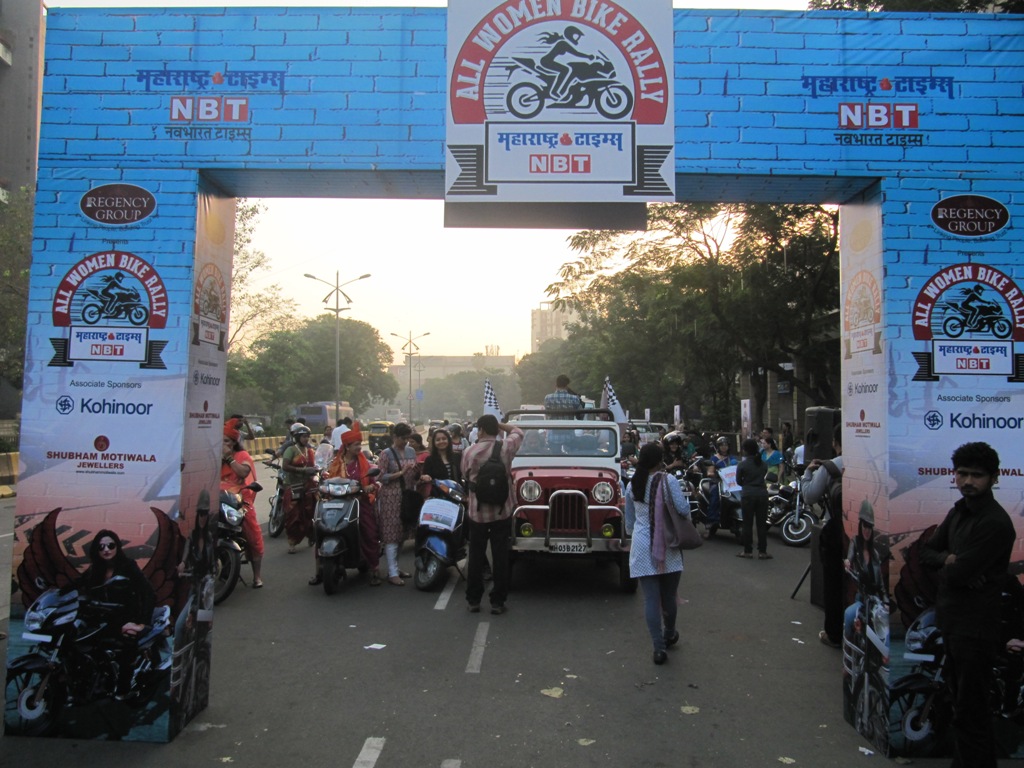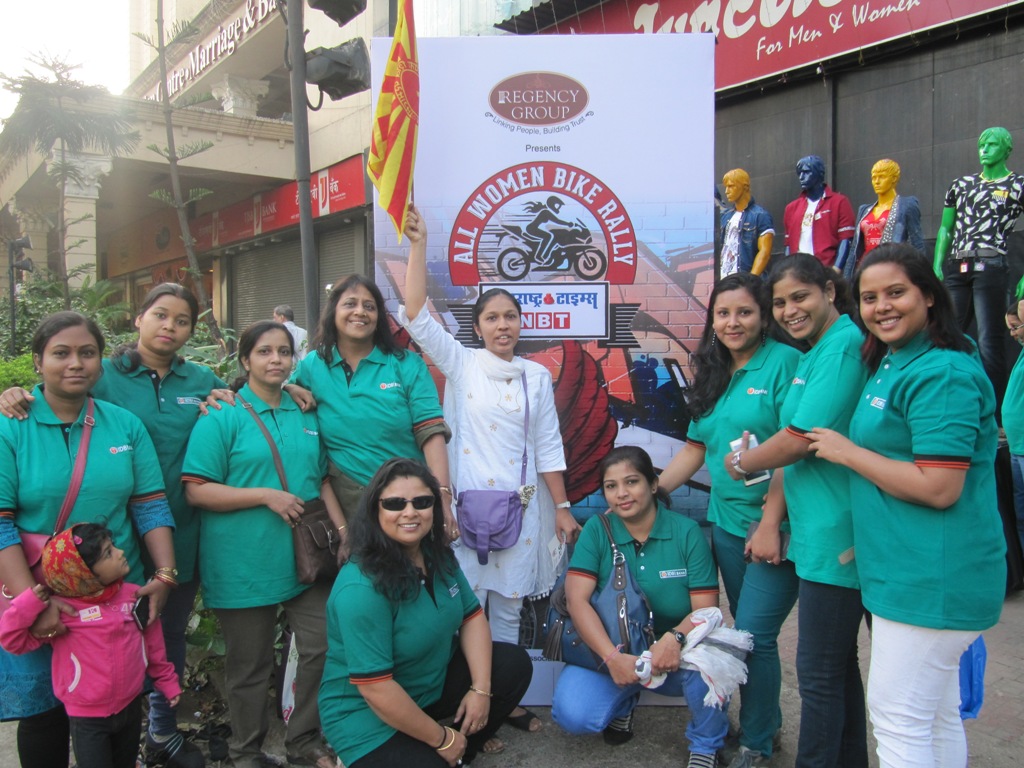 Governor of Haryana and Punjab Inaugurated National Media Seminar in Mohali (Punjab) - News and Photos
13 March 2015
Dear Divine Brother/Sister,
Governor of Haryana and Punjab, His Excellency Prof. Kaptan Singh Solanki Inaugurated National Media Seminar at Mohali(Punjab).
Please find attached photographs and press news in hindi and English for your information.
International Women Day
GOVERNOR LAUDS ROLE OF MEDIA IN BUILDING PUBLIC OPINION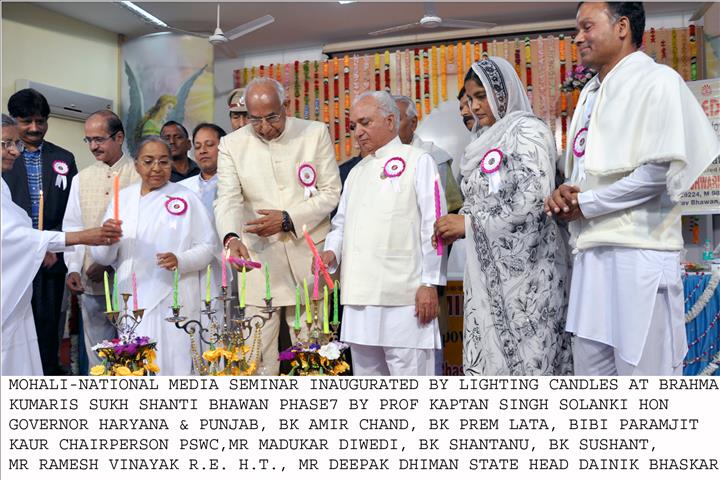 Mohali, March 8: Punjab and Haryana Governor, Kaptan Singh Solanki said here today that media can build and mould public opinion for women empowerment.
Addressing a National Media Seminar on the "Role of Media in Women Empowerment" at the Brahma Kumaris Sukh Shanti Bhawan Phase 7 Mohali, Solanki said that public opinion can remove all vices and is most lethal weapon against all sins prevailing in the society. He said that for development of any nation, it is most pertinent to bring women in the forefront.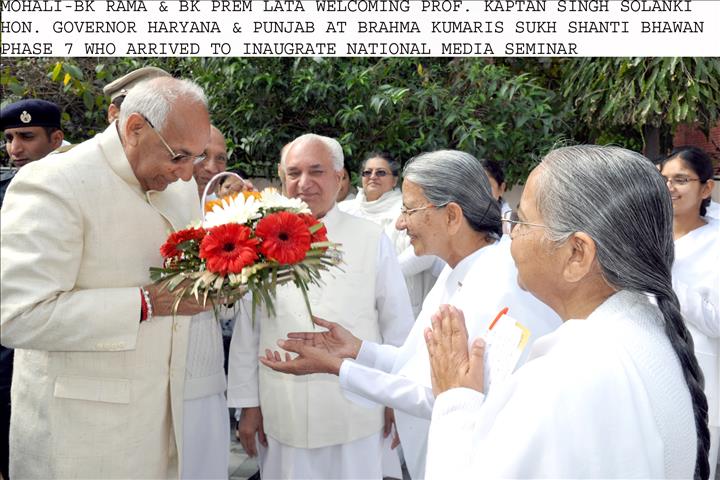 He said that our country is not a male dominated nation but a country where women are worshipped. He said that no family would be happy if woman of the house is unhappy. Let women be the change, let women be the light and let them take charge. The Governor said that for the emancipation of women in every field, self decision making, economic independence and creating awareness in them about their rights and responsibilities is very important. He said that media is considered as one of the most effective and important tool in this regard. It can work for the development of women and gender equality.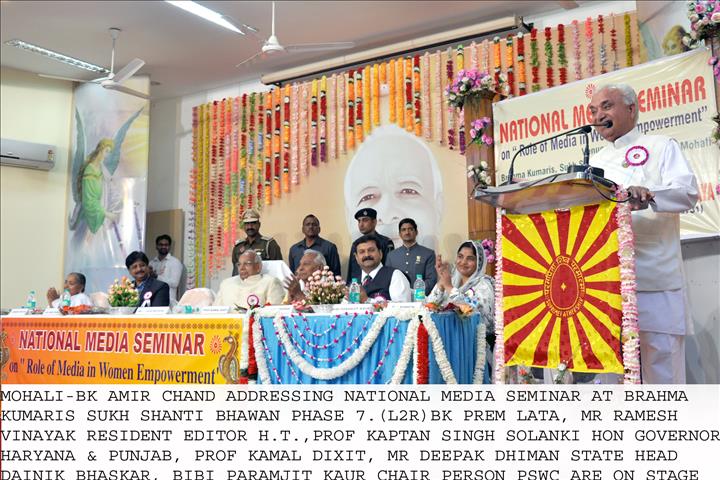 The Governor said that besides media, the state and Central government have always chalked out various programmes to empower women. He said that the Prime Minister, Narender Modi has recently launched twin programmes of "beti bachao, beti padhao" and "sukanya samridhi account" in a bid to encourage and educate girls. He extensively quoted Swami Vivekanand to build his argument for women empowerment.
He lauded the role of journalists in investigative journalism and quipped that earlier it was said that where rays of sun could not reach, poets reached there and now investigative journalists reach at a place where even poets did not reach "jahan na pahunche ravi, wahan pahunche patarkar".
In his keynote address, Prof. Kamal Dixit, Editor, Mulyanugat Media and Prof and Head Makhanlal Chaturvedi University, Bhopal said that our values have come under a question mark in present times that was perhaps the reason that there was felt the need for a seminar on women empowerment. He said that time had come when media has to take a resolve to uphold values and generate hope.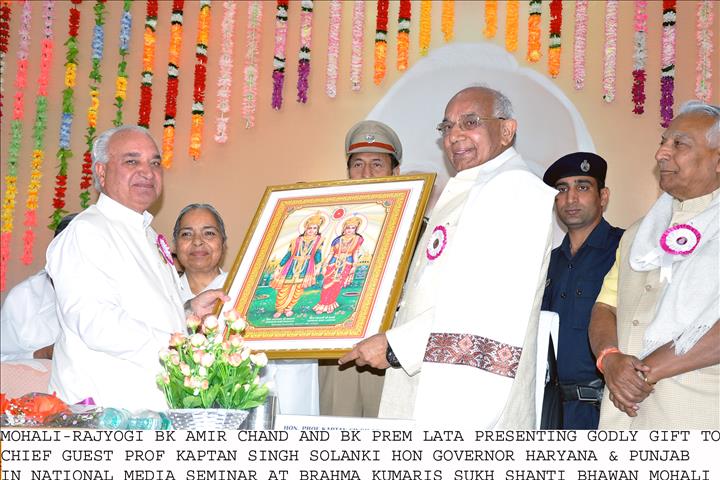 Ramesh Vinayak, Senior Resident Editor, the Hindustan Times and recipient of Excellence in Reporting Award, in his address said that "media has been playing a pro-active role in women empowerment. However, there is a need to celebrate achievements by women in all spheres, to work for gender equality. It is not just law but media that can foster women empowerment. It is media that can change mindsets". He said that women have to act as catalysts of change. Emphasizing need for women education, he said that if you educate a man, you educate a man alone, but when you educate a woman, you educate the whole generation. He said that media cannot lose sight off the fact that it is still urban centric and women living in remote villages are still living a pitiable life. He talked about more women in media and said that not many were holding important positions like those of editors in newspapers and television channels.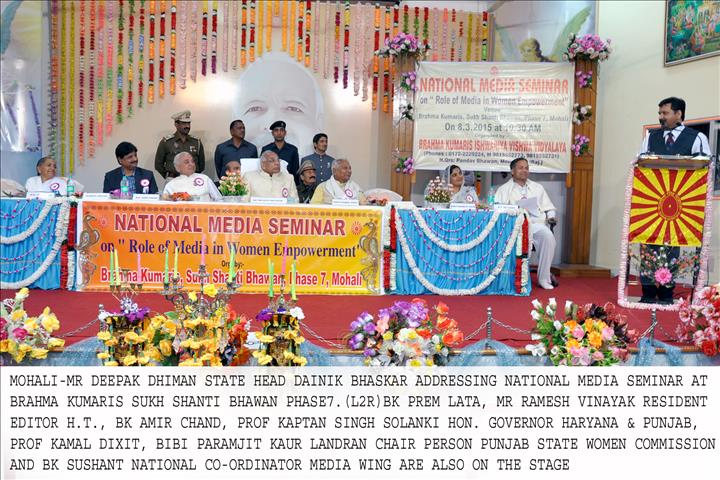 Deepak Dhiman, State Head, Dainik Bhaskar for the states of Punjab, Haryana, Himachal and Chandigarh said that media had always come to the help of ordinary people when they need intervention. He said that upright journalists had always held the fourth estate high in public esteem. He said that Danik Bhaskar had built 1000 toilets for girl students in Rajasthan schools. He said that much before government came out with an imitative concerning education of girls, Dainik Bhaskar had launched "beti padhao" movement in year 2011.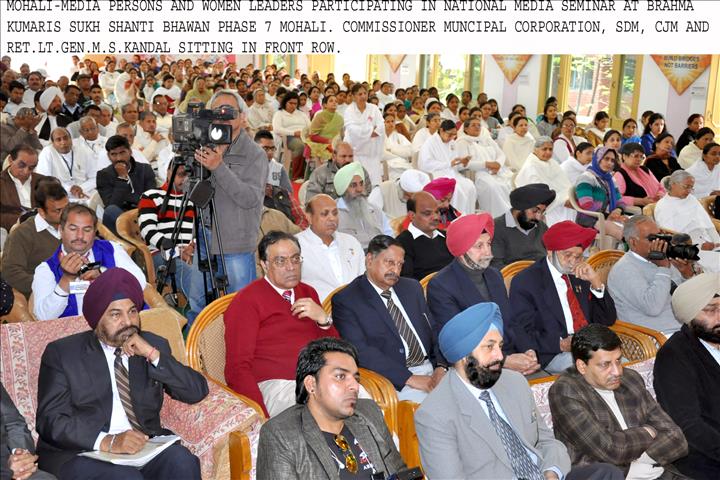 Ms Paramjit Kaur Landra, Chairperson, Punjab State Women Commission, during her address gave full credit to media for reservation of women in civic bodies. She said time was ripe for similar reservation of 33 per cent for women in State Assemblies and Parliament. She recalled that in many cases like Jesica Lal murder case and Nirbhaya case, media had aroused public opinion. She also spoke against female foeticide, dowry and other vices in the society.
Rajyogi B.K. Amir Chand, Vice-Chairperson, All India Social Service Wing said that media should try to shun negative news may be once a week to send positive vibes. He appreciated role of media in women empowerment but said that women should not be objectified as a commodity in media. They should, instead be an object of worship.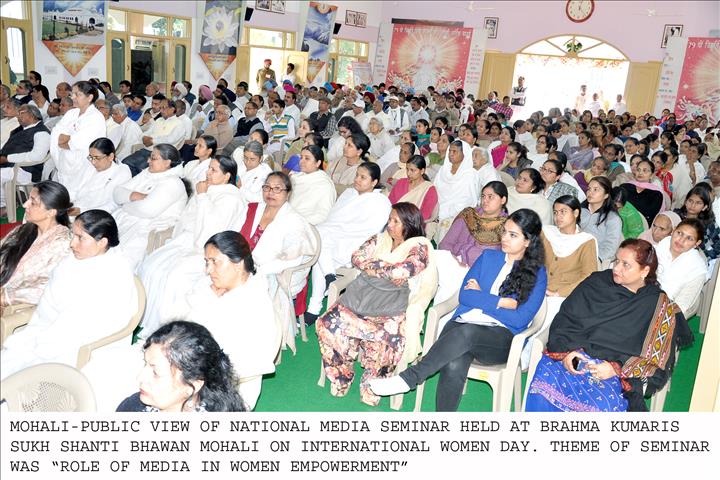 On this occasion BK Shantanu Hq. Co-ordinator Media Wing, BK Komal Co-Ordinator PM TV News Mt Abu, BK Prem Lata Director Rajyoga Centres Mohali Ropar Circle, Madhukar Dwivedi Consulting Editor Maha Medha Daily( Bhopal), Dr Uma Sharma Bureau Chief Punjab Kesari (Delhi) also presented their views in the seminar. 51 Dignitaries lighted candles to inaugurate the seminar.
Prominent amongst others who were present on the occasion were SDM Mohali Mr Lakhmir Singh, Commissioner Muncipal Corporation Mr Uma Shankar Gupta, Mr Taranjit Singh CJM, Mr S S Bains SP (Traffic), Mr Harpal Singh SP (Hqs.), Mr Ashish Kapoor SP (City) Lt Genl (Retd.), Mr M S Kandal, Col Jaswant Singh Director Paraplegic Rehab Centre, Mr P J Singh Industrialist, Brig (Retd) Avtar Singh President Senior Citizen Association etc.
Brahma Kumari Prem Lata
Click here for press release in Hindi
Click here for press release in English

Peace of Mind TV (PMTV) Now Available on Dish TV, Channel 766
13 March 2015
PMTV Team is very happy to announce that "Peace of Mind TV" can finally be seen on channel 766 of Dish TV.
Initially Dish TV will broadcast PMTV from 7.30pm to 10pm daily. You will be able to see Avyakt Baap Dada Avtaran, as well as Awakening with BrahmaKumaris featuring Sr Shivani, Samadhan featuring Br Suraj, and the most powerful Numa Shyam Meditation with Dadijis' Blessings from now onwards.
Please inform all your friends and relatives to watch Peace of Mind TV on Dish TV.
Thank you Baba and Zee Family,
PMTV Team

Value Education Centre Inaugurated in Ajmer
9 March 2015
Most Respected Brothers and Sisters,
We are pleased to inform all of you that a Brahma Kumaris Value Education Centre has been created in Ajmer. The Centre will be instrumental in imparting values and spiritual education to society in the form of values-based workshops, seminars and training programs.
The inauguration ceremony was held on the 26th February at Nawab ka Beda. The main guests were:
Rajyogini Dadi Ratan Mohini ji, Joint Chief of Brahma Kumaris, Mount Abu
Shri Arjandas H. Melwani & Smt. Minoo H. Melwani, Noted Business Persons from Hong Kong
Mr. M.L.Sharma, Industrialist, Jaipur
Shri B.L.Chaudhary, Chairman, Board of Secondary Education, Rajasthan
Rajyogi Br Mruthyunjaya, Vice-Chairperson, Education Wing, Raj Yoga Education & Research Foundation
Rajyogi Br Atam Prakash, Editor, Gyanamrit, Shantivan, Abu Road
Rajyogini Sr Shanta ji, Sub Zone incharge of Ajmer
Br Bharat Bhai, Engineer, Shantivan, Abu Road
Dr. Madhura, Architect, HoD, Manipal University, Jaipur
A beautiful cultural program was conducted by India's Desh ki Shan Group from Mumbai. About 700 people attended the program and received inspirations from Dadi Ji and the other speakers.
Thanking you and with thoughts divine,
On Godly Service,
BK Mruthyunjaya
Executive Secretary, Brahma Kumaris
Mount Abu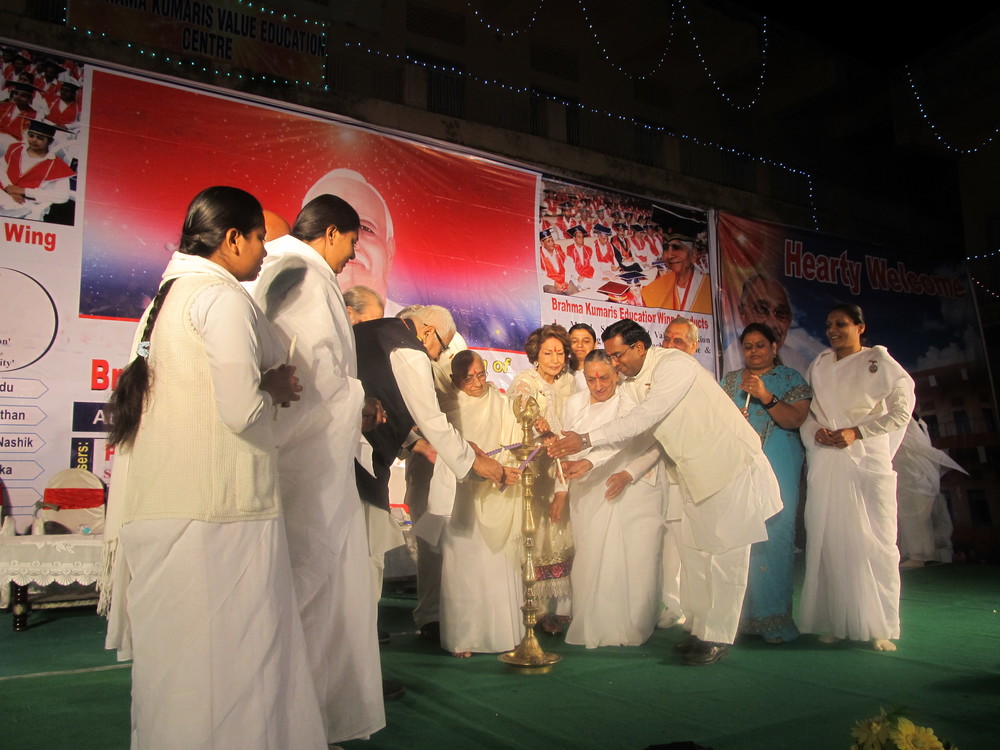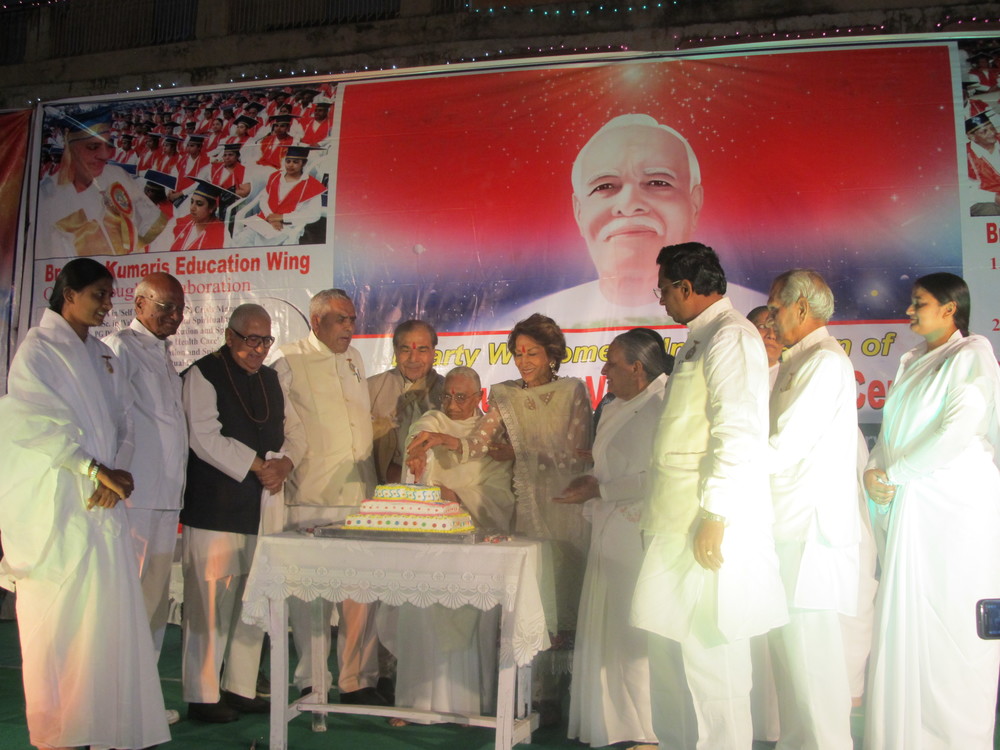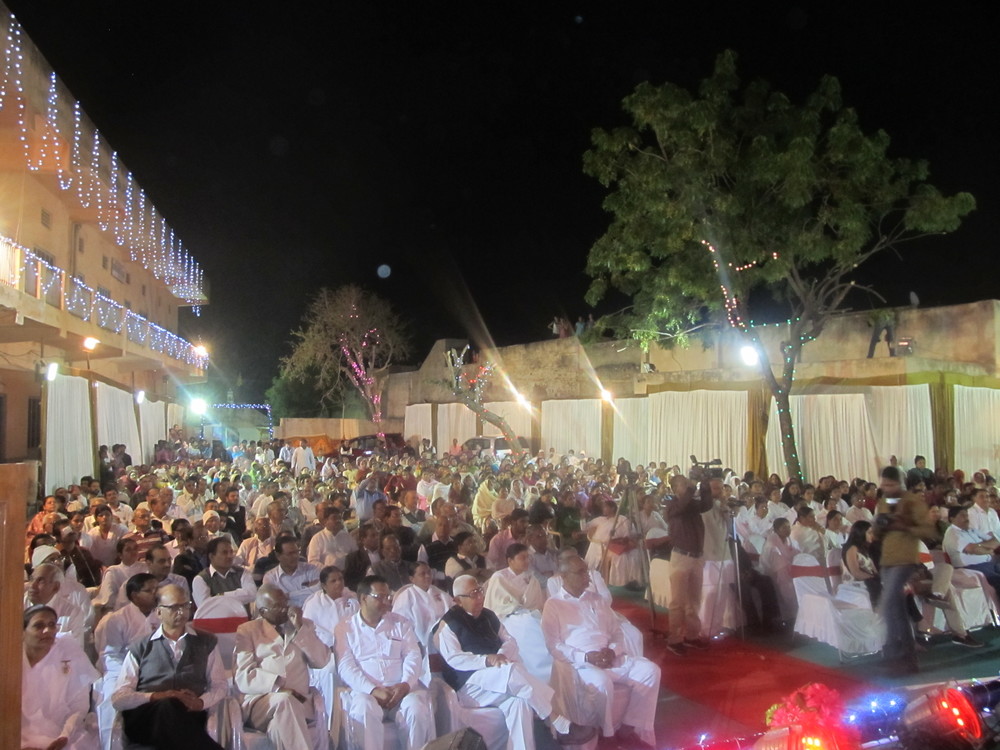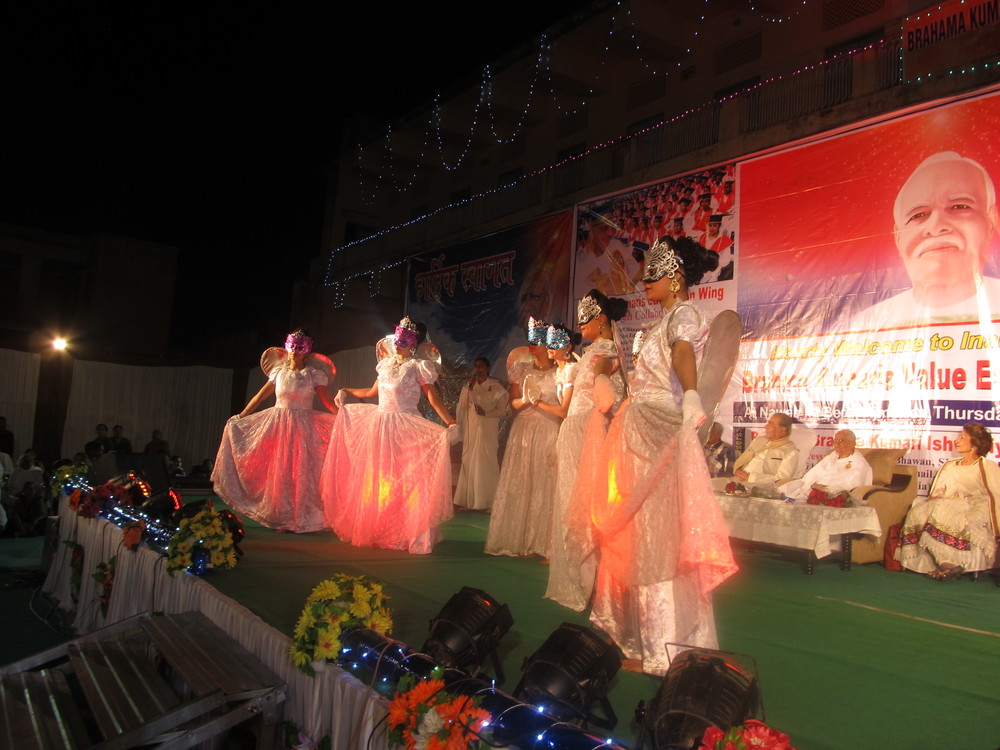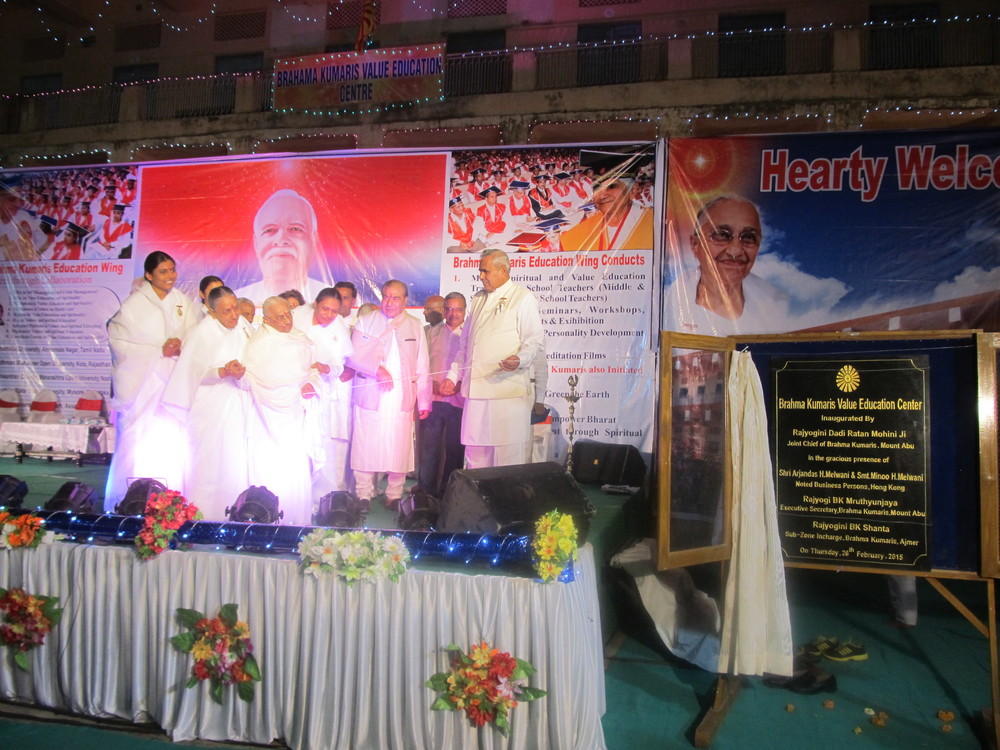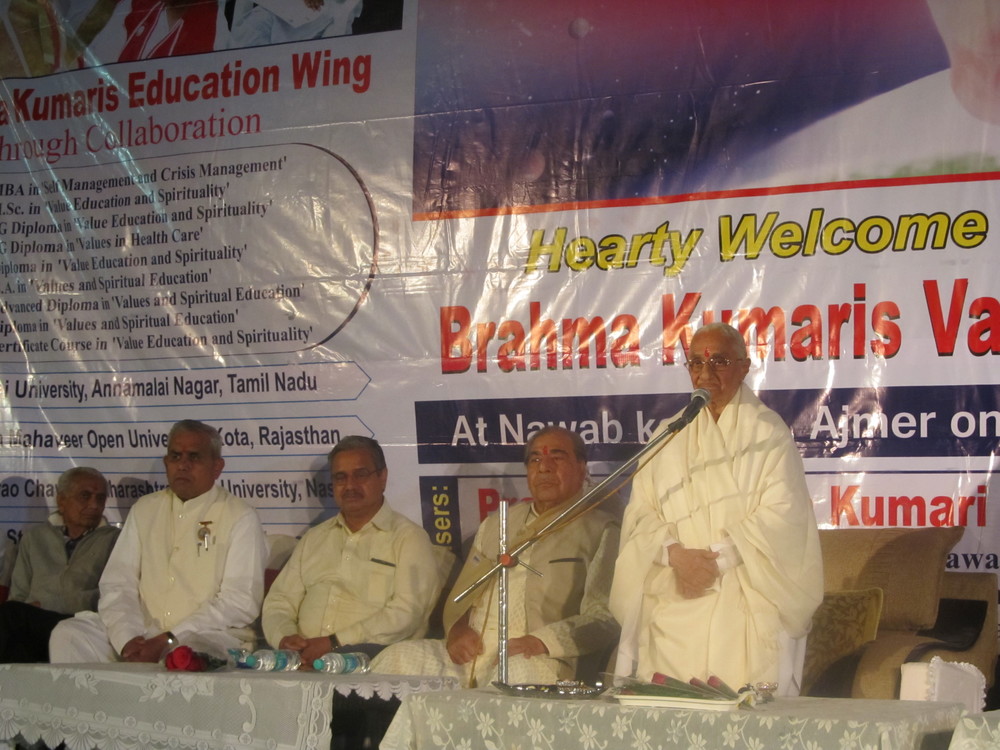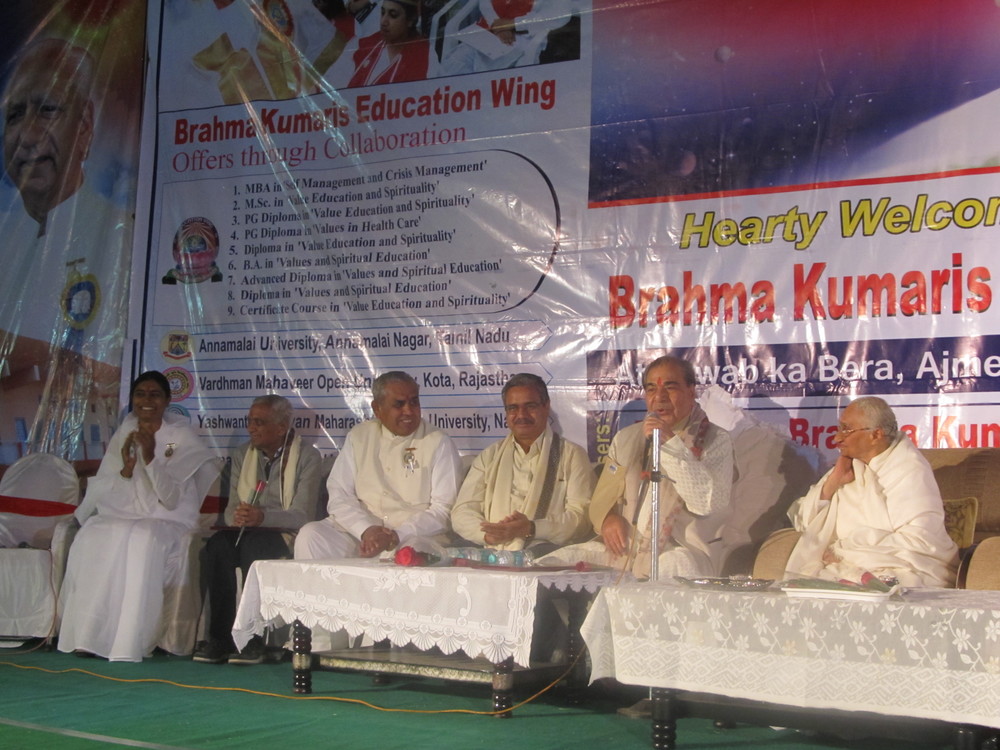 Entire Legislative Assembly enjoys Brahma Bhojan at Shanti Sarovar, Raipur
4 March 2015
Divine Family
Yesterday, following the Governor's speech in the Assembly, we invited the whole Assembly -- including the Hon'ble Chief Minister, the Assembly Speaker, the Leader of the Opposition and all of the ministers, MLAs, etc. to Baba's Home "Shanti Sarovar" for Brahma Bhojan.
All the VIPs came and participated. It was a very unique programme. I am sending the news (in Hindi) & photos of it.
B.K. Hirendra Bhai
Raipur (Chhattisgarh)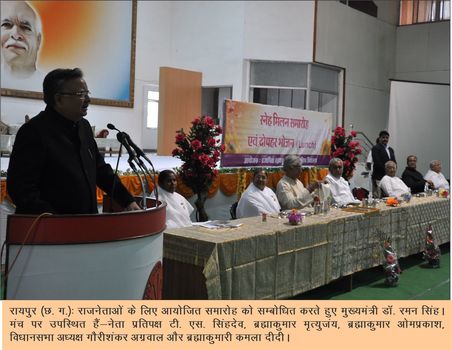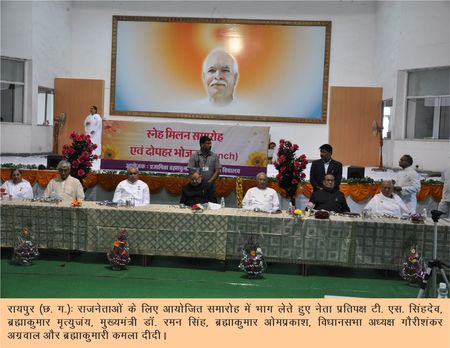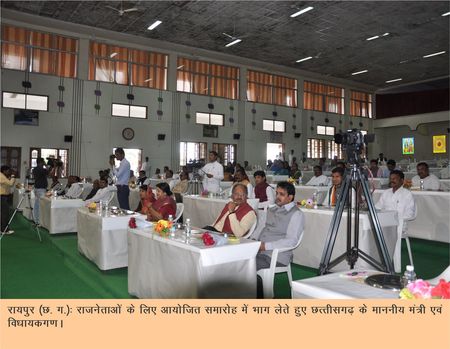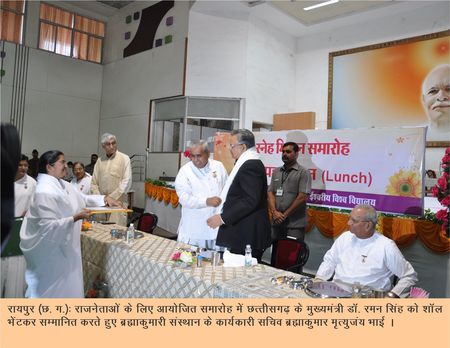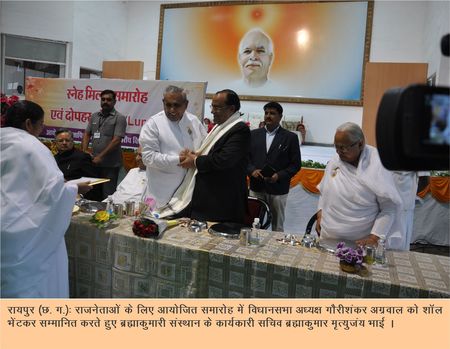 News from Sr Jayanti's Programs in Amritsar, from 21st to 23rd February
2 March 2015
On Saturday evening we had around 250 people from all around Amritsar for class and then the team had dinner together, and lots of chitchat.
On Sunday morning, we had class at Lawrence Road Centre and again it was full house. This was the original Centre in Amritsar, and it was the first property to be purchased by the Yagya in the early days. Dadi remembers Amritsar a lot since it was the start of service outside the Yagya, with the gathering of 100s of swamis and Dadi the only female there representing Baba. Dadi has often shared stories about that, but also about her early days in Amritsar and 12 kumaris taking birth, who have now become senior teachers across Bharat.
After class we went to see the Golden Temple and then to a Centre which is in the heart of the City in the Salt Market. It is of course a very, very crowded area, but apparently within a month they had 58 regular students; it's just been around for a couple of years and it was an impromptu visit, but yet, there must have been around 50 students there to greet, meet and chat.
The afternoon programme started at 3.30pm and this was the VIP gathering for the results of Future of Power. Br Nizar was brilliant as was Br Anthony, and a whole line up of double foreigners who had come shared also. It must have been around 500 high-profile people from Amritsar, and it was a powerful and beautiful programme. The FOP team celebrated its 56th programme, and having had so much experience, everything now is very compact and slick, and much has been learned from all the experiences of previous programmes. After dinner there was time for celebration with Nizarbhai and Br Anthony joining in for a dancing session in Vishwa Shanti Bhawan.
On Monday after morning class, it was time to leave, and my flight was delayed by fog, but then I finally got into Shantivan in the evening.

Santacruz Centre, Mumbai, Celebrates 40 years of Godly Service
2 March 2015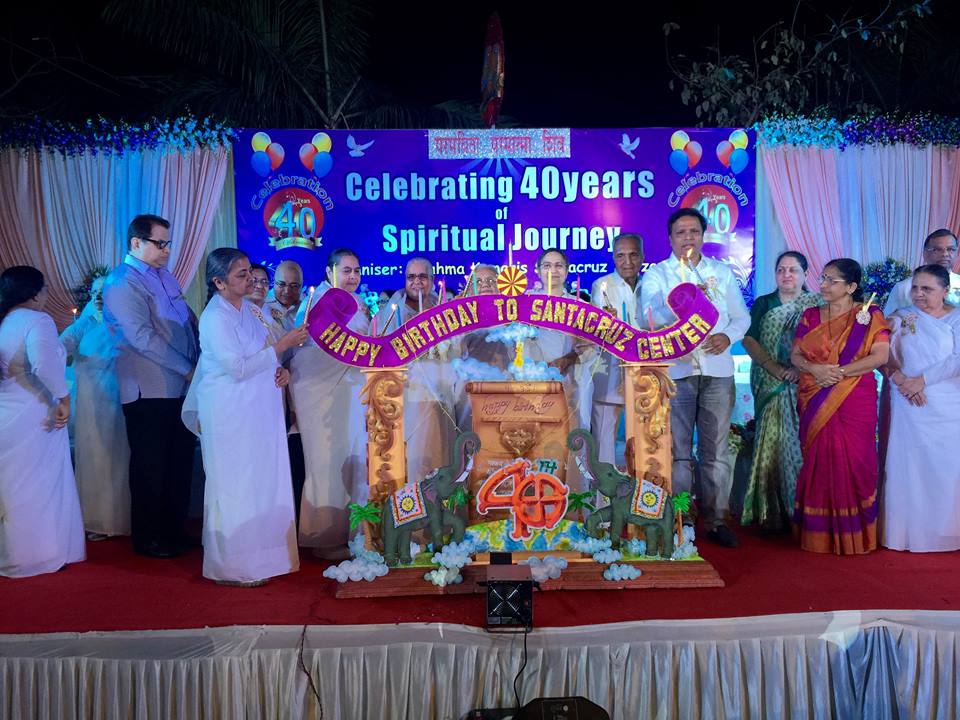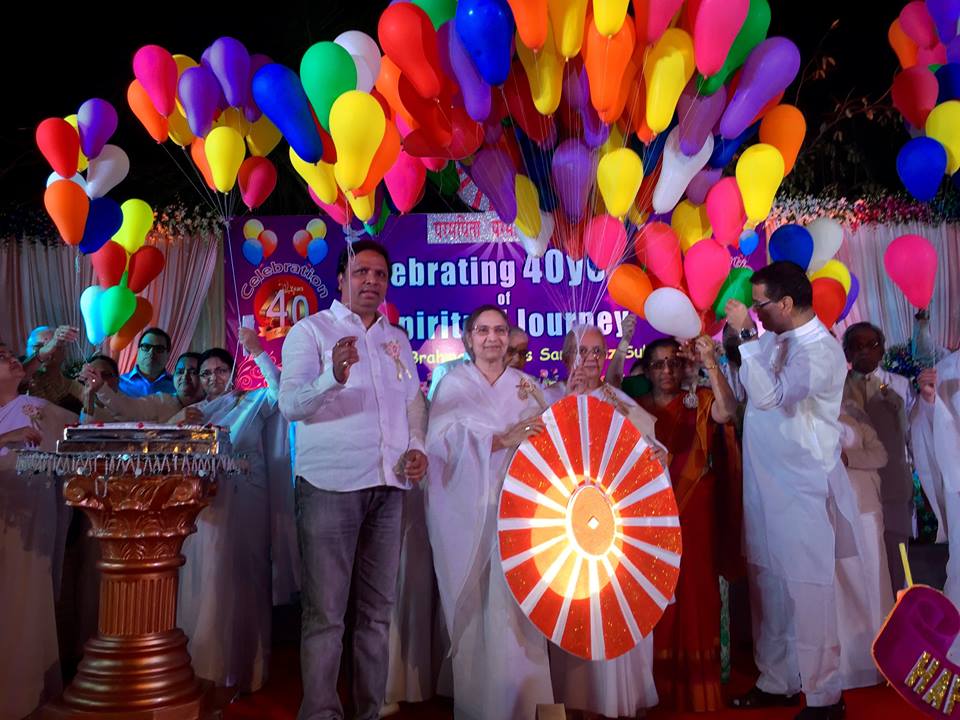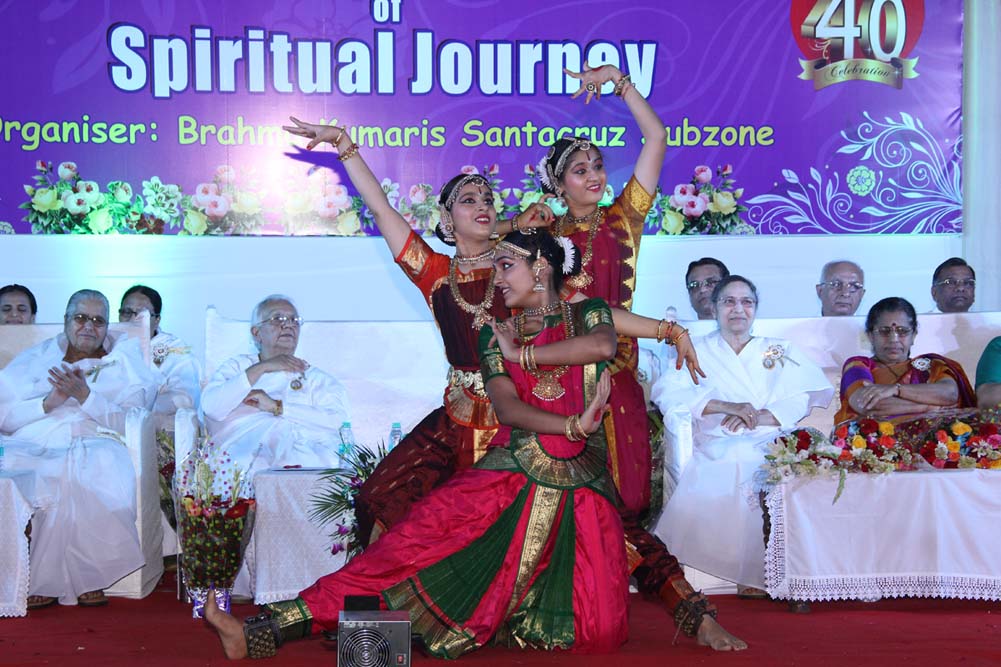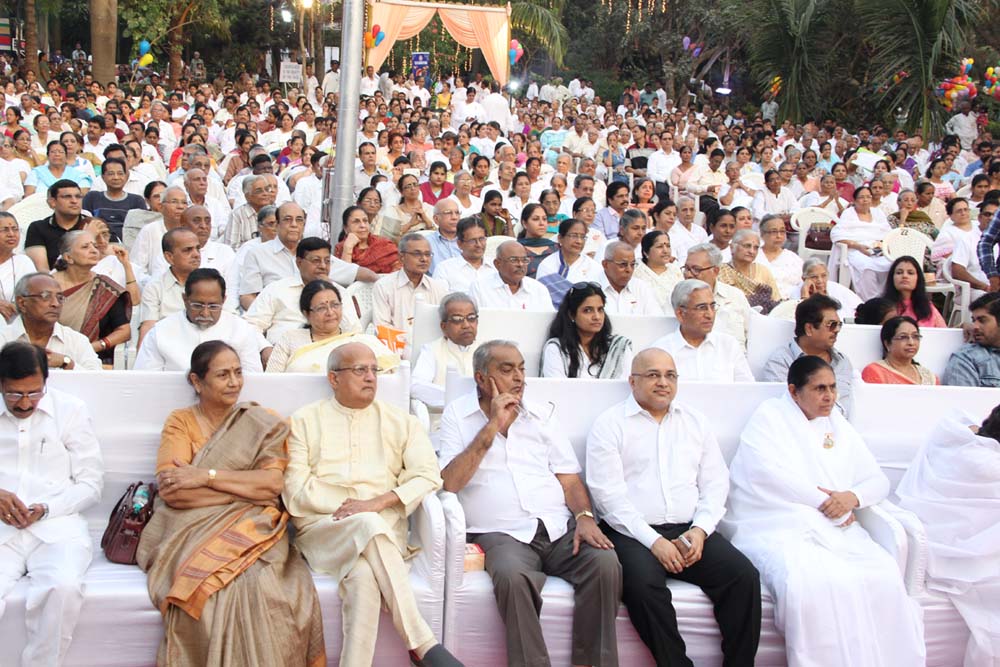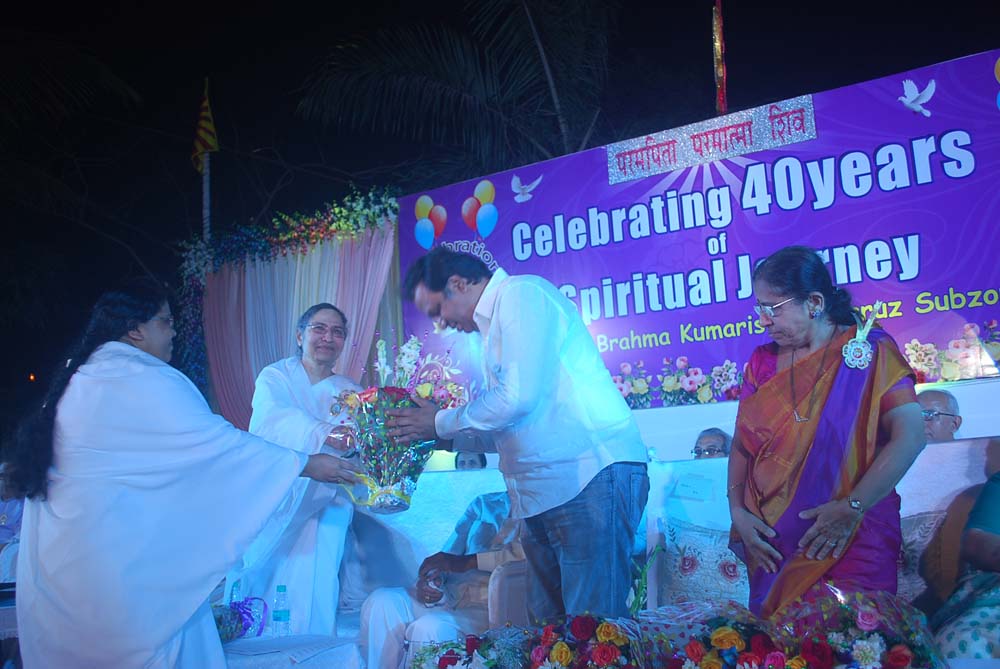 Dear Divine Family,
Om Shanti!
Santacruz subzone celebrated 40 years of spiritual services at Brahma Kumaris Muktanand Peace Park, Santacruz West in Mumbai on February 22, 2015. Under Bapdada's canopy the program was a huge success.
The grand celebrations were held in gracious presence of Baba's underpinning Jewels: Rajyogini Dr. Nirmala Didi, Rajyogi Br Ramesh Shah along with Santosh Didi, Didi Meera, Yogini Didi, Didi Sudha (Russia), Sr Godavari, and Sr Divyaprabha.
The key guest well wishers at the felicitation ceremony were Advocate Ashish Shelar, President, BJP, Mumbai; Smt. Alka Kerkar, Deputy Mayor, Mumbai; Mr. Ramesh Taurani, Film Producer & Director, TIPS Industries Ltd.; the Hon'ble Dr. Laxmi Rao, Principal Judge of Family Court, Mumbai; Mr. Manoj Vidwans, Managing Director, Media & Entertainment, Accenture.
The celebrations started with cultural mix of melodious musical performances by Br Nitin (Gyan Sarovar) and rhythmic dance presentations by professional dance groups from Santacruz. Meera Didi, Santacruz subzone Incharge, gave the welcome address. All the guest speakers appreciated the selfless service, dedication and noble work of Brahma Kumaris.
In the presence of 1700 guests and members of the BK family, the revered guests on stage did the candle lighting ceremony and cake cutting. To mark the message of Godly services by Santacruz subzone, each and every person present released elevated, colorful balloons in the air.
Sister Meera
Santacruz Subzone Incharge, Mumbai

Photos of Sarv-dharm Sammelan (Interfaith Meet) Held During Shivratri in Delhi ORC and News (in Hindi)
27 Febuary 2015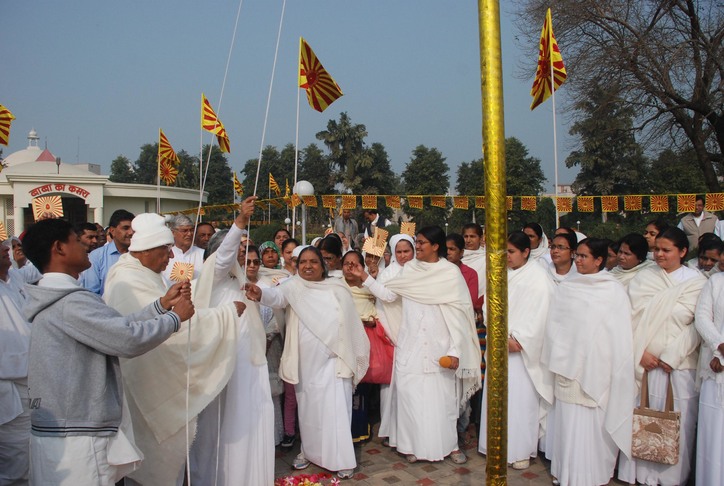 'Sab ka Malik ek Hai' was the theme of the Sarv-dharm Sammelan held during the Shiv Jayanti celebration at the Om Shanti Retreat Centre, Gurgaon.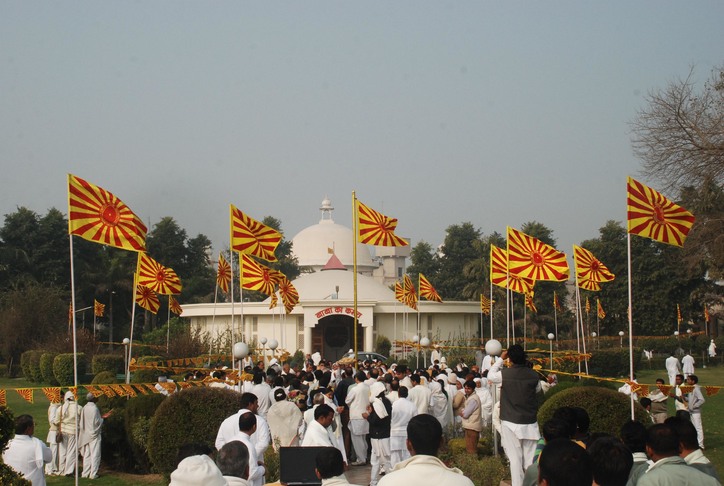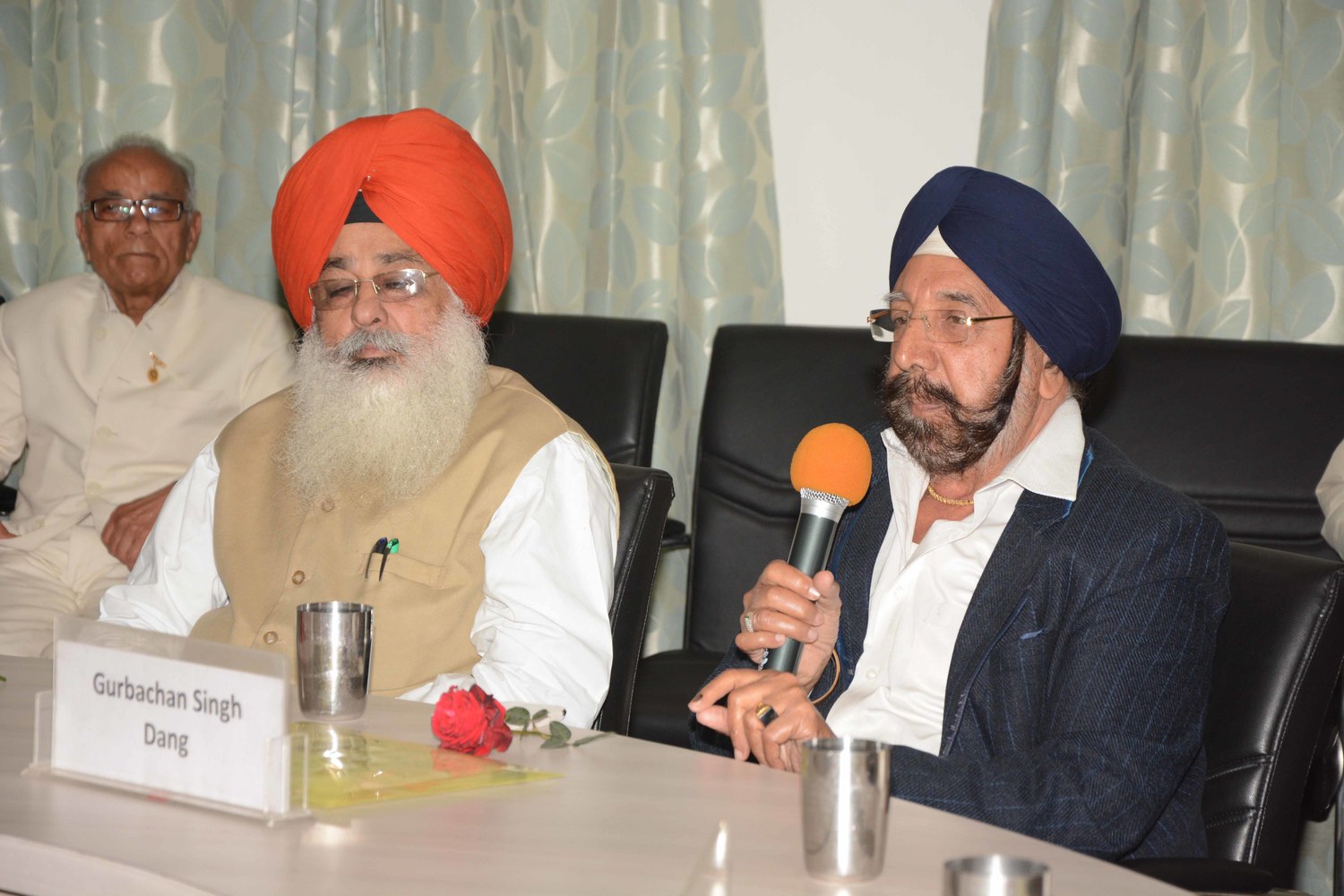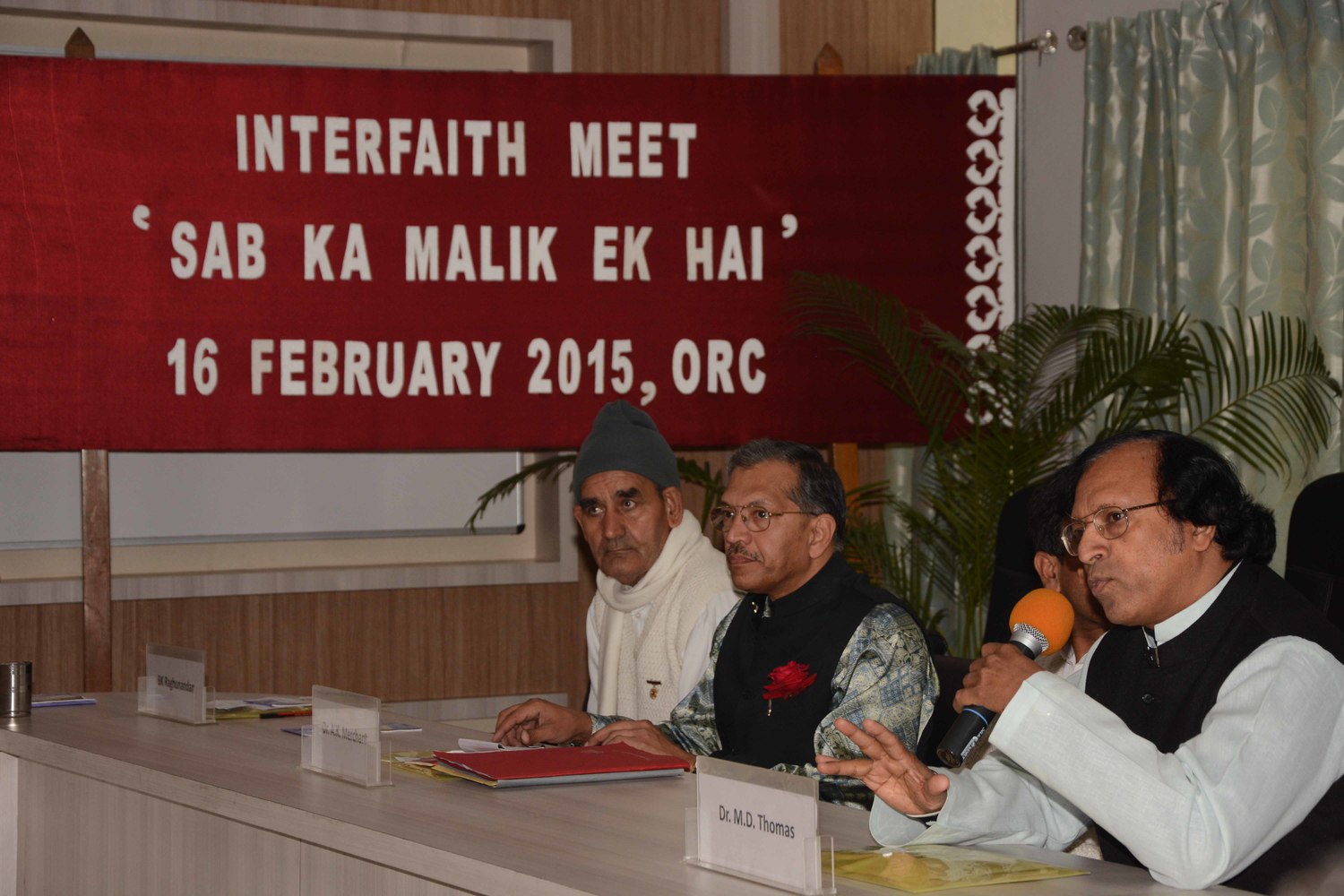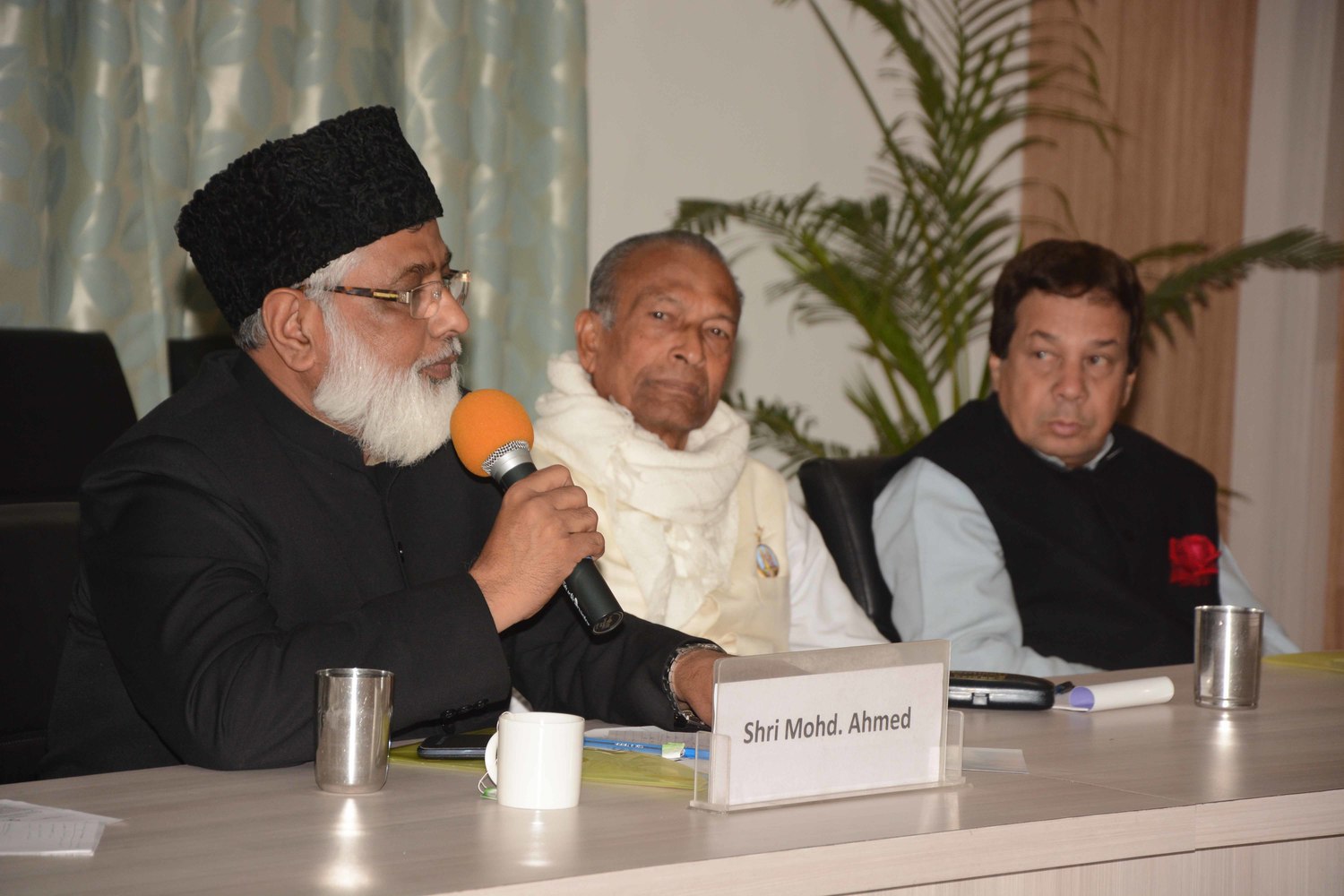 Diamond Lotus House, Ahmedabad, Inaugurated on 22nd February
25 Febuary 2015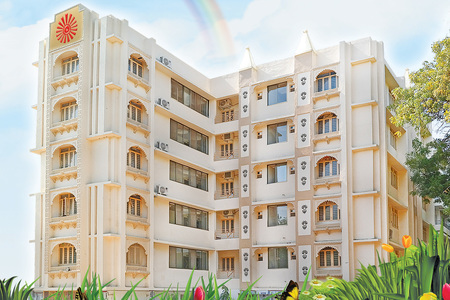 We are glad to inform you that on 22nd February, 2015 the Inauguration of a new building, Diamond Lotus House, was completed successfully in the gracious presence of our respected Dadi Jankiji, Dadi Gulzarji, Dadi Ratanmohiniji and all three senior Brothers, Bro. Rameshji, Bro. Nirwairji, and Bro. Brijmohanji.
Among the guests were Bro. Ruchi Parikh, Managing Director of Hasti Petro Chemical & Shifting, Ltd., Sarangpur; Bro. S.K Nanda (Managing Director, GIDC), and Major General S.K. Bhanot (YSM GOC 11 infantry Division). Seniors teachers of India and abroad were also present.
BK.Sharda & BK Bharti
Ahmedabad - Lotus house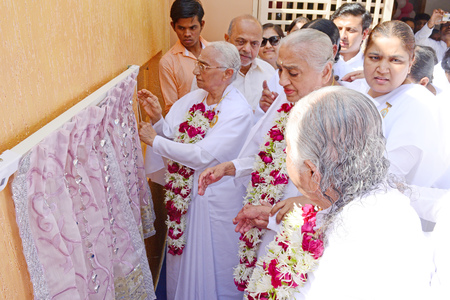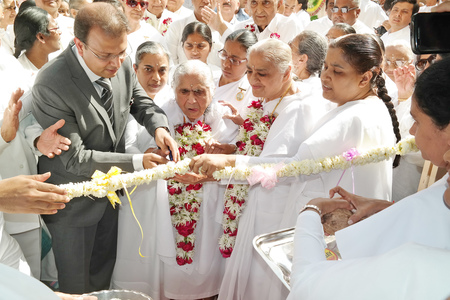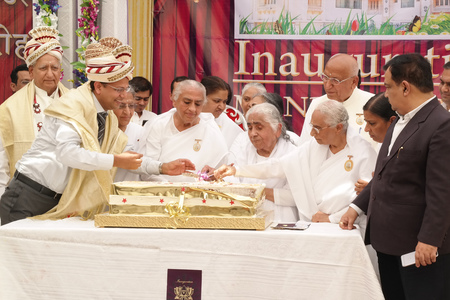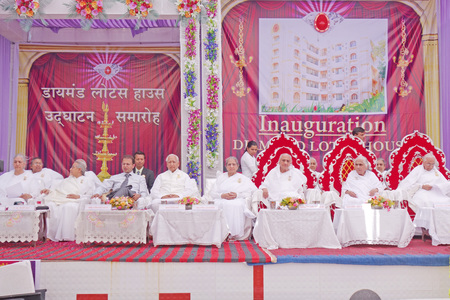 Spectacular Grand Amarnath Darshan Debuts in Hyderabad for Shivratri
23 Febuary 2015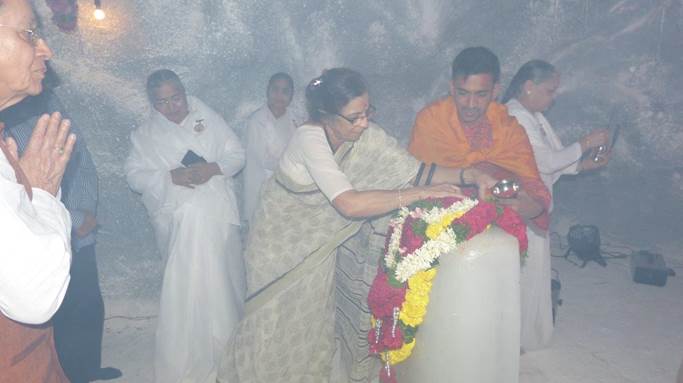 A Grand Amarnath Darshan was organised at Hyderabad Shanti Sarovar from 14th to 18th February 2015.
Highlights
30 feet height Himalayan Mountain Setup with caves and tunnel

Ice Shivling darshan

Spiritual Museum

Delightful Cultural presentations

Collective 'lighting of lamps – 108 nos'

Experience Sharing by VIP BKs and VIP contact souls

Value games

Drug De-addiction stalls etc.
Thousands of devotees visited to take benefit of the arrangements. They also enjoyed the serene campus and were able to experience moments of peace.
Hundreds of people have registered for a follow up Meditation Camp
Regards
BK Kuldeep
Shanti Sarovar Retreat Centre, Hyderabad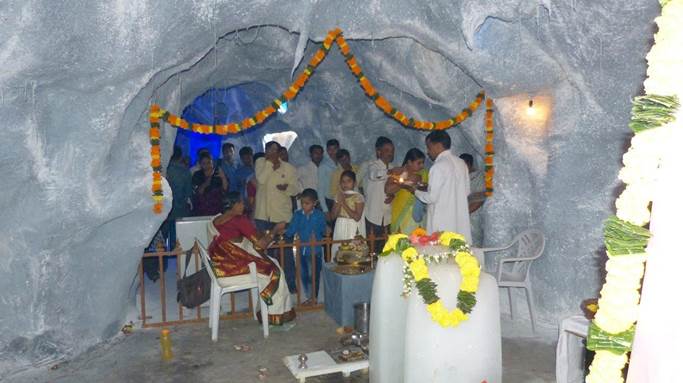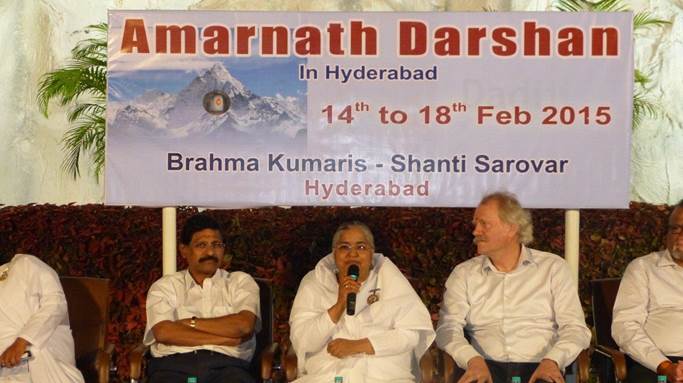 Asha Didi, ORC Congratulates Br Manish Sisodia, Recently Appointed Chief Minister of Delhi
23 Febuary 2015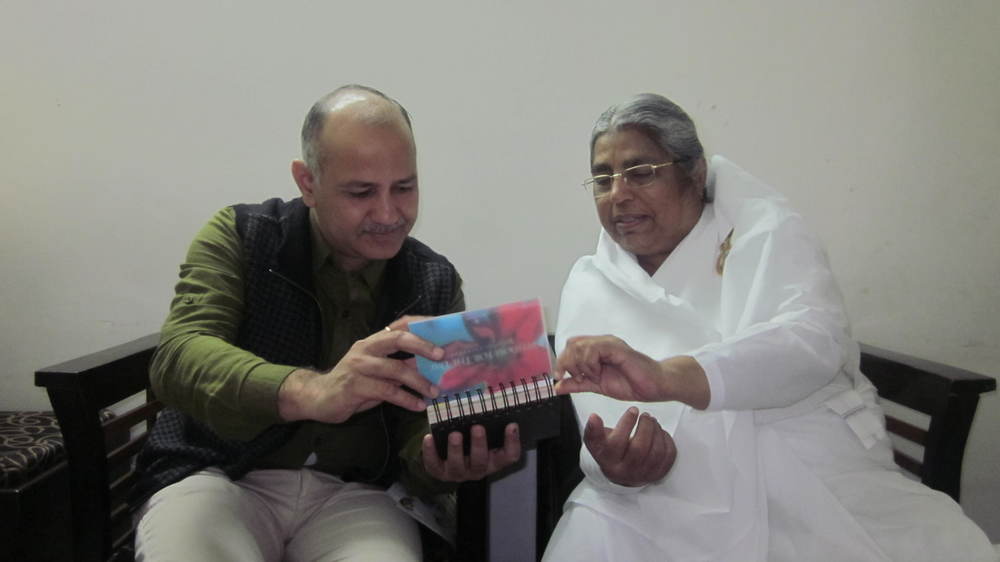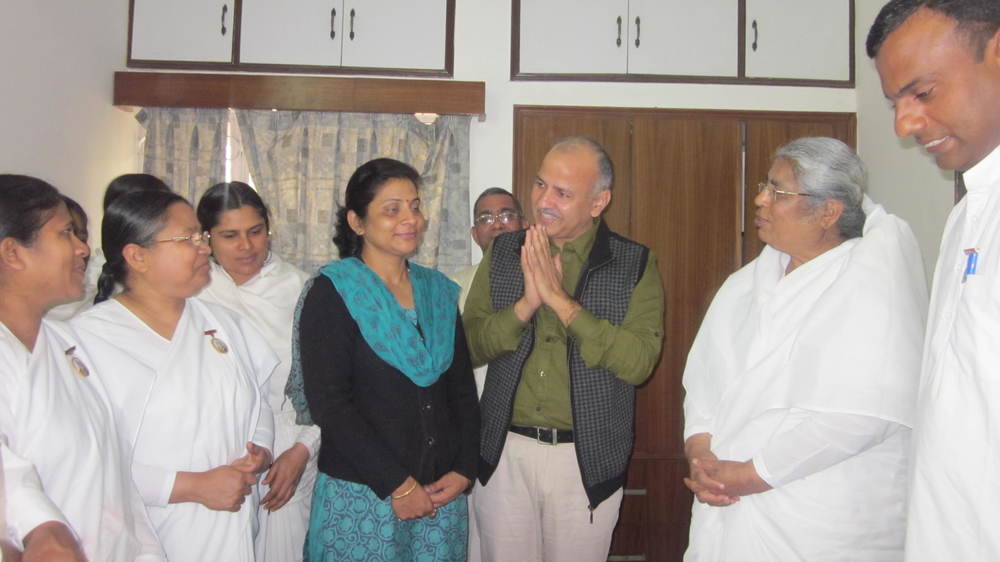 In Photos: Shiv Jayanti Celebrations in Bangalore Inaugurated by Union Minister for Chemicals and Fertilizers, Ananth Kumar
23 Febuary 2015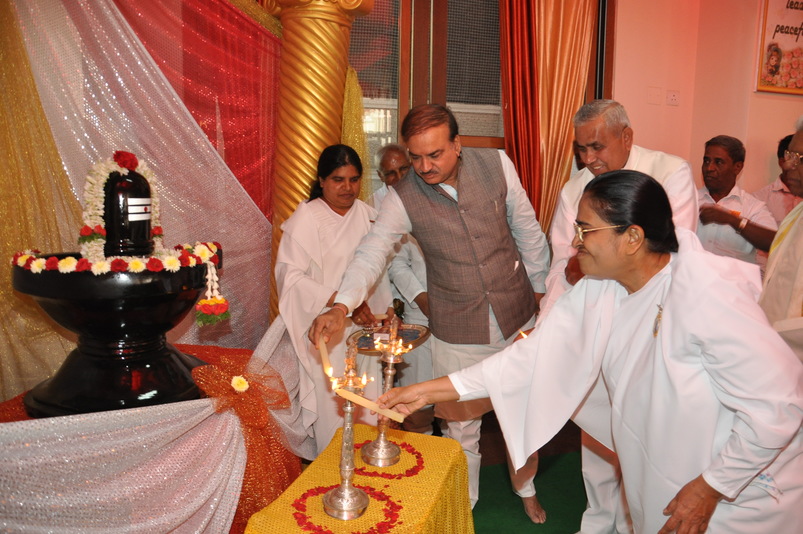 Hon'ble Union Minister for Chemicals and Fertilizers, H N Ananth Kumar lighting the lamps as part of the 79th Trimurti Shivjayanti Celebrations at Brahma Kumaris, Vardani Bhawan, Basavanagudi.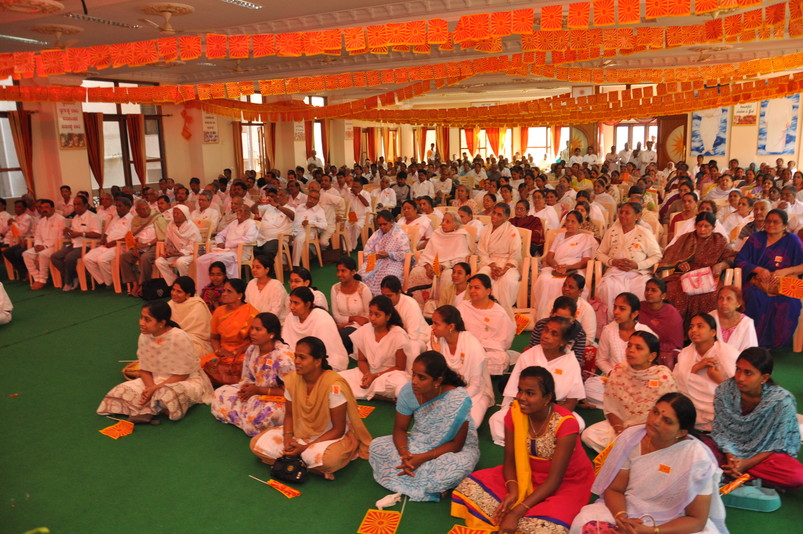 Audience view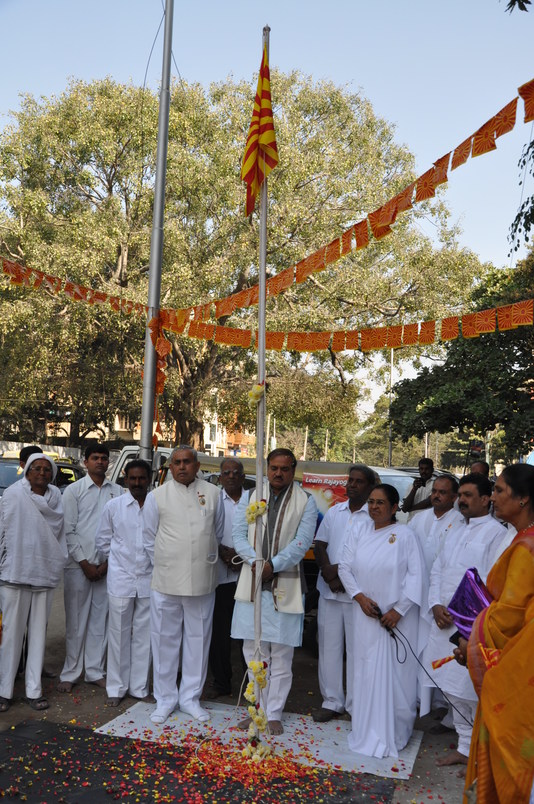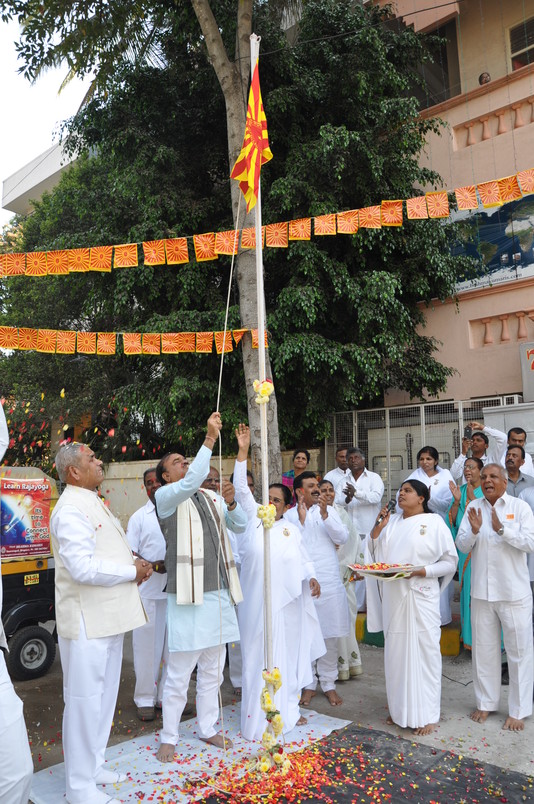 Hoisting of the flag by Hon'ble Union Minister for Chemicals and Fertilizers, H N Ananth Kumar, BK Mruthyunjaya, Executive Secretary, Brahma Kumaris, Mt. Abu and BK Ambika, Sub-Zonal Incharge, Basavanagudi, Bangalore.
Inauguration of Dwadasha Jyotirlinga by Hon'ble Union Minister for Chemicals and Fertilizers , H N Ananth Kumar, BK Mruthyunjaya and BK Ambika and C V Thimmaiah, Industrialist.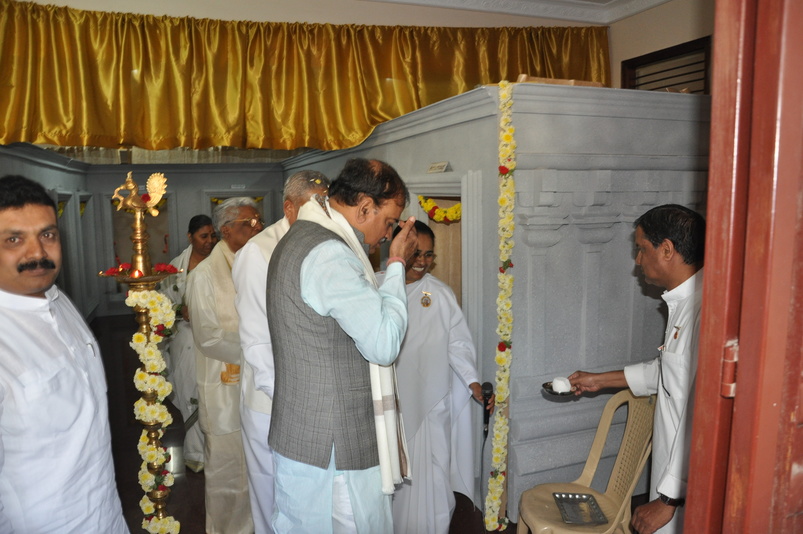 After the inauguration of Dwadasha Jyotirlinga, Hon'ble Union Minister for Chemicals and Fertilizers, H N Ananth Kumar seen applying the holy ash (Vibuthi).

Indore Instruments Present Shiv Jayanti Greetings to Hon. Sumitra Mahajan, Lok Sabha Speaker
20 Febuary 2015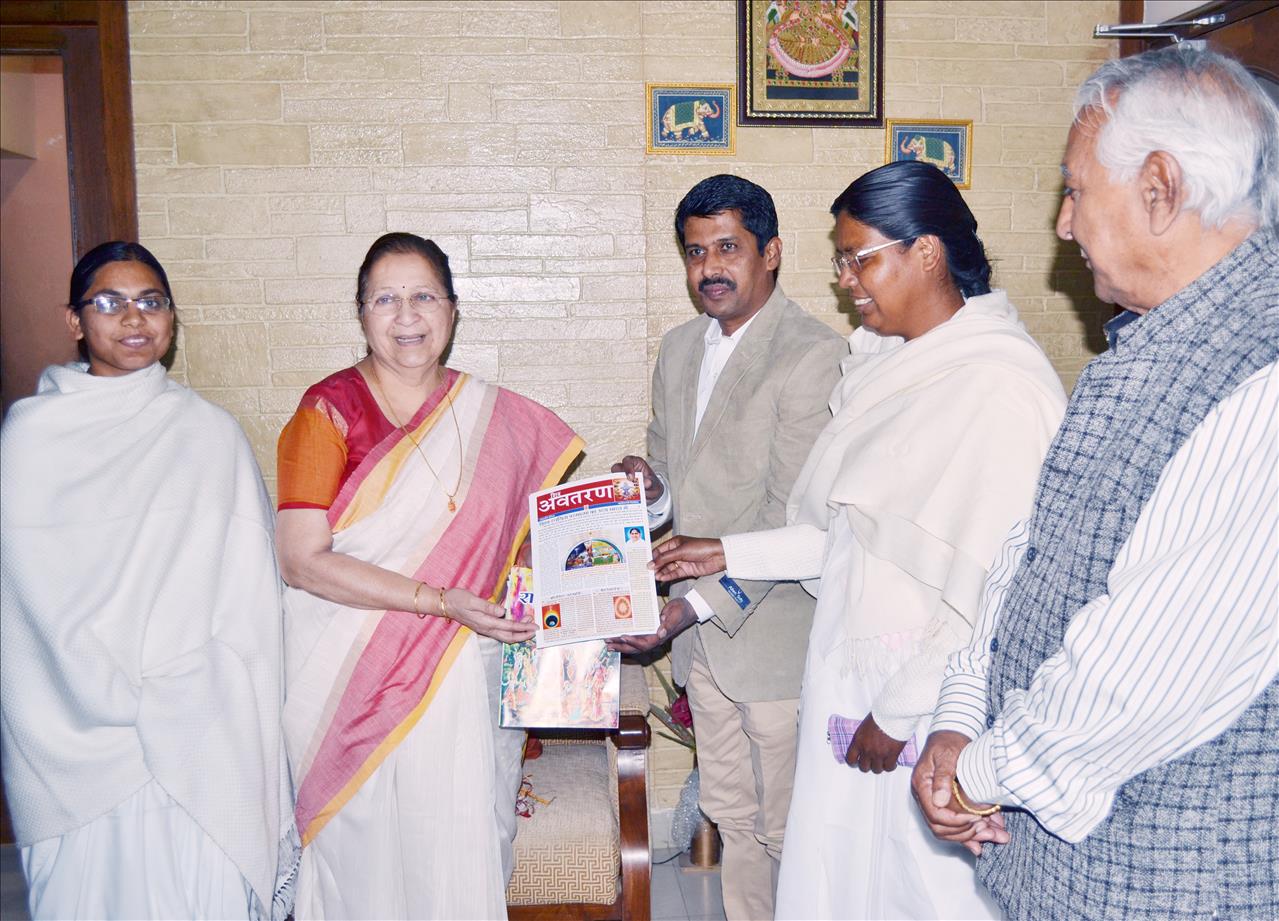 Sr Usha and Br Deepak Harke presenting a special Shivratri Edition of Shiv Avtaran to the Honorable Smt. Sumitra Mahajan, Speaker of the Lok Sabha, in Om Shanti Bhawan, Gyan Shikhar Complex, Indore. Also present are Sr Sonali and Prof Kamal Dixit.

Actors Went to Take Blessings of Lord Shiva at Brahma Kumaris Camp
19 Febuary 2015
By: Siddharth Dhongle
Source: Bollywood Helpline.com: (http://bollywoodhelpline.com/news-gossips/filmy-buzz/actors-went-to-take-blessings-of-lord-shiva-at-brahma-kumaris-camp/21617)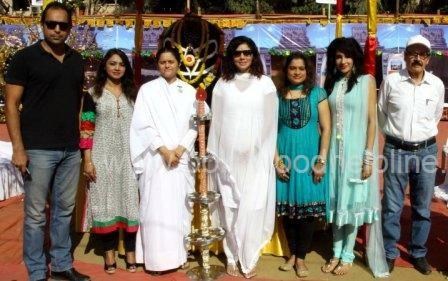 Brahma Kumaris, a world spiritual university working towards restoring peace and human values in mankind for the last 79 years globally. During the ongoing Maha Shivratri Festivity, a two-day program was organised at Veera Desai ground with the theme '7 Billion Acts of Goodness', wherein a huge Goodness Tree was created. The event was inaugurated by Bollywood celebs: Parikshet Sahni, Sufi Singer Kavita Seth, Chandi, Vishwajeet Pradhan, Ekta Jain, Marisa Verma and Tinaa Ghaai.
People were asked to fill a pledge form of performing at least 3 acts of goodness everyday for at least a month. Thousands of people liked the concept as a part of the Mahashivratri festivity and they said it is the need of the hour to spread goodness.
7 Billion Acts of Goodness was initiated by Brahma Kumaris worldwide to increase the expression of benevolance and create a universal awareness of the rippling effect of goodness.

Unique 40 Foot Shivling Inaugurated by Bollywood Celebrities Bappi Lahiri and Dolly Bindra
15 February, 2015
Report by Odisha Diary bureau, Mumbai: Maha Shivratri, the night of the worship of Shiva, occurs on the 14th night of the new moon during the dark half of the month of 'Phalguna' (Feb / March). Maha Shivaratri, "the Great Night of Shiva" is the most significant event in India's spiritual calendar. A unique 40 feet Shivling was inaugurated by leading Film celebrities Bappi Lahiri, Dolly Bindra.


Bappi Lahiri, Famous Indian music director and playback singer: He gave his good wishes for the Mahashivratri event to Brahma Kumaris, shared his feelings & devotion towards Lord Shiva. He sung few lines from his recently released religious album; Also sung few lines from one of his Bengali movie song, "Mangal Deep Jale" which touched the audience.

Sister Dolly Bindra, Indian actress: She requested the audience to Shout Out and come forward to express their issues and solve the present deteriorating situation in this age of Kaliyuga. She shared that she has stopped reading the newspapers from past 25 days. She also shared her experience of conversation with God. Feb 14 is her birthday; Sister BK Divya Prabha and Sister BK Kunti gave her blessings among the present audience.

Brother Ashok Patel, Shiv Sena Shakha Pramukh: He said that 14 years ago when Brahma Kumaris were being handed over responsibility of the Liberty Garden as a care taker, since then Brahma Kumaris may have organized some 14 exhibitions here. The Garden has been nicely maintained.

Sister BK Kunti: Explained the significance of Maha Shivratri; Made a request to the audience to return home today with smile & happiness from Liberty Garden.

Sister BK Divya Prabha: Explained the significance of Maha Shivratri; She Shared the various belief systems of people who believe in God and one who do not have faith, but they too at least once in their life time remember him and see towards him for his help; she also explained how to connect with Supreme father and do conversation with him as his child;

Sister Daksha Patel, ex corporator: Gave her good wishes to the audience and expressed her thanks to Brahma Kumaris for inviting her to share her thoughts. She shared that she feels inspired by Brahma Kumaris talks and guidance which she keeps taking while coming in contact with Brahma Kumaris Sisters.

Bengali group: Bengali Group from the local Bengali temple in Malad presented a devotional musical dance with drums. All the guests were felicated with godly gifts & Prasad.

Following this programme Brahmakumaris has arranged for 5 days Free Meditation Course at their Malad Center starting 15 Feb, 2015.
Source: Odisha Fast News - http://www.orissadiary.com/ShowEntertainmentNews.asp?id=57281#sthash.XKB5AAWu.dpuf

Future of Power program Held in Ranchi
8 Febuary 2015
(Source: NYOOOZ, http://www.nyoooz.com/news/ranchi/brahmakumaris-future-of-power-programme-today/51114.html. News courtesy of the DailyPioneer)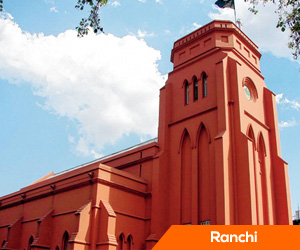 The leaders from across the world have gathered here to attend a spiritual programme 'Future of Power' at Aryabhatta Auditorium on Sunday [8th February]. The programme in partnership with Brahmakumaris is a theme of a series of dialogues which are taking place across India to deepen understanding of the nature of power and help restore awareness of the nation's spiritual heritage both within India and abroad. The conversations on the theme will also give rise to a knowledge base of ideas, insights and best practices in responsible leadership.

Nairobi-based businessman Nizar Juma, who has teamed up with Brahmakumaris network to host the high-level dialogues told the media persons on Saturday that a historical reversal is underway wherein power is flowing back to India. The dialogues as per Juma will help participants respond personally and professionally to the challenges ahead. He is planning to request the Ministry of Finance on certifying a company as 'Blue' which refers that the particular company is devoid of corruption.

"In 2012, we urged Tata officials to join hands for beginning the 'Blue Company' concept. They told us to start it in Africa after which they will come forward for the concept's implementation," Juma said. Anthony Phelips from United Kingdom associated with Brahmakumaris for past six years felt India is destined to lead the world.

The list of participants include Interior Designer Sarah FitzGerald, Opera Singer Liuga Doga, SAI Ranchi In-Charge Sushil Kumar, Ranchi University former VC LN Bhagat, RMC Mayor Asha Lakra, CID IG Sampat Meena, Bavarian Ministry Government Director Hans Haiert, FJCCI President Ratan Modi, The Pioneer Managing Director Pawan Bajaj, Urban Development Minister CP Singh and Radisson Blu Director Nandini Gupta. Both Juma and Phelips maintained that 'Future of Power' dialogues are bringing national and international leaders together on a neutral platform finding ways to develop their individual and collective strategies in modeling responsible leadership. India as a venue has been chosen due to its original principle based power.

Ranchi centre coordinator Brahmakumari Nirmala has been welcoming the outstation participants since Friday. Besides, cultural performances by Deepanjali Group of Vipul Nayak, talk show will be organised in the programme. Website of Brahmakumaris mentions that they are individuals who study spiritual knowledge that nurtures respect for all faith traditions, coherently explains the nature of soul, god, time, karma and delineates an enlightened lifestyle.

Future of Power program Held at Alkapuri Centre in Baroda
6 Febuary 2015
A two-day Future of Power program took place recently at the Alkapuri Centre in Baroda.


Future of Power (FOP) Programme at Cuttack held on 3rd Febuary, 2015: News and Photos
6 Febuary 2015
Divine Family,
Om Shanti. Future of power event was held on 3rd February at Cuttack. With Bapdada's blessings and good wishes of Brahmin family, the program was a grand success.
At the beginning of the programme Odissi Exponent Meera Das & her disciples performed Odishi Dance. The inner power of human beings is used very less when the external power is in force all over the world. As a result, when all are chasing after the material progress it was not possible to awaken the spiritual power. The entire world especially the western is eclipsed with this problem. The country which exceeds in philosophy, way of life, spirituality will be the most powerful in the world. Prajapita Brahma Kumaris Ishwariya Vishwa Vidyalay and the future of power combinedly arranged a conference meant for elite dignitaries and they have opined that India has an important responsibility. A spiritual program was arranged in presence of a senior respectable person and an eminent industrialist of Canada & Africa and Rajyogini Brahmakumari Didi Kamlesh at Saheed Bhawan Cuttack. Inspite of immense advancement in production, Business, technology & material progress the western is not in peace. The west is wounded by limitless desire and excessive material enjoyment. Although they possess destructive weapons to conquer the world, they are powerless. Realizing this at the fag end of life, eminent industrialist Nizar Juma has taken a firm decision to empower the world with spiritual power. He has arranged this programme with Prajapita Brahma Kumaris Ishwariya Vishwa Vidyalay who have worked in India and abroad for more than 75 years. This conference was arranged at Cuttack in continuation to the programme taken earlier at different places in India and abroad. Participating in this programme Mr. Nizar Juma said to have control over one's own thinking, anger, over dependence on technology etc.
Anthony Phelips from U.K. who has exorbitant experience in industry, business, advertisement for last 35 years anchored the programme in exchange of thoughts and question-answer.
Eminent personalities like Hon'ble justice A Surya Narayan Naidu, Shri Soumya Ranjan Pattnaik, the Edior of Sambad, Sarah Fitzgerald of England, Liuba Doga of Romania attended the programme. Many important personalities doctors, lawyers, intellectuals joined in the programme. There was good media coverage during the program.
In Baba's yaad
BK Kamlesh Behn
Cuttack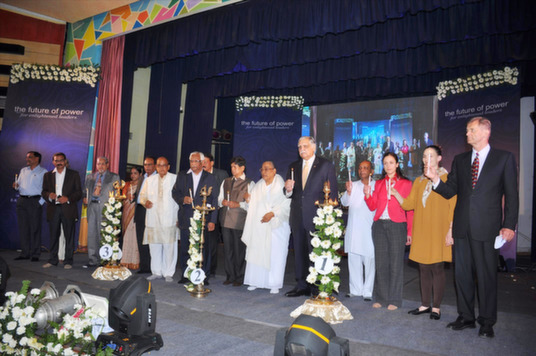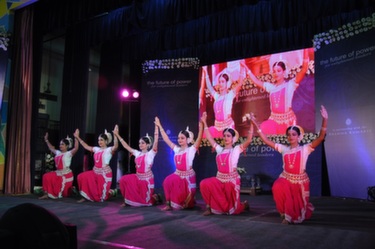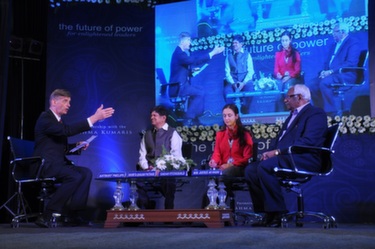 Sr Shivani Speaks on "Balance Sheet of Life" at Shanti Sarovar, Hyderabad
6 Febuary 2015
A talk on 'Balance Sheet of Life' was organised at Hyderabad Shanti Sarovar last week. The main Speaker was Sr Shivani, a world renowned speaker of the Brahma Kumaris.
Chief guest was Br Mohd. Ali, Deputy Chief Minister of Telangana State. On behalf of Government of Telangana, he welcomed Sr Shivani to Hyderabad and appreciated the services of Brahma Kumaris in promoting values in the society.
A quality audience of around 2500 individuals attended the event, which was held in the Global Peace Auditorium.
Br Suresh Oberoi, Sr Kuldeep and others also shared the dais.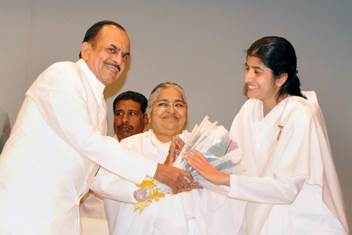 Deputy Chief Minister of Telangana State – welcoming Sr Shivani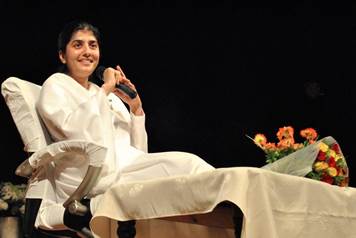 Sr Shivani speaking on 'Balance Sheet of Life'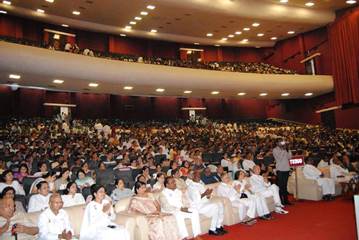 Huge gathering in the Auditorium of Shanti Sarovar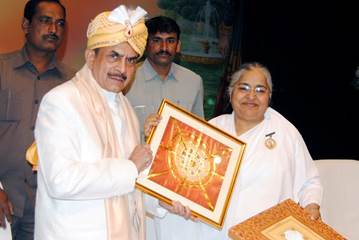 Deputy Chief Minister being felicitated by Sr Kuldeep, Director of Shanti Sarovar
Regards
BK.Kuldeep ben
Hyderabad

Vajubhai R. Vala, Governor of Karnataka, Inaugurates Gnanamrit Bhavan at Banglore-Jakkur
5 Febuary 2015
Dear Divine Sisters/Brothers,
Accept the greetings of love, peace and happiness from BK Padma Behanji, Subzonal Incharge of Bangalore City.
With the blessings of Shivbaba and good wishes of all Dadijis and the Brahmin family, Shiv Shakthi Bhavan and Gnanamrit Bhavan have been constructed at Jakkur and the same have been inaugurated on January 28, 2015.
Vajubhai R. Vala, Honorable Governor of Karnataka, along with Dadi Ratanmohini ji, Joint Chief of Brahma Kumaris, inaugurated the buildings.
A VIP get-together in the evening was held on the same day.
On Godly Service,
B K Padma
Bangalore-Fort(City)
Press Report (in Kannada)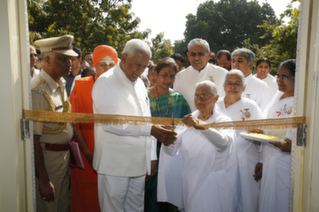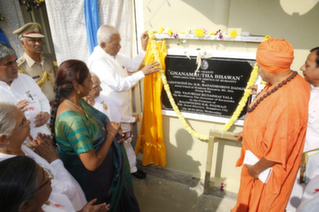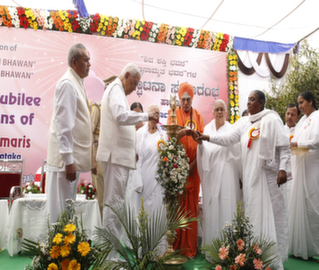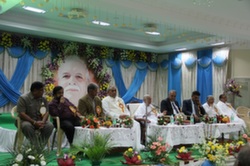 Brahma Kumaris Invited to Inaugurate Meditation Room in Whistling Woods, a world-renowned film institute in Filmcity, Goregaon,Mumbai
5 Febuary 2015
Om Shanti!
I would like to share the good news that well known Film Director & Producer Bro. Subhash Ghai has opened a new meditation room in his world renowned Film Institute "Whistling Woods". He invited Brahma Kumaris for the inauguration, along with other celebrities like Film Actress Vidya Balan, Singer Sukhvinder Singh and Film Director Sanjay Leela Bhansali.
BK Sister Kunti explained during her speech, the importance of knowing the self and how Raj Yoga meditation helps in recharging the soul. Bro. Subhash Ghai also mentioned the importance of meditation in acquiring inner strength so as to be successful in any field.
All the dignitaries-- Vidya Balan, Sukhvinder & Sister Kunti -- were given mementos by Subhash Ghai.
After this, there was a cultural programme, a candle lighting and then inauguration of the Meditation (iPray) room where a Baba's translight is installed. A commentary was played and all experienced meditation.
In Godly Service,
BK Kunti
Mumbai - Malad Centre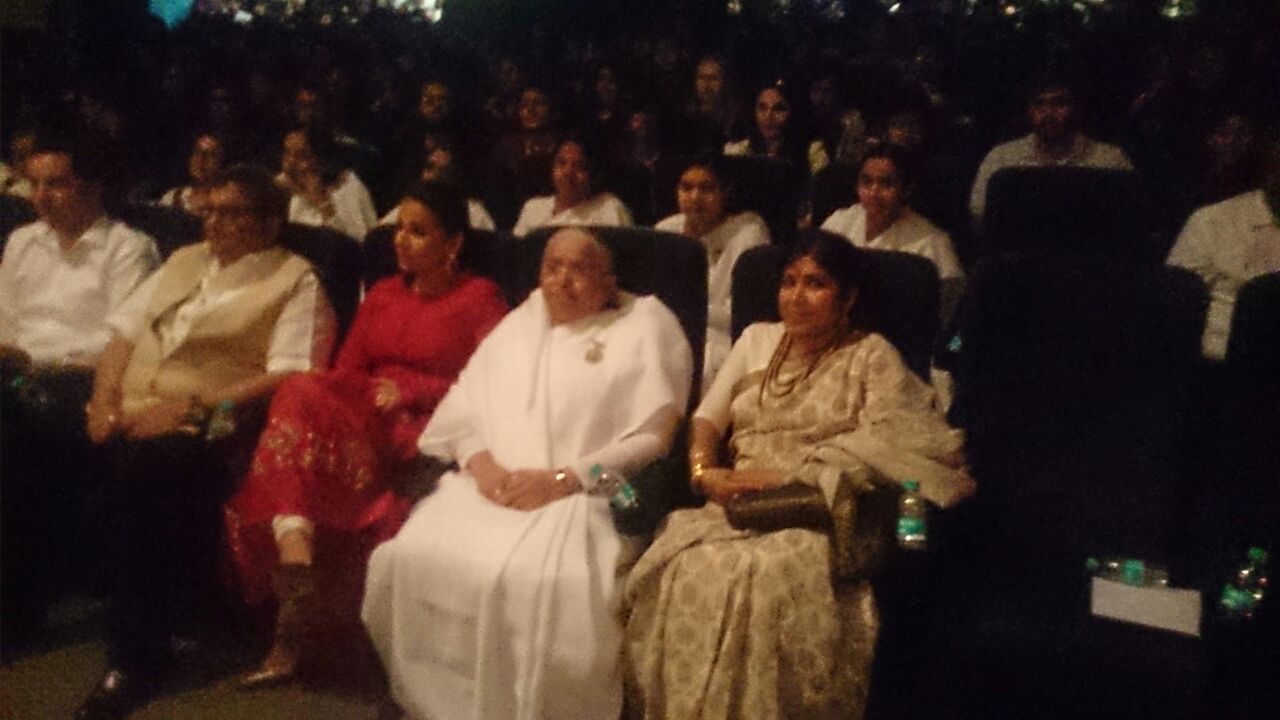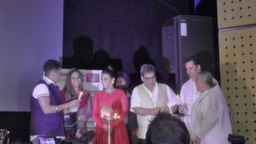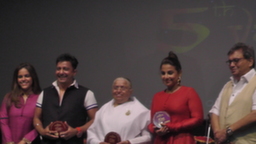 Anna Hajare Inaugurates 'Gita Rahasya Pavachanmala' Programme at Ahmednagar (Mah.)
27 January 2015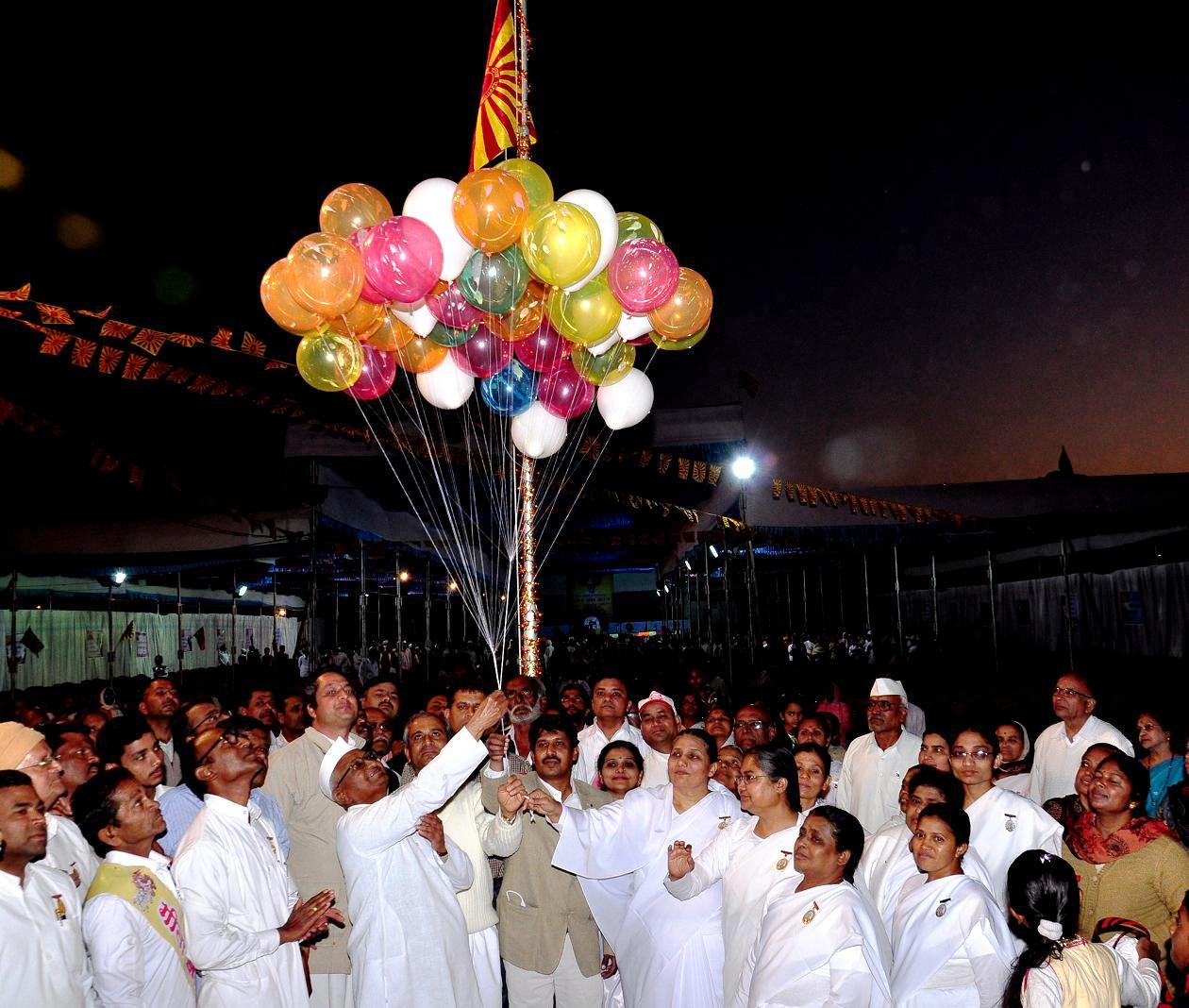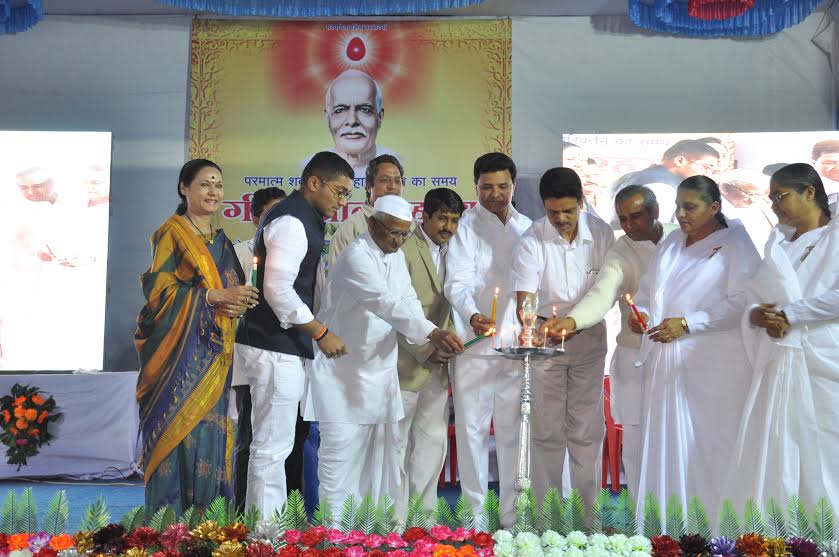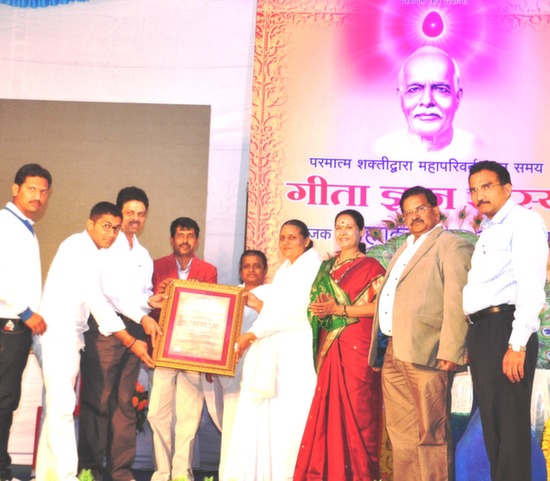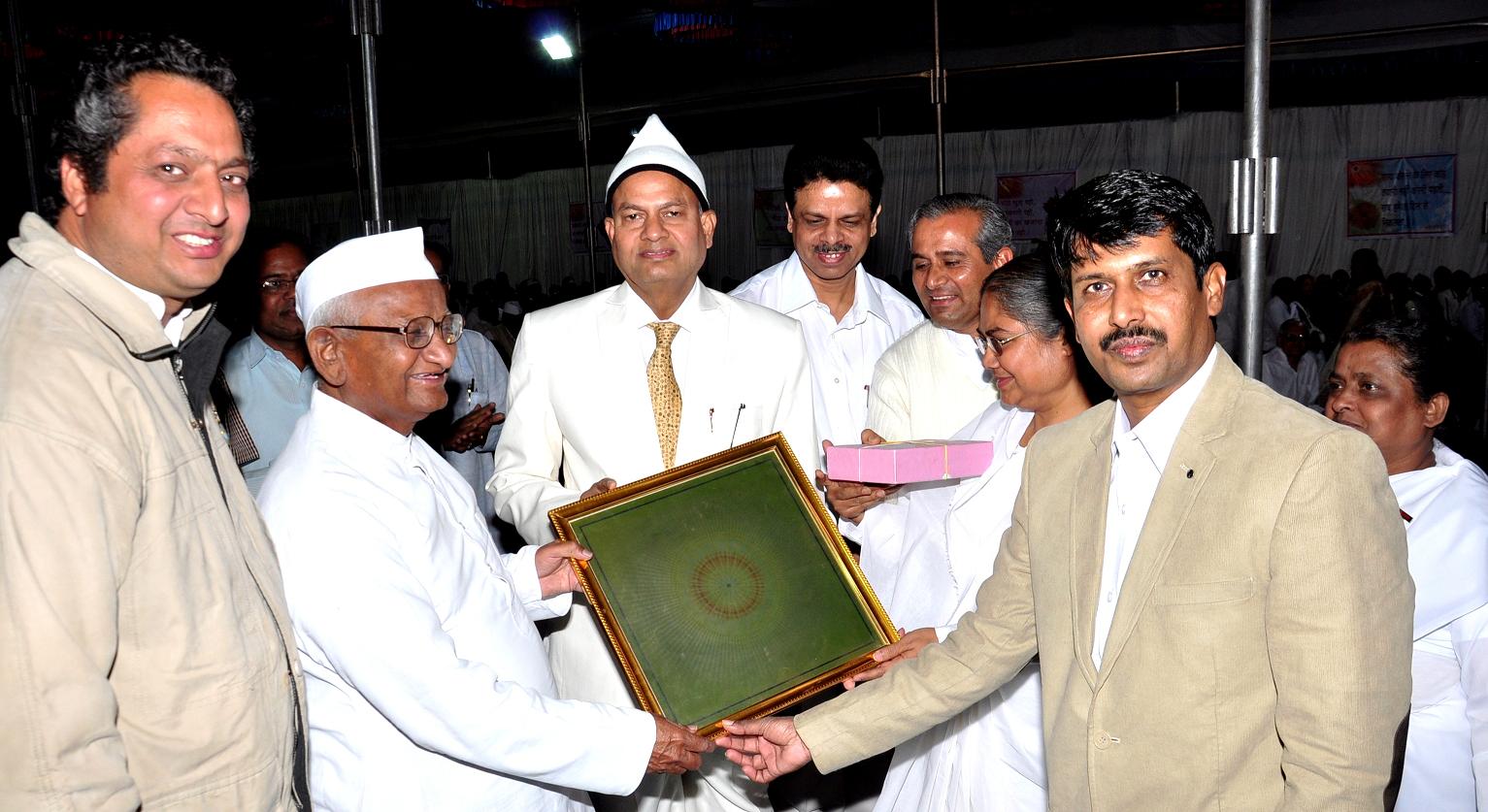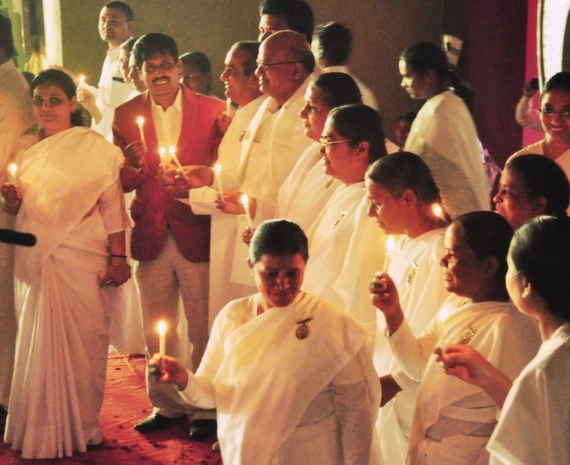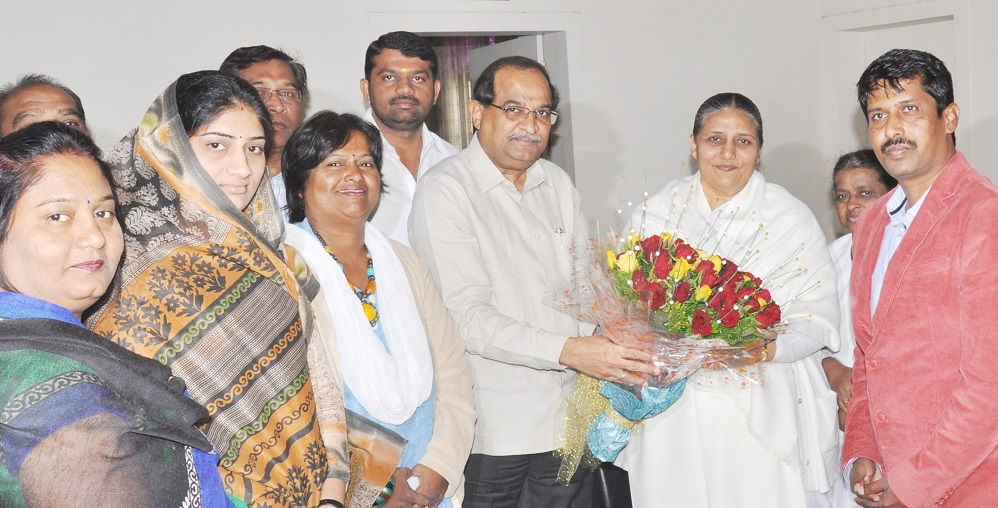 Happy Republic Day - 26 January 2015
26 January 2015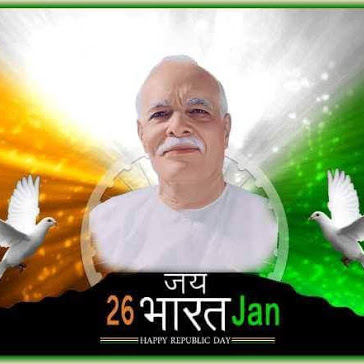 Photos of Education Program conducted in Kathmandu, Nepal
26 January 2015
Respected Sister/ Brother!
Please accept Greetings of Peace and Harmony!
We are happy to inform you that Education Programs were conducted at Kathmandu Nepal. B.K. Raj Didi organised these program.
Program photos are enclosed for your information.
Thanking You.
IBY,
B.K. Mruthyunjaya
Vice-Chairman, Education Wing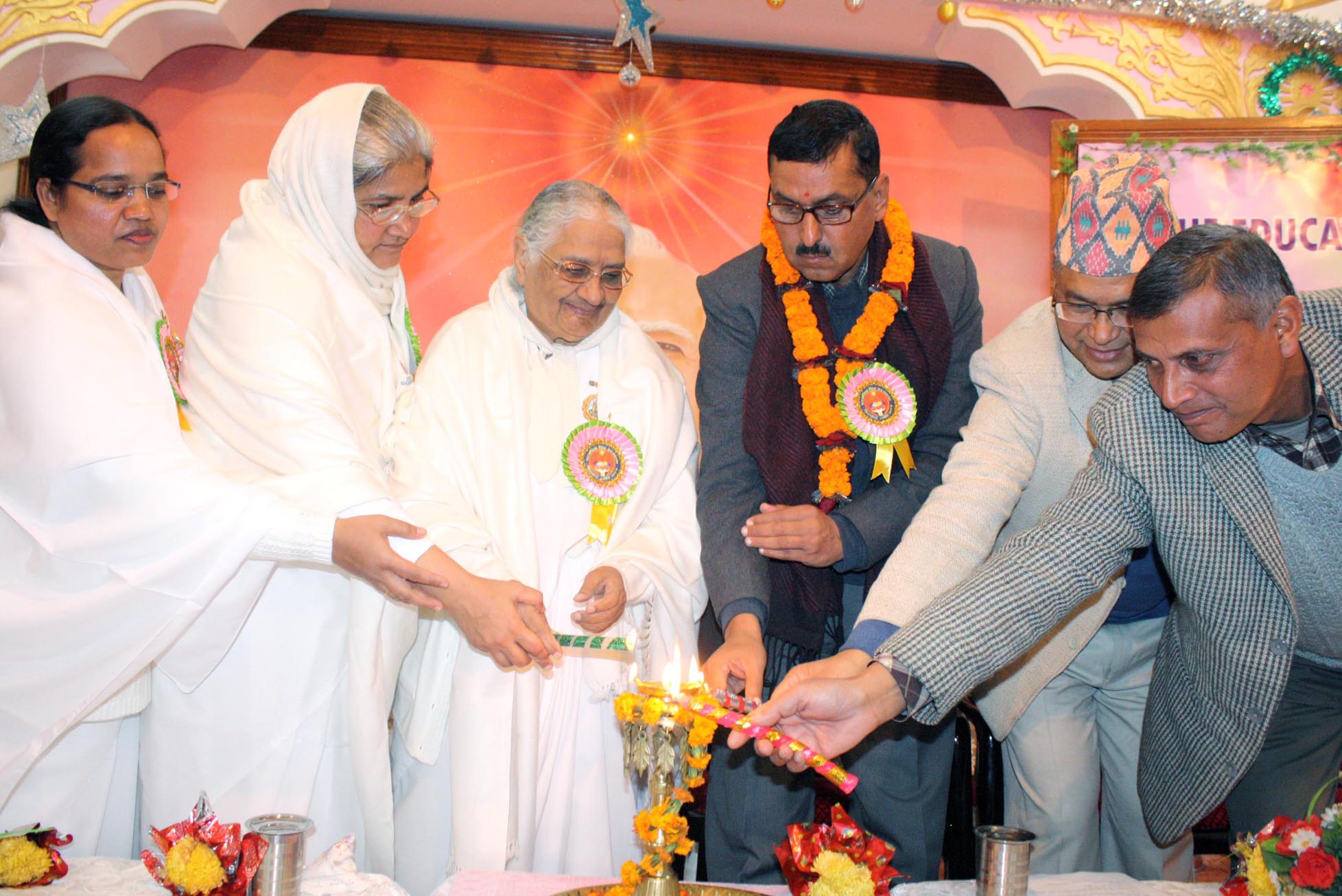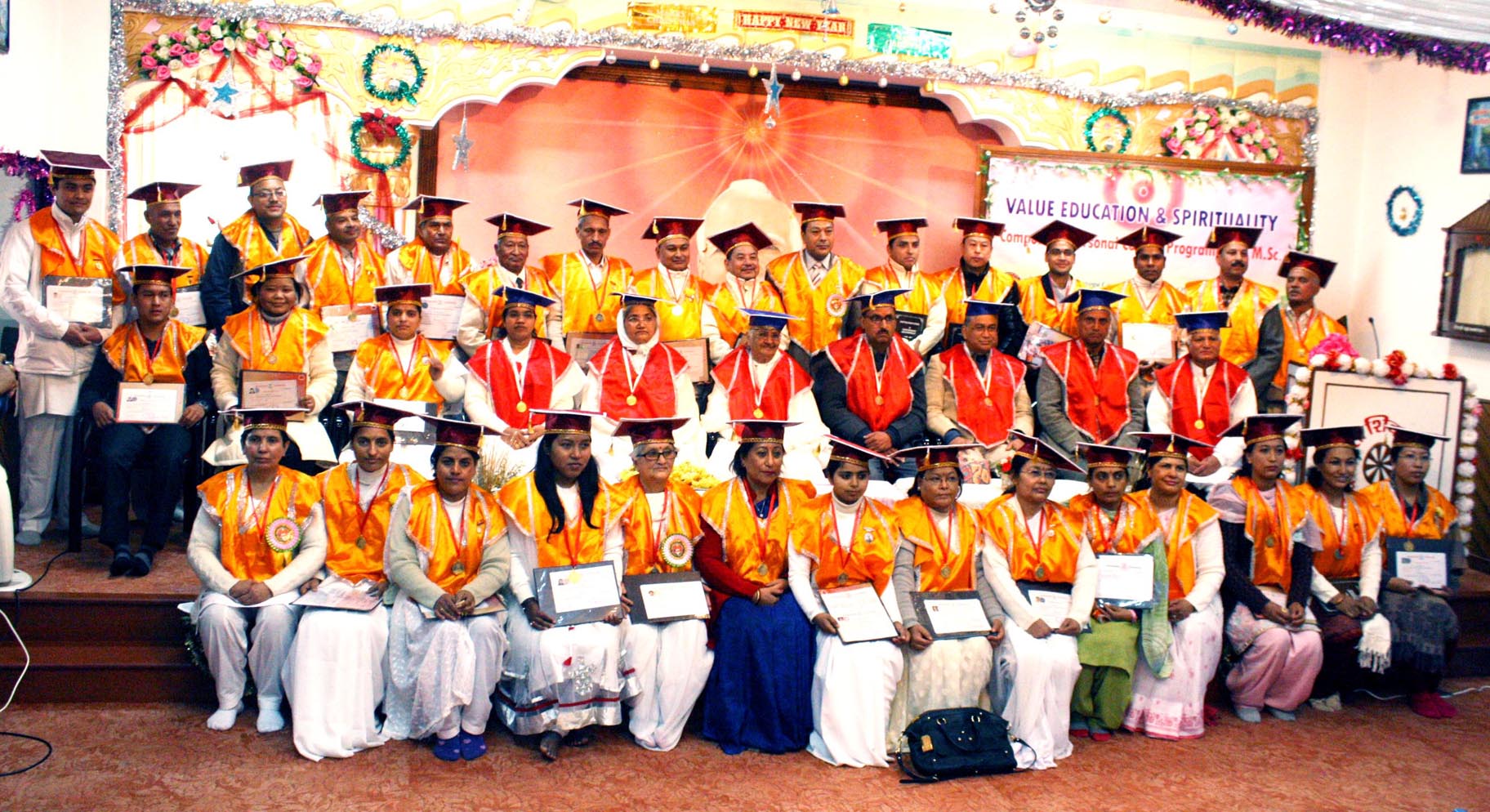 Sister Usha Addresses 'Geetagyan Rahasya Shivir' in Surat
22 January 2015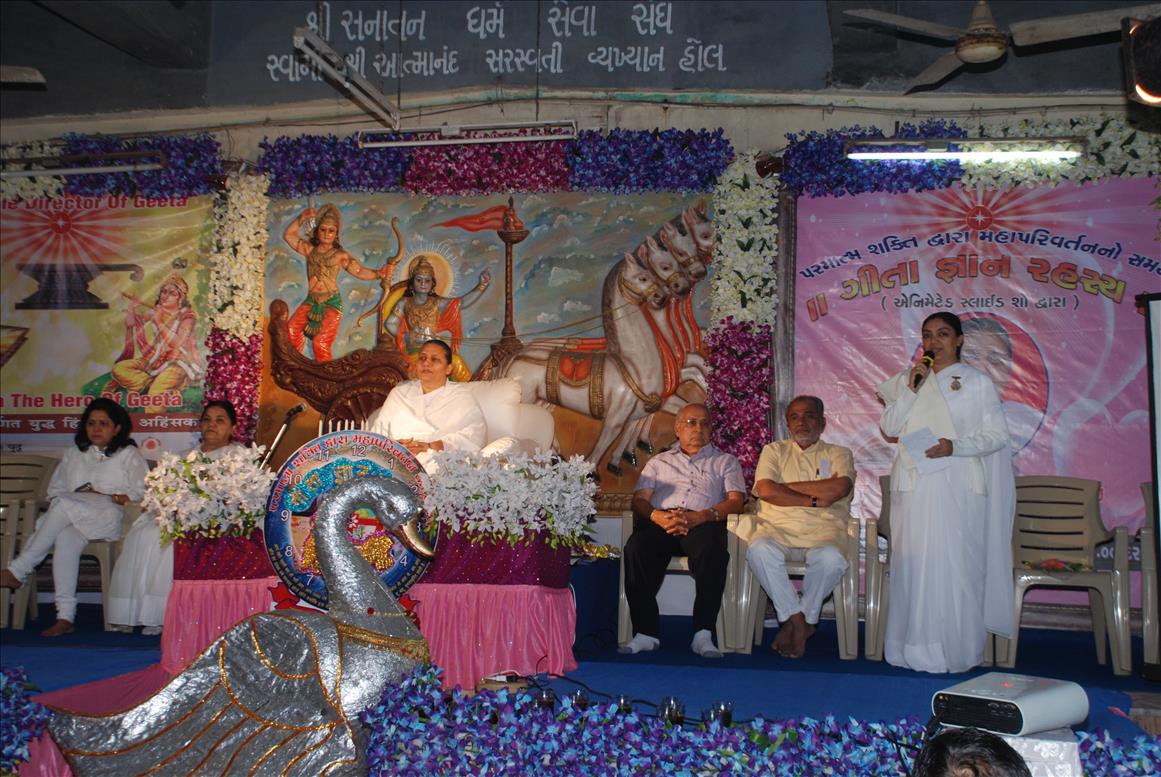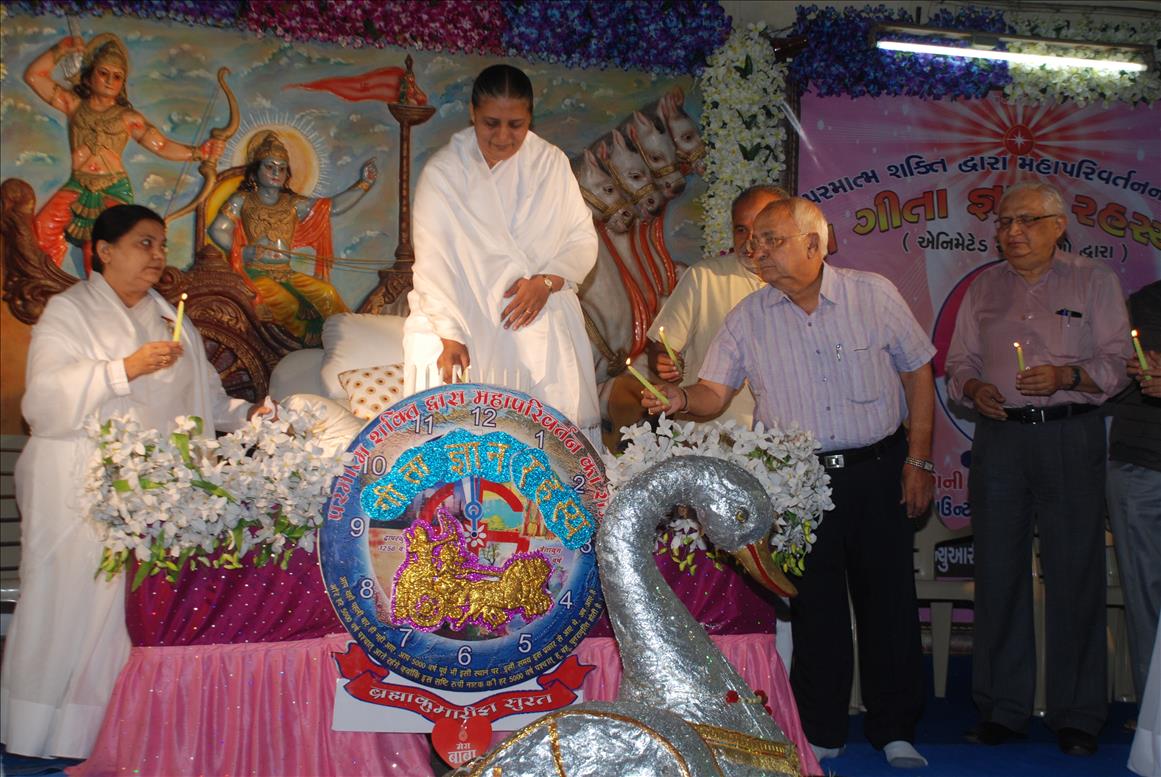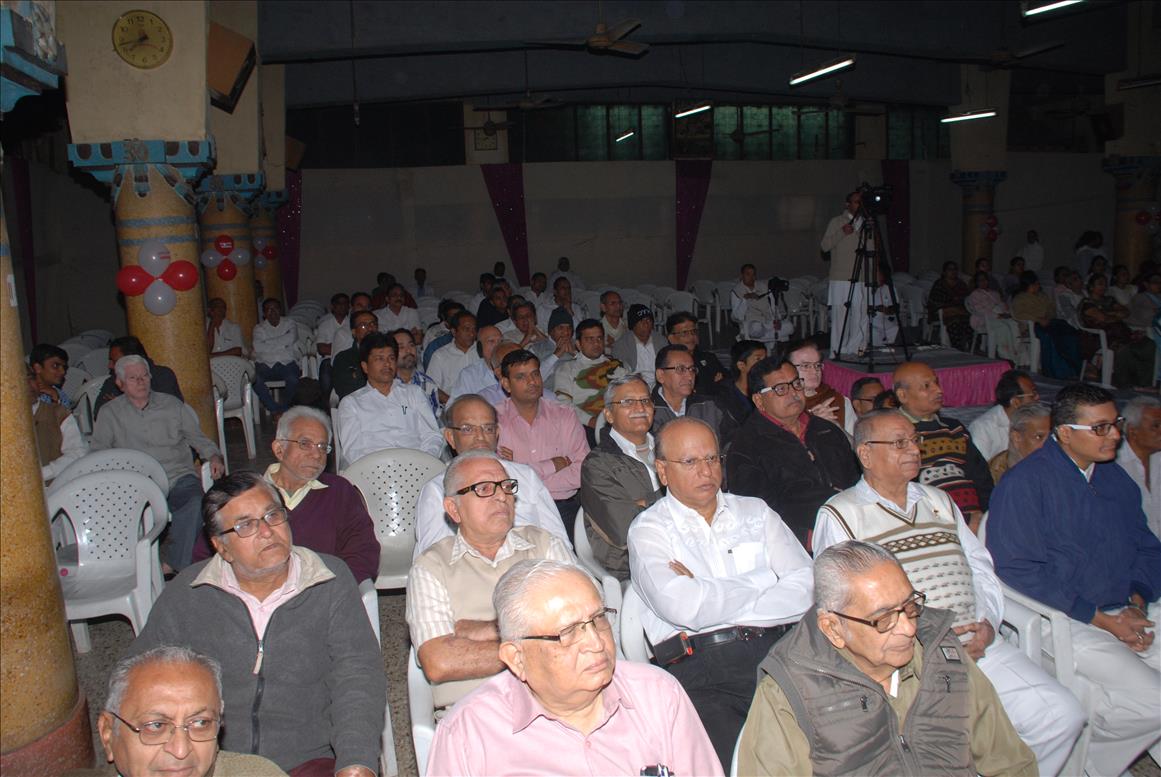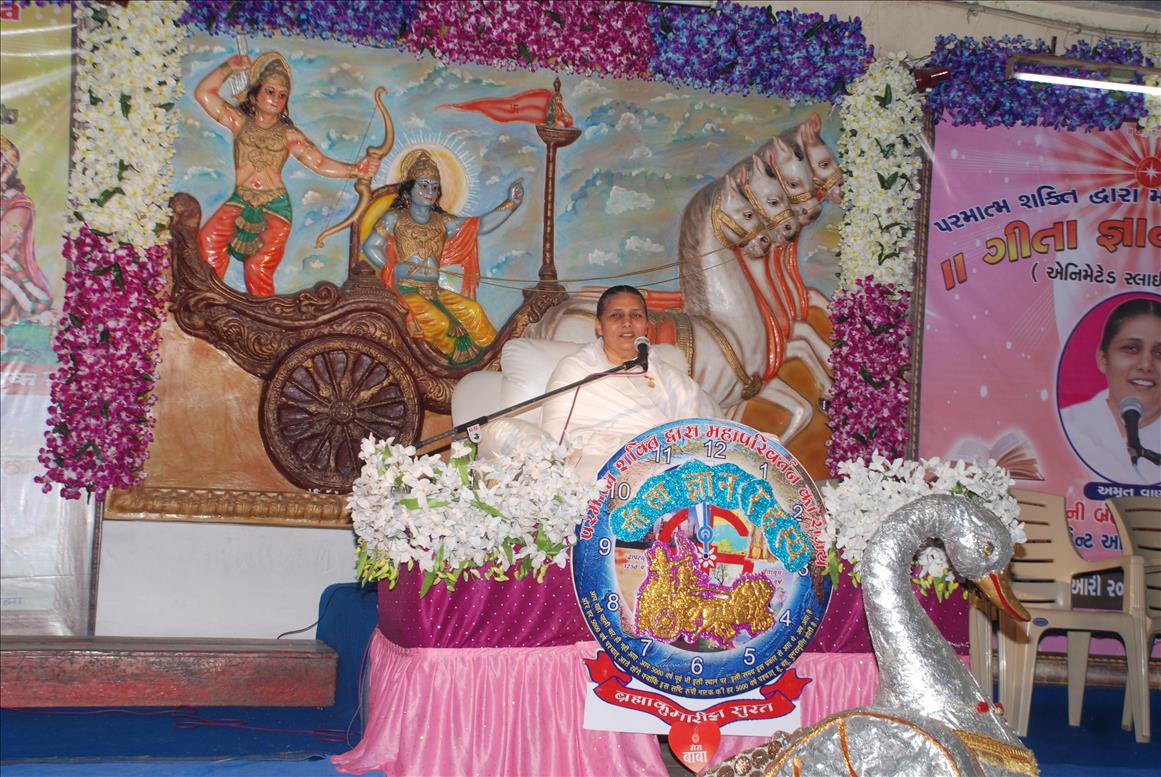 Click here for detailed news report in Hindi.

Shanti Sarovar, Hyderabad Celebrates an Inspiring 10th Anniversary
20 January 2015
Omshanti
Please accept godly greetings of love from Kuldeep ben, Hyderabad.
With the special blessings of Bapdada, Dadis and all divine family members, services over here are progressing with good results. Last Sunday, there was a grand programme of 10th anniversary celebrations of Shanti Sarovar. Respected Dadi Ratan Mohiniji and Santosh didi blessed the occasion with their valuable presence.
Bro.Chandrababu Naidu, Chief Minister of Andhra Pradesh was the chief guest
Guests of Honours are Bro.Y.S.Chowdary, Central Minister for Sci & Tech Bro.Arekapudi Gandhi, MLA Bro. Anjaneyulu, MLA Bro.Dr.Kaarthikeyan, IPS, former CBI director Bro.Justice Eshwaraiah, Chairman NCBC Sis.Ranjana, Chairperson, Board of investigating frauds in Govt & Banks, Govt of India
The specialty of the programme is that, Bro.Chandra Babu Naidu visited Shanti Sarovar after a long time. As soon as he reached Shanti Sarovar, he visited the whole campus in his vehicle. Sis.Kuldeep and Bro.Kaarthikeyan joined him in his vehicle andexplained the details of the campus. He got down at Peace Cottage and visited Babas room. Later, he entered Global Peace Auditorium which is by then house full with over 2200 BKs and Non BKs.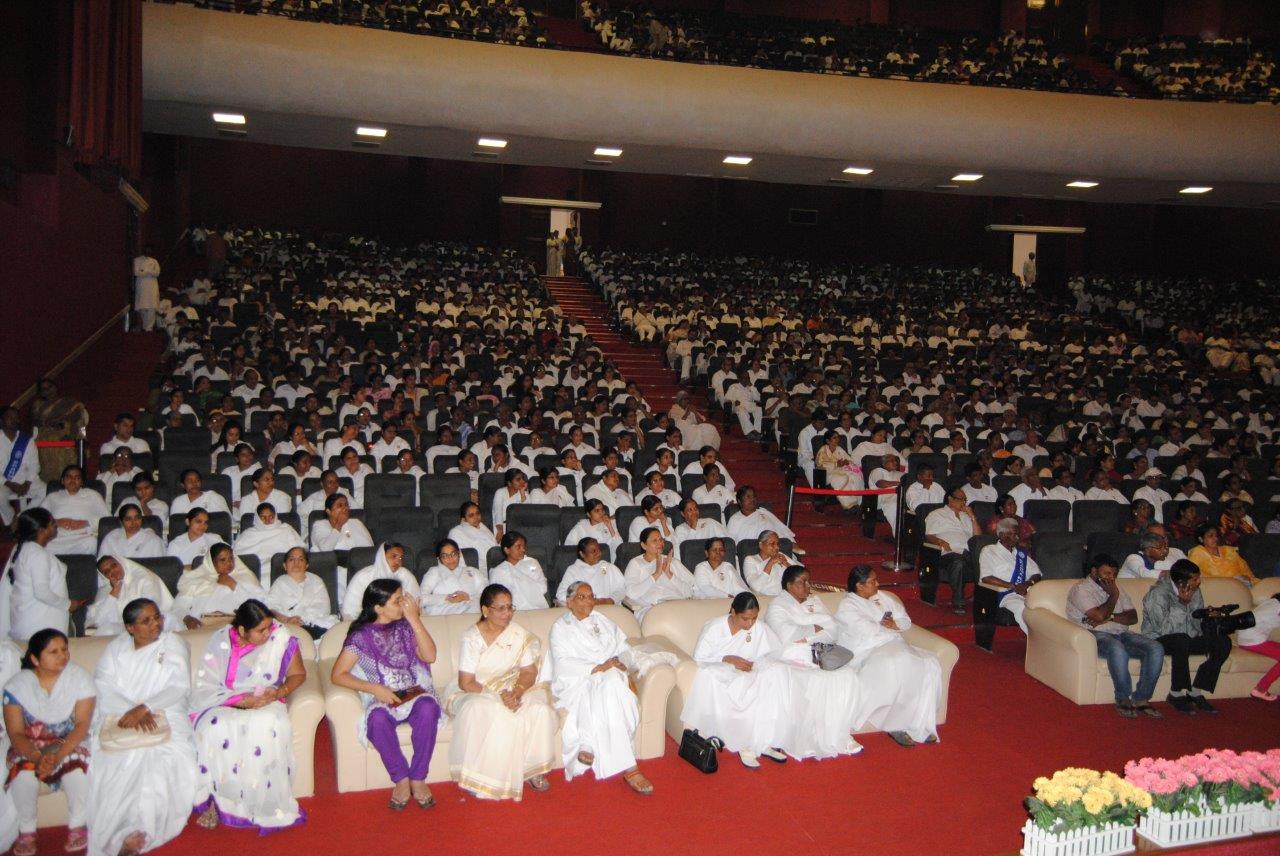 In the beginning, a nice video presentation depicting the highlights of 10 years service of shantisarovar was presented. It covered the story from the beginning when ChandraBabu Naidu visited Mt.Abu, offered land, inauguration etc. It was very well received. Later, guests shared their wonderful feedback about the services of shantisarovar.
There was lighting of lamps, cake cutting on the occasion of completion of 10 years of Shanti Sarovar.
Later Chandrababu naidu gave a heartful, inspired and natural talk for about 25 minutes. He felt extremely happy with the services and commitment of BKs in the positive transformation of people. He was recollecting his visit to Mt.Abu, meeting with Baba, Dadis and seniors; his invitation to BKs to establish Academy at Hyd … etc. He also felt that his decision was a correct oneto offeri support to BKs. He also acknowledged his vision of Golden society and BKs contribution in this. He expressed his great compliments to the services of BKs. He was deeply feeling that Shanti Sarovar is not now in Andhra Pradesh. He invited BKs tocome to newly separated AP state in a big way and was offering land at 3 places–New capital Vijaywada, Vishakapatnam and Tirupati. He came to Shanti Sarovar only for about 45 min. but on total stayed for over 3 hours. He spent a very good and peaceful moments which he was sharing in his talk and in personal discussion with BKs.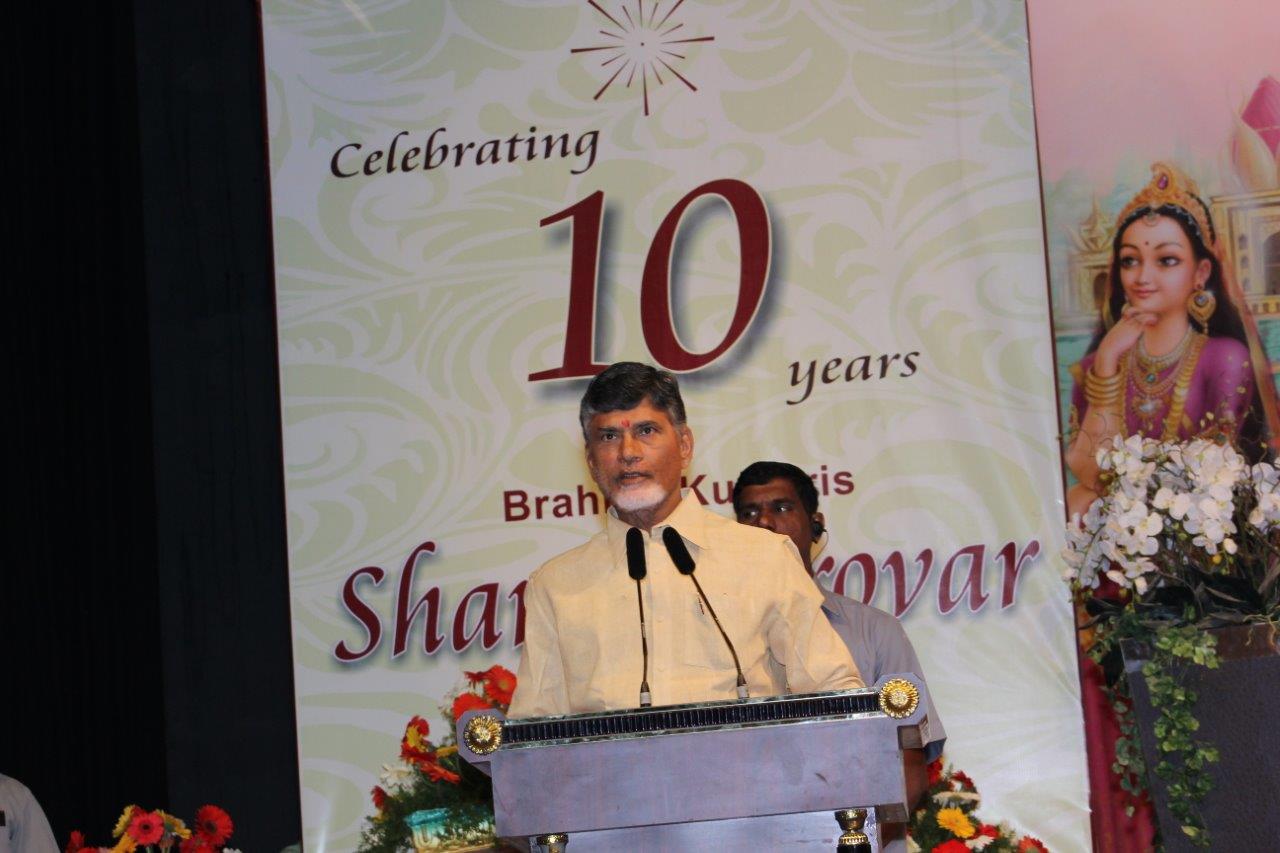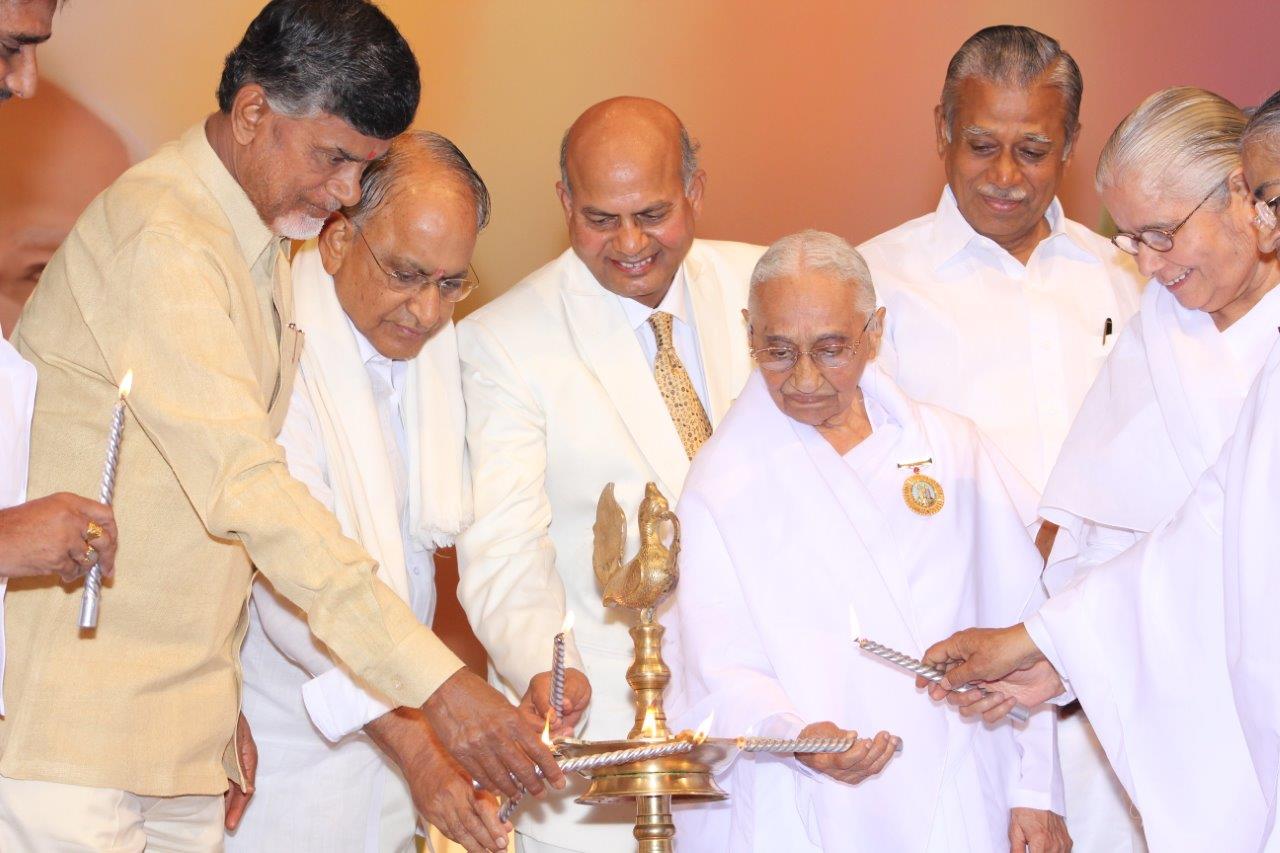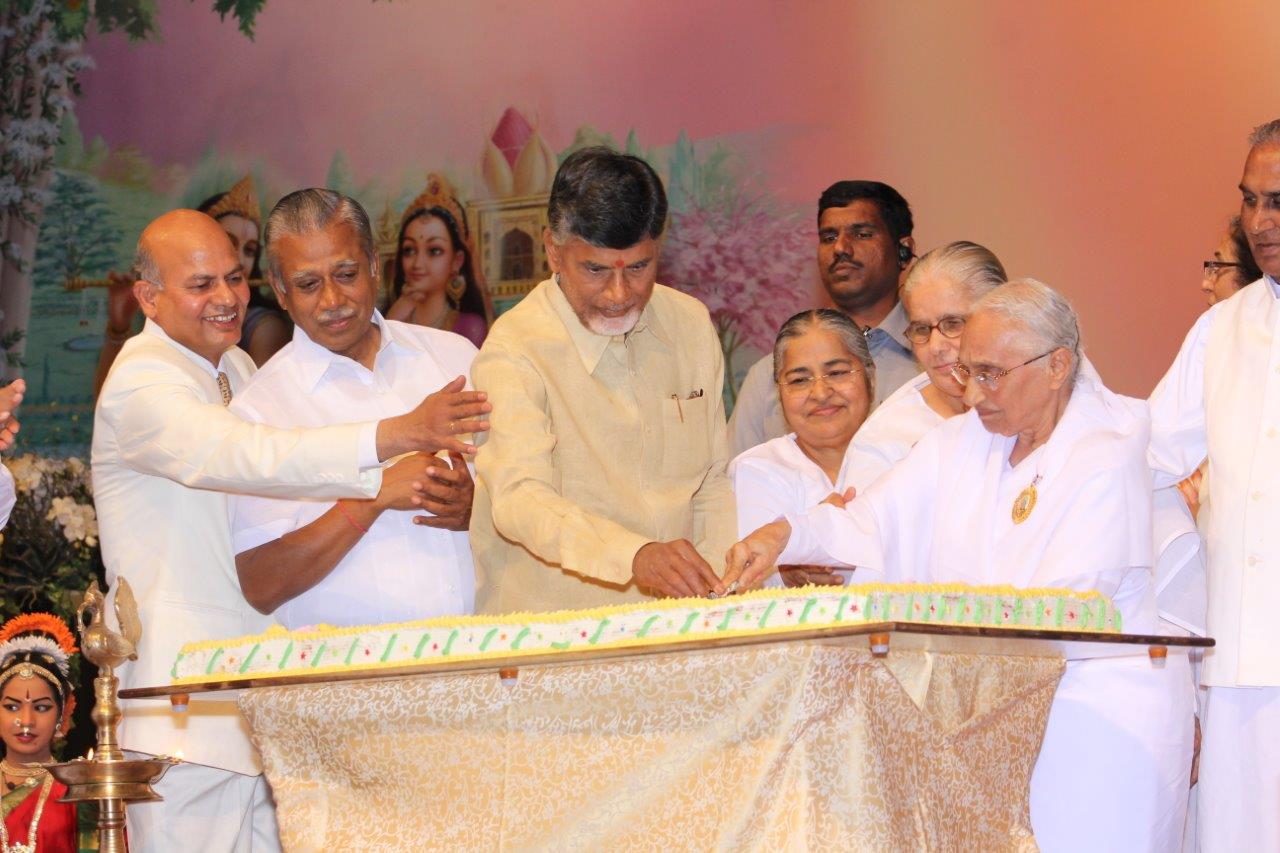 Chandrababu Naidu is at present one of the powerful leader and administrator of the country and according to analysts' he has very bright future and has key role in India. His views about BKs are extremely appreciable and noteworthy.
Thanks for the blessings of Baba, Dadi, Seniors and all divine family members. The credit of successful journey of Shanti Sarovar, goes to all the divine family members who have been offering their loving services. Thanks for each and every one.
Regards
Kuldeep ben
Hyderabad
Click here for CM Chandrababu Naidu's speech in Hindi only.
Click on the above image to view the video of the programme.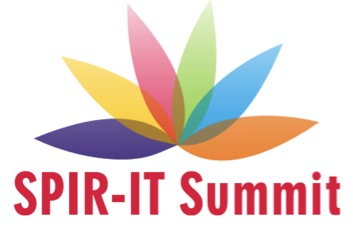 Report on the First Annual SPIR-IT Summit held in Hyderabad
20 January, 2015
A unique SPIR-IT Summit-- a dialogue on Leadership, Technology and Consciousness, was held in Hyderabad no 5th and 6th December, 2014. The first of its kind in India, it was organized by the Government of Telangana, Hyderabad Software Enterprises Association (HYSEA) and the Brahma Kumaris (BK).
The Summit consisted of two parts:
CXO Summit - On 5th Dec. 2014, about 60 Decision-makers from various IT organizations of India gathered for a half-day meeting.

Conference - On 6th Dec. 2014, about 1,100 IT Professionals attended the full-day conference.
CXO Summit Highlights
The CXO Summit was facilitated by Arun Wakhlu, Founder of Pragati Leadership Institute, Pune and hosted by Sister Kuldeep, Director of Shanti Sarovar (Brahma Kumaris). Sister Jayanti, UN Representative of Brahma Kumaris and Sister Shivani, Inspirational Speaker were the Spiritual Resources for the event.

Bala Kishore, one of the co-founders of SPIR-IT Summit, in setting the context for the Summit, discussed the bigger purpose of organizing such an event. He said, "SPIR-IT Summit has been created to serve as a platform for decision-makers to share experiences, exchange ideas and create best practices that can benefit the entire fraternity of IT professionals. SPIR-IT Summit aims to address the aspects related to the 'being' (health, relationships, emotions, personal development, etc.) rather than the 'doing' (projects, timelines, revenue, contracts, etc.)".

Sis Jayanti, in her welcome address, said, "In the 21st century a different kind of leadership is required, 'Servant' Leadership". She mentioned that we need to have something ourselves in order to serve others. It's upon us to decide if we would like to serve stress, agitation, and anger OR love, compassion and care. She further elaborated that a purpose behind organizing an event such as this was to provide an opportunity for participants to connect with ourselves. "Since it is a group of decision makers, the space of silence that we are going to experience today will enhance our decision making capacity." She said this world is not going to be easy to live in with the kind of changes happening all around and so we need to act today to make this place a better one. And to do so, inner stillness and a change of consciousness is required within leaders.

Sister Shivani took the dialogue further and emphasized the need for leaders to be as nurturing, caring and loving as mothers, and to create a sense of belonging among the employees. She mentioned how there is a need to rearrange the order of our priorities from Work-Family-Self to Self-Family-Work. She gave an example of five suicide cases of children in Delhi in last one week and said that when we read about such cases, we simply shift the responsibility to society or other factors. "But it's not the society that needs to be blamed; it is the energy that we are radiating to our children, because we will radiate what we have. If I am stressed today, I'll radiate that. So, if we start taking care of ourselves and shift our focus, we are creating positive energy within ourselves. No situation is responsible for our stress but ourselves."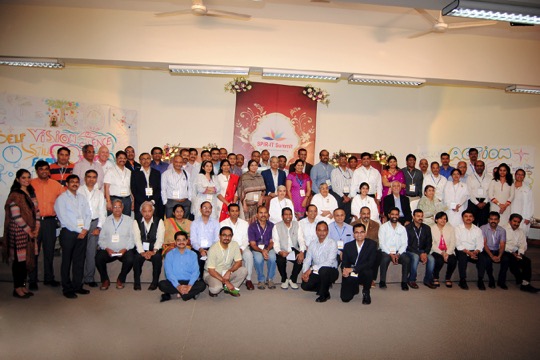 The Conference
The Conference took up the themes of Physical Health, Emotional Health, Social Health and Compassionate Leadership.

Speakers included Padmasri Dr. G Bakthavathsalam (Chairman, KG Hospital & Post Graduate Medical Institute, Coimbatore), Dr. Devi Shetty (Founder & Chairman, Narayana Health), Dr. Nalini Nagalla (Pulmonologist & Sleep Specialist, Continental Hospitals), Mr. Deenanath Harapanahalli (Founder & CEO - TAF), Dinesh Kashikar (Art of Living Teacher), Mr. G V Prasad (Vice Chairman, Dr. Reddy Labs), Harpreet Singh (IT Secretary, Govt of Telangana), Sister Jayanti (BK UN Representative), Dr. Kiranmai (Corporate VP, HRD for Greater Asia, AMD Inc.), Mr. Bala Kishore (SVP, United Online), Mr. M Narasimha Rao (SVP & Hyderabad Site Leader, Infosys), Flt Lt Bipin Pendyala (MD, iKeva & Secretary, HYSEA) , Sister Shivani (BK Spiritual Teacher), Mr. Vara Prasada Reddy (Founder & Chairman, Shantha Biotechnics), Prof. Raj Raghunath (ISB), Mr. Ramam A (Executive Vice Chairman, LV Prasad Eye Institute)

The full day event was divided into four sessions dedicated to each of the four themes in the main auditorium. Each session consisted of a keynote, a panel discussion and a creative exercise. There were also three breakout sessions for people interested in deep-dives. There were two tea breaks and a lunch strategically placed so that delegates would get a change to mingle and have hallway conversations. The event was free of charge for IT professionals.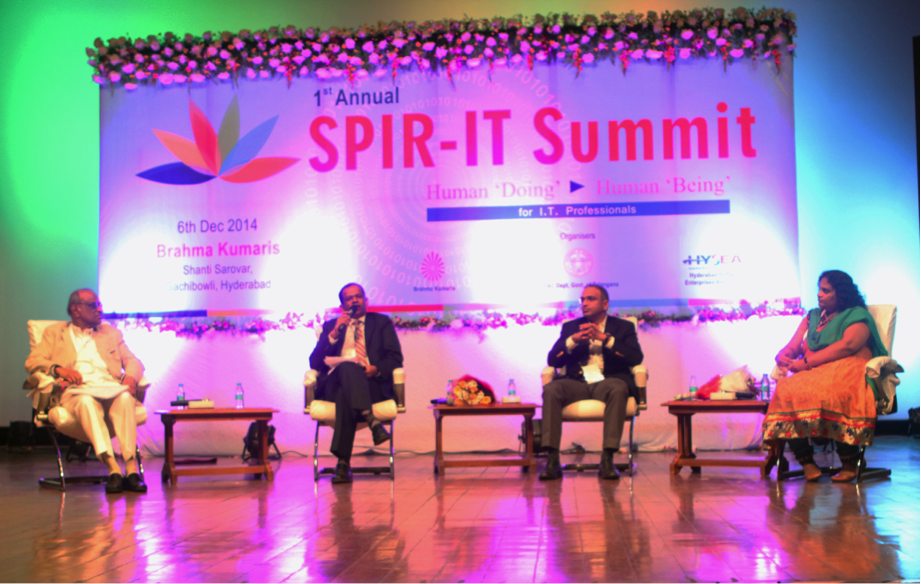 Dr Binny Sareen Presents Paper at the 102nd Session of the Indian Science Congress
15 January 2015
For the first time, Brahma Kumaris presented a paper on ''Science & Spirituality'' at a symposium on ''Ancient Indian Sciences'' as part of the 102nd ''Indian Science Congress'' held at Mumbai University from 3 to 7 January.
It was matter of great pride that, after 50 Years, this 102nd Session of the Science Congress, hosted by the University of Mumbai, Kalina, was inaugurated by PM Narendra Modi.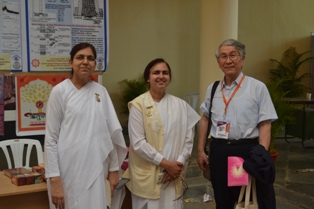 The Congress featured presentations by world-renowned research scientists and Nobel laureates from India and all over the world. Brahma Kumaris Kalina Centre Incharge B.K. Neena interacted with many dignitaries during this conference, including Mumbai University's Vice Chancellor Dr. Rajan Welukar, Pro-Vice-Chancellor Dr. Naresh Chandra and other eminent personalities, introducing them to Brahma Kumaris Spiritual Initiatives.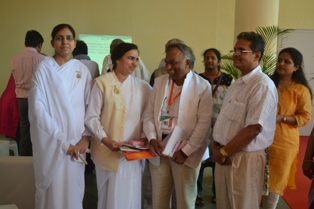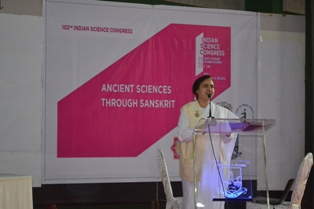 BK Dr. Binny Sareen presented a paper in the Symposium entitled "Ancient Indian Science". It was the first time in the history of the Congress that the topic ''Ancient Indian Sciences'' had been introduced. Dr Binny's presentation on the subject of "Science & Spirituality''and the meditation experience at its end were well appreciated by the audience, among whom was Chief Guest Shri Prakesh Javdekar, Hon. Minister of State for Environment, Forest & Climate Change.
Many other eminent speakers also gave presentations. The Hon. Chief Guest Dr. Kamal Singh, Vice Chancellor of Amarvati University, lauded Brahma Kumaris contributions in spirituality, saying "I salute Dr. Leena and Dr. Binny Sareen for their remarkable research in field of Spirituality."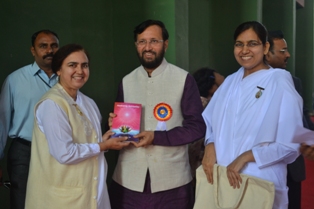 Happy Maha Sankranti!
15 January 2015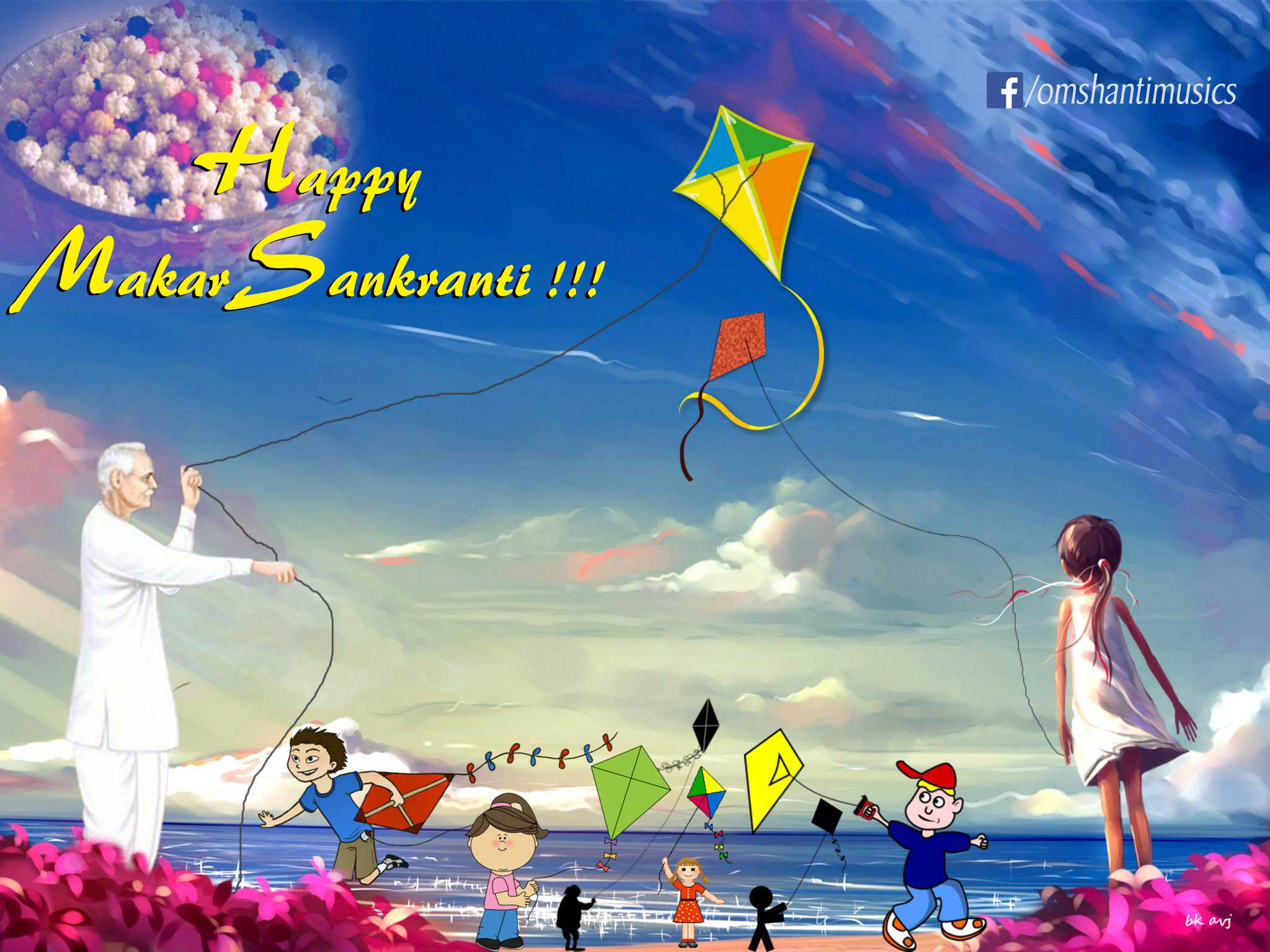 Spiritual Science Exhibition - Mumbai
13 January 2015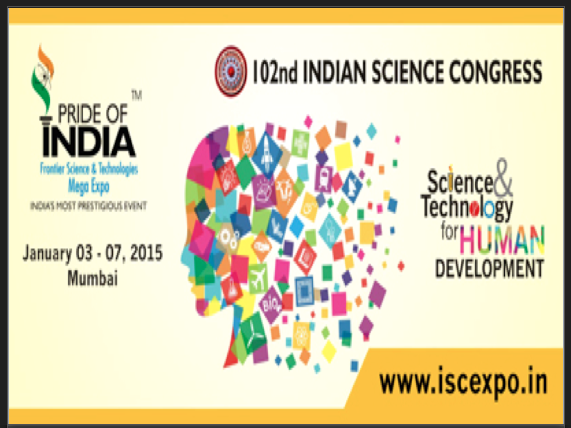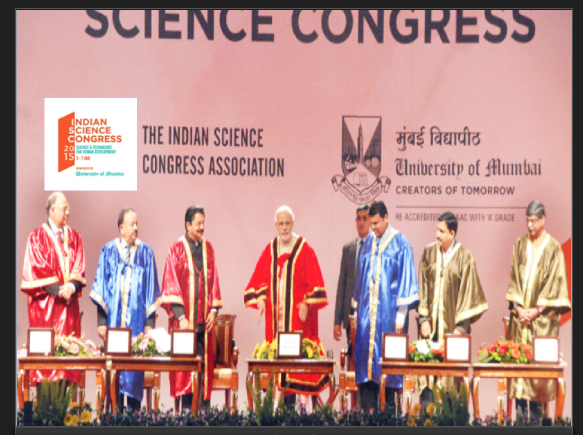 Click here for a slide show of event news and photos.

Dr. B.K. Binny attends International Historic WASH Summit of World Leaders and Women Leaders at Rishikesh
13 January 2015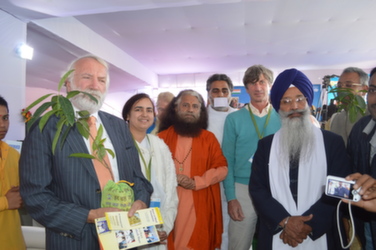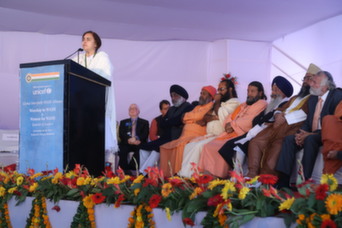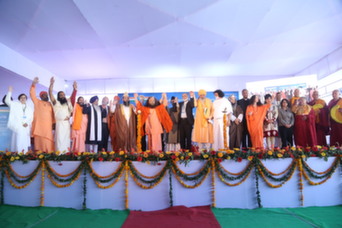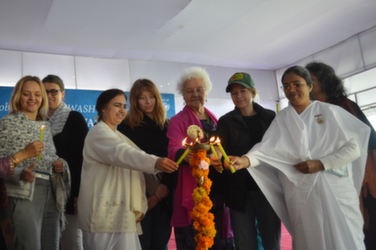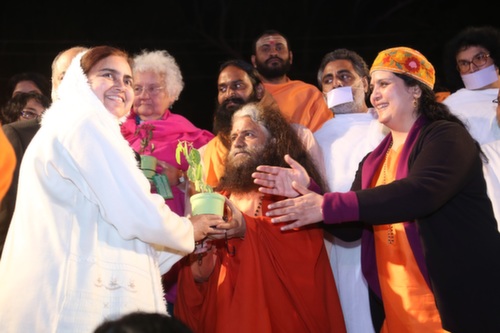 Divine Family
An International Historic WASH Summit of World Leaders and Women Leaders was held at Rishikesh ( Uttarakhand) to save lives of children and women.
Dr. B. K .Binny, PRO of Global Hospital, Mount Abu represented as a speaker and shared the greetings of respected Dadi Janki, Chief of B.K, Brahma Kumaris world wide spiritual services and Global Hospital's human and health services for children and women. It is matter of pride and privilege that spiritual and religious leaders of the world are gathered on very important subject of water sanitation and health of children and women. The Brahma kumaris is playing leading role for spiritual upliftment of women and other professions of society. Global hospital and research center's health care service are providing health care services for women and children in villages and other needy areas of the society.
In this event History is being created on the banks of the Ganges through the joint effort, experience, and expertise of renowned leaders of all faiths from across India as well as from the US, England, Europe, Australia and Africa, leaders of social organizations, NGOs, political leaders and celebrities.
Following Dignitaries were present at this event
Co-founder of the Global Interfaith WASH Alliance (GIWA) and President of Parmarth Niketan, Pujya Swami Chidanand Saraswatiji, Mr. Harish Rawat ji, Chief Minister of Uttarakhand. Dr. Kalbe Sadiq Sahib, World renowned Islamic scholar and leader, Maulana Luqman Tarapuri, Regional President of Global Imam Council, Dr. Abdul Malik Mujahid, Chairman of the Parliament of World Religions, Chicago, Imam Umar Ilyasi, President of All India Imam Organisation, Dr. Kiran Bali, Global Chair of United Religions Initiative USA, Dr Deepika Sign, Director of Programmes, Religions for Peace, Louis George Arsenault, UNICEF Representative to India, Archbishop Thabo Makgoba of Cape Town, South Africa, Sadhvi Bhagawati Saraswati, Secretary General of GIWA, Prof. Manjit Singhji, former Chief Jathedar, Akal Takht.

Poster for the 11th Episode of Nareetva Darshan
4 January 2015
This 11th episode (out of 13) screens on Thursday, 5th February at 9:30am at the Golcha Cinema-Screen 1 (Nile), Near New Gate (Ajmeri Gate), Jaipur.