2018 North America News Archive
2018 North America News Archive
Living Values Education Newsletter for June
24 July 2018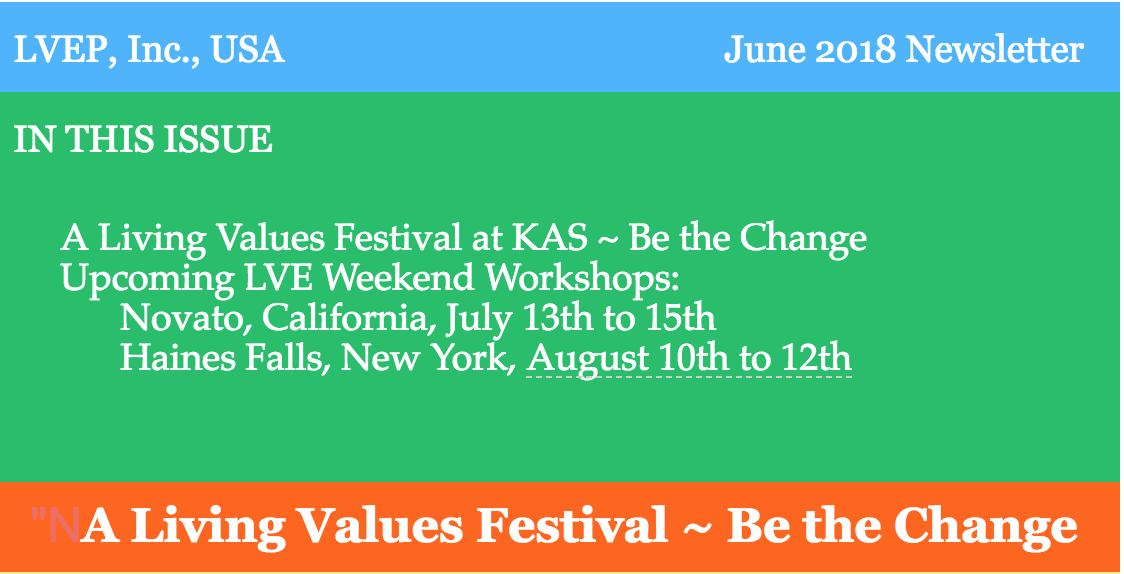 Peter Williams wrote that it was a joy to watch the smiles and feel the happiness in the hearts of children, parents and friends at the very first Living Values Festival in Kuwait as they came to live and rediscover their values. The many enthralling activities were creatively conceived and designed by Ioanna Vasileiadou and lovingly crafted through the teamwork of the Student Council, parents, colleagues and members of the wider community. The purpose of the six hour event was simple: 'Be the Change'.
The many interwoven values-based themes placed a strong emphasis on choosing to 'Live Your Values in Ethical Ways' through, amongst others, valuing the collection and re-using of recycling materials, creative artwork, fun filled games, healthy eating, physical activities and especially awakening the inner world of values.
The pictures available show that many of the activities were especially designed and hand crafted. Friends of Living Values Education who read this are warmly invited to consider adopting some of the activities in their own contexts.
Great care and time was taken to create a loving, colorful, attractive and safe environment welcoming everyone to the Festival. Soft pastel shades of fine cotton drapes adorned the courtyard overhead together with painted umbrellas around the fencing. A stage for performances was constructed, and cleverly painted old car tires with specially designed cushions were set around tables made from recycled pallets. Little touches of authenticity included values statements on tables, values-based blessing cards, flowers, simple quotations, values-based banners designed by the children and cheerfully played soft music to uplift the spirit.
One of the many highlights was the creation of a values-based garden. These wooden boxes, each painted with a different value, for example, joy, happiness, respect, etc - are now around the school with 'Peace and Love' adorning the entrance. The children's comments, with pure pride: 'This is the flower I planted'. To see the pictures and the entire article, please go to livingvalues.net and see the May 2018 Newsletter.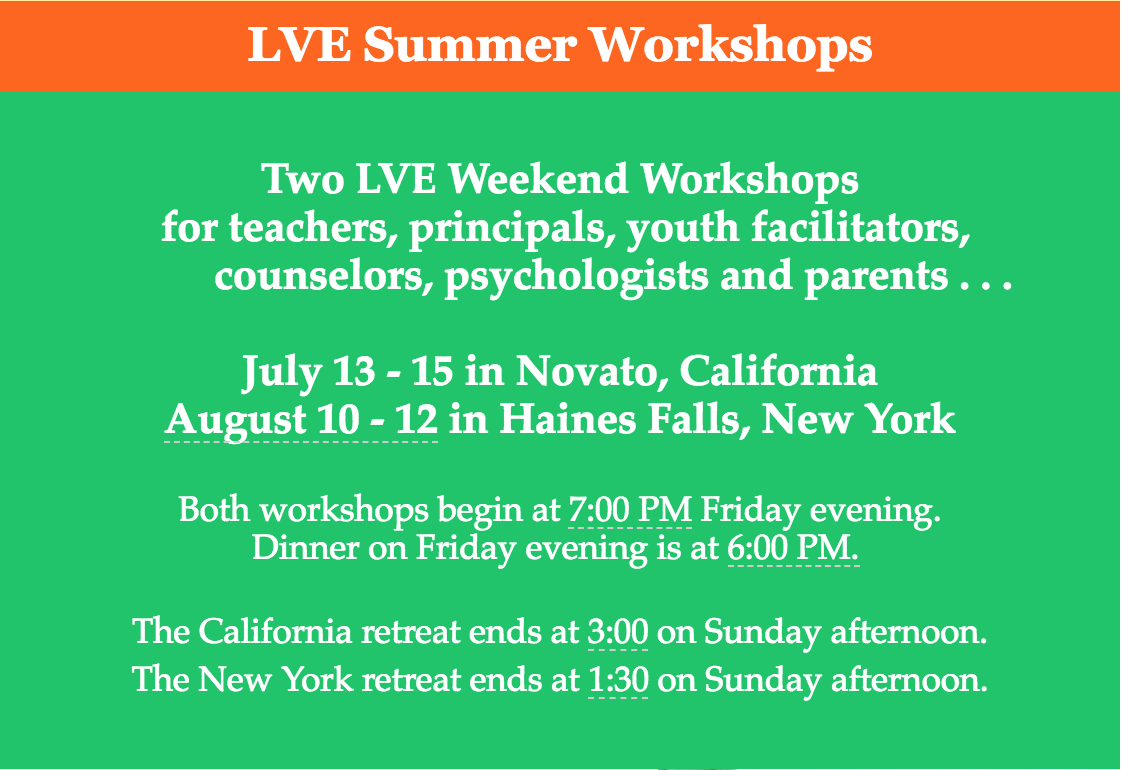 Join us for an inspiring weekend to reflect on values and a paradigm and process that builds relationship, and empowers positive choices and resiliency in young people.
Learn about methods that invite the co-creation of a culture of peace and respect, and experience activities that help young people of all ages, from toddlers to young adults, explore and develop universal values and positive social and emotional skills. Living Values Education is a comprehensive values education approach being implemented in more than 40 countries.
This workshop is highly recommended for adults who wish to help young people optimally explore and develop values. Please join us to:
reflect on the role values play in your life, schools, communities and the world;

learn about the LVE Approach and the process of developing values;

refine acknowledgement and active listening skills that allow adults to deal with young people's resistance more easily and effectively;

learn about non-violent discipline methods to help all feel and be safe and respected;

experience relaxation/focusing exercises that help young people be more centered and better able to self-regulate;

have more than 140 activities to help young people develop 12 universal values and positive intrapersonal and interpersonal social and emotional skills; and

be comfortable facilitating a process that builds positive social skills, drastically reduces bullying and has young people resolving issues with the language of values within months, inside and outside of the classroom.
Results: The most frequent themes noted by educators implementing LVE are positive changes in teacher-student relationships and in student-student relationships both inside and outside the classroom. Educators note an increase in respect, caring, cooperation, motivation, and the ability to solve peer conflicts on the part of the students. Aggressive behaviors decline as positive social skills and respect increase.
LVE helps educators hone quality teaching skills to create a safe, caring, values-based atmosphere for quality learning. Young people learn to use the language of values to reflect on challenges and generate positive solutions. Please see our website for research results and success stories.
Parents benefit immensely from this approach and note improved relationships, more peace and cooperation in the home, and an understanding of how to help young people develop positive and protective social skills, and deal with bullying and social media concerns.
Facilitators:
Diane G. Tillman will lead both workshops. Diane is a former School Psychologist, Licensed Educational Psychologist, MFT, and the primary author of the award-winning LVE series of books. Her most recent book is "Nurturing with Love and Wisdom, Disciplining with Peace and Respect: A mindful guide to parenting".
Ed Wondolowski and Stephanie Kerr will be co-facilitating the retreat in New York at the Peace Village Learning and Retreat Center. Ed Wondolowski is an Emeritus Professor of Management, Bentley University, and a past president of LVEP, Inc. Stephanie Keer is the Education Solutions Manager at Konica Minolta and an adjunct Professor of Psychology, New York University.
Annie Jorgensen and Kyoko Kimura will be co-facilitating the retreat in California. Annie has a Master's in Educational Counseling. A retired primary and special education teacher, she taught LVE for ten years in the classroom, with stellar results. Kyoko, a gifted flutist, is a music teacher in the public school system who enjoys combining values education with music instruction.
Cost: There will be a $40 charge for the workshop to help cover LVE expenses. For those staying at the retreat center, please plan to make a separate donation for meals and accommodation.

Sister Shivani visits Vancouver BC, Canada
22 July 2018
The Vancouver Family was deeply grateful for this opportunity to serve many souls by being part of the Awakening West Coast Tour. Not only was this a chance to enjoy the presence of Sr Shivani—but it also was a wonderful moment which united the hearts, minds and hands of the Canadian Family.
Many thanks to Br Eric, the Canadian National Coordinator, for his constant support in making sure everything went smoothly.
Many thanks to Latabhen (Toronto) for her generous support in so many areas, including care of the many guests accommodated. We also deeply appreciated the presence of Sr Sangeeta (Ottawa) who proved to be an all-rounder!
Many thanks to Sr Judi (Calgary) who was always ready to help.
Many thanks also to Sr Tanya (Montreal) who, together with Judibhen and the young Vancouver angels, provided a touch of sweetness.
Countless thanks to the brothers and sisters of the Vancouver Family, where all became magical with each tireless and loving nger of cooperation!
Finally, there are no words to describe the gratitude felt towards Baba and Drama—together making the impossible, possible!
Click here for full report with photos.


Didi Chakradhari's visit to centers in Dallas, Texas and Oklahoma
22 July 2018
Didi Chakradhari's recent visit to centers in Dallas -Texas and Oklahoma.
The BK Dallas family was very fortunate and grateful to BK Sr. Ranjan for inviting and arranging Chakradhari Didi's visit to Farmers Branch – Dallas Center, Tapasya Dham Retreat Place- Pilot Point, Arlington Center - Texas, Cedar Park-Austin- Texas and Edmond Center- Oklahoma, in the end of the month of May,2018.
She was accompanied by Bharti Behan (from Lotus House - Ahmedabad).
Tapasya Dham Retreat Place-The Brahmin family had the fortune of attending a retreat in which the theme was "From Limited to Unlimited". In this retreat apart from Didi's talk, Sr. Ranjan interviewed Didi which was very interesting and beneficial. Many of Didi's experiences with Mama and Baba were also shared in the morning classes.
During this visit Didi gave many public talks on topics like - "Solving Inner Conflicts"- in Dallas, Cedar Park- Austin and in the Oklahoma city Downtown Library.
"Self Unfoldment -a special event for women's empowerment" - in which she talked about how to tune in to the innate qualities of one's real self and learning the art of balancing daily responsibilities and fostering self growth - Dallas Center
"Attainments through Raja Yoga meditation" - Arlington center
We are all very grateful and thankful to Chakradhari Didi and Bharti Behan for taking out their time to visit us. Chakradhari Didi's loveful and humble nature and her words of wisdom has touched the hearts of many souls in making self effort and self progress.
In Baba's Yaad
Dallas Family
Dallas (Farmers Branch) Center.
"Solving Inner Conflicts" - Thursday 17 May, 2018 from 7:00pm to 8:30pm
More Photos: https://photos.app.goo.gl/qt1wJyCLvwyLcRhr1
Video : https://youtu.be/addme/Hav_slNtLGOtz1sZFtGPwu4t73xOk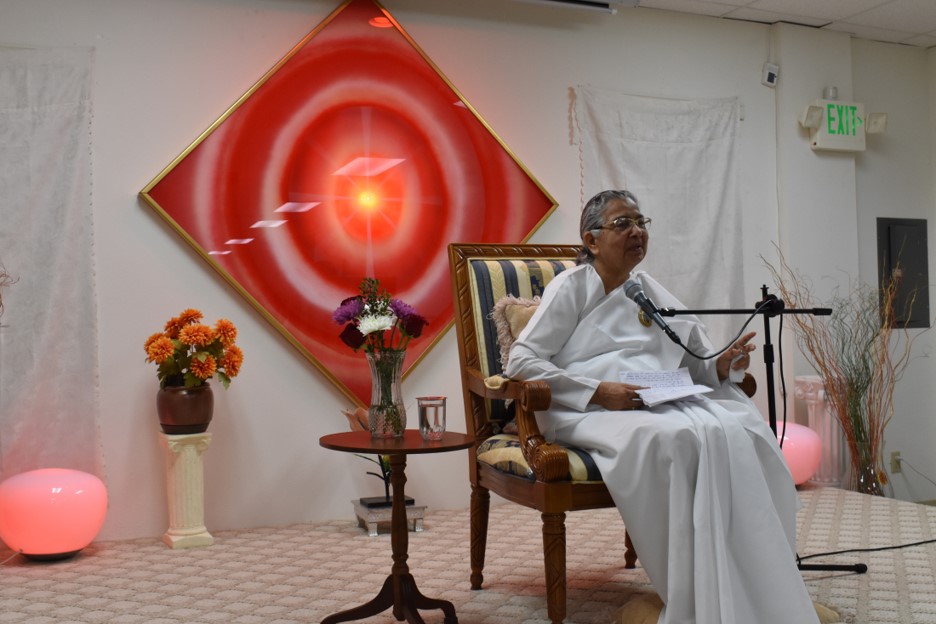 BK Retreat at the Tapasya Dham Meditation Home, Pilot Point Texas
May 18-20, 2018
More Photos: https://photos.app.goo.gl/9fLob11bfk3Spzde8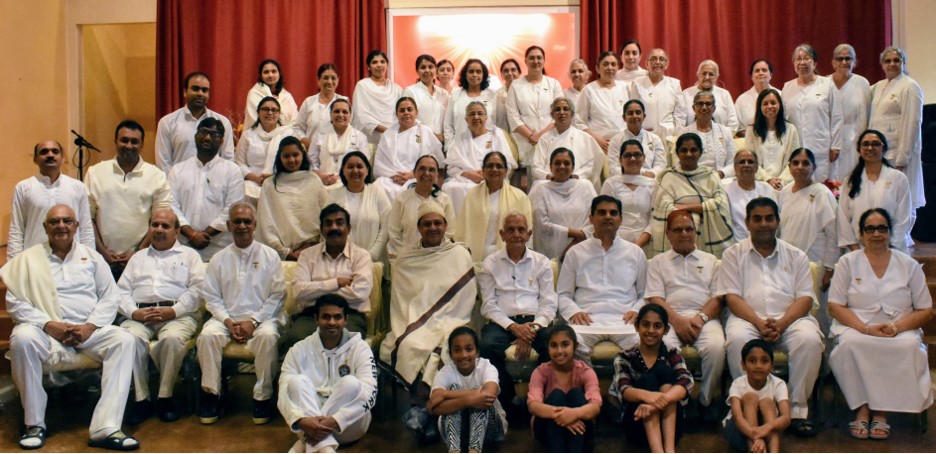 Women's Program with Didi Chakradhari
"Self-unfoldment " – Wednesday, 23 May, 2018 at the Farmers Branch Center (Dallas), Texas
Tune in to the innate qualities of your real self. Learn the art of balancing your daily responsibilities and fostering self-growth.
More photos: https://photos.app.goo.gl/YPJl0Lxj9kIxrAkc2
VIDEO: https://youtu.be/addme/ma_c5_bzUAMyDNLk3dEPCarMT0U3bQ
Attainments through Meditation
at the Arlington, TX center, Tuesday, 22May, 2018 7:00-8:30pm
More photos: https://photos.app.goo.gl/oHXpixOb5MIxJbdU2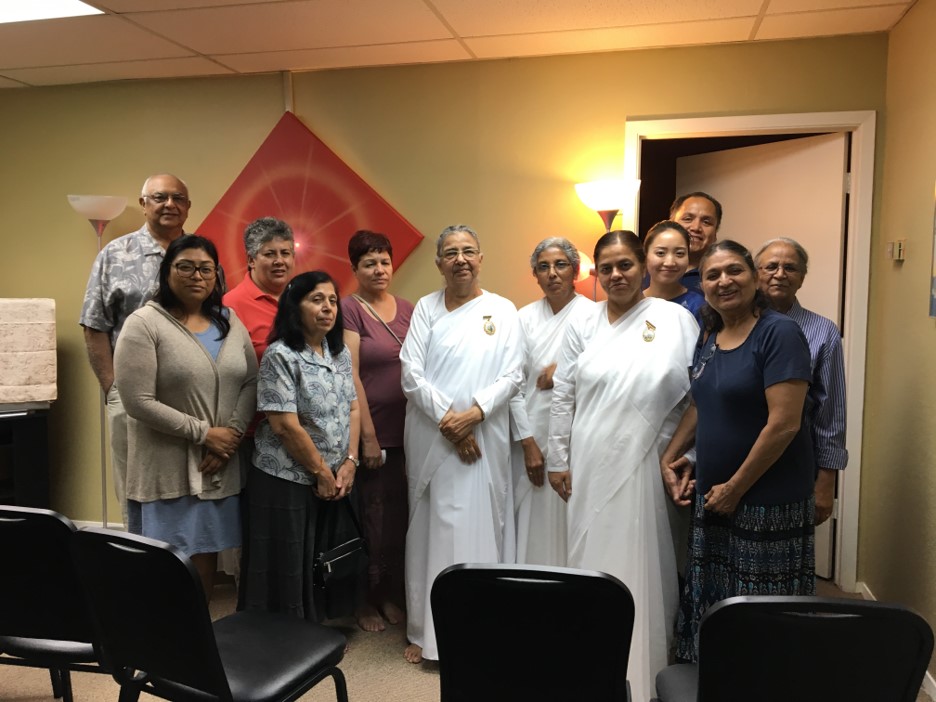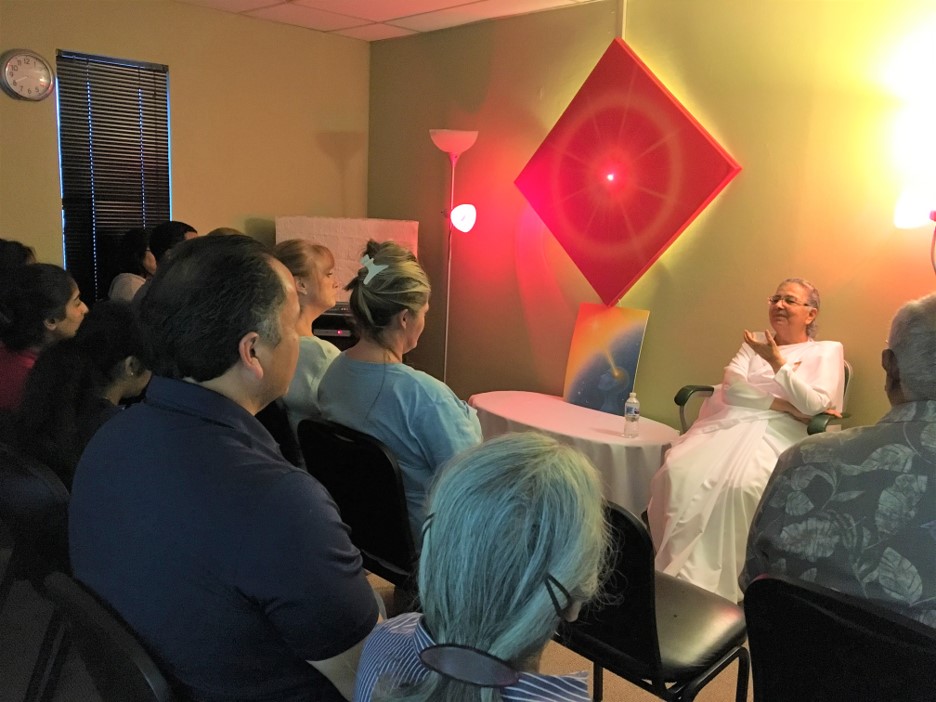 Solving Inner Conflicts with Didi Chakradhari
Ronald J Norick Downtown Library,
Oklahoma City, Oklahoma
Sunday, 20 May, 2018 3:30 -5:00pm: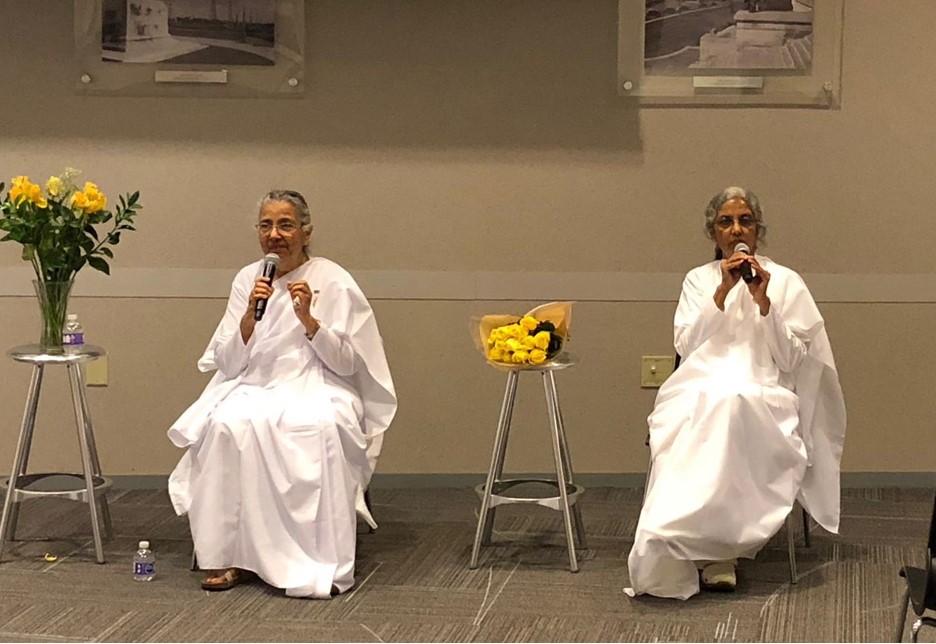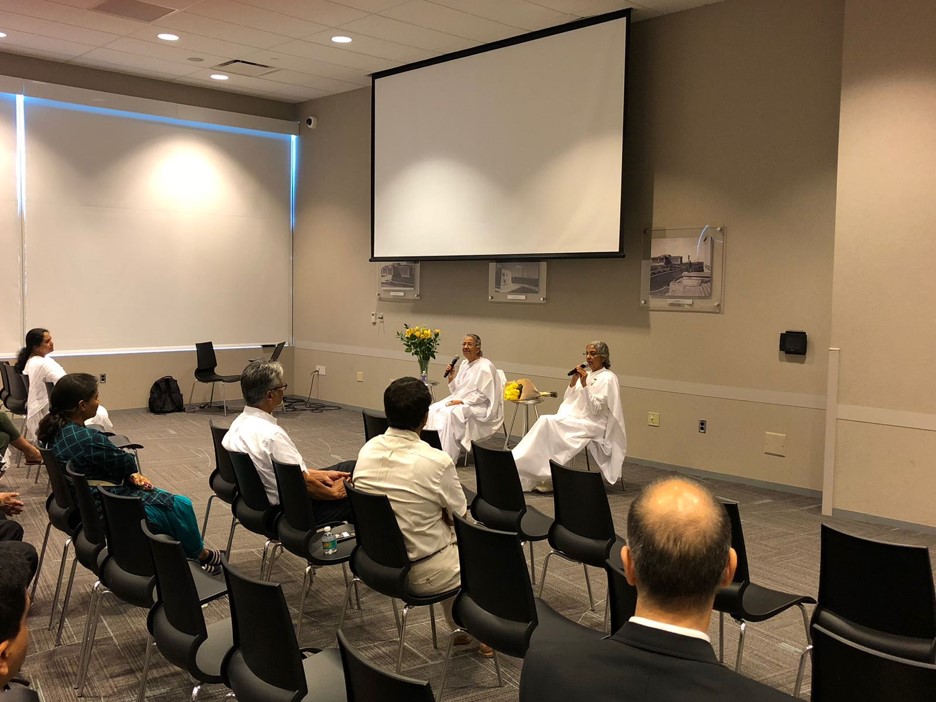 Solving Inner Conflicts by Didi Chakradhari
Friday, 25 May 2018 6:30-8:30pm Cedar Park, Texas near Austin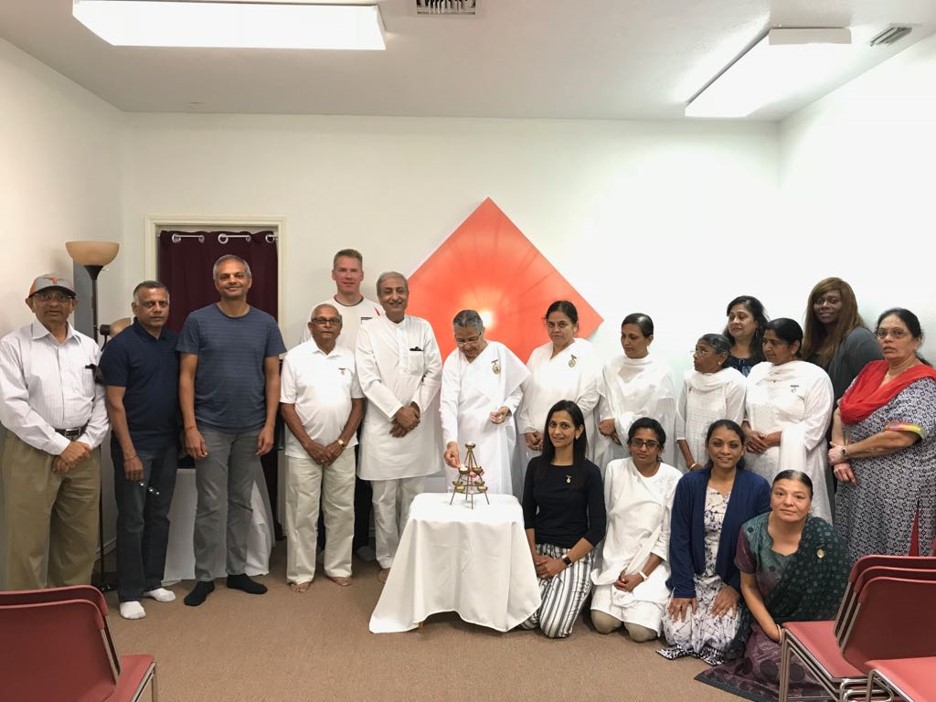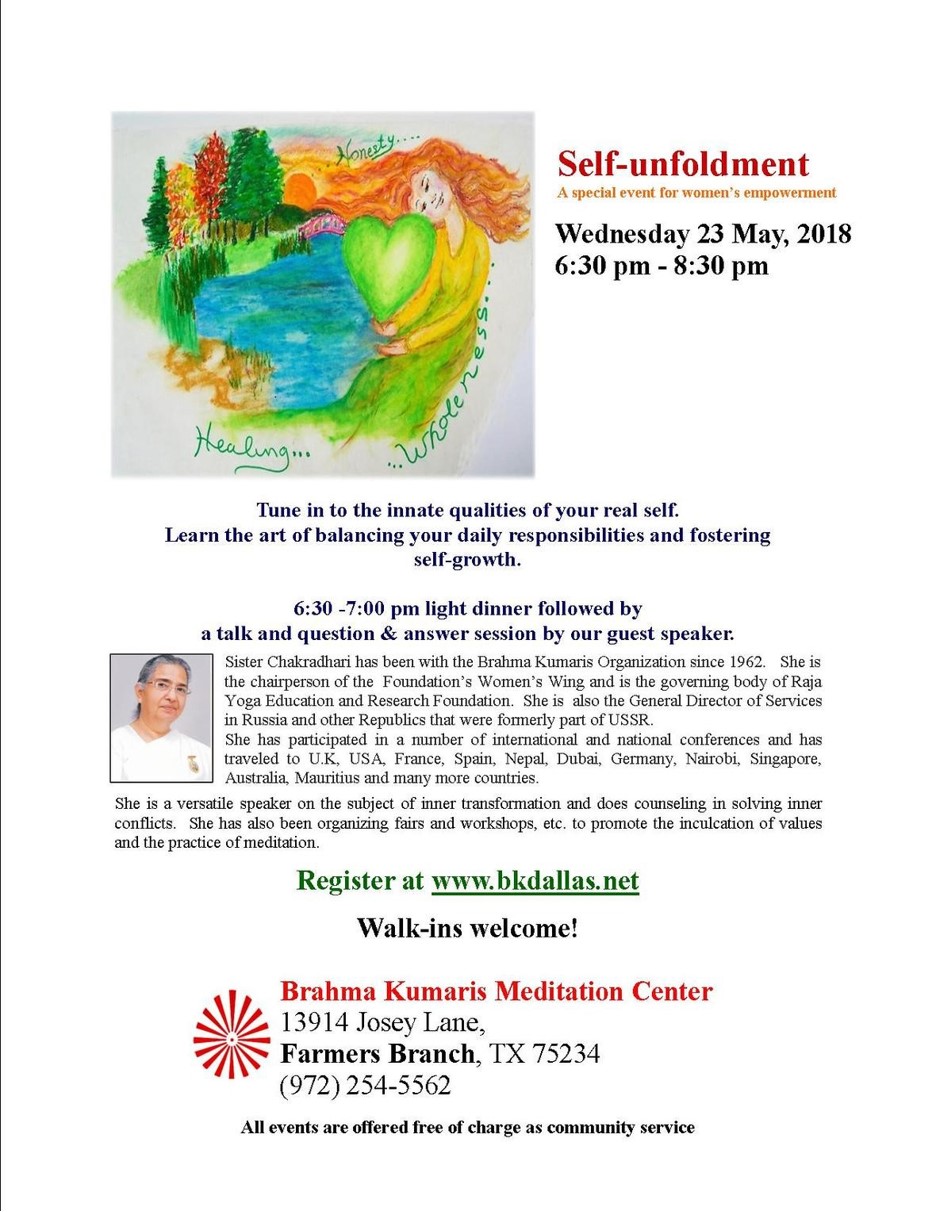 Brahma Kumaris Florida Service News - June 2018
21 July 2018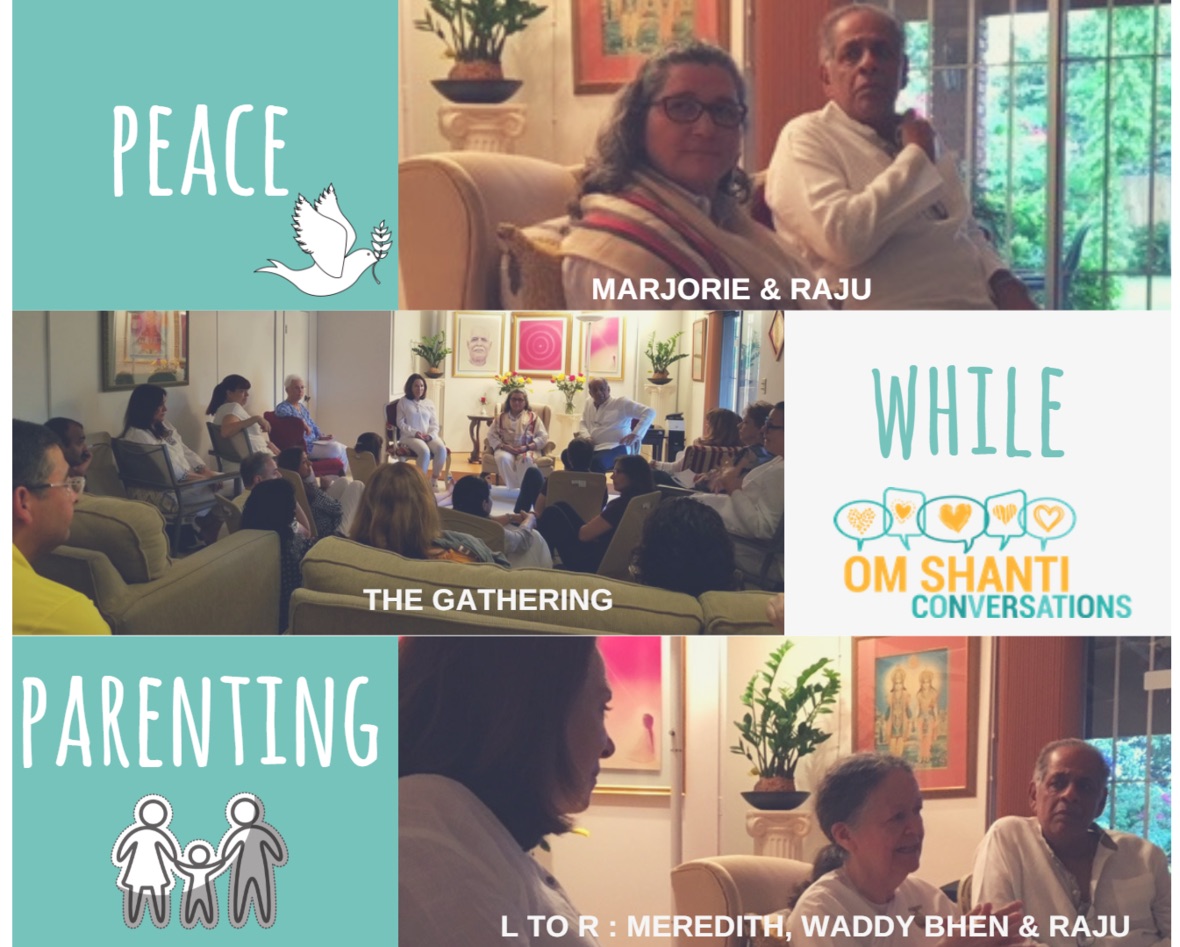 Peace While Parenting ~ an Om Shanti Conversation
June 24: On Sunday, the BK Miami Center held its 5th Om Shanti Conversation. About 25 souls participated, including several first-timers.

A panel of three senior BKs - Meredith, Marjorie, and Raju shared experiences and insights on this topic. As a mental health professional and family therapist, Marjorie also offered ideas about communication and self-care.
Kathy facilitated the evening and began by inviting participants to reflect first on their own childhoods. The first thing that emerged was a frequent experience of anger within families. Often that cycle was repeated with their own children. The discussion was animated and at times emotions ran high.

When asked what attracted participants to attend, most said they were "looking for answers" or "seeking solutions". When asked why they were so engaged in the conversation, several answered "someone is listening", "I realized I have something to offer", "I feel I'm not alone."
Waddy offered spiritual reflections on our divine parent, and gave a guided commentary to return us to a spirit of innocence.
Click here for detailed report with photos.

Request for Blessings from N. American BKs
13 July 2018
This year marks the 60th anniversary for Sister Mohini and the 50th anniversary for Sister Jayanti of their service to Baba's yagya. We will be celebrating them both at the BK retreat at Peace Village from Friday, September 27, through Sunday, September 30. At that time we would like to present them both with a book of blessings, from the hearts of each of you from the USA and Canadian Brahmin family.
If you are so moved, please send a separate blessing of no more than 50 words for Sister Jayanti and for Sister Mohini. We will incorporate these blessings into a gift book to be presented to them during the weekend. Note: If your blessing is longer than 50 words, we respectfully will shorten your blessing to the proper length.
Perhaps when thinking of the blessing you want to write bring an image of them in your mind and try to touch the essense of who they are and what they mean to you.
Please send your blessing no later than August 1st to Sister Gayatri at Gayatri.naraine@us. brahmakumaris.org.

40th Anniversary of BKs serving the USA Coincides with Sister Shivani's West Coast Tour Stops in San Fransisco and Anubhuti Retreat Center
1 July 2018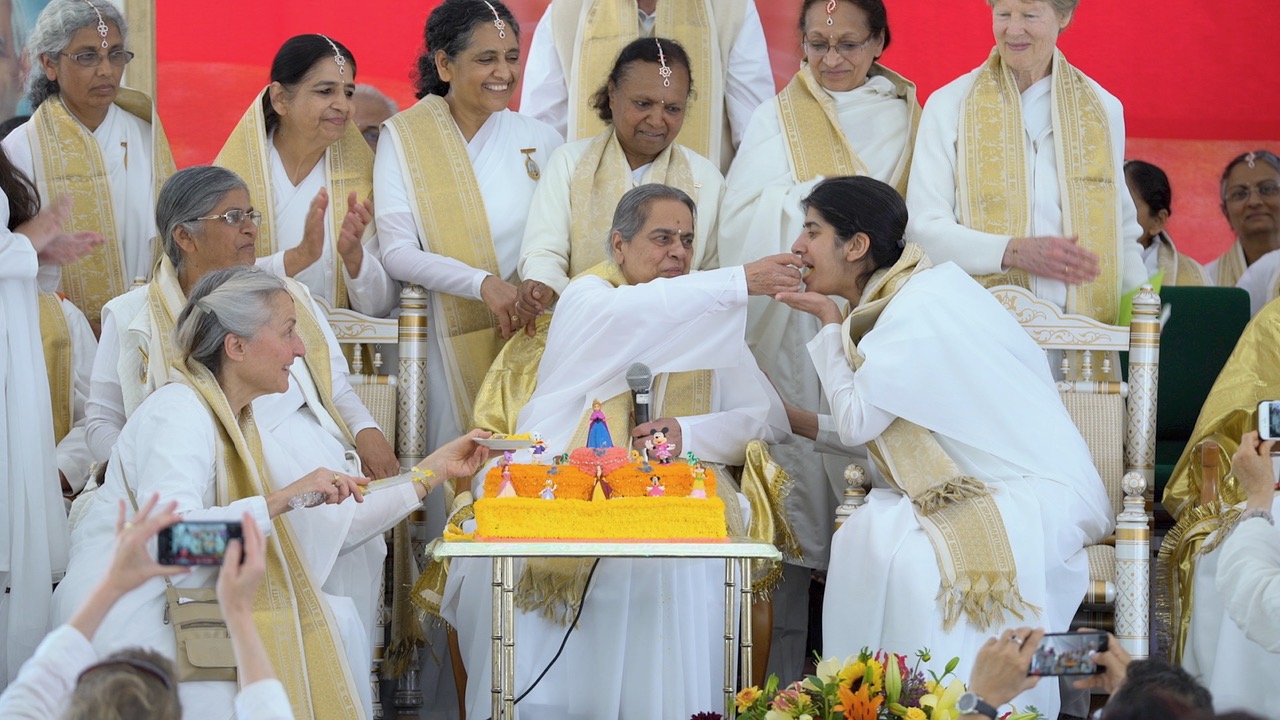 Brahma Kumaris Celebrated their 40th Anniversary serving the USA with Sister Shivani on June 14th, 15th and 16th
Three large events were hosted at the Anubhuti Retreat Center in California by Sister Chandru, Celebrating 40 years of Service in the USA with Sister Shivani.
There was a public event on Friday, June 15, called 'Awakening: Gift of Happiness' with Sr. Shivani.

On Saturday, June 16, there was a special morning celebration with Sr.Mohini, Regional Coordinator of the Americas, and many instrument souls responsible for bringing God's message of love and peace across the country. Many friends, contacts and special guests who have served with the Brahma Kumaris over the four decades also attended.

Events continued in the evening with a series of talks by Sr. Shivani and Sr. Mohini. Hundreds of souls from the Bay Area attended. Topics included 'Gift of Happiness' and 'Love & Forgiveness'. Please enjoy the full photo album here: https://photos.app.goo.gl/n32RfttPVbqEiJYk6 .
Om Shanti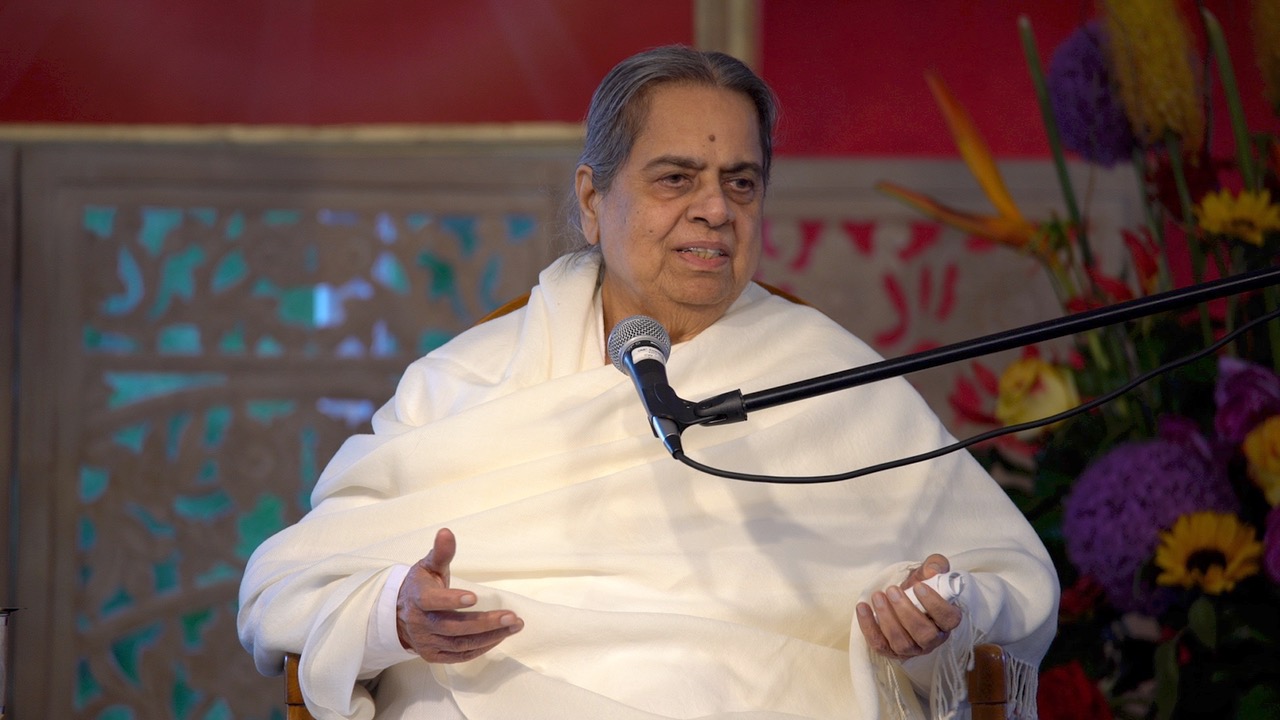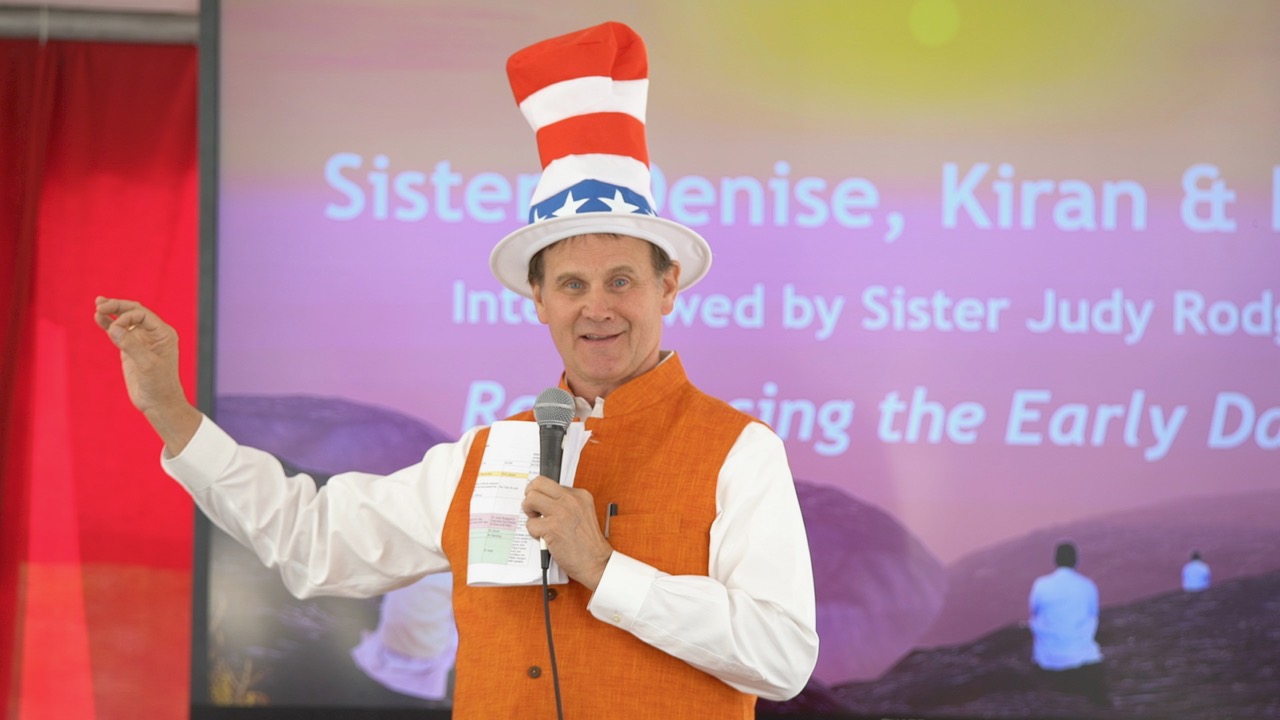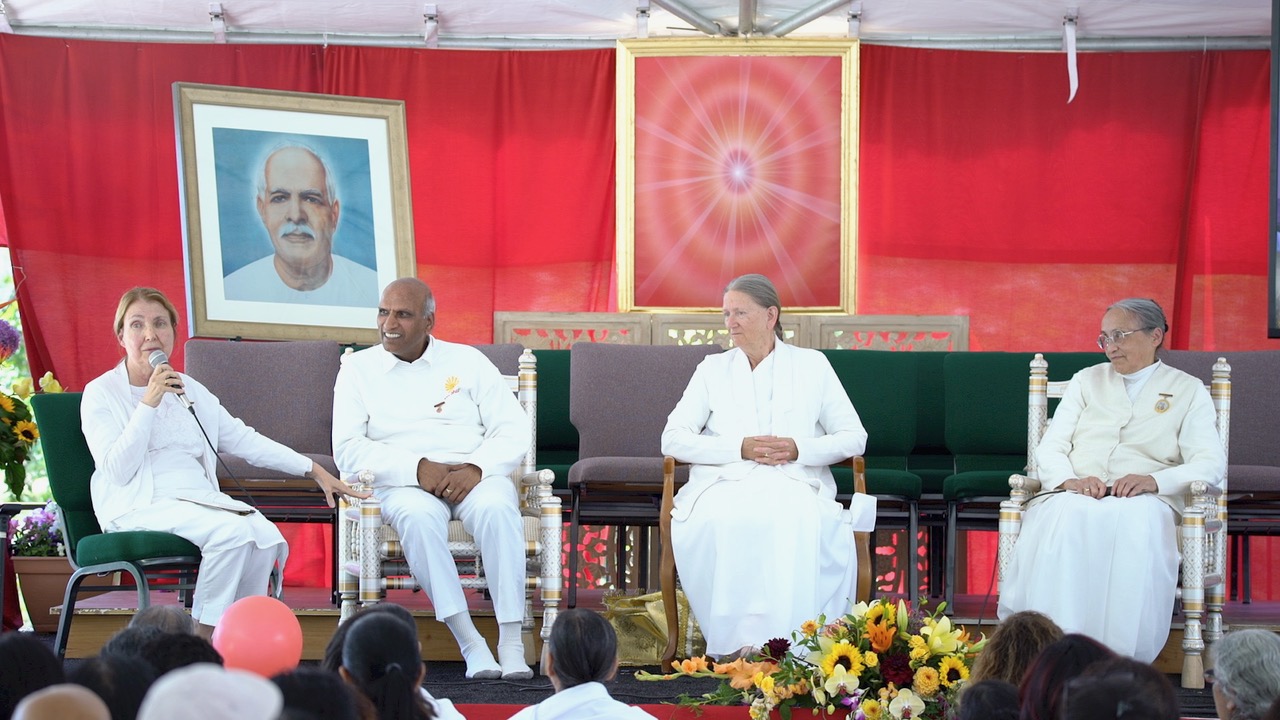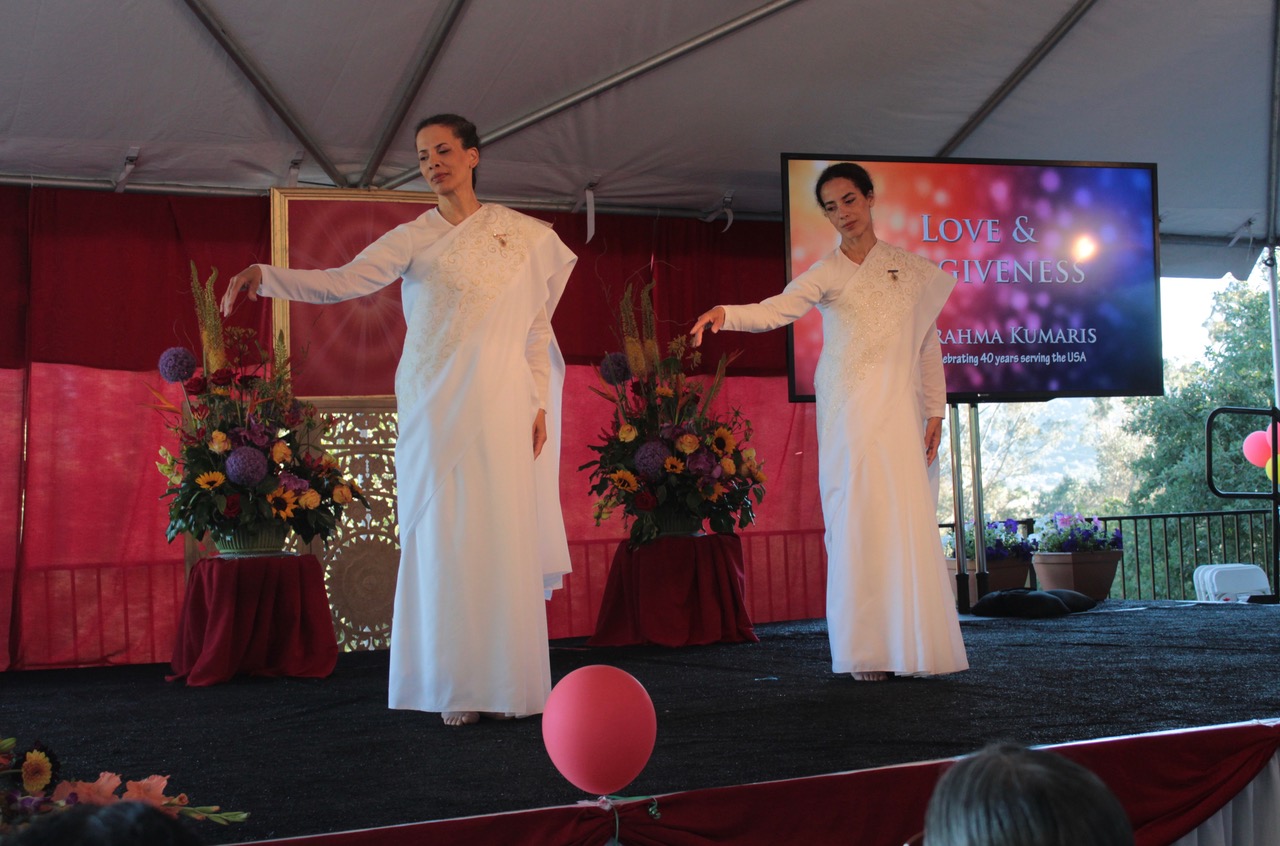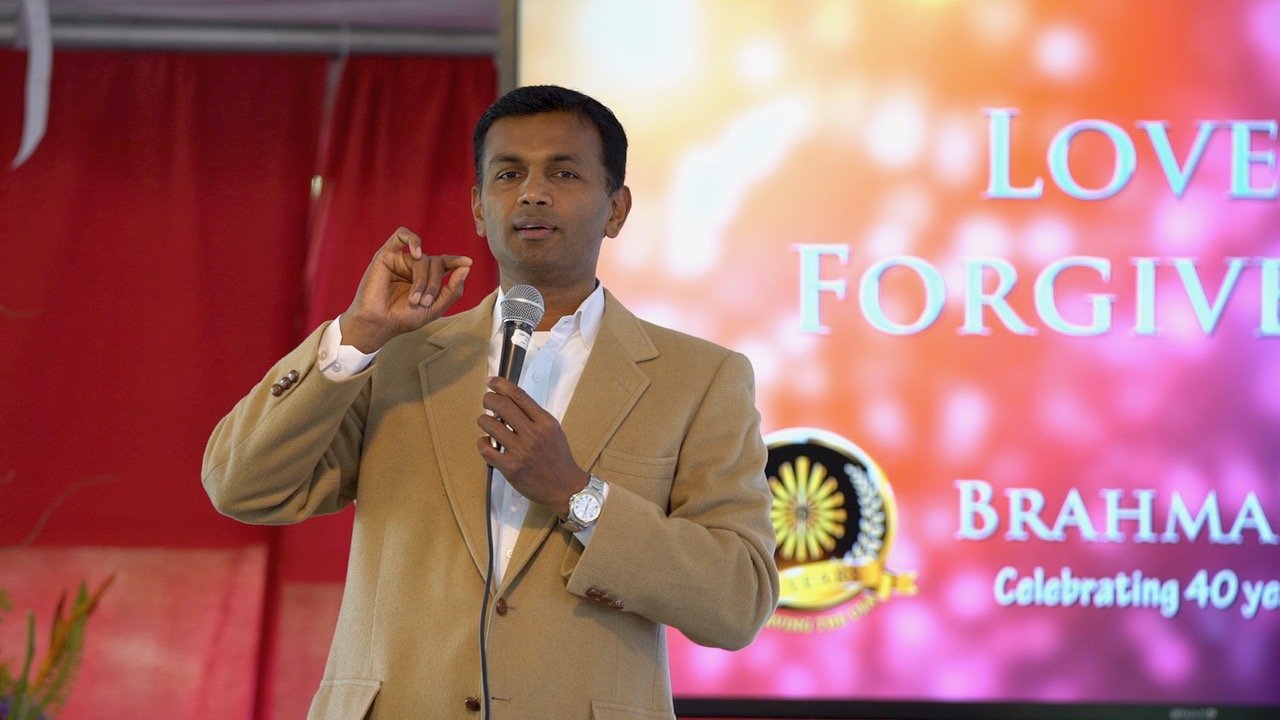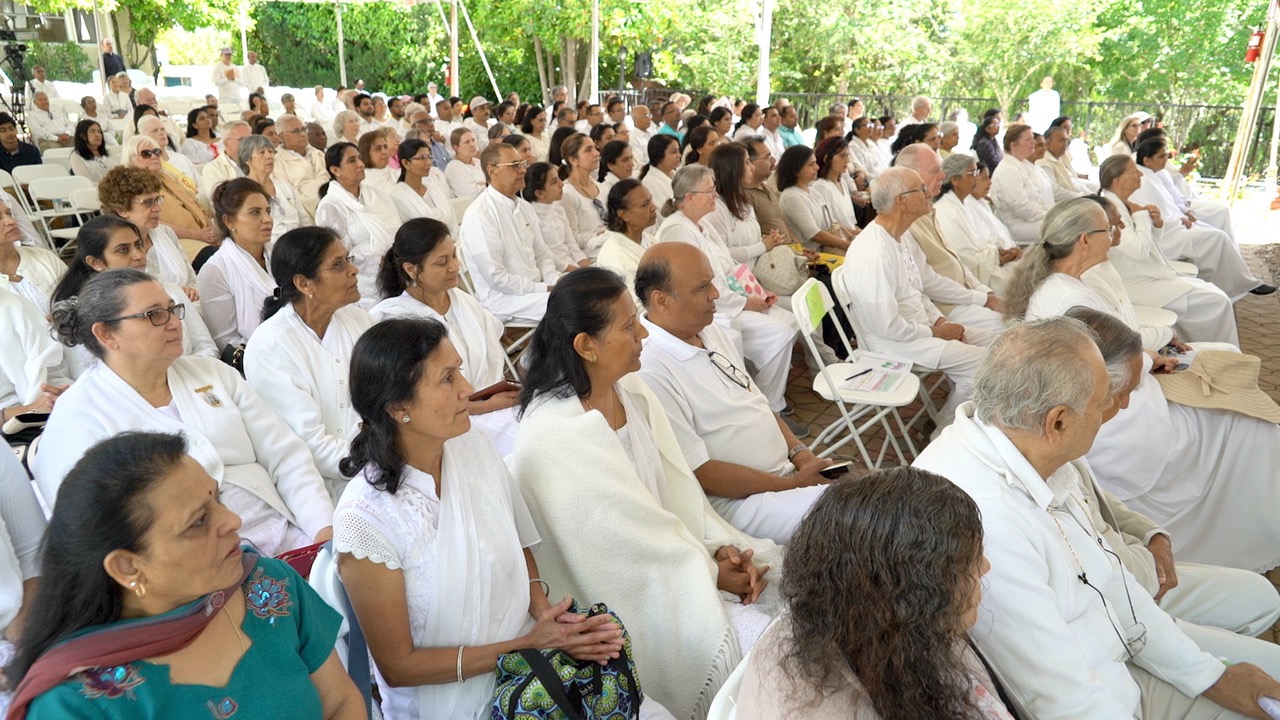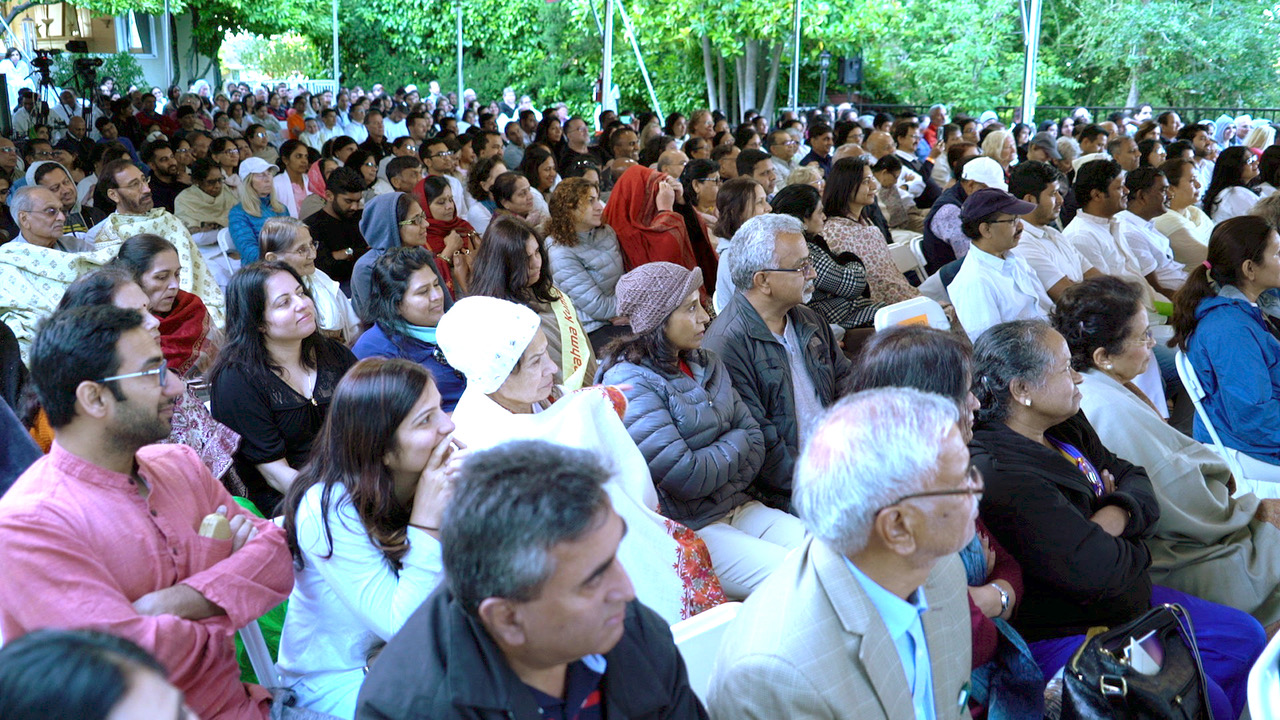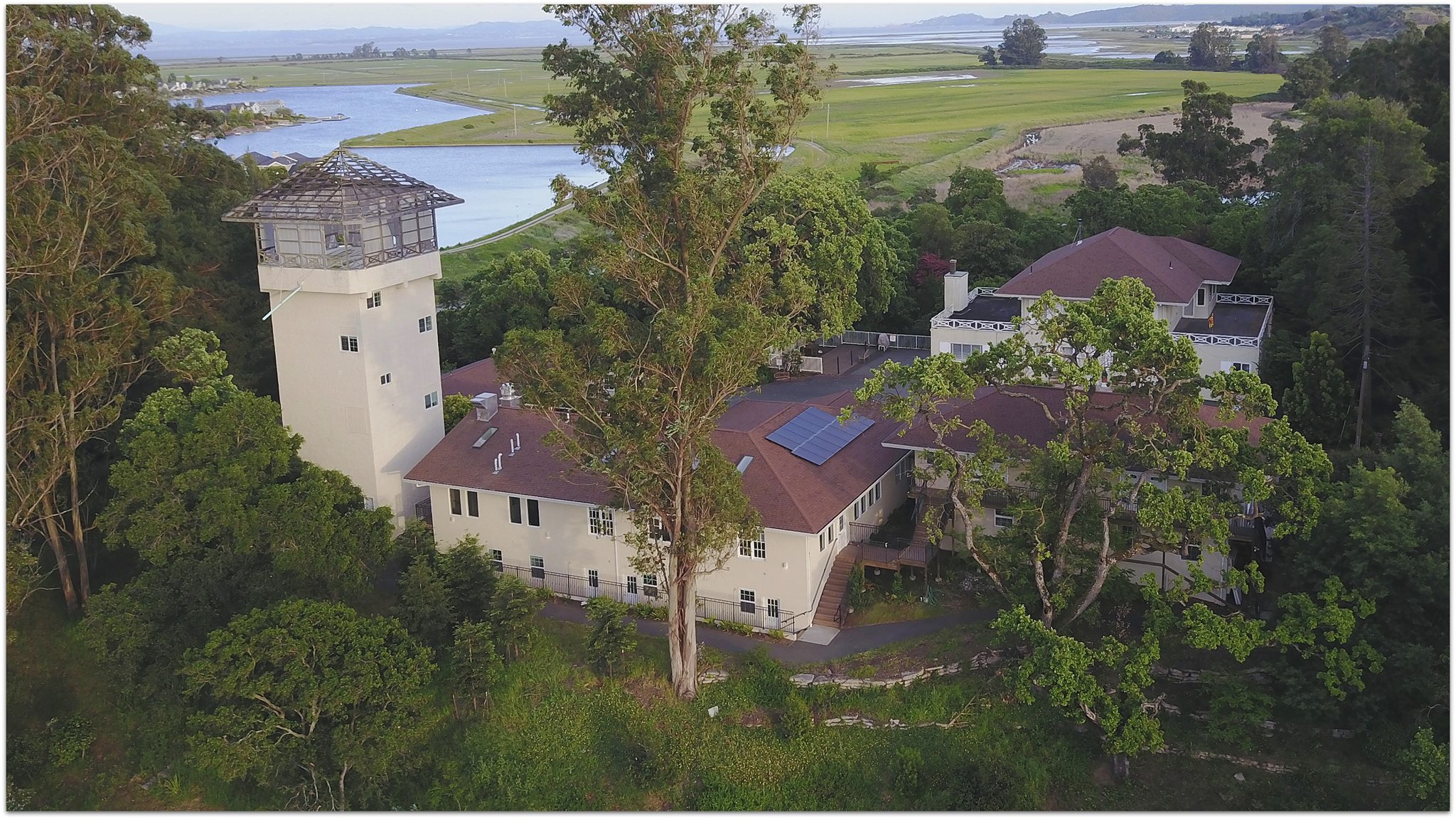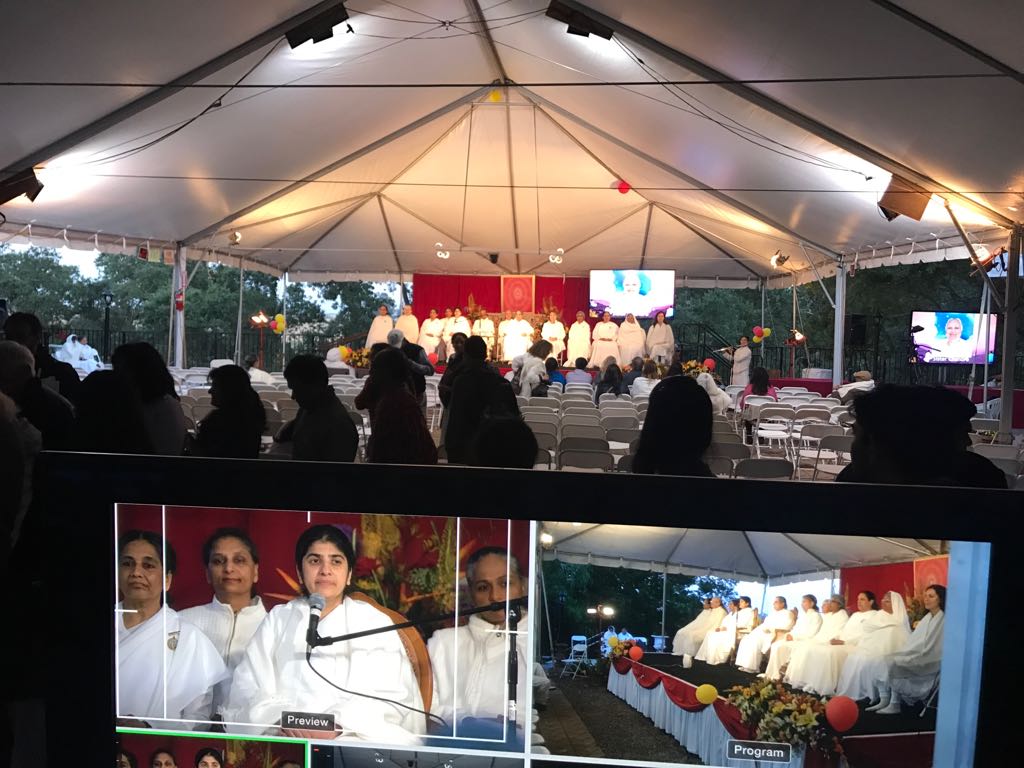 Peace Village Regional Retreat Video by Bhavna Behn from Delray Beach, Florida
29 June 2018
Om Shanti,
Please enjoy this beautiful video of the Teachers/Regional retreat in Peace Village.
The images are beautiful. Baba's message is inspiring.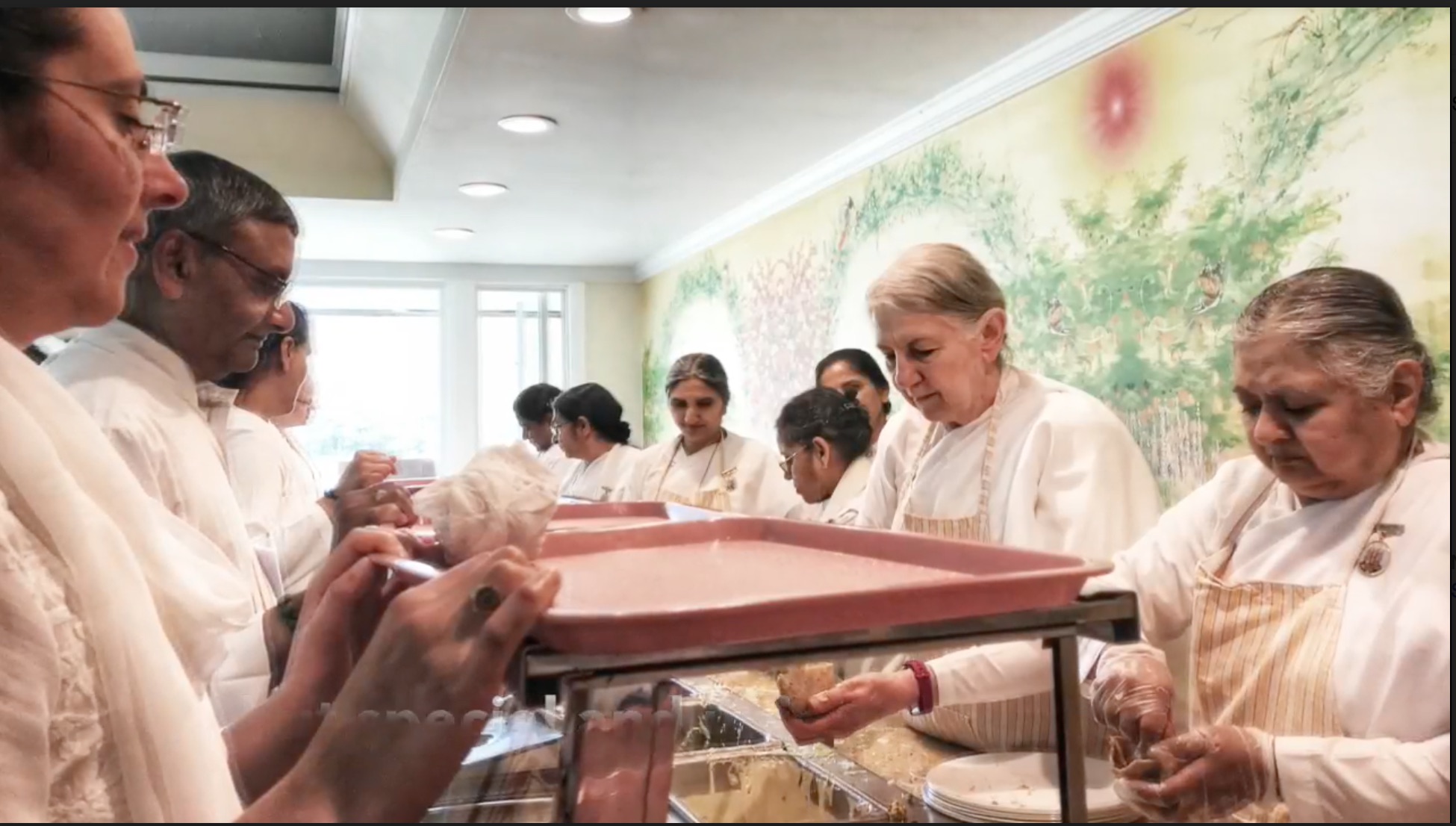 Click above image to play the images.
Best Wishes,
Bhavna Bhen