2015 Green News Archive
2015 Green News Archive
Merry Christmas to all Green Angels and Greetings from the COP team
24 December 2015
Merry Christmas and Ever Happy New Years to all Green Angels across the big, yet small, world
Billedresultat for green angels
The COP21 team - Climate Change Conference in Paris - has just returned to their respective places after an intensive and long conference in Paris.( Tthe preparations actually started 3 years ago.) The Paris center is most likely slowly returning to a it normal conditions. During the weekend there was total 40 people for lunch and dinner. The whole team wishes all of you happy and engaged green angels another fruitful year in Baba's sweet remembrance and service
Billedresultat for green angels
Some direct links:
Climate Change Studio Interviews. approx 5 min each
Press Conferences at COP21, 30 min each:
with Sister Jayanti, Golo and Yeb Sano (the Philippines)
with faith leaders incl. Sister Jayanti
Sr. Jayanti's interview in Paris, the solar thermal project, and links to our work on environment.
In next newsletter in 2016 we include all other news, including pictures from the BK' supporting the climate demonstrations all over the world
With Peace from Paris
Om Shanti from the whole COP team, see below.
and finally Shiv Baba at Champs Elysee

COP21 - Final Report: The Road to Paris and Beyond
22 December 2015
Meeting Nicolas Hulot, French Minister
Working with the Climate Coalition
Very good BK statistics from the COP

Paris, COP21, Day 10 - Chinese-American Film-maker Interviews Sr Sonja, a Meeting with Prof Rockstrom, BK Art Exhibit and more
22 December 2015
Thursday 10th December
John Dennis Liu, is a Chinese American film-maker and ecologist. He is also a researcher at
several institutions. In January 2015 John was named Visiting Fellow at Netherlands Institute of Ecology (NIOO) of the Royal Netherlands Academy of Arts and Sciences. He is also Ecosystem Ambassador for the Commonland Foundation based in Amsterdam, Netherlands.
During COP21, John Liu has been staying at Chateau Millemont outside Versailles. In this calm setting far away from the frenetic COP in Paris, he wanted to interview the Brahma Kumaris. He wanted to walk in nature and have a profound conversation, recorded on videotape, that encompasses Brahma Kumaris' position, climate change, peace, sustainability and spirituality. He wanted to have very calm, reasoned thoughts about collective consciousness rather than the "marketing" of self serving ideas.
Sonja went to the Chateau leaving Paris early morning at 7 am and, 2·5 hours later, finally found the Chateau of Millemont hidden in the mist of French countryside. Sonja said the 1 hour long interview and conversation with John Liu was very meaningful and rewarding. It was an opportunity to share how the outer world is a reflection of the inner world.
An interview with John Liu at Chateau Millemont, just outside Paris
Meeting Professor Rockstrøm
News of a very good film "Years of Living Dangerously" (and link to it)
About human rights
BK art exhibition and reception (with wonderful food!)
Amazing scenes around COP (including Golo pedalling for victory)

Paris, COP21 - Report from Wednesday, December 9th
17 December 2015
In the afternoon, at the Grand Palais, Golo was invited on the stand of Energie 2050 to present the India One project. Energie 2050 is an NGO working on the field of renewable energies and a contact of Angelica Castro.
Golo had one hour to explain the background and technology of the project and concluded briefly about the consciousness and political will necessary to implement the change. He asserted that money and technologies are already there but the human aspects are missing.
Golo had the opportunity to continue the conversation with someone from the audience who was obviously very informed and curious to know more on the differences between the different Solar energy systems.

Paris, COP21 - Report for Tuesday 8th December
17 December 2015
After a week of COP, which generated a lot of enthusiasm, the international group met to plan out
the busiest day at the COP. The schedules were finely tuned to allow everyone to be in the right
place at the the right time. Some members of the team had already left early to get to their first
appointments. This was expected to be a very busy day.

Climate Change or Consciousness? Five-minute video of Sr Jayanti being interviewed at COP21 and Sr Jenna's blogpost on the Huffington Post
17 December 2015
Source: Huff Post GPS for the Soul, posted 12/14/15 (http://www.huffingtonpost.com/sister-jenna/a-climate-of-consciousnes_b_8802646.html)
Click on video image to play
At the base of any positive transformational work has to be an understanding of the relationship between one's awareness and actions; through that becomes an impact on our world. When we speak of change in our environment, systems, cultures, and more, we look towards long lasting change. Therefore, the many deals among nations at conferences and summits are not truly effective until we implement methods to shift our awareness and feelings at a deeper level. This is the element of newness we need.
For the first time, rich and poor countries across the world have agreed to take steps to limit and adapt to climate change -- from reducing their emissions of carbon dioxide and other greenhouse gases to helping one another adapt to rising seas, devastating droughts, food shortages and other impacts of global warming.
We have all inherited the current conditions of our world as well as contributed to its decline of resources needed to sustain generations to come. The state of our climate condition has become so complex. We are essentially at an intersection of very human values verses spiritual values. Our attitudes alone have been a huge precursor to the decline of the world's treasures. We have traded a healthy, breathing earth for bigger cars, faster planes, fancier clothes; even fruit from the earth is bigger and greater in multitude, with chemicals instead of flavor. It is all about the choices we make, which are rooted in our attitude and attachments to unfulfilled desires.
The issue of climate change is both one of individual and collective karma. Our individual choices have led us here, and our collective decisions are creating the future. Climate change is now every person's responsibility. The elements that make up everything we see smell and touch are in need of pure vibrations and a peaceful energy that can restore rather than consume and destroy.
I share congratulations to meeting a historic consensus on climate change and I invite us to integrate a spiritual dimension to climate change. We must include the voices of spiritual leadership that have proven their commitment, through work from the inside out. The Brahma Kumaris, with the largest solar cooking system, is now focused on the first of its kind in the world, thermal solar power plant (solar only), using dish technology with direct steam generation mode, with full thermal storage for 16 hours of continuous operations. Imagine that... A spiritual group whose meditation practice and integrating spiritual wisdom into their daily life is at its core, leading a progressive shift in environmental resources.
I deeply believe that the success of climate change will be in amplifying an awareness on consciousness and lifestyle choices that conveys the behavior of citizens who are driven to give more than they take from relationships and their earth. Observing the movement of the Brahma Kumaris, and witnessing a culture of creating a system of trust and service within their own body of thought, I have seen the sustainability of its fortress, and their traditional pillars consistently holding authenticity and purity. When we hold a similar purpose and are very invested in making our lives and world a better place, I feel quite confident that a new era is approaching.
COP21 might have initiated a bold and realistic deal, and we know every citizen will have to show up from inside out to match and surpass it with his or her own deal of inner responsibility. We need to begin by holding a positive attitude and consider our own soul to be the earths' natural resource that fuels the body and environment. Can we raise our awareness to a level of "us" rather than I, me, and mine, so we can shift the downward trajectory of our planets' condition and turn it around towards an uprising giving us glimpses and best practices of a new era for many generations to come? This is one challenge we must take.

Paris, COP21 - On Monday, 7 December, Brahma Kumaris hosts public program "Climate of hope for our planet: What is the future of humanity on earth?"
14 December 2015
The Raja Yoga Centre in Paris sponsored a public program for the Parisian Community called "Climat d'espoir sur la Planete!" This event was held at very elegant hotel called Salons Hoche.
Opening with a meditative concert by Desert Rose, the event continued with messages of hope from different faiths, followed by a presentation from a scientist, Alain Cirou, Director General of the French Association of Astronomy and Scientific Consultant of Europe 1 (radio), and a spiritual leader, Sister Jayanti. Their remarks were connected to the Climate Change deliberations going on in Paris.
Alain Cirou gave a clear synopsis of the Climate Change scenario: Man's journey to the moon and the images that came from that space travel gave a new perspective instigating a new awareness of our planet, its fragility and environmental concerns. There is no plan B because there is no planet B. 50 years later the temperature of the atmosphere continues to increase – It has already increased 1 degree since the industrial revolution; the atmospheric pollution is in a state of emergency, a sixth of the species of the planet are extinct and the oceans are increasing in acidification. The science is clear and available. We know what we have to do and it is our responsibility both as countries and individuals to do so. Collective and personal responsibility to change our lifestyles is imperative.

News from COP21 for Sunday, 6th December: World Climate Summit
14 December 2015
World Climate Ltd, a global climate stakeholder platform, in partnership with Sustainia, arranged a one-day forum with business leaders, climate experts; financiers and policy makers. It was held in the Chamber of Commerce of Paris, close to the Champs-Elysee. Sonja and Golo were invited due to previous connections with Sustainia via the India-One Project.
• No doom and gloom language
• Use language everyone understands
H.E. Hakima El Haite, The Environment Minister of Morocco, ended her key note speech on an unusual tone for a business event. She said: "Climate Change has no border, no religion, no nationality. If our country is vulnerable today, your country will be vulnerable tomorrow. We need courage, solidarity and love. We need to love for each other and humanity. We need more love". Sonja gave her a Brahma Kumaris blessing card with a heart on it. Hakima very much appreciated that and showed it to the audience.
Some points from the presentations:
• Climate change is the biggest change ever.
• How can non-carbon economy become mainstream economy?
• It is now not necessary to own everything, but rather to have access to everything. We can share our commodities.

COP21, Paris: Saturday, 5th December Report
14 December 2015
Brahma Kumaris Side Event at COP
Dharma Drum Mountain Buddhist Association
Global Peace Initiative of Women (GPIW)
Green Asia Network
The panelists were a powerful group of people who all have a spiritual interest and expertise together with their dedication to service through various channels of teaching, politics and project management.
The panel included:
A shift in awareness is needed to promote changes in behavior and lifestyle to foster low emissions and the development of a resilient climate. Faith-based communities and others are building momentum to address the strengthening of personal and political will, to fulfill the responsibilities of our time.

COP21, Paris: Thursday, 3rd December News
10 December 2015
The Ecumenical service was hosted by the Catholic church in Notre Dam (Our Lady) cathedral which is 700 years old and sited on the Isle de la Cité, a short walk from the Louvre. It is a majestic setting for any event and this beautiful event was specifically dedicated to the environment. The Catholic cardinals, Anglican archbishops, Russian Orthodox archbishops and others from the different branches of Christianity were all gathered together. There was a wonderful, colourful procession of people in the orange, purple, red and white robes, music, scripture readings, in French and in English. There was a display of different material goods representing the gifts that nature has given us and how we have to care for them. There were amazing huge tapestries with beautiful floral designs on the walls that really were a reminder of Paradise.
The message from the Council of Christian Churches of France (CÉCEF) for the COP21, read by the Archbishop of Sweden, included the words:
"We are particularly concerned for the weakest and poorest among us. Aware of the impact of the
lifestyle of the most developed countries, we need to call into question the logic of our consumption
and to allow our attitudes and actions to experience conversion, practicing restraint and simplicity,
not as a form of heroic renunciation but as a form of joyful sharing"

COP21, Paris Wednesday 2nd December Report
10 December 2015
Wednesday 2nd December - Press Conference
The Brahma Kumaris held a press conference in the Climate Generation Space. The conference was
moderated by Sonja Ohlsson of Brahma Kumaris (BK) who introduced the panellists as:
Yeb Saño, was the chief climate change negotiator for the Philippines, and now he represents Our Voices.
Golo Pilz, Advisor on Renewable Energy to Brahma Kumaris.
Sister Jayanti, Direct of Brahma Kumaris for Europe and Middle East and the main BK representative to the UN in Geneva.
Sonja said the conference was to discuss the shifts in consciousness and changes in life style needed to create the development of a resilient climate. She observed that faith-based communities are developing momentum to strengthen the political and personal will to fulfill the responsibilities of our time.
Golo Pilz is responsible for the development of India One, a major renewable energy project supported by the India and German governments. He started the discussion by describing the Brahma Kumaris as a spiritual organisation working to inspire people to adopt spirituality and values in their lives. He suggested the BK vegetarian diet, if adopted globally, would end climate change as a problem. He said it was essential that ethics and values be introduced into the climate change decision-making process. The process has to start by developing the awareness and consciousness of individuals which dictate people's actions. Meditation is a powerful tool to facilitate this.
Brahma Kumaris have been developing renewable energy systems for 20 years. They have been used
for solar cooking and 6 such systems are in use. The largest can cook 35,000 meals per day. There are also 350 photo-voltaic power plants in use with 1.2MW total capacity.
The 6000 BK centres in India now have a green policy and photovoltaic systems are being introduced.

COP21, Paris Tuesday 1st December Report
8 December 2015
It is becoming clear that faith-based communities are playing a more prominent and important role in the climate change negotiations. Today there was both a faith program and a UNESCO program in the public part of COP21- the Climate Generation Area. The whole Paris Brahma Kumaris group came to explore this area.
In the morning, Valériane went to the meeting of Research and Independent Non-Governmental organizations (RINGO). Brahma Kumaris are registered under this group.
Valériane was interviewed by France Culture (of Radio France) and it should be broadcast on Friday the 4th of December at 11.40 within a program on "Faiths and Climate Change". Valériane was also interviewed by Radio France Internationale on Spirituality and Climate Change.

Global Climate Conference of Youth (COY11), Paris, 26-28 November
8 December 2015

COP21, Paris - Report of Monday 30th November
4 December 2015
It is a big day today - one year's preparation for the Brahma Kumaris' COP21 team is culminating in
the first day of the conference. The atmosphere is quite tense with lot of expectations in the air.
The COP21 United Nations climate summit began in Paris on Monday and nearly 200 countries and their leaders have assembled. US President Barack Obama said the summit could be a turning point in international efforts to reduce greenhouse gas emissions and prevent catastrophic levels of global warming.
The exhibition stand continued to help to get our message out to the world. Here, the team arrive at the COP centre.
COP21 in Paris - First report, Friday 27th - Sunday 29th November
1 December 2015
Friday 27th: Getting started
Friday 27th November the international COP21 delegation started to arrive in Paris from all over the world. A rather cold winter weather but a very warm welcome from the hosts - the Brahma Kumaris group in Paris and France.
The youth group had arrived a day before, and are very much engaged in the Youth Conference on Climate Change. The group
grew to 8 people with both international and French youth.
We had to settle in quickly on the very first day, as the COP21 Interfaith programs were due to start just the next day. The French BK group have really done everything possible to make us feel welcome – the welcome kit included all the information we needed, gifts with personal COP logos etc. A real community atmosphere has been created in the local centre. Over the weekend the total number of helpers, visitors, friends and
residents for lunch were 40 Brahmins.
Please see rest of report and photos here.

When We Change the World Changes - Climate Change 2015
30 November 2015

Sister Jayanti's news regarding her, Br Golo's and Delhi Sr Falak's Participation in a National Climate Change Conference in Bhopal
30 November 2015
Bhopal: The programme, the National Conference on "Global Warming an d Climate Change: A Way Out" took place in the Assembly itself. Sister Falak from Delhi, who connected with the VIP who is part of the Organising Team for this, was there, along with Br BK Golo. He also had a speaking slot on the 21st on the subject of "Solar Energy and Spirituality". On arrival at the Centre, I was briefed by Sister Falak and Br Golo on what had happened that day. Around 800 attended the event, and this time they had specifically invited Spiritual leaders.
There were 5 streams happening in the event, and the one in which we were asked to speak was on "Religion and Faith as Vehicles of Sustainability". The Speakers in the two sessions on Sunday, 22 November, were people from a variety of faiths: Parsi, Catholic , Muslim, Swami from Ajmer, Jain , a leader of the Bishnoi Community known for Living in Harmony with Nature, the Bahais, Tibetan: the official translator of HH Dalai Lama, a Monk from the Ramakrishna Mission, and Swami Samvit Somgiri who has been enthroned as Mahant. He had stayed in Abu for 23 years and knows the BKs well; he is the Mahant of the Shri Somnath Mahadev Mandir in Mt Abu. We also had a Professor of Ethics and Modern Theology of Catholic background.
There were around 50-60 people within the stream that I was in. I was asked to chair the Second Session on the topic: Overcoming Environmental Racism in Promoting Justice. As I was chairing, I couldn't give a full talk, but I laid the framework for the discussion, and then we had a very healthy discussion.
We had a gathering of the BK family in the morning at the Centre, as well as a meeting with the teachers before breakfast and before going to the Conference. After a quick lunch at the Centre, we went to visit Dada Atmaram's family in Bhopal. There was a group of 50+ family and friends waiting for us. After a short visit we went back to the Conference.
The Closing Session was attended by the Chief Minister as well as the Minister for Foreign Affairs, Mrs Sushma Swaraj. Mrs Sushma Swaraj gave a beautiful talk on the traditions within Hindu culture that show respect for nature, and are engrained deeply within every person of the family. The purpose of the whole event was a) to give suggestions to the Legislative Assembly as to how we can make a difference and w hat are the practical steps that can be taken. Each group, which included one on science, youth, women etc. gave their specific suggestions. The strongest suggestion that came from our group, and voiced by many, was that there needs to be education, and raising of consciousness and awareness and values within people generally, but especially within children and young people.
The second purpose of this Conference was to encourage people to come to the Ujjain Kumbh Mela which is to happen in April/May 2016. So there seems to be an opening to have some kind of input in that event also.
After the public event, we went to the main Centre in Bhopal where Avdeshben lives, where there was another gathering of Brahmin family. The morning group had been a different one for that particular area, and this group was another from a different neighborhood. The hall was packed with a few hundred Brahmins. There was a chance for a short class, drishti and toli, followed by dinner and chit-chat.

"India One" Newsletter_November
30 November 2015

Next week, Paris hosts the 21st UN Climate Conference and our Green Team will be there
22 November 2015
"The world's eyes are on Paris " , due to both the recent dramatic events and the UN climate conference COP21 starting next week. Brahma Kumaris will have a delegation in the conference – a strong presence of peace and hope is more relevant than ever.
It is the 7th Climate Change Conference Brahma Kumaris Environment Initiative has engage d in, and we thank those who have supported us and read our reports over the many years. On our webpage www.eco.brahmakumaris.org you find info on:

- Calendar of events – a total of 20 programs
- Description of the COP21 delegation - those who are officially nominated to COP
- New statement : Building Spiritual Capacity to Respond to Climate Change.
- Press statement and talking points
- New booklet: Creating a Climate for Change.

The hosting BK family in Paris/France are doing a fantastic job. Altogether there are 15 visitors from abroad, including an enthusiastic youth team, musicians and reporters. The conference dates are Monday 30 Nov.- Friday 11 Dec. 2015.
We trust that your good wishes will reach all the way to Paris. This year we will send rosary reports (short with lots of pictures!) approximately every 3 days. We will post daily blogs/reports on our webpage and the UK facebook page. You are m ost welcome to follow the news. Om Shanti"

Brahma Kumaris COP21 Team
YOUTH TEAM: Romina and Joshita (UK), Juan (Canada), Laeticia and Christophe (France), Oldoez (Holland)
COP21: Sister Jayanti, Golo, Julia (NY), Valeriane (Switzerland), Sonja (Denmark), Laura ( Morocco), Patricia (Peru), Vikram (Mauritius) - COP 21
REPORTS, FILMS, MUSIC: Peter (Norway), Yusuf and Lynne (South Africa)
THE FRENCH FAMILY: Francois, Babeth, Armelle and the whole family by name

Climate of Hope for the Planet:

Join the effort: 24 Hrs of meditation for the Earth on 1st November
26 October 2015
Dear Brothers and Sisters, Greetings of love from Madhuban
On the 1st November in Paris, there will be a 24 hours meditation for the earth to prepare for the climate change UN conference that will start at the end of November.
Brahma Kumaris is supporting this initiative and cooperating in the 24 hours meditation. http://www.24earth.org/fr/.
And you are all invited to join in with half and hour or an hour yoga, it would be great if all centers meditated for the earth around the world.
Do let us know if your Center decided to join in.
In Paris the BKs will be conducting the meditation from 7 to 8 pm in the Rex, the biggest movie theatre in Paris.
Sister Jayanti has given an interview to give Brahma Kumaris's official support to the initiative and our perspective on meditation and its effects on the planet. And on the 18th of October during the international meditation in Gyan Sarovar, we dedicated the meditation to the earth and sister Jayanti introduced the 1rst of November meditation and opened the international meditation with a meditation commentary.
Both these videos will be shown on Peace of Mind channel on the 1st of November and you are all invited to watch them and contribute to this beautiful initiative.
If you cannot come to Paris or watch Peace of mind channel, you can still enjoy the videos since we'll upload the videos on our environment website http://environment.brahmakumaris.org/
The Green team
Valériane Bernard
Brahma Kumaris World Spiritual University UN Representative

BK Green News Features Go Vegan and The Road to Paris
22 October 2015
Dear Green network
Thanks for the very positive response from many of you for the last newsletter. In this news mail we will feature:
- News from the growing vegan community in the BK world.
- The Road to Paris - preparations for next climate change conference COP21 in Paris Dec. 2015.
- Additional news: yogic farming, from India One solar site and new workshops.
GO VEGAN:
From Helen in Oman, Eric in UK and Giorgio in Italy, our BK Vegan Promoters, see the BK Vegan facebook.
List of 100% Vegan Centres - 1. Port Elizabeth, South Africa; 2. Helsinki, Finland ; 3. Aravali meditation sanctuary, Australia; 4. Munich, Germany; 5. Itteville Retreat Centre near Paris; 6. Fitzroy, Melbourne
Centres that recognise Vegan diet: - 1. Amsterdam had a vegan lunch for Rakhi
2. Worthing Retreat UK - vegan for residents, non vegan for guests; 3. Ubud, Bali - parents of a sister in centre have a vegan restaurant next to centre.
From Joanna and Isle of Man, UK:
A new series programs: It is called Cooking for the Planet and World Meditation Hour and starts with a cooking demo of one or two vegan recipes. After the meditation, they will get to sample the food! For more details check out the website: www.brahmakumaris.org/uk/isleofman. Lights of the World cd by Carmen and Chris Connelly has some good commentaries (available on itunes) for WMH
From Luciana, Brazil: I am going to the Northeast of Brazil for the National Vegetarian Congress. We have a stand there, we are launching a new vegan vegetarian cook book and I have a lecture there next Saturday. Ken and I became vegan, by the way.
THE ROAD TO PARIS PARIS
The preparations for next climate change conference COP21 in Paris in December 2015 is going on with full speed. French family has opened their hearts and homes for the topic and for the visiting delegation, thanks for that! The French family also have their own eco website. More to come on this topic!
24 hours for the Earth .
COP 21 is coming to Madhuban! A 24 hours "peaceful world-wide sit-in", with meditation and prayers for the Earth as preparation for COP21 will happen Sunday 1st Nov. Please join sister Jayanti, Valeriane, the French team and all others in Madhuban for World Peace Meditation for the Earth 16th October 18.30. It will be filmed and sent on the Internet and at the Grand Rex Theatre in Paris, as they occur in each of the participating countries. Follow the worldwide happening here: http://www.24earth.org/en
Creating a Climate for Change
Our new leaflet is ready, and can be seen here. Thanks to all people involved.
And Voila, here is the French leaflet!
A new statement is on the way, explaining in depths our position.
COP21 Program
We got our side event "The role of ethics and human awareness in climate change solutions" accepted by the COP21 Conference . Sister Jayanti and Golo will be our speakers at the panel.
Preparations: examples of preparation that started more than a year ago.
News from Valeriane and UN conferences in Geneve on Human Rights and Climate Change:
News from an interfaith youth gathering in Rome during the summer. More info on the youth conference COY leading up to COP21
ADDITIONS from Last Newsletter
Tamasin Ramsay
Thanks for all the news! One reminder... this link to the interview on ABC Radio National on yogic farming. First time on mainstream media in Australia.
http://www.abc.net.au/radionational/programs/drive/yogic-farming-gains-ground/6781318
Kindness Workshop
Our new kindness workshop is now online, kind contribution from the Goldcoast Centre, Australia
Sunshine from Solar Site in Madhuban with news about technology trainings and awareness seminars being held by the Solar Team on site. You can also watch the latest INDIA ONE Movie. Another movie from Golos talk on World in Transition in London July 2015.
European Teachers ECO workshop, 2015
Finally, greetings from Francois in Paris, enjoy:
Asia Got Talent - Tribute to Mother Nature
To all of you with peace and kindness
from all of you &
Sonja & Arnold
ps. Click here if you want to join BK Green Facebook Group.
Brahma Kumaris Environment Initiative
www.environment.brahmakumaris.org

Latest News from the BK Green Network
24 September 2015
Green Heart for our Dadis as Guardian Angels

Let's Plant More Trees to Save Ourselves: Editorial by Br Brij Mohan published in the Times of India
26 August 2015
Source: The Speaking Tree section of the Times of India, published 21 August 2015 (http://www.speakingtree.in/article/let-s-plant-more-trees-to-save-ourselves)
Trees have been venerated for ages in different cultures, as evidenced by the thousands of sacred groves created all over the world. Indic mythology contains references to the Kalpavriksha, a wish-fulfilling divine tree that is said to have emerged during the churning of the ocean of milk. Trees regarded as holy are worshipped in many parts of India, with the trees a status almost divine. Mounting concern about global warming and climate change has led people to regard trees as life-saving assets for humanity. There is growing recognition of the value of trees and the various ways in which they make our lives better.

How Can Meditation Help Our "World in Transition"? Report on the

Green

Service

Tour

of

Nordic Countries by Br Golo
4 August 2015

Now is the Time: Green Retreat in Portugal
24 July 2015
Dear all,
Greetings of love from Belo Horizonte
The green retreat in Portugal was very special, people had lot of realisations and were involved with their hearts. I'm sharing here the report of the retreat with all of you.
With much love
In Baba's Yaad
Valeriane
Brahma Kumaris World Spiritual University UN Representative
Geneve

Sustainable Energy Week (EUSEW 15)
22 July 2015
The EU Sustainable Energy Week 2015 took place from 15-19 June 2015. However, Energy Days were organised during the whole month of June. BKs participated in a number of events from 26th May to the 21st of June:
26th May, Frankfurt am Main, Germany: Lecture by Br Golo, "World in Transition"

5th June, Copenhagen, Denmark: Outdoor Meditation for the Environment

5th June, Berlin, Germany: Lecture by Br Golo with power point presentation on "World in Transition – Beginning of a New Period of Time"

14th June, Mullheim, Germany: Meditation & March to support a Transition to Sustainable Energies

19th June, Freiburg, Germany: Meditation for the Planet

15th June, Gdansk, Poland: Workshop - "3 x E: Ecology, Economy and Ethics in our life. How to balance these three dimensions of life in order to restore inner and outer harmony"

18th June, Warsaw, Poland: Workshop - "Life Style and Climate Change - How to care daily for the Earth - inspirations for the heart and mind"

15th June, Brussels, Belgium: Seminar & Interview on "Mind & Matter – How is your inner climate?" with Br Golo and Sr Maureen (London) being interviewed by Sr Sonja

16th June, Brussels, Belgium: Lunch Networking Event at Aloft Hotel

17th June, Brussels, Belgium Networking Village, Exhibition & Sharing at Committee of the Regions Building, European Commission, Brussels

18th June, Glasgow, Scotland: Talk by Sr Rose Goodenough plus meditation and sharing on "Healing the Self, Restoring the Earth"

21st June, Paris, France: Flash Mob and Lecture by Br Golo on "World in Transition"
Please see the full report with photos in the pdf.

Invitation to the Green Retreat at Peace Village, NY
17 July 2015

Summer News BK Green Network
11 June 2015
Ever-green-greetings to all on the BK Green networking mailing list
There are heaps of interesting news in this newsletter, but this is also the last newsletter for the summer! News is sorted in future, past and inspiration. For the future we have now 10 new workshops for you! Plus new green talking points and a new leaflet on renewable energy.
Plus a call from the international fasting-community for people who want to donate one day of fasting! Not only of the mind, but also body:-) Read more below.
Wishing you a lovely summer or winter, wherever you are on this planet of ours. For your information, our BK green facebook group now have more 1200 member, and maybe 500 from India!
In remembrance of the Creator and the creation
Sonja & Arnold on behalf of all of you
FUTURE
PAST NEWS
Thriving partnership Pachamama Alliance and BK
Maisa Arias, on behalf of the Educational Programs at the Pachamama Alliance writes: In this newsletter, you'll learn about Facilitators using Pachamama Alliance's Up to Us engagement pathway to build and strengthen Communities in China, San Diego, CA, and Mexico, as well as our thriving partnership with Brahma Kumaris.News here:
Bonn Climate Change Conference is happening 1st - 12th June. We had a very good side event "Thinking with a different mindset to face climate change". very good co-operation between the German host group, the international BK group and the international NGO community. See more here:. More news will be uploaded soon.
The Potsdam Institute for Climate Impact Research (PIK), is a German government-funded research institute addressing crucial scientific questions in the fields of global change, climate impacts, and sustainability. Ranked among the top environmental think tanks worldwide. Thorsten (Berlin), Golo and Sonja met with 2 scientists from PIK at the institute in Berlin last week and introduced our BK Environment Initiative. A new research field is established to look into the relationships between human beings and their environments and religious/spiritual beliefs and practices.
Any BK scholar out there interested in this research? There is a Forum called "European Forum for the Study of Religion and the Environment" for scholars to join.
News from Vietnam
Arnold, who is currently in Ho Chi Minh City (Vietnam) did give a talk at the centre about Sustainable Development. Some 50 BK's attended and it proved that raising awareness is an essential first step in creating change. A few days later, he did give a workshop about Personal Responsibility, with some content from the EarthCare workshop. Some 70 BK's attended and they are really committed to care (more) for the environment.
Expo 2015, Italy
From Monica, Milan: We visited various pavilions with a vast array of design and variety. By 15.30 were ready to relax in the Expo centre to be part of the event marking World Environment Day with it's title "7 Billion People – One Dream – Consume with Care". UN, FAO and Expo officials gave encouraging speeches. The last speaker, part of the organizational team for 15 Best Practices, was excellent and we met her personally afterwards. Good news in mailbox same day! – Sustainable Yogic Agriculture will be part of short presentations at EXPO on July 10th. We plan to have a workshop same week-end – all welcome! Om shanti
INSPIRATION
From our Dadi Janki on the 5 elements
Baba has given us a good understanding of the five vices. Before we were under the influence of the five vices. Even the elements were under the influences of the vices. You have seen this. Suddenly a fire will spark or an earthquake will erupt somewhere. Now we have to do such elevated actions that we move beyond this influence. What are elevated actions? All of the sevadharis making food for you in the kitchen, all of those who cleaned rooms so that you could stay…this is elevated action. Some are washing pots. Some are cooking. Some are sweeping. These are elevated actions. And the five elements are not only 'out there'. This body is made of the five elements – sky, wind, fire, water and skin is the earth. So now I treat all of them with a lot of love. (Peace Village June 2015)
Crown Princess on Climate
Norways Crown Princess Mette-Marit giving 10 minutes inspirational talk on issues in climate communication, at EAT conference in Stockholm in June 2015. Youtube link here
With this royal ending we hope you found it all inspirational!
from Vietnam:
Entering Potsdam Institute:
Milan World Expo:

Dreamers Needed, World Environment Day and More
13 May 2015
Dear Network of BK's interested in sustain-ability and the natural environment
Many greetings. Beautiful spring in this part of the world.
When you go to our website, you will enjoy a new suggestion for logo and banner. It is made in India during Holi time, all the colours representing the beautiful natural golden aged world that we all are doing our best to create.
World Environment Day - Seven Billion Dreams. One Planet. Consume with Care
World Environment Day is coming up very soon, it is Friday 5th June. Maybe you like to arrange an "environment day" in that connection. You can read more here, it comes in under UN Environment Program, UNEP
In Copenhagen we will do an outdoor meditation, most welcome!
Where have all the Dreamers gone?
The Spirit of Utopia is coming to Peace in the Park in Oxford this year!
Let's dream together. You can share your dream here.
EU Energy Week - 6 countries in the EU have now signed up for a green program in the month of June- Germany, France, UK, Denmark, Belgium, Poland. It is still open for registrations, read more here
New UNDP Training center at India-One solar site, Shantivan
A training centre sponsored by UNDP/GEF/MNRE for the promotion of solar concentrating technologies has been set up at India One power station. The second training program was held in April 2015 on the parabolic reflector, sharing the world class technology developed by the Brahma Kumaris.
Read more, many pictures in report:
Healing the Self, Restoring the Earth
Seminar at Global Co-operation House, London. Some points from Sr Joanna's input:
· Nature listens to the rhythms and cycles and temperatures
· Nature always knows the best time and the right time to do things
· Animals have a heightened ability to listen to the signals of nature and act on them.
· Human beings are disconnected from this because we don't listen to our hearts
What is possible?
Peace Friends, I saw this during earthday, and I remembered to search for it. This is a powerful 4 minute video Narrated by Morgan Freeman. He starts by saying one day, we will have a world where the weather isn't getting more extreme, and species stop going extinct. One day, the sea will stop rising. The question is, how do we get there from here. The video is full of inspiring images. Get ready to watch it. greetings from Gordan, US.
India's other daughters – The village that plants 111 trees when a girl is born!
In a country that still favours the birth of a son, Piplantri village in Rajasthan not only embraces daughters but has created a tradition that benefits both the local people and the planet. This endearing village makes a conscious effort to save girl children and the green cover at the same time, by planting 111 trees every time a girl is born. A brilliant exercise in eco-feminism, this should inspire India and the rest of the world. This wonderful eco-conscious tradition ensures that an increase in human population will never come at a cost to the environment. It is literally helping to ensure a greener future with each new generation.
More information if you have time:
· The village gathers as a community and plants 111 fruit trees in honour of every newborn female child.
· Village residents collect Rs. 21,000 between themselves and Rs.10,000 from the girl's parents. This sum of Rs. 31,000 is made into a 20-year fixed deposit for the girl.
· Parents are legally bound by a signed affidavit stating that their daughter will receive proper education. The affadavit also mandates that the girl should be married only after she reaches legal age and the trees planted after her birth have been correctly looked after.
· The community ensures that the trees survive, attaining fruition as the girl grows up.
· The villagers don't just plant trees, they look after them as well. To protect the trees from termites, the residents plant aloe vera plants around them.
· These trees, and especially the aloe vera plants, are now a source of livelihood for several residents.
· This unique tradition was first suggested by the village's former leader, Shyam Sundar Paliwal, in honour of his daughter who passed away at a young age. In the last 6 years, over a quarter of a million trees have been planted.
· Villagers claim there has not been any police case here for the last 7 to 8 years.
Om Shanti and yaad pyar
Sonja, Arnold and all contributors
Brahma Kumaris Environment Initiative
www.environment.brahmakumaris.org

BK Green Network News - April 2015
17 April 2015
Green News - Neighborhood, COP20, Global Emotional Warming
28 January 2015
Dear BK Green Network, om shanti and many greetings.
1. This newsletter will start with a blog from br. Arnold in Holland:
Sustainability begins at home - Many times, we have heard it in the Murli 'Charity begins at home'. It is about being kind and loving towards yourself and your family. It is also about being an example yourself in order to do service. This is very powerful. We could say that the same applies to 'Sustainability begins at home'. We can only be a trustworthy source of service, if we practice what we preach in our green initiatives. This means that we apply these principles in our own homes and centers:
· Living with Simplicity · Buying compassionately · Using Economically· Learning Continuously · Sharing Generously
If we take this approach one step further, we could even say that our street, our neighborhood (maybe even our city) is also a part of our family. Then our centers could become the shining examples of a sustainable and spiritual lifestyle. At the same time we can help our neighbors to become more resilient, both internally and externally. Charity means then being loving for ourselves, our family, our neighborhood and nature. Please let us know (via environmentblog@brahmakumaris.org) whether you are interested in this 'green neighborhood' service.
----------------------------------------------------------
Arnold also reports on the increasing number of members in our Facebook Green Group -especially from the Philippines and India. Currently our group has 406 members. If you want to join, then request to join on the Green Group's page (https://www.facebook.com/groups/GreenBK/).
2. New article from Mike George - Global Emotional Warming
3. The Climate Change Conference in Lima, Peru was a fantastic experience. Our large BK delegation was mainly noticed by our calm, hopeful and positive presence. Our hosts - the BK family in Lima - did a fantastic job, and by the end of the 2 week long stay we came over 25 programs total. It was indeed a great INCA-trail of service and happiness. If you want inspiration, lots of photos, please have a look at the 8 colorful reports we did.
4. The Green Service tour of South America happened before and after the COP conference in Lima. Big thanks to all countries involved. A separate service story will come in next mail. The Spanish version is online.
5. A global Hindu response to climate change - The Bhumi Project have created the first ever united global Hindu voice to address environmental concerns. They aim to Apply traditional wisdom to modern concerns through making traditional Hindu culture and wisdom relevant to address environmental concerns. They celebrate the Hindu Environment Week 15th-21st February. if you like to dedicate a green program to you or contact local temples, please send a mail to us at environment@brahmakumaris.org
Anything you would like to share? Please send news and thoughts.
TED Talk: From the Danish Green Think Tank we got following TED talk recommendation:
the Buddhist Monk Ricard Matthieu putting altruism into a environmental context, on how Altruism can guide not only individual change, but also collective change in our society.
Quote: Everyone from Teddy Roosevelt to John C. Maxwell to Antoine de Saint-Exupery has been attributed with coining the phrase: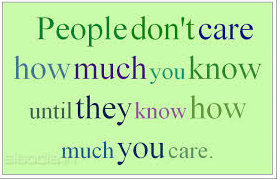 Best of all, from all to all
Sonja & Arnold
Greetings from URI: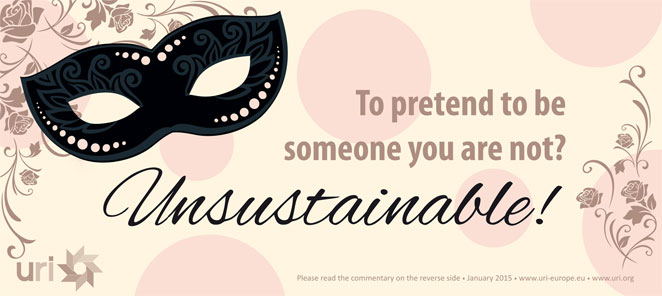 Greetings from the Sustainability Initiative Team
1 January 2015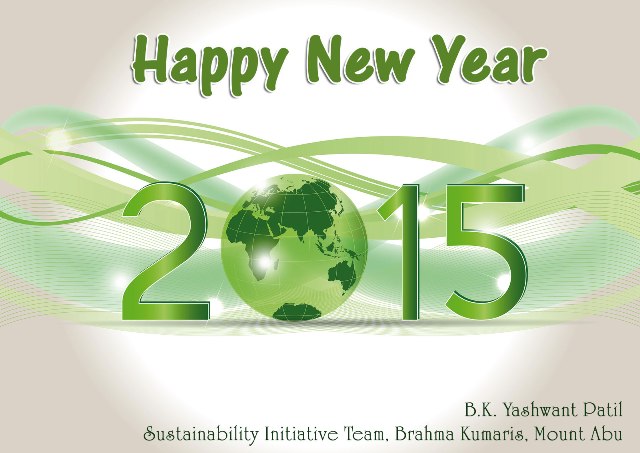 Let us together build a sustainable environment with innovative solutions in this New Year 2015