2013 Europe News Archive
2013 Europe News Archive
News from Sr Jayanti - London
30 December 2013
On Sunday21 December, Global Retreat Centre had invited the London students for a performance of the 'Snow Queen', and added to that we decided that we would have a cake for Murli Dada's 90th birthday. His son, Haresh, came across from USA especially for this celebration and it was a very beautiful event that happened quite spontaneously.
The Snow Queen had attracted a large audience of BKs and it was a fabulous performance. They had already had 5 performances for the public prior to Sunday, which was the last one and perhaps their best. There was a lot of interaction and fun with the audience, which both the performers and audience enjoyed a lot. The stars of the Show were Marneta (creator and producer), Andy, and many others. Baba's house was very beautifully lit up with candles, mirrors and snowflakes.
On Monday, the actual day of Dada's birthday, we had a small family gathering for lunch. Dadi Janki had sent a beautiful audio and video message and we had an opportunity to play these in class to the family. So it was a very royal and lovely celebration for Dada's birthday!
On Christmas Eve, the weather in the UK was totally unpredictable and unsettled. There seem to be strong gale force winds in many places. London has rain but not severe winds as in some parts of the UK. But certainly travel has been disrupted.

News from Sr Jayanti - Belgium
30 December 2013
Arriving in Brussels on a sunny winter Saturday, 28 December, there was family lunch followed by a meeting of the family. In the evening there was a gathering of around 40 people for the topic, "Now is the Time".
Sunday morning was a full class of BKs from all over Belgium. Everyone came together with a lot of love. There was extended class and breakfast together. We then went with one of the sisters to meet someone in contact at a temple. As it was short notice, there were about 40 people present who listened with attention and really wanted more gyan for the future.
Sunday evening was a gathering of those in contact with the Brussels centre, after which I took my train back to London.

Science and Spirituality Collaborate for the Future of Humanity
19 December 2013 - A three-minute video interview conducted by Sr Denise
Angelica Castro PhD recently received her doctorate for Bio Physics from Pierre and Marie Curie University, Paris. She has been a Raja Yoga student and teacher with the Brahma Kumaris for the past ten years. Her research involves revolutionary ways to deliver cancer drugs directly to the tumor without damaging any other tissues. The technology used micro anti gravity to direct sub micron particles to precise destinations. Angelica is from Columbia, South America.

WONDARIYA and the Secret of the Diamond
6-14 December 2013
The doors of Global Co-operation House in London, again gave a special Christmas offering to the local community, seven quiet years after the last panto closed. A brand new play, it was co-written and directed by retired school teacher BK Leza and up and coming actor/director BK Minal, and involved the whole London GCH, BK family.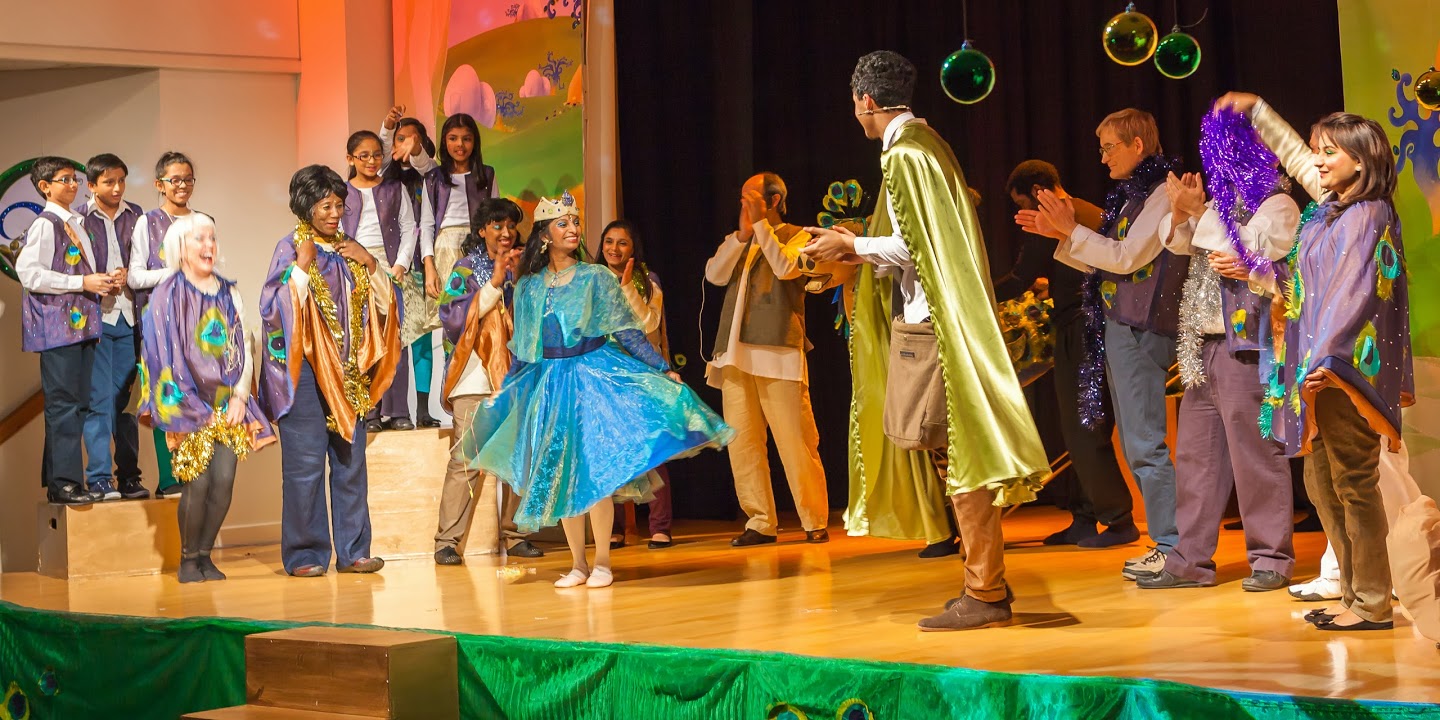 From the moment the audience entered GCH, they were transported to Greater Wondariya - a beautiful land full of smiling people. The reception area was decorated with peacock colours of greens and blues and rich swathes of silk and the Wondariya emblem emblazoned on the walls with all the BK welcomers and ushers wearing blue capes and peacock designs.
Not just a new script but also a new musical score with beautiful lyrics created magic through the show.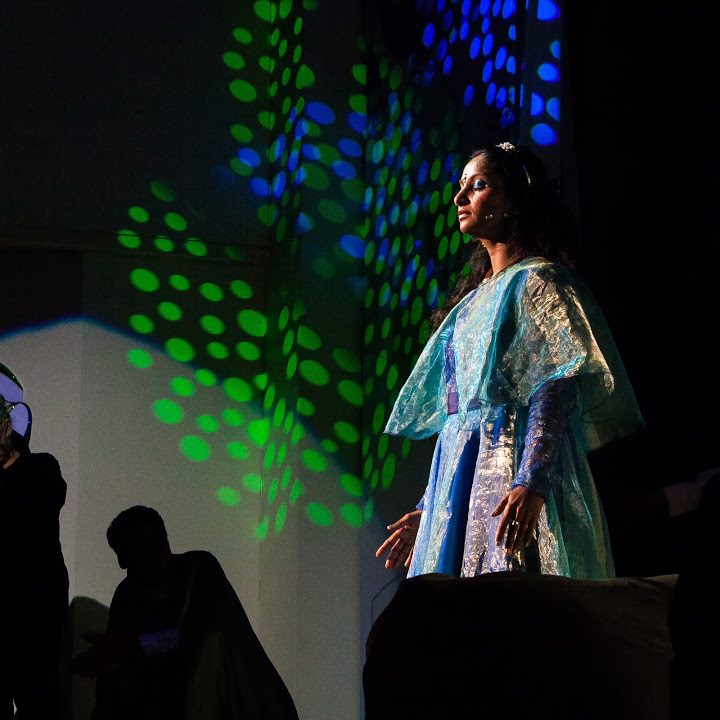 'Fly, well, sweet child, and spread your wings,
Fly high, sweet child, for nothing brings
Out the light in your heart more than that special spark…'
The storyline went:
"Centuries ago, King Elrod, last king of Wondariya, plunged the kingdom into doom and gloom by abdicating as king and banishing Love and Happiness from the kingdom. The time has come for the return of both Love and Happiness. Avaya, a child born with the brightness of the happy times, receives a mysterious family heirloom in the form of a locked diamond casket. Setting out on a quest to find the key to unlock this diamond casket, she encounters Caled, a champion, seeking a higher purpose. They are both encouraged by their mutual friend, Naypea, a magical Peahorse, to brave the dangers of the canyons of Unknown Land in search of the key to reveal the secrets of the locked diamond casket...and to bring back Love and Happiness to Wondariya."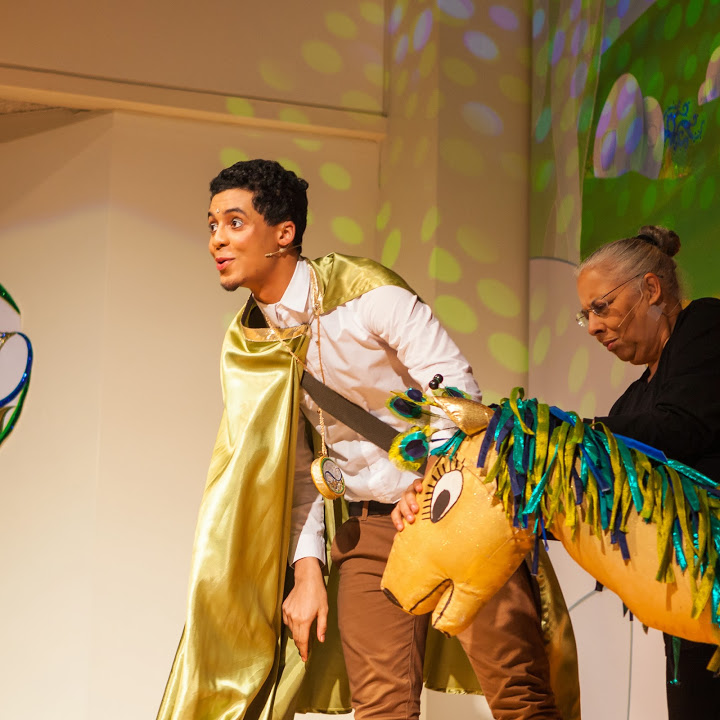 The 'Quiet Space' was the recurring theme throughout the play…When the central characters touched their own inner quiet , their courage and determination and brightness emerged, and the adventure to resolve the secrets of the locked diamond casket could continue…
Lead roles were played by BK Davina, BK Sangela and Eleanor, BK Gil Fernandes and Meshach, who were joined by a cast of nine children and sixteen BK students, who dedicated the past two months to weekend and evening rehearsals to bring the play to the stage with great enthusiasm and commitment.
Shows opened on Friday 6 December and ran through the weekend, with matinees and evening performances on both Sat 7tand Sun 8 December. The Mayor of Brent, Councillor Bobby Thomas addressed the audience before the performance on Sunday evening and led everyone into a minute's silence for Nelson Mandela and the values of courage in adversity and hope that he had embodied in his life. On Monday 9 two daytime shows delighted local school children, with over 900 attending. One teacher emailed: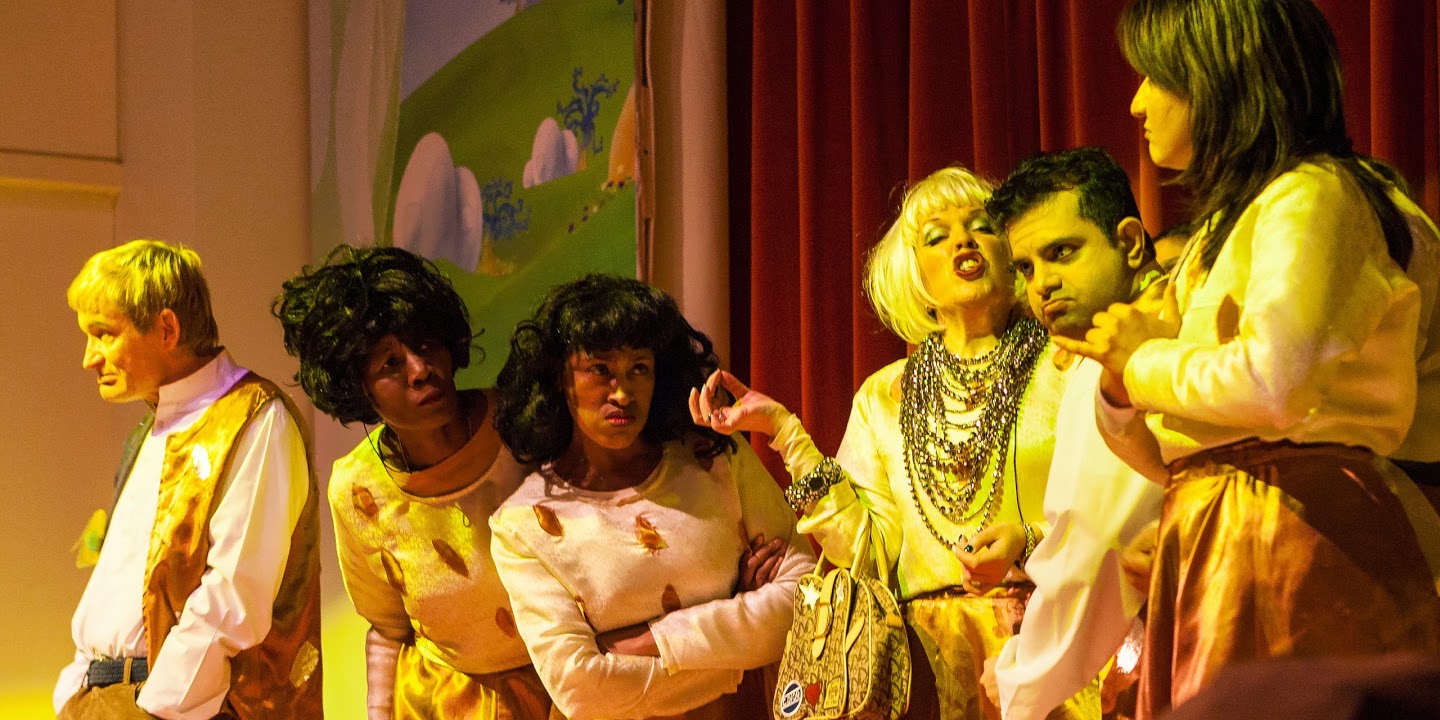 'I would like to say a BIG THANKS for the opportunity to watch the show today. It was an outstanding performance. The children enjoyed every moment of the show'.
And from the children:
The message of the play is to find a 'quiet space' – then you can easily get through things that are really hard' Theo, aged 9
'Wow, it was so good, it hooked me and I had never heard of that story before. I liked it when they got the key and the girl was crowned' Ashia, aged 9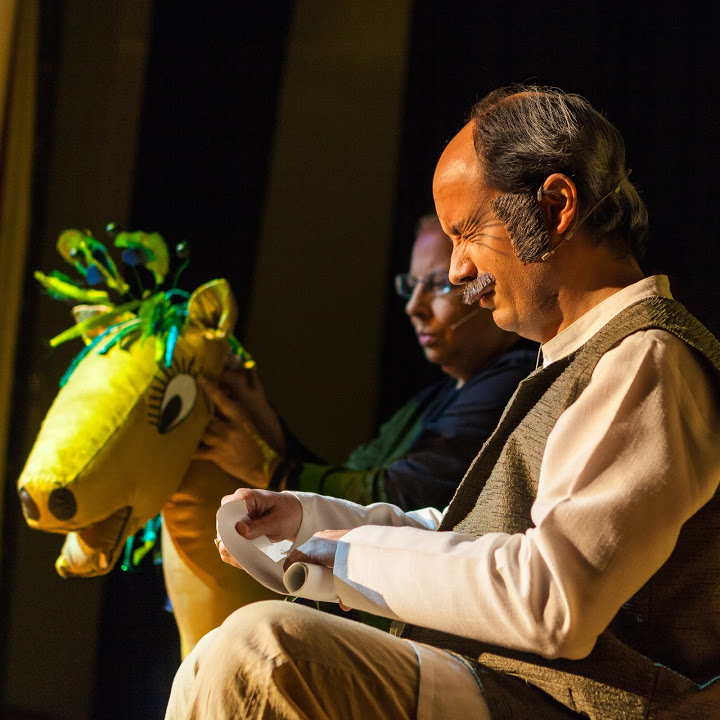 'I liked the mystery and working out what would happen to the secret' Sulequa, aged 10
'It was very interesting and left me with a nice feeling', Sara, aged 11
I liked it when Naypea the peahorse talked!', Namir, aged 7
A last public show on Wed 11 December and a finale performance for the UK BK family as part of the Christmas get-together with Sr Jayanti on Saturday 14 December closed the show with great love and happiness shared by all.
Over the course of the public performances over 3,500 people attended.
Main Youtube channel: http://www.youtube.com/brahmakumarisuk
Direct URL: http://www.youtube.com/watch?v=a9LW5-Y2jt0

News from Sr Jayanti's visit to Italy
4 December 2013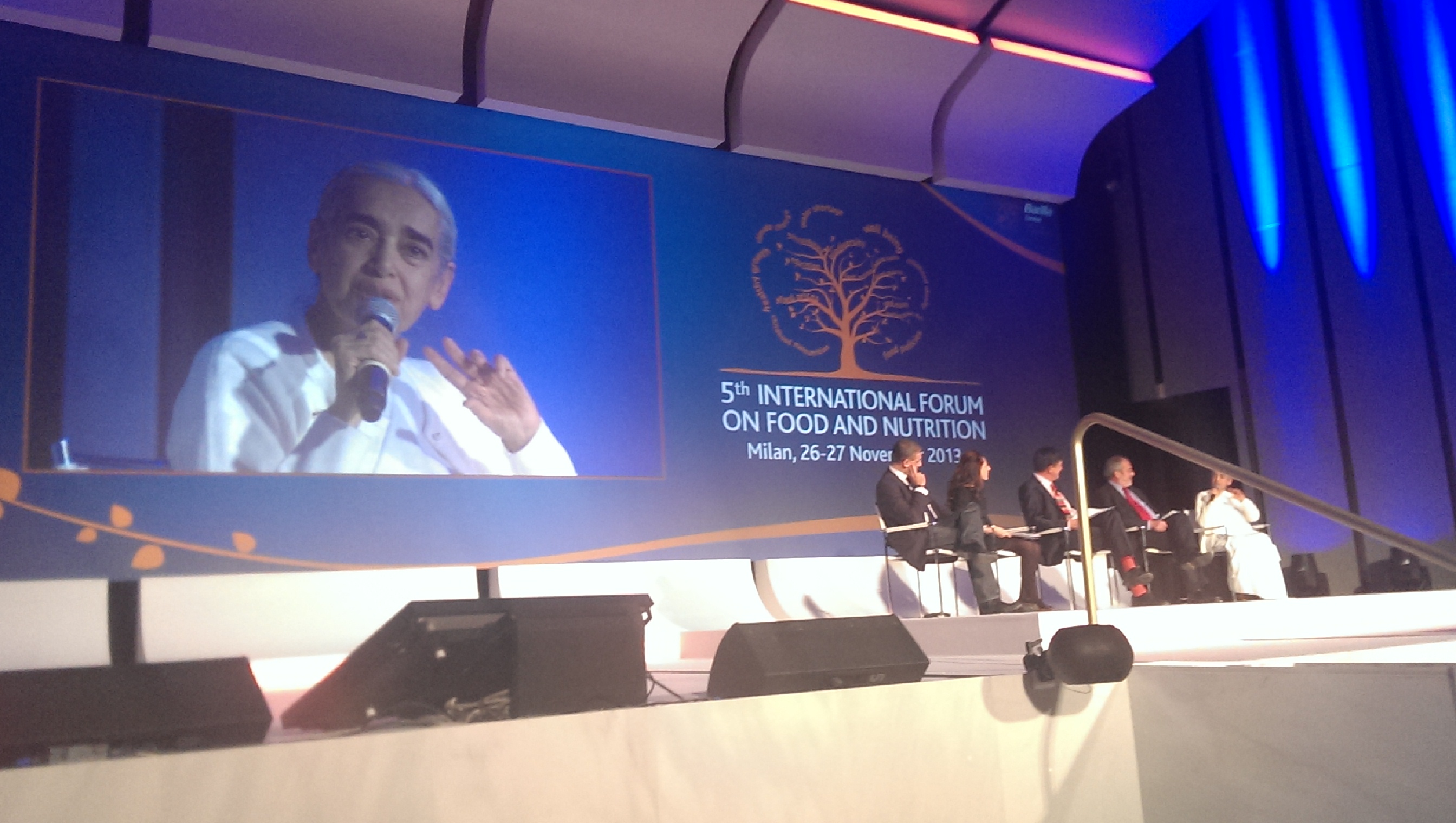 The trip to Milan last week was at the invitation of the Barilla Food and Nutrition Centre. This has been established for some time, and they invited me to their 5th Conference. On 26 November, the day I arrived in Milan, there was a youth programme and they took me to the hotel. From there I went to the Centre, and then on to the programme organised by the Centre, called 'Mind, Food and Spirituality'. Br Piero interviewed me and the programme went well, and had an audience of about 50. After that, Br Piero took me to the place where the speakers from the conference were meeting over dinner, and so it became quite a late night but I was able to meet some of the speakers, in particular those with whom I was going to share the roundtable on 27 November.
On 27th morning we had class at the Centre and then we went to the programme. They had very high-level speakers from the Food and Agricultural Organisation, the Environment Minister, and various other top people from the European Union. Guido Barilla, Chairperson of the Barilla Company, opened the Conference and there were about 1,000 people present in the morning. The whole subject was 'Food Security'. Alex Thompson from Channel 4 BBC was the presenter for the whole day, and he did a beautiful job linking everything together.
In the morning, we heard speeches and had roundtables, and then in the afternoon I was part of a roundtable. There were questions from Alex about vegetarian diet in particular. The ideas were well received. There were several interviews that happened as a result of the conference. There had already been an interview beforehand, but there were also various others during the course of the conference.
At night, the family in Milan gathered together at the Centre.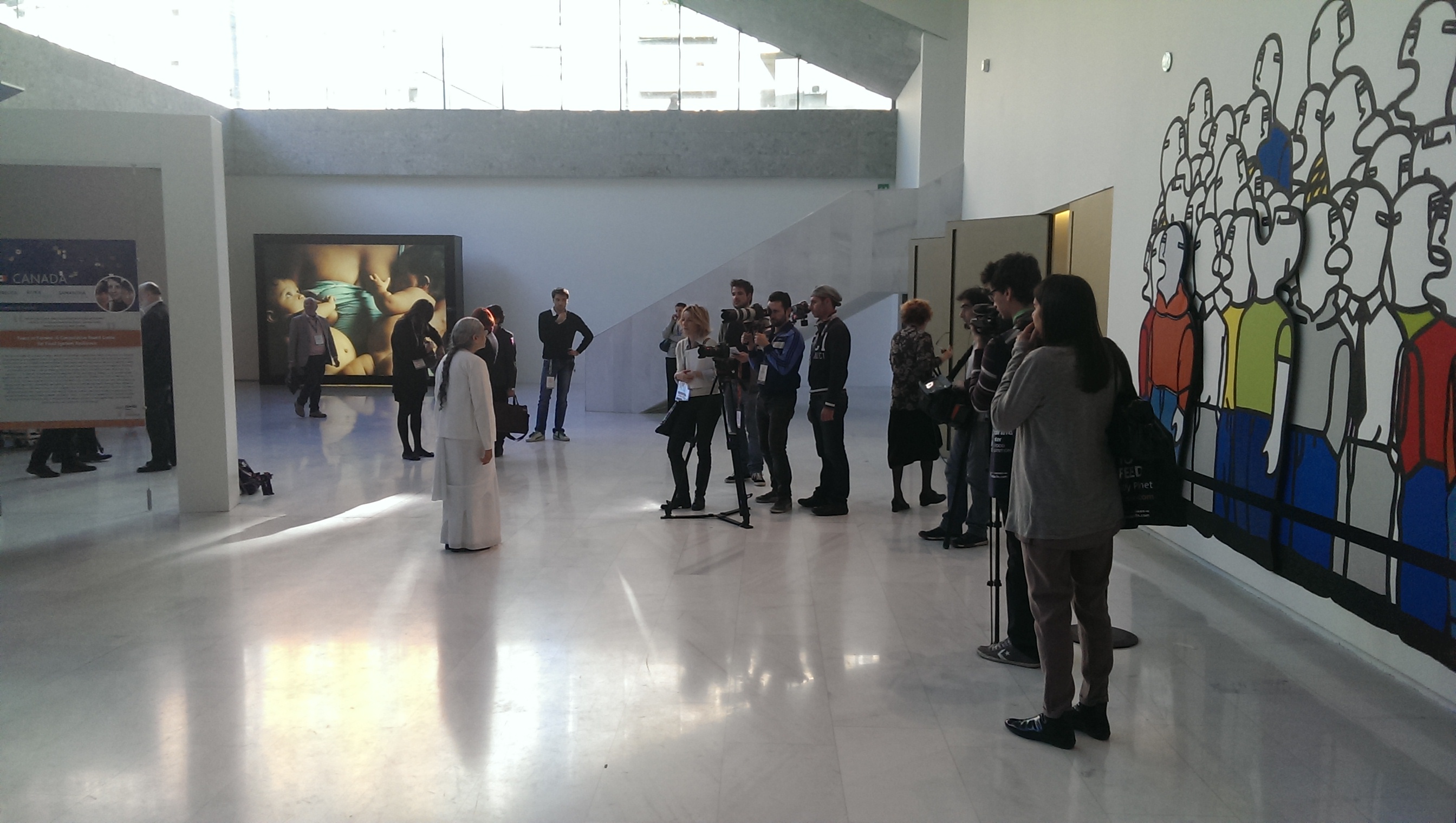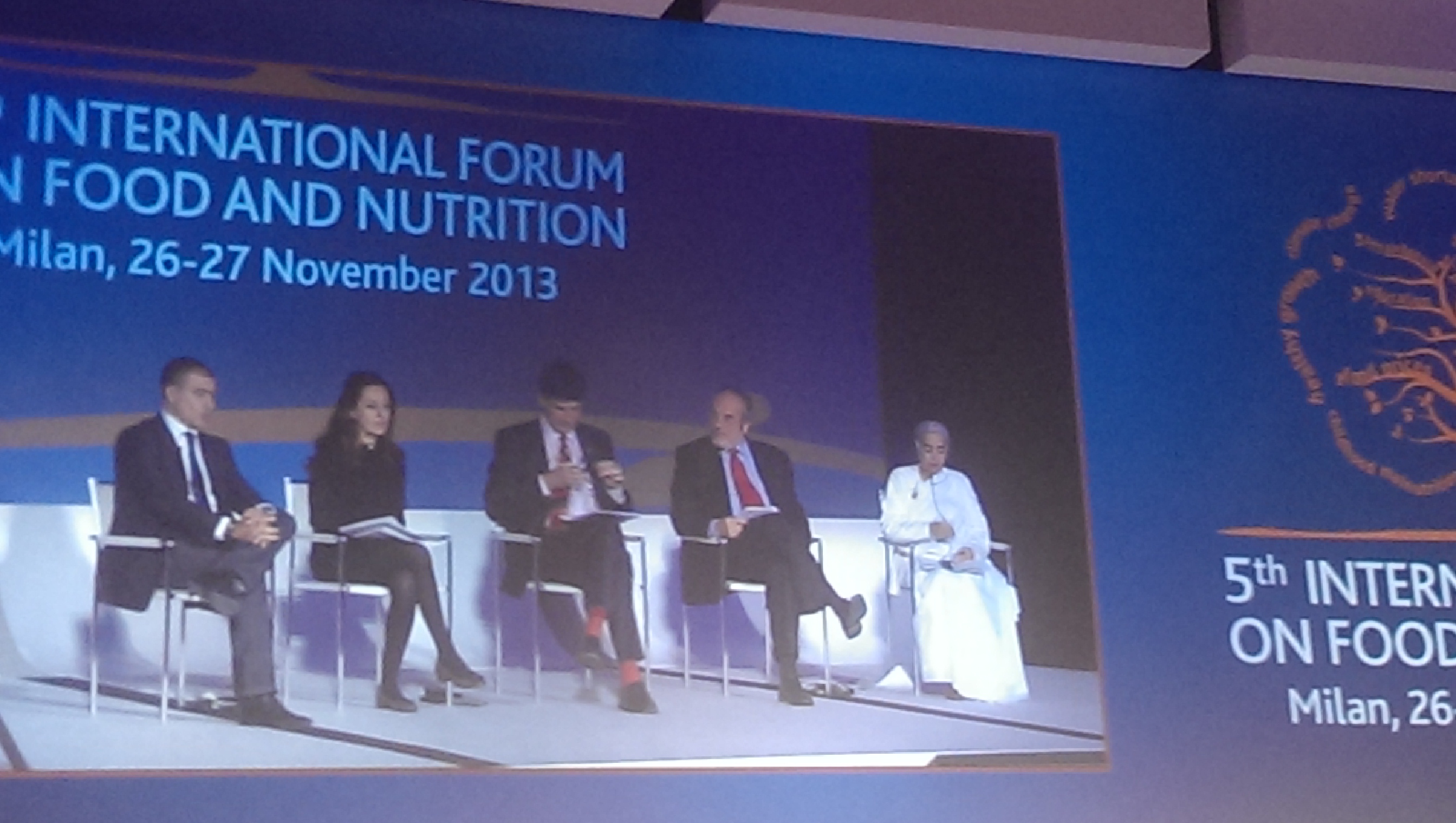 Opening Ceremony of Inner Space in Peterborough, UK
1 December 2013
Om shanti. We are glad to report that opening ceremony of Inner space, Baba's new place in Peterborough, UK, was conducted with the good wishes of Baba, on Sunday 1st December at 12.00pm in the presence of BK Jayminiben, Parulben and other senior sisters, Maniben, Minaben, Nimuben and Dipikaben. Babubhai from Leicester was also present. Most of the representatives from the Midland centres were there to grace this occasion.

The ceremony began with cracking a coconut and cutting of the ribbon. After welcoming the guests bhog was offered which was shared with all the guests. Everyone was happy and all conveyed their good wishes for the success of the new place. All the Peterborough family worked together in unity to ensure that the needs of the honourable guests were catered for.

We hope to serve all cross sections of people from this area so that they can help themselves to make their lives peaceful and happy.

The Inner Space is located in 400sq foot of office space in a business centre on the ground floor. It is situated in the central area of Peterborough and is accessible easily by bus, car and train. There is ample parking space for the visitors.

In Baba's yaad,
Peterborough Family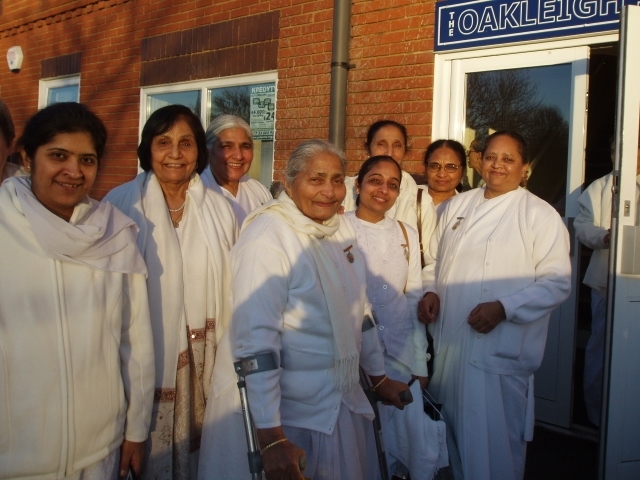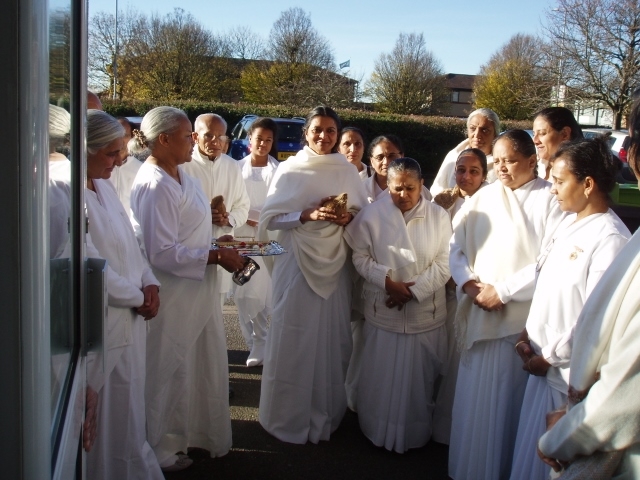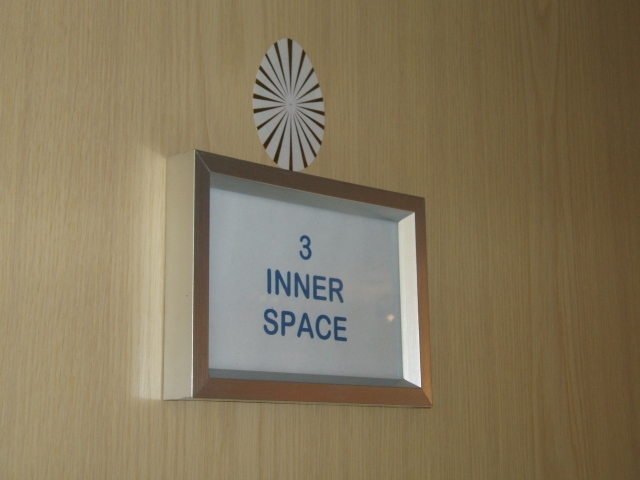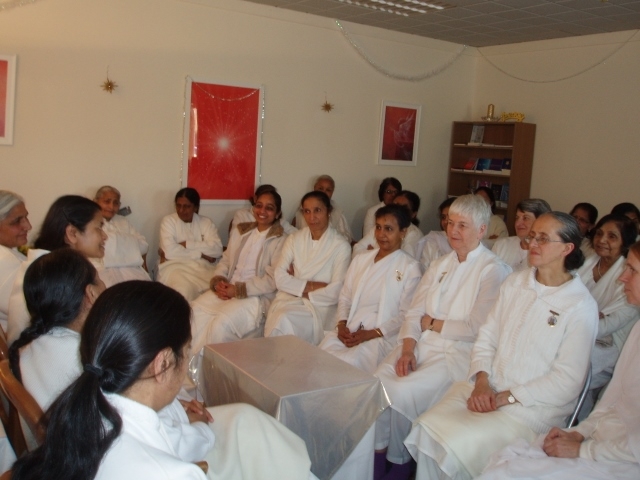 Bridge of Love: From Moscov to Montenegro
21-28 November 2013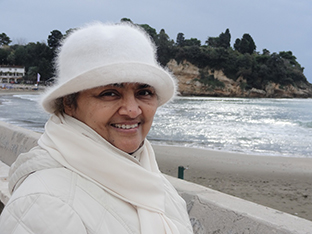 From 21 till 28 November, Sr. B.K. Sudha R. Gupta, Director of the Centre of Spiritual Development (the Brahma Kumaris Centre, Moscow) visited Montenegro. It was her first visit to this small European country on the coast of the Adriatic Sea. As if a wave of spiritual love rolled from Budva to the Albanian border and left our hearts filled with unforgettable experience.
The public program on co-operation took place on November 22, in Budva at the Blue Star hotel. Most of the audience was members of the Russian community in Montenegro.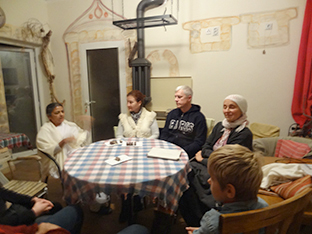 Next came a two-day seminar 'Attainments trough Raja Yoga practice' which began in Podgoritsa, the capital city of Montenegro. BK's students and guests both participated. Two days of Raja Yoga meditation practice brought us together, giving everyone a deep experience of inner peace. With their hearts full of deep gratitude and sincere appreciation the participants invited Sr. Sudha to come again.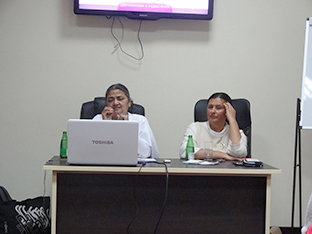 Then Sr. Sudha left for Ultsin, where the BK's first meditation retreat in Montenegro took place. In a beautiful little place by the sea, with an olive grove and mountains nearby people of four nationalities: Montenegro, Russia, Belarus and India were united. Early morning meditations and lectures alternated with seaside strolls and spiritual chats. The participants didn't miss the local cuisine – they cooked their own food with spinach and cottage cheese, pomegranate and quince.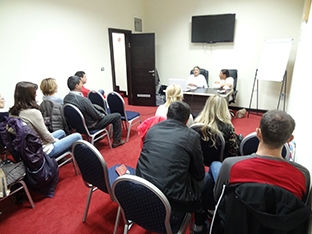 On November 27 in Budva, Sr. Sudha conducted a panel discussion on the Power of Tolerance.
Sr. Sudha's visit to Montenegro was not only long-awaited, but a unique event; and those who really wanted to experience life filled with spirituality could feel it. We believe that, directly and indirectly, it benefited many people in the country.

Grannies Meditate Too
18 November 2013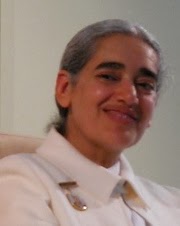 You have read before on the Grannyblog about the Brahma Kumaris. Yesterday evening was spent at their magnificent building in London, Global House where they had a programme of World Meditation. I want to write about them again because they are so remarkable and if you ever get a chance to meet a BK, or go to a BK place or a BK event, you will immediately understand why I am saying this. I am going to call them the Christmas lights because being with them is just lovely. You immediately feel amongst friends and without anything in the way, they greet you as if you were the one person they wanted to see. The genuineness of their greeting isn't packaged, it isn't forced, it is how they are and I can tell you, that if you were feeling low, a B K would cheer you up right through. Their own meditation and spiritual practices are profound and committed but you don't meet a face which indicates superiority or one which wears it's spiritual effort as a cover. There they are, beaming, dressed in white, smiling, laughing and out of their white pockets come mobile phones and they are brilliant at all the techie stuff and they give you sweeties, little delicious sweets which taste of cardamom and which they have made in their spotless modern kitchens as an act of devotion.
Full Article: http://granniesmeditatetoo.>blogspot.com/2013/11/christmas-lights.html

Latest News from Sr Jayanti in Poland
18 November 2013
Sunday morning, we had everyone at the new Centre in Piechowice, and then went for a short walk in the woods surrounding the place as it's out in the suburbs.
We came back to the apartments very briefly, and then went off to the VIP gathering at Smolna Centre (Meditation Gallery). The designer couple, Jola and Mirek had invited some of their friends from the media and there were some who were fashion designers etc. We also had others from different invitations, so it was a very lovely gathering. From there I went straight to Gdansk, where we had World Meditation Hour plus two musicians from the band, Desert Rose, who had performed the concert on Thursday. They sang songs without any other music, just a tape backing, and it was Sufi prayers of worship and praise of God. It was a very beautiful atmosphere. Desert Rose have contact with the centre in Capetown, South Africa, but of course now have been inspired to come closer. They said that the Brahma Kumaris were like a ray of light for them in Warsaw. They leave on Monday.

Hope, Victory and Harmony - Annual Diwali Celebration at GCH
10 November 2013
To a full auditorium MC Sister Jaymini and MC Brother Jaydev welcomed everyone with the words 'Happy Diwali…..Diwali never ends and that Diwali celebrates the victory of Rama over Raven: of truth over falsehood, of hope over hopelessness and of unity over disunity'.
A short skit was acted out telling the story of disheartenment, but through self realisation and love for God a light that is always deep within lights up again and then there is a return to hope, victory and harmony within the self, which can go on to be shared with the world and invoke unity….when we sing the world sings with us
A group of esteemed guests, dignatories and councillors were invited on stage to 'light the light for world peace' by participating in a candlelighting ceremony. The Mayor of Brent, Cllr Bobby Thomas, gave Diwali greetings and shared how 'when the mind is in the right place, then what we do is excellent for mankind as we share our light, and the teachings at the Brahma kumaris are all about making the mind fit for purpose, Mr Navindran, second secretary representing the High Commission, also shared his best wishes from the High Commission on this festive occasion. BK Ratanbhai Thobani spoke challenging everyone: Are we really happy or are we just saying it? Are we just happy at this moment or can we be happy all the time?
Sister Nirupamaben from Orissa shared: I the soul, the living light, humbly invite you to repeat with me the mantra of Om Shanti and experience its meaning……I the soul am a point of light, a child of God and I am equal to the Father, as the Ocean of Peace…..To be able to experience this deep peace let me apply a powerful full stop to all other thoughts and keep all other thoughts quiet.
She continued to share how the body is like the clay of the earthenware lamp and when we realise the self as the living light and The Creator as the Supreme Light we experience hope, victory and harmony as He is working now to light the light of the soul. Now is the time God himself is offering all relationships with himself and giving the current of energy that comes with these so that we can become victorious over the five vices, so we can experience real happiness. Sister Nirupanaben ended with greetings for Diwali and 'may the light of the soul remain constantly lit'.
Sister Jayanti started with greetings for Diwali and the New Year and noted how many associations of India are represented in this gathering. She noted how families around the world come together at Diwali to celebrate.
See main points below:
There is so much hopelessness and people really need hope for themselves, so there can be victory and harmony.

When we see there is so much darkness of ignorance we need to keep the light of the soul lit so we can give hope for everyone.

When difficulties come how do we maintain hope in our intellect and mind….we have become generally hopeless for ourselves….

What do we wish to change…….often we have tried but we are not changing so hopelessness within persists….so we think that it is not possible to change these subtle habits within.

If we remember Who am I….what is my original form and who is the One Up above….hopelessness disappears…I realise I never need feel I am alone……this is simple.

Who am I and who is Mine…I am a child of This One…a point of light. The true form of the self is of purity, peace, of truth….when these things awaken in ones mind once again then our faith grows

When different thoughts come in the mind, it is visible on the face…..the face is like a reflection of the feelings in the mind…when the light of the soul is lit this would be visible through the eyes and when it dims we can see this too.

When we remain in the awareness of who we are, the light of the soul remains constantly lit. When I have this recognition of who I am then there is enthusiasm and hope and we realise that with God as our companion victory is our destination.

This should not just remain as a story but as a practical experience of how now, God is our Companion. He is holding our hand and with faith and trust is enabling me to move along.

When we look back at our journey of life we can see how God has helped out many times…especially when there was the feeling of no support - at that time God gave us light and enabled us to move forward.

At every step God has helped me ….

Victory is about being victorious over our own weaknesses. Rama conquered Raven…..who is Rama and who is Raven? Raven is described with 10 heads and it is the story of 5,000 years ago.

Raven is the symbol of the vices….when we become victorious over our own weaknesses with Godly power then there can be harmony within the self.

When we conquer lust, anger, greed, ego and attachment there is peace of mind and inner harmony.

When our conscience, intellect and mind work together there can be the experience of real peace.

Peace within the mind comes when defects and weaknesses are overcome

In this way we can really celebrate Diwali. Rama conquered Ravan 5,000 years ago and today as the children of God, we can overcome all negativity…..when one individual is able to be victorious we can see that where there is transformation in one then many others can light their light through that one.

When we experience a true Diwali within, real victory within, real harmony within, real peace and happiness within, then we have that absolute faith that we can celebrate a true diwali with the world and bring a world of truth into the world

A world where the lion and lamb drink from the same water ….in all the main scriptures there is a memorial of a time when human beings were divine - their exchange of experience like music and there conduct a dance of harmony. That was the world of deities.

Now everyone wants everything for themselves. One who gives is a deity….so when we transform the 'I to you' and be ready to give then definitely the world of truth can come….it is through this small transformation that the golden age in the world can come…..

We have tried taking from here and there and this is difficult…..the soul is feeling empty these days so that is why we have such need and we all say 'I want' and this is why the rope of relationships breaks.

Yet when I start to draw from The One up above…that One has no limit and is abundant in virtue and will never get tired of giving ……we may get tired of taking.

When we fill ourself completely then automatically we are ready to give and we are not able to stop giving.

Today the one who gives, Mahalakshmi is worshipped. We can become instruments to give from the One up above.

The more we take from God, the more we can share with others, as we fill ourself completely with all virtues and experience deep peace and happiness.
Sister Jayanti then shared a meditation commentary taking everyone to meet The Supreme Soul and to experience the rays of peace coming from the Ocean of Peace and the light and love from the Ocean of Love and to experience the power of truth so the sol is brought back onto the path of truth once again. The light of the Supreme Soul spreads light into the world and begins the new day…..
The programme was completed with a dance of joy performed by BK Jagruti Patel and BK Dipti Khatry. The MC's thanked all and also sent Diwali greetings from Dadi Janki, who is in India. Toli, blessings and diaries were then shared with all.
The Diwali celebration event can be viewed in the link below.

News from Sr Jayanti
10 November 2013
The programmes that took place in Oxford (Friday) were two retreats coming together; one was the Nordic Retreat and then a group of Brahmins coming together for deepening the Avyakt experience. It was full house. Then we left for Manchester. On arrival, there was lunch with the Kitchen Team and the Residents, followed by several meetings in the afternoon.
Friday evening at 5pm was a one-hour Radio Interview, called 'Divine Conversations' with a woman who is an Interfaith Minister. She brought along two friends who are also very interested in interfaith and spirituality. They stayed then for the public event, which attracted around 250 people. The beautiful thing was that we had 25 people from a Choir. They don't use any music backing but just their own voices that create the beauty. They did about 5-6 songs at the beginning, middle and end. The programme was called "Imagine if Life weren't so mad…" In the middle of the programme, they took up the John Lennon 'Imagine' song. The beauty with which they performed was exquisite – really wonderful! It was a great platform for giving gyan, because they created a lovely atmosphere in which everyone was open and very receptive. It was full house even though it was raining outside.
Sunday morning, we had a gathering of the Northern BK family which was very good.

Loving Yaad from Sr Jayanti
29 October 2013
Dear Family,
Greetings of love from Shantivan.
We received news of the storms in the UK yesterday here in Madhuban and the family in Madhuban together with Dadi and I hope that Baba's children and homes are okay.
We understand different parts of the South in particular were affected.
Sending much love from Madhuban.
In Baba's yaad,
Sister Jayanti

Diwali on Trafalgar Square
27 October 2013
Once again Diwali celebrations in London have begun with a wonderful celebration for all Londoners on Trafalgar Square, which was packed with a full crowd from midday until 7pm.
The Mayor of London's office (GLA) with organising partners Diwali in London Committee and media partners ZTV put on a fantastic afternoon's event, showcasing wonderful community music and dancing from Kathak to Bollywood, all in the spirit of Diwali and with great happiness. The opening ceremony included a welcome from the Acting High Commissioner of India, Mr Virender Paul as well as a representative from the Mayor's office greeting the crowd. BK Balwantbhai gave the greeting from the Brahma Kumaris, wishing everyone a very Happy Diwali and Om Shanti. One particular young dancer Karan Pangali, a young entrepreneur who runs an academy of dancing at Harrow Arts Centre and teaches all ages to dance, demonstrated fantastic values with a large group and high energy. As the night drew in, Anoushka Shankar, the late Ravi Shankar's daughter, performed on the Sitar for 30 minutes, mesmerising the crowd with a seering performance of great beauty, taking everyone from the high energy entertainment to a more contemplative and spiritual space, This was followed by the closing Artee conducted by the Art of Living, who chaired the Diwali in London Committee for 2013. The entire committee came on stage and linking arms gave a vision of friendship and unity to the crowd.

BK's supported the organisation of the event throughout the year, holding the auditions at GCH last July and hosting many of the DIL meetings leading up to the event. On the day Jayminiben was mc'ing at the opening ceremony and Urvashi was managing the stage show from the back, with help from Dipti Khatry and Shivali....... Toots looked after the VIP's who took part in the opening ceremony and Daksha Patani supported in the Guest Marquee. Many others came and gave their good wishes to the event.

Walking the path of non-violence: commemorating Gandhi
3 October 2013
This program was hosted by Brahma Kumaris UK in London on 3rd October 2013 and featured Sister Maureen Goodman and Atul Shah.
The full video of the event is 1 hour and 15 minutes:
http://www.youtube.com/watch?v=xz8SXLWhevo&feature=share&list=UUmTemi7HxrcFg91JRAhWePA

Leicester, UK - Ground Breaking Ceremony
18 September 2013
The ground breaking ceremony for Baba's new project in Leicester on 16 September was very sweet. It is a large modern style building 10 minutes away from the present Centre in Leicester with plenty of space and surrounding grounds.
Many came from the Midlands. All the main co-ordinators were there, and a large group had even come from Manchester. Leicester supports everyone and so everyone wanted to support Leicester also.
Mrs Manjula Sood, a Councillor, who had at one point been the Mayor, was present and had very good words to say about the Brahma Kumaris. She shared how she was already experiencing peace in this place, and so knew it would do fantastic service.
The whole team, the new architect, plus the contractors, landscape designer and various other professionals were present for the ceremony also. Afterwards we went across to Baba's house for a big breakfast. We also had Shardaben of Lotus House, Ahmedabad and Taraben from Gandhinagar, Ahmedabad at the ceremony and it was good to have their presence. Br Francois also came across from France, especially for the ceremony.

Feeling At Home: Sudesh Didi in Baltic States
2 August 2013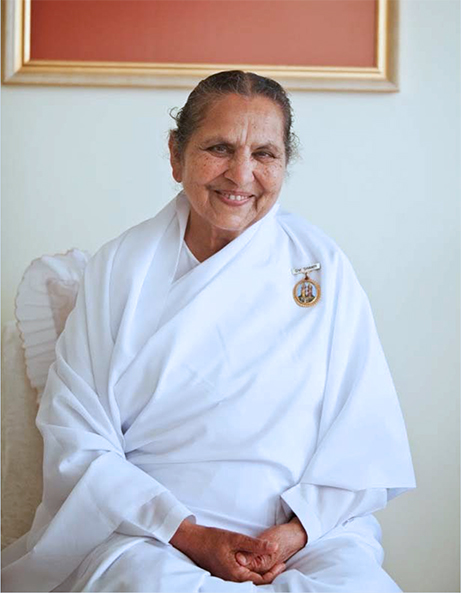 There is no place like home. East or west, home is best. The famous proverb reveals the truth about our Sweet Home, a place of rest and comfort for all souls. Having been on the Drama stage for a long time, some of them now are searching for peace. And there are souls with a special role, who can't stay without showing the path to the Land of Peace to those who got lost wherever they are, South or North, East or West. Undoubtedly, Didi Sudesh is one of the special; she is tirelessly circling the globe, generously sharing the Godly wisdom with her brothers and sisters. Over the past few years she has visited 70 countries and wherever she goes, souls get the experience of closeness and belonging, as if they find themselves at home. The very name "Sudesh" means "native land, homeland or motherland".

Sr Jayanti's visit to Spain
13-15 September 2013
BARCELONA
On 13 September, Sr Jayanti arrived in Barcelona and that same evening she gave a lecture at the Civic Center Auditorium in Sants Cotxeres with an attendance of 700 people . The topic was "Journey from the mind to the heart: trust without fear".
Before the lecture , in a space of the same hall, Sr Jayanti met a group of about 25 professional close contacts, with whom she shared some thoughts about the service through the mind and invited them to stay at the lecture, which most did.
The next morning , Sr Jayanti gave us a deep class after the Murli about the influences and how we act sometimes colored by the influence of the company of others and we do not even notice , because influences produce no sorrow initially. So we always need to ask ourselves: what color is influencing me? Is it Baba's colour? Sr Jayanti also met with VIPs and media representatives at the center of Barcelona.
On Saturday morning , Sr Jayanti went to Madrid to celebrate the opening of the new center, so it was not even 24 hours in Barcelona , but her time was very well used.
As usual , the visit of Sister Jayanti has brought a wave of freshness , reflection and service, which has generated much enthusiasm and cooperation across the family of Catalonia.
MADRID
Time has been short but the experience has been deep and loving. The presence of Sr Jayanti's light filled the new home of Baba in Madrid. Representatives of many cities of Spain also filled the new place with elevated vibrations.
The ceremony was simple but full of meaning and love. It began with a concert of Indian flute that carried us to the subtle region and we continued with the ribbon cutting ceremony with some special guests. After that, Sr Jayanti shared her inspiring thoughts , and then Joaquin Tamames , Margarita Pinto, Juan Jose Tamayo of the Association of Interfaith Dialogue , Daulat Murjani, Dadi Kumarka's nephew , and all the coordinators who visited us, shared their inspirations. All those beautiful blessings filled the place with light and power.
Then the cake arrived, a cake brought especially from Barcelona in pieces and assembled in Madrid, also toli from London, drishti and blessings from Sr Jayanti , and fruit, halva... there was an atmosphere of happiness and joy . Everyone left filled with the love and generosity of Baba.
The next day we received a recorded message from Madhuban from Dadi Janki who filled our hearts with love and happiness . She told us that this new house of Baba had to do the service of unblocking the intellect of whoever comes, and should be a beacon of light, so it got the name Lighthouse.
The Peace Program organised by Joaquin Tamames and the Ananta Foundation was a success, more than 700 people, and some said it was the program of the series that they enjoyed the most. Sr Jayanti's drishti at the end gave the entire audience a very deep and spiritual experience, many were touched .
We want to thank Baba and our fortune to have Sr Jayanti with us for these days.

Janmashtami - The Gateway to Happiness
7 September 2013 - Global Co-operation House, London
A gathering of 430-450 were welcomed to Global Co-operation House to celebrate this happiest of festivals…the birth of Sri Krishna. A video evoked the time and days of Krishna leading into a dance with a young Krishna and the gopis. A procession made their way to the stage from the back of the auditorium consisting of three couples, dressed in the finery of the golden age and with the grace of who they were depicting: a youthful Krishna with Radhe, then the transition to Emperor Narayan with Empress Lakshmi and the third couple symbolising the form of Vishnu, the image of complete balance and spiritual power. The three couples moved down the central aisle and arrived on stage as another dance celebrated the personality of Krishna as the song sung his names and praises. (The actors and dancers were from both the Leicester and London classes).
Sister Ranjan from Gujarat, a yogi of more than 35 years, shared the spiritual significance of some of the devotional names and images associated with Krishna. 'Seeing Krishna, how would we not have faith in The Creator of the World because when the Creation is so beautiful then how would The Creator be'…… Ranjanben is visiting London from Gujarat where she is active in serving the media and the different religious communities. She made many points demonstrating how the Supreme Soul is creating the world of happiness, and how the soul of Krishna, in his previous birth in the form of Brahma, which is the present time, is allowing God's wisdom and power to reach us all in this world of darkness. Heaven can then come on earth once again and the reward for such elevated karma is such that the soul of Brahma then becomes the first Prince, Sri Krishna, of the new Golden Age.
Sister Jayanti then shared congratulations and good wishes for Janmashtami and noted how we hear contradictory stories regarding the birth of Krishna, but with the spiritual understanding that the Supreme Soul gives at this time, many questions are answered as we see the relevance of these stories. She reiterated that the praise of the deities and of Sri Krishna is different to the Incorporeal One, the one who is remembered as The Unlimited and the Ocean of love and happiness. It is the Incorporeal One who is The Purifier, who comes to rescue human beings from the jail of the vices and to dispel the darkness and bring light into the world. 'In the history of the world this is the most interesting time as we are standing at the confluence…the ending of one cycle and the beginning of another cycle. The Supreme soul purifies the impure and then with the birth of Sri Krishna the renewal of purity is established….now this age of truth is about to come.
Sister Jayanti reminded everyone how we have a very beautiful invitation from God to do this – to become full of virtues by remembering the One beyond and allowing the original divine sanskars of the soul to re-emerge. As we take light and might from the Almighty Authority the Supreme Father transformation will happen in our life. At the time of Krishna, which is to come, there is just the fragrance of divine virtues in the world.
The evening was completed with a powerful meditation to evoke the eternal and original form of the soul as one of virtue and non-violence and a final dance depicting Krishna's arrival after the storm.

The Quest To Be Your Best - Greece
August 2013

A project in Greece for young adults of 20-38 years old

The inspiration:

The inspiration was ignited by the spirit and value of the ancient Greek games (sports, poetry and music) and the Inner Olympics UK programme in 2012.

The aims:

1) To highlight the importance of awareness, as the deepest
meaning of the inner flame and to understand
its significance in our life.

2) To refine the understanding of what excellence is, by
reviving the ancient wisdom, in order to move forward with new aims and practices.

3) To discover our potential and flourish on the basis of
self respect, freedom and unity.

Events so far:

The Quest to be your Best, started in the summer of 2012. So
far, there have been 5 events:

1) July and August 2012: Ignite your Inner Flame - An inspiration for daily living
2) January 2013: Accept the past, Live in the Present and Create a new Future
3) June 2013: Awakening the art of Intuition-Simple steps to discover the magic within.
4) July 2013: The Profile of a Hero - How to Create your Reality
5) August 2013: Feeling great wherever we are: An event for foreign youth who live in Greece.

http://questbeyourbest.org

https://www.facebook.com/TheQuestToBeYourBest

News from Bulgaria
August 2012
From September 2012 onward there are on-line seminars based on Raja Yoga, taking place Sunday mornings at 11.00amtransmitted from the Athens' centre and recorded at the same time to be available in the link at any time for everyone who is interested. The link is http://www.ustream.tv/channel/the-essence-of-well-being.

This event is promoted in Baba's facebook page in Bulgarian - Raja Yoga Meditation, the link is http://www.facebook.com/meditatsia. Here in the centre few "Bulgarian" souls are coming to the seminar and thus making it interactive with their questions and sharings. There is also a facebook group where inspiring publications are made on every day basis.

The publications in the page and in the group are translations of Dadi Janki's quotes and publications in the site www.bkwsu.org and other official sites and sources. Dadi Janki's booklet "Feeling Great" is being translated in Bulgarian.

There is a Raja Yoga introduction course via skype, which starts every 1st Monday of the month at 7pm and includes five skype meetings at the skype address meditatsia. There is also an Advanced Raja Yoga group, including the ones who have finished the course and are interested to follow the shrimat.

Please see link below for Baba's leaflet in Bulgarian, which is being spread both in Greece and in Bulgaria:
http://brahmakumaris.org/media/pdf/bulgarianleaflet.doc

The Inner Wave
Issue 20 2013

Issue 20 of The Inner Wave the UK Newsletter is now available at www.brahmakumaris.org/uk/newsletter. The theme of this issue is: Forgiveness
Features include:
Letting Go of Guilt Linda Lee
Our Healing and Humanity Marina Cantacuzino
Forgiveness - a poem by Christine Bell
Recipe Egg-less Omelette
Snapshots... from Bhutan, India and Brazil
In My Life Minal Patel
Sending out The Inner Wave
Please send this with your personal cover note to all your contacts who would appreciate it, and invited them to send on to their friends.
Links to other websites
You can go directly to other websites mentioned in the newsletter: just let your mouse hover over the website address and then click on it.
Your contributions
If you or someone you know would be interested in writing an article for the newsletter, or contributing photographs, drawings, cartoons, poems and/or jokes appropriate for our wide audience, do please let us know at:newsletter@uk.brahmakumaris.org.

Baba's New House in Dublin, Ireland
8 September 2013
Sunday, 8 September was the opening ceremony with Sr Jayanti of the new place for Baba in Dublin where service has been happening since 1979! It's a very lovely centre with a very spacious hall downstairs, and other facilities including a big kitchen, that seemed right for Baba's home. There is a big family in Dublin now, both locals as well as Bharatwasis who have settled here for their work. After the inauguration which was also attended by the First Secretary of the Indian Embassy and various other important people, we had a programme at a nearby hotel, which was called the 'Compassionate Mind'. People listened very, very attentively, and it was a beautiful evening with participation from the Irish family in a very beautiful way. Sr Maureen had come on Saturday, so there had been lots of activity and extended morning class on Sunday at Baba's home. Of course the new home also became too small! Monday, many people took time off work to be able to be there for morning class.

Living and Dying with Dignity and Peace - Daid Janki and Andy Bradley
13 August 2013
The ability to live according to your values in an unwavering way, depends on how well you have realised your true spiritual identity, and have begun to cultivate that inner state of dignity.
-Dadi Janki
Photo Album:
JF Lecture Aug 2013 - Living and Dying with Dignity & Peace
The Janki Foundation's Annual General Meeting (AGM), held at Global Co-operation House, preceded the lecture. Around 120 people, close and new friends of the Foundation, had gathered for the meeting. After a brief introduction to the origins of the charity, Neville Hodgkinson, the Chairman, gave an overview of the programme achievements for 2012/13. David Goodman, Trustee, gave information about the ongoing work of the Global Hospital & Research Centre, Mt Abu, India, and drew attention to the new developments such as the Extension Clinic at the Delwara Temple and the de-addiction project. Bhavna Patani, Honorary Secretary, gave heart warming news about the increasing spread and success of the Values in Healthcare: a spiritual approach (VIHASA) programme in the UK & around the world. Around 800 facilitators from 50 countries have been trained and the materials have been translated into 12 languages, thus showing that this programme is helping to meet a world wide need in the healthcare community.
Lecture
Approximately 350 people (and over 100 for the first time), and over 100 watching the webcast, were welcomed to GCH for this annual lecture which was graced with the President of The Janki Foundation for Global Health Care, Dadi Janki, also Head of the Brahma Kumaris World Spiritual University.
Andy Bradley, Founding Director of Framework 4 Change and recognised as one of 'Britain's 50 radical thinkers' was the guest speaker. He vocalises the need for vulnerable people within the social and healthcare system to be met consistently with kindness.
The programme was hosted by medical advisor to the Janki Foundation, Arnold Dresser. He is also an educational consultant with the London Deanery of Postgraduate Medical Education and works clinically with chronically ill individuals and their families.
Guest performer singer and songwriter Lucinda Drayton opened the evening with: The World is reborn…it is the end of the storm…at the birth of the star child.. and her voice continued to 'weave its way like a silk thread throughout the evening'.
Andy Bradley invited everyone to arrive in their chair and bring the mind into the present. He shared how his experience growing up with parents who ran a care home allowed him to witness a compassionate community first hand. He saw how his mother responded with such an open heart and kindness to people who were at risk of being left out at the end of their lives. Andy shared how he has developed a discipline for mindfulness, so that he is able to maintain a connection with himself, others and the planet and is able to open his heart to each day. He communicated how this practise helps maintain a state of compassion and he has a TEA (Teamwork, Engagement and Achievement) and CAKE (Compassion, Attention, Kindness and Empathy) approach to the field of care. Andy asked everyone the question: how would we like to feel at the end of our lives: loved and at peace, or feel abandoned and lost? He emphasized how we need to see care in Care, which means that those working are doing their best and that they are recognised and valued for the value they are giving to society. He senses this means a shift from fear to love and that when we are feeling vulnerable we need to be met with kindness. It is also a shift from compliance to compassion.
He asked everyone to consider what quality and presence would create a sense of regard and dignity if one was in a vulnerable state and needed caring for: He then invited the audience to stand for many different qualities they would like to be met with: love, acceptance, time, respect, conviction, presence, peace, recognition, empathy, compassion, dignity…….everyone stood and held these qualities in their presence.
Arnold introduced Dadi Janki, as one who has limitless optimism and Sister Jayanti, European Director of the Brahma Kumaris World Spiritual University, whom he mentioned has a certain skill of translating with great precision, taking the nuances of Hindi and putting them into the nuances of English. About a quarter of the audience was seeing Dadi for the first time.
Dadi Janki took up from where Andy had finished and shared how she saw both compassion and love in Brahma Baba as well as forgiveness which allows compassion to work. Dadi spoke for twenty minutes sharing much spiritual wisdom and reminding everyone that in order to create a powerful attitude and awareness we need to be aware of 'Who am I? and Who is mine? Also that when we have courage, in her experience God helps a hundred times. She noted how it is important to understand the contrast between soul consciousness and body consciousness. With soul consciousness we can live and die in the awareness of the soul and carry with us the awareness of God and the virtues and powers that we can receive from God. Dadi shared how the subject of how to live and how to die is really her subject and one she has been practising for 75 years. When we think too much, we begin to wilt and so God has taught us to reduce things that are big and make them small and as we practise this we feel peaceful and experience love and dignity which we can share with others. Dadi concluded by sharing how she has been a patient for most of her life yet she has always maintained patience and this has allowed her to remain sweet and due to her honesty and a clean heart, everything works out well. And when we take and give the medicine of pure thoughts and have good wishes living and dying are both beautiful.
Sister Jayanti then shared a powerful reflection and took everyone on a journey into self awareness to experience dignity and to connect with the Divine who is the One who forgives, loves, uplifts, cares and heals and when we live life with peace then our dying will be with dignity as the soul moves towards the Divine.
Lucinda closed the evening with the song, 'A hundred thousand angels' whilst Dadi and Sister Jayanti shared drishti, followed by toli, blessings and 'Healing Hearts & Minds' booklet. Arnold thanked everyone who had made this special event happen.

Family Matters: Trust and Respect…the building blocks
21 July 2013 - GCH London
This is the 5th event that is part of the 'Family Matters' project which aims to create intergenerational dialogue and understanding . 40 people attended this special afternoon dedicated to look at how trust and respect can support family relationships and healthy growth. ' We are born into one, we are generally supported by one, or adopted by one…..families do indeed matter' opened MC and project coordinator Dr Beverley Crooks. This afternoon of workshop and panel discussion explored, from a spiritual perspective, how what is happening on the inside of each of us affects how we relate to others and how this affects family dynamics all the time.
On this basis the afternoon opened with an icebreaker to identify qualities in each other and to share these, followed by a workshop that encouraged everyone to remember a time when 'we got it wrong' with people close to us and to recognize what were the negative influences at the time, and also to remember a time when we felt strong and content and what was the behavior we exuded with this. The workshop looked how 'family ties', though a crucial part to the security and sustaining of a family, can also turn to 'attachment' which can stifle and become a limiting and negative influence. As well as this 'family hopes', though again based on pure wishes for the futures of each family member can easily turn into 'expectations' which can seriously damage relationships, especially parent/child ones.
Everyone shared in groups their own experiences of these and it was agreed that we need to bridge the inner gap within ourselves….to align our behavior to our inner qualities…..which can help transform relationships into ones of appreciation and positivity.
A panel discussion with Darius Weithers, youth pastor: Samuell Benta, young Dad, and Meera Javed, mother of four young adults all brought their life experience to the table to take up the importance of trust and respect in building family relationships. Points made in this conversation:
Knowing and trusting the self can only happen when I know who I am

Trusting individuals and institutions can only happen when we are aligned to their values

We are all worthy

Worthiness doesn't depend on people, places and possessions

As children of God we are all worthy.

Trust affects decision making

When we trust life and whatever is happening we respect the self.

When we create our identity based on the ideas and influences of others we can feel very lost

When we start to look at 'Who am I' and ask ourselves the question 'what do I want out of life and why am I here' we start to notice our own values and worth

Trust and respect from a significant person in our lives can make an enormous difference

We can love ourselves because God loves us and we must also recognize that God loves others too, this brings self respect and respect for all human beings.

When we experience self respect we feel self acceptance

Unconditional love is a great power and brings about a deep acceptance.

It need never be that 'does someone deserve respect'.

Often we find our inner respect when we become a parent and are motivated to understand the self better to then help the next generation.

An aspect of self respect is understanding what we gravitate towards and to follow it through in life.

When we forgive we heal and the other heals too.

Knowing there is truth in the unseen and resonating with this can bring self respect

Good parents will respect their children.

Respect is based on worth and that doesn't become less because we don't have a house to live in. Judging people to be higher or lower than each other according to their home is and illusion and untruth.

Always acknowledge each child is here for a reason.

Rearing children can be a humbling experience when we learn many life lessons.
The event concluded with a meditation commentary by Nina Buchanan, also Family Matters coordinator, and with the thoughts that we just need to 'Be the best I can and trust the self and have self respect and all else will follow from this awareness'.