2015 January to July India News Archive
2015 January to July India News Archive
Conference on Stress Free Life for Politician Held at Delhi Om Shanti Retreat Centre
03 June 2015
Dadi Gulzar Ji inaugurated a Conference on Stress-free Life for Politicians at ORC on 31st of May. Please see the full news (in Hindi only) here.

News on Respected Dadi GulzarJi's welcome in Delhi Pandav Bhawan
25 May 2015
Divine Family,
Accept Godly Remembrances
Please find herewith some photos and news (in Hindi only) on Respected Dadi Gulzarji's welcome in Pandav Bhawan, Karol Bagh, Delhi on 19th May.
IBY
B. K. Pushpa
Delhi - Pandav Bhawan
Karol Bagh

Manipur Works & Transport Minister Ratankumar says "Rajayoga brings peace of mind"
25 May 2015 (Source: Hueiyen News Service as reported in E-Pao online news)
Imphal, May 17 2015: Works and Transport Minister, Dr. KH. Ratankumar Singh, on Sunday said that only reading spiritual books will not help people to have peace of mind.
He said this in the one day conference held at Gandhi Memorial Hall on the theme "Easy Rajyoga for a Healthy and Happy Society" organized by Prajapita Brahma Kumaris Ishwariya Vishwa Vidyalaya, Imphal Centre.
Attending as the Chief Guest of the function, Ratankumar said having only wealth and success in life cannot give happiness. He further said that Rajyoga is a very relevant exercise with the present situation to bring peace and positive aspects in the mind. Moreover it will also help bring peace and make better world.
Director Bramakumaris North East, Guwahati, Assam, Bramakumari Sheela highlighted her own experience on practising of Rajyoga which help to improve the minds bringing peace thoughts. She joined Rajyoga to learn appreciation and love of all human beings existing on earth and feel that all living creatures on earth is the God's greatest gift, Sheela said.
Senior Advocate, High Court of Manipur I Lalitkumar was present as President; Professor MU Department of Commerce Robita Sorokhaibam as Guest of Honour and In-Charge Bramhmakumaris Manipur Nilima as host respectively.

Chennai Holds Group Meditation for Victims of the Nepal Earthquake
25 May 2015
We are aware of the dreadful earthquake that occurred in our neighbouring country, Nepal. Many are shattered and abandoned homeless & helpless. The Government & the NGOS have extended support and solace through material help. Brahmakumaris also have joined hands with them by providing food and clothes to the sufferers. Chennai Brahmakumaris decided to donate Peace & Good wishes through Mass Meditation. Sure, Good wishes act as medicine to the victim souls and the bereaved souls.
On 10th May between 5pm & 7pm , about 1000 people including BKs and general public gathered at Marina Beach, Chennai. The meditation was organized in four sessions.
The first session was for Peace in the self .When the self is empowered with Peace and Love, it becomes ready to extend the same for the solace of others.
The second session was for Peace to victim souls & bereaved souls. It was to send vibrations of Peace to the departed souls and Loving vibrations& Good wishes to heal the pain of the injured & bereaved ones.
The third session was to share Peace to five elements of Nature; Sending pure feelings & gratitude to the five elements of nature
The concluding session was sending Love & Peace to the whole world enhancing Universal brotherhood.
The whole programme was well organized and the peace prevailed in the air was sure to have reached the sufferers and the departed souls to console and minimize their agony.
The programme concluded by 7pm and the participants dispersed in total silence and Peace. The programme was given good coverage by the media.

First Episode of Nareetva Darshan Successfully Inaugurated & Screened in Panjim, Goa Theatres
03 July 2015
Panjim Goa: On 9th May, a first-of-its-kind inauguration and screening took place of "Swamaan ya Purush Samaan" (Self-Respect or Equal to Men), the first 28 minute episode of the Nareetva Darshan film show. The event was held at Panjim's Inox Screen 1. The Hon. Governor of Goa, Smt. Mridula Sinha, and other VIPs performed the inauguration.
You can watch the presentations by the Hon. Governor and other dignitaries at this video link:
https://www.youtube.com/watch?v=6MRL6kwYzkU&feature=youtu.be
The film has also been successfully screened in Gujarat theatres in Surat, Ahmedabad, Valsad and Navsari.

"Treasures of Happiness" Conference Held at Arya Samaj Temple in New Delhi
07 May 2015
New Delhi, 20th April : A conference on the topic "Treasures of Happiness" was organized by the Brahmakumaris at the Green Park Arya Samaj Temple. Sister Shivani was the main speaker. The event was flagged off by a round of candle lighting by Justice P.S Narayana; HUDCO's G.M. (H.R.) P.S. Saksena; Father George Manimala; Secretary of Youth Affairs and Sports Mr Rajiv Gupta; Sister Shivani and Sister Kanchan. Snehlata from Tamanna and her group also presented the song " How do I express my happiness?"
In greeting the audience, Sister Shivani explained that everyone wants to experience happiness and love; however the reality is that we want one thing and receive something else. She checked this with the audience and most confirmed that no matter what they do they are unable to derive complete satisfaction from that.
She then asked those present to visualize their moments of anger that day and what had occurred as a result of those moments. it was seen that when work doesn't get done when people are treated with love, anger is then resorted to and that method of getting things done then becomes a habit. As time goes on, sometimes the habit causes one to start getting angry without any reason and hence we gradually move away from our happiness -- even though we dearly desire it.
Sister Shivani then touched upon understanding another's point of view. It is important to understand how each person is correct from his or her viewpoint, and it is necessary to think about why one is rejecting another's point of view. For example, if a father wants to keep a driver for his son, but the son wants to drive the car himself, then who is right? Both are correct from their respective viewpoints. In many situations, we should just give our opinion but leave it up to the other person as to whether they follow it or not.The more we try to control someone, the more out of control they will go.
Rajyoga means control over one's mind and thoughts, Sr Shivani explained.The more our mind is in our control, the more control we have over others. For example, if someone has a habit that irritates us--like telling lies-- then we need to understand that everyone has their own sanskars (habits) [and is behaving under the influence of those sanskars]. Hence, we should try to respect and empower one another, rather than try to control others. Accepting others as they are means giving them true respect. Rajyoga meditation also teaches that before trying to empower others we need to empower ourselves first.
Sister Shivani said that even if one person in a household practises Rajyoga meditation then it has an effect on the whole family. Declaring that Rajyoga recharges the soul, she facilitated the audience in doing some guided meditation.
Then, citing example of 'Navratri' Sister Shivani remarked that if something is 'sattvic' or pure, then why only for 9 days? Why not forever? She then explained that, just as a mother takes care of her little baby while doing her household chores by checking on the child for a couple of minutes every now and then, similarly checking our thoughts from time to time and taking care of them is 'Rajyoga Meditation'. She then ended the beautiful evening with another round of guided meditation.

On a drive to 'save kids lives'
Date: 7 May 2015 | Written by a staff reporter and published in The Hindu on 4 May, 2015
In an effort to contribute to the Third UN Global Road Safety Week, observed during the first week of May, the local chapter of Brahmakumaris flagged off a drive on Saturday, adding value to the theme of the year 'Save Kids Lives'.
The volunteers of the association's transport and travel wing headed to Maddilapalem Bus Depot and conducted a camp involving about 60 RTC bus drivers and encouraging them to sign child declaration for road safety. The programme was conducted to imbibe a sense of social responsibility and signatures were collected to ensure better safety for young passengers who are under 18 years of age. The prime focus of the initiative is to involve all the stakeholders in the drive, highlight the plight of children who end up losing their lives in road accidents and help them prevent the same.
Depot manager Murali Mohan Rao told the staff to take necessary steps to ensure safe environment for children and support the cause. Bus drivers said that road safety awareness programme should be part of the school syllabus and proper awareness among children would help in bringing down the number of crashes.

Updates on Nepal Earthquake from Sr Raj
28 April 2015
To our powerful and most respected Dadis, seniors of Madhuban and Brahmin family,
Please accept loving remembrances from Rajben, Kiranben and the sisters and brothers of Kathmandu, and Nepal in general.
We are safe in Baba's main centre at Kathmandu. Out of the three main homes in Kathmandu, the oldest one: Vishwa Shanti Bhawan (where the sisters stay and the Baba's Bhandara is situated) has sustained a few cracks during the earthquake, which is why we have shifted into the newer building next to it: Sukdham. There have been smaller quakes and aftershocks experienced since Saturday, and all places are continually receiving warnings. Even while typing this email, there was a large shake, and we instantly heard shouts from people outside, and so we moved to a safer place… Till today, people are camped outside; all the main public areas are filled with people either under tents, or some canopy or just out in the open.
On 25 April, Rajben was on stage at a Lion's Club public programme in Academy Auditorium Hall when the earthquake struck. Rajdidi lost balance during those few minutes and sustained little chest pain, and a cough that continues, however everything else is fine with the power of good wishes from the Brahmin family.
Our teachers and brothers at various Centres are fine in their respective places. They spend their day on the ground floor or external portion of Baba's homes in yoga and doing service.
Some of the students' home have sustained cracks or the walls have been damaged, but apart from that they are all okay.
The electricity lines are still cut (as of 28th); in the capital of Kathmandu, apart from a bit of mobile network, phone lines are down. Offices and banks etc are still closed.
We are receiving Baba's power, and the support of your yoga power and good wishes. Please convey our loving remembrances to everyone.

Earthquake News from Kathmandu, Nepal
25 April 2015
Love-filled greetings to our respected Dadis, Madhuban Niwasis and the BK family,
All of you must have seen the news of the devastating earthquake that struck mainly three big towns of Kathmandu and nearby districts on 25 April 2015. The phone lines are down; mobiles have been working on and off and so we haven't been able to get in touch with all our service places. However we are hearing getting news that Baba's Centres are okay, and the Brahmin family is all right. We continually are receiving predictions of small and big aftershocks.
With BapDada's blessings and good wishes from all our Seniors and Brahmin family, we are fine and will stay in contact.
With million-fold thanks,
Email: kathmandu.np@bkivv.org

Faculty Orientation Programme Held at Vasai, Maharashtra
29 April 2015
Respected Sister/ Brother,
Please accept Greetings of Peace, Love and Harmony!
We are pleased to inform you that a Faculty Orientation Program was organized at vasai, Maharashtra on19th April, 2015. The speakers were BK Prafulla, BK Bharti, BK Sarika, BK Vikas and BK Satish.
Warm Regards,
BK Mruthyunjaya
Vice-Chairman, Education Wing
Brahma Kumaris, Mount Abu, Rajasthan

Successful Screening of 'Nareetva Darshan- Swamaan Ya Purush Samaan' in Navsari
19 April 2015
Respected Divine Sisters and Brothers, Om Shanti,
After the successful screening of 'Nareetva Darshan- Swamaan Ya Purush Samaan' (Winner of the Best Concept National Award) in Surat, Ahmedabad and Valsad theatres, the screening in the Navsari Rajhans Cinema was also a grand success! The seating capacity of this cinema is 950 and there were 900 viewers!!!
The candle-lighting ceremony included participants taking the Pratigya (Oath) of Nareetva Darshan. BK Dr. Sunita Didi, Director of Nareetva Darshan, was also honored by the President of the Jyoti Mahila Samaj, Smt. Renukaben Choksi.
After viewing the film, the many VIPs present highly appreciated the film. You can see the list of the VIPs who attended /documents/19/1542520/VIP%20NAVSARI%20RAJHANS.jpg?t=1429507775813
You can watch a 32 minute video of the highlights of the event here:
https://www.youtube.com/watch?v=Nk0DiMrzeNI&feature=youtu.be
The news of the Navsari screening was covered on the Gujarat News GTPL Channel, No. 265 in Gujarat on 14th April at every hour. You can watch the four minute news report (in Gujarati) here: https://www.youtube.com/watch?v=zI_4MOH7-Sk&feature=youtu.be
Cordial thanks to Supreme Father ShivBaba, Rev. Dadijis & BK Senior Sisters and Brothers, BK Geeta Didi, BK Bhanu Didi & their team, the Theatre Owner & his team, the VIPs & Esteemed Viewers of Navsari and to all Electronic & Print Media for the News Coverage.
Thanks and Regards,
Nareetva Darshan Team

Dialogue on Women Empowerment Held at Om Shanti Retreat Centre
19 April 2015
Dialogue on Women Empowerment Held'

'Fight for women empowerment is a fight for equal opportunity'- Lalitha Kumarmanglam
'Promote spiritual & moral science in all spheres to restore women honor'- Justice Eswaraiah
'Paradigm shift from body conscious to soul conscious mindset key women welfare'- B K Brijmohan
'Women in groups should collectively seek solutions to their problems' – Mrs Ranjana Kumar
'Family need to be the cradle for fostering gender equity & justice' – Mrs Sreerupa Mitra Chaudhry
'Foster spiritual values among children'- Sandeep Kumar, Delhi's Minister for Child & Women Dev.
Everyone has a stake in women safety & honor'- Vandana Kumari, Delhi's Dy. Speaker

Gurgaon, April 17: A half-day Dialogue for Women Leaders on 'Strengthening the Foundation of Character to Restore Respect & Honour of Women' was organized by the Brahma Kumaris organization at its Omshanti Retreat Center, Pataudi Road here yesterday.

A galaxy of mostly women leaders representing various professions and sections of society participated and expressed their varied views on the topic. But they were unanimous that today's problems of gender bias, discrimination, inequity and violence were rooted in male-dominant and sense-centric mindset attitude, character and culture of society. They all stressed on practice and promotion of life skills, moral values, spiritual character and inner empowerment at all levels and in all spheres of society, to restore respect and honour of women.

Mrs Lalitha Kumarmanglam, Chairperson, National Women Conference, addressing the Dialogue, said that fight for women empowerment is not a fight for equality but a fight for equal opportunity to grow and realize life's goal. She said that the mindset about non-secularity of value education, should end and life skill education should be part of study curriculum.

Justice V Eswaraiah, Chairman, National Commission for Backward Classes urged people to understand and undertake spirituality as a scientific way to train and transform outlook and action from negative to positive and from vicious to virtuous. That can finally ensure women respect and honour in society, he stressed.

Rajyogi B K Brijmohan, Chief Spokesman of the Brahma Kumaris, in his key-note address, said that the source or seed of human character is spirit or soul which has eternal innate qualities of purity, peace, love and happiness. It is by constant contemplation and inculcation of such characters of soul, one's outlook towards and interaction with fellow beings especially with women becomes pure, pious, descent and respectful, he emphasized. While mankind's body conscious outlook and behaviour had given rise to vices like lust, ego, disrespect and despise of women, a paradigm shift to people's soul-centric character and conduct can be the basis for restoring respect and honour of women in society, he stressed.

Ms. Sreerupa Mitra Chaudhry, President, International Family Federation for World Peace & Chairperson, National Institute for Gender Justice said that in a society where child marriage, dowry deaths and traffic on girls are rampant, family and parents need to play key role in providing safety, good sanskar, equal and just treatment for free, fearless and full growth of their sons and daughters.

Ms Vandana Kumari, Dy. Speaker, Delhi Legislative Assembly in her address said that since we were responsible in some way or the other for women's plight today, we need to take some responsibility in providing solution to women related problems by encouraging civilized attitude and behaviour towards female section.

Mr Sandeep Kumar, Delhi's Minister for Women & Child Development in his address stressed on fostering spiritual values and moral character among people from very childhood at family and school levels to develop healthier, harmonious and respectful relationship with same and opposite sex.

Mrs Ranjana Kumar, Chairperson, National Banking Advisory Board & Former Central Vigilance Commissioner conducting the Dialogue said that like success of Women Self Help Groups in micro-financing in several Indian states, similar self help women groups on socio-cultural issues can be constituted for solutions to their problems. She stressed more on pre-emptive and preventive measures for long term solution to women issues. She urged Mr Sandeep Kumar to interface his Ministry in Delhi with Brahma Kumaris Educational Centres for child and women development.

While Mrs Kuljit Kaur, Vice President, All India Women Conference, Ms. Shamina Shafiq, Former Member, National Commission for Women and Mrs Usha Krishna Kumar, President, Nurses Welfare Association raised the issues of women exploitation in rural and urban areas and in all spheres including mass media; Mrs Usha Bhasin, Addl. Director General, Doordarshan and Mrs Narayani Ganesh, Editor, Speaking Tree, The Times of India highlighted the positive sides of developmental reporting, essential information dissemination and public awareness promoting works of today's media on socio-cultural, moral, spiritual, educational and women issues.

Earlier, Rajyogini B K Asha, Director, Brahma Kumaris' Omshanti Retreat Center in her welcome address prescribed spiritual empowerment as key to women safety, dignity and development. Rajyogini B K Chakradhari, Director of Brahma Kumaris Centres in Russia in her introductory address equated womanhood to godhood & urged women to rise above comparisons and competition with men.

Chairman of India's Largest Newspaper Group presented invitation to attend June National Media Conference
19 April 2015
Godly gift being presented to Bro. Ramesh Chadra Agrawal Ji by BK Reena Behen, Incharge, Bhopal Gulmohar Colony Centre.
Respected Divine Family, Om Shanti,
On 14 April in Bhopal, a Godly Invitation to participate in the National Media Conference at Mount Abu was given to the Chairman of the Dainik Bhaskar Group, Bro Ramesh Chandra Agrawal Ji. He has given his consent to attend the Media Conference from 5th to 8th June, 2015 as the Chief Guest.
We also discussed with him the various Godly Media Services being conducted by Brahmakumaris, especially Peace of Mind TV. Chairman Agrawal Ji appreciated the service being done by our 24 hour 'Peace of Mind' Channel and said that he watches the Channel Daily. The Annual Report of Godlywood Studio and the Shiv Amantran newspaper were also presented to him.
In Godly Service,
BK Reena &
BK Ravendra
Brahmakumaris, Bhopal
Bro. Ramesh Chadra Agrawal Ji Reading Shiv Amantran Newspaper

Honorable Home Minister of Kerala Presents the "Dr. B.R. Ambedkar* Highest National Excellence Award 2015 for Social Service" to Sister Minni of Trivandrum
15 April 2015
Dear Divine Family,
Accept Greetings of Peace and Love from the Trivandrum Brahmin family.
On the occasion of the Dr Ambedkar Jayanti Day Celebration, Sister Brahmakumari Minni, Incharge, Trivandrum Centre, received the "Dr B R Ambedkar Highest National Excellence Award 2015 for Social Service" from Sri Ramesh Chennithala, Honorable Home Minister of Kerala.
On Godly Service
BK Minni, Trivandrum
*From Wikipedia: "Bhimrao Ramji Ambedkar (14 April 1891 – 6 December 1956), popularly known as Babasaheb, was an Indian jurist, economist, politician and social reformer who inspired the Modern Buddhist Movement and campaigned against social discrimination against Untouchables (Dalits), women and labour. He was Independent India's first law minister and the principal architect of the Constitution of India."

Film Depicting Visit of Russian BK Students/ Performing Artists to Jamnagar, India
13 April 2015
Click image to watch video
This film depicts the journey of a group of BK students, who are also performing artists, to Jamnagar to perform in "New Vision for the New World", a Global Peace Carnival Cum Global Peace Conference. The whole event was broadcasted through mass media. About 40 newspapers printed reports of the program. The cultural program was live telecasted in India. The participation of the Russian students got the special attention of media and television. The film features highlights from the cultural programme, warm meetings, visiting historical places in India, shooting on TV, etc.

Faculty Development Programme Held in Bhopal, Madhya Pradesh
03 April 2015
Divine Sisters & Brothers,
Please accept Greetings of Peace and Harmony!
This is to inform you that Faculty Development Programme for the faculties of RKDF University, Bhopal was held from 16th to 20th March, 2015 at the University Campus. The training was conducted by BK Kiran, BK Shriprakash, BK Sukhendra, BK Anil Verma and others and was appreciated by everyone.
---
Warm Regards,
BK Mruthyunjaya
Vice-Chairman, Education Wing

News of the Spir-IT Conference in Pune from Sr Jayanti on 23
27 March 2015
Sister Ruth from Manchester and myself left early morning to go to Ahmedabad and arrived in Pune in the afternoon. After reaching Mira Society, we were then able to go to a prestigious venue where the first session of the Spir-IT event took place. Around 70 professionals had gathered. The CEO of a major software company sponsored this event. He had come to the IT conference in Abu 2014. The topic was Leadership in Chaotic Times. He introduced the subject saying how useful his visit to Abu had been for him and he wanted to have his friends and colleagues share the same. After a talk there were questions that were really searching and deep. He also joined in giving some answers. There were two meditations through the evening and dinner was served afterwards. Br Bala Kishore and Br Janardhan put the event together with help from a local Centre in Pune which is in the IT area. This centre is connected with the Quarter Gate Centre.
Next morning we had class in the new Town Hall also in the same area. It was also the Marathi New Year - Guddi Padwa. It was an auspicious morning and we heard a little bit about the festival and of course Murli and class. There must have been a few hundred people in the auditorium. We then went to the nearby Centre, which is in a high rise block. This apartment has been donated for Baba's use for the past few years. After breakfast and meeting the family at the Centre we went to another very exclusive area where another apartment has been given to Baba on rent for half the cost.
The Pune IT Team had gathered there, around 20 brothers and sisters had the opportunity to ask questions about the way in which service abroad can help the IT professionals to follow a similar pattern in Bharat. They said that the traditional 7 days lessons don't seem to work with IT professionals and they wanted to explore the different ways we serve abroad. It was an intense discussion for more than an hour and a half.
After lunch we then left for a 5 star hotel where the CXO meeting took place. This was again sponsored by the Chief Executive of another IT company in Pune and this brought together around 60 people. We started at 4pm and concluded at 8.30pm with a half hour break in between and dinner at the end. Arun Waklu facilitated the event with appreciative inquiry style questions. This time he brought his team of graphic artists who captured all the discussions with their designs. He himself is based in Pune and so was able to bring his whole team. The vision and commitment of the group to bringing about transformation and their work was remarkable. Again the whole day had been coordinated and supported by sisters connected with Quarter Gate Centre. It was a very pleasant surprise for me to see how much service Quarter Gate and Dadi Brij Shanta have done.
Next morning we had morning class again for several hundreds in a very spacious open hall that overlooked beautiful lawns. After breakfast there was a meeting with a large group of BKs from around Pune and neighbouring areas who were cooperating to create Jagadamba Bhawan. Everyone is very enthusiastic and keen to complete the project as soon as possible. At 5pm a group of teachers from the neighbouring areas and some of the instruments went to the Jagadamba Bhawan land to have meditation and for the planting of several trees. The people who had been the previous owners of the land came along and also planted trees. There were short talks and a picnic and dancing in the moonlight. The landscape is of small hills and reminds everyone of Abu, so it's a very beautiful setting.
This morning we went to another completely different area. This time to a very spacious centre connected to GPO Centre. Again a few hundred people had gathered for class. After breakfast there was a chance to meet some of the teachers. We then left for the airport and left for Shantivan to see Dadi before heading up the mountain. It was amazing to see how each Centre in Pune has had such huge expansion in terms of service.

Assam Downtown University Signs MoU with the Education Wing, Raja Yoga Education & Research Foundation (RE&RF)
27 March 2015
Most Respected Brothers and Sisters,
An MoU was signed between Assam Downtown University and the Education Wing,RE&RF on Tuesday, 10th March, 2015 at Guwahati. Rajyogi B.K. Mruthyunjaya,Vice Chairman, Education Wing, RE & RF and Dr. M.M. Dutta, Chancellor, ADTU,Guwahati represented their respective institutions.
Courses that will be offered from the year 2015-16 onwards:
1. Diploma in Value Education and Spirituality
2. Post Graduate Diploma in Value Education and Spirituality
3. Post Graduate Diploma in Values in Healthcare
Thanking You.
Warm Regards,
BK Mruthyunjaya
Vice-Chairman, Education Wing

All Women Bike Rally Event On the Occasion of International Womens Day at Thane - News and Photos
16 March 2015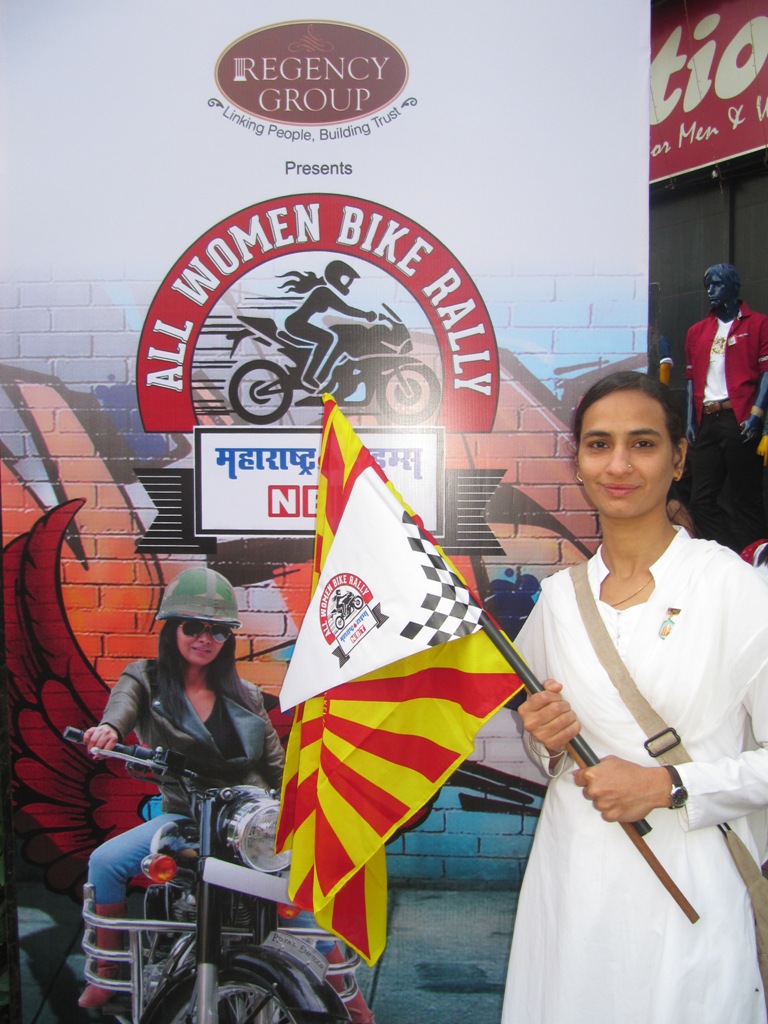 On the International Women's Day, in the city of Thane, Navbharat Times organized a "All Women Bike Rally" in which women participated with a lot of enthusiasm. 10 girls from the BrahmaKumaris also participated in the rally with each one holding a Baba's flag in their hand. Actors Ayushman Khurana and Bhumi Padnekar started off the rally by waving a green flag. Each participant of the rally also received a certificate of participation.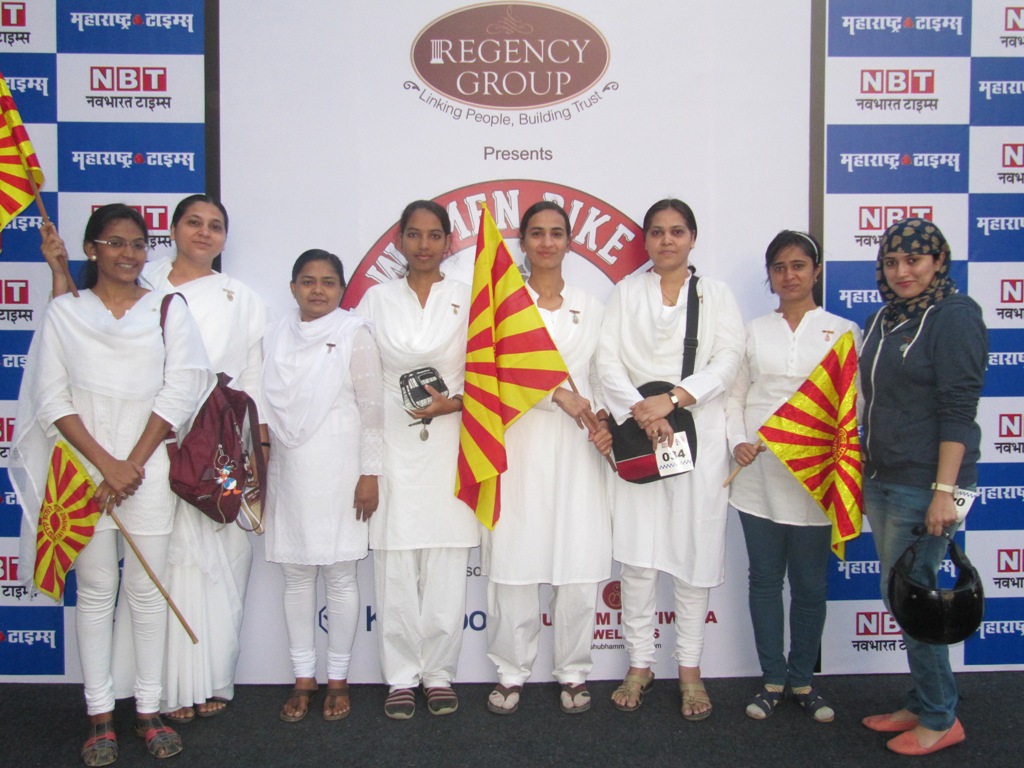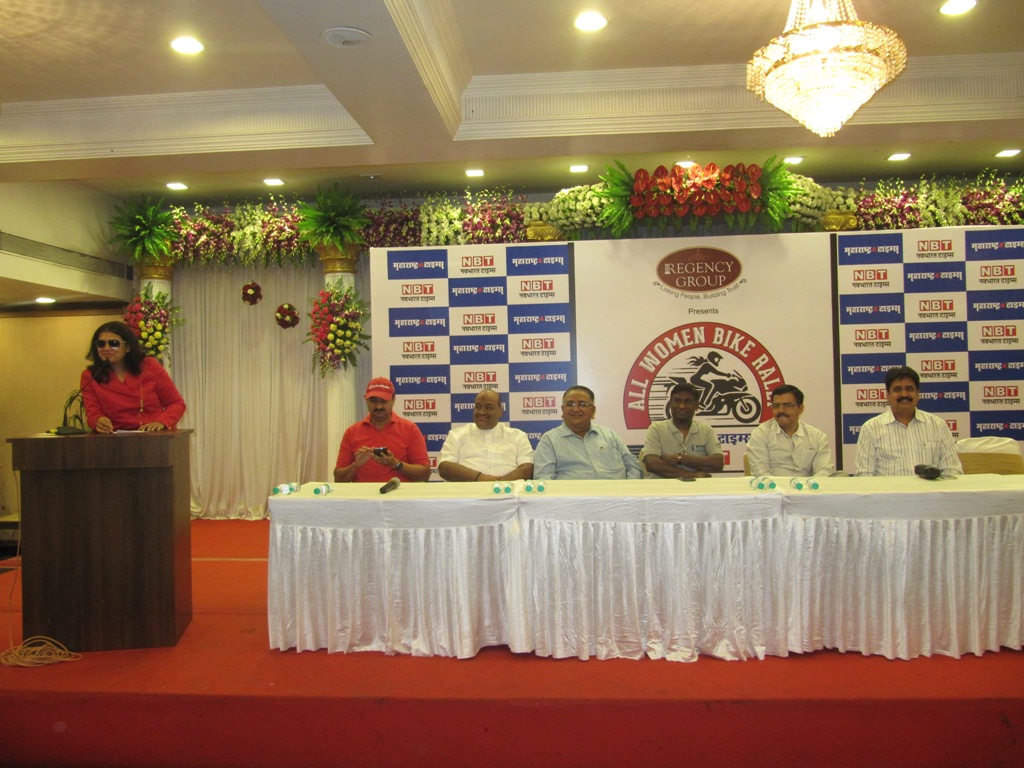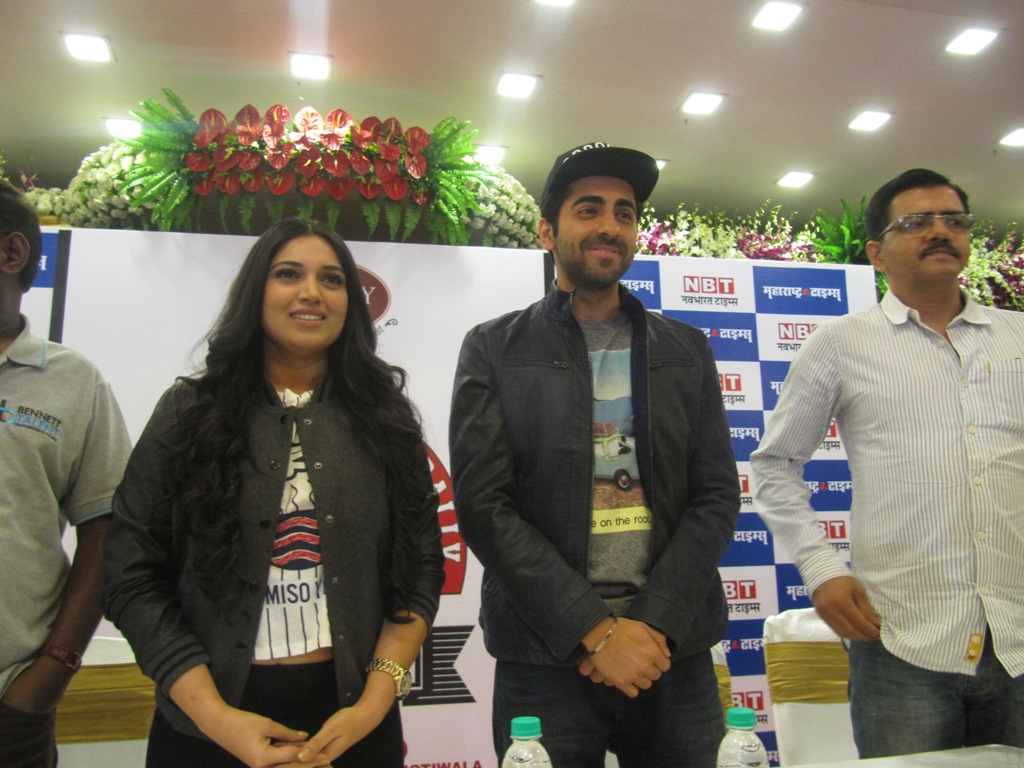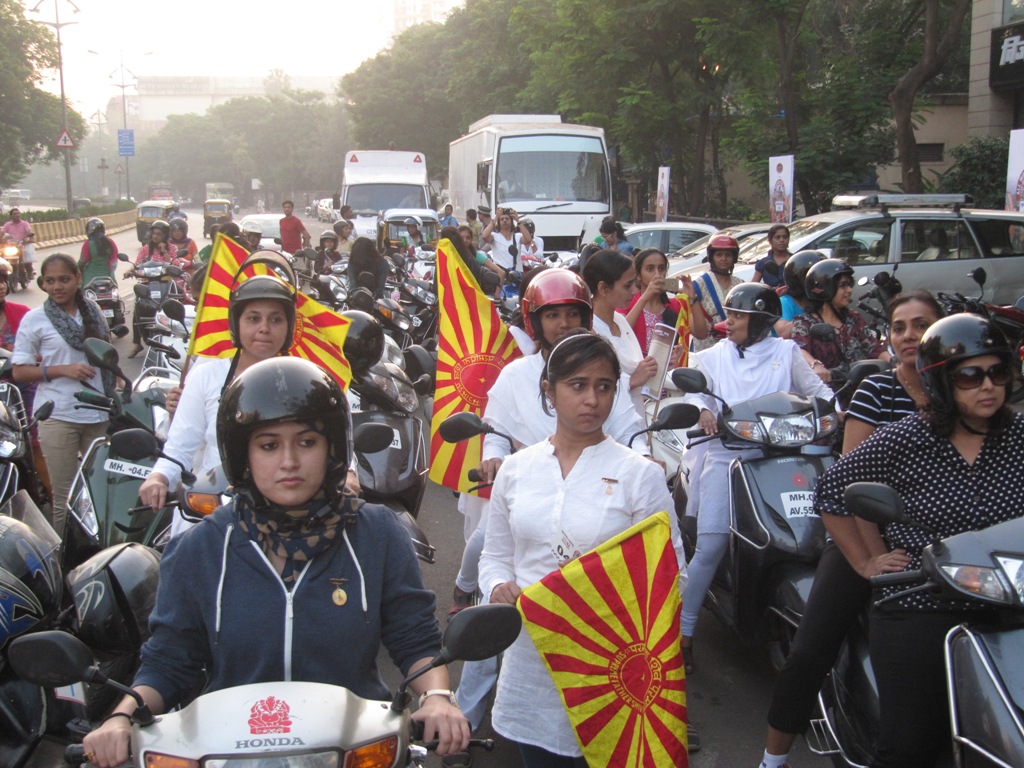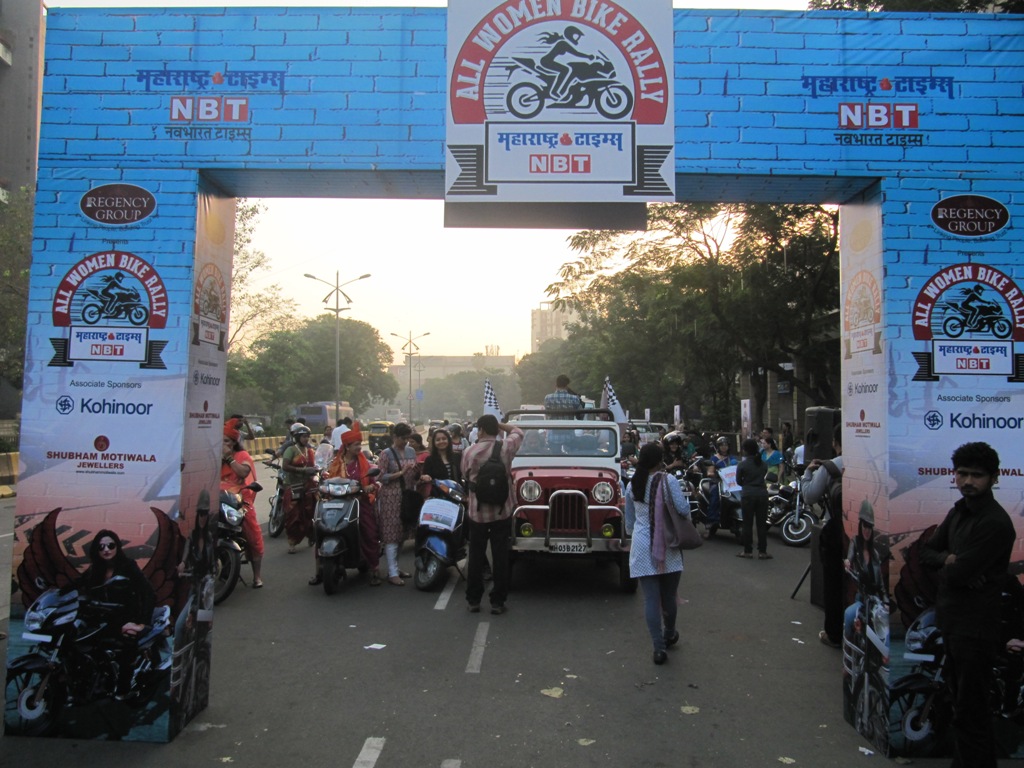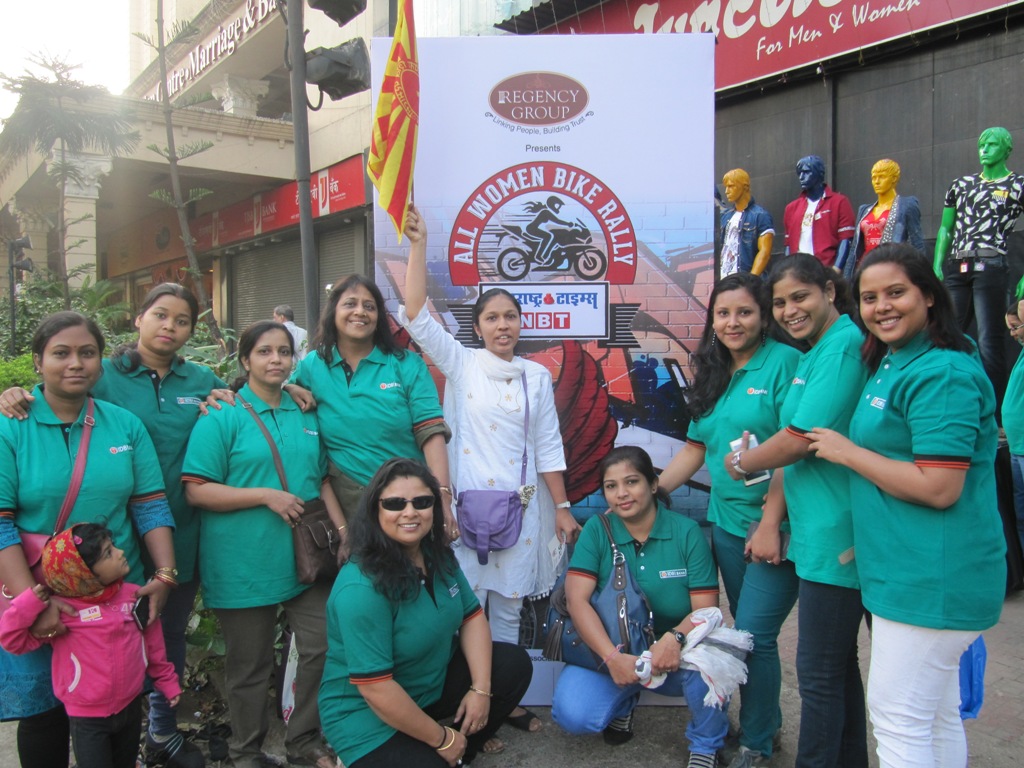 Governor of Haryana and Punjab Inaugurated National Media Seminar in Mohali (Punjab) - News and Photos
13 March 2015
Dear Divine Brother/Sister,
Governor of Haryana and Punjab, His Excellency Prof. Kaptan Singh Solanki Inaugurated National Media Seminar at Mohali(Punjab).
Please find attached photographs and press news in Hindi and English for your information.
International Women Day
GOVERNOR LAUDS ROLE OF MEDIA IN BUILDING PUBLIC OPINION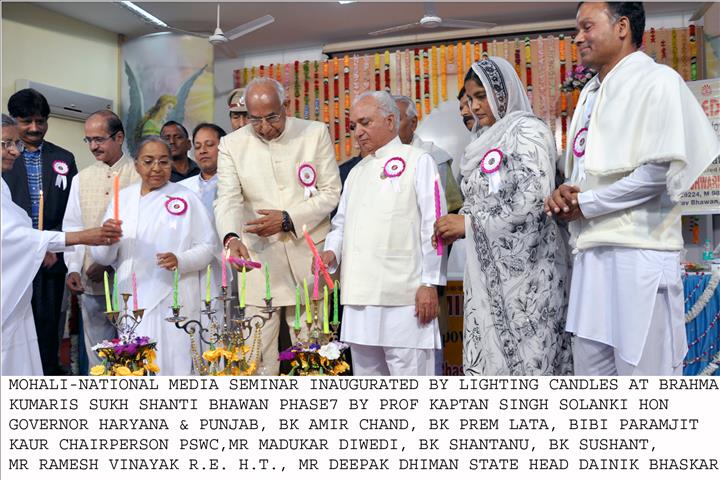 Mohali, March 8: Punjab and Haryana Governor, Kaptan Singh Solanki said here today that media can build and mould public opinion for women empowerment.
Addressing a National Media Seminar on the "Role of Media in Women Empowerment" at the Brahma Kumaris Sukh Shanti Bhawan Phase 7 Mohali, Solanki said that public opinion can remove all vices and is most lethal weapon against all sins prevailing in the society. He said that for development of any nation, it is most pertinent to bring women in the forefront.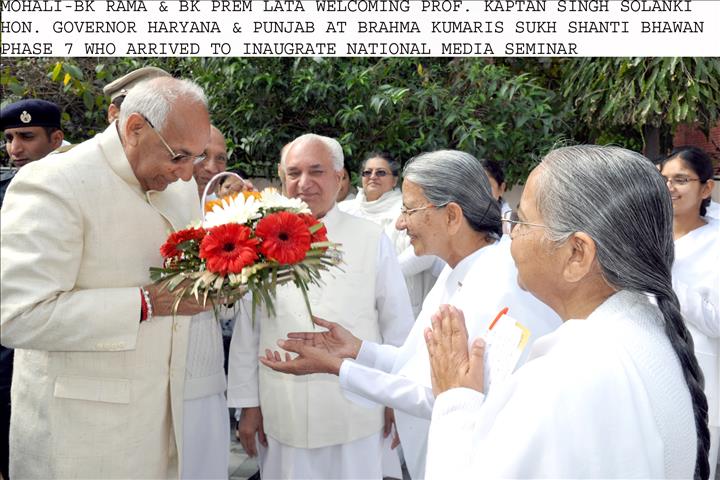 He said that our country is not a male dominated nation but a country where women are worshipped. He said that no family would be happy if woman of the house is unhappy. Let women be the change, let women be the light and let them take charge. The Governor said that for the emancipation of women in every field, self decision making, economic independence and creating awareness in them about their rights and responsibilities is very important. He said that media is considered as one of the most effective and important tool in this regard. It can work for the development of women and gender equality.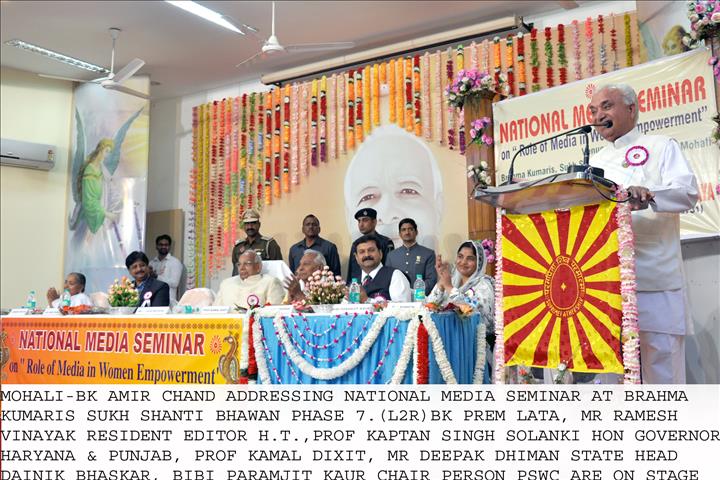 The Governor said that besides media, the state and Central government have always chalked out various programmes to empower women. He said that the Prime Minister, Narender Modi has recently launched twin programmes of "beti bachao, beti padhao" and "sukanya samridhi account" in a bid to encourage and educate girls. He extensively quoted Swami Vivekanand to build his argument for women empowerment.
He lauded the role of journalists in investigative journalism and quipped that earlier it was said that where rays of sun could not reach, poets reached there and now investigative journalists reach at a place where even poets did not reach "jahan na pahunche ravi, wahan pahunche patarkar".
In his keynote address, Prof. Kamal Dixit, Editor, Mulyanugat Media and Prof and Head Makhanlal Chaturvedi University, Bhopal said that our values have come under a question mark in present times that was perhaps the reason that there was felt the need for a seminar on women empowerment. He said that time had come when media has to take a resolve to uphold values and generate hope.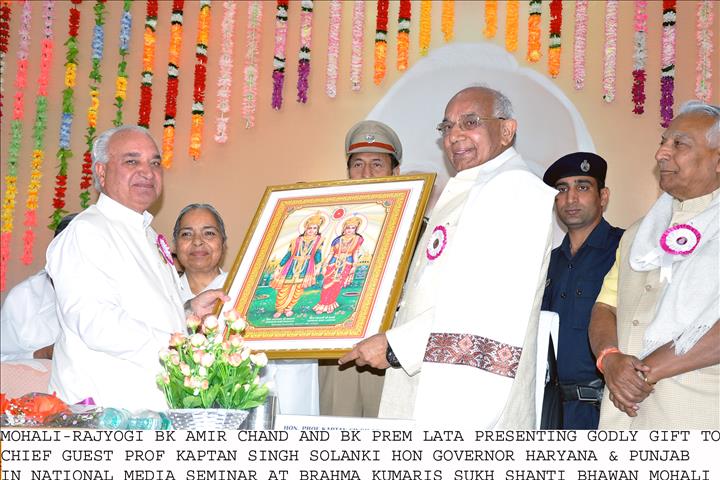 Ramesh Vinayak, Senior Resident Editor, the Hindustan Times and recipient of Excellence in Reporting Award, in his address said that "media has been playing a pro-active role in women empowerment. However, there is a need to celebrate achievements by women in all spheres, to work for gender equality. It is not just law but media that can foster women empowerment. It is media that can change mindsets". He said that women have to act as catalysts of change. Emphasizing need for women education, he said that if you educate a man, you educate a man alone, but when you educate a woman, you educate the whole generation. He said that media cannot lose sight off the fact that it is still urban centric and women living in remote villages are still living a pitiable life. He talked about more women in media and said that not many were holding important positions like those of editors in newspapers and television channels.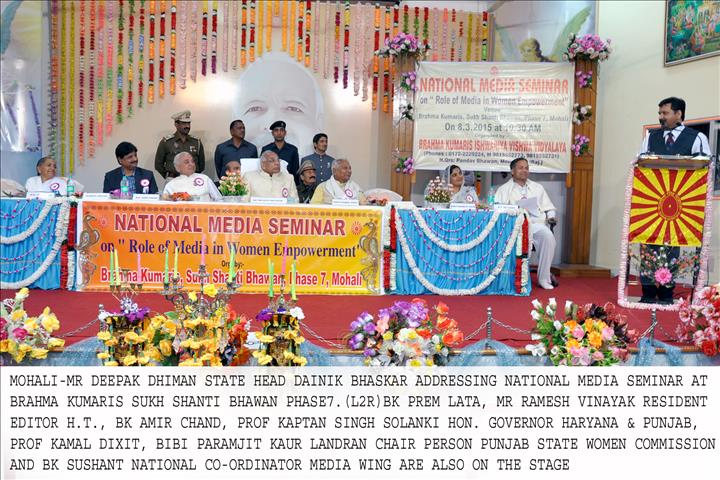 Deepak Dhiman, State Head, Dainik Bhaskar for the states of Punjab, Haryana, Himachal and Chandigarh said that media had always come to the help of ordinary people when they need intervention. He said that upright journalists had always held the fourth estate high in public esteem. He said that Danik Bhaskar had built 1000 toilets for girl students in Rajasthan schools. He said that much before government came out with an imitative concerning education of girls, Dainik Bhaskar had launched "beti padhao" movement in year 2011.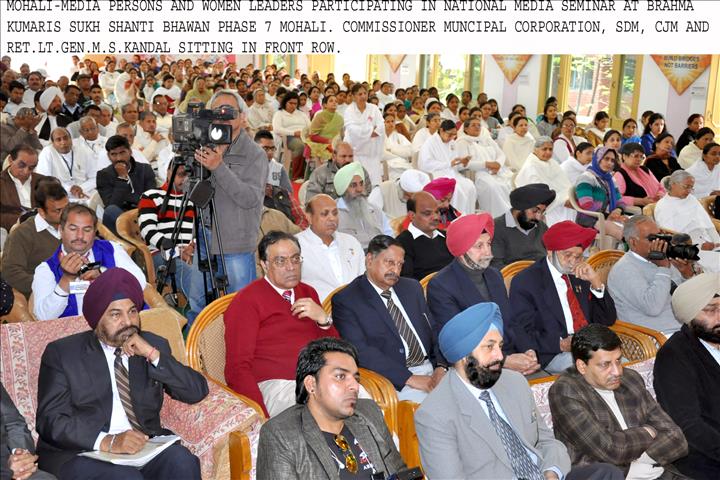 Ms Paramjit Kaur Landra, Chairperson, Punjab State Women Commission, during her address gave full credit to media for reservation of women in civic bodies. She said time was ripe for similar reservation of 33 per cent for women in State Assemblies and Parliament. She recalled that in many cases like Jesica Lal murder case and Nirbhaya case, media had aroused public opinion. She also spoke against female foeticide, dowry and other vices in the society.
Rajyogi B.K. Amir Chand, Vice-Chairperson, All India Social Service Wing said that media should try to shun negative news may be once a week to send positive vibes. He appreciated role of media in women empowerment but said that women should not be objectified as a commodity in media. They should, instead be an object of worship.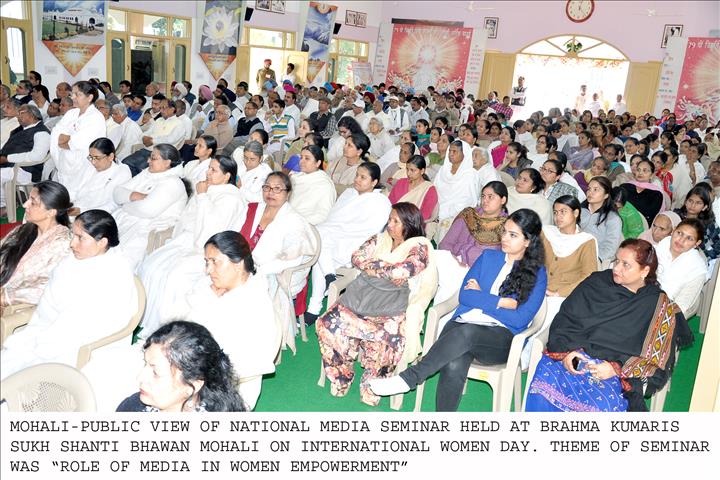 On this occasion BK Shantanu Hq. Co-ordinator Media Wing, BK Komal Co-Ordinator PM TV News Mt Abu, BK Prem Lata Director Rajyoga Centres Mohali Ropar Circle, Madhukar Dwivedi Consulting Editor Maha Medha Daily( Bhopal), Dr Uma Sharma Bureau Chief Punjab Kesari (Delhi) also presented their views in the seminar. 51 Dignitaries lighted candles to inaugurate the seminar.
Prominent amongst others who were present on the occasion were SDM Mohali Mr Lakhmir Singh, Commissioner Muncipal Corporation Mr Uma Shankar Gupta, Mr Taranjit Singh CJM, Mr S S Bains SP (Traffic), Mr Harpal Singh SP (Hqs.), Mr Ashish Kapoor SP (City) Lt Genl (Retd.), Mr M S Kandal, Col Jaswant Singh Director Paraplegic Rehab Centre, Mr P J Singh Industrialist, Brig (Retd) Avtar Singh President Senior Citizen Association etc.
Brahma Kumari Prem Lata
Click here for press release in Hindi
Click here for press release in English

Peace of Mind TV (PMTV) Now Available on Dish TV, Channel 766
13 March 2015
PMTV Team is very happy to announce that "Peace of Mind TV" can finally be seen on channel 766 of Dish TV.
Initially Dish TV will broadcast PMTV from 7.30pm to 10pm daily. You will be able to see Avyakt Baap Dada Avtaran, as well as Awakening with BrahmaKumaris featuring Sr Shivani, Samadhan featuring Br Suraj, and the most powerful Numa Shyam Meditation with Dadijis' Blessings from now onwards.
Please inform all your friends and relatives to watch Peace of Mind TV on Dish TV.
Thank you Baba and Zee Family,
PMTV Team

Value Education Centre Inaugurated in Ajmer
9 March 2015
Most Respected Brothers and Sisters,
We are pleased to inform all of you that a Brahma Kumaris' Value Education Centre has been created in Ajmer. The inauguration ceremony of this centre was conducted on 26th February, 2015 at Nawab ka Beda in Ajmer. A beautiful cultural program was conducted by the India Desh ki Shan Group from Mumbai. The main guests of the inauguration ceremony were:
Rajyogini Dadi Ratan Mohini ji, Joint Chief of Brahma Kumaris, Mount Abu

Shri Arjandas H. Melwani & Smt. Minoo H. Melwani, Noted Business Persons from Hong Kong

Mr. M.L.Sharma, Industrialist, Jaipur

Shri B.L.Chaudhary, Chairman, Board of Secondary Education, Rajasthan

Rajyogi B.K. Mruthyunjaya, Vice-Chairperson, Education Wing, RE & RF

Rajyogi BK Atam Prakash, Editor, Gyanamrit, Shantivan, Abu Road

Rajyogini B.K. Shanta ji, Sub Zone incharge of Ajmer

BK Bharat Bhai, Engineer, Shantivan, Abu Road

Dr. Madhura, Architect, HoD, Manipal University, Jaipur
About 700 people attended the program and received inspirations from Dadi Ji and the rest of the speakers.
This Value Education Center will become instrumental in imparting Values and Spiritual Education to society in the form of various value-based workshops, seminars and training programs.
Thanking you and with thoughts divine,
BK Mruthyunjaya Executive Secretary, Brahma Kumaris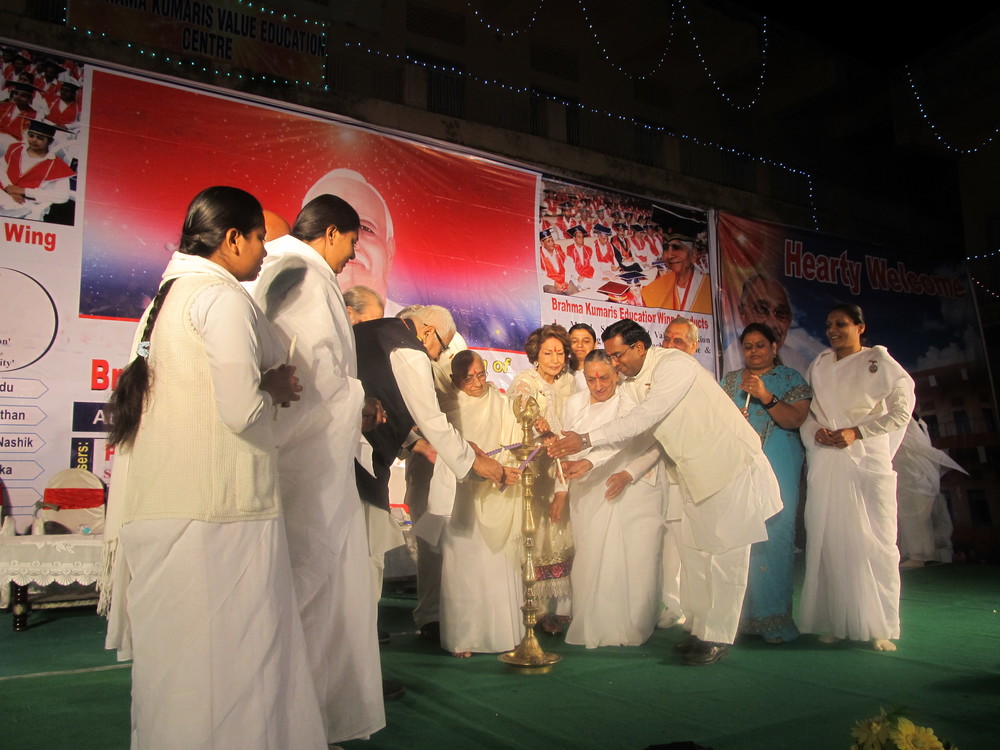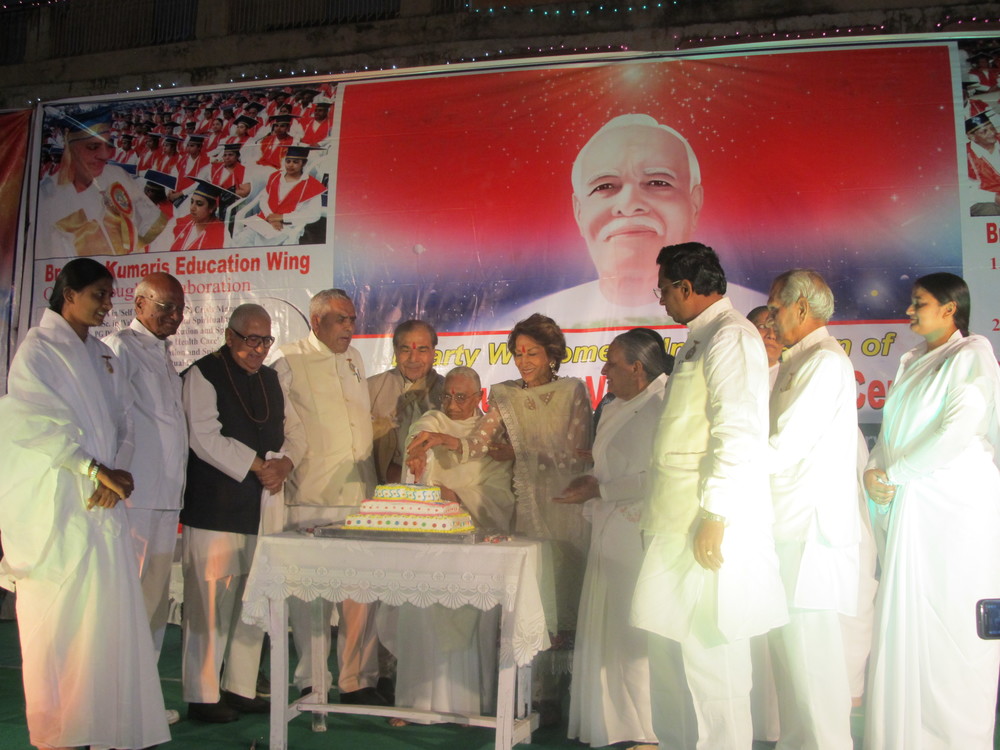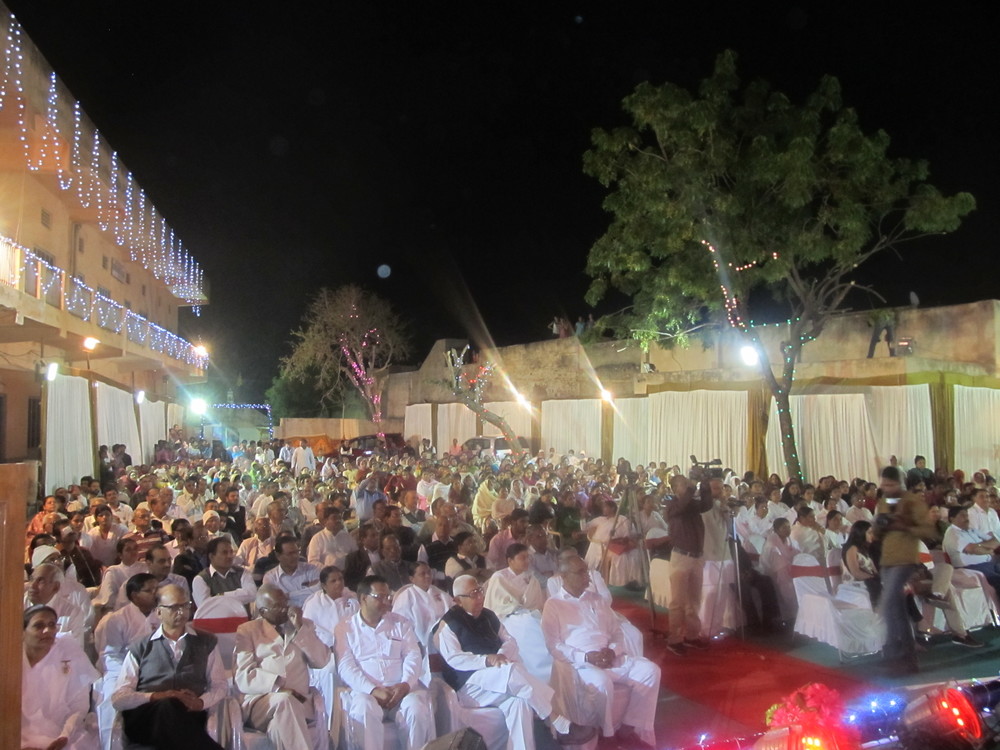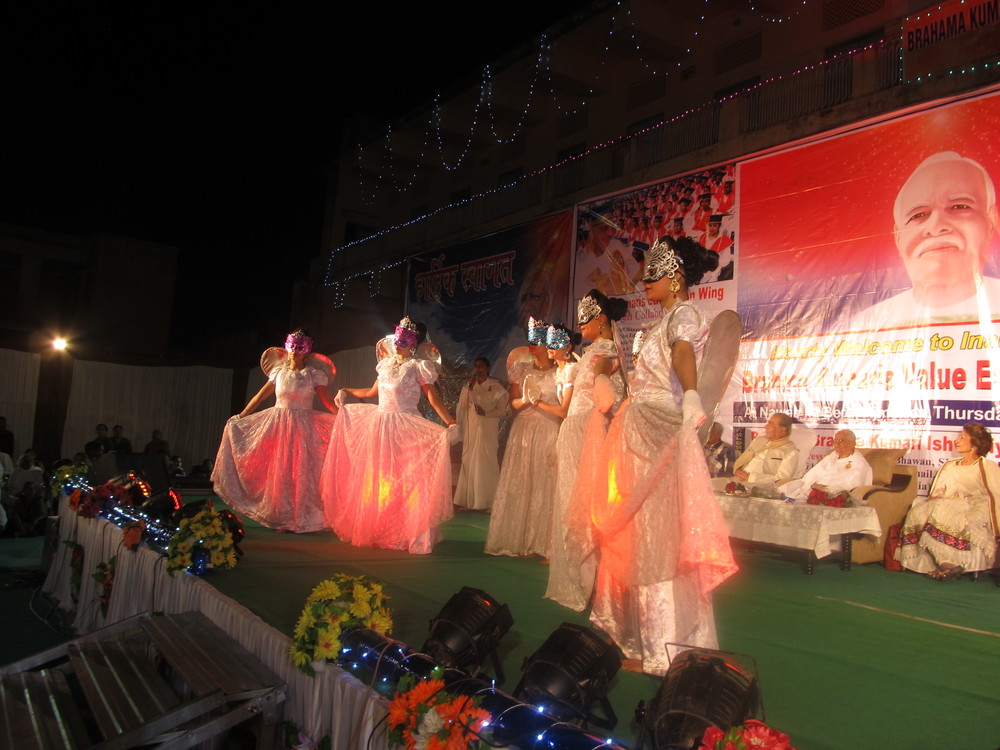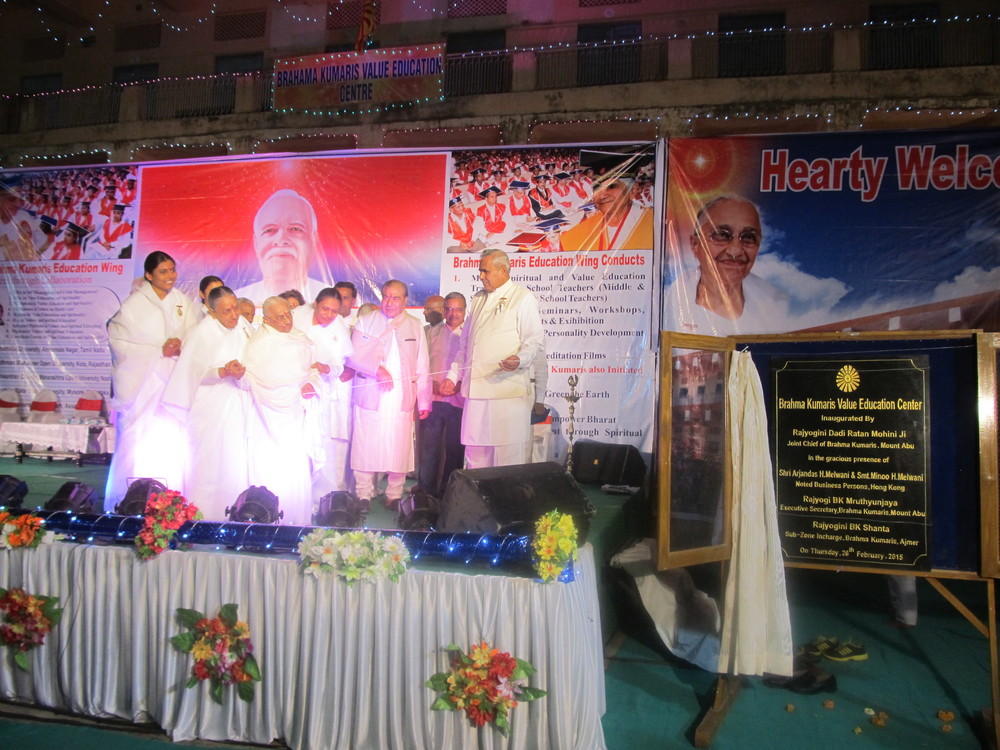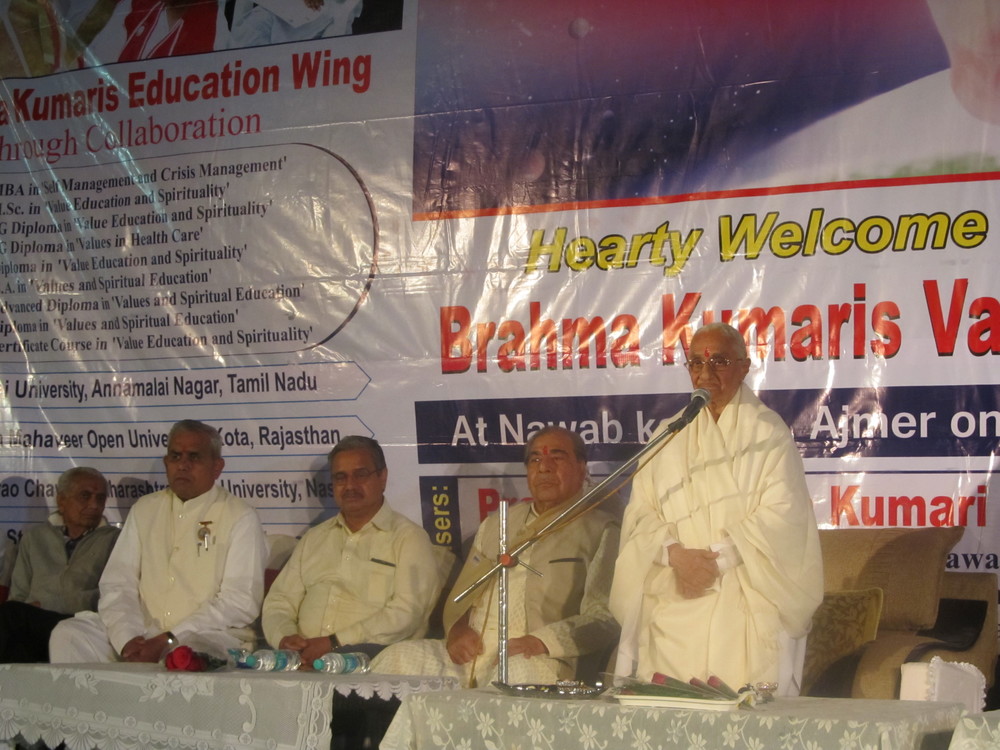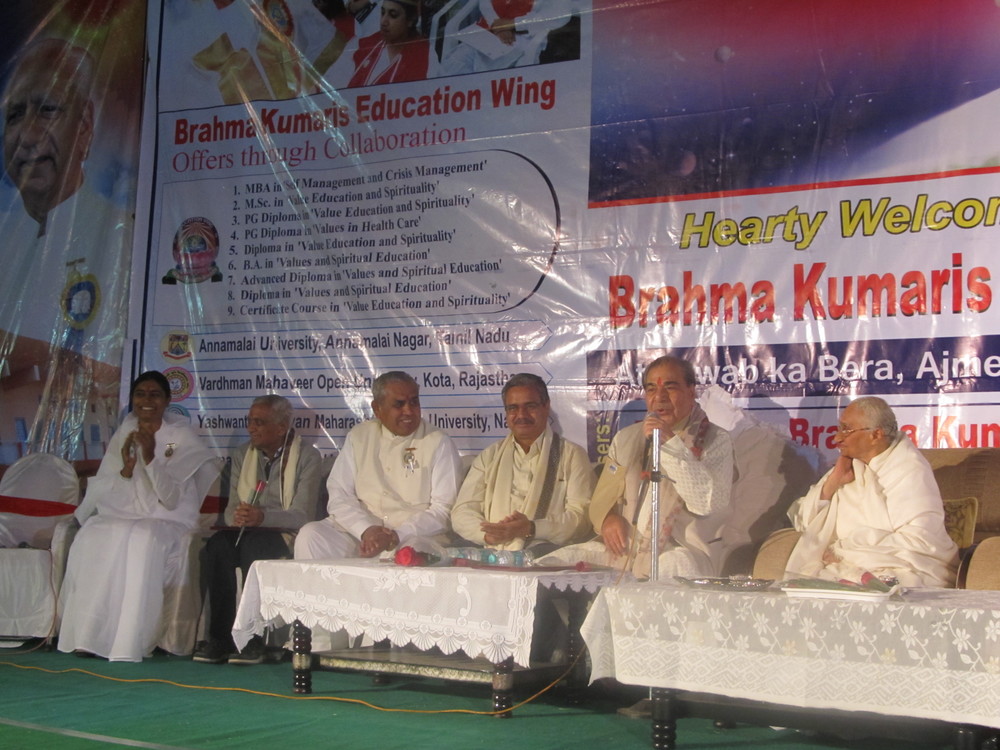 Entire Legislative Assembly enjoys Brahma Bhojan at Shanti Sarovar, Raipur
4 March 2015
Divine Family
Yesterday, following the Governor's speech in the Assembly, we invited the whole Assembly -- including the Hon'ble Chief Minister, the Assembly Speaker, the Leader of the Opposition and all of the ministers, MLAs, etc. to Baba's Home "Shanti Sarovar" for Brahma Bhojan.
All the VIPs came and participated. It was a very unique programme. I am sending the news (in Hindi) & photos of it.
B.K. Hirendra Bhai
Raipur (Chhattisgarh)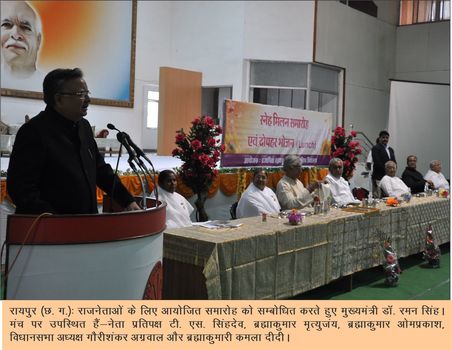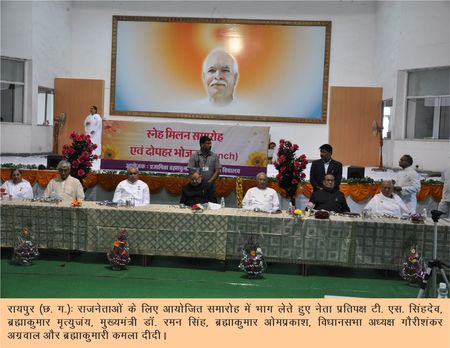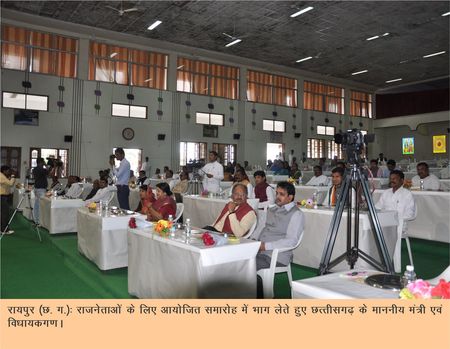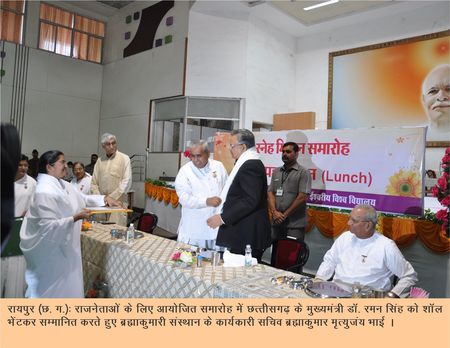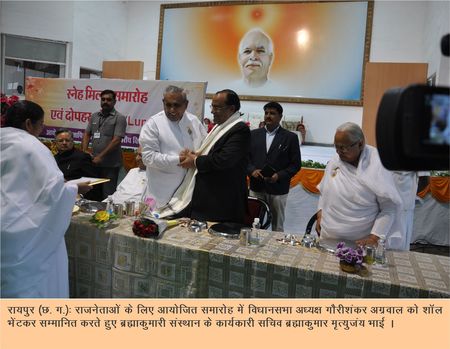 News from Sr Jayanti's Programs in Amritsar, from 21st to 23rd February
2 March 2015
On Saturday evening we had around 250 people from all around Amritsar for class and then the team had dinner together, and lots of chitchat.
On Sunday morning, we had class at Lawrence Road Centre and again it was full house. This was the original Centre in Amritsar, and it was the first property to be purchased by the Yagya in the early days. Dadi remembers Amritsar a lot since it was the start of service outside the Yagya, with the gathering of 100s of swamis and Dadi the only female there representing Baba. Dadi has often shared stories about that, but also about her early days in Amritsar and 12 kumaris taking birth, who have now become senior teachers across Bharat.
After class we went to see the Golden Temple and then to a Centre which is in the heart of the City in the Salt Market. It is of course a very, very crowded area, but apparently within a month they had 58 regular students; it's just been around for a couple of years and it was an impromptu visit, but yet, there must have been around 50 students there to greet, meet and chat.
The afternoon programme started at 3.30pm and this was the VIP gathering for the results of Future of Power. Br Nizar was brilliant as was Br Anthony, and a whole line up of double foreigners who had come shared also. It must have been around 500 high-profile people from Amritsar, and it was a powerful and beautiful programme. The FOP team celebrated its 56th programme, and having had so much experience, everything now is very compact and slick, and much has been learned from all the experiences of previous programmes. After dinner there was time for celebration with Nizarbhai and Br Anthony joining in for a dancing session in Vishwa Shanti Bhawan.
On Monday after morning class, it was time to leave, and my flight was delayed by fog, but then I finally got into Shantivan in the evening.