International News
International News
Exquisite Exchange Invitation for A Golden Insight Trilogy
8 August 2020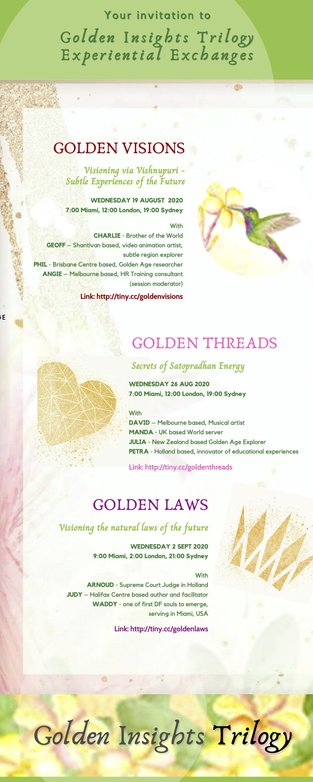 Dear Family, Greetings of love
We are inviting you to the upcoming Golden Insights Trilogy - Experiential Exchanges. Please download the above invitation for full details.
Also we would like to invite you to save the date for a Golden Gathering Online September 5 - 6. More details will be sent soon for this.
Please do contact us as at exquisiteexchanges@brahmakumaris.org.au if you have any questions.
Much love
In Baba's Yaad
Exquisite Exchanges Team

Golden Insights Trilogy - Experiential Exchanges
Pre-Listening
We invite you to listen to these short golden insight recordings below to stimulate your own reflection in advance of the Golden Insights Trilogy Exchanges.
Golden Visions - Visioning via Vishnupuri- subtle experiences of the future. ( http://tiny.cc/goldenvisions )
Wednesday 19 August 2020 (7 pm Sydney)
Pre-listening:
Subtle World: Geoff, Shantivan, India
https://www.youtube.com/watch?v=fRhlDu4fwgE&list=PLjIM3szDrOdRtrDYE_PX7rEEbxps3EzUX&index=3
Night Time Gazing: Phil, Australia
https://www.youtube.com/watch?v=omGlP6tpfqc&list=PLjIM3szDrOdRtrDYE_PX7rEEbxps3EzUX&index=4
Golden Threads - Secrets of Satopradharn Energy.(http://tiny.cc/goldenthreads)
Wednesday 26 Aug 2020 (7 pm Sydney)
Pre-listening:
Golden Age Reflections: Kal, Australia
https://www.youtube.com/watch?v=FyydH8WuLwk&list=PLjIM3szDrOdRtrDYE_PX7rEEbxps3EzUX&index=2
Deity Experience: David J, Australia
https://www.youtube.com/watch?v=5cBzEz2XBVI&list=PLjIM3szDrOdRtrDYE_PX7rEEbxps3EzUX&index=2&t=0s
Memories of my Future Form: Julia, New Zealand
https://www.youtube.com/watch?v=AdkywsZUp8Y&list=PLjIM3szDrOdRtrDYE_PX7rEEbxps3EzUX&index=6
Golden Laws - Visioning the natural laws of the future. (http://tiny.cc/goldenlaws)
Wednesday 2 Sept 2020 (2 pm UK)
Pre-listening:
Laws of that World: Arnoud, Holland
https://www.youtube.com/watch?v=oBeqNzgCwD0&list=PLjIM3szDrOdRtrDYE_PX7rEEbxps3EzUX&index=5

REPLAYS of recent Broadcasts by Sister Shivani Week of July 27-August 02
8 August 2020
(Note that all have English subtitles or are in English.)
02 August - 3 Ways to Increase Emotional Immunity [24:14] https://youtu.be/aQDFX6rc8zY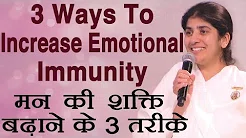 02 August - Song for Rakshabandhan [03:53] https://youtu.be/KxCYSSvmHqg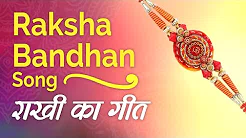 31 July - WIN Over Your EGO [29:10] Ep 26 of BEING DIVINE Series https://youtu.be/S8j8TLmVJx8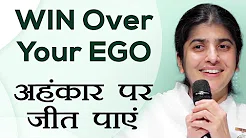 28 July - 2 Morning Routines For A Perfect Day: Part 2 [23:26] https://youtu.be/rseHCX3N6DY

News of Lebanon from Sister Anna
6 August 2020
Dear Family,
Greetings of Love and Light from Beirut!
We are very much touched by your heartfelt, elevated, good wishes regarding the explosion that happened last Tuesday in Beirut.
It is said to be 'unquestionably"one of the largest non nuclear blasts in history.
ln anticipation of the construction of Baba 's new house, for the last almost two years Baba's home has moved 40kms away from Beirut on mountains of 1000 mtrs height, sizes that proved not enough to stop the deafening sound of the explosion and the shaking of the land. We all felt the explosion in the area like the other few millions in Beirut did. However we are far enough for the poisonous gases not to reach us.
We are all very well in all levels. There is a great feeling of lightness, inner subtle happiness, natural inner stability knowing the accuracy and benevolence of the drama and genuine love and compassion for all the souls that are now ready to remember that they are eternal and secure anyways no matter what and that their Father is there for them as the Eternal, Perfect Companion.
The increasing service due to covid 19 in the whole world has more reasons to keep increasing in this country that has witnessed total bankruptcy since last October, political anarchy and chaos, conflicts at the borders with Israel plus this massive explosion .
The Brahmins keep increasing at a fast speed . We enjoy welcoming the younger members of the family .
From our hearts we would like to thank each one of you individually and sincerely for your so genuine and love filled good wishes...very touching...
Our hearts are also filled with gratitude to sweet Baba who is still there till the last minute of the end of the performance to remind us that we are like Him. Which words can describe our gratitude...
Thank you...
With the One in the heart
On behalf of the Family in Lebanon
Anna

Raksha Bandhan Greetings from Chief of Brahma Kumaris, Dadi Gulzar, and Additional Chief Dadi Ratan Mohini
3 August 2020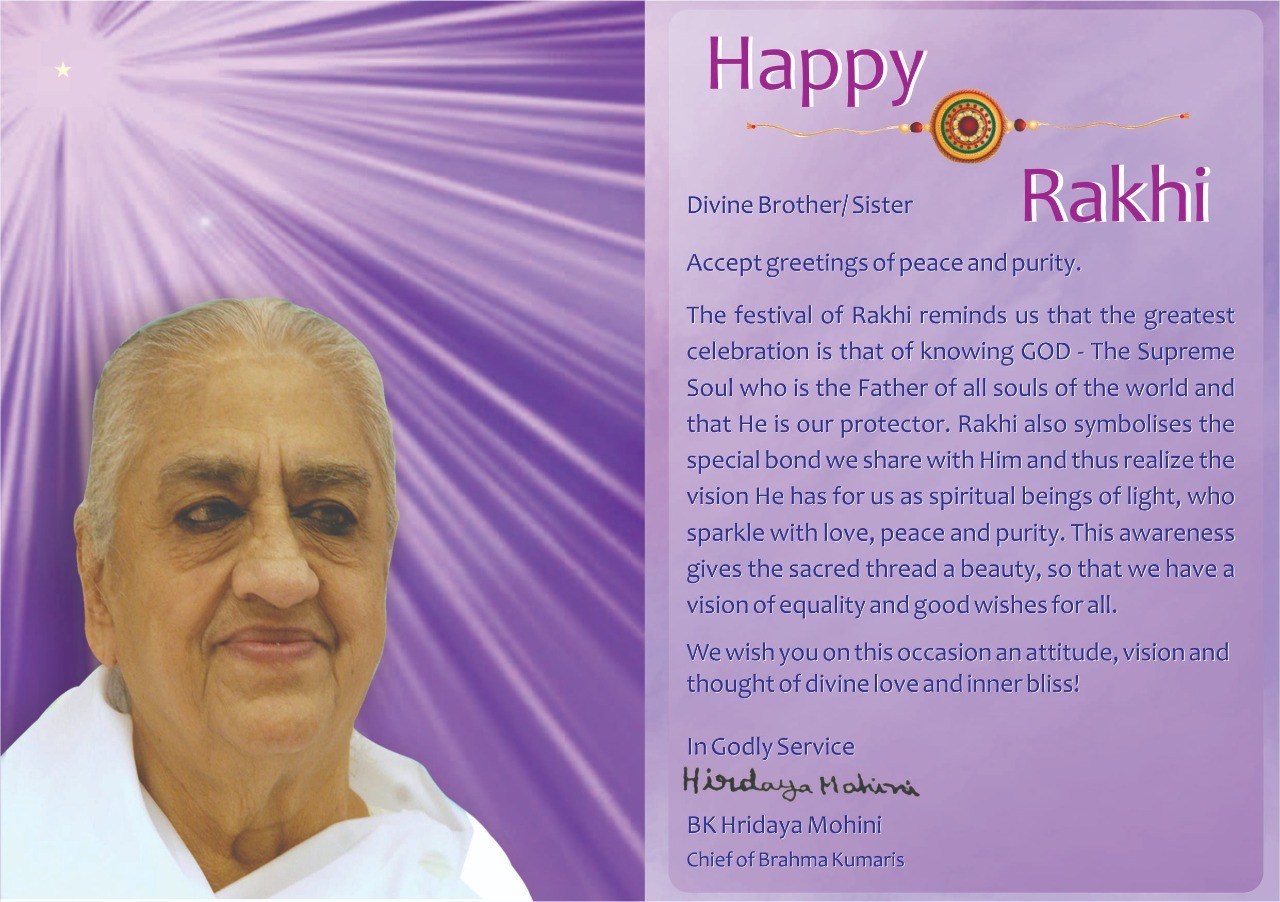 Divine Brother/Sister, Accept greetings of Peace and Purity.
The festival of Rakhi reminds us that the greatest celebration is that of knowing GOD – The Supreme soul who is the Father of all souls of the world and that He is our protector. Rakhi also symbolizes the special bond we share with Him and thus realize the vision He has for us as spiritual beings of light, who sparkle with love, peace, and purity. This awareness gives the sacred thread a beauty such that we have a vision of equality and good wishes for all.
We wish you on this occasion, an attitude, vision, and thought of divine love and inner bliss!
In Godly Service,
BK Hridaya Mohini ( Dadi Gulzar ), Chief of Brahma Kumaris.
***********************************************************************************************
Raksha Bandhan Greetings from Dadi Ratan Mohini, Additional Chief of Brahma Kumaris
"Multi-Million Greetings Of Raksha Bandhan"
Carefree Emperors Brahma Kumars and Kumaris, Fortunate Children of Divine Father, Bestower of Fortune, His Royal Students, are experiencing the Joy of Confluence Age by staying Happy always witnessing every scene of Drama as Detached Observers.
Raksha Bandhan Festival is a symbol of Purity and Safety. Keeping the purpose of this Festival in Mind, you Brothers and Sisters have to safeguard yourself by empowering with Purity and Powers of God, have to render service through Mind by spreading Vibrations of Purity and Powers that you have acquired, for the safety of the entire Universe.
On the occasion of this Holy Festival tie the Rakhi of God's Love and Contentment to all other Souls, both Physical or Subtle ways and give them a treat with Sweets of Peace and Happiness.
With Good Wishes,
Dadi Ratanmohini, Additional Chief of Brahma Kumaris.
In Hindi:
रक्षाबंधन पर्व की पदमापदम बधाई
मीठी बहनें! राखी के त्यौहार को उमंग-उत्साह से मनाने का समाचार और अलौकिक स्नेह से भरी राखियों का पत्र एवं ई-मेल आदि हमें पहुँच गये हैं। आप सभी को ईश्वरीय स्नेह सम्पन्न मधुर याद के साथ विशेष रक्षाबंधन के पावन पर्व की हार्दिक बधाई हो, बधाई हो।
आप सभी ब्राह्मण आत्मायें भाग्य विधाता बाप के भाग्यवान, रॉयल स्टूडेन्ट, संगमयुग की मौजों का अनुभव करने वाले, सदा खुशहाल रह हामा की हर सीन को साक्षी हो देखने वाले, बेफिक्र बादशाह ब्रह्माकुमार, ब्रह्माकुमारी हो। रक्षाबंधन का पर्व जो पवित्रता और सुरक्षा का प्रतीक है। इस पर्व के उद्देश्य को ध्यान में रखते हुए आप सभी भाई-बहन को स्वयं में पवित्रता और परमात्म शक्तियों का बल भरकर स्वयं को सुरक्षित कर पूरे विश्व को पवित्रता और परमात्म शक्तियों की सकाश देकर सुरक्षित करने की मंसा सेवा करनी है। इस पावन पर्व पर सभी आत्माओं को सूक्ष्म और स्थूल दोनों रूप से परमात्म स्नेह और संतुष्टता की राखी बांधकर सुख-शान्ति की टोली खिलायें।
धन्यवाद ! इन्हीं शुभ भावनाओं के साथ, आपकी दैवी बहन
बी.के. रतनमोहिनी अतिरिक्त मुख्य प्रशासिका
मधुबन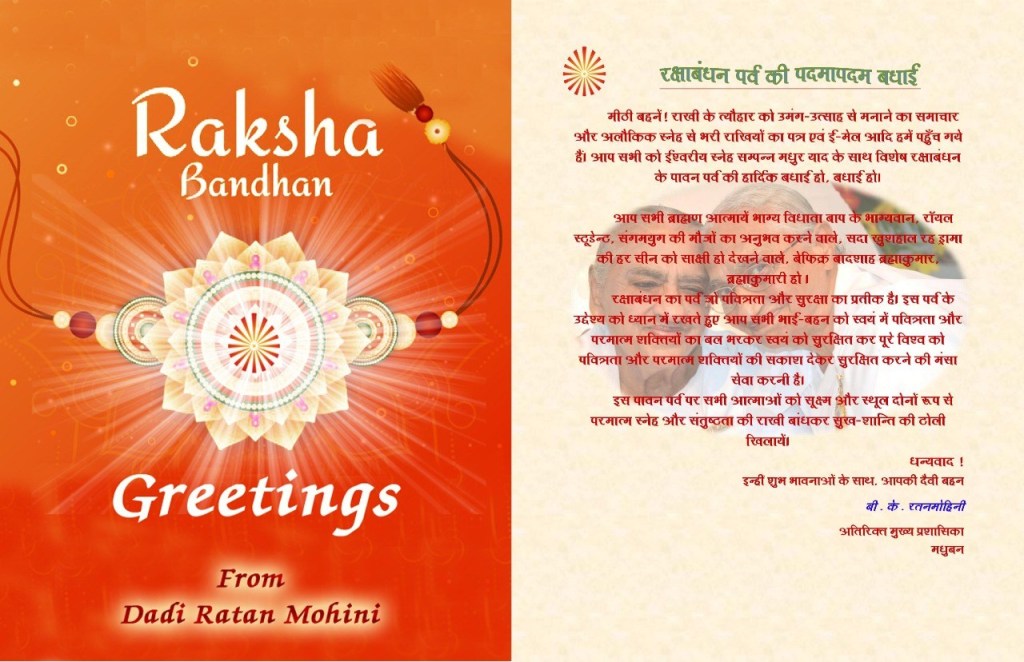 ***********************************************************************************************
Greetings from Dadi Gulzar for BK Family.
The Saviour of Universe, Beloved Angelic Bapdada's very friendly, living under the Canopy of Supreme Soul, as a spectator witnessing every scene of Drama, ever blissful Minded, with cheerful Face, our Trusty Teacher Sisters and the Jewel some Brothers and Sisters of BK Family,
Millions of Greetings on Holy Raksha Bandhan and Janmashtami with Godly Memories.
On giving us this Super Human Birth, our beloved Dilaram (Comforter of Hearts) Sweet Father instantly blessed us, "Be Holy, Be Yogi". As the very Foundation of BK Life is the Holiness. Has everyone got this Rakhi firmly tied? Father says that even an ordinary or negative thought should not arise in mind. Always think good, talk good. In our view, thought and memory none else but only One God must always be there. Has everyone established Dilaram (Comforter of Hearts) in your heart? The Resident of Subtle World, Sweet Father daily, early morning rests His Blessing Hand on the heads of His Children. Though in Subtle World He makes us Brave enough with His blessing, "Be full of all Divine Powers", in this fearful atmosphere. Every child sings from heart, "Wah, my Sweet Beloved Father, Wah. Wah, my Good fortune of present Confluence Age, Wah. Wah Drama Wah". Thus while singing such exhilarating songs of Wah Wah, keep flying with the wings of Joy and Enthusiasm.
Now all over, there are waves of Austerity but still experience the Bliss of being immersed in Love and Belonging of One Father.
With such Good Wishes,
Many many Hearty Greetings to all for the Raksha Bandhan and Janmashthhami Festivals.
May you also accept the loveful greetings from all the Sisters of Gamdevi Brahma Kumaris Centre.

Today's Brahma Kumaris page in India's Daily Guardian newspaper
2 August 2020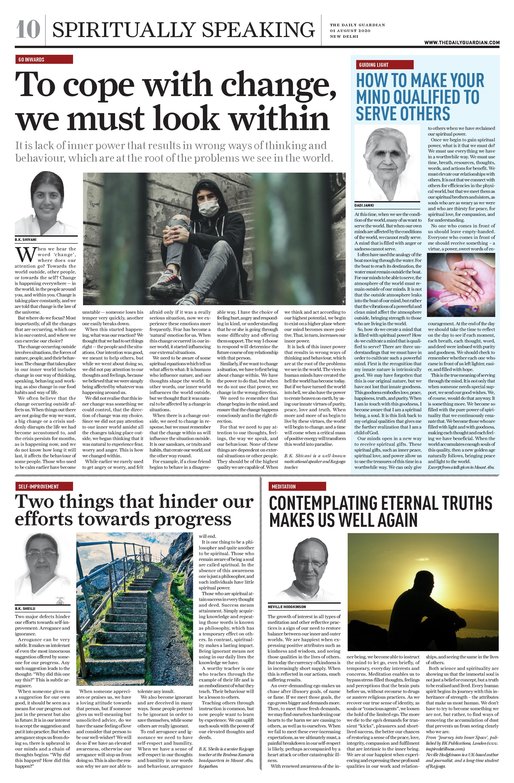 Please download the file in pdf format here.

Greetings of Raksha Bandhan from BK Raj Didi, Kathmandu, Nepal
2 August 2020
Most beloved BapDada's all elevated divine lucky stars brother and sister,
The multimillion fold of congratulations, love and greeting on the auspicious occasion of Rakhi festival from sister Raj and Kathmandu Brahmin Family. I wish every success and the attainment of the flying stage under the sustenance and canopy of the supreme Shiva Baba for your good health, serenity, and prosperity. May you have a successful time in powerful vibration to all human souls, the entire globe, and every element transcend of them into pure peace. With many thanks.
On the service of humanity
BK Raj
Kathmandu Nepal
Email Id: kathmandu.np@bkivv.org
Website : http://brahmakumarisnepal.org.np/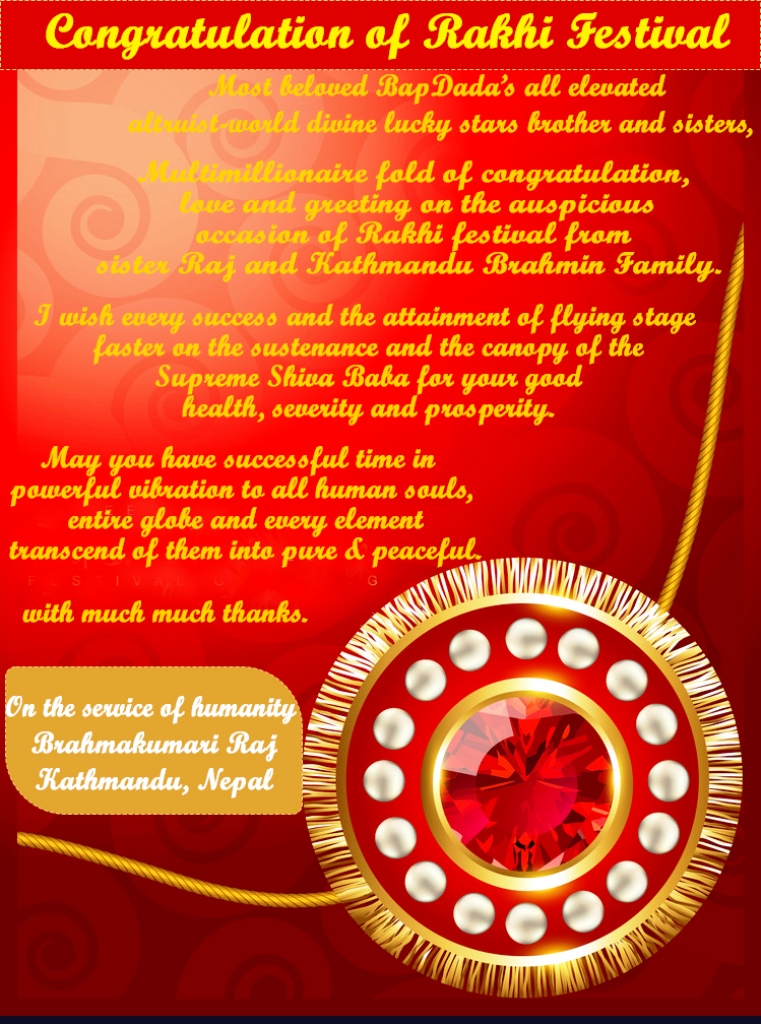 Coming Soon! English Master Class on Prakashmani Dadiji with Sister Jayanti
2 August 2020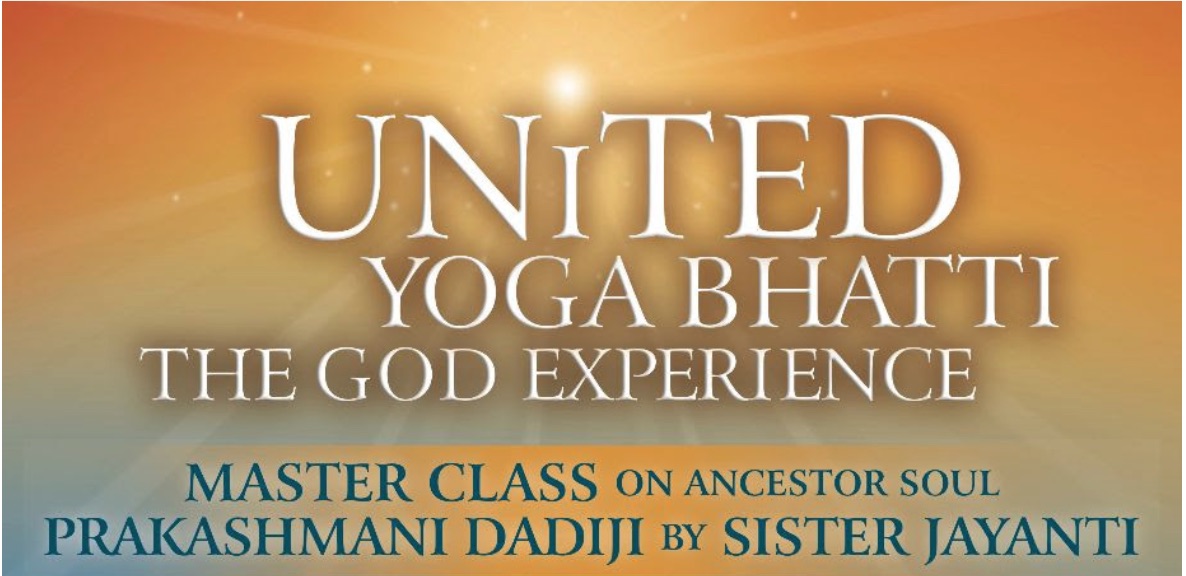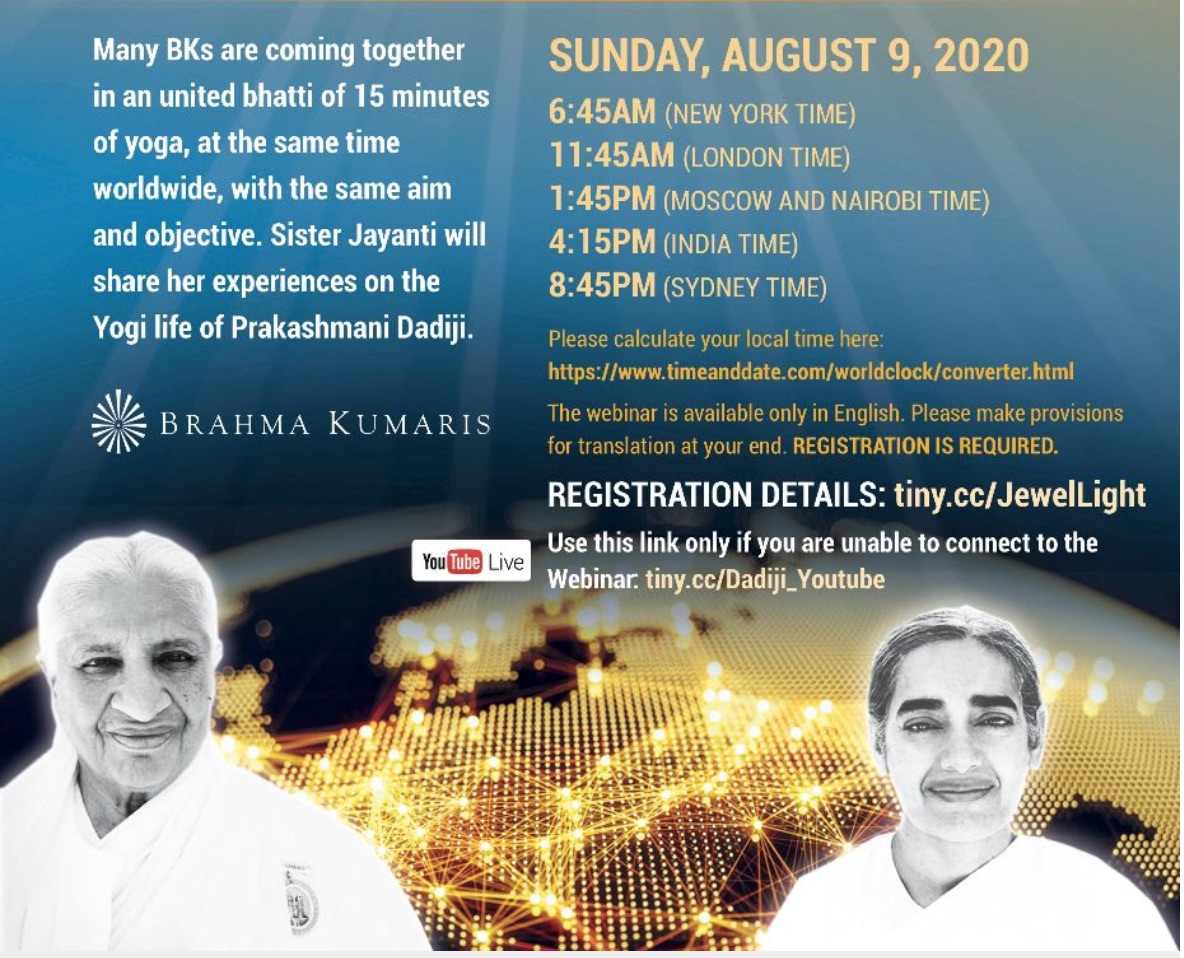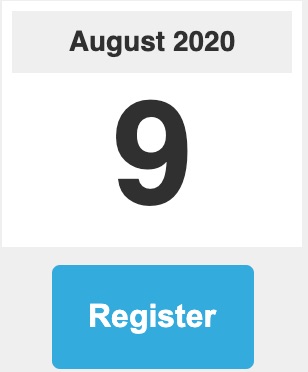 Masterclass on Prakashmani Dadiji by Sister Jayanti
Many BKs are coming together in a united bhatti of 15 minutes of yoga, at the same time worldwide, with the same aim and objective. Sister Jayanti will enhance this United Yoga Bhatti with a Master Class on The Yogi Life of Prakashmani Dadiji.
Sunday, August 9th, 2020
6:45 am New York time
11:45 am London time
1:45 pm Moscow and Nairobi time
4:15 pm India time
8:45 pm Sydney time
The webinar is available only in English. Please make provisions for translation at your end. See registration details below:
https://register.gotowebinar.com/register/5717770935340709392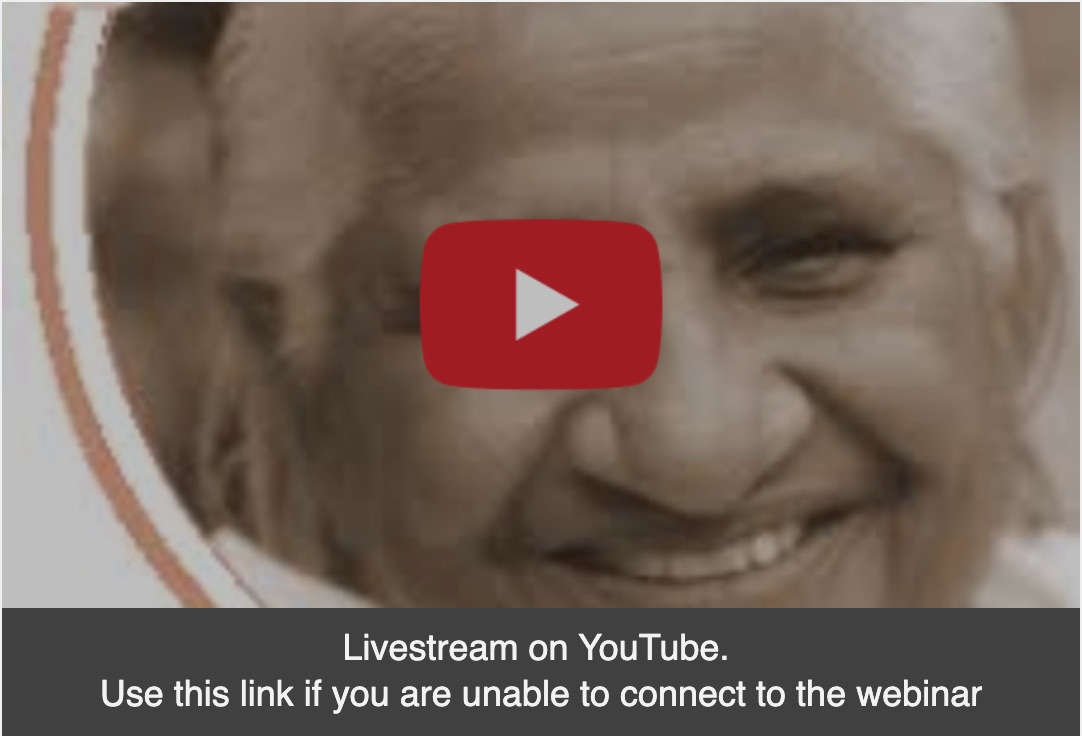 Spiritual Perspectives for a New Normal: Brahma Kumaris Address The IUCN Virtual Dialogue
1 August 2020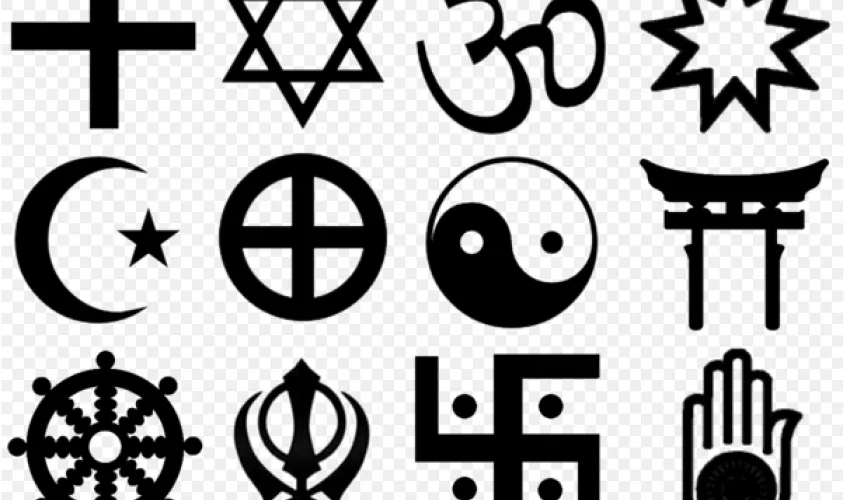 People of faith and spirituality are all thinking about and offering guidance on, what an earth-centered [1], new normal, might look like, and how we can practically contribute to it.
To help and guide The International Union for Conservation of Nature (IUCN) and the broader community as it thinks through other visions for a new post-2020 world, the IUCN Commission on Environmental, Economic and Social Policy (CEESP), its Specialist Group on Religions, Spirituality, Environmental Conservation and Climate Justice (ReSpECC) and the IUCN Nature-Culture Initiative, held a virtual dialogue on June 25, 2020, to talk with some of IUCN's faith-based member organizations, members of the ReSpECC Specialist Group and others.
As the UN Secretary-General stated, the current crisis is an unprecedented wake-up call (message on International Mother Earth Day). Our mother earth is teaching us a lesson in universal responsibility (HH Dalai Lama), and it is the responsibility of each one of us to learn from it and grow in our humanity and in our compassion.
Fostering shared responsibilities to rebuild our troubled relationship with nature is a cause that is uniting people around the world (Rev. James Shri Baghwan, Pacific Council of Churches).
No, we don't want to go back to normal (Pujya Sadhvi Bhagavati Saraswati) – but what does a new normal look like? How do we emerge from our homes, from this time under lockdown, and be part of creating a new, earth-centered, normal, based on the values and ethics of our diverse faiths and spiritualities?
As His Holy Father Pope Francis asked, How can we restore a harmonious relationship with the earth and with the rest of humanity?

And what does this mean for IUCN? What's IUCN's role in building a new normal? And what will conservation look like post-2020?
To talk about all this and more, some of IUCN's faith-based member organizations, members of the ReSpECC Specialist Group, and others, including A Rocha International, Brahma Kumaris, UNEP Faith for Earth, Quaker Institute for the Future, Gaia Foundation, Pacific Conference of Churches, Soka Gakkai International, Islamic Foundation for Ecology and Environmental Sciences participated in this IUCN Virtual Dialogue and CESP members were invited to join the dialogue.
The discussion was moderated by Jessica Sweidan, IUCN Patron of Nature, and hosted by Dr. Grethel Aguilar, IUCN's Acting Director General; Kristen Walker-Painemilla, Chair of UCN CEESP; and Liza Zogib, Chair of IUCN CEESP – ReSpECC.

Speakers included:
Dr. Fazlun Khalid, Founder, Islamic Foundation for Ecology and Environmental Science

Valériane Bernard and Sonja Ohlsson, Brahma Kumaris

Reweaving our Ecological Mat in the Pacific (Rev. James Bhagwan)

Dave Bookless, Director of Theology at A Rocha International, IUCN member

Alexandra Masako Goossens-Ishii, Soka Gakkai International (Buddhist network)

Lindsey Fielder Cook and Sara Jolena Sequoia Wolcott, Quaker UN office and Sequoia Samanvaya

Iyad Abu Moghli, Director of Faith for Earth, UNEP
Valériane Bernard, Brahma Kumaris Representative to the United Nations, Geneva, focused on the values of Respect, Self Empowerment, and Living your dream. She defined "New Normal" as the condition in which human being finds it easier and possible to function, strive, and live. The disruption of sense of normality creates fear and anxiety. But for a resilient person it can also initiate adaptability, creativity and the desire to strive, help and care. She encouraged two things needed in the human family and work, one is self-empowerment. One needs to learn the art of nurturing the self, and be strong, only then can they uplift others and have Quality of relationships with others and the environment. A Winner is a dreamer who never gives up, sharing the vision with joy and hope. She spoke about creating a relationship with mother nature and serving the five elements with vibrations, paying attention to the quality of mind in each and every interaction.
Sonja Ohlsson, National Coordinator of Brahma Kumaris, Denmark, spoke about the value of being 'Unlimited' – to expand consciousness – and that we include each and every element of matter and environment in our consciousness. To use good wishes and vibrations to stay interconnected all times, it needs pure heart and pure mind. Open the heart, and have love as mercy, forgiveness, compassion, caring, and sharing.
More than ever before, we need Solidarity, Unity, and Change.
Below is the link for the dialogue:
[1] Many faith traditions would say all our thinking should be God-centered, but in terms of our practical decisions we acknowledge speaking of being earth-centered is important to highlight as opposed to being human-centered.

Greetings of Rakhi from Didi Chakradhari
1 August 2020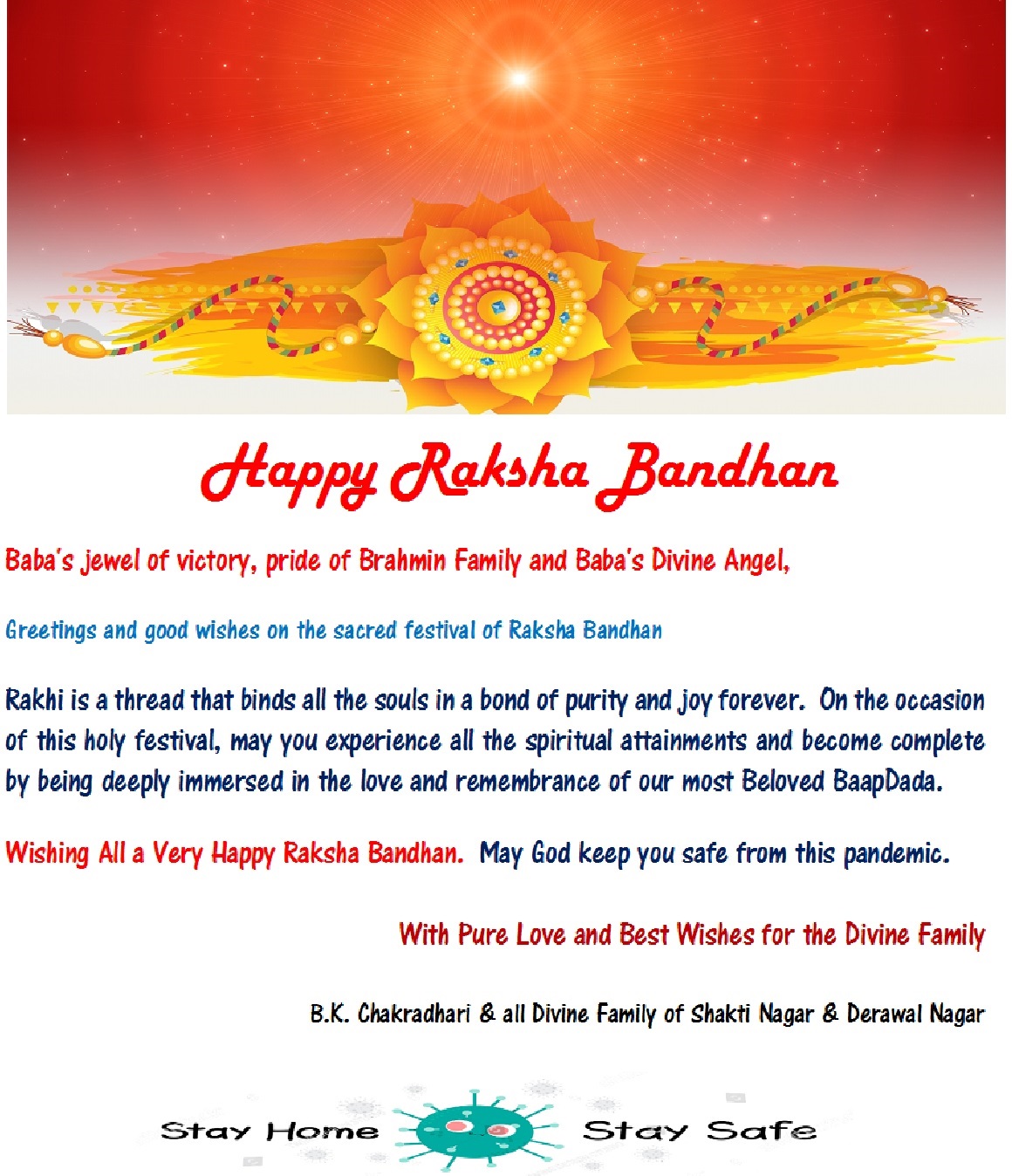 Brahma Kumaris Launch a Hindi Version of the BeeZone App
28 July 2020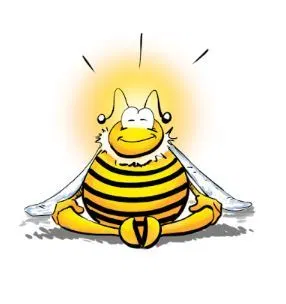 On the 18th of January 2018, the BK Global IT team launched a new mobile App called BeeZone in English. We are pleased to inform you that we have now launched a version in Hindi as well.
BeeZone provides tools and techniques for people to relax, refocus, unwind, and move into a positive space – a Zone where they can just Be. This app has been developed as a tool to serve everyone especially at this time when people all over the world are facing many challenges. The App is very neutral and has a number of features including traffic control. It is appropriate for anyone to use, from professionals to kids, also including BKs. We hope you like it and find it useful in serving your local communities.
Hindi animations are available at:
https://drive.google.com/drive/folders/1ecAFolHHIKK7f7IO4hmSyl6X0yoBgKR_
Website: www.bee.zone
Download: https://play.google.com/store/apps/details?id=org.brahmakumaris.beezone
After Download, In Settings, Select Hindi Language

28th July – Memorial Day of Didi Manmohini, Former Administrative Head of Brahma Kumaris (1969-1983)
28 July 2020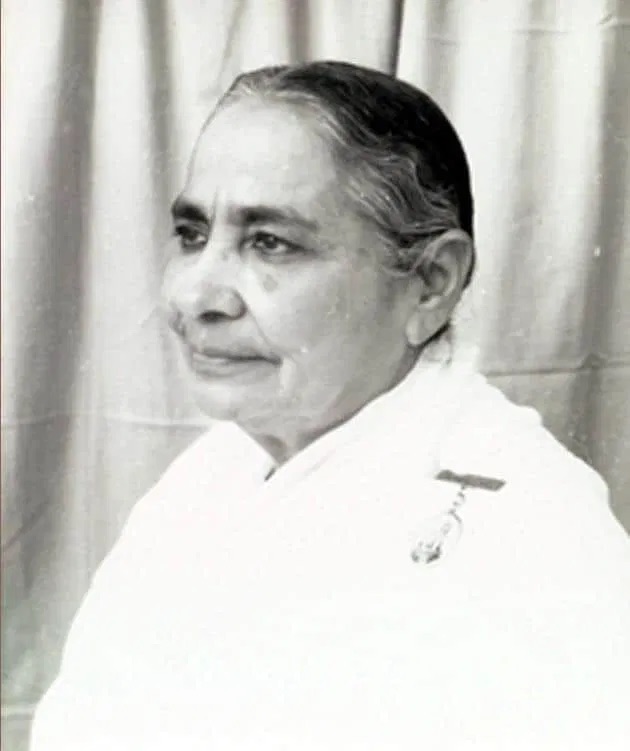 Didi (elder sister) Manmohini joined the Brahma Kumaris in its beginning years in 1936-37. Her childhood name was Gopi, and she was born in 1915 to mother Rukmani in Sindh, Hyderabad (presently in Pakistan). They had a family connection with Dada Lekhraj (later, Prajapita Brahma Baba).
Didi Manmohini ji shared her experience in this way:
"I was born in a famous and respected Sindhi family. The family into which I was married was also a very respectable one. Even in my lokik (family) life, our relatives would frequently visit Dada Lekhraj's family. They were sort of pulled to him. You will probably ask, why? Because Dada was very well-known for his devotion. Seeing his devotional feelings, generosity, magnanimity, and kind-heartedness, the local community had good respect for him. Besides, I would continue to meet and communicate with Baba because of our lokik relations. My lokik mother also desired that her children should forge relations with Baba's family. However, it did not happen in that way and we were married to other homes."
"In spite of being in a rich family, I was very unhappy in my worldly life. This is why I would spend more time attending various satsangs here and there. There were all types of comfort in my home, and we were constantly engaged in charity and making donations. I loved the Gita and the Bhagavat ( scriptures) very much. I did not know what would happen through reading them but I just loved the story of gopis in the Bhagavat. I was habitual of going through that story daily. I even visualized myself as a gopi internally. Even my lokik name was Gopi! As I was reading about Krishna's divine games with his gopis I would shed tears of love. I was so fond of those gopis! I wondered as to how the gopis succeeded in meeting Krishna. So this is how my path of devotion continued.," says Didi.
"I saw a spinning discus of light in the middle of Baba's forehead"
Didi continues, "Once my lokik mother (whom they would call Queen Mother in the Yagya) went to see Baba. The next day after having gone to Baba, she sent back her car to take me there, too. In those days having a car was considered something great. I got into the car and went to Baba. Baba was sitting in a small room holding the Gita scripture in his hands and conducting a spiritual discourse (satsang). I had seen Baba a number of times before, however, on that day I was experiencing a special pull to him. I came up to Baba and sat down in front of him in such a way that Baba's drishti would meet my drishti. I saw a spinning discus of light in the middle of Baba's forehead. I would not even say that I went into trance. I was seeing this discus of light on Baba's forehead with my physical eyes. Baba was narrating something but I was hardly aware of what all of that was about. At the end, Baba started chanting the sound of 'Om' and I got lost in the love of that chanting. The heart was willing to get merged in the sound of Baba's voice. Even at that time I could see the discus of light on Baba's forehead."
After the satsang was complete, Baba asked me whether I had heard anything during the Satsang. I answered, 'Baba, I have heard it but I want to learn more.' Baba said, 'Come to Om Mandali tomorrow.' Next day Baba conducted his satsang at another place. I went there and sat down in front of Baba. In those days we did not have the pictures that we are having now. Baba took a sheet of paper and a pencil, drew a picture of the subtle regions and of paramdham (home of souls). I would listen to Baba and the firm faith came in my heart that I was that same gopi described in the Bhagavat.
Didi had to tolerate assaults because of her purity.
When Baba started his Satsang in Hyderabad it caused a sensation in the city. On one hand many were getting divine visions and on the other hand, they were told (during Murlis) to remain pure in family life (celibacy). Baba's first direction was to remain pure (celibate). As soon as Didi heard that, she decided, 'I will stay pure.' As Didi took a vow of purity, her husband quarrelled with her. He even beat Didi once or twice. Once he even threw a glass at Didi and hurt her head. But Didi was intoxicated in her love for Baba's gyan-murli (the flute of knowledge). As she was listening to the knowledge she would get intoxicated. She would immediately imbibe whatever Baba said and start practising it in her practical life. She had to tolerate lots of assaults after taking the vow of purity. Having become fed up with her husband's cruelty, she had to leave his house and return to her parents. Didi was Mamma's right hand in service tasks.
Administrative skills
After the partition in 1951, when preparations were to be made for this organization to move from Sindh to another place, Baba sent Didi for this task. And it was Didi ji who made all the inquiries and selected Mount Abu for this purpose.
She was the image of knowledge, the image of virtues, the image of yoga and the image of tenderness.
And that was not all about her! Didi had many other virtues. First of all, she was a very diligent student. From 1937 until 1983 she was never absent in Baba's Gyan Murli class. Everyone would see her present in the class with her notebook and her pen. At the time of listening, she would note down certain points of knowledge, and then throughout the day she would share them with the seekers she met. So she remained a diligent student even at the age of 72. And she was also very good in her yoga practice. She would take her bath in the morning and not only would she be seated at 4.00 am according to the discipline but also she conducted meditation for everyone in silence by becoming the image of yoga.
Tireless server
From the beginning of the Yagya, she was very active in taking responsibilities. She did tireless service in this institution by fully surrendering her mind, body, and wealth to the task of awakening people. Even in her old age, she would travel widely across the country doing Godly service everywhere from Assam to Abu, from Kashmir to Kanyakumari, from Kolkatta to Kach. She even went abroad for this elevated task. Even at the age of 72, she would show her care providing thousands of those coming to Madhuban with all the comforts as well as taking them into the depths of Gyan. Day and night she was busy showering everyone with her motherly love.
The life of renunciation
Didi lived a very simple life, from dressing to meals and behavior. In this way, she remained an image of simplicity and renunciation. Whatever possessions she had she gave them as presents to others and was connected in love with God.
Humility
Together with Dadi Prakashmani, Didi Manmohini Ji was carrying out such a huge task of administering a very big international organization. Having an enormous responsibility they could also have enjoyed quite a lot of rights. However, Didi never spoke to anyone with a feeling of having those rights or arrogance of her position. Even if someone disobeyed a particular Maryada (discipline), she would still give them her motherly love so that they did not leave this path of Godly knowledge. Even if someone was dissatisfied because of any reason, she would still sustain them with love so that they remained linked with Shiv Baba and did not leave the path of yoga by sulking with some bodily beings. 'It is this person's mistake, it is their fault, so why should I talk to them?' – she never had such feelings. No, in order to make their mind cool Didi ji herself would say, 'Brother, if there is something like that in your mind, disclose it. All of us are travellers on the same path. In our divine family, we have relationships of souls. And in my heart there are only pure feelings for you.' It was sort of Didi's song for the children, 'I am a soul, and you are a soul. We are brothers. Baba says, Just study and never fight with anyone.'
Loving behaviour
Didi had such a specialty that by coming in contact and relationships with others she would make them feel belonging here through her love. She would give them her motherly love or would offer a solution to their problem. Didi would bind them with the thread of love enabling them to leave whatever was bad in them. Even if that person did not accept those teachings from others, he would easily accept it from Didi. So in her interaction with others, there was a magnetic attraction. No one ever feared to talk to her. On the contrary, they were pulled by her love. In this way, Didi ji enabled them to move forward on this spiritual path. After interacting with her no one remained distant from gyan (knowledge). The doctor (Dr. Bhagawati) who operated on Didi began considering Didi to be her mother. Didi ji's interaction was filled with love but at the same time, her stage was constantly beyond. Whenever she gave someone some toli she would ask, 'Have you eaten it in Shiv Baba's remembrance or not?'
Entertaining
Didi ji was not just an image of tapasya but also very entertaining. She would listen to jokes and tell jokes but at the same time, she would make those jokes polite and spiritual. She was not dry and even at that age she was simple and joyful like a child.
Conqueror of sleep
All those who came in contact with Didi ji know that Didi ji slept very little. She would renounce her night sleep and practice yoga individually. Sometimes she would wake up at two o'clock in the morning and sit for quite a long time remembering Avyakt BapDada. At other times also she paid special attention to the pilgrimage of Godly remembrance. The fruit of that tapasya is that she won in the race of knowledge and yoga and got into the list of those who are number one.
Essence
Didi was Loving, royal, attentive, simple, Yogi, conqueror of sleep, cheerful, and responsible.

REPLAYS of recent Broadcasts by Sister Shivani July 21st through 27th
28 July 2020
(Note that all have English subtitles or are in English.)
27 July - Guided Meditation for Happiness and Health [20:31] https://youtu.be/2zhCY0Pfk9U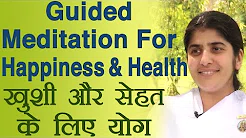 25 July - Simple Steps to Self Transformation [15:17] https://youtu.be/WfhirFQMkio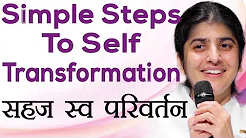 23 July - How to Cope With Change? [23:07] https://youtu.be/agNgFbUy3NU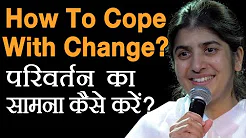 21 July - Program Your Mind to Think Positive Always [12:13] https://youtu.be/NNyi79waycY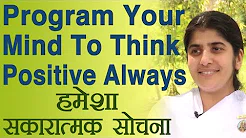 Didi Nirmala - Further health update
28 July 2020
Dear Divine Family, Greetings from Madhuban.
Didi Nirmala has come out from the operation theatre. She asked me to share the message that the operation went successfully. Then Dr Banarasi shared the news in detail as follows:
"Didi's operation has been carried out successfully. Now she has been brought to her room. She has been given water. After one hour she will take meals. She has not been given any dietary restrictions. Everything is ok. Yaad-pyar from Dr Banarasi bhai."
In Baba's yaad,
Br Charlie

Didi Manmohini (A Film With English Translation by Sr Manda)
28 July 2020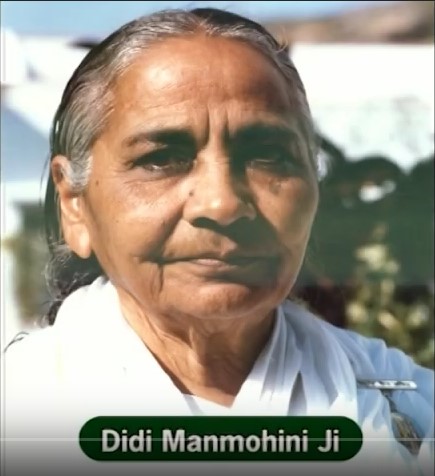 Didi Ji left her body on 28th July 1983. This video is a collection of memories of Didi, both audio and video, from different occasions. Click on the above image to play. [51:56]
Please also see Sister Jayanti's class with London on 26th July on Memories of Didi. Just click here.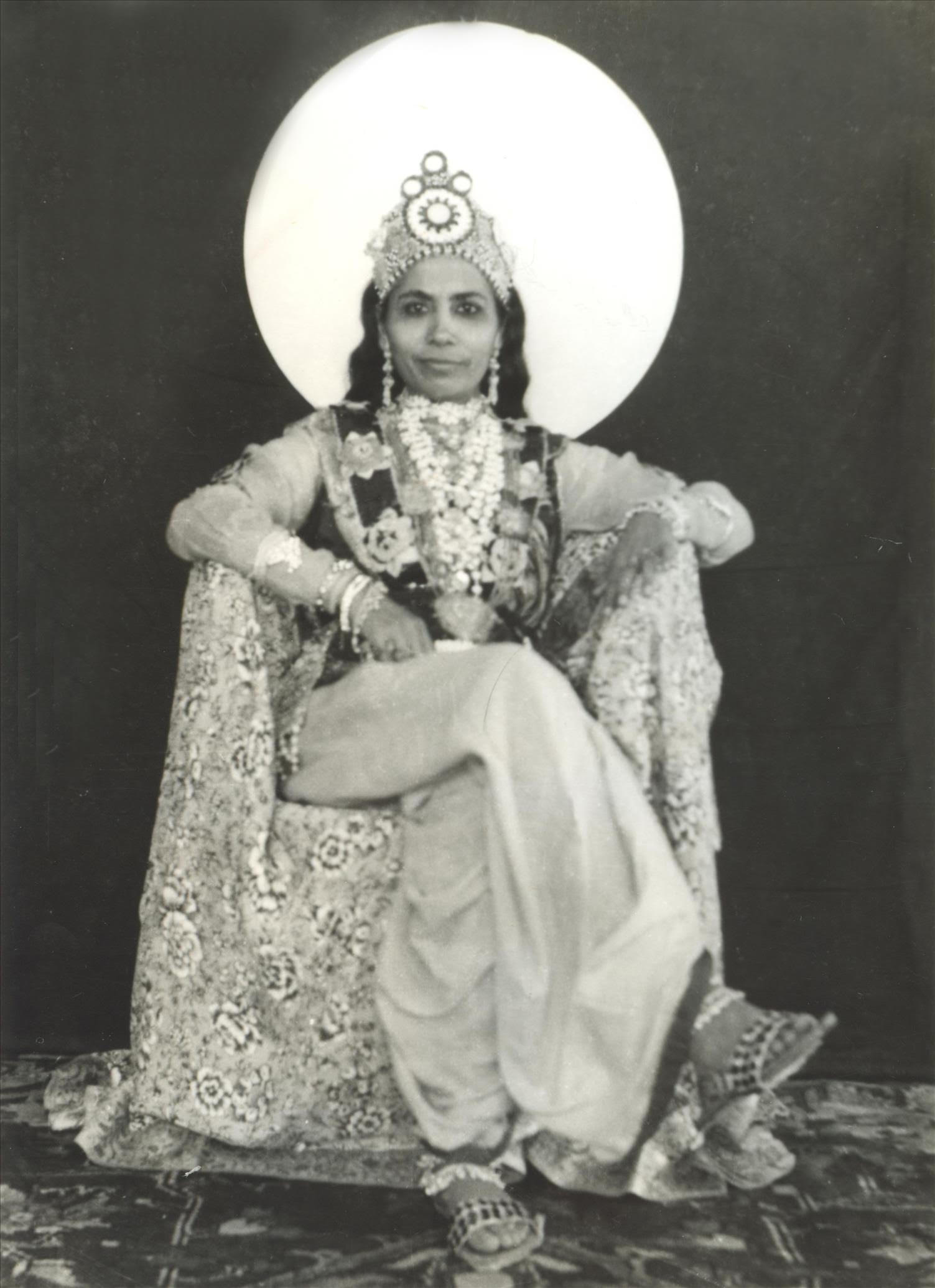 REPLAY: 24 July - Relationship with Time - Dealing with Uncertain Times from a Spiritual Perspective PLUS Links to Previous Three Broadcasts
25 July 2020
Dear Divine Family,

Recently there has been a series of on-line panels for BKs to discuss ways they are Dealing with Uncertain Times from a Spiritual Perspective.

This series is intended to engage BKs in personal reflection and learn from senior brothers and sisters who have been experimenting with spiritual solutions to practical challenges for many years.

Please see the recording link for Conversation #4 Relationship with Time with Br Charlie (Australia), Sr Pratibha (South Africa), Sr Kim (Malaysia).
This is a private link for BKs only. See recording links for 3 previous conversations below. https://youtu.be/P8u2JnK8IWQ

With warm regards,
in Baba's yaad,
The Spiritual Conversations Team
#1 Financial Insecurity
Ken O'Donnell (Brazil) and Mara Gomes (Portugal)
#2 Intensification of Purification: Emotional Eruptions and Relationships
Gopi Patel (UK), Pamela Donnellan (Australia) and Enrique Simo (Spain)
https://www.youtube.com/watch?v=a10cX_Gv64Q&feature=youtu.be
#3 Finding Your Place: Belonging
Moira Lowe (Argentina), Rita Cleary (Boston), Ash Patel (UK)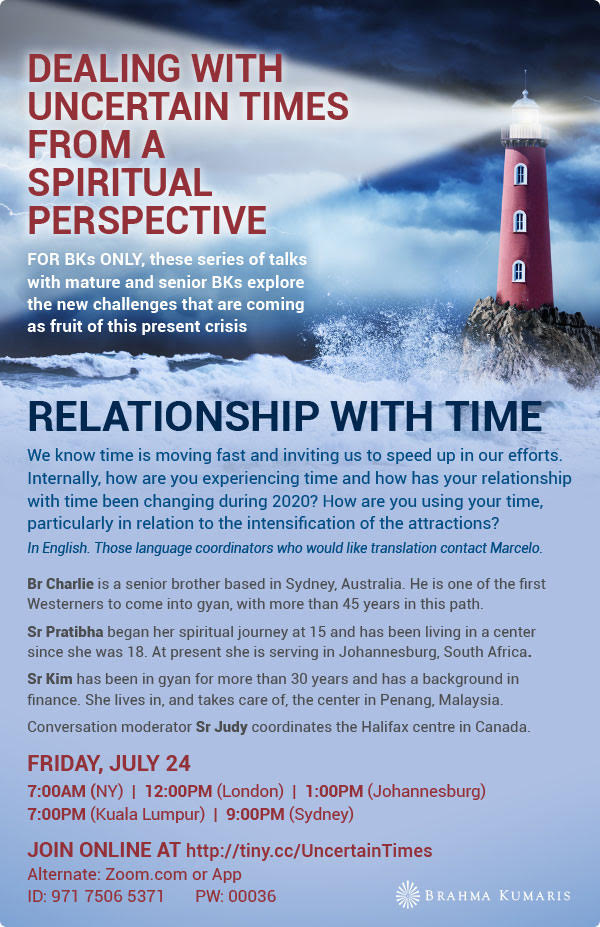 REPLAY of Exquisite Exchanges with Our Future Form - A Conversation Well Worth Hearing which premiered on July 15
25 July 2020
Dear Divine Family, Warmest greetings of love,
We are attaching an invitation to a conversation on July 15 with Br Charlie, Sr Manda, and Sr Waddy on Exquisite Exchanges with Our Future Form can be replayed by clicking on this link: https://youtu.be/sp_BOIVLMOM..
This conversation has grown out of the Exquisite Exchanges with My Future Life Journal. For more information about the conversation, please email us at exquisite.exchanges@au.brahmakumaris.org
Much love,
For the Exquisite Exchange Team
Judy J, Petra, and Trish
Click here for Exquisite Exchanges - Invitation letter in PDF file format.

A special invitation for BK young adults globally: Pilgrimage of power Yoga Bhatti Sat 25 July
24 July 2020
Dear Divine Family,
(Please forward this invitation to all BK young adults in your area)
A special invitation for BK young adults globally - Sat 25 July 2020 - Pilgrimage of Power yoga bhatti.
Please find attached below the invitation flyer (in pdf format) here.
Timings are:
Sydney – 20:30
Delhi – 16:00
London – 11:30
Nairobi - 13:30
New York – 06:30
Please register: bkiyf.eventbrite.com
Zoom Event:
Meeting ID: 961 9374 0369
Password: peace108
The event is for BK young adults (aged between 16 - 40) and youth instruments who hold responsibility in the yagya. It is also open to those 'graduates' (outside the age range) who have participated in previous IYF programmes or have been involved in local/national youth service in their areas.
Many thanks,
In Baba's yaad,
BK Gopi on behalf of the IYF Online Programmes Team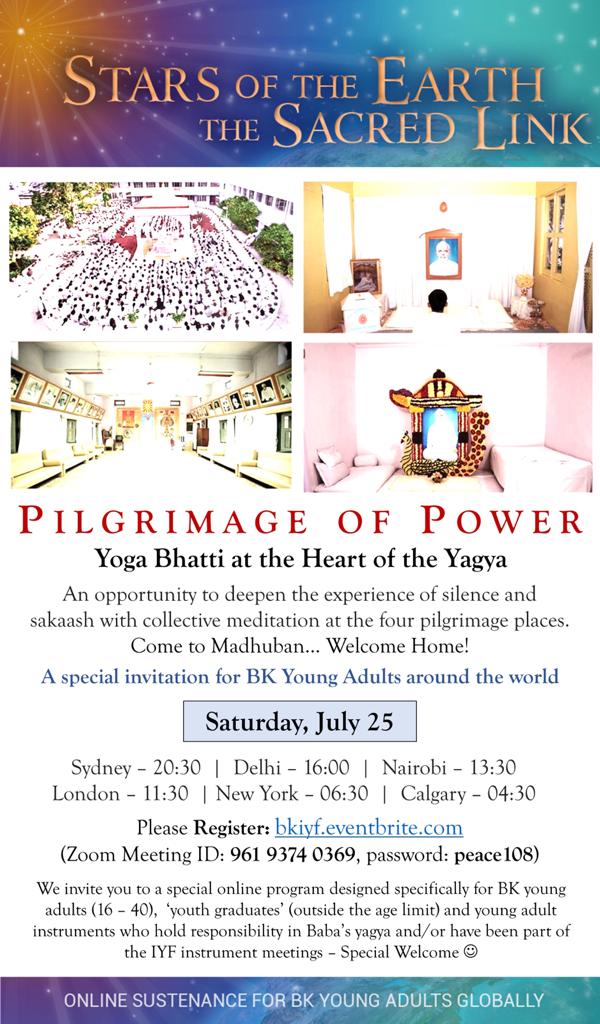 Please register: bkiyf.eventbrite.com


REPLAYS of recent Broadcasts by Sister Shivani from July 14 - 20
24 July 2020
20 July - Are people's behaviour troubling you? [29:04] https://youtu.be/lA5jhP2z3GI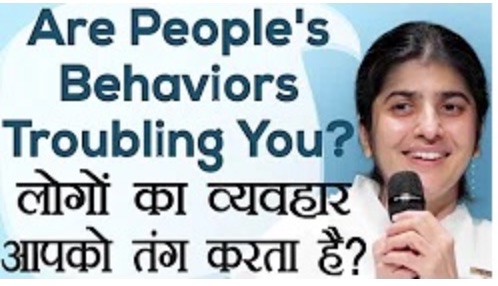 18, July - Keep Your Karmic Balance Sheet Clean [15:17] https://youtu.be/hpYg4DE8TU0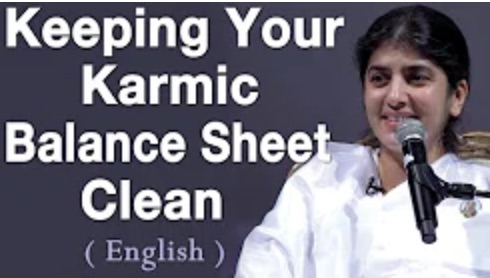 16 July - Steps to Finish Fear & Anxiety [20:17] https://youtu.be/q2-Axw5EZ30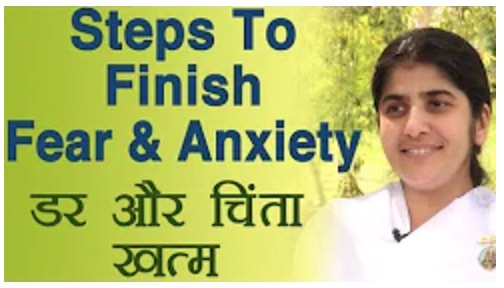 14 July - You Have Strong Will Power [29:15] Ep 23 of BEING Series https://youtu.be/2gJx3l8lv1A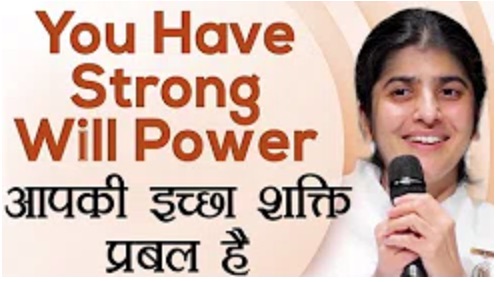 Message regarding Didi Nirmala's health
24 July 2020
Dear Divine Family,
Recently Didi Nirmala has not been feeling well. She went to Global Hospital and it was found her blood pressure was low and so was her heart rate. Her Physician asked her to do an ECG and as a result has advised her that she will need a heart pacemaker which will ensure a normal heart rate.
Didi Nirmala left for Ahmedabad yesterday Thursday 23rd and is presently in hospital there and will have the operation to put in the pacemaker on Monday 27th July.
Didi would like to thank all those sending her messages of love and good wishes.
I will keep in touch with more news.
Much love in Baba's yaad,
Charlie

Signals from Avyakt BapDada
24 July 2020
Dear Divine Family,
The festival of Raksha Bandhan is a chance to deepen our tapasya and to accumulate the 'shakti' to remain stable as each scene of the drama unfolds in front of us. To help us do this, we are sending you some signals from Avyakt BapDada to help us understand what stage we should have and what actions we should take at the current, critical times.
With love,
in Baba's yaad,
RCs

Invitation: Screening & Meet the Cast: 8 Postures of the Heart: Wed. Jul. 29 @ 7pm EST
24 July 2020

Peace Village is happy to invite you to this movie screening ......
8 Postures of the Heart
The Greatest Love Story of All, Between the Soul and God
Throughout time, the most urgent search is that of the soul for God. This is a great love story told by eight Raja Yogi storytellers and eight musicians in celebration of UN International Yoga Day.
Join these experienced mediators from around the globe sharing a piece of their story in search of God, in finding God, and in loving God. The virtual screening of this one hour film, 8 Postures of the Heart, will take place on:
Wednesday, July 29
7:00 - 8:30 pm
After the screening, you will have the wonderful opportunity to meet some of the cast and musicians.
Reserve your seat: Zoom
Watch live on YouTube
Watch live on Facebook
Click on the flier to download.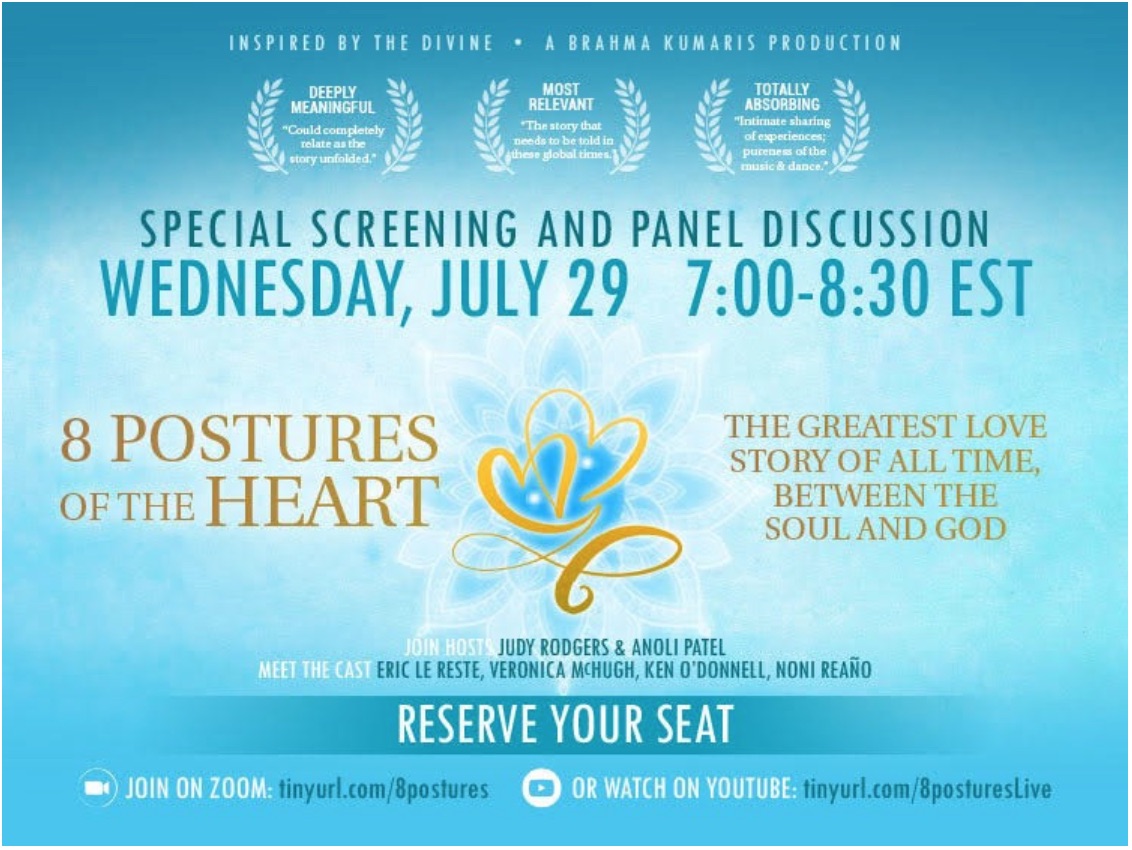 In Images: Didi Manmohini - July 28th is her Memorial Day
23 July 2020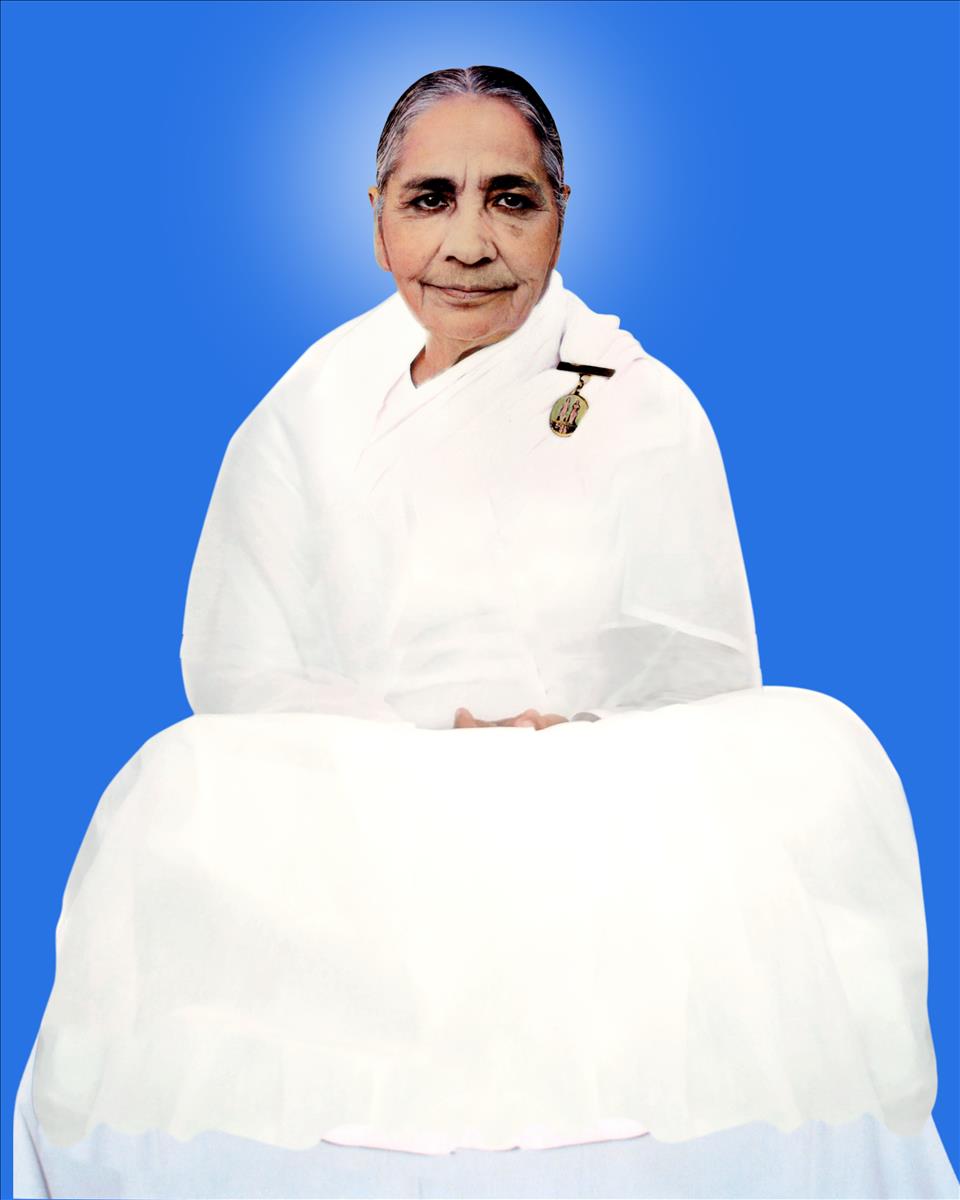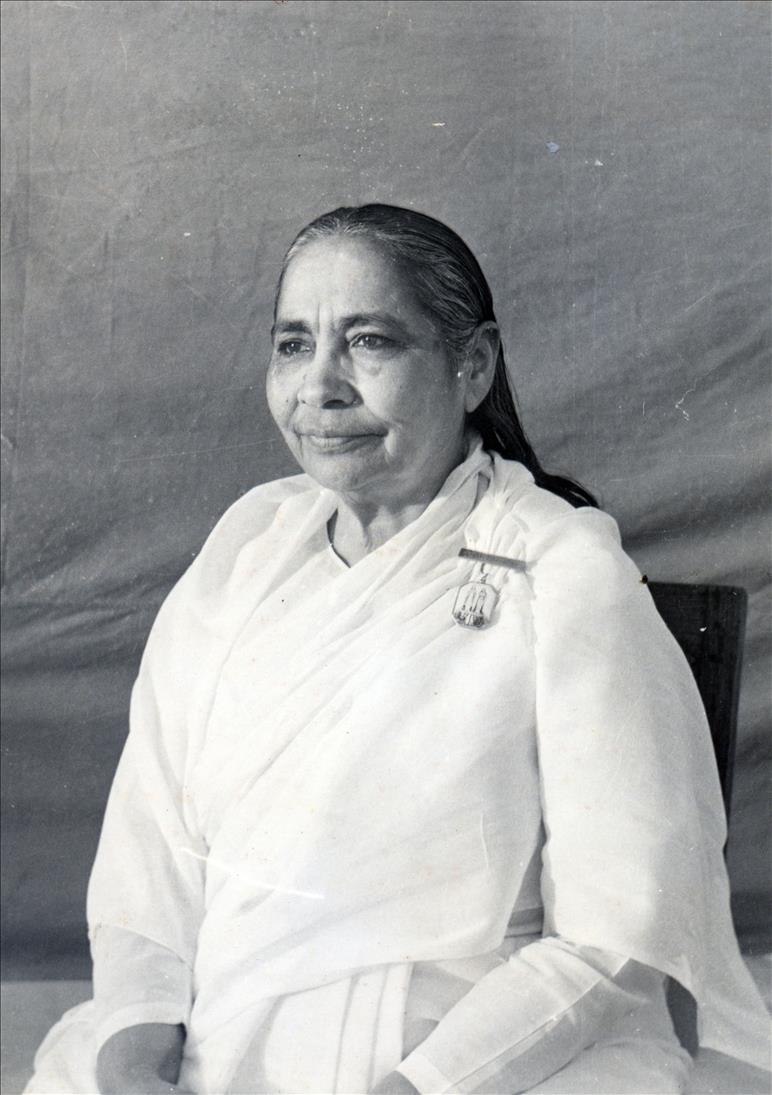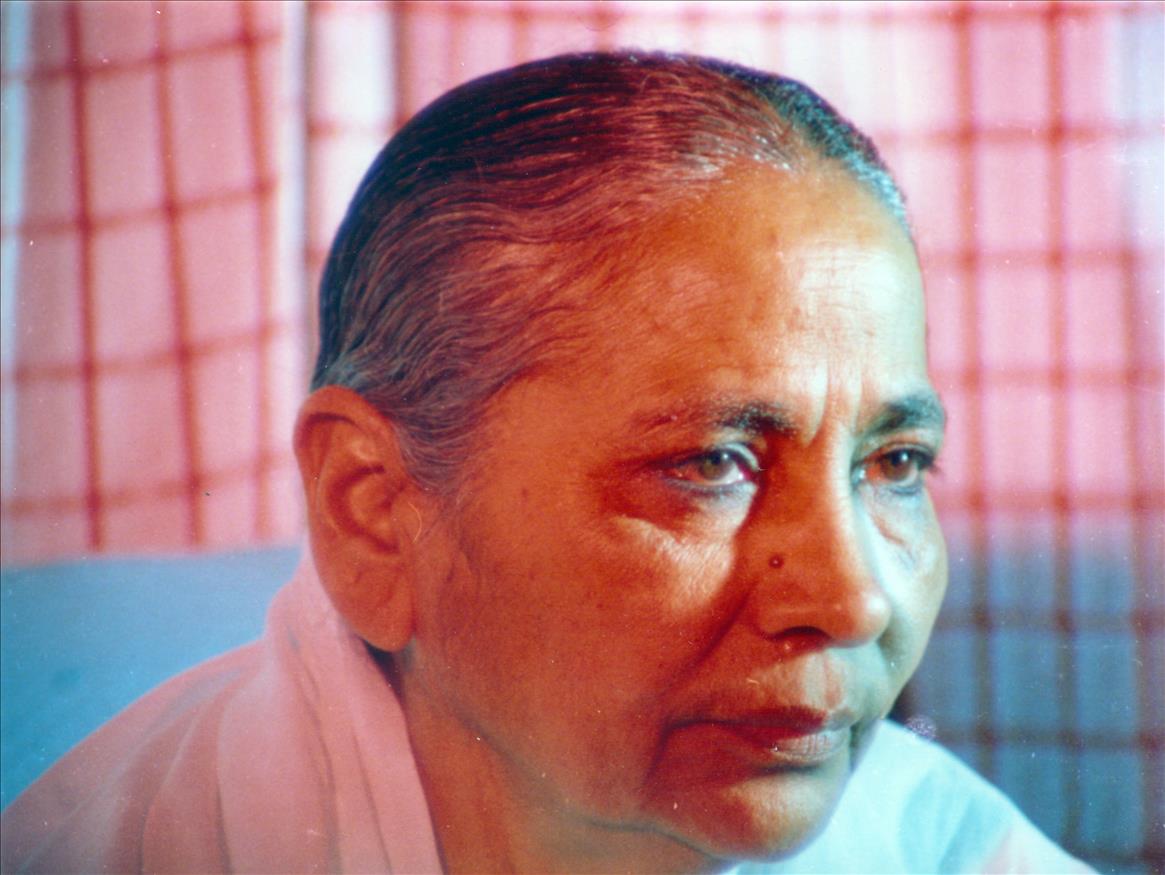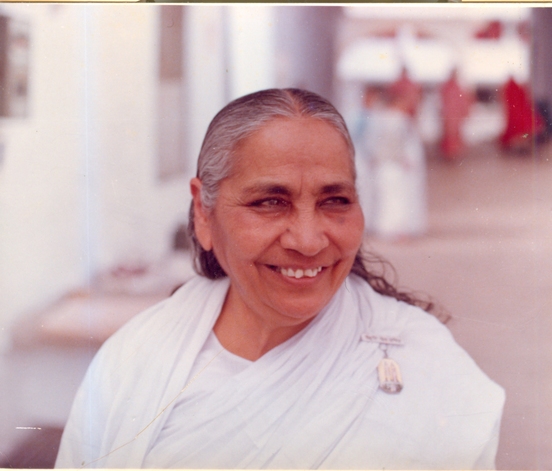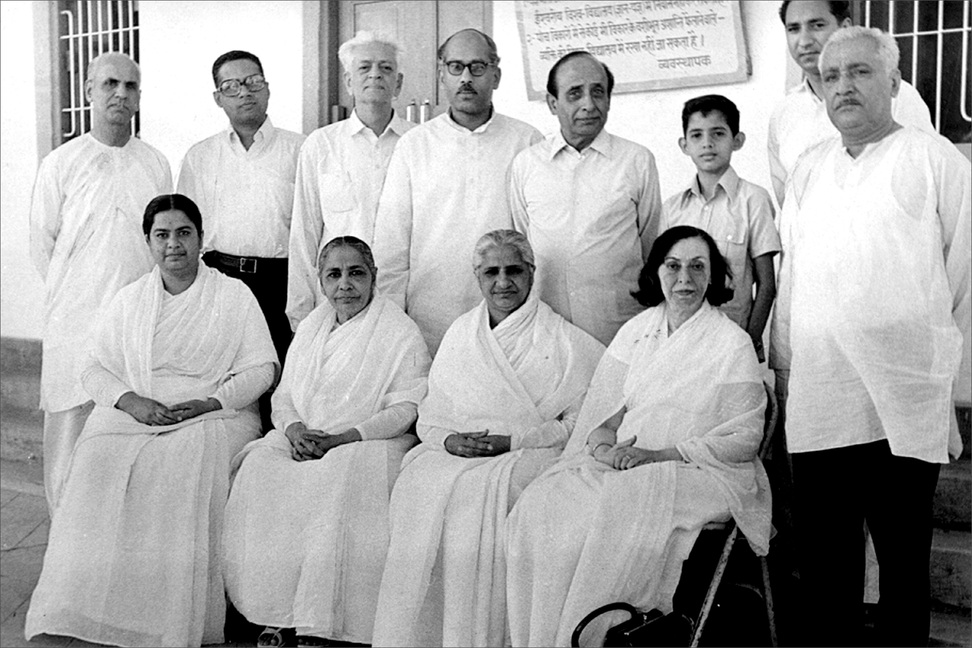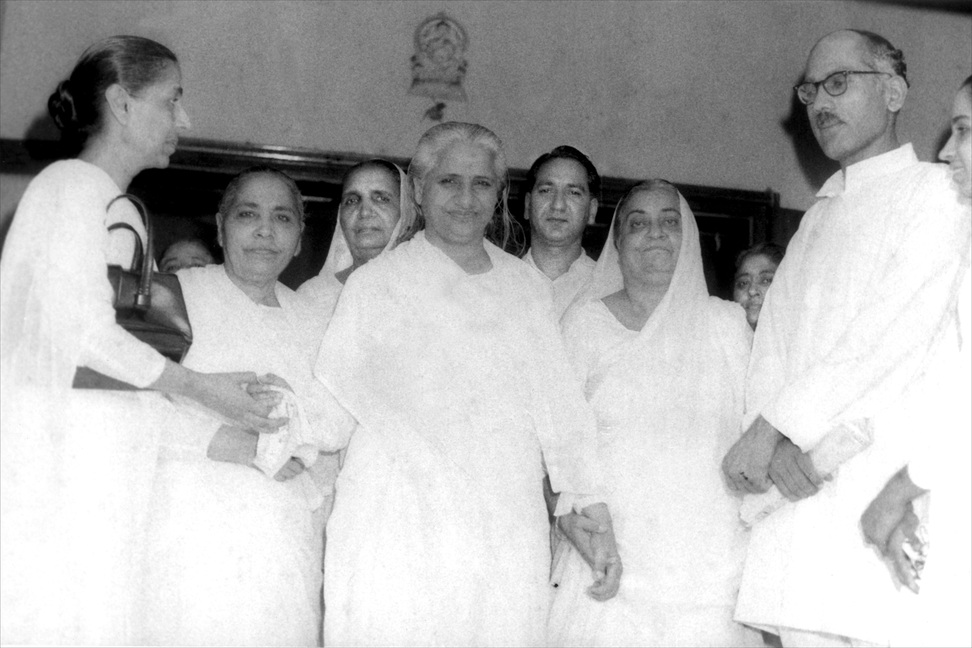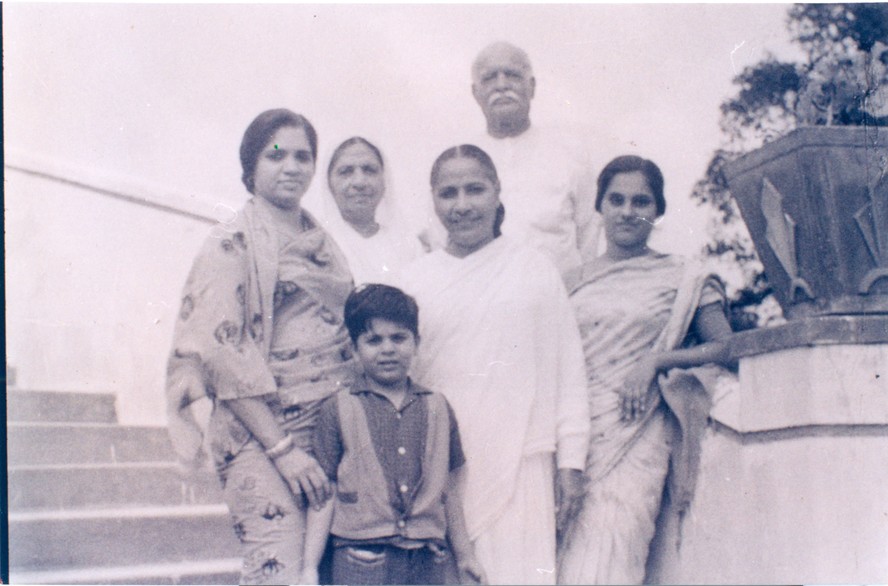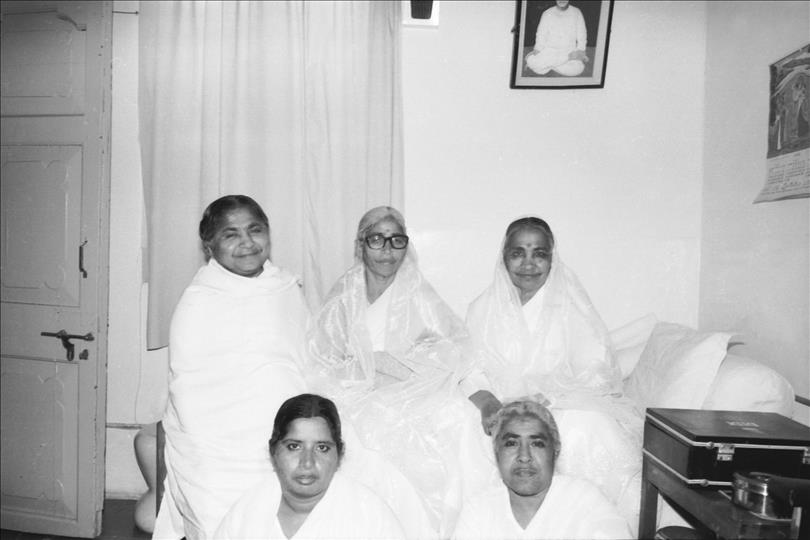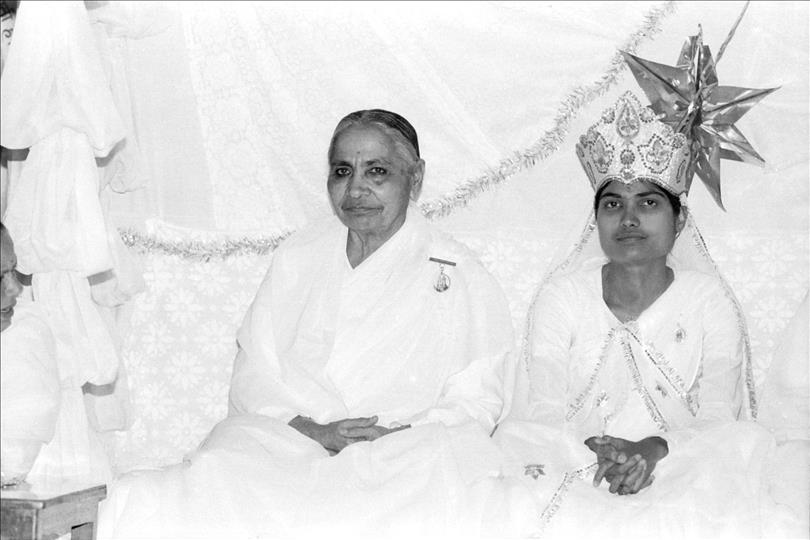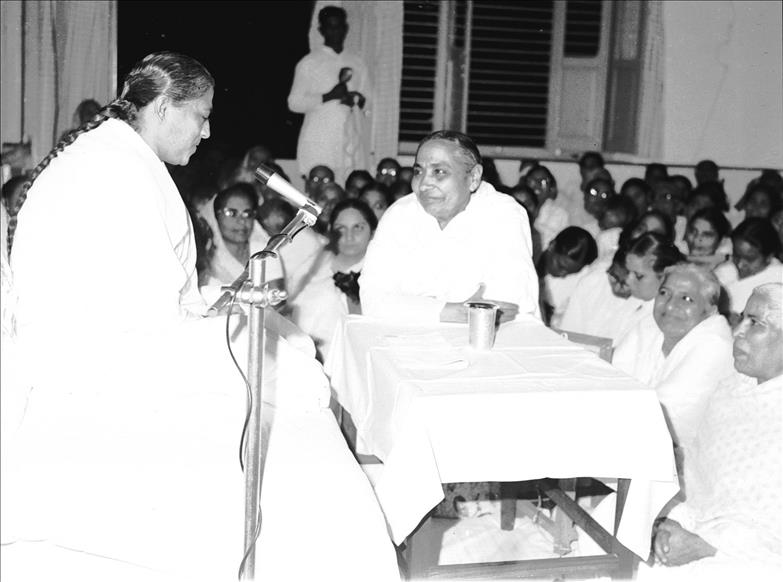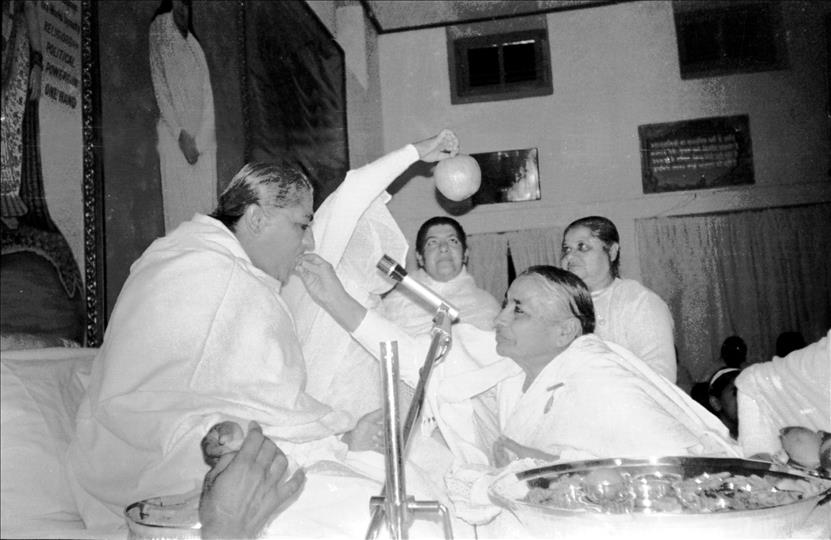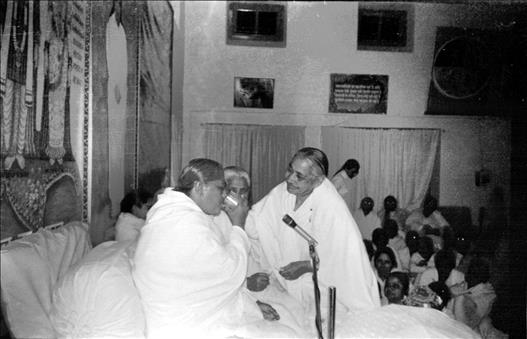 "Women – Key to Change the Society" Women's E-Conference on July 25th and 26th
23 July 2020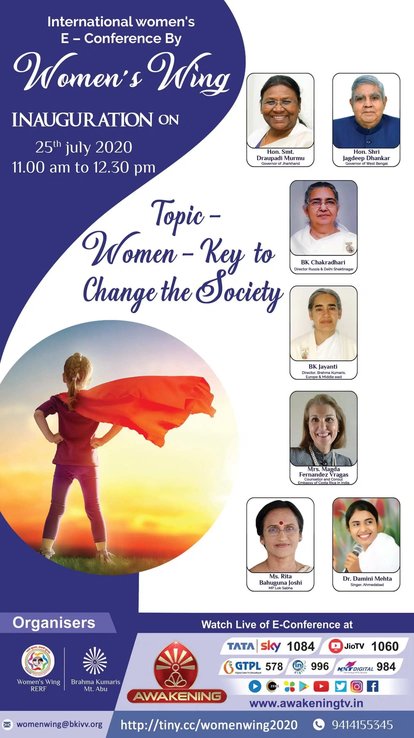 Dear divine family, Om Shanti. Please accept Divine Greetings of Peace.
Thanks for your kind cooperation and help to glorify the Baba.
We are very happy to share about our upcoming Women's wing Online E-Conference.
Please circulate in your areas, so that the women of your center and of your contact can take the benefit of this E-conference.
Inauguration of International Women's E-Conference by Women's Wing on July 25th:
Topic – Women – Key to Change the Society
From 11 AM to 12:30 PM IST
Speakers:
Hon. Smt. Draupadi Murmu, Governor of Jharkhand, Hon. Shri Jagdeep Dhankar, Governor of West Bengal, BK Chakradhari, Director Russia & Delhi Shaktinagar, BK Jayanti Director, Brahma Kumaris., Mrs. Magda Fernandez Vragas, Counsellor and Consul Embassy of Costa Rica in India, Ms. Rita Bahuguna Joshi, MP Lok Sabha, and Dr. Damini Mehta, Singer, Ahmedabad.
Topic – Tips for Good Parenting – July 25 from 6 PM to 7:30 PM
Speakers–
BK Shivani Renowned Motivational Speaker, Ms. Sangeeta Beniwal, Chairperson, Rajasthan State Commission for Protection of Child Right, Jaipur, Ms. Manasi Pradhan, Founder, Nirbhaya Vahini, New Delhi and BK Yugratan Singer, Durg.
Topic- Holistic Development of Women – July 26 from 11 AM to 12:30 PM
Speakers:
BK Sudha, Russia, BK Sudesh, Germany, Ms. Kalyani Sharan, Chairperson, State Women Commission, Jharkhand, Ms. Sheena Chauhan, Renowned Indian Actress & Human Rights Educationist, Dr. Seema Rao, India's First Woman Commando Trainer, Dr. Savita H.Q. Coordinator. Women Wing and Dr. Damini Mehta, Singer, Ahmedabad.
Topic – Values for Social Change – July 26 from 6 PM to 7:30 PM
Speakers:
BK Sharda National Coordinator, Women Wing. Ahmedabad, BK Poonam Subzone Incharge. Jaipur (Rajapark), Ms. Pragya Prasun Founder, Atijeevan Foundation, Bengaluru, Mrs. Alokananda Roy, Renowned Artist and Social Activist, Mrs.Mugdha Sinha (IAS) Secretary of Art, Literature, Culture & Archaeology Dept. (Raj.), Mrs. Ekktta Sinha Features Head – Raj Patrika. Delhi, BK Asmita Singer, Kolkata.
e-Conference Promo Link:
https://youtu.be/bA1XYY0-Ric
Watch Live of E-Conference at http://tiny.cc/womenwing2020
Tata Sky: 1084
Jio TV: 1060
GTPL: 578
InDigital: 996
NXTDigital: 984
All Sessions will telecast on Awakening Channel. www.awakeningtv.in
Contact – +91 9414155345

Progress Report on the Health & Hygiene and Water Project - Madhuban Campuses
22 July 2020
Om shanti and loving greetings from Madhuban.
COVID 19 has brought many surprises as well as gifts. Here in Shantivan, almost all work had stopped for 2 months and no labour are allowed into the campus. In all three campuses, it has given the residents to 'spring clean' and many have appreciated it. The atmosphere of tapasya is intensifying everywhere. In the last few weeks we have also restarted the work on the finishing of the Water Treatment Plant project in Shantivan.
Of course, such times have brought an even more intense focus on improving Health and Hygiene in all our campuses. To safeguard our immediate future, we are making water safety and kitchen/food hygiene a top priority.
In this light - our focus over the next 6 - 8 months is the following:
Phase 1 - Finishing Shantivan WTP + Vegetable Area expansion
Phase 2 - Pandav Bhavan WTP and Gyan Sarovar WTP installation
Phase 3 - Dishwashers for Shantivan and Gyan Sarovar
* WTP = Water Treatment Plant
Please find attached a summary report of the works so far.
With everyone's finger of co-operation we will fulfill Baba's unlimited task.
If you have any queries or feedback, please do contact your RC for further details.
In Baba's yaad,
Dr Nirmala
On behalf of the HH Steering Committee
Attachment1: Instructions for Indian and Foreign Passport Holders
Attachment 2: Donation Letter/Form
Attachment 3: Progress Report of HH/Water (pdf file)

2020 July through August Archive of International News
2020 Jun Archive of International News
2020 Apr through May Archive of International News
2020 Mar 18 through Mar 31 Archive of International News
2020 Jan through Mar 17 Archive of International News
2019 Aug-Dec Archive of International News
2019 Jan - Jly Archive of International News