International News
International News
The Daily Guardian - Delhi 25th June
27 June 2022
Click on the image to download a pdf version of the page.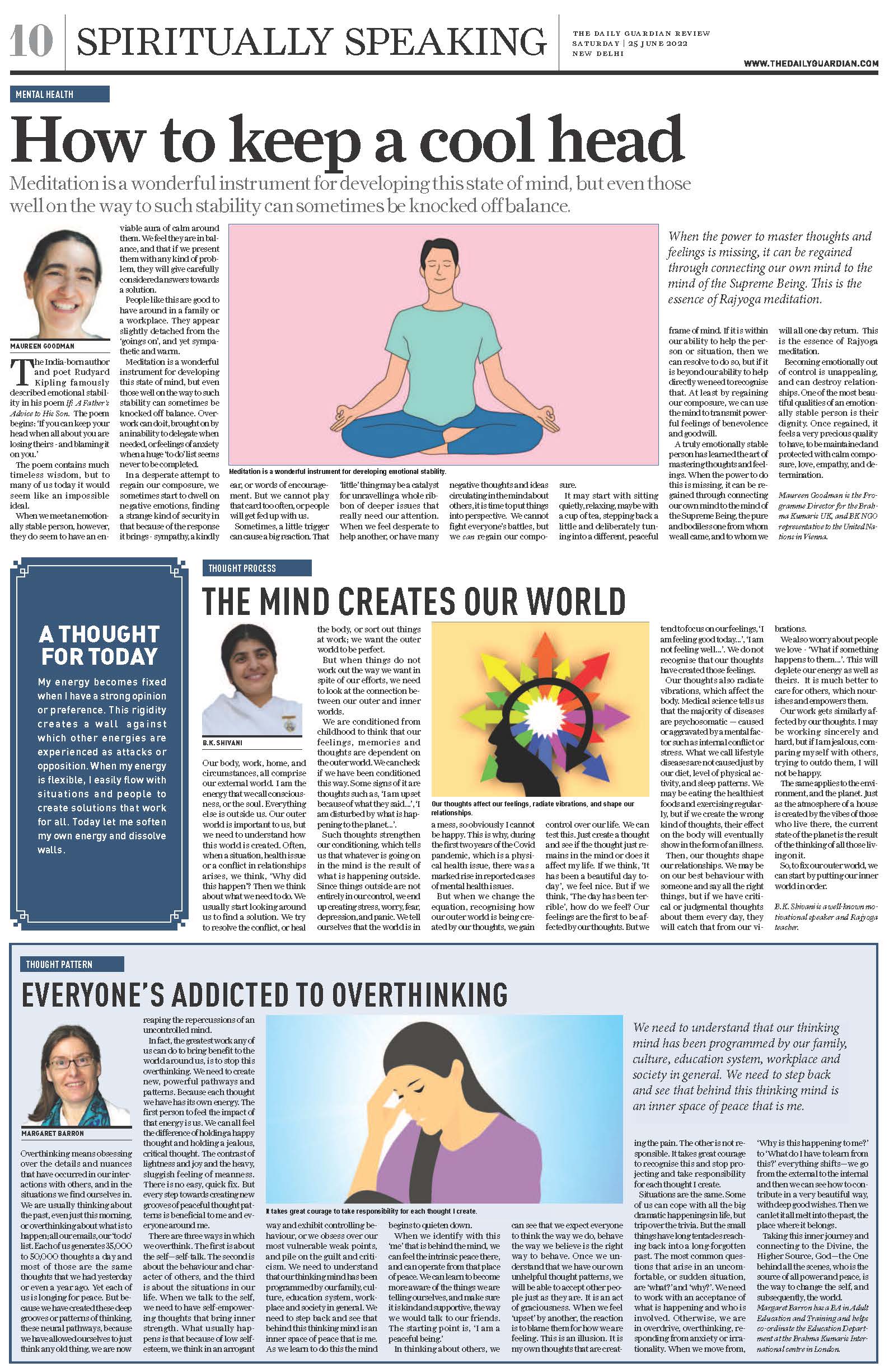 Global Bhatti - Saturday, 25 June - Mama as a Mirror: Becoming an Image of Tapasya
20 June 2022
Dear Divine Family,
The monthly Global Bhattis continue on Saturday, 25 June, 2022 with the theme Mama as a Mirror: Becoming an Image of Tapasya.
Inspirations and excerpts will come from Mama's elevated versions to reawaken our image of tapasya. A talk by Sushma Didi from Jaipur, who knew both Mama and Brahma Baba, will be available along with a meditation commentary.
Please find the timetable below to use as a guide and feel free to adjust it to suit your centre or your own needs. A beautiful flyer is also attached. Our goal is to have 8 hours of powerful tapasya to benefit ourselves and the world.
The Global Bhatti Portal bkmeditation.online/Global-Bhatti-2022 is your source for all this wealth of materials.
Finally, please be reminded to post your yoga minutes on the Billion Minutes of Peace initiative also found on the portal. These minutes of your yoga can be added at any time. Let us reach a billion minutes!
In BapDada's loving remembrance,
BK Mohini and BK Jayanti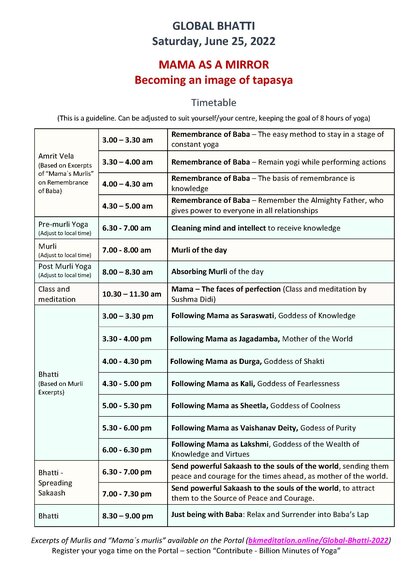 The Daily Guardian - Delhi 18th June
19 June 2022
Click on the image to download a pdf version of the page.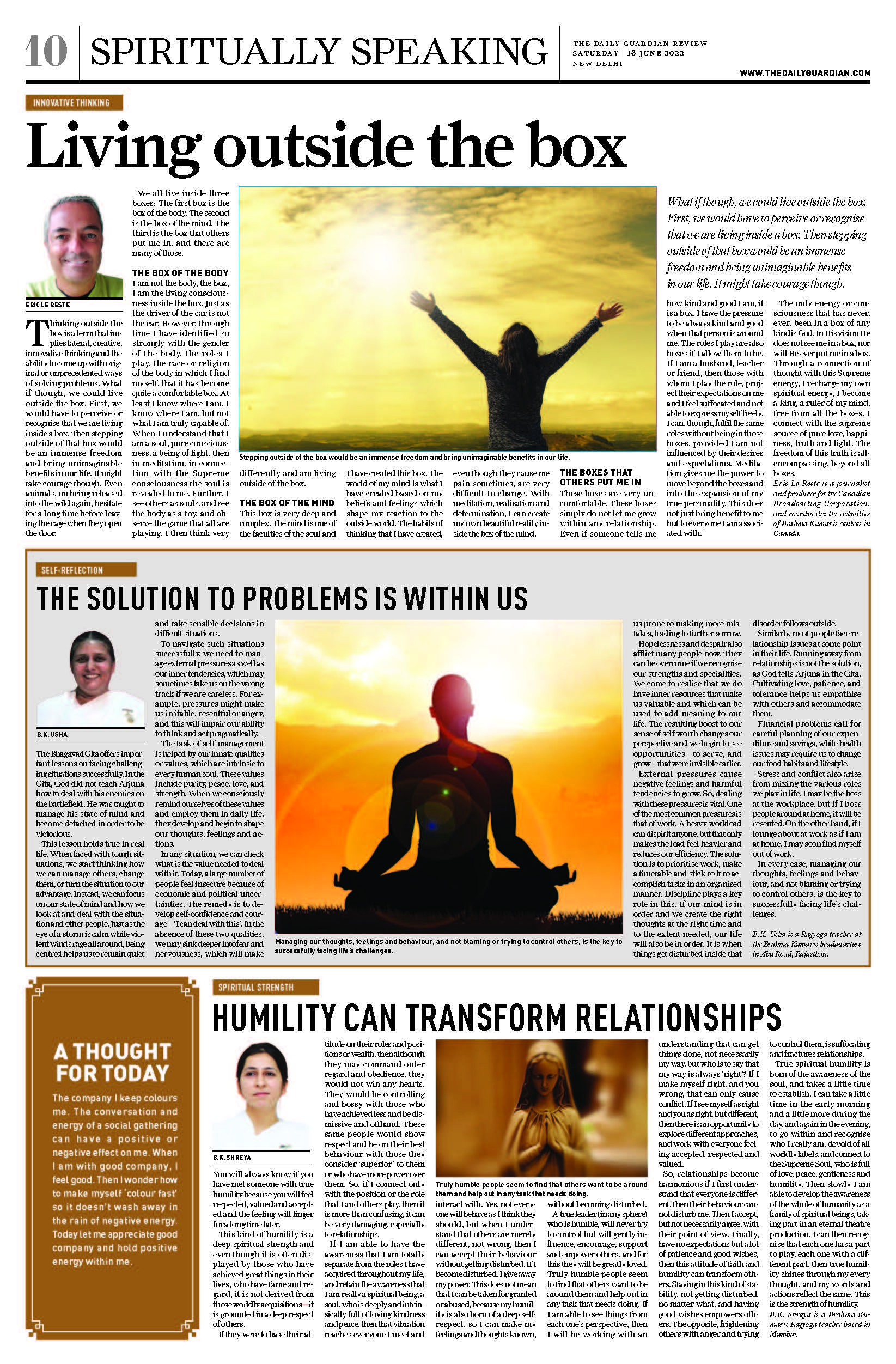 Kalp Taruh - Project Information for International Centres
17 June 2022
Dear Divine Family,
We warmly invite you to participate in a special project 'Kalp Taruh' initiated by Brahma Kumaris India. Its objective is to plant trees, with a focus on consciousness and values that can nurture humans and all life forms.

The aim of this project is to empower each being/soul (ruh) and restore the environment by planting trees (taru) with right thinking (kalp). This environmental activity will reconnect us with our innate values. The programme was launched on 5th June 2022 (50th World Environment Day) and will conclude on 25th August 2022 (celebrated by Brahma Kumaris worldwide as 'Universal Brotherhood Day').
We plan to encourage each person to plant at least one sapling of a fruit tree, native to their geographical region. We aim to achieve a successful plantation of over 4 million saplings by 4 million people within these 75 days following the principle '1 person 1 plant for 1 planet'. We encourage each centre to plant at least 75 saplings, possibly with the co-operation of individuals and organizations etc. It is our spiritual, social and environmental responsibility to promote environmental actions and a sustainable lifestyle. You can register the saplings planted on our Kalp Taruh mobile app which will also provide tips on planting and sustaining the sapling and tracking its progress. Daily spiritual motivation, activities and inputs will be provided to those registered on the app for their spiritual growth. Caring for the sapling will increase spiritual values like Compassion, Tolerance, Humility, Love and Peace in the individual.
Please do look at the attached documents and videos and encourage students to plant a sapling. All the material for translation can be found on the website.

Useful websites are:
https://www.brahmakumaris.com/kalp-taruh/
Intro video (2 min) https://www.youtube.com/watch?v=PHAmAtI2aiE
https://play.google.com/store/apps/details?id=com.bk.kalptaruh
https://apps.apple.com/in/app/kalptaruh/id1627213859

With love,
in Baba's yaad,
BK Mohini and BK Jayanti
click here to download Brochure
click here to download Important links
click here to download short project
click here to download Presentation

IMPORTANT: Registration Open for Global Summit 2022 on "India - The Harbinger of World Peace" (10th to 14th Sept. 2022) at Brahma Kumaris, Shantivan Campus, Abu Road
17 June 2022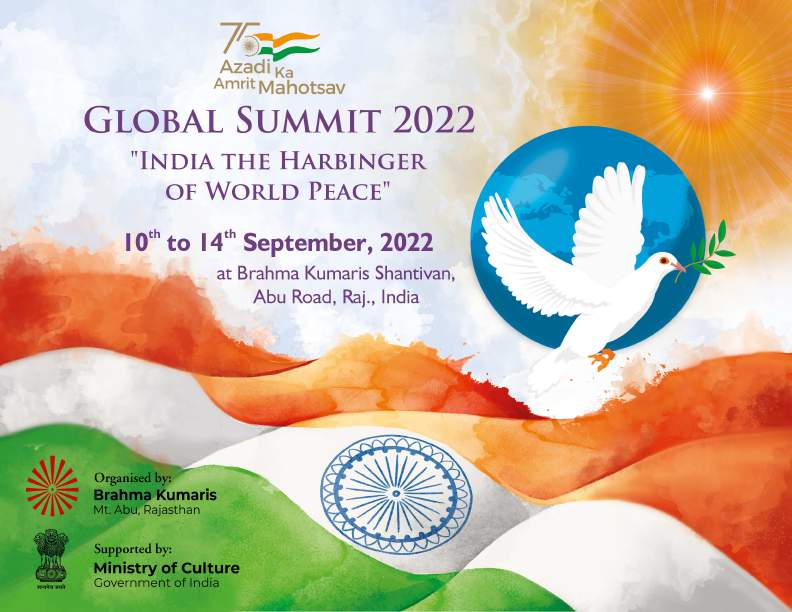 BapDada's most loving and Serviceable Instruments around the Globe, Multi-Million times greetings and best wishes!
We wish to inform you that the Global Summit 2022 on "India - The Harbinger of World Peace" is scheduled to be organized and hosted from 10th to 14th September 2022 at Brahma Kumaris, World HQs. in Shantivan Campus, Abu Road, Rajasthan, India.
We extend a hearty invitation for this Memorable Summit to the prominent internationally reputed scientists, spiritual leaders, environmental scientists/leaders and distinguished dignitaries from different fields such as science & technology, politics, spirituality, media, corporate sector, business & industry, defence, art & culture, education, economics, administration etc.
In order to invite the VVIPs, VIPs and IPs to this program, the following points should be taken into consideration.
Registration of Guests:
1. For inviting VVIPs and VIPs such as Governors, Chief Ministers, Central Ministers, Top Scientists, Top Environmentalists, Top Industrialists, Supreme Court Judges, Famous Media Personalities, International Sports Persons, and Renowned Religious Leaders, you can email us their list on our email id bkiccf@bkivv.org so that after scrutiny we will send invitation letters for inviting them. You can collect the folders and invitation letters from Anand Bhawan 3rd Floor Office and inform us of the confirmation of these guests.
2. For inviting IPs, you can collect Program Folders from Anand Bhawan 3rd Floor Office and register these guests from BK Centres on our accommodation website accomabu.bkinfo.in. The IPs include State Ministers, MPs, Commissioners, IAS, IPS, IRS, IFS officers, MLAs, High Court Judges Mayors, Councilors, Engineers, Doctors, Business Man, Builders, Advocates and Educationists. The permission will be given after scrutiny. Kindly upload the professional Id Proof of your guests.
3. Please note this is not a general conference, therefore, School Teachers, Farmers, Land Lord, Nurses, and students are not allowed in this conference.
You can register the guests under the program name 'Global Summit 2022 (10th - 14th Sept. 2022) ' on our accommodation website
Please note we won't accept any guests' lists (except VVIPs) on email.
Registration of Sewadharis:
Please note that without the sewadharis, no guests' registration will be accepted. Register 1 sewadhari on every 4 guests' registration. The BK Teachers and Guides will not be considered sewadharis.
You can register your sewadharis as BKs on the accommodation website.
Arrival Date for Sewadharis: 7th September 2022
Departure Date for Sewadharis: 15th September 2022
For further assistance, please contact BK Shivika at +919079092434
With love and Regards,
Your Spiritual Brother
Dr. BK Mruthyunjaya
Executive Secretary, Brahma Kumaris
Mount Abu
9414154848

The Daily Guardian - Delhi 11th June
11 June 2022
Click on the image to download a pdf version of the page.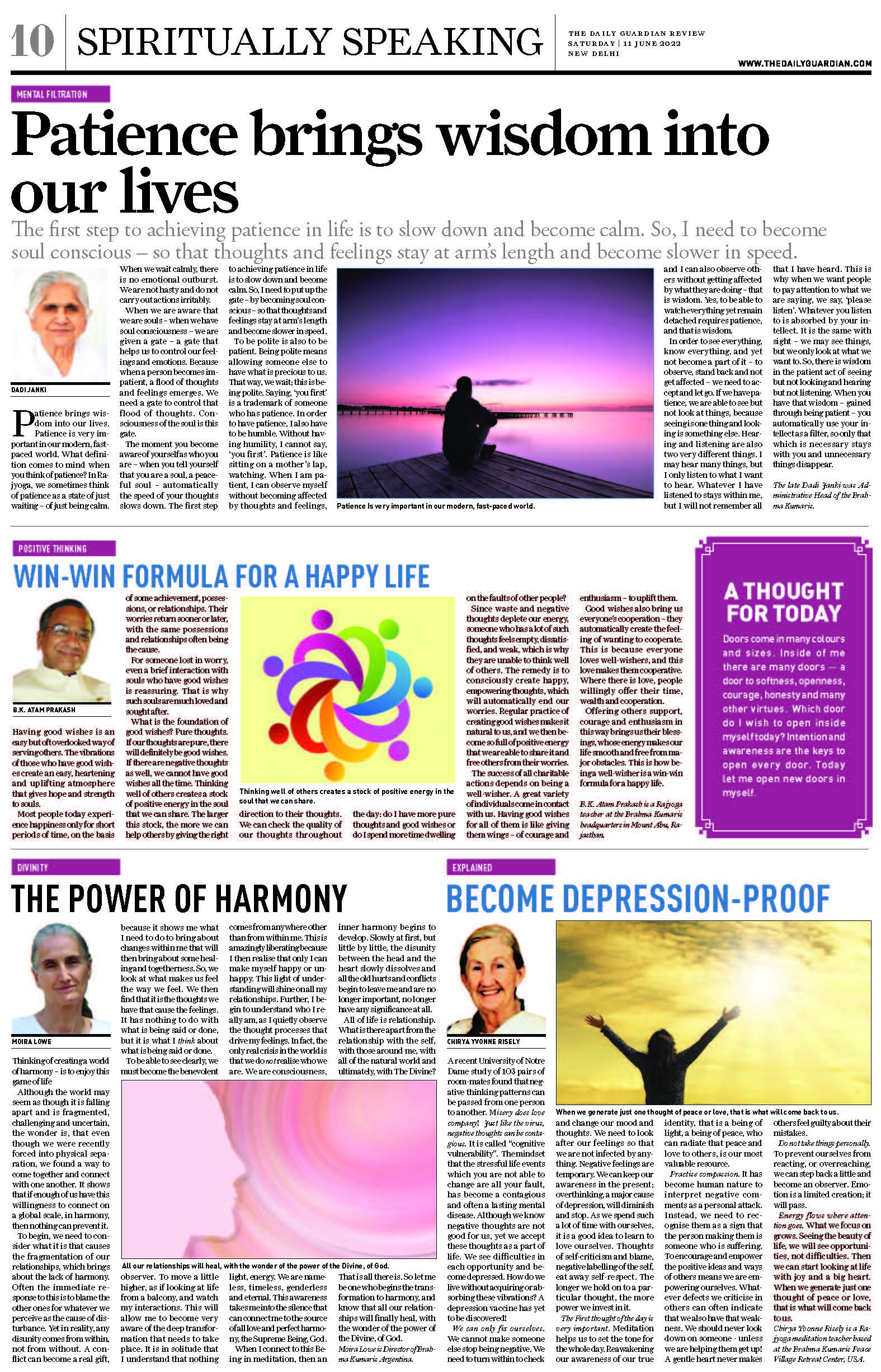 The Daily Guardian - Delhi 4th June
7 June 2022
Click on the image to download a pdf version of the page.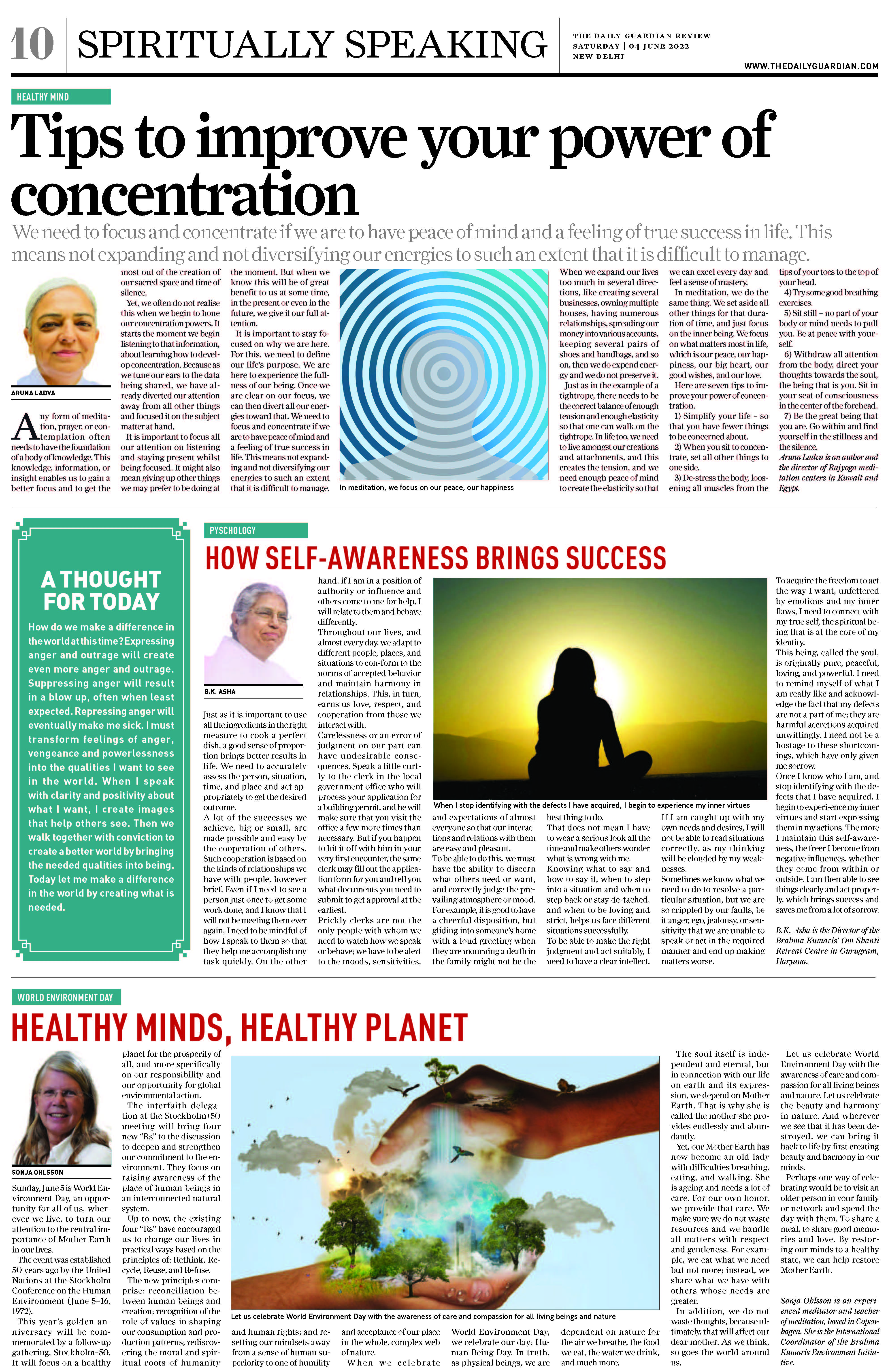 Golden Drops Introduction by Sr Mohini, Sr Jayanti, Br Charlie, Social Media & Workshop Date
1 June 2022
Dear Divine Family, Please accept love-filled greetings.
We are writing to share with you video messages from Sr Mohini, Sr Jayanti and Br Charlie encouraging us to participate in Baba's new global service initiative called Golden Drops.
This is an initiative of the Brahma Kumaris to engage hearts and minds in consciously creating a beautiful world.
In this initiative, we are inviting our brothers and sisters of humanity to offer their personal expression of a beautiful world. This shower of golden drops will fill the world's atmosphere with vibrations to bring that world closer.
The launch of June 1 gives all of us an opportunity to share with friends and contacts, to do workshops in the Centre and in the community to invite people to imagine a beautiful world.
Let us join together to create a beautiful world for all of humanity, so we can see the trees on the other side.
Please also find links for downloading (a) an update on the Golden Drops Initiative (b) a workshop poster on the upcoming Golden Drops workshop on the 11th June.
Golden Drops Initiative Update
All the promotional materials and resources can be found on the google drive at: https://drive.google.com/drive/folders/1Vy4VeupVsi6xSXDHm0Hbb3yySCsLy-TM?usp=sharing
PLEASE NOTE: The Vidoes of Sr Mohini, Sr Jayanti and Br Charlie are in the drive. Please access them there.
With love,
In Baba's yaad,
Golden Drops Team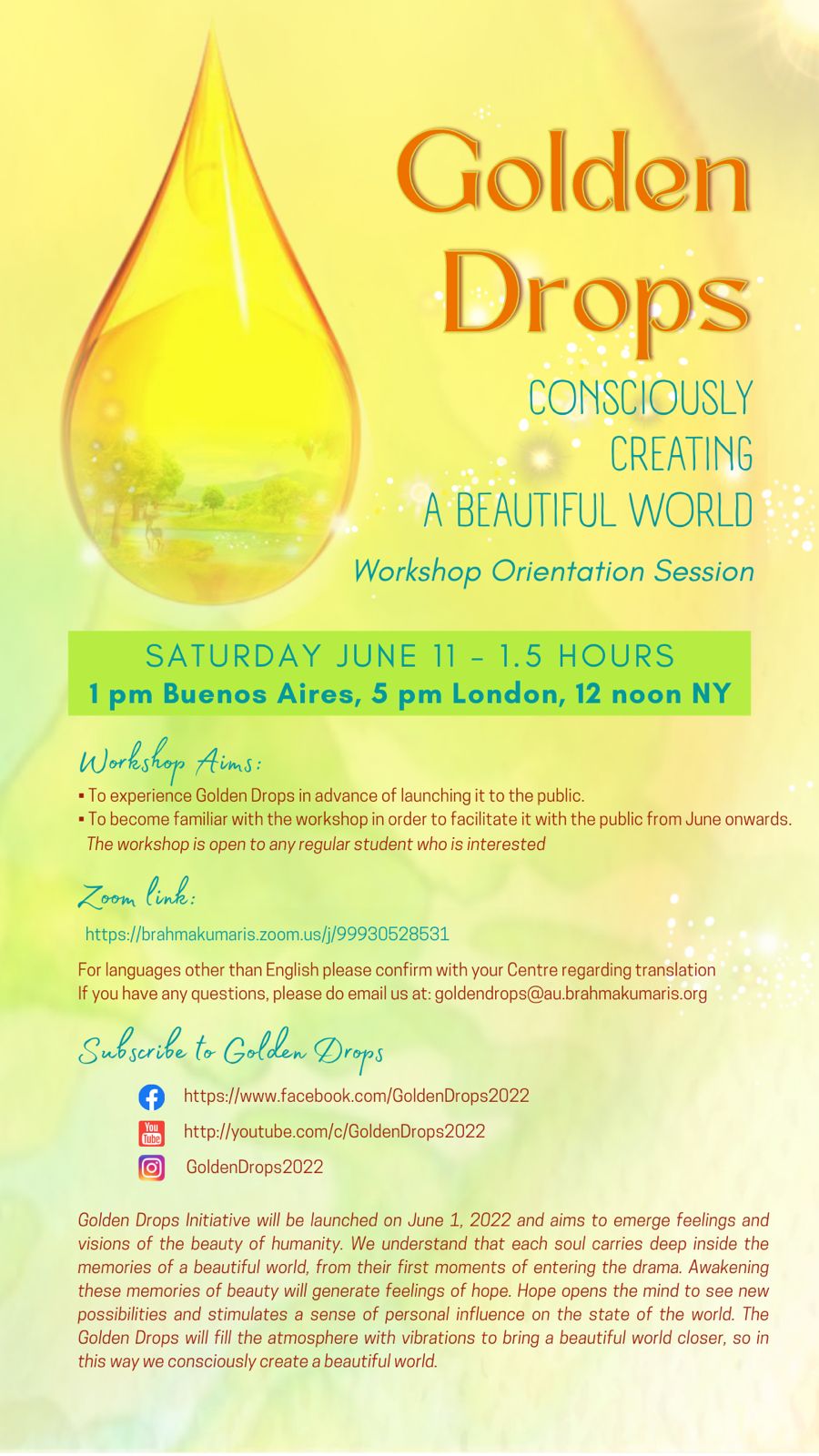 Group Dates for Madhuban Season 2022/23
1 June 2022
Dear Divine Family,

After the limited Madhuban season last year when only a few could travel to India due to the Covid regulations, we are looking forward again to gathering together in Madhuban as a family.

Madhuban is welcoming us, and this season we have the fortune of 11 groups for the Avyakt meeting. Below is a schedule of dates for the 2022/23 season. Double Foreigners who wish to come to Madhuban, may plan their visit for one of the Meetings, within the group dates. Those with special needs or requests should wait until the full directions are finalised and sent, before they plan their trip.
Double Foreigners are requested to adhere to the dates given for the first and last meetings as cleaning of the campuses takes place after the Indian season in September, and before the Indian Bhatti groups begin in April.
We will let you have more detailed information about the season once this has been finalised.

We look forward to an uplifting season.

With love,
In Baba's yaad,
RCs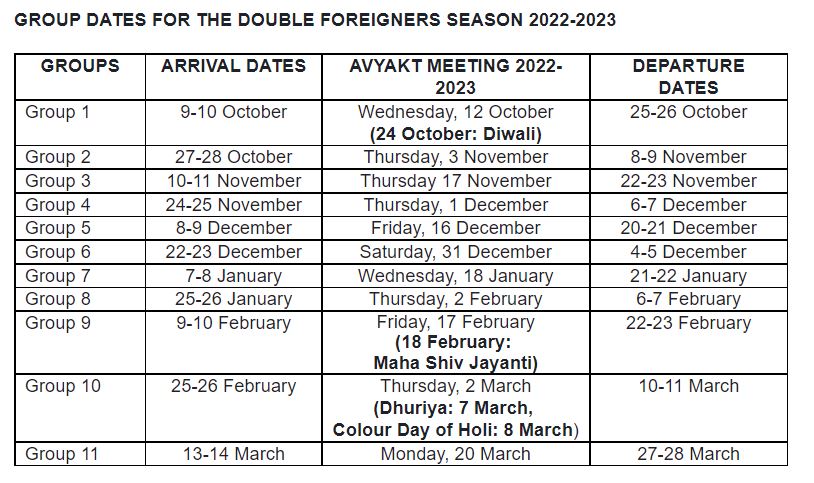 2022 June International News Archive
2022 May International News Archive
2022 April International News Archive
2022 March International News Archive
2022 February International News Archive
2022 January International News Archive
2021 December Archive of International News
2021 September through November Archive of International News
2021 July through August Archive of International News
2021 May through June Archive of International News
2021 April Archive of International News
2021 March Archive of International News
2021 February Archive of International News
2021 January Archive of International News
2020 December Archive of International News
2020 November Archive of International News
2020 October Archive of International News
2020 September Archive of International News
2020 August Archive of International News
2020 July Archive of International News
2020 Jun Archive of International News
2020 Apr through May Archive of International News
2020 Mar 18 through Mar 31 Archive of International News
2020 Jan through Mar 17 Archive of International News
2019 Aug-Dec Archive of International News
2019 Jan - Jly Archive of International News
2018 Aug - Dec Archive of International News
2018 Jan - Jly Archive of International News
2015 Archive of International News