2015 Jan through Aug Russia & the CIS Archive News Page
2015 Jan through Aug Russia & the CIS Archive News Page
Chinese Family Training/ Retreat in Lighthouse (St. Petersburg, Russia) from 8-12 August
17 August 2015
For five days 210 beautiful souls from China have been studying, meditating, playing, eating and sharing tons of gifts here, in Lighthouse.
The guests were brought to Russia by sis. Sapna and br. Sumeet in co-ordination with Master Ji Jing, a Chinese Buddhist monk, in order to enhance their spiritual progress. (You can read about the opening session of the retreat in the article "Language Barrier? Not at all!" posted on Onelink on 11 August.)
What main insights are the retreat participants taking with them back to China? Here are just a few of their comments:
"Now I know how to connect to the Supreme Soul and solve difficulties in my life. And I also know 7 balances in life."
"Now I know that we should not escape from where we are having difficulties because by escaping we cannot gain peace."
"I should always remain true to my original nature. First we have to discover our inner self, and then we can share that peace and love with others."
"This morning I took my son to Baba's room and I wanted him to sit beside me, in silence. He asked me, Mom, can I go out? I said, No, just sit in silence. But as I was sitting, it seemed to me as if I heard a voice from up above saying, This child of Mine is a very pure soul! And that very moment I said to my son, You can go! And when I finished my meditation and came back to the Auditorium for the next class, to my great surprise, I saw my son already sitting there in silence, without my reminding him! And I know it happened because I had followed my Father' s voice about letting go of my attachment and expectations."
The training program "A Happy Family – God's Masterpiece" has been especially designed so as to meet the needs of all the age groups in families.
The children (a group of about 50 of them) were busy enthusiastically making paper pigeons of peace, decorating the model of the boat of life with virtues of their choice, and even making bears of - - - dough!
The teenagers (a group of about 20 young sisters and brothers) were offered variety of learning games and friendly chit-chats about the importance of virtues for our relationships.
The adults took a course of 8 sessions on the following themes:
* Peace and Happiness based on Positive Thinking
* The Art of Creating Double-Light Atmosphere in the Family
* Daily Time-Table and Culture of Food for Happy Relationships
* The Art of Balancing in the Family
* Relationships with God as a Model of Perfect Family Relationships, etc.
Raksha Bandhan celebration became the pinnacle of the retreat. In a spellbound atmosphere of silence, everyone would write their letter of promise to God and drop it into a beautiful round-shaped box (globe) set on the stage of the Diamond Hall. As a sacred thread of purity was being tied around their wrist, many of them were shedding tears of love.
Every day would begin with refreshing morning exercises in the Peace Park of Lighthouse.
Then morning sessions for parents and children would start in their respective places. Since the art of harmonious relationships is similar to the art of dancing, every session would include a dance item, either performed live by the cultural group of BKs or video-taped, and then the symbolic meaning of that dance for family relationships would be explained.
During the breaks between the sessions everyone could relax among the flowers and greenery of the Peace Park, meditate on the roof of Lighthouse or in Baba's room, study in the library or just lie down and take a nap. Children seemed truly tireless, playing badminton and volleyball all day long.
Daily menu included both traditional Russian and Chinese dishes. The guests were taking their meals at three dining halls simultaneously.
An outing at the sea shore truly thrilled everyone! And even the weather has been co-operating with us all these 5 days. Well, we have not seen such nice sunny weather for ages!
JUMPING OVER LANGUAGE BARRIERS
This time all the doors and corridors of Lighthouse were adorned with an unusual decoration: sign plates covered with Chinese hieroglyphs. Even teapots, jars with honey, condensed milk and sugar in the dining areas were labeled in Chinese. But the main languages used at the retreat were the languages of eyes and the smile.
During the gorgeous cultural evening on the eve of the departure, all the languages mixed up: a Chinese sister sang a popular Russian song, Chinese children were dancing to a Russian dance tune, and Russian brothers and sisters were mimicking the tricky movements of Taiji gymnastics. (photo – artist on the stage)
A WONDERFUL STORY OF THE SILVER GLASS
During a session about the true spiritual meaning of Rakhi, Santosh Didi invited a little boy who had come here with his parents, to come on the stage. She gave him a silver glass as a gift, to demonstrate how we were supposed to give the gift of our weaknesses to the Supreme Father:
"When you give a present to someone, that thing is no longer yours, just as this glass is no longer mine. Now it belongs to this little brother. And to take it back from him would be considered bad manners. Similarly, give a gift of your weakness or defect to your Supreme Father today, and remember that from now on, that weakness does not belong to you anymore. You can't demand that God give your gift back to you!"
And the next day, during the "Go Soon, Come Soon" ceremony, the boy came on the stage again, saying he wanted to share his insight: "Yesterday I received this glass as a gift from Santosh Didi, but throughout the day I kept on asking myself why there was no cover on the glass. Later, as I went to Baba's room and got connected to Shiv Baba, I realized that this glass was a container that was overflowing with love from Didi and Baba. And this is exactly why it is open! For it invites me to share that love with everyone."
The time of saying farewell came, but everyone of us felt that we became like silver, or rather, golden utensils overflowing with love. And wherever we go, we will share that love with all the members of our unlimited world family, a Masterpiece of God.

To Live in Harmony With Nature Is To Live in Harmony With The Self - Francois Becher Visited Kyrgystan
14 August 2015
July 8-13, François Becher, national coordinator, Brahma Kumaris, France visited Kyrgyzstan. He conducted public lectures in Bishkek city and a spiritual retreat for BKs and their friends near Lake Issyk-Kul.
On 8 and 9 July he gave two public lectures on "Our Inner Ecology and our Outer Environment" and "The Way to Wisdom" at the library of the Kyrgyz State University attended by 60 people; among them were professors and teaching staff, journalists and members of Manasshy organization.
During his lectures, François said,
"We share the same Planet; it is one for all of us. Why then is it so difficult for us to solve the problems of our common home together? We behave as invaders, only consuming the Earth's resources. However, our planet is a one integrated living organism, like the human body. If one organ of our body is sick, the whole body will not be healthy. But the mankind has broken the unity of this integrated system of the planet and we are paying the consequences of our actions. It is connected with the attitude of 'the planet belongs to me', not 'I belong to it'. That turned a man into a consumer.
We encountered the limits, the boundaries of what is permitted in relation to nature. Mahatma Gandhi said, 'The planet has enough for human need, but not for human greed'. In other words, the environmental crisis is closely related to the spiritual crisis and the loss of inner values."
In that way, François explained that if we want to protect the environment, we need to improve ourselves by looking inside and understanding our true nature, by learning how to change ourselves and become an example for others.
From 10 to 12 July François conducted a spiritual retreat near Lake Issyk-Kul for the group of 25 BKs and their friends and gave a public lecture.
During the retreat, François conducted classes on topics connected with spiritual knowledge. He shared his methods for self-transformation and answered different questions about our spiritual progress.
First day, we walked and meditated along the scenic Lake Issyk-Kul framed by majestic peaks. In the evening, François gave a public lecture "Discovering the Real Me".
Next day, we conducted meditation in a yurt (collapsible dwelling nomads made of felt) together with the local people.
In the evening, during the seminar we discussed questions such as 'how habits and inclinations are born?', 'how is a character created?', 'what are ways to get rid of the negative tendencies?'
For this retreat, we invited our friends who usually lead their busy life in the city, but are keen on spiritual knowledge and like to experience inner peace. They took this opportunity to join us on spiritual holidays and everyone was delighted doing intensive yoga, active body exercises and getting exclusive food for the mind. We ended the retreat with a party launching the paper lantern with our good wishes on it.
All came back happy and refreshed.
Click here for detailed report in English
Click here for detailed report in Russian

Five Colorful Silk Scarves Welcome Sudha Didi to Mongolia
11 August 2015
From June 24 to July 3, B.K. Sudha Rani Gupta (Didi Sudha), Joint Regional Co-ordinator, Brahma Kumars, Russia, CIS and Baltic States, Director of Brahma Kumaris Centre for Spiritual Development, Moscow, visited Ulaanbaatar, Mongolia. During her visit, Didi Sudha gave several public lectures, spoke as the special guest at live phone-in TV show, gave interviews and met Indian community in Ulaanbaatar.

According to Mongolian tradition, students of the Brahma Kumaris Center in Ulaanbaatar welcomed Didi with a beautiful folk song and decorated her with five colored silk scarves, one for each element of the nature – red for fire as a symbol of strength and power; green for the earth as a symbol of health and prosperity; yellow for the sun as an ability to share and give the light; blue for the sky as a symbol of infinity and high spirituality; and white as a symbol of a pure soul. They offered her traditional Mongolian green tea with milk and sweets as a sign of respect and hospitality...

Please read the full news of her visit in English.

Please read the full news of her visit in Russian.

Language Barrier? Not at all!
11 August 2015
210 guests from China arrived in Lighthouse (St. Petersburg, Russia) for their 5 day training program "The Happy Family – God's Masterpiece", 8 August.
The welcome session for 210 guests that came to Lighthouse all the way from China offered a beautiful blend of greetings, songs, dances and video presentations.


The guests, many of whom arrived here with their spouses and children, have been brought to Russia by sis. Sapna and br. Sumeet in co-ordination with Master Ji Jing, a Chinese Buddhist monk, in order to enhance their spiritual progress.

On the very first day they were introduced to the aims and objectives of the "Happy Family" training program they were going to attend.


BK Santosh, Brahma Kumaris director in St. Petersburg:

"This family retreat has been tailored in such a way so that to throw light on the spiritual aspects of human relationships. Spirituality is all about what, how and when we should think, because the energy that powers our actions and interactions is the energy of thought. When we take care of that inner energy, we are able to sustain our peace and happiness. When we are peaceful and happy, we feel comfortable. In this stage of comfort we can feel others and love them. And when we love, we get love in return. This is what makes us into kings because when you get love, you get everything!"

Dear, long awaited guests were welcomed by VIP speakers representing the fields of science, social service, medicine and public sector. They shared their vision of why the Brahma Kumaris concepts become increasingly relevant in the modern world.

Prof. Oleg Lebedev, lecturer of National Research University "Higher School of Economics", Doctor of Education, Corresponding member of the Russian Academy of Sciences:
"Everything in the world keeps on changing, and in this atmosphere of change many people have the question whether there are some permanent, unchanging values as well. The Brahma Kumaris offers them an answer they are able to believe and take on board."

Mrs. Irina Afanasieva, director of St. Petersburg Territorial Centre of Social Service:


"I feel that social service is the field of human activity that is directly related to what the Brahma Kumaris are teaching. In our hectic life we tend to forget that we come to this world to be good and do good. The BKs are teaching us to turn our face towards own inner self and feel that this planet of ours is very small and fragile and so it is to be handled with love and care!"

Mrs. Tatiana Bartova, director of Interactive Medicine Department "Vita":

"As a doctor, I have been studying Chinese and Indian traditional medicine since long, as I am interested in the issues of prevention of diseases. Before meeting with the BKs, I used to teach people healthy diet, healthy breathing and healthy movement (exercises). Healthy thinking was the last item on my agenda. But now, after 10 years of contacts with the BKs, my list of priorities has changed. I have realised that the first priority for a healthy life style is healthy, positive thinking."


The participants of the retreat were also welcomed by Prof. Maxim Godarev, president of St. Petersburg Philosophy Club, and Mr. Bislan Hamkhokov, president of St. Petersburg House of National Cultures.

The 5 day journey has just started, but a very important step has already been taken: a beautiful family atmosphere created in Lighthouse has made us feel we belong to one global family. And in spite of the physical language barrier, we have become fluent speakers of the language of eyes, smile and good wishes!

Br François Becher's Visit to Kazakhstan
5 August 2015
June 27 – July 14, François Becher, national coordinator, Brahma Kumaris, France, visited two Central Asian countries – Kazakhstan and Kyrgyzstan. During his visit, he met regular BK students in Astana, Almaty and Bishkek, and was the main guest at the Retreat for BK students in a hotel of the Medeu Valley of the Zaiilisky Alatau mountain range, participated in a number of public programs in three cities, gave interviews and hold the Retreat for BK students from both countries and their friends near Lake Issyk-Kul in the northern Tien Shan mountains.
François Becher has a strong background in science and technology. Standing on a bridge between the two disciplines of technology and science of consciousness over 35 years, he has participated in and spoken at various international symposiums on topics centered around the science and the effect of human consciousness on our modern world. Also, Francois is a coordinator of 25 centers for self-development in France.
The most vivid impressions we got when we went to the Alpiniad in Almaty. We climbed from the Shymbulak ski resort and reached the summit of the Talgar pass, which is located at an altitude of 3200 meters above the sea level in the Medeu Valley of the Zaiilisky Alatau mountain range. We met the legendary mountain climbers of Kazakhstan. François asked us, what motivates those people to go to the mountains and what qualities they possess.
From that moment, our amazing journey inward began. François's classes encouraged us to question ourselves and analyze our own actions in the context of spiritual knowledge. And we began to think: 'If we went to the mountains as climbers, who would we go with? If we were together in extremis, would we understand each other? How did we achieve the unity and solidarity among us? How did each of us get out from the limits of small universes we had created for ourselves with our belief systems, expectations and desires for comforts? Do we ask ourselves: do I stay calm when I meet a specific behavior? Can I accept differences? Can I deal with others without worry? How do I react when I am tired or under stress? Can I sacrifice my personal comfort for others? How quick am I in making right decision when something happens, suddenly? Can I peacefully interact with people when a situation is difficult?'
We had every prospect to test ourselves and get answers, practically. Everything was provided in this live workshop so we could work on self-transformation: we visited cities of Astana, Almaty and Bishkek, and climbed up to the summit of the mountain; together, we stayed at highland hotel and at house near Lake Issyk-Kul. In that journey we met adventures, learned and made discoveries... Being with François, we had a chance to learn from his practical example, as this person had faced varied situations managing many BK centers and obtained great experience in the art of communication.
During our stay at hotel in the mountains we experienced all kinds of manifestations of the nature: heat and cold, rain and hail. Despite all that we were happy and continued with our inner journey and yoga practice.
When we came back to Almaty, it was smoggy, but inside the BK center it was atmosphere filled with divine light; and we continued our dive into the Ocean of Knowledge.
6 July, François gave a class on application of spiritual powers. Eight major powers were divided into pairs according to their use: powers of introversion and to pack up we need when we are on our own; powers to tolerate and adapt are for being with others; powers for making decision and of discernment needed to deal with situation and powers to face, withstand and cooperate are necessary for the interaction with other people, to deal with life and to build a team. François disclosed connection between the powers.
For instance, power of discernment is associated with the power of introspection and introversion: while we are in silence no one can interfere and we can watch and analyze the situation better, consider it from different perspectives. Or, the power of decision-making is associated with the power to pack up. To improve our skill of packing we need to have ability to refuse unnecessary things. And to throw out the unnecessary things we need to be able to detach from them. Otherwise, the attachment will affect our perception and decision making process, for to make a right decision we need freedom.
Cultural program at Brahma Kumaris centre was the opportunity to learn and share our two cultures. There were songs in Kazakh and of the great Edith Piaf performed. We performed a lively Kazakh dance and François sang a French children's song.
2, 3 and 7 July in Almaty, François gave lectures on Power of Silence, Way to Wisdom and Anatomy of Consciousness. At his lectures we learned from the remarkable scientifically-minded person who had been exploring the spiritual knowledge for decades. We were together in the process of inner revelation and we enjoyed immensely.

Sudesh Didi's visit to Ukraine
4 August 2015
June 4-12, BK Sudesh Sethi (Sudesh Didi), Regional Co-ordinator, Brahma Kumaris, Germany and Western Europe, visited Ukraine. During her visit, she met regular BK students in Kiev and Odessa, and was the main guest at Ukrainian Retreat for BK students, participated in a number of public programs in both cities, gave an interview and hold a press conference in Odessa.
On June 4, Didi Sudesh participated at the conference on the topic 'At the turn of Millennium: Spiritual Dimension of the Historical Pathway of Ukraine', which was held at the Institute of International Relations of Kyiv National Taras Shevchenko University. The conference was organized with cooperation of the Brahma Kumaris, Kiev.
Among the participants were representatives of the main Christian denominations, Sheikh Ahmed Tamim, spiritual head of Muslims of Ukraine, assistant chief rabbi of Kiev and Ukraine, pro-rector of Kyiv ISKCON Theological Academy, leading Ukrainian philosophers, sociologists, futurologists, media expert and culturologists.
The conference was chaired by Vladimir Rizun, Director of the College of Journalism of the Shevchenko Kiev State University.
Participants discussed spiritual content of transformation processes in Ukrainian society. In light of recent events in the East of Ukraine, the participants touched upon a question about maintenance of integrated sociocultural space and defence of self-identification. Speaking about the meaning of spiritual context of self-identity, Didi Sudesh told the audience about initial spiritual qualities that are at the heart of life values of every human being.
On 7 June, evening, public lecture on 'Laws of Karma and Time' was held at the conference hall of Kazatsky Hotel, near the Central Square of the capital of Ukraine, Didi Sudesh spoke about deep secrets of performing successful actions.
On 8 June, Didi Sudesh took part at the workshop on 'Role of Women in Building the Relationships of Trust and Understanding' with reprs of local women organizations, which took place in the conference hall of the Kiev City State Administration. Didi Sudesh participated in discussion actively and answered a number of questions.
On 9 June, there was a meeting with BK's friends on 'Wisdom beyond Time', dedicated to the Centennial of Dadi Janki, the President of Brahma Kumaris World Spiritual Organization. 50 people attended to listen to Didi's words of wisdom and her experience about the wisest woman of the present, Dadi Janki.
On 10 June, morning, Didi hold the press conference on 'Spiritual Values in Solving the Problems of Modern Society' for mass-media reps at the Odessa media center.
In the evening, the topic 'In Quest of Inner Strength: Raja Yoga in the Modern World' drew about 200 people. The program started with beautiful meditation music performance by two friends of BK, playing Indian flute and Tibetan singing bowls. At the end of the program Didi conduct 20-minutes meditation by accompaniment of Armenian duduk and Tibetan singing bowls. The atmosphere was enchanting and so subtle, that the audience was still even after the program had finished.

"Easiness of Raja Yogi Life" - Regional Retreat of Center Co-ordinators and Center Wasis, St. Petersburg, Russia, 24 - 28 July
29 July 2015
Stay "Omshanti", don't put Baba's hat on your head and appreciate your role of being God's instrument.
In rainy St. Petersburg Baba's servers, spiritual rivers from 38 cities of Russia, Belarus, Ukraine, Kazakhstan, Kyrgyzstan, Latvia, Lithuania, Estonia, Azerbaijan, Georgia and Armenia, have gathered together for their regional retreat. Didi Chakradhari, Didi Sudha, Didi Santosh and br. Vijay as well as 52 centre co-ordinators and centre-wasis participating in the retreat were welcomed on 24 July by the Brahmin family of St. Petersburg and decorated with sandalwood tilaks, golden sashes and diamond words of good wishes.
General sessions, workshops in small groups, QA sessions and informal family meetings have been tailored in such a way so that everyone can reflect upon the importance of staying light while fulfilling all our responsibilities and become an embodiment of Easiness.
Special amrit vela sessions with Avyakt BapDada's drishti and voice and a Day of Complete Silence have made everyone ready to re-confirm our pledge of purity and dedication on the day of tying Rakhis (27 July).
Early morning walks in a beautiful pine tree park, near the lake, as well as a tour of the Wonder Island have made us appreciate even more the beautiful family given to us by God!
And a golden chance of doing plenty of karma yoga (cooking, dish washing, serving food, laundry service, etc) has taught us a perfect practical lesson of staying busy yet easy.
Staying Easy is truly Easy!
(some tips from experienced yogis)
Didi Chakradhari: When we become instruments we attain a great fortune. Instrument servers have lots of chances to use the knowledge and become its embodiment. We can't serve others if our own state gets spoiled, therefore paying attention to ourselves at every moment has become natural for us! Don't worry that you are not worthy enough. Just let Baba make you worthy by always remaining light.
Didi Sudha: Our basic quality is "om shanti". When I am peaceful, I am focused. When I am focused, I do everything accurately. When I am accurate, I achieve success. When I am successful, I am contented, and when I am contented, I am easy and light!
Didi Santosh: When we start seeing our service responsibilities as "my responsibilities", we become heavy. We want to become Bap Samaan (equal to Baba), but we make a mistake of trying to put Baba's big hat of World Service on our small head. Baba says, Just give My hat back to Me. Remember that your only responsibility is to keep yourself a perfect, clean and sharp instrument. Baba is the Master, and if the instrument is all right, Baba will be able to use me any time He needs to do so.
Br. Vijay: According to the drama, it was destined for Brahma Baba to become the father of humanity (Prajapita) at that very moment in history when the entire humanity reached its iron-aged stage. He had to face all the situations that arose in the iron-aged world. But the lesson of One Strength and One Support enabled him to overcome all the obstacles and become an angel easily. Let's follow the father's footsteps in this.
Thanks Baba, thanks Drama, thanks very powerful World Benefactors Dadis, thanks knowledgeable and merciful Bro. Jagdish, Bro. Nirwair ji, Bro. Brijmohan ji whose constant support from the heart keeps us moving ahead to our destination.

Towards Harmony, Health and Wellbeing - International Day of Yoga, Kiev, Ukraine
28 July 2015
21 June, 2015 the public program 'Towards harmony, health and well-being' dedicated to 1st International Day of Yoga took place at the outdoor performance stage of the Kiev Central Park. The program was organized by Brahma Kumaris Centre, Kiev in co-operation with Culture Department of Kiev City State Administration.
The atmosphere during the event was friendly and peaceful. The programme included speeches, guided Raja Yoga meditation, dances and musical performance. On the stage appeared yoga teachers from Ukrainian Yoga Federation, guests from Indian community and BK students. A student of the Tchaikovsky National Music Academy of Ukraine presented a beautiful bouquet of classic and modern pieces for harp.
A traditional Bharatnatyam dance to the glory of Shiva was performed by the premier dancer of the Vasanta dancing group. Highly spiritual atmosphere was created during Raja Yoga meditation exercise conducted by Brahma Kumaris.
Close to the stage there was a Virtuescope game for those who wish to discover and understand their inner potential and positive qualities.
Click here for news report in English.
Click here for news report in Russian.

Yoga As a Way Of Life - Inauguration of the International Day of Yoga
22 July 2015
14 June, Moscow. Brahma Kumaris, Moscow, organised the inaugural function of the International Day of Yoga, a new international tradition which will be celebrated annually on 21st June starting from 2015.* To mark the International Day of Yoga, Brahma Kumaris Centre of Spiritual Development, Moscow, organised "One Week Easy Raja Yoga Programmes" from 14-21 June. The Chief Guest at the inaugural function was H.E. Mr. P.S. Raghavan, Ambassador of India to the Russian Federation. Among the other honourable guests present were: Mr. Rahul Shrivastava, Counselor, Information and Culture Wing, Indian Embassy; Mr. Ashish Sharma, Director of Jawaharlal Nehru Cultural Centre, Indian Embassy, Moscow, and others. According to beautiful Russian tradition, they were welcomed with bread-salt, flowers and songs. After that, there was the candle-lighting ceremony.
Dr. Vijay Kumar explained the meaning of Raja Yoga in a very accurate way, emphasizing its importance for all the levels of life: individual, social, administrative, international – and expressed the wish to mark not only the Day of Yoga but the Decade of Yoga as well.
H.E. Mr. Raghavan highly appreciated the activities of Brahma Kumaris around the world for the great achievement in the task of spreading the message of friendship, peace and spirituality. He also expressed gratitude to Russia for the support in spreading information about yoga.
In his speech the Ambassador remembered the appeal of the PM of India Mr. Narendra Modi to the General Assembly of the UN about the nature of yoga, the strive for harmony between soul and body, thoughts and actions. Mr. Raghavan emphasized that yoga is not just a mere exercise but it determines the way of life. "Yoga is that right connection, which enables a person to remain in harmony with the self, nature and people". At the end of his speech, the Ambassador received the book dedicated to the Silver Jubilee of Brahma Kumaris in Russia.
Didi Sudha, Director of Brahma Kumaris in Moscow, remarked on the coincidence of the first UN International Day of Yoga being celebrated on the third Sunday, 21st June, 2015, with Brahma Kumaris' International Meditation which is also practiced on the third Sunday of every month at all BK centres worldwide. She explained that for one hour, from 18:30 to 19:30 local time, on the third Sunday of every month, every individual member of Brahma Kumaris dedicates special meditation practice to the aim of spreading peace around the world.
As general introduction to Raja Yoga, Didi said that it starts with becoming aware of one's own identity as a peaceful soul together with awareness of our Spiritual Father, the Father of all souls. This realization changes one's vision and attitude, transforming one's actions, behavior, and character. Didi added that in Raja Yoga special attention is given to morning meditation: "It is the most auspicious time, when the human soul can easily focus on the self and calmly draw powers from the Supreme Soul, the Eternal Source of peace, purity, love and other fine virtues. This stage creates a foundation for one's whole day, due to which one finds it easy to maintain peace of mind in any situations."
Mr. Rahul Shrivastava, Counsellor, also shared his experience in yoga practice. He said practicing yoga required a lot of patience because, if one strives for results, then exercising regularly is important; but, as one realizes the benefits of yoga, it gives a lot of inspiration. One of the biggest benefits is good health, and moreover, yoga is important for both the body and soul.
Mr. Ashish Sharma, Director of the Cultural Centre, described the forthcoming events to be dedicated to the International Day of Yoga which was celebrated in one of Moscow's most popular parks, Sokolniki. The main emphasis is on traditional yogic asanas. India's leading yoga associations worked out the general programme which includes asanas and exercises on concentration and breathing that are easy for people of any age and any physical condition.
Some of the BK students shared their experiences of practicing Raja Yoga and the benefits they could feel from it in their lives.
To end the programme, all participants could spend a few minutes in silent meditation guided by Didi Sudha, and gain their own experience, unique and special. With the power of pure, elevated thoughts, a very bright atmosphere was created, generating feelings of festival to inspire others to learn more about ancient Raja Yoga. Perhaps they will also be inspired to make it their way of life!
* Initiating this international tradition was suggested by India's Prime Minister, Mr. Narendra Modi, and the resolution to do it received the support of 175 states associated to the UN. The resolution declares that yoga enables "a complex approach to health and welfare." The General Assembly has proposed that all UN member states, in accordance with their own national traditions, celebrate this day in view of raising knowledge about the benefits of yoga among their residents

Wisdom Brings Light - Moscow Program Dedicated to Dadi Janki
18 June 2015
One attains wisdom when eternal values become more important compared with perishable ones. Dadi Janki made her choice at the age of 21, after having come to the World Spiritual University (India) in the late thirties of the last century. Then she stepped onto the path of spiritual transformation. humanity. She is called Dadi (this is how the senior sisters are addressed with a special feeling of love and regard). At the age of 92 she became the head of Brahma Kumaris Institution, widely famous organization with over 8000 centres in India and about 1000 centres 130 countries and over a million beneficiaries. This international organization is a movement for peace and harmony in the world the motto of which is "when I change the world will change".
Dadi Janki is a spiritual leader, she is one of the ten wisdom keepers – the outstanding spiritual and religious leaders. In spite of her age, Dadi continues to travel around the world inspiring people by her wisdom and example. People who come into Dadi's contact experience her unique ability of easily resolving complicated situations. Her loving heart removes all the barriers in communication. Dadi's wisdom is a treasure store of experiences that is why every meeting with her is unforgettable. She infuses hope and courage, enables everyone to discover their own inner source of wisdom. When asked, from where she gets the power? Dadi replies in a simple way: "I do not waste my thoughts and energy, pure positive thoughts help me to accumulate spiritual power, and due to good wishes for all I receive power and share it with others".
For the rest of the report, click here.
For report in Russian language, click here.

Victory of Spirit: Survivor of a Land Mine Explosion is Featured Guest at Brahma Kumaris Moscow
8 June 2015
It was an unusual meeting. The hearts of those who came were filled with unique, uncommon feelings of genuine admiration and appreciation. The intellects resisted to believe, but the eyes could clearly see ñ yes, this is the victory of spirit over matter, the proof of manís will power making impossible possible with a loving heart. The example of this victory was a person who lost his arms and legs at the age of 16 when he stepped on a hidden land mine, a relic of World War II. The tragedy happened on 8 May 1999, on the eve of the Victory Day widely celebrated in Russia.
Rest of the report here
Victory of Spirit (In English Only)
Victory of Spirit (In Russian Only)

"7 Billions Acts of Goodness" Initiative Introduced to Deputy Speaker of Vologda Regional Parliament (North-West Russia) - April, 2015
29 April 2015
On the occasion of the 10th anniversary of the Brahma Kumaris activities in Vologda, an ancient Russian city with almost a thousand-year history, the BK centre was visited by Mr Vladimir Vavilov, deputy chairperson of Vologda Regional Parliament.
The meeting of the high profile politician with the BKs continued for about an hour and a half, gradually growing into a deep and open dialogue about the importance of spirituality for our personal, professional and social growth.
Mr. Vladimir Vavilov was accompanied by Mr. Pyotr Kaminny, coordinator of the movement for protection of rights of ex-convicts, and Ms Marina Rakitskaya, author of an individual educational programme for disabled children "Montessori Development".
The visit took place soon after the official registration of the Brahma Kumaris in this region marked with the strongest influence of the orthodox church in Russia. Although the BK activities had been taking place here for many years, there was a long period of "yes" and "no" from the local authorities. However, now after the official registration many organizations start expressing their interest and are ready for establishing contacts. Well, in this world of body consciousness, papers and legal documents give people a sense of safety!
Welcoming the guests BK Santosh, Brahma Kumaris director, St. Petersburg, said, "The BKs work for human resource development, that is for enhancing the positive stage of mind, inner power, peace and virtues. In this respect, we are allies of the government that is in a dire need of good and active citizens. However, we can't force people to change, as every one of them is a unique personality different from everyone else. What we can do is to create an atmosphere that will charge people with positivity and water the best qualities in them. I just have to make sure that my own light is always lit, and that I always invite the Supreme to be present wherever I am."
Mr. Vladimir Vavilov said, "Your educational programmes are aimed at making people masters of their own mind and life. The dream of every person in this world is to learn managing themselves. And the dream of every leader is to learn managing their company or organization in such a way so that everyone is happy and satisfied. It's very important that you teach people how to remain positive and protect themselves from any negative influences of those with whom they come in contact. If at least one person out of 10 will take your knowledge on board, it will make a difference. It's vitally important for everyone, and especially for leaders, people possessing power, to make a pause once in a while in their life and ask themselves if they are moving in the right direction. I wish people would get interested in your acts of goodness more and more."

Micro- Micro- Microchip with Mega- Mega- Megabytes of Goodness
28 April 2015
"7 Billions Acts of Goodness" International Initiative Launched in Cherepovets, the Steel Capital of Russia - April, 2015
The geography of "7 Billions Acts of Goodness" has been expanding fast in Russia and nearby states. Just a few weeks ago the Brahma Kumaris initiative was launched in Ukraine, Azerbaijan and Georgia. And in April residents of Cherepovets, North-West Russia's major industrial city, joined the wonderful community of people supporting the mission of the project.
The event held in the city's central library was attended by representatives of the city administration and municipalities, educators, businessmen, media people. The detailed report about the event with photos and the 7BAOG website link was posted promptly on the city's official website.
Addressing the audience BK Santosh, Brahma Kumaris director, St. Petersburg, said, "Every human soul is a micro- micro- microchip with mega- mega- megabytes of goodness. So why do we sometimes get tired of doing good things? The reason of tiredness is not the amount of physical work we do. One can work for 16 hours daily, yet remaining happy. The battery of the soul gets discharged fast because of the virus of expectations. When I remain detached from expecting a reward for my acts of goodness, even in the form of words of appreciation and gratitude, and when I keep watering the seed of goodness by remembering God, the Ocean of love and power, I can continue performing acts of goodness endlessly."
Some Quotes from the Guests:
"When we perform acts of goodness we develop wings to fly! Then we are happy, powerful and healthy. What I appreciate the most in the Brahma Kumaris is that they don't offer you just to take part in a campaign, march or rally. They say, Change the world by changing yourself."
Ms. Tatiana Demidova, managing editor,
TV and Radio Broadcasting Company "Vologda"
"The main act of goodness is to improve people's mood. When I feel I am not in good mood, I just don't leave my home! I get ready first, make sure the smile comes back on my face and only then go out!"
Ms. Margarita Zhdanova, director,
"I had a chance of visiting India and I just fell in love with that land. I think India is the most beautiful and kind country in the world!"
Mr. Alexey Ustinov, director,
Children's Musical Theatre of Cherepovets

Dialogue on "Culture, Philathropy & Hamonious Society: Past, Present and Future" in Kiev, Ukraine
5 March 2015
14 January, 2015 in Kiev, Ukraine, in the conference-hall of the Taras Shevchenko National Museum a dialogue on 'Culture, Philanthropy and Harmonious Society: Past, Present and Future' took place on the initiative of NGO the Social and Cultural Centre, founded by Brahma Kumaris students, Kiev. The participants touched upon imperishable values of culture; there was an attempt to analyze the present situation in Ukraine, to find the reasons for the decline and the ways of developing culture in general. The moderator of the meeting was Nikita Vasilenko, professor, College of Journalism of the Shevchenko Kiev State University, and the facilitator was Olga Baidarova, professor of the faculty of psychology of the Shevchenko Kiev State University. B.K.Sudha R.Gupta, Director General of the Centre of Spiritual Development, Brahma Kumaris, Moscow, was the guest of honour of the meeting.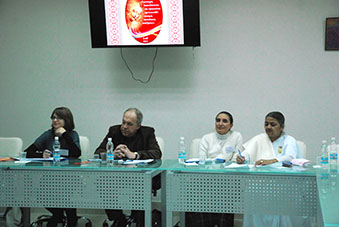 Among the participants of the dialogue there were: Oksana Melnichuk, consultant to the Director of the State Strategic Research Institute by the President of Ukraine; Anatoliy Kusch, sculptor, national artist of Ukraine, member of the State Academy of Arts of Ukraine, author of the Monument of the Independence of Ukraine; Natalia Shulga, Chairwoman of the Commission of the Kiev Municipal Council on Education, Science and Innovation Policy; Dmitriy Stus, Director General of the Taras Shevchenko National Museum; Lyudmila Uskova, Director of the Institute of Psychoanalysis Development; Otto Stoika, Chief doctor of the Kiev Health Centre, nominee of the rating Top-100 of the Ukrainian medicine; Zhanna Savrilova, Rector of the University of the Third Generation; Igor Alekseenko, Director of the Naukova Dumka Publishing House; Alexandr Afonin, President of the Association of publishers; Darya Bondarenko, programme director of the International Centre of Development and Leadership; Svetlana Zinevich, Deputy Director of the Centre of German culture "Widerstrahl"; cultural figures, representatives of NGOs and art professionals.
The speech of B.K.Sudha R.Gupta was the key one and was cited by many speakers. Speaking about spirituality in culture she said: 'Thinking of the past, I do not only mean the past described in schoolbooks, but even the more distant past that has no reference in any historical document. But it is mentioned in myths and legends of all cultures of the world. It was time when a divine culture existed; people understood each other at a glance and words were unnecessary. As it was culture of purity based on mutual love and respect, at that time charity was not needed. Then there was past we know from textbooks; the culture of words and exchange. Later it turned into the culture of 'if you give me, I'll give you'. Today it seems the culture has become devilish. This is the culture of senseless words, vulgar language and mutual accusations, the culture of division and competition, the urge to get everything just for the self. But the night cannot last forever and now it is time to awake our dormant divinity. That is why we gathered here, because everyone should take this responsibility'.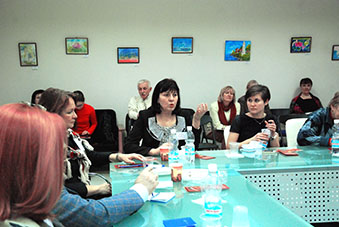 Rostislav Lukach, ex-president of the Rotary club, Kiev, noticed: 'Everywhere people want justice and love, both in business and in State organizations. As Ms.Sudha said we should come back to our original values and faith. If we considered any person as our brother on the Earth, everything would be different'.
For many speakers culture is associated with freedom. Andrey Khalpakhchi, Director of the Youth Film Festival, said that culture is the freedom to speak the truth, and Zoya Garkavenko, Director of the Centre of Social Technologies underlined: 'For me freedom means 'no fear'. Why we are aggressive and divide – because we have fear, because we are dependent. I think all we have said leads us to one word our guest Ms. Sudha was speaking about and that is harmony. Harmony can only be when we are different but have no fear. And the responsibility means to look at the self, to what I can do'. Anatoliy Shengait, Director of the Kiev Jewish Community said: 'People are free when they acknowledge the authority of the Supreme. To bring up a person who would had a free personality is the main task of any culture.'
Vladimir Spivakovskiy, President of Grand Corporation, a writer and a pedagogue-innovator, as well as Galina Kozlova, Director of the Kiev Family Centre, said that culture should be not past-oriented, but directed towards future and to raise the level of culture we have to increase the level of spirituality.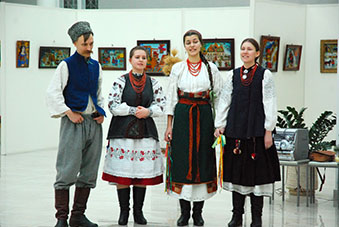 The outcome of the dialogue was summed up:
1. Now it is time to change. The time of barricades gave its way to the time of spiritual self-awareness.
2. No superficial reforms can please today's society; they will not lead to real achievements in social and cultural sphere.
3. Real deep changes require time, but it is not time of expectations, but of investments in future.
The meeting ended in performance by the folk band Roksolania of the Centre of Folklore and Ethnography from the Shevchenko Institute of Philology.
click here for detailed report in Russian language.

BK Letchu Manan of Malaysia Visits Ulan-Bator, Mongolia, 12 January 2015
20 Febuary 2015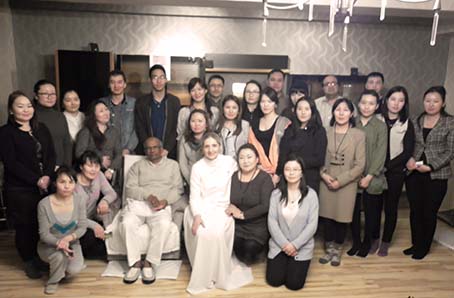 Brahma Kumaris Centre in Mongolia is back up and running again after two years. BK Inna Kim from Moscow came to Ulan-Bator and BK Letchu Manan, Director General of the Department of Biosafety of the Ministry of Natural Resources and Environment of Malaysia, President and National coordinator of Brahma Kumaris in Malaysia visited the capital of Mongolia.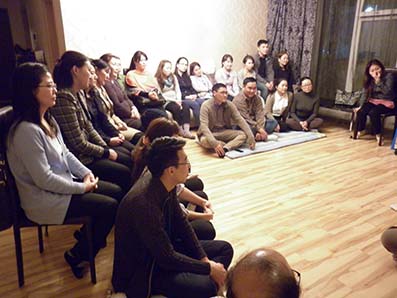 BK Letchu took part in the conference held by Mongolian Government. He also had a meeting with guests of Brahma Kumaris Centre. An expert in public speeches, BK Letchu Manan travels a lot, carrying programs on positive thinking, personal growth, self-respect, etc. He has simple personality and wonderful sense of humor. His open heart and well-wishing attitude immediately win hearts and create trust.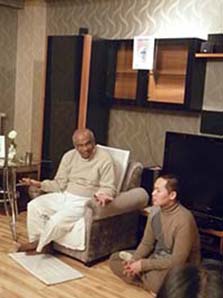 Nowadays peoples are in the state of stress, depression and uncontrolled emotions. 28 visitors came to Brahma Kumaris Centre for the lecture on "How to control emotions". There was not enough room, so younger guests were sitting on cushions and mats on the floor. Waiting for BK Letchu, guests became familiar with Brahma Kumaris activities and got the knowledge about soul. So when Letchubhai came in and bid welcome to everyone by saying "Om Shanti", all together replied with "Om Shanti" too. There was a feeling that it was just a friendly conversation with questions and answers, laughter and cheers.
In the end of the meeting participants received blessing cards and sweets. Warm Mongolian slippers were presented to Letchubhai, and he immediately put the slippers on. All guests where invited for three- days course of Raja Yoga meditation.

Just Look Skywards and Others will do the Same! - Launching of "7 Billions Acts of Goodness" in Belarus, 1 February, 2015
4 Febuary 2015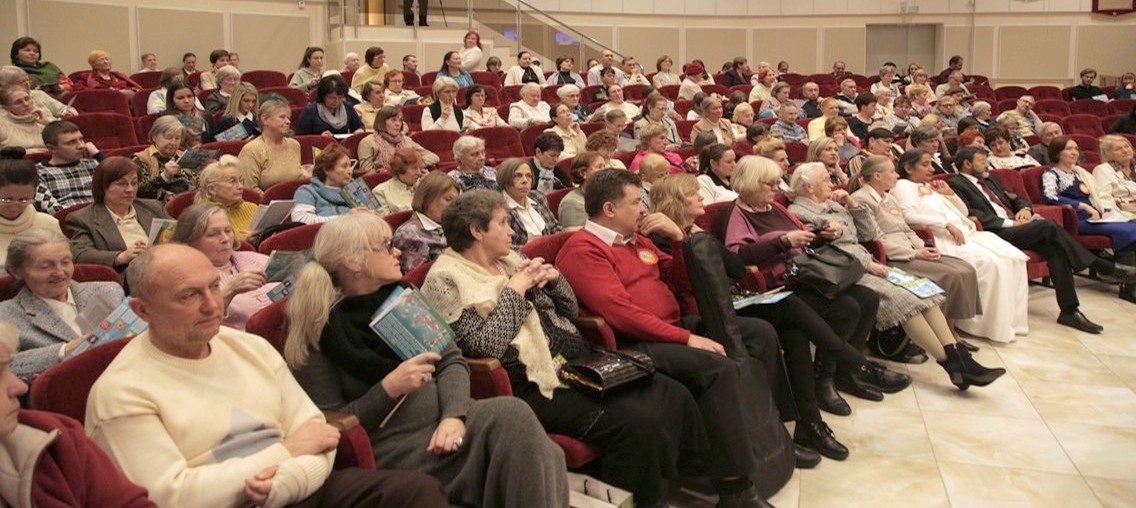 The Brahma Kumaris International Initiative "7 Billions Acts of Goodness" has come to Minsk, the capital of the Republic of Belarus. At the launching ceremony held in the conference hall of the "Belarus" hotel, the audience was greeted by Mr. Manoj Bharti, Ambassador of India to Belarus. "I extend my best wishes to this movement of 7 Billions Acts of Goodness. The initiative offers practical and emotional logic of why to do good and how to do good", he said. "The essence of spiritual effort is to get power to do good actions without getting attached to them. When we perform an act of goodness, we should firmly believe that the act has been done through us, and not by us."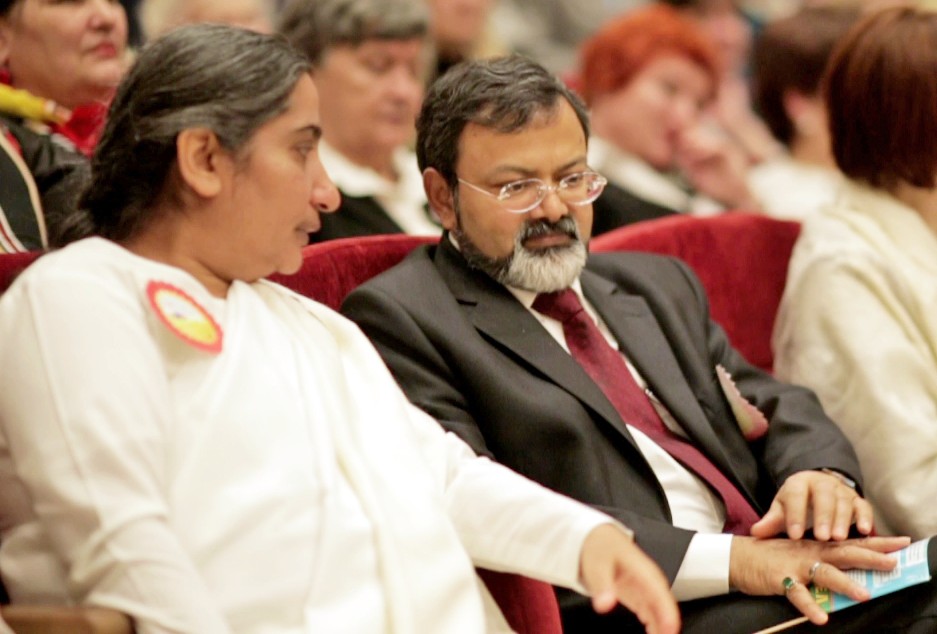 BK Santosh, Brahma Kumaris director, St. Petersburg, highlighted the basic philosophical principle behind the project. "In essence, we can say that every one of us is a sentient being made of goodness and for goodness. Goodness is our internal and eternal nature. Meditation is all about reminding myself of this truth by means of which it becomes easy for me to exercise the attitude of gratitude, sympathy and compassion. It's like tying a knot in order to keep remembering something of utmost importance. This higher awareness becomes a seed from which the Tree of Goodness grows in a very natural way. Just don't stop the wave of goodness in your heart, and you'll be a winner"..... Click here for detailed report and photos.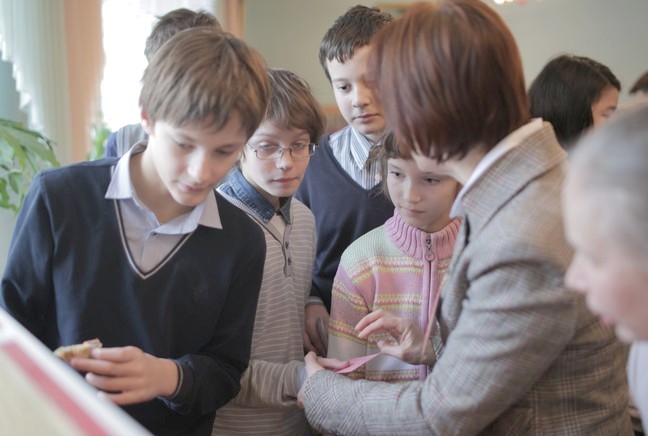 Festival in Honor of the Winners of The Third International Contest 'Fairy-Tales of a Beautiful Heart: Life as Wonder'
26 January 2015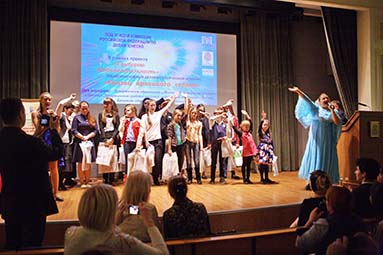 The Third International Contest of children's creative works 'The Fairy-tales of a Beautiful Heart' was held under the aegis of the UN Commission of the Russian Federation. Thousands of children from 48 regions of Russia and 8 countries took part in the contest. During the whole year, the children were making up stories, writing essays, creating wonderful illustrations for fairy-tales. As a sign of finishing the contest, the Award Ceremony was held at the Centre of Esthetic Education 'Musseyon' affiliated to the Pushkin State Museum of Arts....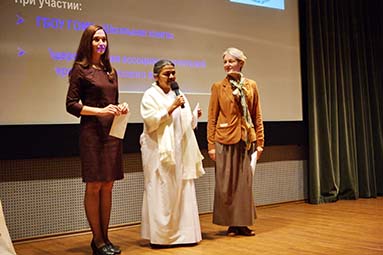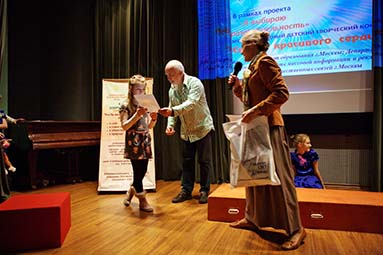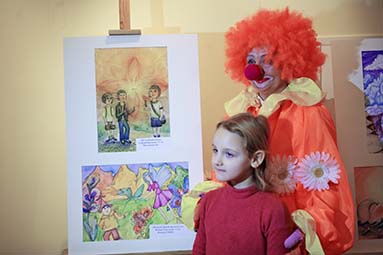 Click below links for detailed report and photos.

Share Goodness If You Want to Become Richer - Launching the Brahma Kumaris World Initiative "7 Billion Acts of Goodness' in St. Petersburg, Russia
23 January 2015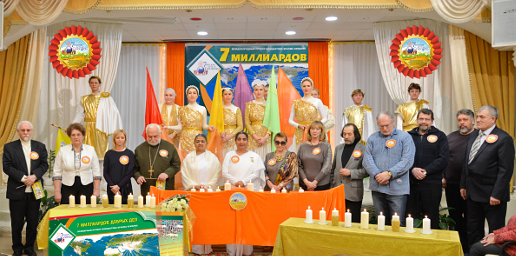 It seems that the initiative designed "to exponentially increase expressions of benevolence in the world" is truly producing a "ripple effect" spreading across the globe! Starting from the US, India and Malaysia, the project has now reached Russia. It's symbolic that people from all walks of life joined hands in their commitment to lead a life of goodness and inspire many others to do the same. The project was launched in the presence of the special guests:
Pavel Soltan, deputy chairman of St. Petersburg Parliament,
Elena Berezhnaya, Salt Lake City Olympic champion in figure skating,
Ivan Krasko, theatre and movie actor who has starred in more than 100 films,
Father Roman, chief priest of Georgian Orthodox Church in St. Petersburg
and many others.
Official partners of "7 Billions Acts of Goodness" in Russia:
St. Petersburg Charity Organization "Nevsky Angel",
NGO "Information for All"
and the largest Russian bookstore chain "Bookvoed" (information partner).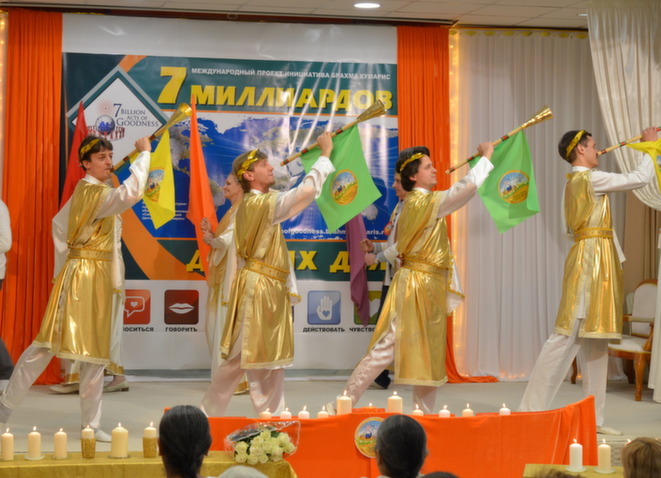 Highlighting the special feature of the new project, BK Santosh, Brahma Kumaris director in St. Petersburg, said, "Conversation about acts of goodness is not something new. BKs are not the first or the only organization to touch this issue. Thousands of individuals and hundreds of institutions have been engaged in inspiring people to be good and to do good things. So why is the Brahma Kumaris bringing this up now? Because for majority it is not difficult to decide to be good. However only few are able to sustain their decision, and even fewer succeed in doing good things on a permanent basis. So this is where the philosophy of "7 Billions Acts of Goodness" comes in useful. The project is about exploring the significance of regular practice of silence, positive thinking, or meditation. Now and then throughout the day I should make a pause and reinforce the awareness of myself as an innately good, pure and divine being. This awareness will enable me to maintain positive attitude and vision towards myself and others. In this case my very presence will be loved and appreciated by everyone, and it will act as a washing machine removing all the dirt and giving cleanliness and freshness!"....Click below links for detailed report in the respective languages.


International Seminar on Spirituality in a Multipolar World - Astana, Kazakhstan
16 January 2014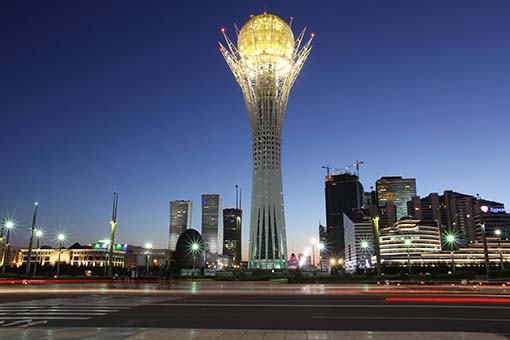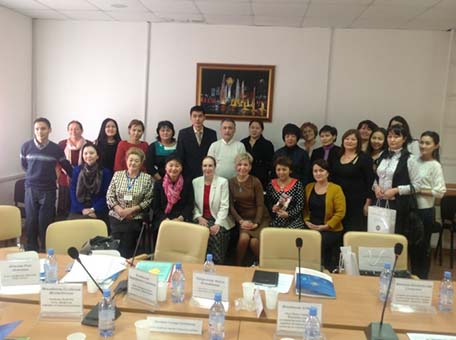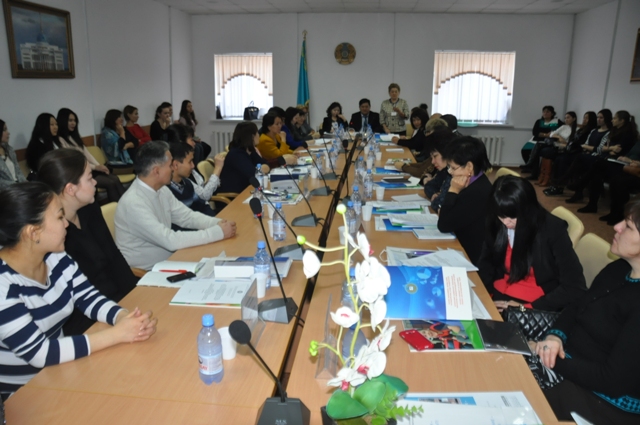 On November 28, 2014, in Astana, Kazakhstan, the international seminar: Spirituality in a Multipolar World: Social Challenges of the Time was held on the premises of the Kazakhs University of Economics, Finances and International trade, within the framework of realization of the Address of the President of the Republic of Kazakhstan 'The Kazakhstan Way - 2050: one goal, one interest, one future'. Participants: Askar Konakbayev, Pro-rector of Kazakh University of Economics, Finances and International trade; Azhar Tulegalieva, Director of the Social Services Department, Ministry of Health and Social Development of the Republic of Kazakshtan, Almazbek, Senior expert of Nur Otan party; as well as teaching staff, Graduate students, and students.
The problems of reviving spirituality and moral values in a family, society, professional activity and training of students were discussed.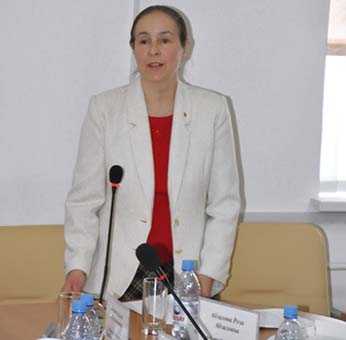 Representatives of the Center of Spiritual Development and the BK organizations actively participated during the seminar. Prof. Doctor Roza Abzalova, Director of the Family Health Center Demeu, in Astana gave a speech on the topic 'Spiritual and moral aspects in the activity of social worker'. Margarita Vladovskaya, Head of Center of Spiritual Development, Novosibirsk, Russia held a class on the subject 'Self-improvement and self-renewal of the personality in modern society'. Seminar participants filled in questionnaires on values and character traits; and created the 'Purpose Tree' to achieve optimal results. The seminar concluded with an active exchange of opinions, and wishes in view of another meeting.
Astana, the capital of the Republic of Kazakshtan, with a population of about one million inhabitants, is a rapidly developing city with ultra-modern architecture, a lot of universities, and features the well-known emblematic monument 'Bayterek', which means 'Tree of life'.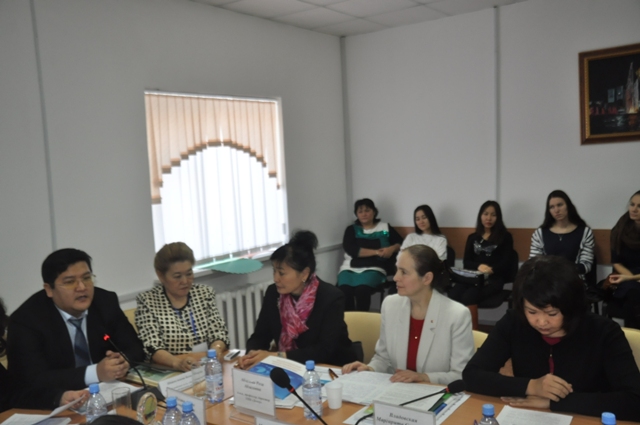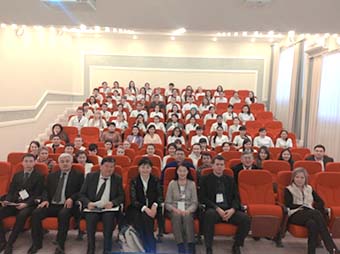 International Applied Sciences Conference "Spirituality, Society, Medicine, Social Challenges" - Karaganda, Kazakhstan - Service news and photos
16 January 2015
December 3, 2014. The International Applied Sciences Conference 'Spirituality, Society, Medicine, Social Challenges' was organized by Karaganda State Medical University, which gathered professors, scientists, future doctors, representatives from the Assembly of the Kazakhstan people, and specialists from the applied healthcare professions. Prof. Vilen Molotov-Luchanski, Pro-rector Dept of Educational Services, opened the Conference.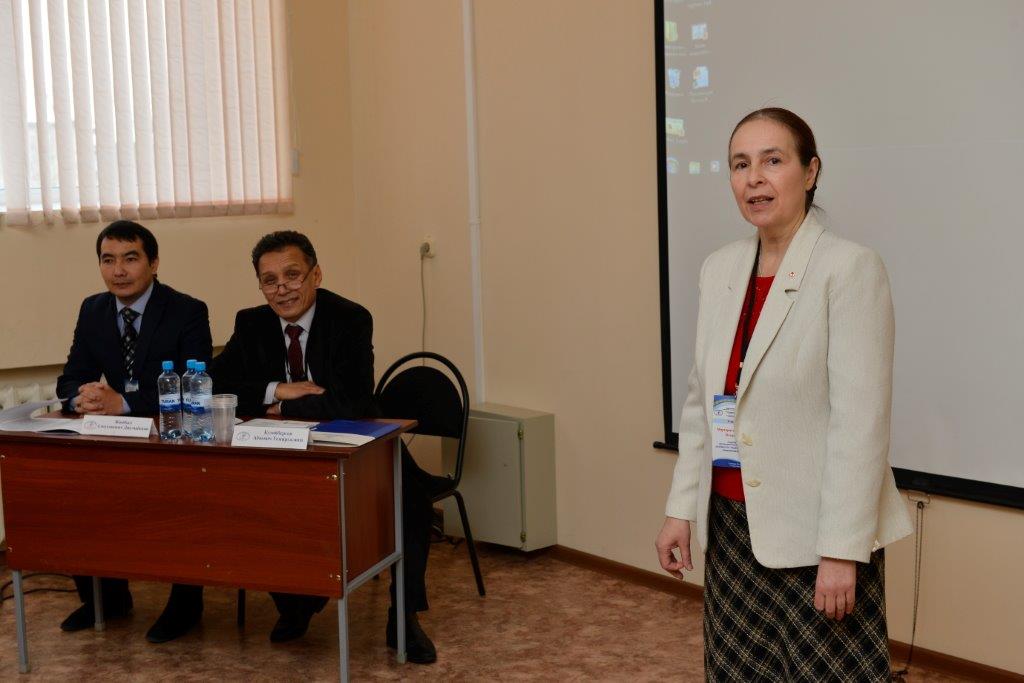 Margarita Vladovskaya, Prof. Roza Abzalova and Dinash Autalipova, Head of the Production Center (participant in the Peace of Mind Retreat, 2006) took part in the plenary session. Prof. Abzalova made a speech on 'Healing power of spirituality in the medical practice of doctors and nurses'. She spoke on the issues of: the patient and doctor's approach to health; personality traits of doctor and patient; the socio-psychological challenges of modern society and their impact on our mind and body; and how promoting false priorities leads to spiritual degradation, and may even cause global cataclysms and disasters.
Representatives of the Center of Spiritual Development and the Brahma Kumaris organizations actively participated in different sections: Margarita Vladovskaya – 'Role of spirituality in the system of values of the young generation'; Sariya Nazarbayeva, founder of medical company Aigerim, and Chairperson of public fund Bilik Zhikan, Aktobe – 'Illness as lack of inner peace and harmony'; Elena Kovalyeva, psychologist, Pavlodar – 'The 'Kovelanas Method': a comprehensive method for enhancing the interaction of physical exercises and psychological practices'; Zauresh Khasenova, Ph.D. – 'Experiences from Finland in the practice of nursing'; Prof. Abzalova – 'Critical thinking and social activity as the basis for a successful practice of nursing'. Each speech emphasized the importance of: aspects of the soul, the law of karma, the role of the Supreme, spiritual values, and different methods for transforming negative into positive. Participants listened very attentively, asked questions and commented on the importance and urgency of spirituality in our world, and the purity and health of the soul. Prof. Roza Abzalova and Sariya Nazarbayeva gave an interview to two TV channels.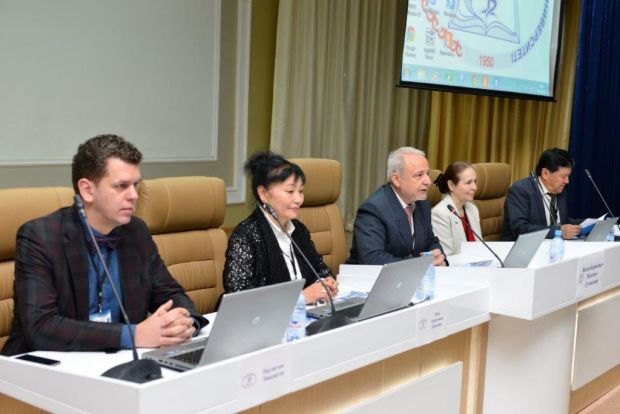 To end the conference, Prof. Dosmagambetova, Rector of the University, expressed her gratitude and appreciation for the input of each participant, presenting them souvenirs and certificates of gratitude.
Karaganda is a big industrial, scientific and cultural center of Kazakhstan; and third biggest city in the country.
Click here for news report in Russian language.