2013 Russia & the CIS News Archive
2013 Russia & the CIS News Archive
Sr Sudha's visit to Ukraine
5-16 December 2013
Uzhgorod, Trans-Carpathians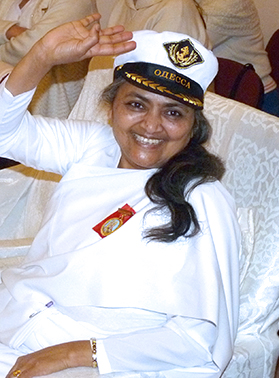 Uzhgorod is one of the oldest and most important historical cities in Eastern Europe. Baba's service in this small capital of the Trans-Carpathian District of Ukraine was started 2 years ago.

On 6th December Sr. Sudha conducted the lecture 'Living without Conflicts' at the hall of Znannya (Knowledge) Society. She was late because of the first snowfall in the mountains, which is why the audience had a chance to meet the whole BK support team there. Sisters from Debrecen (Hungary), sisters and brothers from Odessa and Uzhgorod (Ukraine), and a sister from Moscow (Russia) introduced themselves, and shared their personal experiences of following this spiritual path before Sr. Sudha arrived. The audience was touched by her words of wisdom, and the silent meditation at the end of the lecture. Many of them showed interest in joining BK programs in future.

We enjoyed the weekend in the pleasant atmosphere of a small family: discussing knowledge, practicing yoga, sitting and eating together.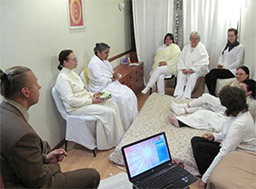 Lvov, Western Ukraine
Formerly capital of the historical region of Galicia, and once the Crown of the Kingdom of Poland, nowadays, Lvov is one of the main cultural centres of Ukraine.

On her way to Southern Ukraine Sr. Sudha stopped over in Lvov for two days. We were told that during those days, the attention of the whole city was focused on political opposition party meetings both in Lvov and in Kiev. In Lvov, we had planned a lecture on Inner Power, but when we could see that 6 people were all the audience we would get, we turned the lecture into a friendly spiritual conversation, which made souls content and peaceful.

Odessa and Nikolayev, Southern Ukraine
Odessa, the biggest seaport in Ukraine, lies on the coast of the Black Sea. It's a city where more than 100 ethnic groups have lived together in generally peaceful multicultural coexistence for more than two centuries. This city of maritime professionals, sailors, businesspeople and artists is famous outside Ukraine for its air of freedom and friendly humor.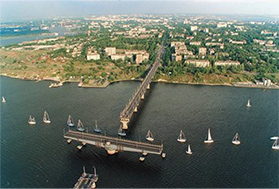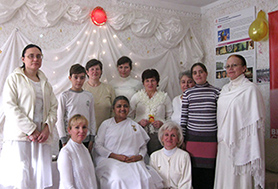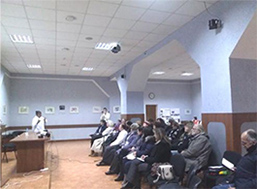 In Odessa, Sr. Sudha was cordially welcomed as a mate of the Supreme Captain by a spiritual 'ship's crew'. Odessa is well-known for its maritime as well as Jewish folklore, which BK's students arranged in a spiritual way. They excited the audience, singing and dancing together with artists.

Sr. Sudha inaugurated new Baba's Home, giving her blessings, and conducted yoga in all rooms of the new centre.
A public program on Meditation and Harmony in Relationship was held as a panel discussion. The meeting's anchorwoman, Olga Gorbunova-Perez, top-manager of the Mary Kay Company asked Sr. Sudha many questions, which were important for everyone: mainly focusing on how to use the Brahma Kumaris knowledge and practices to create harmony around us. 80 people attended. After 15 minutes of meditation deep silence fell over the hall, generating a real feeling of harmony with one's inner self, others and nature. After the program, as if feeling a magnetic pull, many people from the audience approached Sr. Sudha to thank her, request some advice, or just hold hands.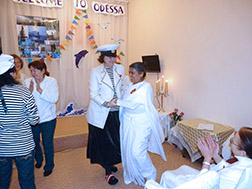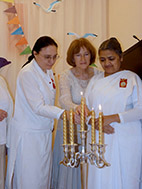 On 13th December, Sr. Sudha met representatives of the Indian Community in Odessa led by Ashu Ravat, President of the India-Ukraine Association. Sr. Sudha spoke about her life journey, and how the BK's spiritual knowledge has made it full of meaning and successful. The guests listened to Sr.Sudha attentively and with great respect.

The next place of Baba's service was Nikolayev, a city east of Odessa, which is one of the major ship building centers of the Black Sea. Nikolayev is located on a peninsula along the estuary of the Southern Buh River where it meets the Inhul River. With the Dnepr River to the South it makes it real Sangam!

Baba's service in Nikolayev was started two years ago, and now there is a small but very sweet family of 9 BKs. In Nikolayev, Sr. Sudha gave a lecture on Meditation and Inner Powers.

The next day in Odessa there was a special meeting among friends of the Brahma Kumaris. The guests were people who share our views and support different activities of the Brahma Kumaris: deputies of the city and district councils, famous doctors, journalists and lawyers. It was a very warm meeting on the topic of Applying Spirituality. Guests shared their experience on how Brahma Kumaris knowledge and meditation practice help them in their busy lives. It was a pleasure to learn how all of them practice what they hear at our seminars and retreats; some of them even regularly practice traffic-control!

On the evening of December 15th, we said goodbye to our dear Sr. Sudha and Irina Lemberg (Moscow), our tireless translator. We thanked them for giving us new courage and much enthusiasm. Some were moved to tears because Sr. Sudha is a spiritual mother for many Odessa's BKs, as the first BKs here had their spiritual birth in 1994 - 1995 when she conducted Raja Yoga courses in Odessa.

On December 16th Sr. Sudha and Irina returned to Moscow after having planted seeds of spiritual knowledge in Ukraine, from the Carpathians to the Black Sea. And we believe they will sprout, because they were watered by the spiritual love and light which Sr. Sudha generously gives to everyone.

Shades of Joy - 5th Anniversary Celebration
1 December 2013 - Tallinn, Estonia
At the beginning of December the Brahma Kumaris Centre in Tallinn, Estonia celebrated its 5th Anniversary. The official celebration took place in the conference hall of the Europe hotel. 30 friends of the centre and BK guests from Riga, Latvia came to congratulate students of the centre.

First, there was a small home celebration with a cake, entertainment, and thanks to all those who have helped and supported the centre during these years.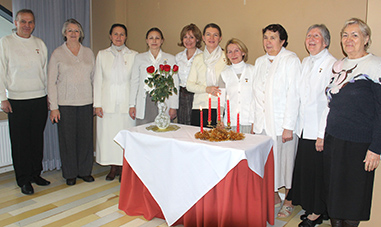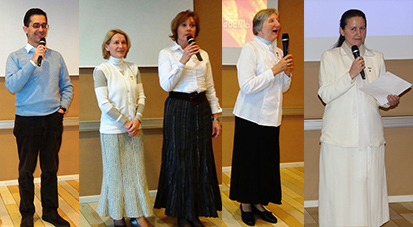 During the public Shades of Joy program BK students from Riga and Tallinn revealed seven shades of joy. After a short video-presentation on each of them, BKs shared their reflections and experiences with the audience.

'Joy is a very special state of soul, when peace and love reign inside it. We are already gifted with joy. It overflows when we gratefully accept what life gives us. It flashes out when we know what we have done is right - and disappears when we realize that our deeds have been wrong and improper. When we feel joy it reflects in everything we do.

'Yet, Joy and fun are not the same. Fun is caused by external factors, but joy does not depend on this. It is an inner state which is free of any circumstances. The ability to feel happy is one of the heart's special qualities: which helps people get through difficult periods.



'Joy has many shades: the joy of newness, the joy of receiving and giving, joy of overcoming life's challenges, the joy of serenity and solitude, of unity, and so on.

At the end of the program Nina Zavyalova, coordinator of the Brahma Kumaris, Riga, performed the song Soul Flying; guests lighted candles, meditated, watched the film Land of Happiness and enjoy the atmosphere of happiness.

We believe our experiences and insights into joy, and how to help it be present in our daily life will help participants realize inner harmony in spite of everything else they need to deal with.

Bridge of Love: From Moscov to Montenegro
21-28 November 2013

Harmony of the North: Bringing up with Heartfelt Wisdom
21-24 November 2013 - Petrozavodsk, the Republic of Karelia, Russia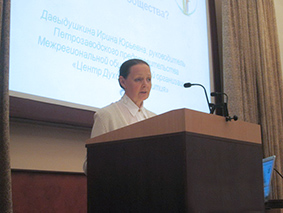 November 21-24, representatives of the Brahma Kumaris Center (Center of Spiritual Development) in the Republic of Karelia (R.K.) actively took part in the Family Conference on Bringing up with Heartfelt Wisdom, held as part of the 6th International Harmony of the North Conference. This Family Conference was organized by the Karelian Research Center of the Russian Academy of Science. The main participants were scientists, teachers, trainees, graduate students, students, young people and their mentors, and representatives of different N.G.O and commercial organizations. More than 200 people participated, sharing their experiences and achievements in the areas of personal and family development in view of societal development.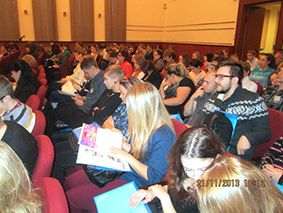 This year the Youth Parliament of R.K. also took part in the Conference, which is why so many young people participated along with members of the official Parliament of R.K.
Irina Davydushkina, coordinator of the Brahma Kumaris in Karelia says: "This is the second year we use this 'platform.' Thanks to the friendly cooperation of several organizations, we get the opportunity to speak to a big audience. We talk about soul, the benefit of positive thinking, and even meditate together."
The Conference included dialogues and panel discussions; participants collectively wrote an inspiring Message to Humanity; and practiced how to design educational programs for children, adults, families and social workers.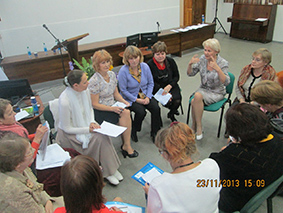 A special feature of this Conference was that the students and scientists, social workers and public officers were all sitting together and thus, could reach a shared understanding based on mutual support and benevolence.
The Conference also helped to understand the great demand for spiritually oriented organizations and people in modern society.

Russian Cultural Program in Bangalore, India
15 October 2013
I Love My India:
Links to other performances during the same program:

International Children's Art Contest - Awards Ceremony
19 November 2013 - Chisinau, Moldova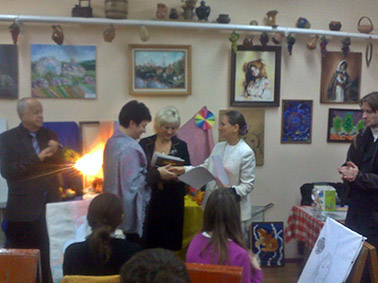 On November 19th, over 20 contestants from different places in Moldova were presented awards as winners of the International Children's Art Contest 'Tales of a Wonderful Heart'. The top eight winners received honorary certificates. The ceremony took place at the Polyakov School of Fine Art, Chisinau.
More significant than the awards, however, was the children's understanding of importance to express their own sincere thoughts and feelings. The children could see and have faith in the wonder, beauty and power of their inner selves.
George Russu, Director of the Polyakov School of Fine Art said that children's art is very touching; it shows the beauty and purity of children's hearts, their love, openness and generosity.
During the ceremony, the Contest's coordinators were presented with two works of art the children had skillfully made to symbolize their beautiful and welcoming hearts.

Self Esteem Training Sessions on the banks of the Volga river - Saratov, Russia
October 2013
During year 2013, a series of training sessions on self-esteem was held at the Centre of Spiritual Development (the Brahma Kumaris Centre) in Saratov, Volga Region. People of different backgrounds, from students to retirees, came to the Centre united by one common aim - to learn how to understand their inner self.

The first session was dedicated to exploring our personal 'history', to understanding the burdens we have accumulated during our lives. Although we have a good deal of positive experiences, and every person has his / her unique special qualities and gifts, the fact is we hardly know ourselves enough. Moreover, many of us do not recognize how worthful we really are; so as a result, we do not appreciate ourselves enough. During the session we deeply explored ourselves, trying to realize our true value.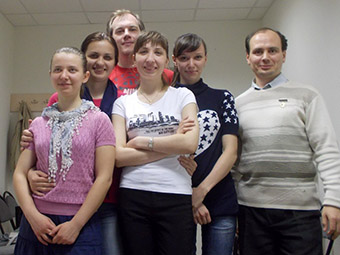 In the second session, we tried to look into our futures: where we are going and where we want to go; what's motivating us, and what we'd like to do for the world. We worked on our personal missions, finding out the inner resources each of us can use to overcome obstacles along the way to our goals, and reach our destinations.

The atmosphere was filled with the friendship one feels when people who are spiritually close interacting together. Everyone could share their experiences and views; many personal discoveries and revelations were realized.

Participants' comments.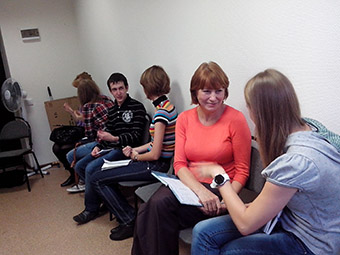 Irene Danilina: 'Spirited training, very informative and deep. I learned how to make a pause to understand what I've done and learn lessons. I feel I want to practice it.'

Elena Shilina: 'For the first time I thought over my personal mission and why sometimes I failed. I hope, now I can make good progress.'

Dimitry Yakushin: 'Friendly gathering, good vibrations. All necessary information on self-esteem you can get within a short time.'

Ekaterina Reztsova: 'I understood what prevents me from reaching my destination. The definition of limited and unlimited beliefs and convictions was completely new to me. As if I opened a door and now I know how to work on my locks – complexes.'

Alena Glukhovskaya: 'I got answers I couldn't find before. The training revealed the knowledge I'd understood on a superficial level only. I was given methods to work on mistakes and could structure my knowledge about myself.'

Anastasia Ulchenko: 'The training helped me to understand myself and gave me a new inspiration. I got practical skills in how to work on "negative" situations and limiting beliefs."

International Adult Learners Week
23-28 September 2013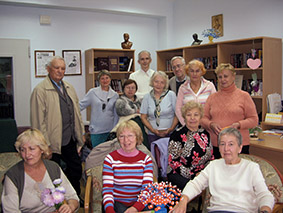 The UNESCO Action 'International Adult Learners Week – 2013' was held in three places of Ukraine's picturesque Crimean peninsula: Yalta, Feodosia, and Sevastopol, from September 23 to 28. The Action was jointly organized by the International Council on Adult Education (ICAE), UNESCO Institute on Lifelong Learning, the Danish Culture Institute, the Ukrainian Bureau 'Adult Education in Ukraine', and NGO 'House of Europe in St. Petersburg'.
In this Action, Brahma Kumaris presented the educational project 'You are never too old to learn', which has already been implemented in different places of Ukraine and Russia. The Head of this project, B.K. Santosh, is Director of the St. Petersburg Center of Brahma Kumaris.
On September 27, within the frame work of the Russian and Ukrainian Folk High Schools Forum, a master class on the project 'You are never too old to learn' was guided by Lyudmila J. Levinetz, coordinator of the Brahma Kumaris inYalta.
The key idea of this master class was to show methods and approaches the project uses to help senior citizens understand their spiritual personality, and how it is connected with their thoughts, words and actions, in view of accepting the need of personal spiritual transformation at any age.
The atmosphere of love and acceptance is very important for people of the older generation. During their life they directed their energy to society, but now have difficulties dealing with their own health problems, those close to them, and the lifestyle of today's world. The 'You are never too old to learn' project educates older adults for deeper understanding of the subtle laws which operate in their thoughts and body, their relationships and the world," Lyudmila Levinetz said.
In Ukraine, the Brahma Kumaris organized this project jointly with various organizations in Kiev, Donetsk, Odessa, Dnepropetrovsk, Simferopol, Sevastopol, Yalta, Nikolayev, Mariupol.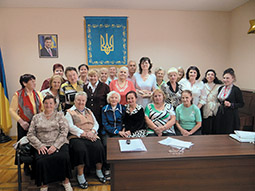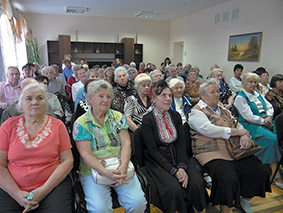 Eternal Source of Inspiration
15 September 2013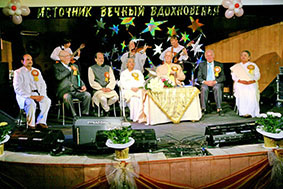 On September 15, the Brahma Kumaris, Centre of Spiritual Development (C.S.D.) celebrated its 24th Anniversary at the Central House of Artists (C.H.A.) in Moscow. Despite the cold rainy weather, C.H.A.'s Cinema and Concert Hall was filled to capacity with the friends of the Brahma Kumaris, who came to congratulate their teachers and the many students of the Centre on this very special occasion.
The honorable guests included: the Deputy Head of the Indian Mission in Russia, Mr. Sandeep Arya; the eminent scholar, Yakov Z. Mesenzhnik, President, International Academy for Integration of Science and Business (IAISB), scientist and ecologist of international repute, M.S.U. Prof. Edward V. Girusov; the world-famous scientist, biophysicist and water researcher, Prof. Stanislav V. Zenin, member of the Russian Academy of Natural Sciences.
The theme of the 24th Anniversary celebration was: Eternal Source of Inspiration.
Many people have had this profound life experience – a deep feeling of elation and mental lucidity, an enthusiastic burst of energy and creative power – that feeling called inspiration. A feeling so powerful, it elevates a person, lends them wings to transcend the Earth and rise towards the Eternal Source of inspiration, the Supreme Being.
Spiritual leader from India, B.K. Chakradhari, who's dedicated her life to the service of humanity, gave her short but very inspiring message. "We can recreate our inner source of spiritual power only if we link ourselves with the Eternal Source, the Supreme Soul and Supreme Father. It is Him, who bestows His blessings on us. He is the Ocean of Peace and Love, the Ocean of all powers and the everlasting Light. If we keep our connection with the Eternal Truth, our inspiration will last forever," she emphasized.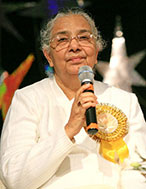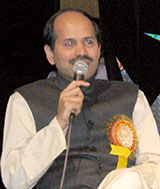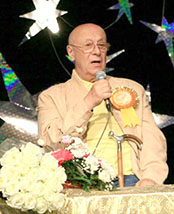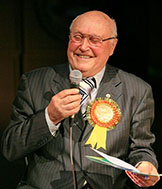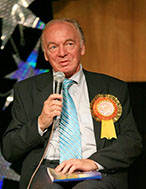 Mr. Sandeep Arya expressed his deep appreciation for the activities of Brahma Kumaris in Moscow: "India is a country with an ancient civilization, and spirituality has always been a very important part of this. The ancient knowledge of India is now needed in the world. The Brahma Kumaris helps people to realize themselves, to understand their relationships with others, with nature and with the Supreme," he said.
Yakov Mesenzhnik believes that Brahma Kumaris should be celebrated not only every year but also every month. "Brahma Kumaris, C.S.D. is the Ministry of Emergency and Disaster Relief for the world – as it rescues spirituality. It teaches how to survive in this jungle of a world, and still remain decent, worthy people; so that our civilization does not meet its end but continues forever and ever. God has given us so many gifts – the arts, sciences, nature. We must use them in a worthwhile way. We must not get disheartened, but remind ourselves: 'Om shanti' – I am a powerful and peaceful soul. I am a beautiful creation of God," said the scholar.
Prof. Girusov shared: "Two years ago, when I first joined this organization, I felt that a different, higher octave of creativity began to ring inside me. I sincerely congratulate the people who set up this amazing organization 24 years ago. The world yearns for spirituality; Nature and the biosphere demand it."
Prof. Zenin said: "Genuine inspiration is very important for people engaged in science. It helps them to remain open-minded and thus exceed the limits of the visible and conventional. I am very happy to see how, nowadays, spirituality merges with science as it invents new methods enabling the recording of phenomena which, until recently, was believed to be only mystical and non-scientific."
Ph. D. Vijay Kumar Uttanur, Senior Teacher and Coordinator of C.S.D. said: "Scientists have been inspired to discover that the state of the elements of nature depends on human nature, our state of mind, the vibration of our thoughts. Humanity must understand that the time for change is now."
Director General of the C.S.D., B.K. Sudha R. Gupta, invited the audience to say 'om shanti', and explained: "This is the essence of spirituality; I am a peaceful soul. All we need is to realize the depth of those words, and stabilize ourselves in that state. Everything begins from inner silence: when we turn our attention inward and experience sweet silence. This is the silence that brings about inspiration and reveals the Truth. It heals the soul of its negative past experiences; fills it with creative energy, and links it with the Source to restore its potentials."
From the silence to sound – the gala concert began.
Gaining inspiration from God the Father, a soul soars towards light and wisdom, love and harmony. These beautiful feelings were embodied by Natalie Raamel in her choreography Renaissance.
Everything in the program inspired the audience, filling them with enthusiasm, and entertainment also bestowed light and happiness: the exciting and audacious Czardas performed by a trio of musicians, C.S.D. students Julia Sabitova, Alex Slavnov and Dmitry Kopytin; the dance The Four Faces of Time directed by Vera Zakharova a soloist of Igor Moiseev's State Academic Ensemble of Popular Dance (Igor Moiseev's Ballet); Angels a song performed by students of Brahma Kumaris C.S.D., Pauline Kachura, Larisa Gridina and Jeanne Yakovenko.
How inspiration comes into their life was also shared with the audience by: the tutor of the Entree Art School of historical dance; by the poet and composer, Augustine, soloist of the ensemble Length of Breath; by Efrosinya, art director of the Magic Flute Indian classical dance school; by Svetlana Boytsova, winner of international competitions, art director of the Elegy Women's Academic Choir; and by several other guests of this very inspiring, entertaining and memorable anniversary.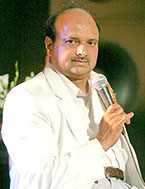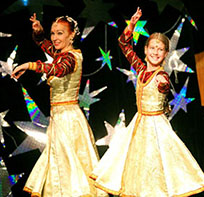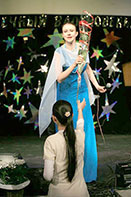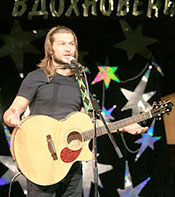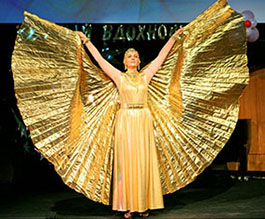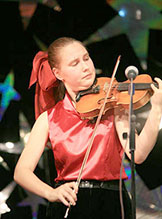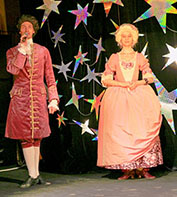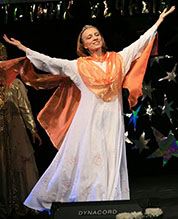 Spiritual Wisdom in Managing Disasters
13 August 2013
On August 13, the new Angel's House of the Brahma Kumaris in Moscow hosted the local scientific community representatives. The friendly meeting was dedicated to the role of spiritual wisdom in managing disasters. A special guest and keynote speaker, B. K. Mohan Singhal, national coordinator of the Scientists and Engineers Wing of the Raja Yoga Education and Research Foundation,India, Academy Coordinator of Academy for a Better World, Mt.Abu, India shared his rich experience and practical knowledge on this topic.
The atmosphere of the meeting was light and easy, but very productive. Professor Alexander Zimenkov gave B. K. Mohan Singhal a cordial welcome on behalf of the Brahma Kumaris (Centre of Spiritual Development), and the Moscow scientific community. He told the audience about B. K. Mohan Singhal's biography, course of his life, and his outstanding contribution to the spiritual education and enlightenment of mankind. Over the years, B. K. Mohan Singhal has been actively involved in the organization of Environmental Awareness Campaigns, and has an Indian Government award in acknowledgement of this service. B. K. Mohan Singhal gives lectures and seminars on positive thinking and conflict resolution, revealing the fundamental role of spirituality in any field of human activity.
There was his first time in Russia, and over a few days B. K. Mohan Singhal held a series of lectures and seminars in Nizhniy Novgorod and St. Petersburg, arriving from Saratov just a few hours before this meeting.
The key-note of his speech was how the strength of the human mind can do wonders during a time of natural disaster especially when there are no physical rescue resources and communication facilities available, because they often get damaged early in natural disasters.
A virtuous and clear intellect can catch signals of impending danger, make the right choice of optimal and safe locations, correct behavior, etc. The effects of positive karma towards people and the environment plays an essential role and can help a lot in disasters. B. K. Mohan Singhal provided different examples of how people, who had protected the environment, could escape the disastrous effects of natural calamities. He explained how the practice of Raja Yoga meditation helps to make one's intellect clear, which increases one's power of concentration.
A documentary film on the devastating effects caused on our planet by the activities of spiritually deprived human civilization was a telling illustration of the Indian guest's speech.
Moscow scientists discussed the fundamental role of spirituality in overcoming the various crises our modern world has been experiencing and faces in future.
The Ph.D. Professor, colonel Yuri Kurnosov, is a person with worldwide life experience. He served in the frontier troops of the Russian Army, worked as a senior analyst and professor at the Academy of the Federal Security Service of Russia, and as Professor at the Russian Academy of Public Service, under the President of the Russian Federation. He is now Chief Inspector of the Chamber of Accounts of the Russian Federation. He's written a number of analytical textbooks, and is founder of the Russian Analytics School. In his speech Yuri Kurnosov noted the congeniality of India and Russia's spiritual traditions, their rich heritage and kinship; and stressed how, without spirituality, any scientific activity can cause irreparable damage or prove meaningless instead of bringing benefits.
In 2011, Yuriy Kurnosov participated in a Peace of Mind Retreat in India, and believes that the spiritual experience a person gets in Gyan Sarovar and Shantivan is invaluable.
M.D Professor, Honored Medical Doctor of Russia, Rector of the Psychology Institute, and State Duma deputy for four years, Dana Karimova spoke about the role of spirituality in training students.
Practicing Psychologist Vladimir Dobrovolsky spoke about recent research in human dreams, which revealed the close connection between what we dream and our way of thinking.
Ph.D., ex-deputy Energy Minister, Vladimir Jandgirov, gave interesting commentaries on the priceless role of spirituality in disaster rescue work.
Summing up at the end of the meeting, Professor Alexander Zimenkov emphasized how positive thinking and right answers to the fundamental question 'Who am I?' help a person keep his/her life full of meaning, and working for the longterm good of society.
The intense and wide-reaching scientific discussions culminated in a friendly tea party with heart-to-heart talks with the Indian guest and the meeting's hostess B.K. Sudha Rani Gupta.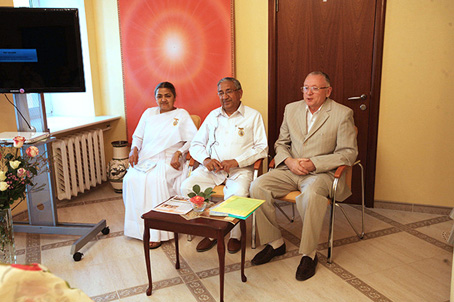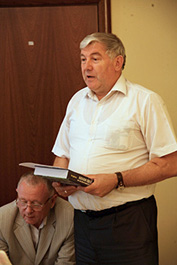 Absolute Protection through Absolute Freedom from Negativity
14 August 2013 - St. Petersburg, Russia
The double festival attracted about 200 guests who love and value India's rich spiritual and cultural heritage. The event called "Revisiting History for Unveiling the Mystery of the Future" started with the spectacular Dance of Time reminding of the cyclical eternity of this Drama of Life.

B. K. Meenakshi , Raja Yoga teacher (Karimnagar, India), shared her vision of the spiritual basis of unity, "No doubt, the awareness of nationality gives us the feeling of being united despite all the differences and distances, however it is only the spiritual awareness that creates the feeling of universal love, binding the whole globe as a family."

Prof. Vladimir Golovkin , president of St. Petersburg Foundation "North-West Association of Multiple Sclerosis", is quite sure that he lived in India in his previous birth! "I could feel it very deeply at the Peace of Mind retreat which I was lucky to attend a few years ago. As a doctor, I especially appreciate the activities of the BK's Global Hospital where they offer their patients an effective technique of meditation, positive thinking and inner calm. Typically, hospitals aim at increasing the number of operations they perform. However, the medical staff of the Global Hospital believes that the true success lies in decreasing the number of operations! They do a wonderful job saving people from the necessity of invasive medicine. We have started using this techniq ue in this city as well, in co-operation with the Brahma Kumaris centre, and we can see that peace of mind truly mobilizes defense mechanisms of our patients helping them to improve their condition."

Prof. Inna Vartanian , one of Russia's leading psychophysiologists, also recalled her visit to the Brahma Kumaris headquarters in Mount Abu three years ago. "Those were 7 wonderful days that gave me enough inner power for at least 7 years! As a scientist and teacher, I learned a lot about how to get stabilized in a powerful and peaceful state of awareness before coming in contact with my students. The atmosphere created through that is very conducive for learning and transformation."

Mr. Chander Prakash Gandhi , consul of India in St. Petersburg, greeted the audience on behalf of Mr. Vishvas Sapkal, Consul General of India. He also shared the story of his 3 years in Russia. "Every time I visited the BK centre during the last 3 years, it was a matter of joy and inspiration for me. Next month I am leaving this great and friendly country. Back in June 2010, when I first came here, my Russian friends in the Consulate came to know that I was a vegetarian and did not drink alcohol, and they were concerned about how I was going to survive through the severe Russian winter. I looked outside the window and saw many green trees out there. So I told my colleagues, "Look, these trees survive winter and snow, and I eat fruit given by them, so I will definitely surv ive as well! And I did survive three winters – not only because of the trees, of course, but because of warmth of the hearts of our Russian friends and because of their love for India."

B. K. Santosh , Brahma Kumaris director in St. Petersburg, shed new light on the deep spiritual roots of both losing and gaining freedom. "Today, on the eve of India's Independence Day, we remember how such a big and great country, a spiritual giant, lost its freedom for a thousand years. History books provide us a tremendous amount of data about how India was invaded, conquered and looted for centuries on end. However, the spiritual wisdom helps us to detect the root cause behind this loss of independence and freedom. It was the negativity in the minds and relationships that led to breaking unity and opened the gates for both internal and external enemies. But once the lesson was learned, trust and love were restored, and it became easy to bring back the lost freedom. This is t rue not only of India. This is the story that has to do with all the people and all the nations on this globe.

There is just one condition under which we as individuals or members of a certain community or country can always remain protected. Neither Judo nor bodyguards, or bulletproof vests can save us from, say, an unexpected natural calamity, a tornado or an earthquake. However the universal spiritual law says that we can be absolutely safe under any adverse circumstances, provided we have absolutely saved ourselves from all the negativity in our minds. Today, as you will be coming up to get your Rakhi tied, create a determined thought of dropping all that negativity in the Ocean of love of your Supreme Father, and He will give you the guarantee of His eternal protection."

A Rakhi tying ceremony held in complete silence charged the atmosphere with the magical power of transformation. It felt that the confluence of the two festivals was not a mere coincidence: true Independence comes only when we create a determined thought of becoming pure and positive.

THE DEPOSIT ACCOUNT OF THE SOUL

" We know everything about our physical property and bank accounts, but we are hardly aware of the treasures that lie within the soul", said Didi Chakradhari, chairperson of the Brahma Kumaris Women's Wing, at a meeting held in the leading bank of Belarus.

Minsk (Republic of Belarus), 9 September, 2013

BELARUS BANK is the biggest bank in this country, rated 412 in the list of 1000 leading banks of the world. 77% of its 20,000 workers are women. Didi Chakradhari was invited by the Belarus Union of Women to give a talk for the bank management. The meeting that took place in the bank conference hall gathered together about 80 top managers and women activists.

Mr. Vladimir Zanko , deputy chairperson of the directors' board of BELARUS BANK, introduced Didi, saying that his organization was proud of having such an experienced guest who carries out a noble mission of spiritual and moral enlightenment of people. He underlined a special role the Bank's Union of Women plays in creating the atmosphere of understanding and respect among the bank workers through introducing moral values in corporate life.

Prof. Zinaida Volovich , head of the department of economics and management of the Republican Institute under the Ministry of Labour and Social Protection, introduced the Brahma Kumaris World Spiritual Organization to the attendees. A few years ago she took part in the Peace of Mind Retreat in Mount Abu, therefore she could speak about the BKs from her personal experience. "I feel that the mission of the BK centres lies in enabling people belonging to different cultures and religious traditions, to speak the language of mutual respect, non-violence and spiritual co-operation. I have been literally enchanted with the brilliant charismatic personality of Dadi Janki, the 97-year-old rector of this institution, and I always remember her motto: SMILE, PLEASE!"

Didi Chakradhari gave everyone warm greetings from the warm land of India, saying that the weather can be cold or warm but if our hearts are warm, then we are able to overcome all the tests of nature. "They say, East or West, home is the best. If something goes wrong in our home, we will unavoidably bring our bad mood to our working place, and it will affect our performance. Therefore the atmosphere we create in our families should become our first priority. These days women play an increasingly important part in political, social and business life. However, they can be truly successful in standing up to their new responsibility provided they decorate their personal life and their homes with spiritual values. Spirituality enables us to see things that unite rather than separate us. As we realize our true spiritual identity, we create the basis of unity in our family and working place. Spirituality says that prior to fulfilling our social and professional duties we should get in touch with our inner self filled with peace, knowledge, love and power."

At the end of the meeting Didi Chakradhari wrote her message in the Book of Guests of Honour of the BELARUS BANK.

Summer Camp for problem children with deviant behavior
Kazhakastan - 4th August 2013
From July 29 to August 4, the Government of Karagandy Province, together with the Youth Department of Karagandy Province and the Association of Student Organizations of the Karagandy State Technical University – Zhas Orda – organized a summer camp for problem children with deviant behavior in Karkaraly National Nature Park, the central part of Kazakhstan.
Karkaraly National Nature Park is a protected reserve and national park in the Karagandy Province of Kazakhstan. The mountain forest oasis is located in the very heart of Kazakhstan.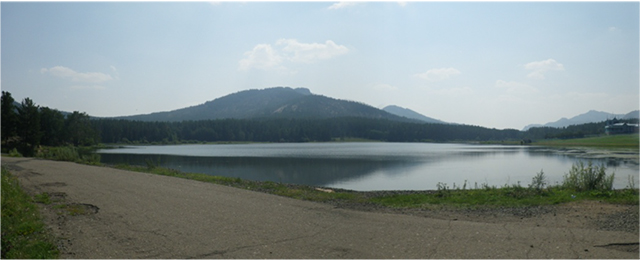 The participants of the camp were more than 30 teenagers aged from 13 to 15, curators of groups, supervisors and guests. Students of Brahma Kumaris Centre, Astana, were invited guests of the camp. They conducted the program 'Know and learn how to manage you inner self'.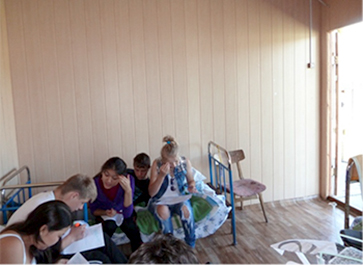 Children learned about their inner abilities and powers, got known that they are responsible for their actions and consequences of those actions. They enjoyed the Virtuescope game, pulling out cards and discovering secrets of the inner self and its qualities. Step by step, children learned how to rule themselves, to manage their emotions, not to give way to bad mood. They learned how to stand in life, to say 'no' to wrong and they… just learned how to learn.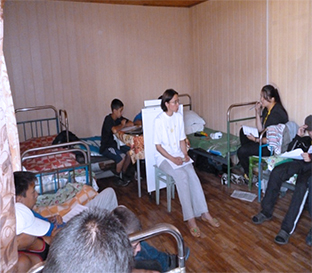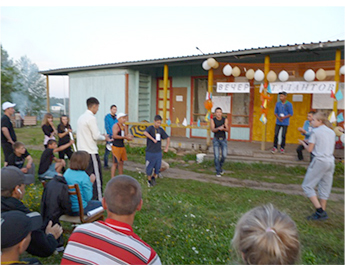 We felt at home. We have been there for six days; we studied and played, we lived together. Every day was filled with love and care from adults, curators of groups, supervisors and sponsors, full of interesting and fascinating events. And a miracle happened: the past lives of the children remained "behind the scenes". They were just kids who were learning to live, needed love and understanding, warmth and sincere affection.
On the day of the departure we didn't want to leave. We became good friends. How nice it was to see their radiant faces and smiles… The same children, yet … they had changed. Matured, they seemed to understand more about a life filled with light, love and goodness, purpose and meaning.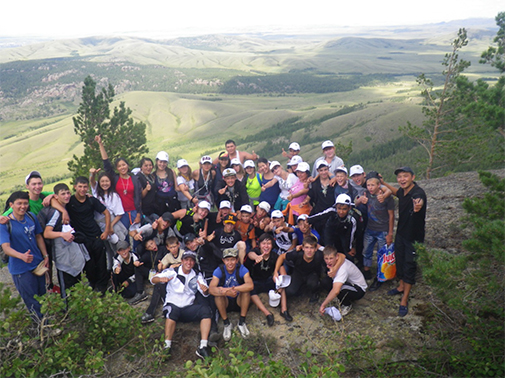 Earth, Man, Creator: Partnership for a Better World
2 August, 2013
A new environmental awareness raising project launched in St. Petersburg, Russia
Chief guest – B. K. Mohan Singhal ji, national co-ordinator of Scientists and Engineers Wing of the Raja Yoga Education and Research Foundation (India)
The new project aims to highlight the importance of spiritual and moral values in ecological education and developing ecological strategies. The launching ceremony took place at a seminar "My Clean Planet: Vision, Decision, Action" at Lighthouse (St. Petersburg Brahma Kumaris Centre) with the participation of leading ecologists, environmentalists and educationists.
Partners to the project are: Russian State Hydro-meteorological University, Smolny University of the Russian Academy of Education, organization "Keep St. Petersburg Tidy", interdisciplinary science journal "Biosphere", North-West Green Cross and the Brahma Kumaris.
As a symbolic green ribbon was being cut to mark the starting of the project, B. K. Santosh, Brahma Kumaris director in St. Petersburg, said, "The dramatic environmental changes taking place these days can be compared to a disease. The Earth has fever, it is coughing and sneezing. Influential scientists, gifted visionaries, greatest minds of the age have tried a lot to treat our planet, but it seems that there is still million miles to go. Man wants and the Earth needs, so is it not wise to remember about the Supreme Doctor, the Creator, God and to listen to what He has to say to us in this connection? Because when you need to fix your car, you look for a mechanic. When you need to repair your house, you look for a constructor. And who else if not the Great Master is to be looked for to fix all the problems? Well, it may sound religious, but let the science go hand in hand with spiritual wisdom before it is too late. The new project is all about this beautiful combined effort of science and spirituality."
Prof. Leo Karlin, a high profile Russian scientist, rector of St. Petersburg State Hydro-meteorological University, opened the first session drawing a gloomy picture of today's ecological conditions on the Earth.
"Scientists estimate that the amount of fossil fuels burned in the world per day is equal to the amount accumulated during one million years of the history of our planet. If the entire humanity starts consuming as much energy as the most developed countries consume even now, the remaining energy resources of the planet will last for just a few months. Consider another worrying figure: on average, every man on the globe generates about 1 ton of waste per year. They say that an ecosystem is capable of restoring itself after having been exposed to negative influences, provided that the threshold of environmental load has not been crossed. Today many scientists warn that the critical threshold has been almost reached."
Prof. Erik Slepian, editor-in-chief of "Biosphere" science journal, spoke of the detrimental effect of intolerance, anger and hatred on environment. In his presentation he described various types of the so-called ecological terrorism.
"In pursuing their goals, ecological terrorists use various ways to cause harm to ecosystems. They choose this tactics for waging ethnic, religious and interstate wars. Radical green groups also take to ecological terrorism to oppose certain ecological decisions they don't share. The tragedy of such acts lies in the fact that there are no political or ethnic boundaries for ecosystems. The impact caused on a certain territory will sooner or later emerge at other territories as well."
B. K. Mohan Singhal ji, chief guest at the seminar, dedicated his presentation to positive effect of meditation and proper value system for changing the situation in the world for the better. "We should learn from the five elements of nature. The Earth can teach us how to be tireless givers. The Water reminds us of the importance of constant movement, that of never getting stagnant. The Fire transforms whatever is placed in it, and our presence should act like fire destroying seeds of weaknesses of other people. We should also learn to be as light as the Wind. We should create conditions for positive communication with everyone, just as the Ether does." The audience was especially interested in listening about the research work carried out by the Brahma Kumaris in co-operation with various research institutions in the fields of organic yogic farming and coronary artery disease regression through Raja Yoga meditation and positive life style.
A new documentary "Just 8 Minutes from the Earth" narrated a story of the Brahma Kumaris solar energy projects.
The seminar showed that scientists are well aware of the importance of introducing the spiritual component in creating plans of action for sustainable development.
Mr. Leo Karlin: "Opponents of eco-friendly strategies of development say that addressing environmental issues demands huge expenditures. However I can say that 85% of problems can be solved with just 15% of effort, provided we add the educational and spiritual components to our action plans. People should be made aware of the amount of problems they may create due to their environmental illiteracy. Such values as ecological responsibility and empathy are to be developed. The triad of "Awareness – Realisation – Action" should be introduced. Another important spiritual ingredient is the awareness of interconnectivity of the global, national and local. A problem born in a particular place will reverberate in others places, thousands miles away."
Mr. Nikolai Morozov, senior lecturer of Humanities Department of the Russian Academy of Education, member of the European Academy of Natural Sciences, defined health as a complex indicator of man's quality of life.
"The level of health reflects the quality of biological, material, cultural, spiritual and creative aspects of human life. Good health implies harmonious relationships of an individual with their community, fellow workers, family members, technosphere and biosphere. The absolute priority of spiritual and moral values is the main prerequisite to ensure high quality of life and health of man, society and human civilization in XXI century."
Ms. Olga Madison, chairperson of "Keep St. Petersburg Tidy" (member of the international network "Keep Baltic Tidy"), shared wonderful positive stories of how little children in eco-schools contribute to sustainable development of their region. The audience gave a big round of applause to her story of a schoolboy who invented a mini power plant operating on rainwater. Now all the teachers and students of that school charge their mobile phones from that power plant (provided it is a rainy day)!

Global Warming is Essentially a Global Warning
31 July 2013
"Global warming is essentially a global warning", says Brother Mohan Singhal, national co-ordinator of Scientists and Engineers Wing of Raja Yoga Education and Research Foundation, in his interview with Mr. Semyon Gordyshevsky, host of the first full-length environmental TV show in Russia.
After almost 20 hours journey from India to St. Petersburg, Russia, our respected senior brother B. K. Mohan Singhal ji, demonstrated a wonderful example of being a tireless server, agreeing to take part in a TV interview on the very night of his arrival.
"Ecology and Man" is the first full-length TV show in Russia highlighting environmental issues. It is hosted by Mr. Semyon Gordyshevsky, president of the Ecological Union of St. Petersburg.
S. Gordyshevsky: Are recent developments in spiritual life of people related to degradation of the biosphere?
B. K. Mohan Singhal: Man and Nature are closely interconnected. There is a correlation between the laws of the physical world and the laws of spirituality. Science says that action is equal and opposite to reaction. The law of Karma says the same thing: we reap the fruit of good and bad actions we perform. The environmental conditions we find in the world today are resultant of the sum total of actions performed by us in this life and previous lives. The global WARMING is essentially a global WARNING of nature to us, inhabitants of this globe.
S. Gordyshevsky: What can people do in order to prevent further environmental degradation?
B. K. Mohan Singhal: International organizations, governments, scientists, NGOs and green activists are making a lot of effort to address the issues of environmental pollution and climate change. However, we should adopt a holistic approach to solving the problems. No doubt, tree-planting, using energy efficient lamps, avoiding the use of plastic etc. are important, however we should realise that the root cause of environmental pollution is mental pollution in the form of greed, jealousy, arrogance, hatred, carelessness and so on. Today mankind is consuming more resources than the Earth is able to provide on a sustainable basis. The forests are being cut not because of the real need but because of greed. The damage to environment caused by war conflicts (like burning oil wells during the Gulf War) has its roots in anger and hatred. This is why the Brahma Kumaris say that in order to save nature we should make effort to change inner nature of human beings.
S. Gordyshevsky: I know how much work the BK Scientists and Engineers Wing has been doing for more than 20 years to raise the environmental awareness of people in India, Nepal and other countries. I feel that INFORMATION is the key word. World elites are well-informed about the scale of problems but mainstream people remain unaware of the graveness of the current situation.
B. K. Mohan Singhal: That's true. Raising Awareness is important. However, information is not everything. Every smoker is well-informed about the damage smoking causes to their health. This warning is printed on every single pack of cigarettes. However people do not quit smoking. We believe that informing should be combined with enhancing man's inner powers, such as will-power, the power to discriminate and to decide etc. Raja Yoga meditation taught in the Brahma Kumaris is an important tool for developing our inner powers and freeing our inner space from all the pollutants in the form of weaknesses and vices.

Sr.Sudha in Baltic countries, December 2012
Lithuania: Vilnius - a good start
Charge yourself in Vilnius! - a large billboard at the Vilnius airport seemed to be a good sign for a start.
Didi Sudha's visit to Lithuania began with the welcoming program and a family meeting at Baba's centre.
The topic of Love and Harmony in Relationship ran all through classes and discussions with BKs in Vilnius. Didi reminded us that we all came to Baba with our "luggage" full of old habits and defects we sometimes don't want to part with. We need time to bring about inner changes. That is why we have to learn how to understand and forgive, so that we don't hold insults and offence in our hearts.
The public program "Time Management and Harmony in Relationship" got together about 70 guests. The beautiful hall of the Europe-City hotel was full. The program began with practical tasks and was followed by a lecture. Didi Sudha emphasized that to manage our time we have to rule over our thoughts, words and actions. For that, the essential skill is the ability to put a full stop on the past and keep going. During the meditation, Didi asked everyone to imagine the person we'd made a mistake toward and ask him for forgiveness. It seemed all got powerful experience and inspiration.
Latvia: Daugavpils - a stronghold
Our next stop was Daugavpils, a city in the Eastern part of Latvia, which is famous for its fortress. The history says that even Napoleon couldn't take it during his war against Russia. And Baba's children created the fortress of unity, maintaining the unique atmosphere of spiritual love and light in two-storeyed Baba's House.
In Daugavpils Didi Sudha met friends of the Brahma Kumaris University. Most of them had been to India as guests of the Peace of Mind Retreat. She also gave an interview for the local Radio broadcast "Alise".
More then 50 guest came to the public program "The Time of Transformation".
Latvia: Ventspils – a place of cows
We were heading west, the opposite site of Latvia, to the wonderful town, which lies on the coast of the Baltic Sea. Inspite of the small population, Ventspils is the busiest port in the Baltic states. It's a town of concerts, festivals and other events uniting thousands of people, a place of painted "cows"; colorful cow sculptures are all over the city.
Baba's service in Ventspils was started in spring 2012.
Didi Sudha gave a lecture at the Central Library on the topic of "Mind management". 80 people attended, most of them were Latvians. Didi managed to rapport with the audience, although there was not Latvian interpretation. The guests left satisfied with the deep spiritual experience.
The next day Marlena Zvajzgne, the journalist of a local newspaper, The Ventas Balss, interviewed Didi on Raja Yoga practice, the Brahma Kumaris activities and of course … the end of the world. With great wisdom, Didi explained that there is no end but big changes we have to prepare ourselves for.
Latvia: Riga – the spirit of freedom
The Freedom Monument is located in the center of Riga. The 42-metre high monument is a symbol of freedom, independence, and sovereignty of Latvia. The heroine if Latvian folk epic – Milda – rises over the city, staying on the base of a 108-petal lotus flower. She holds three stars above her head and at her foot freedom fighters break down chains. A memorial!
Two public programs took place at Riga Technical University hall. The first, "The Age of Transformation", was organized in an interview format. Didi answered the most stirring questions: how to get free from worry and discontentment, to deal with difficult situations, to understand one's own part, one's inner self and again what the end of the world is about. She explained that the world is eternal and shared a good message about the beneficial time of transformation, when God Himself helps us to recharge our souls and transform our lives.
The next day Didi Sudha gave a lecture on the topic "The Secrets of Gaining Inner Power". A beautiful atmosphere felt in the hall during the meditation at the beginning of the lecture and audience could feel every power Didi was speaking about.
At Baba's Home Didi met Alla Arkadieva, a famous radio journalist and an old friend of Brahma Kumaris.
Estonia: Tallinn – the winter town
Tallinn is the oldest capital city in Northern Europe. It is situated on the shore of the Gulf of Finland, 80 km south of Helsinki. Some derive its name from old Estonian, means "winter town". But cold weather is nothing, when you enjoy warm and sweet atmosphere of the family. We song Estonian, Russian, Hindi songs, danced khorovod (a Russian round dance) to the Estonian music, lit candles, cut a cake and shared our spiritual experience. The BKs' family in Estonia celebrated its 4th anniversary.
The next two days Didi gave two public lectures. The first was "The Uniqueness of Our Time". Having foreseen the questions prevailing on those days, Didi began her talk with: "Are we expecting the end of the world?" She explained that time is a circle and changes are the law of nature and what our actions should be at the time of global changing. On the second day the lecture was on "Meditation: a Key to Peaceful and Happy Life". Didi began with signs of a healthy soul, explained how soul can cure itself, and then gave some tests followed by spiritual exercises to show how we can experiment with meditation.