2020 Transitions Archive
2020 Transitions Archive
Sr Gloria of Trinidad flew to Baba
25 June 2020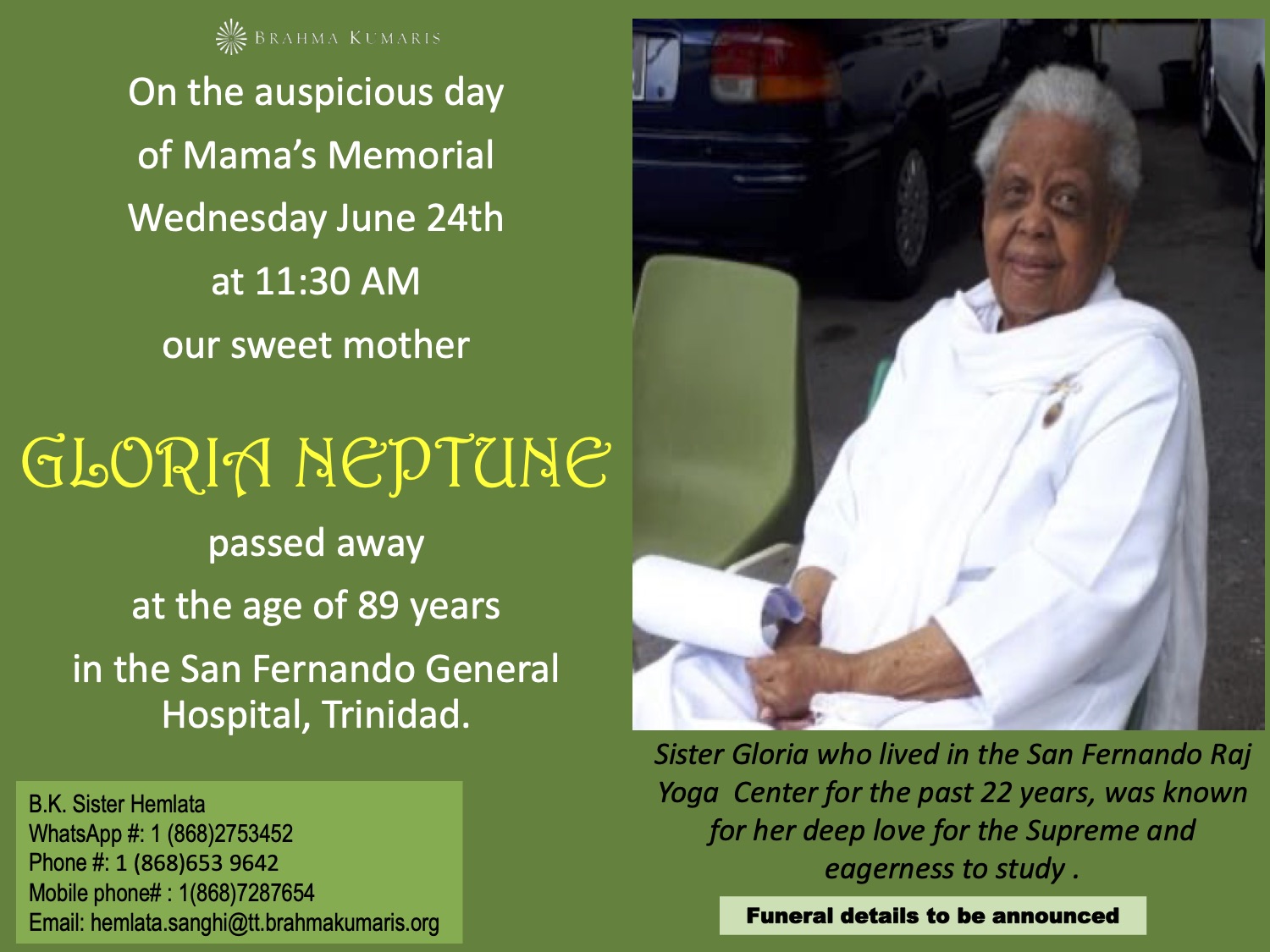 Dear Brahmin family,
On behalf of sister Hemlata we convey this message of our sweet mother Gloria of San Fernando to the family. The soul left its mortal coil and flew in Baba's lap yesterday, on the auspicious 55th memorial day of Mamma's ascension.
Sister Gloria came in gyan about 25 years ago and started living in the San Fernando center three years later. She was very keen in studying and had deep love for Baba, His yagya and His teachings.
The last few days of her 89 years lifetime were spent in the San Fernando General Hospital, where she was admitted for life support and finally departed.
Details about the funeral and last rites to be announced.
Caribbean Core Group,
sr *loes and br Vijai

News of Pushpaben Shah of London
14 May 2020
Dear Brothers and Sisters,

Greetings of love.
This is to let you know that Pushpaben Shah flew into Baba's lap on Wednesday 13th May at around 2.00pm at Charing Cross hospital, London. For the last few weeks Pushpaben had not been well and left peacefully in the presence of her son Rushab, other family members and Jayminiben. She was 64 years of age.

She had been Baba's dedicated and serviceable child for many years and many of you would have been welcomed to GCH servery with Pushpaben's warm smile and care.
Pushpaben was born in Nairobi and took knowledge with her husband, Bharatbhai in Nairobi in 1991. They then moved to London and for many years Pushpaben would come to class, then help with GCH morning breakfast, then go to work at Northwick Park hospital. She was an all round helper in many ways and said 'ha ji' with love to any type of service. Being a mother she was very accommodating and loving and loved being in Baba's house.
She was the mother to Jinal, Tina and Rushab and had three brothers and three sisters.
Pushpaben has been helping in GCH for many years and was a very kind, loving person in many many ways. She was a wonderful, selfless soul who always cared about others, showered us all with love and was a pillar of strength for us all. She was very spiritual and in the last few years focused a lot on mansa seva. We know that she will find happiness and peace in her onward journey.
Bharatbhai had been in Nairobi with his daughter and grand daughter and arrived in London on 14 May.
Details of the funeral service are not yet known and we will share this information once it is known.
We send all our good wishes and love, in Baba's remembrance to such a special soul.
With love,
In Baba's remembrance,
BK Jayanti

Brother Yiannis from Greece flew to Baba
2 May 2020
Dear Brothers & Sisters,
Re: News of Brother Yiannis of Greece
Brother Yiannis Alatzakis, one of the original pillars of service in Greece, flew to Baba's lap on Friday 24 Apri. He had been fighting lung cancer since last October. Brother Yiannis came to Gyan in 1987. It was during Dadi Janki's first visit to Greece. He attended her lecture at a public program. At the end, Yiannis approached Dadi, Dadi perceived something in the soul and invited him to come to the Center for Amrit Vela and Murli the next morning!
That was it! He became a regular student immediately and very soon after he went to Madhuban and met BapDada.
A very sweet and gentle personality Yiannis did not say much! But had always a smile, always willing to help in service. He was a capable electrical engineer and was fixing anything that needed fixing in Baba's house. He was a member of the Board as Baba's treasurer.
In the Murli of 25 April, the morning after Yiannis left, Baba said: "…the behavior of the introverted children is very royal and dignified. …Though they may not speak a lot of knowledge, they do service through the power of yoga." It's as if Baba was speaking of Yiannis in this passage… It is a perfect description of our brother. He will be missed by his lokik and alokik family. He was 62 years of age. Attached is his photo.
With love in Baba's yaad,
BK Family of Greece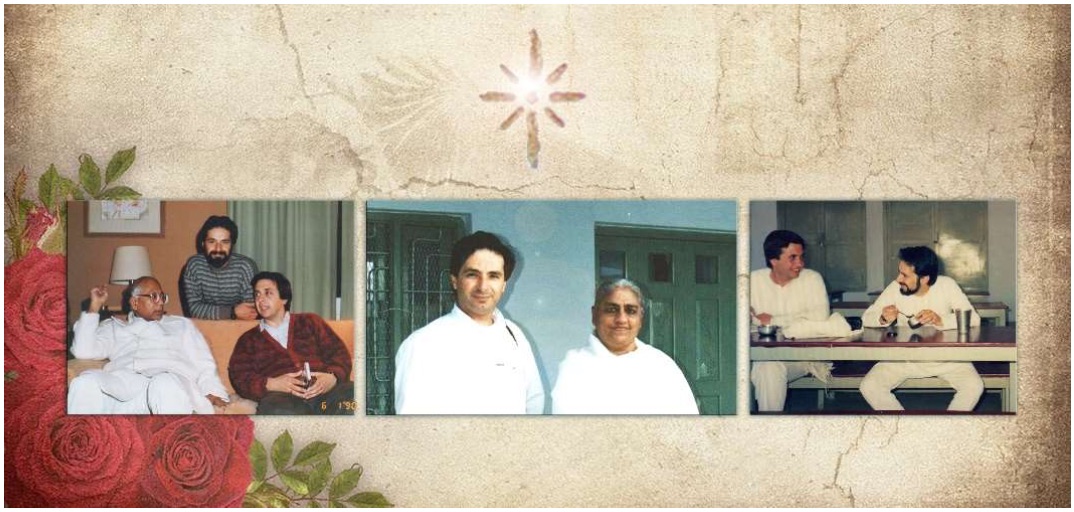 News of Br Chanderbhan from Holland
22 April 2020
Dear Europe and Middle East Centre Coordinators,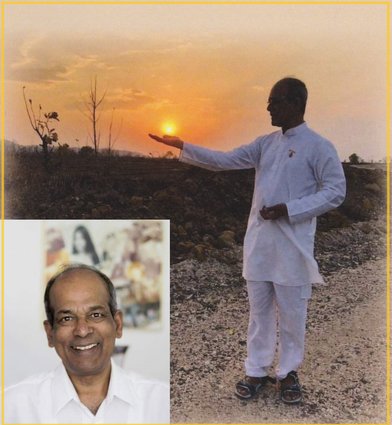 Re: News of Brother Chanderbhan from Holland
Many loving greetings in this special time.
On Sunday 5 April, Brother Chanderbhan suddenly left his body. Whilst resting in his chair for a moment the soul flew away. There hasn't been any signal before.
His generous smile and friendly and gentle character put everyone at ease and gave everyone the feeling of belonging. His connection with Baba made him into a stable yogi, a rock in the surf, someone you could always count on.
His efforts in tapasya over the past few weeks, his love for Baba and for Dadi will undoubtedly have prepared him to play his next role.
Together with Roselina, his partner, Chanderbhan was for more than 25 years a student in the subcentre Loosduinen/Zoetermeer.
Because of the current situation in the world, the last rites and ceremony were organised differently. In a small gathering there was a personal farewell with focus on Br Chanderbhan's deep love for God and his yogi life. Besides the small gathering (as only a small group were allowed to come together), everyone else was welcome to say a final goodbye passing by in their car. It was a very loving farewell.
Pictures of Br Chanderbhan are attached.
In Baba's loving remembrance,
Dutch family

Bhog Messages for Dadi Janki 27 March to 9 April
20 April 2020
On Friday 27th March at 2.00 am, Dadi Jankiji completed her life's journey, renounced her physical costume and went into BapDada's lap. The physical body was taken on a pilgrimage of Pandav Bhawan and Gyan Sarovar and then was taken to Shantivan. After offering a loving tribute to Dadiji, the final cremation ceremony took place at 12.00 noon in the garden outside the Conference Hall.
In the evening at 6.30 pm, Shashiben offered bhog for Dadiji in the Meeting Hall. After that, for 13 days, Rukmaniben offered bhog for Dadi Jankiji in the sitting room of Shakti Bhawan. The messages received from the subtle region are being sent to you.
In Baba's yaad,
Madhuban
Click here to download PDF version of Bhog Messages for Dadi Janki.

'Tribute to Dadi Janki' - Article Published in the 'The Hindu' Newspaper, Chennai, India (10-02-2020)
14 April 2020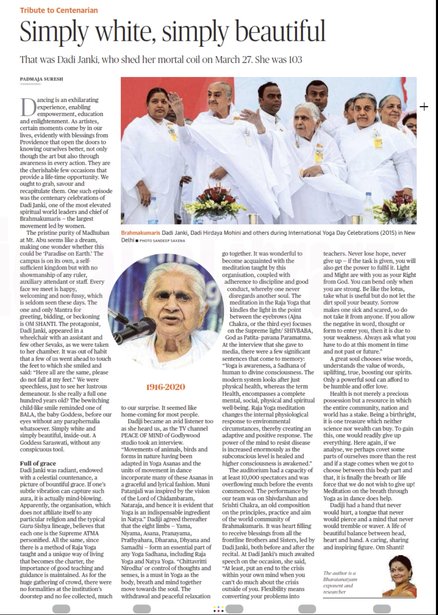 Download the article here.

Video Song and Tribute to Dadiji - from BK Hyderabad Centres
10 April 2020
Dear Divine Family, Omshanti
A song and Tribute to Dadi Janki ji in the form of a short video are presented in the link :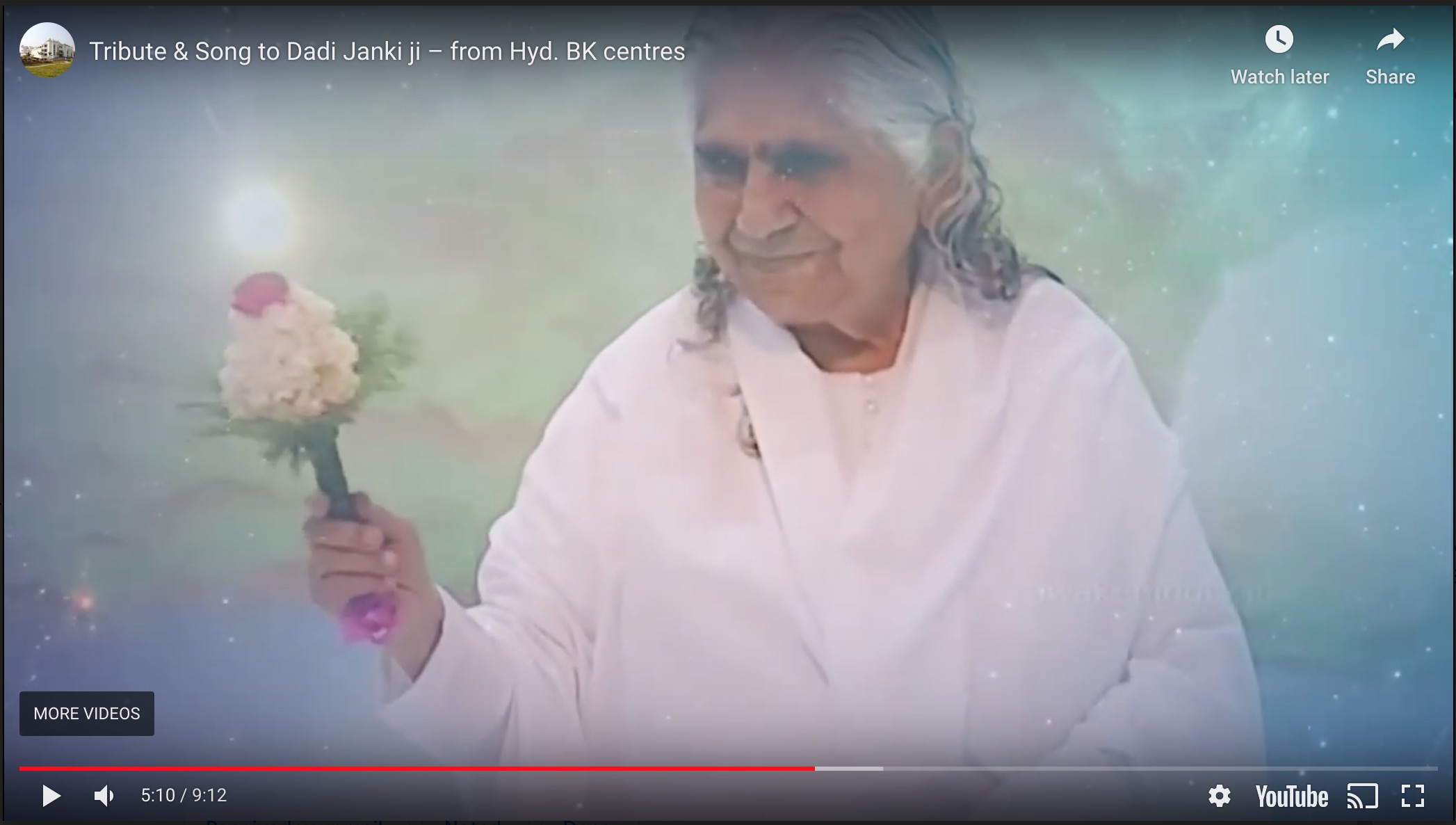 Click on the image to play the video.
Kindly go through.
In Baba and Dadiji Yaad
BK.Kuldeep ben, Hyderabad

Dadi Janki's Drishti
10 April 2020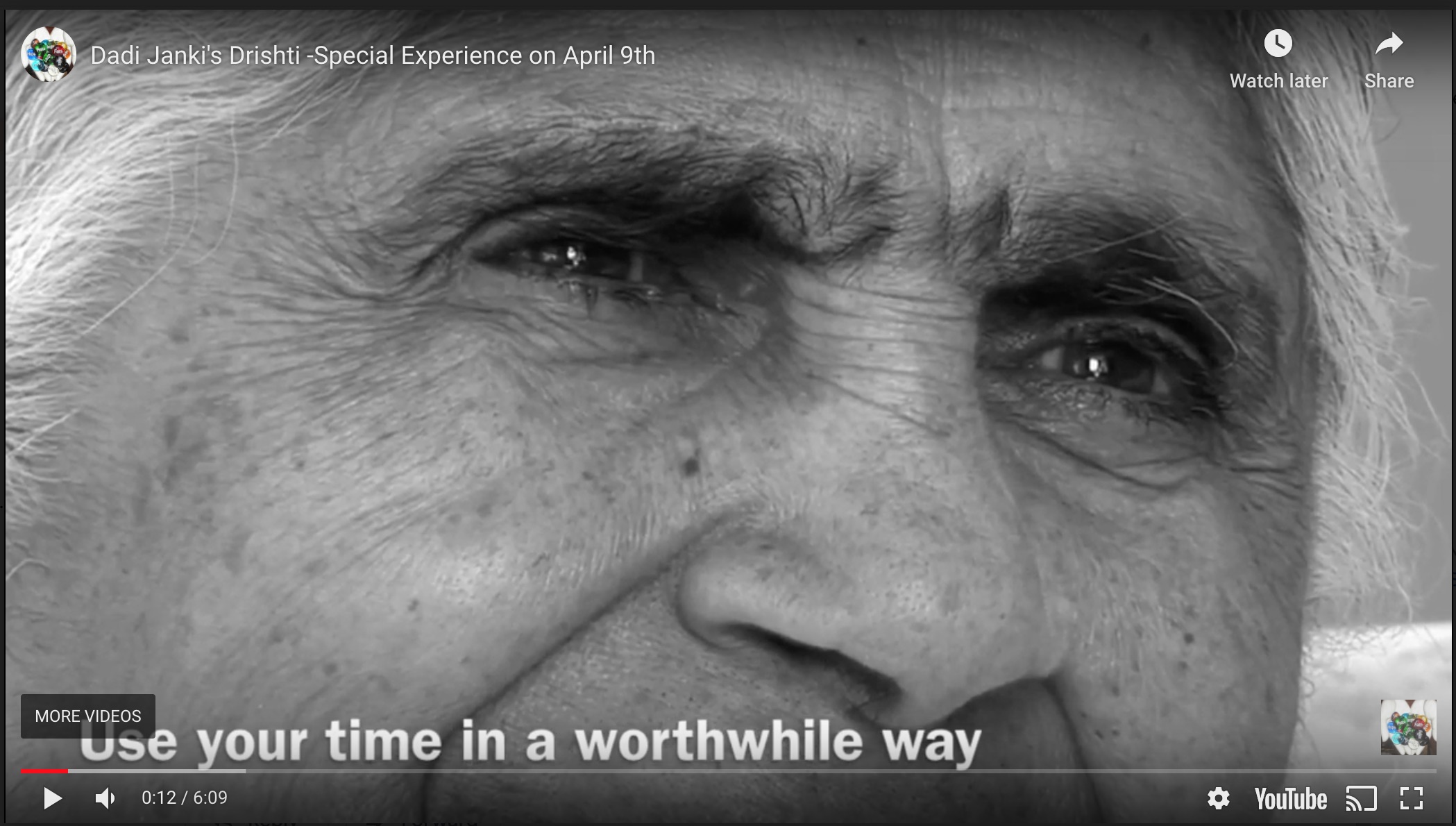 Click on the above image to play.
Produced for Dadi's 13th day - 9th April 2020
To be experienced at Amrit Vela, after Murli and during the Bhog offering.

Memory of Dadi Janki - Videos from the Mysore Family
9 April 2020
Dear Divine family
Please accept these tributes to Dadi Janki from rhe Mysore Family. Click on the below images to play the slide show.
In Baba's yaad,
BK Lakshmi

A Tribute to Dadi Janki: From Brahma Kumaris, Los Angeles
9 April 2020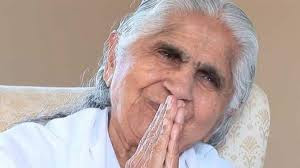 Dear Global Family,
Greetings of peace and Om Shanti.
Our most beloved and revered BK Dadi Janki, Spiritual Head of the Brahma Kumaris passed on from this physical life early today, March 27, 2020 at 2:00 AM in Global Hospital at the headquarters of the Brahma Kumaris World Spiritual University in Mt. Abu, Rajasthan, India. The soul has flown and is now in God's lap. Dadi Janki was 104 years of age.
It is a good time to pay silent homage to this tireless spiritual server who has meant so much to so many. We treasure the wealth of personal lessons in wisdom and courage she shared throughout her life. Dadi Janki was an inspiration to many. She was a true world mother, a practical example of purity and simplicity and a highly respected spiritual teacher. She was a wisdom keeper and her words adorned souls with profound truths. Her heart continually beat to the rhythm of world service as she touched what was real and true in everyone's heart, thus, being the heart of the world.
Dadi Janki's world service was always combined with her remembrance of God, always pointing upward as a reminder that we are all connected to God if we remember Him. Let us connect in the remembrance of the One to whom she dedicated her life.
Below is one of her many and very effective lessons.
Determination leaves no gap
Between thought and action.
Dadi Janki

Video in Memory of Dadi Janki: Her Visit to the Parliament of World Religion in Melbourne, Australia
9 April 2020
This video (click on the image to play) is a slideshow of Dadi Janki's Visit to the Parliament of World Religions held in Melbourne Australia in 2010.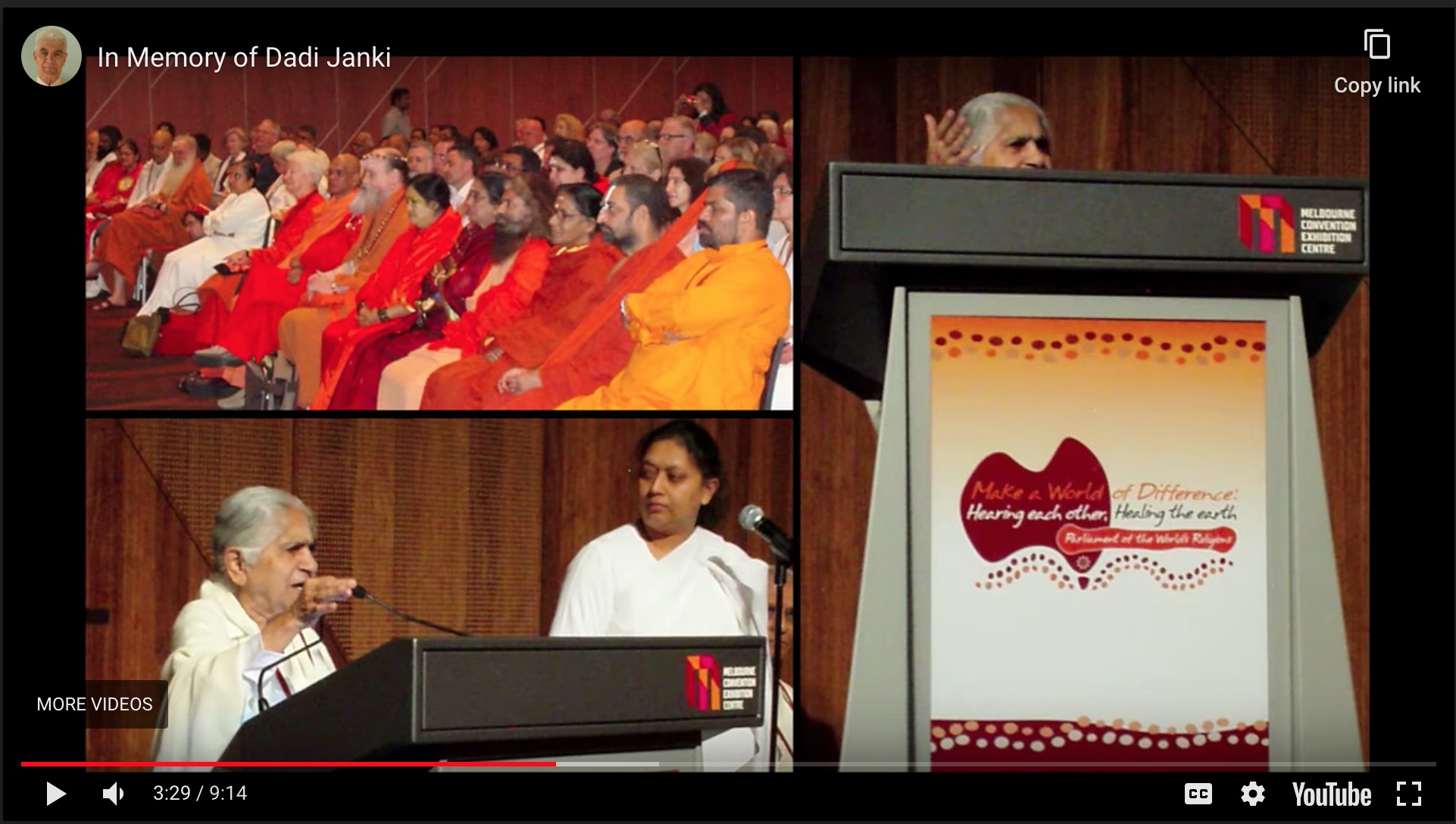 In Baba's Indonesian Service
Bro Frank

In Loving Memory of Dr. Dadi Janki Ji: Shantivan VideoTeam
9 April 2020
In Loving Memory of Dr. Dadi Janki Ji: Video (click on the below image to play)
Regards
BK Vandana (Video)
Shantivan Video Team

Special Presentations to Pay Tribute to our Beloved Dadi Janki ji (New Songs & Videos)
9 April 2020
Divine Sisters and Brothers
Om Shanti
For the last 13 days we have all been experiencing Dadi Janki Ji's divine vibrations and powerful sustenance.
Tomorrow as we all offer special bhog to BaapDada and Dadi Ji, sharing with you a beautiful song sung by our dear brother Harish Moyal.
Also attached are short videos which will give each one a personal experience of Dadi's love and powers.
ईश्वरीय परिवार के भाइयों और बहनों,
ओम शान्ति।
पिछले 13 दिनों से हम सभी दादी जानकी जी के दिव्य प्रकंपन और शक्तिशाली पालना का अनुभव कर रहे हैं।
कल हम बापदादा और दादी जी को विशेष भोग लगाते हुए आप सभी के साथ, भ्राता हरीश मोयल द्वारा गाया हुआ एक सुंदर गीत शेयर कर रहे हैं।
साथ ही कुछ छोटे छोटे विडियोज़ हैं जो हर एक को दादी जी के प्रेम व शक्तियों का व्यक्तिगत अनुभव कराएंगे।

In Memory of Dadi Janki - Video from Malaysia
9 April 2020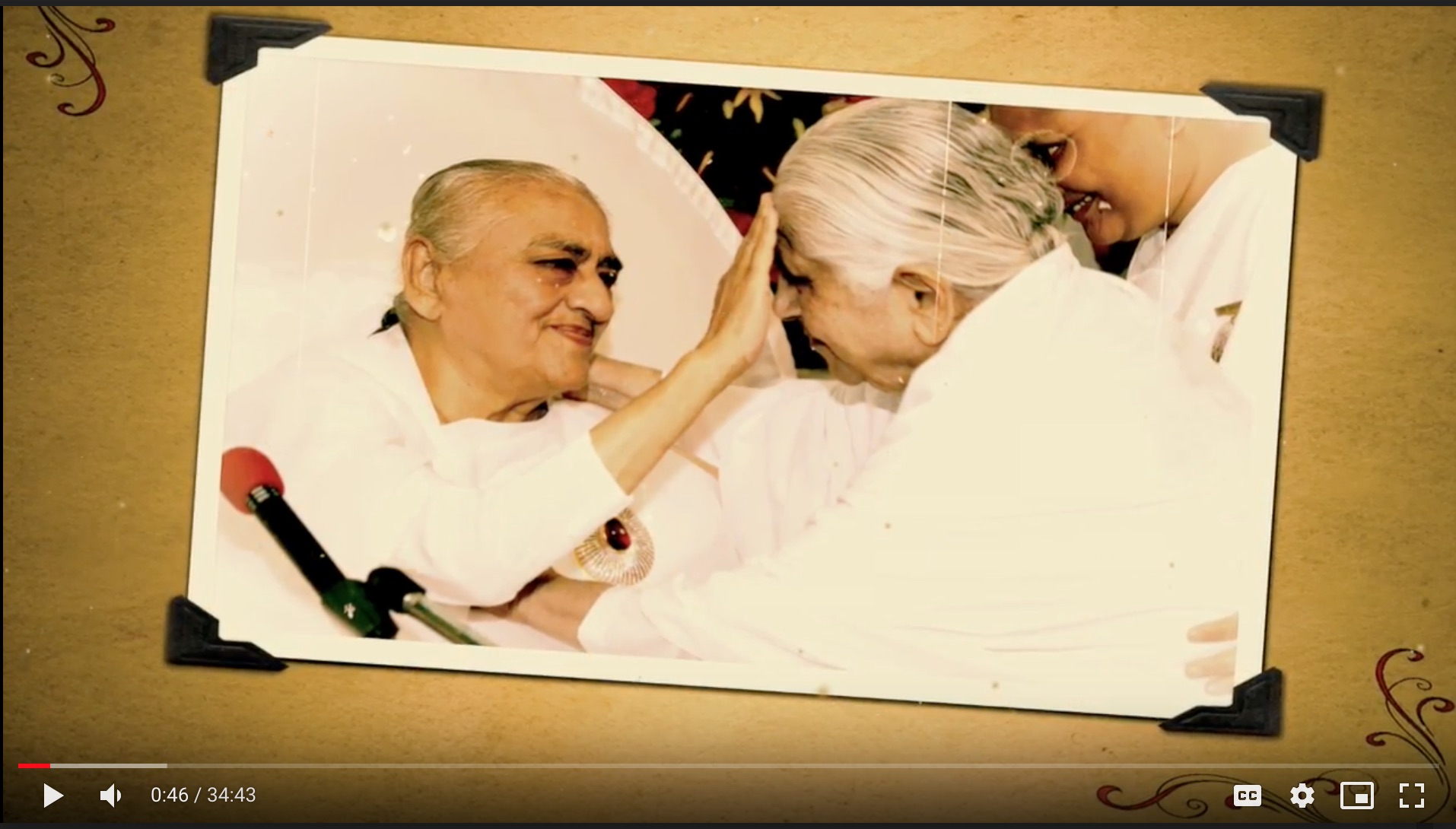 Click on the above image to view the video.

Tribute Video for Beloved Dadi Janki from BK Philippines family
7 April 2020
Dear Divine Family, Om shanti.
Below is a link to our tribute video, our expression of gratitude, for beloved Dadi Janki.
https://drive.google.com/file/d/1qxXaYk9UbLd9h18bpzWXuSP5DiE8Rpnv/view?usp=sharing
Please share this with the global family. Thanking you in advance...
On behalf of Sister Rajni,
BK Vicky

Short Film from Russia: DADI JANKI - TIRELESS AND SELFLESS SERVER
7 April 2020
From the time of the establishment of Yagya, Baba saw how Dadi Janki gave her bones for Yagya service. And then Baba also saw how Dadi gave her bones to serve the Mother Land of Bharat. Further, Baba saw how Dadi became instrument to glorify Him in foreign lands.
Baba gave the blessing: "Dadi Janki is a victorious jewel who will enter into the Vijayanti Mala of 8 jewels" and Dadi will be the world empress in the near future of Golden Age.
Throughout her alokik life Dadi maintained intoxication of these blessings and always remained beyond. Such Upram stage of Dadi was practically observed by the entire Brahman Family.
Words will not be enough to express our gratitude to such a soul who brought unlimited benefit to the people from all over the world who are living in this Iron Age.
While expressing tributes to our dearest and nearest Dadi Ji, on behalf of the Brahman family from Russia Region,our hearts become merged in the love which Dadi has extended to each one of us for more than 30 years,from the beginning of services in Russia.
Please watch a short, 7-minute film dedicated to Dadi ji. It is just a small part of our most sweet memories of Dadi Ji when she was with us in Russia.
Short film: "Dadi Janki - an image of Trusteeship and Bodilessness" (Youtube).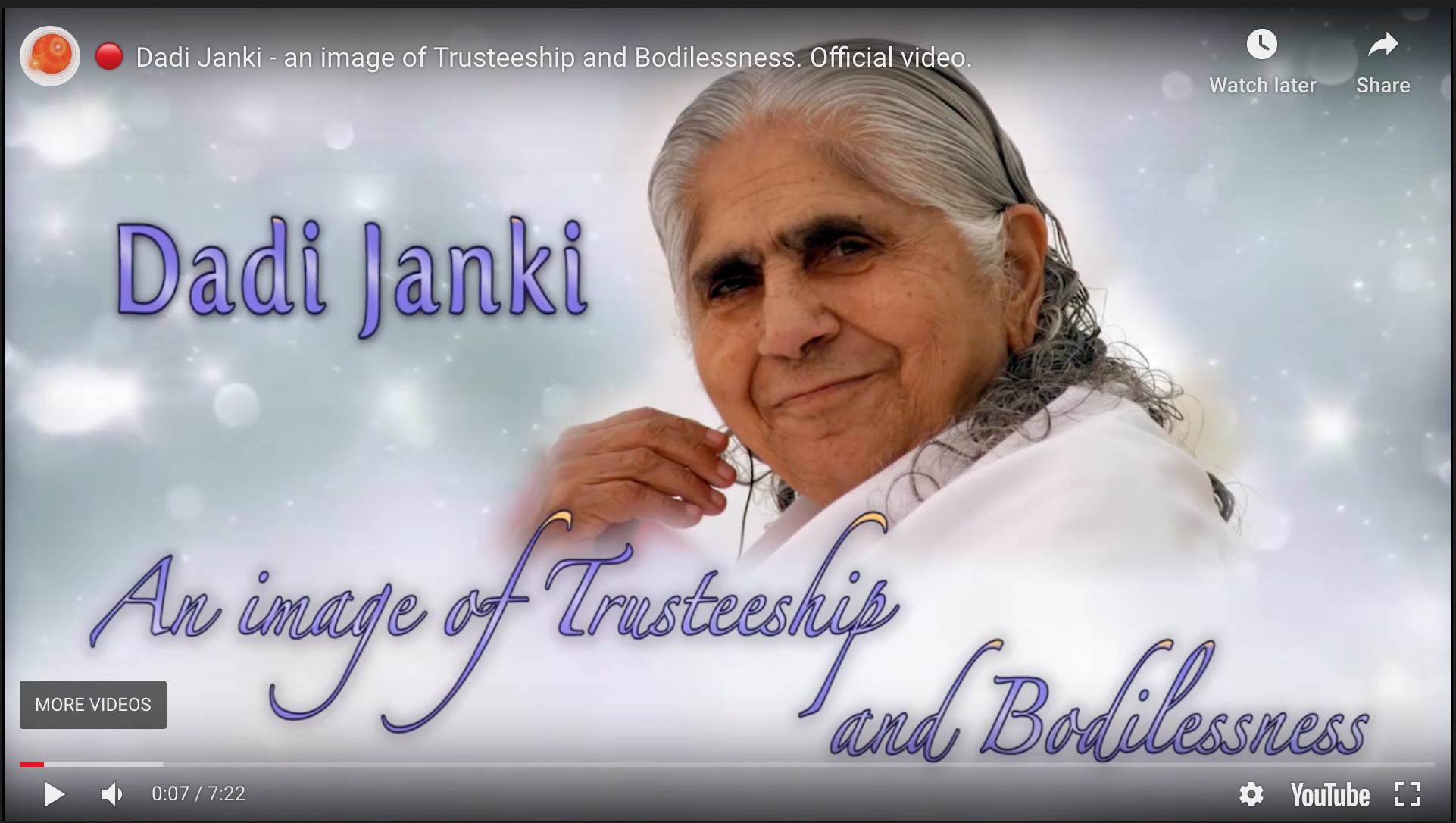 Click above image to view.
Our special love to dear Hansabehn and team. Thanks for your unlimited and tireless services.
With Alokik, Eternal Floral Tributes to BapSaman Dadi Janki!
In Baba's yad
Didi Chakradhari
Didi Sudha
Didi Santosh
Bro. Vijay
Divine familyRussia Region
Please Note:We had special bhog for Dadi Janki on Sunday,29th March.
And from 29th March, we began a Regional Bhatti for 21days with synchronized time beginning from 10.30 in the West and 18.30 hrs in the East.The blessing from every day's Murli is the basis for meditation and commentaries. Bhatti time in Moscow: 11.30-12.30.

It's Time... Dadi Janki - A Loving Farewell
7 April 2020



Dadi Janki passed away at around 2:00 am on March 27th 2020 at the ripe old age of 104! The cause of death was a heart attack. She lived a purposeful life filled with many achievements.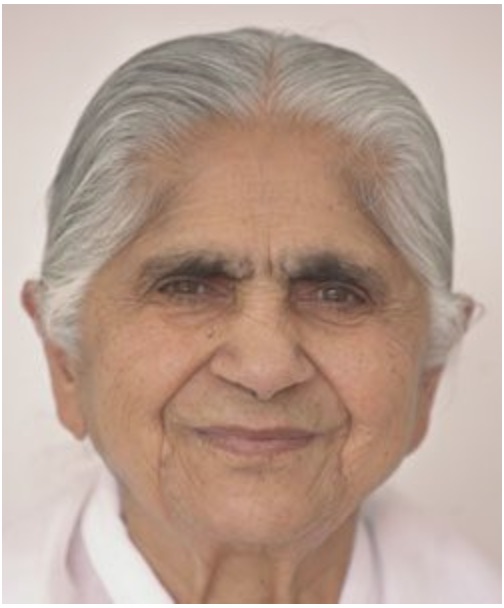 Dadi simply means elder sister. And more than any other title we can attribute to Dadi, I would say that she has engraved an important and special place, deep within all our hearts as a loving mother.
Dadi was born in 1916 in the state of Sindh, a province in northern India that became part of Pakistan after the 1947 partition. It was clear from an early age that Dadi was called to a spiritual life. At age 19, while walking with her father in her hometown of Hyderabad, in Sindh, Dadi and her father met Dada Lekhraj, a highly respected Sindhi jeweller whom she had known since childhood. Later Dadi described that encounter as a moment that changed her life. She said that as Dada approached, his image dissolved into a field of light and she felt transported beyond the physical world into a timeless dimension and felt enwrapped in pure love. Dadi requested to go to the spiritual gatherings Dada had begun holding in his home, she felt certain that he was somehow connected with the truth she had been seeking.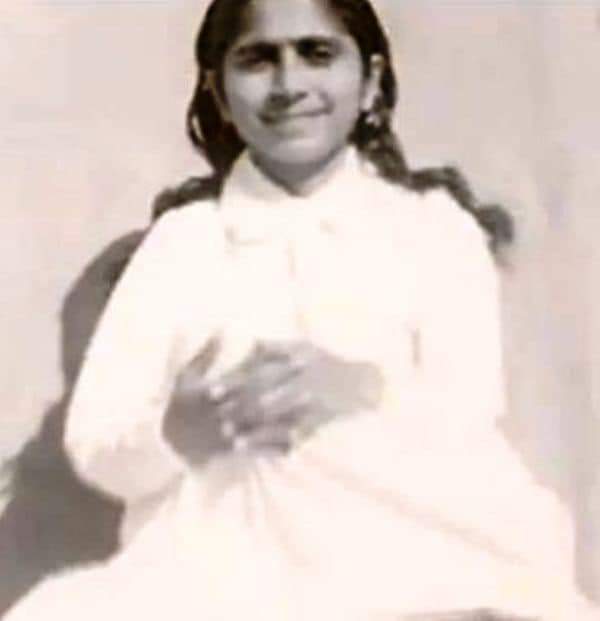 Click here to continue reading

Official Obituary of Dadi Janki for the Media
31 March 2020
Below is an obituary for our dear Dadi Janki. You may use this to send particularly to national newspapers and any online media in your contact.
With love,
in Baba's yaad,
BK Jayanti
Passing of Dadi Janki, Spiritual Head of Brahma Kumaris,
the world's largest spiritual organisation run by women,
on Friday 27th March 2020
INDIA -- Dadi Janki Kirpalani, who led the Brahma Kumaris World Spiritual University, a spiritual movement of over a million people, died on Friday in Mt. Abu, India. She was 104. The cause was a heart attack.
Born in Sindh, in northern India, it was clear from an early age that she was called to a spiritual life. This was considered impossible in India, where spiritual leaders were almost exclusively men. As with most girls in India at that time, she received only three years of formal schooling. But at her request her father took her on pilgrimages all over India when she was still a girl, introducing her to many sages and saints. Though she saw impressive demonstrations of devotional practice and special physical powers, none of this satisfied her.
At 19, while walking with her father in her hometown of Hyderabad, Sindh, a province in northern India that became part of Pakistan after the 1947 partition, they encountered Dada Lekraj, a highly respected jeweller in Sindh, whom she had known since childhood. Later she described that encounter as a moment that changed her life. She said that as he approached, his image dissolved into a field of light and she felt transported beyond the physical world into a timeless dimension and engulfed in pure love. Certain that he was somehow connected with the truth she had been seeking, she requested to go to the spiritual gatherings or satsangs he had begun holding in his home.
But Indian tradition required that young women be married according to a choice made by their parents, and this was her fate. Newly married, her husband refused her request, making her a virtual prisoner in her home, occasionally even beating her.
Eventually, Janki's father realized he had made a terrible mistake in marrying her off and helped her escape to Karachi, where a small community that had grown up around Lekraj had moved in 1939. This community eventually became known as the Brahma Kumaris World Spiritual University, and the spiritual knowledge they taught on the soul, God and time was the focus of the remaining 80 years of her life.
After the 1947 partition of India, the group moved from Karachi to Mt Abu, Rajasthan. Then in 1974, Janki, now called Dadi, which means senior sister in Hindi, was asked to go to London and to begin serving what they called "the foreign lands". With a tiny Air India bag and two white saris and knowing only a few words of English, she moved to a small flat in a poor part of the city. A door became her makeshift bed. She very soon met a handful of young westerners who were to become lifelong supporters of the work of the movement outside India. She was also accompanied from those earliest days by Sister Jayanti, daughter of Murli and Rajani Kirpalani, a Sindhi couple already living in London.
Word of the teachings gradually spread across the UK, and then across the world, where the spiritual university now has a presence in about 130 countries.
Those who studied with Dadi Janki during the years in which the movement underwent such massive expansion remember her relentless drive – her sheer force of will - that they should follow her example in study, remembrance of God, and service.
Despite teaching non-attachment, Dadi Janki was not afraid to engage deeply with those she saw as potential helpers in the task of guiding humanity through difficult times ahead. This gave many the inspiration to go beyond normal limitations and to embark on the tough task of personal, social, and world renewal.
She developed real love for those she met abroad, commenting on their honesty, sincerity, and openness. And they developed a deep love for her wisdom, courage, and persistent friendship that lasted the rest of her life.
She was tireless, accepting invitations to speak in city after city, to be a Wisdom Keeper at the 1992 Rio Earth Summit, and to speak at the United Nations, where, in 1983 the Brahma Kumaris had become a non-governmental organization with general consultative status.
She gave equal time and love to those leading ordinary lives and to the scientists, prime ministers, and well-known people who came to know her. Robin Gibb of the popular British singing group, the Bee Gees, wrote a song in her honour, "Mother of Love", that he performed at Wembley Arena in 2006.
In 2007, Dadi Prakashmani, the then head of the Brahma Kumaris, passed on, and Janki was called back to India to lead the organization. She was 91. For the next 13 years, she regularly addressed groups of 20,000 or more at the Mt Abu headquarters. She took her last international trip in 2019, when she traveled from Dubai to Nairobi, then to London and New York.
Her health began to fail in February. Finally, her small body, fragile since childhood, was taken to the Global Hospital, in Mt Abu, where breathing difficulties and a heart attack finished her life and service. Normally, an invitation would have gone out to tens of thousands of Brahma Kumaris and their friends and contacts to come to India for a final farewell. But with the COVID-19 virus closing borders and grounding flights, her life was celebrated in a small ceremony in the ashram to which she had come in 1950, a simple ending for one who had devoted herself to simplicity and truth.
Downloadable Images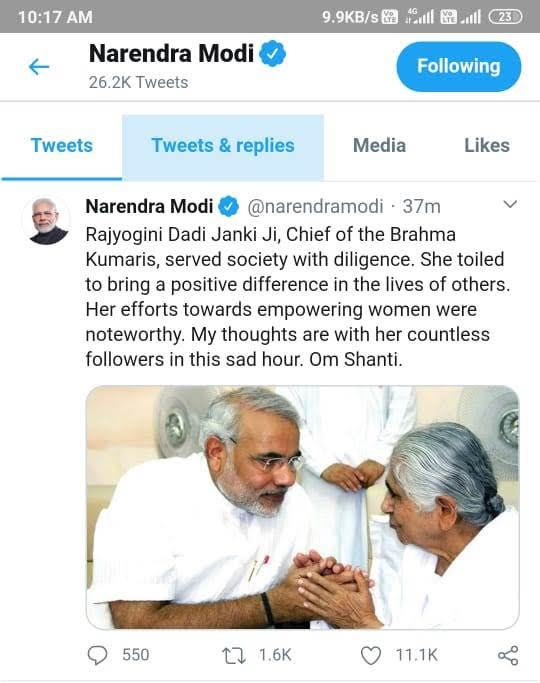 Media contact
(please add details)
Editors Note
(please add details of your national organisation, website, registration number, logo etc)

Tribute to Dadi Jankiji: From Sister Vedanti, Nairobi
31 March 2020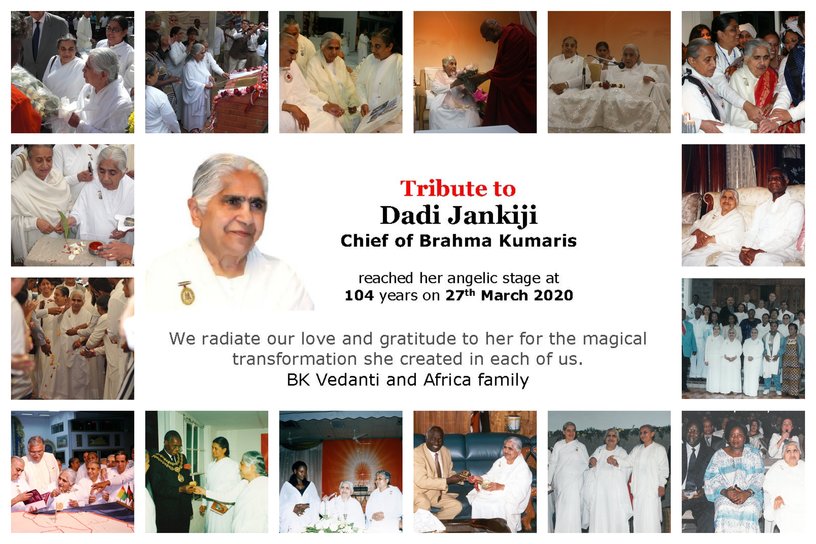 Tribute to Respected Dadi Janki Ji from BK Yogini and Vile Parle Mumbai Family
31 March 2020
Divine Respected Dadiji, Nirwair Bhai ji, Senior Brothers, Senior Sisters, all Madhuvan Niwasis, Brahmin family, Divine Jayanti Ben, Hansa Ben,
Our most respected, Noore Ratan, Baba's beloved jewel Dadi Janki Ji glorified Baapdada through her unlimited and untiring services worldwide.
Her legendary contributions to mankind have set an example and an unbeatable landmark in Baba's behad sewa.
Dadiji is a pillar of love and wisdom who touched every soul with her spiritual knowledge and spiritual power. Her soul shall keep doing this in the advance party. Dadi ji showed to the world the image of God through her novel thoughts, vision and action. Her deep love for the Murli and her intense love for God are the inspirations she gave throughout.
We could not be present physically for her last rites, but our hearts and souls were constantly connected and exchanging vibrations with our loving Dadiji, an angel of peace.
We can never forget her teachings and sustenance. We will inculcate them in our lives. We hereby pay our tribute to the most precious and victorious jewel in Baba's rosary, respected Dadi Janki Ji.
With warm regards and Respect,
BK Yogini and divine family of Brahma Kumaris Vile Parle Mumbai

Heartfelt Tribute to our most beloved Janki Dadi from Sis. BK Meera & Mumbai Santacruz Subzone Family
31 March 2020
Dear Divine Family,
Om Shanti!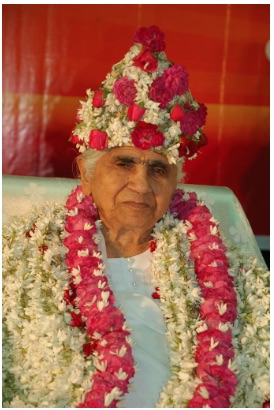 Dadi Jankiji was someone whom Baba lovingly referred to as being King Janak, videhi, self-sovereign, a great yogi, totally surrendered, God's angel, accurate in following Baba's Srimat, having an amazing stable mind, She is a goddess of knowledge, shakti & enthusiasm, a divine loving mother, an embodiment of all virtues, a great spiritual leader, and she is loved by lakhs of souls around the globe.
Dadiji was a true Gopi. Her love for Baba's Murli, her being lost in Baba's love, her constant churning of knowledge, and her spontaneous wisdom gave Dadiji a very unique, charismatic personality. Dadijis words were magical and inspired and changed the lives of many.
Dadiji's vision radiated purity, truth, and divinity making her an Divine Goddess, Her words bestowed blessings of peace, happiness & power. Like a true mother, Dadiji sustained us all as the mighty pillar of the Brahmin family,
I have had the fortune of being with Dadiji on many occasions and I really thank Baapdada & drama for all the loving memories. I would always go to Santacruz airport to receive her, whenever she would come to Mumbai. Once I did not go to receive her at the airport because of some reason, so after that when I visited Madhuban, Dadiji told me "This time you did not come". Such was Dadi's love and sharp memory.
Once while travelling from Mumbai to Pune with Dadiji by car, I felt how Dadiji is tirelessly sharing the jewels of knowledge, fulfilling and enlightening me. During a teachers class in Madhuban, Dadiji said, " When you are here in Madhuban be here completely in Madhuban & enjoy being here, don't think about what is going on in the centre," In other words, Dadiji signalled us to be in the present always. So I was very much touched and imbibed this in my life.
Dadiji was always very enthusiastic, in a state of divine bliss; Dadiji was fearless, determined and light. She could cross all boundaries of language and culture, giving everyone a sense of belonging, a true pioneer.
Dadiji was a true source of inspiration in our lives. And as she advances for the further unlimited services of creating the new world, though we miss her physical presence, she still continues to live in our hearts always, uplifting us. We pay our heartfelt tributes to a great tapaswi, a great yogi.

The moments of Dadi's departure - experiences of Sr Jayanti
29 March 2020
Dear Divine Family, Greetings of love from Shantivan!
Of course all of you know of Dadi Janki's ascension to the subtle region, and I just wanted to share my experience of these past few days.
On Thursday, I saw Dadi Janki and it seemed as if she was getting better. Afterwards I heard that yes, she had been able to eat a little bit of solid food for the first time after several weeks, the oxygen mask was off, all the tubes were off and so it seemed as if she was free, and actually getting much better.
At 1.30am on Friday, 27 March, it was clear that there was something wrong: she was breathless, and the doctors were called in. She was still in her room at Global Hospital which had been made into an ICU. Finally at 2am, the heart gave up, and the soul flew away. Hansaben, Dr Sachin, Dr Pooja and some others were around, and she left with Hansaben holding her in her arms. I arrived at the Hospital with Sudeshben and Santoshben (Russia) a little while later. There was lots of yoga going on.
There were then discussions about how the programme should function. Since there was lockdown in Bharat, and also many other parts of the world, it was clear that no one would be able to travel from either Bharat or abroad to come for the funeral, and so it was decided to have the ceremonies that same morning.
The Sub-Divisional Magistrate of Abu is a good friend of Dr Pratapbhai, and was highly cooperative, and allowed us to have the ceremonies that we wanted to have for Dadi, even though at the moment, there are restrictions on having gatherings, including funerals, of just 20 people. But he gave us all the permissions that were needed, and so the Chariot was first brought to Pandav Bhawan to complete the pilgrimage of the 4 Dhams, followed by a very quick visit to Dadis' Cottage in Gyan Sarovar, and then the journey down the mountain. There were three Police Barricades on the road, since no one is allowed to go up or down the mountain since 25 March, but we had the necessary clearance so it was a smooth journey down.
The Chariot came to Shakti Bhawan where the Seniors were waiting: Dadi Ratan Mohini, Dadi Ishu, Munniben, Nirwairbhai, Brij Mohanbhai and more offered sandalwood garlands and flowers. The Chariot was then taken to the lawn outside the Conference Hall, where they had created a simple plinth, and the funeral pyre of wooden logs. It was a very peaceful, quiet, deeply spiritual and very moving ceremony.
Hansaben lit the fire, and everyone else was also given a stick dipped in ghee to offer into the fire. The numbers were severely restricted in terms of those who were present by the pyre. The Sub-Divisional Magistrate of Abu was also there, and he spoke very beautifully of the Mantra he had learned from Dadi of 'Om Shanti, Who am I and Who do I belong to', and how peaceful the gathering was.
It really was a very powerful scene with people sitting on the lawn all around observing social distancing of 3 feet at least, and others watching from a distance.
Everything happened according to God's plan and Dadi's plan, in that Dadi had never wanted any expense for her funeral, and so nobody was able to spend money to come to Madhuban on this extra journey. She always wanted to be totally conscious when she was leaving, and so she was well enough to be in Baba's remembrance at that time. She wanted to have no expense on flowers and so all the flowers were just from Baba's gardens, as it wasn't possible to go out and buy any flowers, so everything happened in a very beautiful and simple way.
In fact, on Thursday night, there had been an unseasonal thunderstorm, with rain and lightning most of the night, but then by the time we were ready to go to Pandav Bhawan on Friday, the rain stopped, and the sun was out, so it was really as if nature had also cleansed the earth and trees so that everything would be fresh and clean for Dadi's ceremonies.
The speeches made by each one of the Seniors were very loving, and apt. There were also messages from the President and Prime Minister of India, and several Chief Ministers and Governors of various states around India. Dadi Gulzar also sent her salutations via Neeluben.
At 6.30pm on 27 March, we gathered in the Dadiji's Meeting Hall since again there was a limit on numbers with the police checking our passes and the numbers that had collected. Bhog was offered by Shashiben, who brought back a very sweet message.
We are offering Bhog for Dadi every day in Shakti Bhawan, Shantivan for the next 12 days, and then there will be the final Bhog offering on 9 April 2020. Normally it would be on the 13th day, the 8th, but since the next day is Thursday, an auspicious day, it was decided that Bhog would be offered then.
I am sure many of you are preparing for Memorial Services so that people in your country can come to pay their respects to Dadi, and also carry away the inspirations that Dadi's life has given us, and I am sure you will do that according to the conditions in your own country when lockdown finishes.
The date for Brahma Bhojan for the BK family will also be announced once situations are clearer.
I am in Shantivan for the time being. A majority of the double foreigners have left now; the last few coaches left for Delhi today, and souls carry away the love from Madhuban, the inspirations they have taken and the sweet memories of being with the big family.
Dadi's departure from the physical dimension seems to signal the speed of time, but my own sense is that Dadi is now able to work at a faster pace from the subtle region than she could from the physical dimension, so we can expect service to grow exponentially. Baba and Dadi working together will surely be touching intellects to make them receptive to receive God's message, and God's blessings of peace and happiness.
I know you must be looking after each other, and yourselves of course. Stay well, stay healthy, and keep flying!
In Baba's loving remembrance,
Sister Jayanti

Tribute to Dadi Janki from the Americas
27 March 2020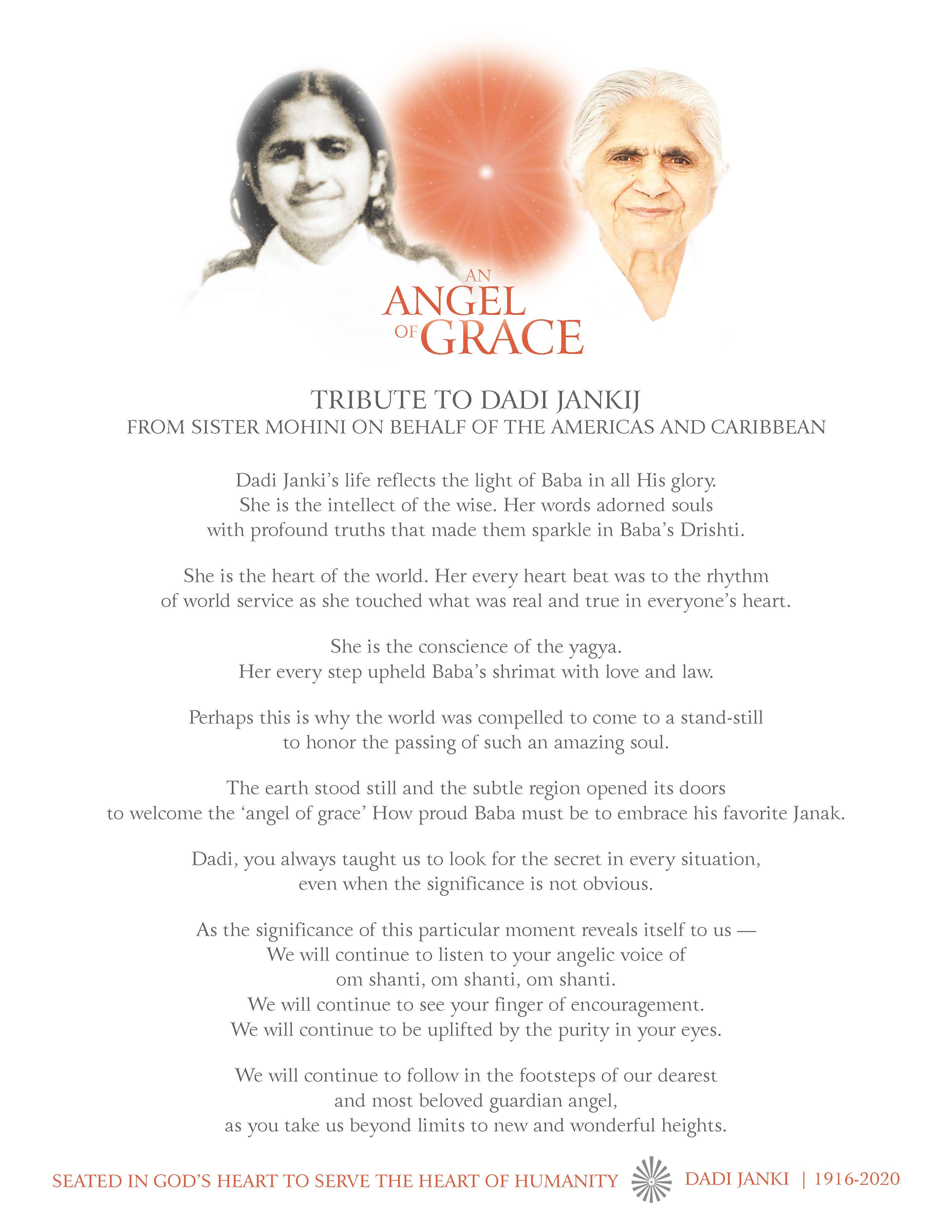 Dadi's Bhog Message with English Translation
27 March 2020
Divine Family, Om shanti.
To get the simultaneous english translation of Baapdada's message for Dadi Janki and experiences and inspirations from seniors, use the link - https://m.youtube.com/watch?v=sLAmGOtQIzU (English Language Link)
You can also watch the last journey and last rites of Dadi Janki's chariot on the link - https://youtu.be/FNYBxgI1Vgc (Hindi Language Link)
OmShanti..
In Babas Yaad,
Prashantbhai & Prabhubhai,
Audio Video Dept
Gyan Sarovar
Click below images to view the videos:
Dadi Janki - Bhog Offering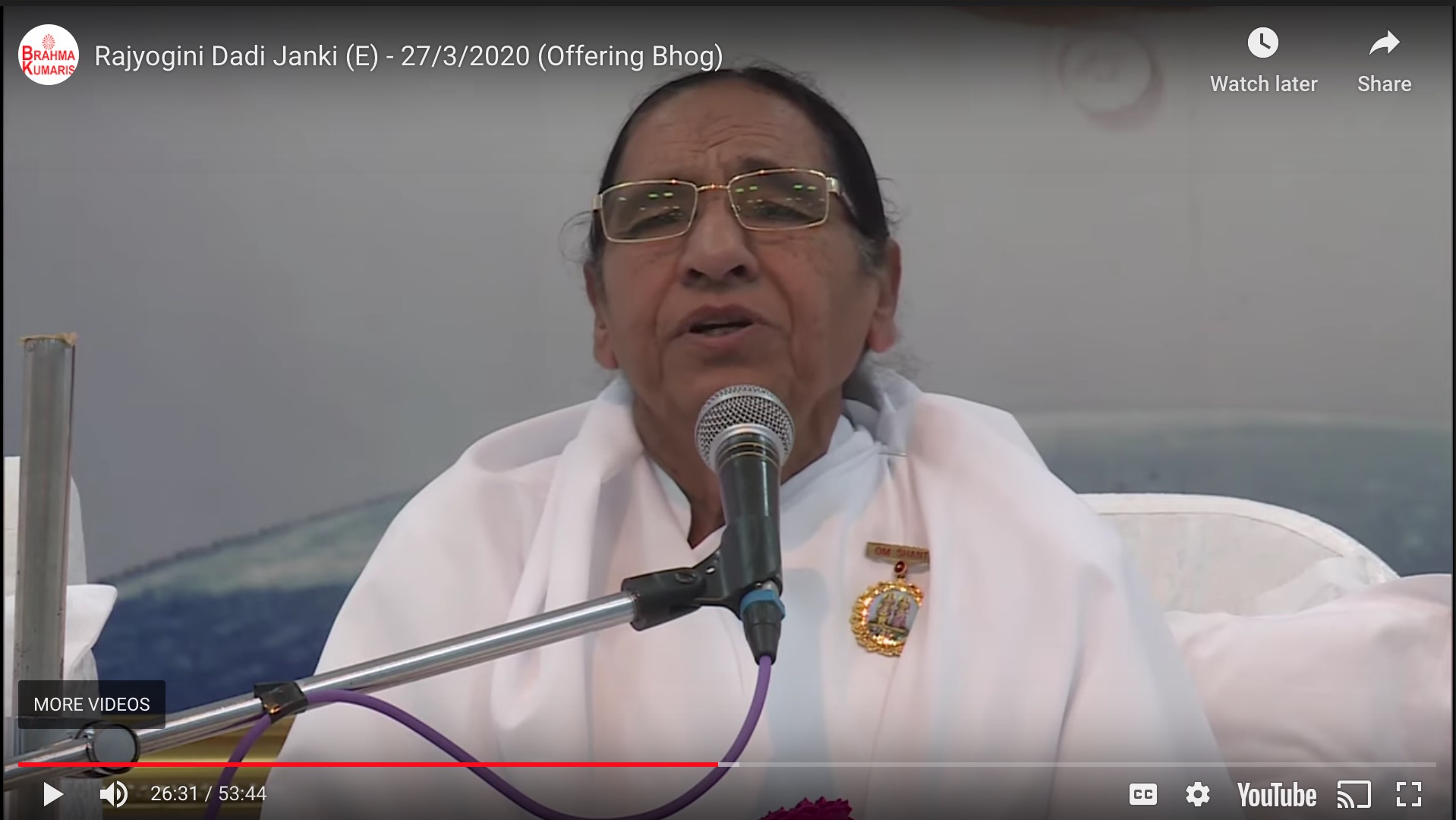 Dadi Janki - Bhog Offering and Last Journey

Tributes to Dadi from Brij Mohanbhai, Dadi Ratanmohini, Santosh Didi, Godlywood Studio
27 March 2020
Dear Brothers and Sisters, Om Shanti.
You have already received the News. The Angel has flown back leaving sweet and powerful memories and a legacy of love, peace, power and unlimited disinterest. We don't know what the future has in store for us, but one thing is sure - our beloved Mother/Sister/Angel, our beloved Dadi Jankiji will continue to help and support us, will keep us under her loving canopy, till the task is complete.
Please find obituaries from Respected Dr. Dadi Ratanmohiniji (Addl. Chief of Brahma Kumaris), Respected Brijmohan Bhaiji (Addl. Secretary General of Brahma Kumaris), Respected Santhosh Bahanji (Member of Managing Committee, & In-Charge of Maharashtra Zone-Brahma Kumaris) and TEAM Godlywood attached. Will update you about the proceedings.
Tributes From:
Brijmohan Bhaiji (Hindi) - https://www.youtube.com/watch?v=WXihRG5NrWc
Brijmohan Bhaiji (English) - https://www.youtube.com/watch?v=LwQ98Vdpwck
Ratanmohini Dadi - https://www.youtube.com/watch?v=L8uENYcc96A
Santosh Didi - https://www.youtube.com/watch?v=EVAtTby-9Vc
Godlywood Studio - https://www.youtube.com/watch?v=bMbe9P3Wtxw
With Warm Regards,
BK Harilal
Executive Director
Godlywood Studio

Dadi Janki, Brahma Kumaris Chief Passed Away Today: Biodata and Photos
26 March 2020
Om Shanti
Our beloved Dadi Janki ji (104 Years Old), Brahma Kumaris Global Chief has left her mortal coil on 27 March 2020 - 2 am at Brahma Kumaris HQ Mount Abu.
Please find her with her biodata and photos.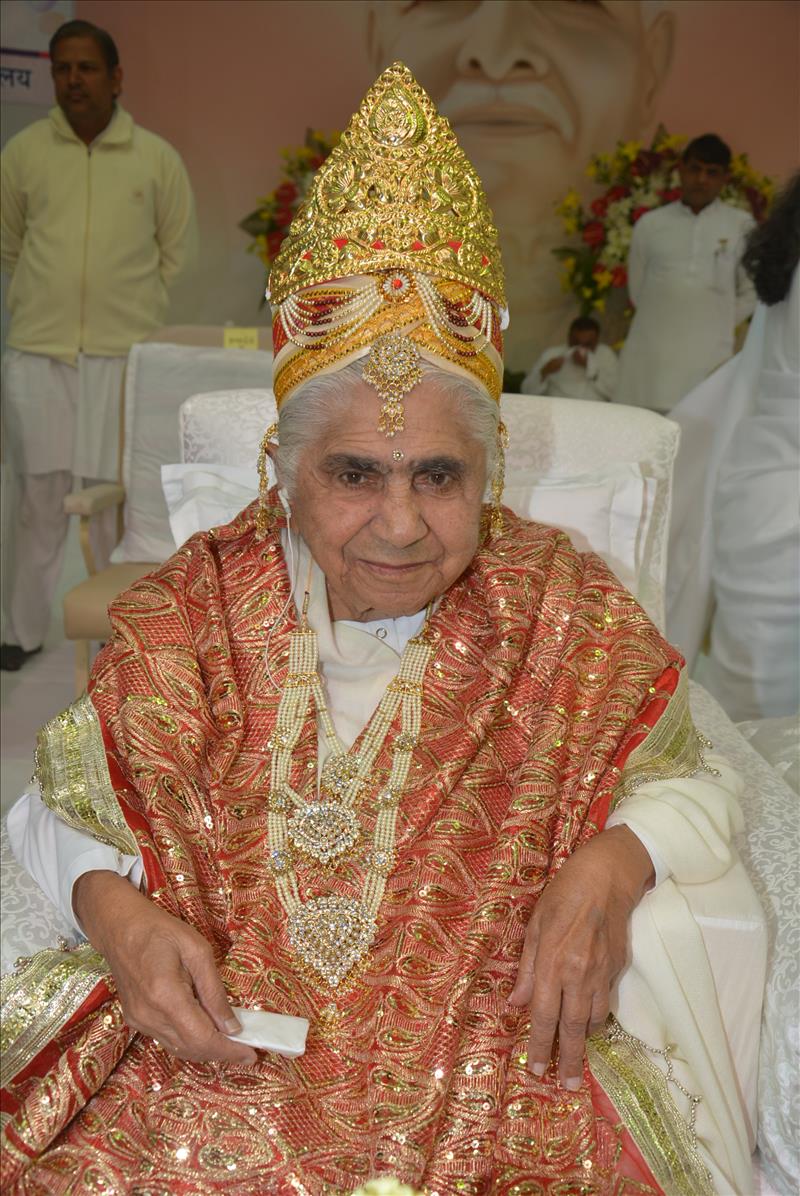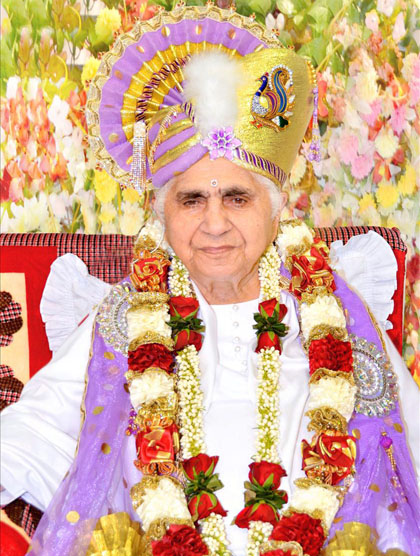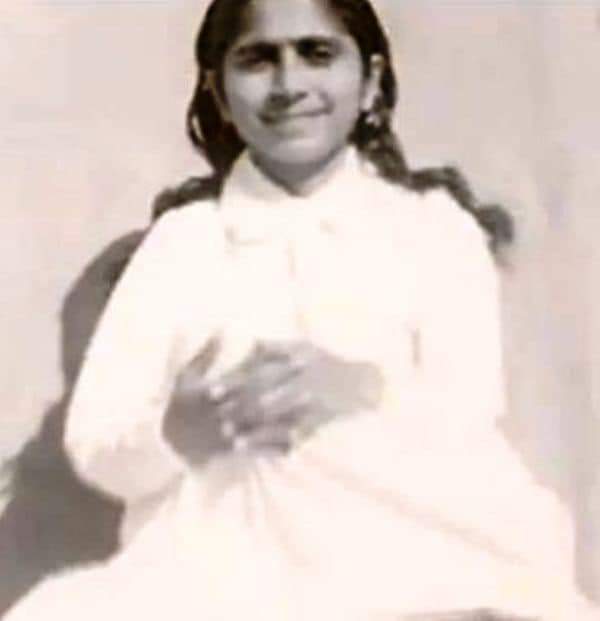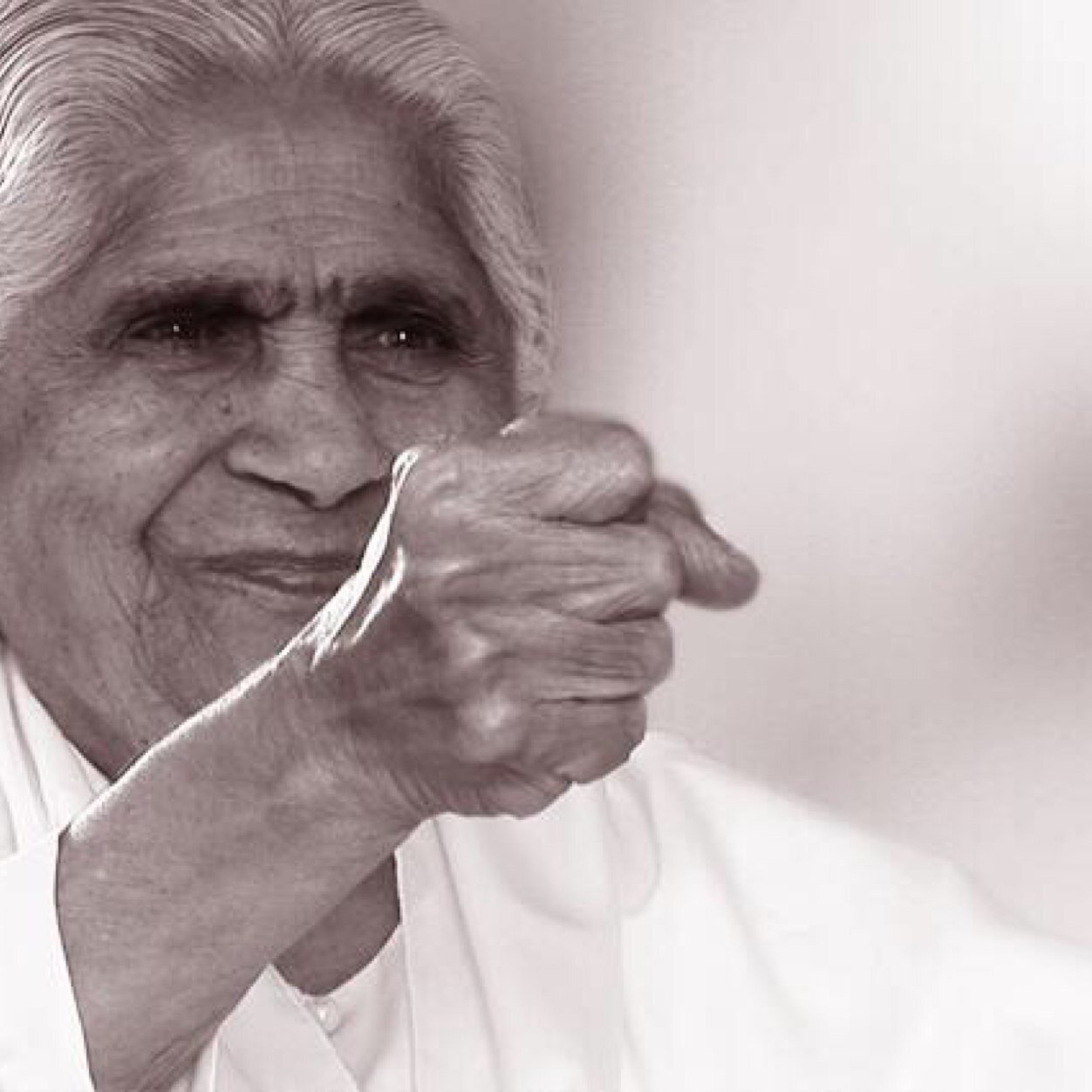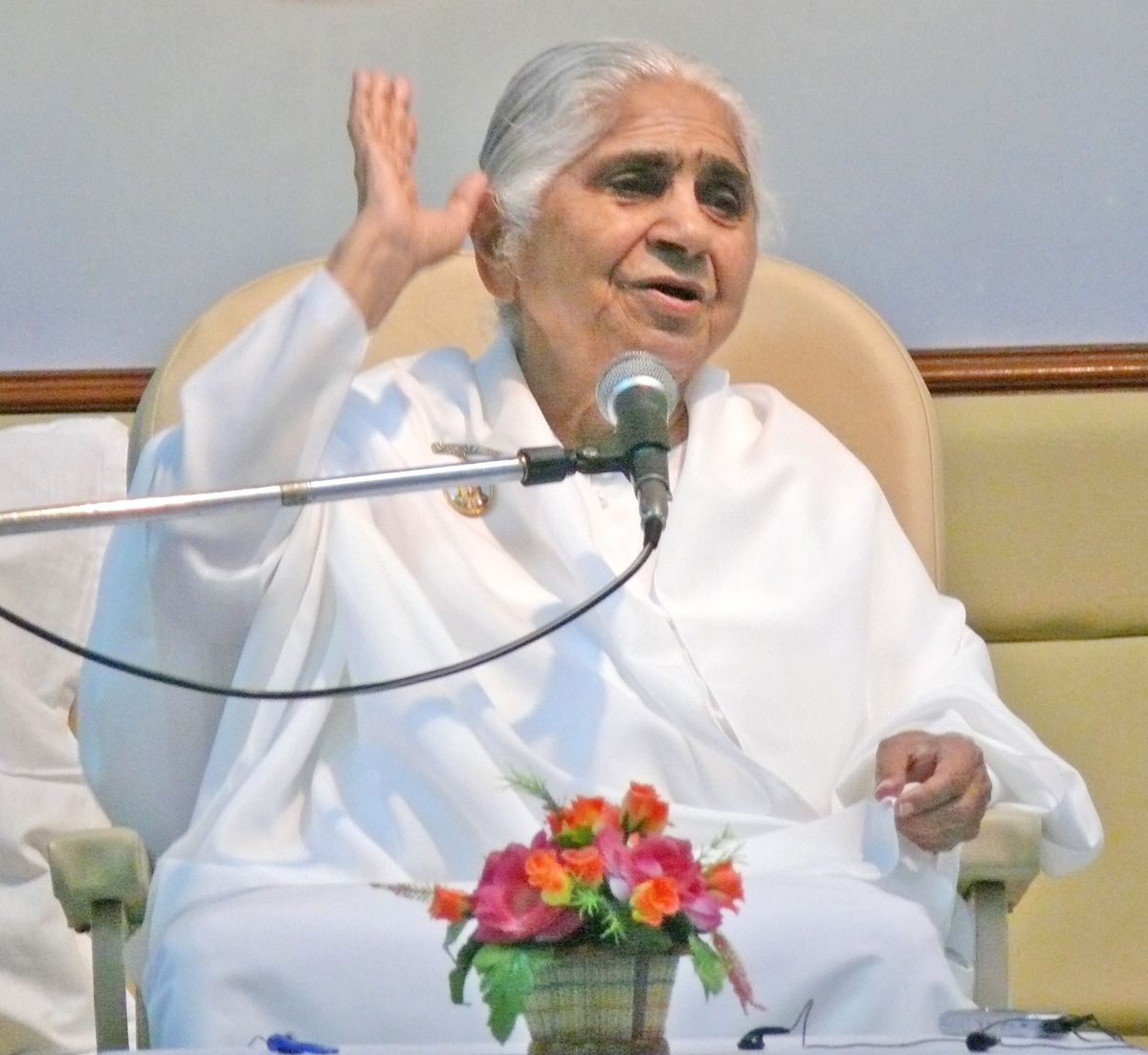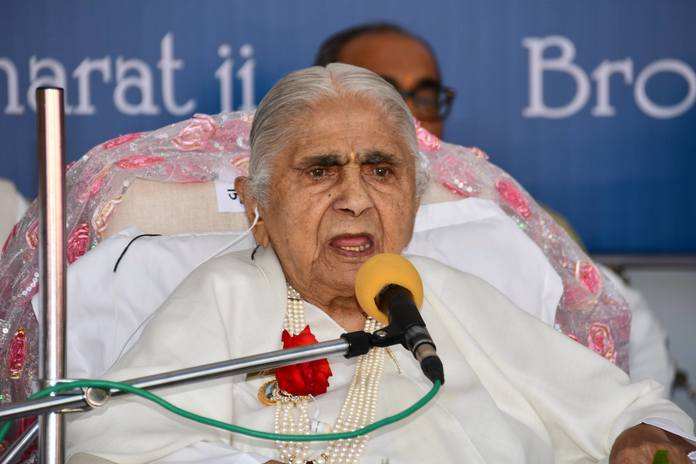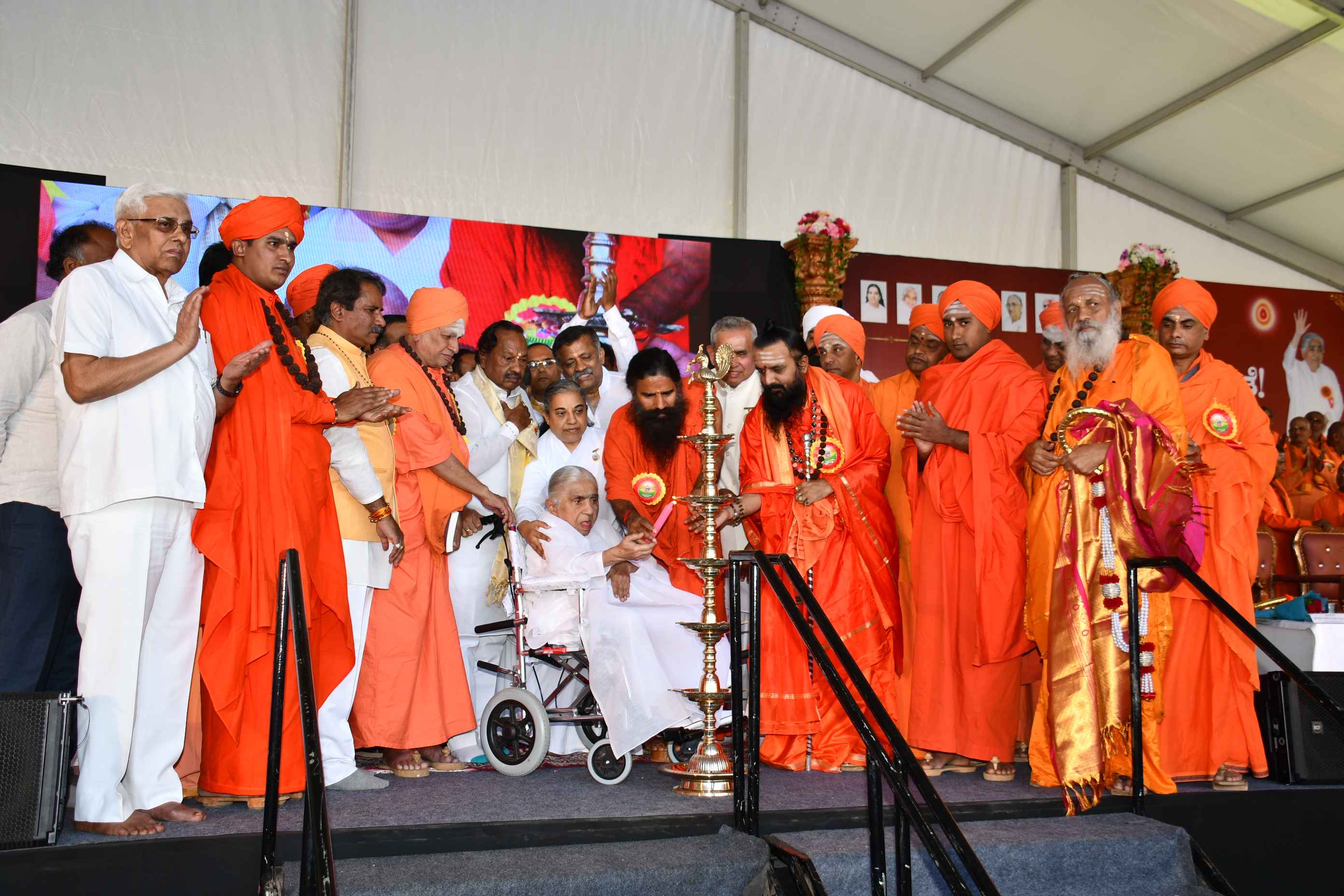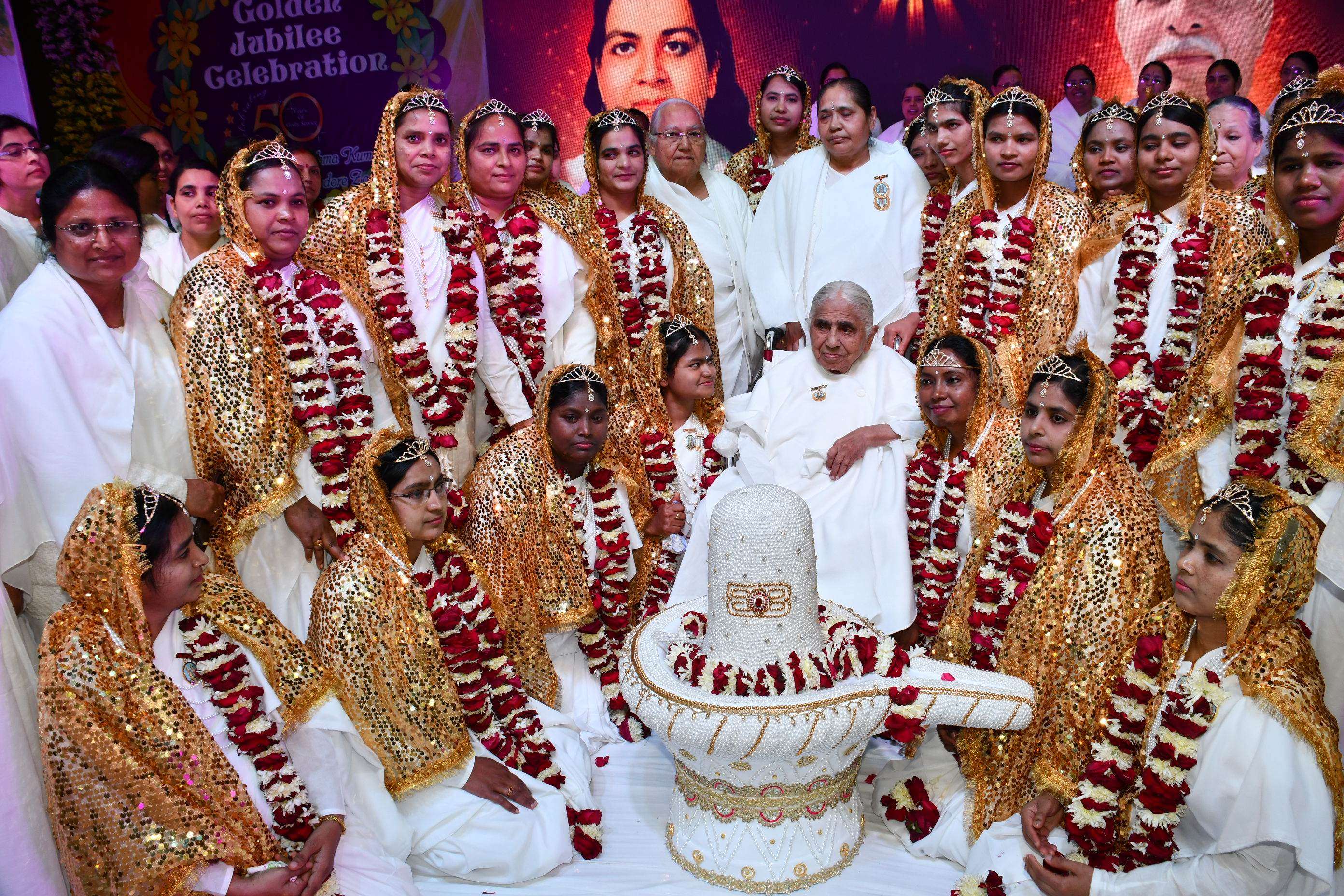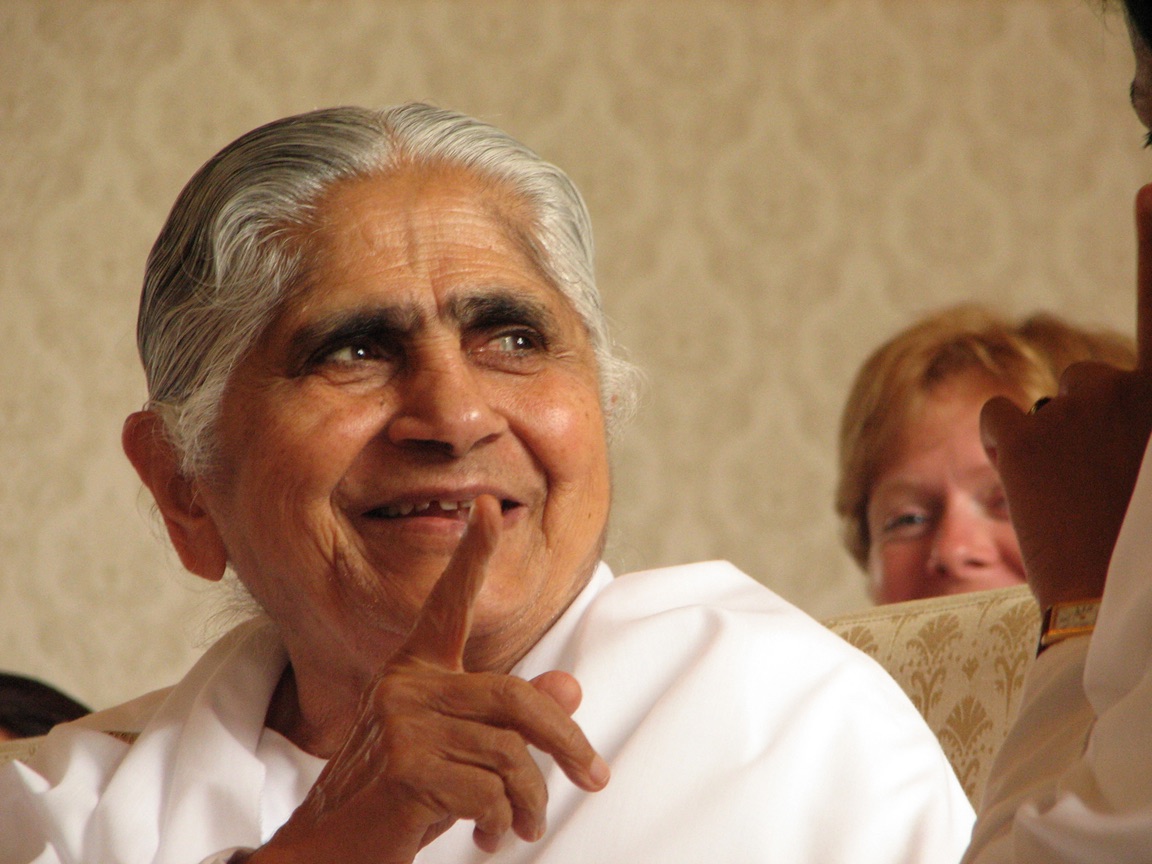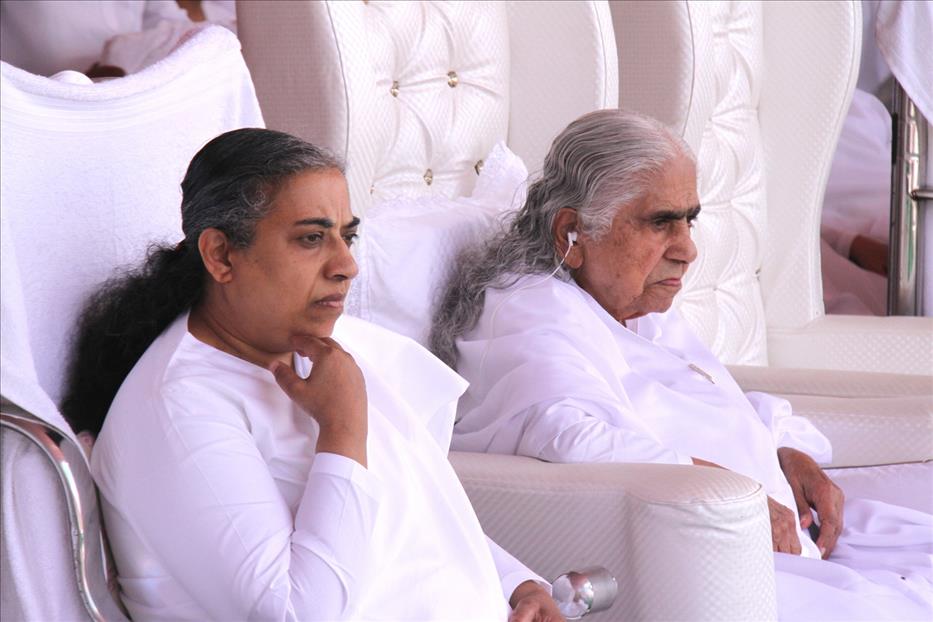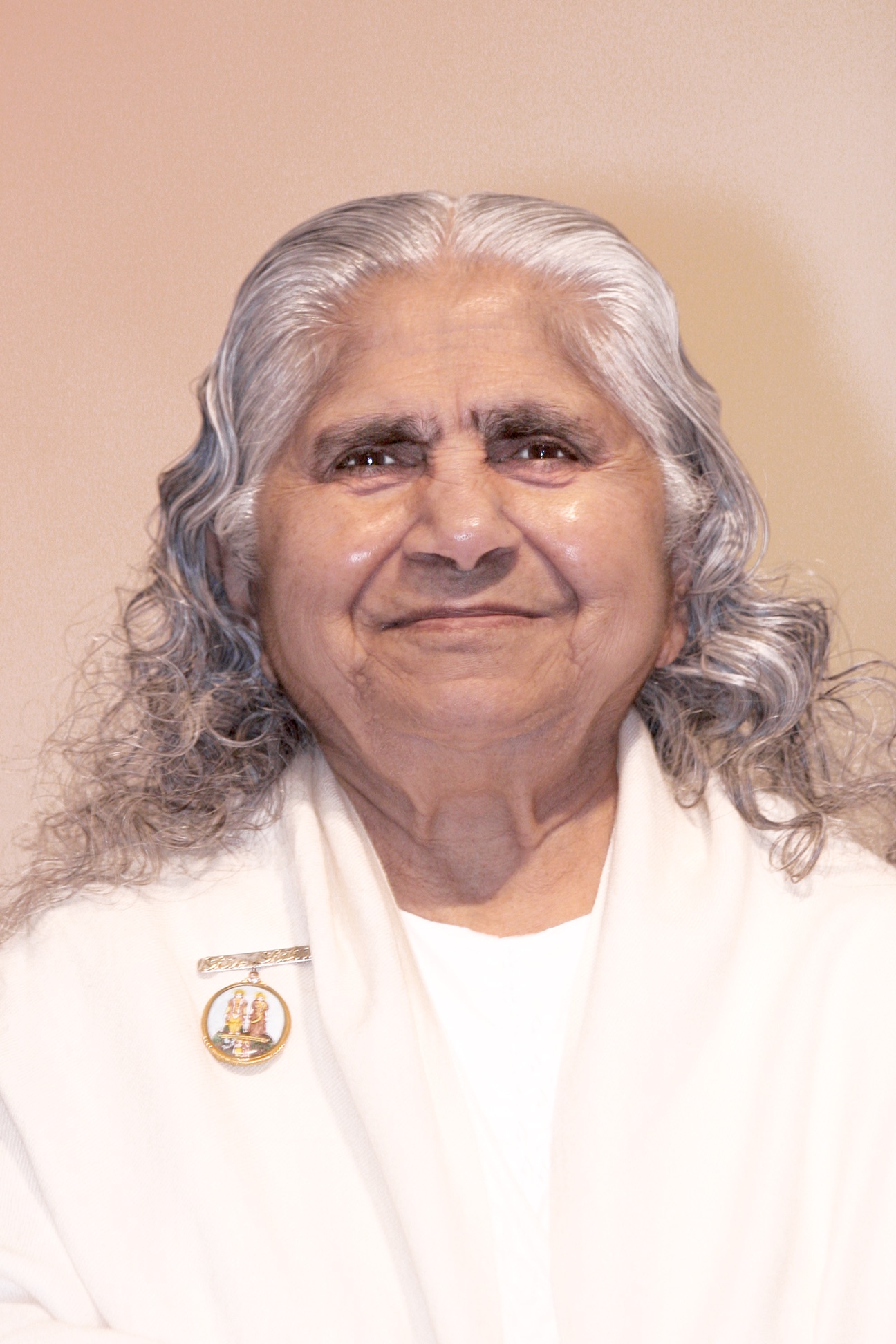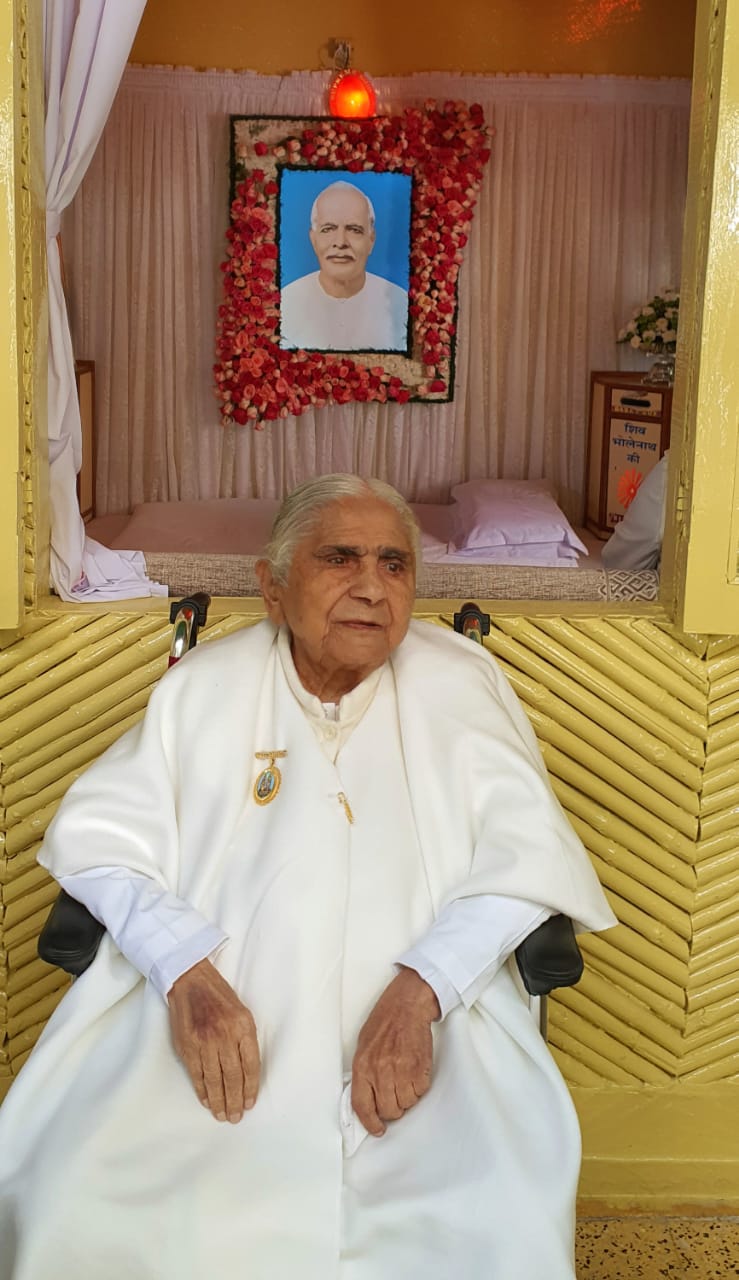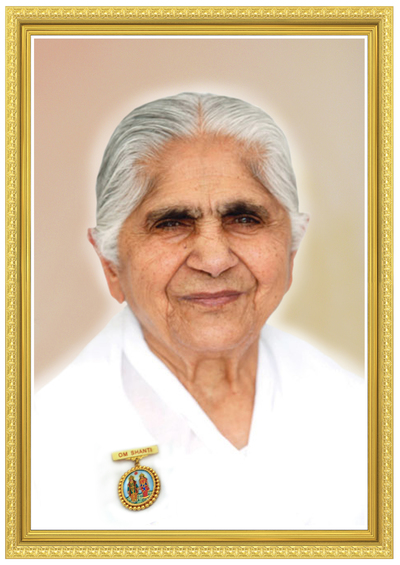 Click below links for PDF documents:
Dadi Janki - Chief of Brahma Kumaris
Dadi Janki - The Living Legend

News of Sister Winnie White from Birmingham, UK
15 March 2020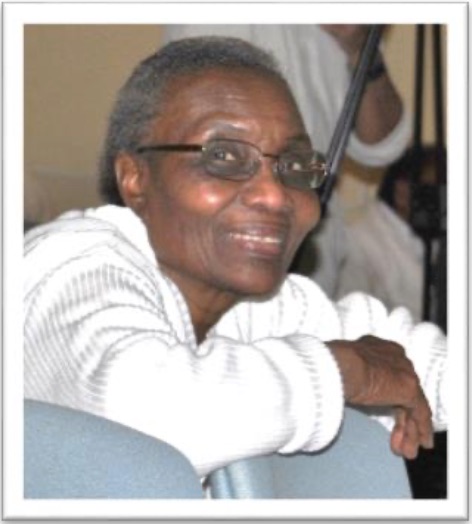 Sister Winnifred "Winnie" White was born in Jamaica in 1935. She came to the UK in 1955 and settled in Birmingham. Winnie was a Midwife by profession and served as a Nurse and Midwife for many years until her retirement in around 1994.
Winnie met the Brahma Kumaris (BKs) in 1982 through her Godson Brother Easton Hamilton. She was part of a large group of souls from the Black community who were the first students of Raja Yoga in Birmingham from a non-Indian background. Winnie was accompanied by her then partner Brother George, who was also with BKs for many years. Winnie was a conscientious student and over the years attended class at West Bromwich, Edgbaston and Birmingham Centres. After her retirement, she moved into the Centre in Newcastle-upon-Tyne with Sister Sheila. Winnie served there for many years and returned to London via Birmingham where she settled back into the community at Global Co-operation House. She lived in one of the sisters houses nearby for some time before returning to Birmingham to be with her family in the latter part of her life.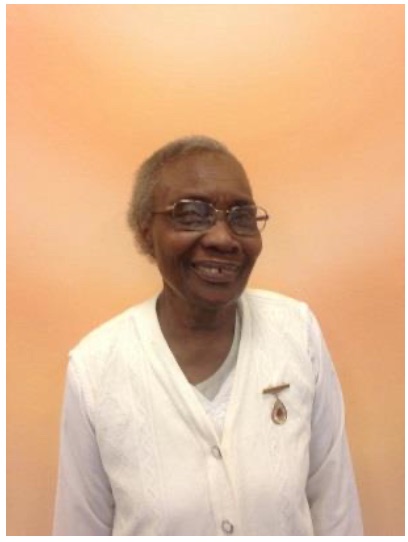 Winnie had 3 children, Richard, Everald and Donna. She also had Grandchildren and Great Grandchildren. Sadly Donna passed away very recently and as Winnie had been staying with Donna, the family decided for Winnie to be placed in a Care Home. Winnie was very comfortable in the Care Home and it was a short distance from the BK centre house in Birmingham. Since being in the Care Home each Thursday a special offering of food was specially brought to Winnie which she really enjoyed. She remained in good spirits in the Care Home and always spoke of God and her good fortune.
Winnie was taken to Hospital with chest pains. She stabilised for a short time and then passed away peacefully on 6 February 2020. She was aged 85 years.
In the 1980's Winnie had the great fortune of personal Godly meetings in at the Spiritual Headquarters of the Brahma Kumaris in India. She will take with her one special blessing that she was a greatly fortunate soul and sang songs from the heart for God. The soul will serve on its journey going forward and onto the next destination.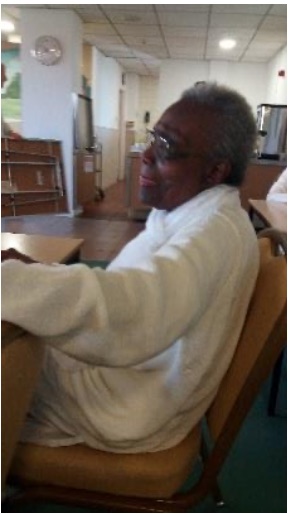 BK Prabhakar Bhai of Gyan Sarovar left for Avyakt Vatan on 02-03-2020
4 March 2020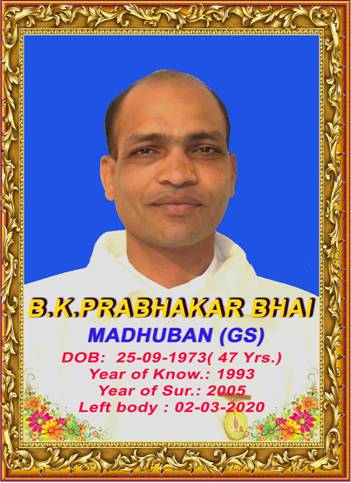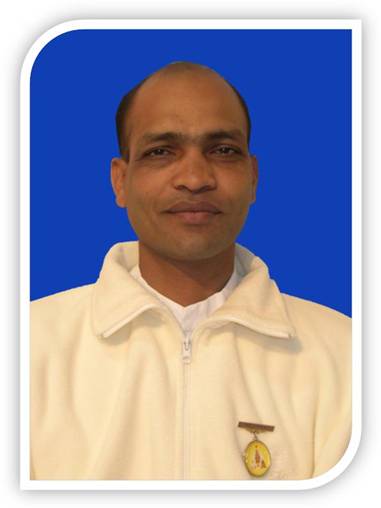 Om Shanti Divine Angels,
Kindly receive the sweet remembrances of Dadi Ratan Mohini Ji and all Madhuban Niwasis.
Rajayogi BK Prabhakar Bhai of Gyan Sarovar, Mount Abu left for Avyakt Vatan on 02-03-2020. Please see the attached photo which the details are self explanatory.
Our floral tributes to the Bapdada's lovely and serviceable departed souls.
Thanks with divine thoughts.
On Godly Seva
B.K.Santha Krishna
Personnel Admin. Dept.,
Madhuban

Sister Marie of Delray, Florida Has Flown to Baba
6 February 2020
Divine Family,
Some 30 minutes after sending the below email today (Tuesday, February 4th), our lovely sister Marie flew away. We will update when funeral arrangements are in place.
Fondly,
Waddy
Om Shanti,
Shortly after arriving earlier today at Marie's home in Delray, we were joined by Br. Craig who lives around the corner. Marie was at home with her husband and under the care of Hospice. The nurse marveled at how peaceful Marie - although sedated - was. Her husband too expressed that even though the past 10 months since the diagnosis and operation (brain tumor) have been grueling, Marie had been uncomplaining and did not have to endure much by way of pain.
Marie, whose 63rd birthday would have been Feb 21st (Shivratri), was the first student to become a BK when service in Miami began 35 years ago, quickly becoming a teacher as well as an inspiration for newer students.
Including here a pic of maybe her first visit to Madhuban. Her brother and sister are expected to arrive tomorrow.
I invite you, especially those of you who knew, have affection for, and shared service, travel or just moments of laughter with Marie, to send your love and good wishes to this very special individual for her onward journey.
In Baba's yaad,
Waddy
A celebration of life will be held for Marie-Therese Saturday, February 29th at the Del Lago Chapel in Lake Worth from 11 am - 1 pm.