2015 Jan through Oct Madhuban News Archive
2015 Jan through Oct Madhuban News Archive
Upcoming PCP Course Description Letters & Registration Forms (in Hindi only), Including New Course Launch through Annamalai University
23 October 2015
Dear Divine Family, Greetings of Peace and Love!
Please find links below to:
1. The letter for the PCP Classes for the courses of Annamalai University to be held at Shantivan from 23rd to 31st January, 2016.
2. The letter for the new course (P.G. Diploma in Counselling and Hypnotherapy) that is being launched through Annamalai University this year.
The registration details are enclosed in the letter.
Vice-Chairperson, Education Wing
Brahma Kumaris, Mount Abu, Rajasthan
Click here for the letter for PCP classes.
Click here for the letter about the new classes.

Happy Dusshera Greetings from Br Surya of Madhuban
22 October 2015
Hey Jewel of Victory, Conqueror of maya-raavan and Conqueror of the world,
Om Shanti and Greetings from Madhuban!
Happy Dussehra/ Vijayadashami to you!!!
Let's celebrate this festival of victory of truth over evil in its true sense,
by conquering the weaknesses within…
Let's remove all the vices within from the root once and for all…
Let's bid farewell to maya and raavan…
Let's reaffirm our commitment to our Beloved Baba
and intensify our efforts to reveal Him through our face and behaviour!!!

News from Sr Jayanti (20 - 22 October)
22 October 2015
On 19th late morning all the double foreigners went to Peace Park for games and a picnic lunch. Everyone enjoyed themselves a great deal. On 19th night there was dancing and entertainment in Pandav Bhawan courtyard in honour of the ongoing Navratri festival. Dadi Ratan Mohini, who has come to Pandav Bhawan after many months, was present with the lovely gathering. On 20th night there was garba raas and dancing in Gyan Sarovar for all.
On the 20th, Dadi Ratan Mohini had come to conduct class for the double foreigners in Gyan Sarovar at 12noon, and then Dadi Janki met everybody. Dadi Janki then took leave and went down the mountain. I conducted evening class on the subject of 'Influences' which was followed by yoga.
On 21st morning, a group went down to meet Dadi Janki and also Dadi Gulzar. Dadi Gulzar hasn't yet made it up the mountain, but we keep hoping.
On 22nd I went down to Shantivan and was able to meet with Dadi. It was a very sweet and lovely meeting. We then went to the Solar India One plant and met with the whole group of technicians who are serving there. All the 770 Solar Dishes have been put up and new buildings have been constructed. There was a very lovely open air space where we were able to meet together. It was really beautiful to see how much has happened. We were then able to meet with Dadi Gulzar, and whilst meeting her Dadi Janki also appeared, which was lovely. There was very sweet chit-chat of the two Dadis. Dadi Gulzar finally did not come up to Gyan Sarovar or Pandav Bhawan, but leaves for Delhi on 23 October. She also will be in Delhi for the big programmes happening on the 24th and 25th October. Dadi Janki and myself leave for Delhi on 24 October from Shantivan and return on the 26th night.

Faculty Development Program of Vardhman Mahaveer Open University (VMOU) in Kota held at Shantivan
22 October 2015
Dear Divine Family, Greetings of Peace and Love !
It pleases us to inform you that a Faculty Development Programme of the VMOU for Brothers and Sisters from Rajasthan was organised at the Value Education Office, Anand Bhawan, Shantivan from 15th to 17th October, 2015.
The training was co-ordinated by Dr. R.P.Gupta and was conducted by Prof. BK Ved Guliani, BK Mukesh, BK Supriya and BK Chitra, who undertook to train the would-be teachers in Value Education and Spirituality.
Rajyogi BK Mruthyunjaya (Vice-Chairperson, Education Wing), Rajyogini BK Sushma (Sub-Zone In-charge Rajasthan), Dr. BK Pandiamani (Director, Distance Education Programme, Education Wing), BK Kavita (Centre In-charge, Bharatpur) appreciated the effort of the Education Wing and, expressing their wishes for the success of the FDP, blessed all the participants.
A novel feature of the programme was that participants were encouraged to demonstrate the skills they learned by conducting classes. In this exercise as many as 10 participants taught the demonstration classes which were observed by the teachers and later discussed in the whole class, pointing out strengths and weaknesses of the delivery, if any.
The programme successfully concluded on the evening of 17th Oct. 2015.
Warm Regards,
BK Mruthyunjaya
Vice-Chairperson, Education Wing

Link to the Cultural Presentations from the Multi-disciplinary Conference "Raja Yoga for a Healthy & Happy Society" held in Gyan Sarovar from 2nd to 5th October
20 October 2015
Cultural Presentations - "A Multi - Disciplinary Conference-Cum-Cultural Festival 2015"

Navratri Greetings and Blessings From Br Surya of Madhuban
19 October 2015
Om Shanti and Greetings from Madhuban!
Happy Navratri to all the Shiv Shaktis!!!
MAY YOU BE...
the remover of all evil tendencies - Goddess Durga;
the bestower of the wealth of knowledge - Goddess Lakshmi;
the embodiment of knowledge - Goddess Saraswati;
the bestower of virtues - Goddess Gayathri;
the destroyer of all evils - Maa Kali;
the embodiment of contentment - Maa Santoshi;
the bestower of zeal and enthusiasm - Goddess Uma;
the goddess of purity – Goddess Vaishano;
the bestower of blessings, who fulfills everyone's wishes - Master Jagadamba!!!

18 October Madhuban News from Sr Jayanti
18 October 2015
On Sunday morning, a group of us went with Gyan Sarovar Niwasis to the new Dadi Janki Park which is on the right-hand side of the Main gate of Gyan Sarovar, as you approach from the road. Part of it has been developed on the flat ground just by the Gate, and the other side has been developed on the hillside across the road. Sudeshben and myself planted trees, together with Lakshmiben who is from the Centre that Br Harish first took gyan in. Harishbhai is the main person instigating these parks and gardens in recent years, and taking care of them. We had meditation giving sakash both to Gyan Sarovar as well as the whole park. There were some blessings of gyan shared.
A very beautiful plan has been drawn for the Park which includes a musical fountain, a Baba's Room, and an open-air theater on the flat land near the Gate.
Dadi Janki arrived in Gyan Sarovar just before 12noon. Dadi came into class and it was just the double foreigners who were there. They played some very beautiful songs of the Mother, and Dadi shared drishti, love and danced holding hands with the DF group who were near the stage.
18thevening, we had a line-up of the Russian sisters dressed up in the form of the Shaktis. Rajniben and Meeraben narrated the description of each of the Shaktis very beautifully. There was a song played that spoke about that particular aspect, so it was a very lovely scene. Dadi Janki came in at about 6pm to see the last half of the scene of the Shaktis. Dadi came on stage to give all of them drishti. For 10 minutes there was powerful yoga with the Shaktis and Dadi giving drishti, after which we began our World Meditation Hour. There was a 5-minute intro to remind people that this was a meditation which was devoted to peace for the earth, and a 5-minute commentary on the same, and then of course meditation till 7.30pm. It has been a long day, and so Dadi then went to rest. It was a powerful evening.

Diploma and Advanced Diploma in Value Education and Spirituality Successfully Conducted in Shantivan
18 October 2015
Dear Divine Family, Greetings of Peace
We are pleased to inform you that Diploma and Advanced Diploma Examinations in Value Education and Spirituality under Yashwantrao Chavan Maharashtra Open University (YCMOU) were successfully conducted from 7th to 13th October, 2015 at ?the Value Education Office in Anand Bhawan, Shantivan.
?Examinations ?of the University ?were held online at different centres at the same time.
??About 25 students from different parts of India came to Shantivan for the examination. These online examination? were held ?in Shantivan for the first time under the spiritual guidance of ?Br Mruthyunjaya, ?Br Pandiamani and ?Sr Suman and students were pleased to see the proper arrangement and management at the centre.
Warm Regards,
BK Mruthyunjaya
Vice-Chairperson, Education Wing
Brahma Kumaris, Mount Abu, Rajasthan

13th October
News from Madhuban by Sr Jayanti
14 October 2015
On Monday 12th October, there was an opportunity to go down the mountain and conduct class for around 20,000 souls. I was then able to meet with Dadi Janki and hear her class and join her in her meeting with Dadi Gulzar.
It was good to see Dadi Janki interact with the gathering of multi-thousands. They took her in front of the stage, so everyone could have the opportunity of close up dristhi and many many were standing. There were songs about Dadi the mother and Dadi was dancing in her wheelchair and the crowd was dancing with her. It was a great scene of love and joy.
Today we had a session of the RCs interacting from the heart with other regions. I was with the Australasia group and they asked very good questions, more about personal dharna and my experiences rather then of course gyan. After that there was the gift ceremony..

Sr Jayanti's Madhuban News from 8 to 11 Oct
14 October 2015
On 8th evening we had a celebration for Dr Nirmalaben's 80th birthday (India calls it the 81st as she has completed 80 years) with Gyan Sarovar & Madhuban Niwasis, double foreigners and some of the Global Hospital family. Many had come up from Shantivan as well. It was a beautiful sharing of love and the lessons that many have learned from Dr Nirmalaben's experience, and the experiences they've had with her. I shared how she was the first teacher that Baba designated for service abroad, and so she was there in 1971 not only with the first delegation, but also as the first teacher to be resident in a tiny little Centre in Tennyson Road. She had never stayed on her own before, and her purity, humility and honesty laid the foundation of service in foreign lands.
Dadi Janki conducted yoga on the 10th with the whole gathering and then spoke, but was also keen to see the first-timers from across the world, and also the participants from the various continents. Afterwards, Dadi gave toli to 800 people: the double foreigner group but also Gyan Sarovar residents, sevadharis, and some Pandav Bhawan niwasis also.
On 11th morning, Dadi again met with the whole gathering for a short while. We also had the Welcome Ceremony for the start of the Double Foreigners season. Rajniben and Meeraben welcomed everyone with a variety of' Welcome' greetings in different languages which was very sweet.
We then had five people who were in Madhuban for the first time who shared very briefly what had brought them there. A first-timer who was a Chinese sister performed a very beautiful dance. We then had three RCs, Dr Nirmalaben, Sudesh Didi, myself and Sheiluben (representing Madhuban), share how it is Baba would have welcomed the Double Foreigners if he were here in sakar. The theme of the whole Double Foreigners programme is 'Original Effort, Original Experience of Love' so after a round of the first question, we also shared on this particular topic. We were given two minutes each which worked very well. Everything was short, sweet and essenceful. Dadi Janki came and shared, and then left to return to Shantivan. The RCs and Sheiluben then gave blessings and toli to the group.
There is already a gathering of 10,000 souls in Shantivan, so Dadi would have met them in Shantivan on 11th night. Dadi Gulzar also reached Shantivan on 11th evening. On the 11th evening, the first-timers met in the garden by the lake in Gyan Sarovar. They danced together and enjoyed themselves and then at 6pm Sudesh Didi conducted class.

Help Brahma Kumaris reach #1 position among Speaking Tree Masters
7 October 2015
Divine Brothers and Sisters,
Please accept Greetings of Love from Godlywood Studio!
With the support and cooperation of the divine family, as well as that of our international intellectual readers, our page on the Speaking Tree among Famous Spiritual Masters of the World has succeeded in reaching a respectable position within the top ten Spiritual Masters. You can observe this when you open the Speaking Tree site, which belongs to the world famous Times of India group (internet version).
However the aim is to attain the No. 1 position, for which we have to reach at least 1 lakh (100,000) followers. At the moment our followers number only 9454, hence we seek your kind cooperation.
Kindly inform and discuss this matter of follower-ship in morning class at each and every centre and promote it among your among your family members, students and your circle of friends.
World Renewal Spiritual Trust.

Multi-Disciplinary International Conference to take place at Shantivan from 2nd to 5th October
4 October 2015
Bapdada's Most Respected and Serviceable Instruments,
Please accept greetings of Peace and Godly love.
It gives us immense pleasure to inform you that over 3000 delegates from all over India and abroad are participating in our Multi-Disciplinary International Conference cum Cultural Festival on "Rajyoga for a Healthy and Happy Society" to be held from 2nd to 5th October at Shantivan, Abu Road. These dignitaries include Ministers, MLAs, MPs, Judges, IAS-IRS-IPS officers, Industrialists, Vice-chancellors, Scientists, Writers and other eminent personalities.
We are sending herewith the Program Booklet of the conference for your kind reference.
You can watch the live telecast of all the sessions of the conference on PMTV.
Your subtle presence and good wishes will ensure that this Conference serves as a platform to reveal Bapdada.
Thanking you and with thoughts divine.
Executive Secretary, Brahma Kumaris

Greetings and News from Br Nirwair Ji on 29th September
30 September 2015
Our dear divine sisters and brothers of the BK family around the world,

Please accept hearty-Godly love and remembrances from Dadi Jankiji and all Madhuban Niwasis.

India is the land of festivals as we all know. A few days back we had the rituals for the festival of Ganesh Chaturti for 10 days, and it concluded with lot of festivity, drum-beating, and smearing of vermillion. Roads in many cities, especially Mumbai, were jam-packed with long processions for immersion of the idols in the sea. Maharashtra in particular celebrates this festival grandly, and leads the rituals in comparison to other States.

These are the days when people in India remember their departed near and dear ones and arrange for special bhojan in their memory, known as Shraad (28 Sept – 12 October). This is for a period of 10 days after which the festival of Navratri will start (13 October), when the children, youth and even the elderly dance continuously for hours from evening to late nights, while singing praise of the 9 Mother Goddesses. They perform the exquisite dance form, 'dandiya raas', where all participants have specially designed sticks in their hands, which create beautiful music as the dance progresses. It has been believed for ages that the festival of Navratri followed by Dasshera (22 October) helps re-energizes one's physical, mental and spiritual health.

In big towns and small villages, people place the image of the Mother Goddess as presiding deity in the centre of the gathering, and then participants dance around the Goddess in a very organised, disciplined and appealing way. The most entertaining part of these celebrations is the spirit of dancing prevalent amongst even little kids, who come adorned in colourful outfits as if they were Shri Krishna or Shri Radha, gopes and gopis, to perform amazing dances and even win prizes in competitions. Navratri celebrations are the most auspicious occasion of bringing people of all faiths together to rejoice, and enjoy sweets and other delicacies before or after the dance programmes. Sometimes there are also ladoos-eating competitions, as we read in the news the other day; one 'young' man of 102 years managed 60 ladoos in one sitting!

Would also like to share that our dear Dadi Ratan Mohiniji has not been keeping very good health for the last month. Things are improving after much effort and care. Dadiji is expected to return to Shantivan from Ahmedabad around 5 October.

The fury of rain this year, especially in mountainous regions, has been severe, but at the same time, three districts in Maharashtra have been struck by drought. Marginal farmers owning just an acre of land are succumbing to suicide as they can't re-pay their loans and have no hope for the future due to failed crops. Br Karuna and his team have taken the initiative to help about 5000 people with essential and immediate requirements as part of the Disaster Management Programme, sponsored by the Brahma Kumaris and Global Hospital.

Over the past couple of months, Shantivan played the roles of both Gyan Sarovar and Pandav Bhawan; the torrential rainfall at the end of July resulted in damage to the road that goes up the mountain, and thereby limited the traffic upwards and downwards. This is why programmes where shifted to Shantivan but everyone managed the change with love and tireless cooperation.

Some of you may have also heard about Shantivan having welcomed around 1400 senior cardiologists and physicians, and 200 Senior Nurses connected with Cardiology Care from all over India and 40 other countries, from 3-6 September 2015 for their 10th World Congress on Clinical Preventive Cardiology and Imaging. The most prominent individuals on Organising Team were Dr HK Chopra (President, National Cardiological Society of India and Organizing Chairman, WCCPCI), Dr Navin C. Nanda (Professor of Medicine and Cardiovascular Disease and Int President, WCCPCI), USA, Dr SK Parashar (Chairman, Scientific Committee of WCCPCI; the Committee of Hosts was led by Dr Partap Midha, Dr Satish Gupta (Secretary-General, WCCPCI), BK Nirwair and many distinguished doctors who have been connected with the Brahma Kumaris for a very long time.

As a mark of gratitude for having had permission to conduct the past 6 Congresses on Brahma Kumaris Campus, the Organising Committee of WCCPCI resolved to help set up a Multi-Speciality Hospital at Talheti, Abu Road. The Global Hospital and Research Centre Trust would provide over 5 acres of land near Shivmani Senior Citizens' Home for this purpose. Most of the senior members of the Congress from USA, South America, England, Kazakhstan, Sri Lanka, and dignitaries from India, joined together for the Foundation-Stone Laying Ceremony held at 10.30am on 3 September 2015. It will be run by the Global Hospital & Research Centre as a "World Centre of Clinical & Preventive Cardiology and Emergency Services."

Brahmins are now looking forward to our annual get-togethers in Madhuban. The double foreigner season starts on 30 September with a Guest Retreat for participants from Asia-Pacific and Middle East regions. Dadi Jankiji travelled up the mountain this morning to be with the family in Gyan Sarovar and Pandav Bhawan, and meet with the guests.

We've had a brief but good rainy season in this part of India, and we hope that all of Baba's meetings would carry on smoothly as per the plan in drama. Those of you who have planned to come meet Avyakt BapDada and the Madhuban family are most welcome.

Wishing you the very best for a very, very joyous Navratri and fulfilling Dasshera!!

With Baba's love,

B.K. Nirwair

Happy Ganesh Chaturthi Greetings from Madhuban Br Surya
17 September 2015
Om Shanti and Greetings from Madhuban!
Happy Ganesh Chaturthi!!!
the destroyer of obstacles and master knowledge-full (signified by the elephant head of Shri Ganesh);
the one who loves Murli (protrayed by the big ears);
far-sighted (conveyed by the small eyes);
the one with clean & clear intellect and power to adjust (symbolized by the well-developed and flexible trunk);
the one who has transcended the pairs of opposites of joy & sorrow, victory & defeat (indicated by the broken tusk);
the one who has power to accommodate/merge (portrayed by the large stomach);
the one who is ignorant of all desires (represented by mouse at the feet);
karmayogi, whose intellect is always connected to Baba up above (depicted by one foot on the ground and one foot above);
the one who constantly is an embodiment of all attainments (conveyed by modhak);
the one with ruling power (symbolized by noose in hand) and controlling power (elephant goad in hand);
master bestower of blessings (signified by the hand of blessings)

Happy Sri Krishna Janmashtami & Teachers Day from Surya bhai - Madhuban
8 September 2015
Om Shanti and Greetings from Madhuban!
Happy Sri Krishna Janmashtami & Teachers' Day!
Hearty wishes on these twin occasions
to everyone in our divine family, especially teachers!
May Sri Krishna, the chit chor (the heart stealer),
steal all your tensions and worries on this Janmashtami,
and shower upon you all the love, happiness and peace...!
On this occasion, let us bow our heads in reverence and thank our dearest Supreme Teacher, Supreme Guru, Bapdada from the bottom of our hearts for continuing to shower Their unlimited kindness upon us.
Could there ever be anyone more fortunate than us!!!

Raksha Bandhan Celebrations with Dadis in Shantivan
1 September 2015

Raksha Bandhan Greetings from Br Surya of Madhuban
1 September 2015

Raksha Bandhan Greetings from Sr Shielu, Madhuban
28 August 2015

1500 Children Race for Universal Brotherhood in Abu Road, Shantivan
27 August 2015
On the 23rd of August 2015, in the divine memory of Dadi Prakashmaniji, a marathon was organized at 6am under the theme 'Race for Universal Brotherhood'.

The marathon was started off with a waving of a green flag by Sr Mohini of Madhuban. Dignitaries present included Sister Munni, the Circle Inspector of Abu Road, Inspector Sumer Singh, Gautam of Madhav University, Avinash Sharma of Lions Club, and BK brothers Bhupal, Karuna, Bharat, Mruthyunjay, Mohan Singhal and Ashok Gaba.

In this marathon,1500 children from the schools and colleges of Sirohi and neighboring villages participated.

On 25th August, the winners will be awarded prizes and trophies by the Dadis and guests.

Students from Gujarat attend

Training Program in Shantivan:

Photos and News
26 August 2015
Shantivan (Abu Road). About 170 students from Vibration School of Music, Gujarat attended a training program here from 15 to 17 August at the Dadi Prakashmani Training Center. The training program was inaugurated by a lighting of lamps by Br Mruthyunjaya, Vice Chairperson of the Education Wing, Dr. Pandyamni, Sister Shivika, Sister Mamta and others.

At the end of training offerings and divine gifts were given to all students that attended the training.

B.K. Chunesh Madhuban
Value Education Office, Shantivan

News and Photos of Dadi Prakashmani Ji's Remembrance Day at Shantivan on 25th August
25 August 2015
On this special day, the 8th Anniversary of Dadiji, nearly 15,000 brothers and sisters reached Shantivan.

After Murli class in the morning, respected Dadi Jankiji, Dadi Hriday Mohini (Dadi Gulzar) and the three senior brothers, together with all Madhuban residents and teachers (brothers and sisters) who had come from various places, in a long queue specially offered their flowers of love to Dadiji.

Senior brothers all shared their experiences of living with Dadiji and of the divine sustenance they received from Dadiji.

At 12.00 noon, Dadi Gulzar went to the subtle region to offer bhog specially to Dadiji, and after a few moments, Dadiji took in everyone's love and then came down to the corporeal world in the body of Dadi Gulzar and gave everyone loving drishti.

First of all, Munniben applied a tilak on Dadiji. Dadi Jankiji and Munniben tied a rakhi on Dadi with a lot of love and then Dadiji spoke some elevated versions, which you can read here.

The Time of Great Transformation through God's Power
17 August 2015
Abu Road, Shantivan: From 7 to 11 August, the Religious Wing (of the Raja Yoga Education and Research Foundation (RERF)) held a religious conference in the Global Auditorium of the charming Manmohinivan complex at Shantivan. This successful, All-India event brought together 35 saints and 600 delegates.

200 Kumaris Dedicate Their Lives to Spiritual Service (Samarpan Samaroh) at Brahma Kumaris Headquarters
9 August 2015
Abu Road, Shantivan, 4 August. This was the alokik scene at the headquarters of the Brahma Kumaris, where more than 200 kumaris tied the knot of their life with beloved Shiva. Addressing the gathering on this occasion, Dadi Janki, the Administrative Head of the Brahma Kumaris, said that the Supreme Soul is not just our mother and father, but all our relationships are with Him. A marriage is for the benefit of one family, but this surrender ceremony is for the benefit of the world and for making human life into a divine life through which humanity can be shown the path of truth. If we imbibe the teachings given by the Supreme Soul, she said, our life will become elevated.

The Additional Administrative Head of the Brahma Kumaris, Dadi Ratan Mohini, said that people of the world celebrate marriages but we celebrate surrender.

Br Mruthyunjay and Br Karuna, Br Bhupal, Sr Mohini of Madhuban and Sr Munni as well as many other senior brothers are sisters also addressed the gathering and wished a bright future to all the kumaris and hoped that these sisters will walk the spiritual path and reveal the Supreme Soul.

Raja Yoga for Purification of the Mind: All India Conference of the Business & Industry Wing of the Raj Yoga Education and Research Foundation (RERF)
9 August 2015
Mount Abu, Gyansarovar, July 18. Today in Gyansarovar's Harmony Hall, Brahmakumaris and the Business and Industry Division of the RERF held an all-India summit. The theme of the event was the transformation of business through spirituality. The conference was inaugurated by lighting of the lamps.

News of Mt Abu in the Aftermath of Recent Heavy Rainfall
31 July 2015
Om Shanti to all our sisters and brothers at Centres in Bharat and around the globe,
Greetings and love from Madhuban!
Several souls have been asking about the situation in Mt Abu after the recent heavy rainfall, so we are sending news for everyone to be rest assured.
From 25 July, we've had heavy rainfall. The Mount received 38 inches of rain in five days! BSNL mobile network was down for five days, and electricity was down in the entire village. Many homes didn't have water for five days, as electricity is required to pump water into the tanks. But today supply to all three has been restored to a certain extent. Baba's homes have generators and solar power so we are managing all right, though it was kept switched off in the afternoons and nights to conserve energy.
A significant amount of damage has occurred: hundreds of trees came down along with the electricity and phone lines, and the road down to Abu Rd either caved in or broke away in 20 places. Heavy landslides took place, but fortunately, with divine grace, no car or people were damaged in these mishaps. For about 24 hours, no one was allowed to travel up or down the mountain and so thousands of tourists were stranded on the Mount, including about 500 of our guests in Gyan Sarovar, and 150 BKs in Pandav Bhawan. However over the past two days, small cars have been allowed up and down the mountain with due caution. Cooking gas, vegetables, and milk are all bought from Abu Road and so it's essential for small cars to bring these up. However tourists have been asked not to visit Mt Abu for the next 8-10 days a) because of the bad weather (cold temperatures and thick fog) that continues even though rainfall has lessened; b) until the road is repaired. There are still about 8-10 fragile spots along the road.
Baba keeps us protected and we are thankful for everyone's good wishes and concern.

Inauguration of Administrators Conference at Gyan Sarovar
7 July 2015
Please read the news in Hindi only.

Voice message from Br Nirwair Ji on 1st of July
6 July 2015
Please turn on your speakers and click on the below link to listen:
Voice Message from Br Nirwair Ji

Governor of Rajasthan Addresses Women's Wing Conference at Gyan Sarovar
29 June 2015
HE Kalyan Singh was the featured speaker at this conference taking place from 27-28 June at Gyan Sarovar on the theme Spirituality is the Foundation for the Establishment of the New World.

All India Personality Development Camp at Shantivan, Abu Road
29 June 2015
News in Hindi only may be downloaded here and the prize distribution news (in Hindi) may be downloaded here.

Clean, Golden & Empowered Bharat Through Spirituality: Inauguration of Rural Development Wing Conference at Gyan Sarovar
16 June 2015
Press News (in Hindi only).

Divine Wisdom for a Golden Era Conference Held at Gyan Sarovar for University and College Educators
8 June 2015
On 30th May, a conference for university and college educators was held at Gyan Sarovar on the theme "Divine Wisdom for a Golden Era". Mr. Manish Sishodia, Dy. Chief Minister of Delhi, was the featured guest.
Dear Divine Family
Om Shanti and Greetings of Peace and Love
You can watch the Videos of different sessions held at the Conference by opening the following link:
Thanking you and with thoughts divine.
On Godly Service,
B.K. Mruthyunjaya
Vice-Chairperson, Education Wing (RE & RF)
Photos and report of Cultural Night Organised During the Confererence
Report (in Hindi only)

Message from Brother Nirwair on 5 June
7 June 2015
To most beloved Avyakt BapDada's Noore Ratno (Jewels of Light),
My dear Dadi Jankiji, Dadi Gulzarji and all the divine sisters and brothers of this great Brahmin family,
Please accept multi-million fold hearty-godly love and remembrances from Shantivan.
I am very happy to inform everyone that my journey for health benefit of over 2 months is over! The experience during this journey has been so wonderful.
On one side, there was the concern of our dear brothers Dr Partapbhai, Dr Banarsibhai, Sister Yogini, Dr Ashokbhai and others, then the help I received from Avyakt Bapdada through Dadi Gulzarji, then Dadi Jankiji's and Dadi Ratan Mohini's loving attention, plus the powerful vibrations in meditation at all the Centres... all of this has touched my heart.
How can I forget Dadi Jankiji specially visiting the hospital in Ahmedabad daily for three days and having ruh-rihan for an hour, and also again visiting before leaving for London… such affectionate gestures on Dadiji's part are so encouraging that a patient forgets about the health problems he is going through!
Dadi Gulzarji was always been so concerned about my health, and readily available to channel Baba's blessings to me.
I am indebted to the Zone-Incharges, RCs, Senior Teachers of Bharat and abroad, and students of all the Centres for being so kind to have had collective meditation specially for my good health. Baba's blessings received directly on 10 April at Vile Parle Centre, keep coming to mind and refreshing me, for which I thankful to Neeluben and Yoginiben, who were so kind to have organised Baba's programme in Mumbai.
In Mumbai, Meeraben, Nehaben were so helpful and in Ahmedabad: Sarla Didi, Chandrikaben, Kamalben, Bhartiben, and Dr Mukesh, Dr Uresh, and others from Memnagar Centre showered their love all the time during the recuperation phase.
I can understand how much love each one of you have for this soul... I don't think I will be able to live up to your expectations in returning the same, because after going through health problems the physical activity will perhaps be a restricted for a while. However I express my gratitude in million-fold.
It is now mango season in Bharat, and Madhuban is fortunate that sisters and brothers from the South, Mumbai and Gujarat and other places have been sending tons of mangoes to share all around. We Niwasis feel so blessed that the whole family remains so concerned about Madhuban.
Again with all my love and best wishes,
In Baba's yaad,
B.K. Nirwair

Media Conference Inaugurated in Mt Abu on 6 June
6 June 2015
Justice CK Prasad, Chairman, Press Council of India

Jurists Wing Holds Conference in Shantivan from 29th May to 2nd June
3 June 20
"Revisiting Law and Spirituality - The Stunning Convergence" was the theme of a three-day conference for Jurists, organized by the Jurist Wing of the Raja Yoga Education and Research Foundation. Please read full report (in Hindi only) here.

Nirwair Bhaiji's Return to Shantivan
3 June 2015
To Baba's beautiful family in Bharat and foreign lands,
Special greetings from Madhuban!
As you are aware, our dear brother Nirwairbhai has not been so well and was away for treatment since end of March, firstly at Mumbai and then Ahmedabad. He was looked after by a good team of Physicians and Surgeons, assisted by competent Nursing Staff. The loving, powerful vibrations of the divine Family both at Bombay and Ahmedabad supported him well.
He is feeling good and endured the car journey from Ahmedabad to Shantivan, on 1 June. He returned home after 65 days, and is cheerful and stable as usual, and almost pain-free with medication. There is just a bit of discomfort while getting up/sitting down. He still has to use Lumbo-Sacral support, but his appetite has improved and he is slowly regaining some of the lost weight.
On arrival at Mahadani Cottage,Shantivan, he was welcomed by some of the Seniors and Madhuban family with bouquets and garlands, as is the Brahmin custom, followed by Toli.
He is still on antibiotics and his usual medications for the Heart and Thyroid. Doctors have advised him to have a limited number of Visitors, as recovering from a major illness does require some caution. So we share a humble request to everyone to please observe visiting hours. If anyone has a cold, cough or other respiratory infection, please avoid meeting him till you have recovered completely. He still needs good rest so we appreciate your cooperation.
In Baba's loving yaad,
B.K. Dr Partap

Stepping into 100 Years - A retreat with Dadi Janki for Double Foreigners in Gyan for 35 or more years, 1st – 5th March, Pandav Bhavan, Madhuban
:
Full report
28 May 2015
170 of Baba's original jewels from foreign lands, including 8 who have been outside the BK gathering for many years, assembled in Pandav Bhavan on 1st March for a 3-day retreat and celebration with Dadi Janki, the mother of Baba's service beyond Bharat. The theme of the retreat was "Stepping into 100 Years." It was inspired by Dadi's wish that her hundredth year be commemorated with spiritual gatherings and opportunities for silence. Those who took Brahmn birth in foreign lands 35 or more years ago were invited.
The retreat was intended to begin with a garden party, but a torrential rainstorm pushed the party into the dining hall. The "oldies but goldies" from six continents hardly noticed the rain beating on the roof and gushing down the stairs -- they were back in the sweet place of their spiritual childhood, meeting, mingling and reminiscing. The rain stopped just in time for the group to shift to Meditation Hall where our beloved Dadi Janki welcomed them with a sweet reminder, "I'm old and so are you!" Time and distance melted away. Sr Jayanti and Sr Vedanti joined Dadi in conducting yoga, followed by chitchat, and of course toli.
Day one of the retreat was for honoring the beginnings of foreign service. For this, Brother David in the Gyan Sarovar Art Department created an elaborate map showing the first center on each continent along with photos of those early days – beaming, innocent faces of Baba's hand picked jewels. An audio track was played of Uncle Steve Naraine narrating a visit from Dadi, reminding us of the beginning of service in the Americas. In the afternoon, the assembly divided into four little groups according to colored stickers they received in the morning, and toured Pandav Bhavan's four pilgrimage places. The power of their silence during this vigil was tangible, according to Madhuban residents, who marveled at the subtle atmosphere of silence that the group created. Then back to Meditation Hall for yoga conducted by Dadi Janki, Didi Nirmala and Sudesh Didi, followed by a short spiritual chitchat.
Day two, welcomed by Didi Chakradari, was a look at the present – the unique features of each one's stage and how one's stage has developed over the years. Participants enjoyed getting into small groups, as they did the previous day, to share stories and experiences, first with each other, and then with Dadi. The evening session began with a bhatti, creating an atmosphere of deep silence. Dadi Janki and Didi Nirmala then joined the group and gave personal dristi to each person, one by one, as Sarah Eagger from London read a special blessing. Many memories emerged of personal meetings with BapDada in the early days in that very same hall!
Day three, welcomed by Didi Nirmala, looked into the future. In small discussion groups, people recognized that many changes have taken place over the decades and our approach to both service and personal efforts need to change accordingly. Spirits were high after the morning tea break – a deep appreciation was forming that this occasion and group was indeed very special. As if to underline that, when the group returned to Meditation Hall, all three Dadis – Dadi Janki, Dadi Ratan Mohini and Dadi Gulzar – convened for a sweet conversation. Dadi Ratan Mohini told stories of her 1954 tour of Japan with Dadi Prakashmani. Dadi Janki reminisced with Sr Jayanti about the early days in London. Dadi Gulzar reassured us that service will expand naturally in our regions, and VIPs will come knocking on our doors.
The retreat climaxed that evening, March 4, with a big Indian style celebration of Dadi birthday in Om Shanti Bhavan. Everyone was invited. The stage was full of special guests, including again, all three Dadis. The program included an honoring ceremony, speeches of congratulations, cultural items, and finally, cake cutting.
But the icing on the cake happened the next day. Although the retreat was officially over, Dadi Janki called a "last session" to have a final chitchat with her beloved old friends. Many participants opened their hearts and expressed love and appreciation for this time together. Sr Philippa from UK and Br Rod from Australia, both outside the Brahmin family for more than 20 years, shared that during all that time, Baba had never left their hearts. Dadi capsulized the retreat's theme of past, present and future by emphasizing that we must constantly forgive and forget. She said to never hold anything of the past in the memory chit, and never hold any expectations or hopes for the future. Instead, cultivate inner silence so that we can be aware of, appreciate and enjoy the present moment. Hansa asked Dadi if she had any desires for the future. Dadi replied, "I would like this gathering to last forever."
All of Dadi's classes as well as the 4th March birthday celebration in Om Shanti Bhavan are available through the rosary and on the Jewels website.

Film Censor Board Chief Inaugurates Scientists & Engineers Wing Conference at Gyan Sarovar
26 May 2015
On 23rd May, Mr. Pahlaj Nihalani, Chairperson of the Central Board of Film Certification of India (CBFCI), inaugurated the Scientists and Engineers Wing's 3-day Conference-cum Meditation Retreat on the theme "Life Balance - Life Beautiful" at the Academy for a Better World, Gyan Sarovar, Mount Abu.
Please see the attached Press News in Hindi
News by: BK Girish, Sr. Journalist, Media Wing, Gyan Sarovar
Photos by: BK Susheel, Photography Dept., Gyan Sarovar

Dadi Janki Ji Sent a Beautiful Gift to Nirwairbhai Ji
8 May 2015
Dr Pratap and Br Niwair enjoying the beautiful Champa flower garland that Dadi Janki has sent to Nirwairbhai.

"Divinisation of Art & Artists Through Spirituality" Conference/Retreat, Gyan Sarovar, 1-5 May
8 May 2015
INAUGURAL Candle Lighting Ceremony
The Art & Culture Wing conducted an All-India Conference Cum Retreat at Gyan Sarovar from 1st to 5th May on the theme "Divinisation of Art & Artists Through Spirituality". Nearly 452 Delegates attended the programme from all over India.
Musical Show - Ahmedabad Group and Film Actress Rameshwari
Presenters from the arts included: Bollywood Actress Rameswari; Actor Amit Mistry; Ghazal Samrat Prabhanjay Chaturvedi from Bhilai; NIFA Cultural Groups from Karnal (Hariyana), Ludhiana (Punjab) & Davangere (Karnataka); a musical group from Ahmedabad, Gujarat; and a group from Mumbai performing a dance drama "Sapno ki udaan";
Drama Swapnon ki Udan - Mumbai Group and Gazal Samrat Prabhanjay Chaturvedi Bhilai
BK speakers included Bro. Ramesh Shah, Director of the Art & Culture Wing, Kusum Bahen, National Co-Ordinator of the Wing, Chandrapur; Neeha Bahen, Maharashtra Co-Ordinator of the Wing; Karuna Bhaiji, Vice-Chairperson, Media Wing; and Dayal Bhai and Satish Bhai, Headquarters Co-ordinators of the Wing. Mruthunjay Bhaiji, Vice Chairperson of the Education Wing and Br. Mohan Singhal, National Coordiantor of the Science & Engineering Wing were also at the Conference.
Cultural Program at the event
Please see the attached news in Hindi.

Message from Nirwairbhai Ji on 22nd April
23 April 2015
My dear divine sisters and brothers in Bharat and across the world,
Please accept hearty Godly love and remembrances from Sterling Hospital, Ahmedabad, Room 723!
It's taken nearly two months for investigations and various medications to help reverse the attack of a hidden disease, which had in fact remained undetected for six months. Seeing the positive results, my surgeons and physicians feel very encouraged and are of the opinion that perhaps the surgical procedure to take care of spine may be avoided. They have not yet taken a final decision, and are continuing with further investigations. We hope that within one week the picture will be 100% clear, though treatment will take some more time.
There is just one aspect of concern: I have lost 8kg weight as a result of one-month's inactivity and lack of appetite. The antibiotics have affected my taste buds and have discouraged good intake, but surely this will improve in time.
Million-fold thanks for Baba's blessings, blessings of our Dadis, the continuous bhattis, and all your good wishes!

17th April Update on Nirwair Bhaiji's Health
17 April 2015
To our Brahmin family in Bharat and foreign lands,
You would have received the update on Nirwairbhai's health sent on 15 April. He was shifted to Ahmedabad on 15th afternoon. As the doctor in Mumbai had deferred surgery for certain reasons, Nirwairbhai wished to look at other options.
The skilled orthopedic surgeon in Ahmedabad, Dr Bharat Dave (a long-term friend of the BKs who has treated our Dadis and seniors on several occasions), has seen the reports and said that he is willing to carry out the surgery on the spine with due precaution, under local anesthesia.
On the 16th, as per routine procedure, various tests took place to check fitness of the chariot. All tests show that health is improving, and therefore the surgery will take place within the next 2-3 days. We will inform you as soon as it's finalized.
We are happy to share that Nirwairbhai is doing well, and is in good spirits. Senior BKs have been visiting him, and on the 16th Dadi Jankiji came to the Hospital to meet him. They had a beautiful spiritual chit-chat. Dadiji provided great encouragement by citing different examples of how BapDada's power and the good wishes of the family have helped souls to overcome health challenges.
Though Nirwairbhai is in rest, he continues to keep updated on Yagya service activities. He is very grateful to the divine family for everyone's good wishes that come in the form of emails, letters, cards and subtle thoughts in yoga. These are reaching him and comforting him.
Dr Banarsibhai and other seniors are continually present to support and care for him.
With special thanks and good wishes,
NB: We understand that many BKs would like to visit Nirwairbhai, however doctors have recommended that he rests as much as possible to ensure smooth and fast recovery. It is our humble request that all of you cooperate in sending your good wishes in subtle form, and we will then inform you about visiting hours once we have the doctors' permission.

Nirwair Bhaiji's Health Update
16 April 2015
Dear Divine Family
Greetings!
As you all know that our sweet brother Nirwair ji has been admitted to Mumbai's BSES Hospital since last two weeks for treating his bacterial infection and back problem. We wish to share with you that he has made good improvement after completing a course of Antibiotics and Antifungal injections. His food intake is slowly getting normal and he has also started taking physiotherapy to ease his movements.
As advised by his team of doctors in Ahmedabad and Mumbai, he was flown to Ahmedabad on 15th April morning at 11 am. He will now continue his treatment under eminent Ortho Surgeon Dr. Bharat Dave at Ahmedabad's Sterling Hospital. All your good wishes and get well soon emails are reaching him and he reciprocates with lots of love and blessings. Hopefully we would see Nirwair bhaiji walking out of the hospital very soon.
We will keep you updated as and when we get reports from his doctors. Omshanti.
In Sweet Baba's Remembrance
B.K.Karuna
Brahma Kumaris Head Quarters
Mount Abu, Rajasthan

News from Jayanti ben - 12th April - Departure for and Arrival to London
13 April 2015
On 9th I went down to Shantivan in the afternoon to be able to attend Dadi Janki's class in the evening, and spend one night there. On Friday, 10th, of course we had the beautiful surprise of BapDada coming in Vile Parle. In Madhuban we were able to see the transmission, and all of you would have seen that also.
I left early the next morning to go to London and arrived in London on the 11th. Sunday was a big morning class, and I was able to share toli with the whole class that had specially been prepared and sent from ORC, Delhi. Dadi Janki is in Shantivan and may be going on Monday to see Dadi Gulzar and Nirwairbhai.

BapDada Not Coming Today - Alternate Program News
10 April 2015
Dear divine Family, Om Shanti.
Owing to the health of Dadi Gulzarji's chariot, Dadi Gulzarji is in Mumbai.
As a result, Dadi Gulzar is likely to meet the whole family via video link and share a sandesh (message) from BapDada today evening.
Bro.Nirwairji is also in Mumbai (hospital) because of health reasons. He is also expected to meet the divine family through a video link.
Dadi Jankiji is in Madhuban. Dadiji will meet the divine family from Shantivan, together with many other senior instruments. Since it is the turn of Maharastra today, plans are being made to play PAST video clippings of BapDada's elevated versions and blessings to the Maharastra zone and to Double Foreigners. Many seniors will also sit in powerful yoga bhatti on the stage from 6.30pm onwards to create a powerful atmosphere and to invoke the subtle presence of Avyakt BapDada.
Keeping all of the above in mind, kindly stay in powerful yoga wherever you are and contribute to a powerful atmosphere around the world.
The program for today evening will be as follows:
05:30pm - 06:00pm: Suraj bhai's class
06:00pm ~ 06:30pm: Seniors Yoga bhatti
06:30pm ~ 08:00pm: Video Clips, Bhog, Dadi Gulzarji, Dadi Jankiji, Bro.Nirwairji (and others)
Many thanks for your sweet cooperation.
In Baba's loving yaad,
PMTV and BOL Team

New Update on Nirwairbhai Ji's Health
9 April 2015
To the Brahmin family in Bharat and foreign lands,
Please accept loving greetings from Madhuban.
We would like to share with you an update on Nirwairbhai's health as many have been concerned and enquiring.
The details as shared by Dr Partapbhai are as follows:
Nirwairbhai was shifted to Hinduja Hospital, Mumbai, on 28 March for expert opinion from Dr Rajiv Soman on the Mycobacteriam Chelonae Infection that has contracted. Dr Soman took special care, looked after him very well, and streamlined the Antibiotic therapy. Nirwairbhai was discharged and shifted to our BK hospital, BSES-MG, in Andheri.
On Saturday, 4 April evening he had severe pain and a repeat MRI revealed a worsening of the infection in the spine. He was shifted to Lilavati Hospital on 7 April for Surgery under the care of Dr Shekhar Bhojraj.
As part of the preoperative assessment, a detailed examination was carried out and many specialists were involved. This was done in view of his past cardiac history, and also since the last many days his sodium level has been continuously low. The Surgery was planned for Saturday,11 April, however on 8 April afternoon Nirwairbhai had discomfort in the chest, and ECG showed some changes like angina. After some medication and Oxygen Therapy, the ECG returned to normal. He was cheerful again and had good rest later on.
In view of his cardiac history, fungal infection and low sodium level, Dr Bhojraj has decided to defer the Surgery for some time. He will be treated with Physiotherapy, Medication and Rehab programme. He has therefore been brought back to BSES-MG hospital under the care of Dr Narayan Khandelwal, Dr P K Jain and Dr Ashok Mehta.
Nirwairbhai is comfortable and will be here for some weeks. He sends his greetings and good wishes to the world-wide divine family.
In Baba's yaad and service,

Important News Regarding Nirwair Bhai Ji's Health
6 April 2015
Dear Divine Family
Greetings From Madhuban
You all might be aware about our Sweetest Brother Nirwair Bhaiji's Fragile Health since last few days. We wish to inform you all that for further treatment, he has been admitted to Mumbai's "Lilavati Hospital", under Renowned Spine Surgeon Dr.Shekhar.Bhojraj. You may send your Good Wishes to him on 'getwellnirwairji@gmail.com' . Keep sending Yog Sakaash for his quick recovery. Om Shanti.
In Sweet Rememberance
B. K. Karuna
Brahmakumaris. Head Quarters. (Mount Abu)

News from Sr Jayanti - 5 April
6 April 2015
Dadi Janki decided to stay on for an extra day in the Mount, and was able to come to Gyan Sarovar on 5th late morning to meet with the residents. They have fantastic poets and two of Baba's children read some beautiful poetry about Dadi. She then had a sweet meeting with the family and gave toli to everyone. A huge basket of flowers from Nirmal Van, the real original roses with fantastic fragrances, was presented to Dadi. On 5th evening, Dadi gave class again in Om Shanti Bhawan and then left for Shantivan. About 10,000 Bharatwasis have already arrived in Shantivan for Baba's meeting.

2015 Annual Report of Godlywood Studio
6 April 2015
Divine Family,
Please see the Annual report of Godlywood Studio 2015 here.

News from Sr Jayanti and Shielu behn's Birthday Celebration
3 April 2015
Dadi Janki came up the mountain to Pandav Bhawan to meet everyone. She will be staying in up the mountain for a few days, and will be giving class in Om Shanti Bhawan Wednesday evening.
Yesterday evening, celebrations continued with Sheiluben's 67th birthday being celebrated in the upstairs dining room of Pandav Bhawan, with double foreigners and Madhuban Niwasis all together. It was a beautiful, loving celebration with a huge cake, lots of tolis and good food. There were a few short speeches from Didi Nirmala, Mruthyunjayabhai and myself. The poet, Vivekbhai, shared beautiful poems in honour of Sheiluben.

100th Year Birthday Celebration of Dadi Janki During Indian Senior Teachers Meeting 29th March
2 April 2015
The 100the birthday of Rajyogini Dadi Janki was celebrated in Diamond Hall, Shantivan during the annual gathering of senior Indian teachers from all over India. Some double foreigner brothers and sisters also attended the celebration. Please view the news in Hindi only
On 29th evening, there was a big celebration for Dadi's birthday in Diamond Hall, with a gathering of 7,000 Brahmins. The evening started in a spectacular way with Dadi being brought to the Hall in a chariot that was pulled by ropes that had been decorated with flowers. The chariot had been decorated with Shiv Baba and beautiful material and also lots and lots of flowers. Dadi looked very, very royal seated on this very high chariot, which was pulled by the brothers, but then about 100 kumars joined and danced all the way from Shakti Bhawan to Diamond Hall. The stage was decorated beautifully and all the Seniors of Bharat who were attending the Meeting were there. It was truly a grand celebration with garlands, speeches, and lots of love, excitement and joy.
A professional dancing group had come from Jaipur and danced to Dadi's favourite songs: 'Chalte, Chalte', 'I have found three jewels: Baba, Murli and Madhuban', 'Jhulelaal' and 'If the creation is so beautiful, how beautiful must the Creator be…'
On the 30th, we had the Closing Session to the Annual Service Meeting together with a Gift Ceremony.
There are around 100 double foreigners in Gyan Sarovar and more are slowly trickling in from different parts of the world. A new season is about to begin.

Several Days News from Sr Jayanti: Dadi RM's 90th Birthday, Indian Seniors' Meeting and more
1 April 2015
The Teachers' Meeting continues and Dadi Janki has been meeting many of the main Teachers separately, and sharing with them tolis and gifts that have come to her. Dadi is able to join us in the Meeting for periods of time in the morning and in the evening.
On 29th morning, they showed a 22-minute video about Dadi that has been produced by Godlywood Studio. Harilalbhai had been very inspired to do this for the programe tonight (a celebration to honour Dadi's 100th year in Diamond Hall), but the programme is quite full and so the film was screened to the Teachers this morning.
27 March – The Bharatwasi Teachers' Annual Meeting has continued and there has been lively participation from the gathering to reports that have been shared. Sometimes it's reports from the platform: Br Ramesh or Br Brij Mohan and sometimes it's updates from the gathering.
There was a very, very lively exchange about the subject of whether our Centres could also have a Board outside describing them as 'De-Addiction Centres', and the consensus overwhelmingly from the sisters was that no, we can't do that. There were many alternatives being offered in terms of how de-addiction service is happening already. For example, there are mobile vans going to different slum areas in Mumbai where people gather together and hear about de-addiction, and it's followed through and many do actually let go of their various addictions. There are also invitations to various established lokik Centres where sisters go and BK doctors go and they are able to give their service again, so it seems that it's a big service that's happening in India in a very major way, and different places are doing different things but lots of people are getting benefit from Baba's gyan and yoga.
There have been two evenings when they honoured Dadi Janki in a very beautiful way for her 100 years, but the main programme will be on 29th evening.
On 27th the different Zones met together in the morning, and in the evening were the professional Service Wings. Their discussions will be reported back in essence on the 28th.
I've been attending the meetings all day, coming up the mountain at nights, spending amrit vela in Gyan Sarovar and Murli either in Gyan Sarovar or Pandav Bhawan.
25 March – On Tuesday, 24th evening, the Annual Service Meeting for senior and main teachers of Bharat and Nepal began in Conference Hall of Shantivan. Br Ramesh conducted the proceedings and we had a gathering of 1,700 Instruments, with a majority of sisters, but a third of brothers. It was a very, very beautiful scene with Dadi Janki, Dadi Ratan Mohini, Br Brij Mohan and Mohiniben of Madhuban giving greetings. I was also asked to give greetings which I did briefly.
25th was the first official Session in the morning and we spoke about the topic that India wants to have this year as its theme for service. A short list has been prepared and the Seniors are going to have a look and see. It was interesting to see that there was good, active participation from the gathering including many young sisters sharing their thoughts. There was a good amount of time to do a presentation from abroad and so a summary was presented of service activities from across the world: Sr Vedanti and Sr Sudha added to this, and Didi Nirmala spoke about Australia and Asia. We were also asked to share our thoughts about serving quality souls and so there was a good input from foreign lands about that.
We also had a very special celebration as this is the year of Dadi Ratan Mohini's completion of 90 years and beginning of 91 years, so although it wasn't the actual birth date, there was a very sweet celebration to honour Dadi Ratan Mohini. Dadi was adorned in the usual way, and there was a huge cake and huge garland of flowers brought by the Kanpur sisters. It's the first time that Dadi Ratan Mohini's birthday has been celebrated in this way. It's interesting that in the Brahmin family birthdays seem to begin at 90 for the Dadis, just as they did for Dadi Janki. The Meeting continues again this evening.

News of Nirwairbhaiji's Health
29 March 2015
Our BK sisters and brothers in Bharat and foreign lands,
Please accept special greetings of love from Shantivan.
We wish to inform the family that our beloved senior brother, Nirwairbhai, has been taken by chartered flight to Mumbai from Abu Road airstrip today, 28 March at 6.30pm.
His health has been delicate since February due to a rare infection. He has been taken to see a highly recommended Infection Specialist in Hinduja Hospital, Mumbai.
We request everyone to send their loving good wishes in Baba's remembrance for Nirwairbhai's speedy recovery and return to Shantivan.
Please do give Nirwairbhai time and space to recuperate. He is well aware that everyone is sending their love and appreciates it greatly. This love of the Brahmin family helps us cross many obstacles. Thanks for your concern.
In Baba's service and yaad,

Birthday Celebration of Dadi Ratan Mohini on 25th March 2015 during Annual Meeting of Senior Instruments in Shantivan
29 March 2015

19th March Celebration of Dadi's 100th Year with Double Foreigners in Gyan Sarovar
24 March 2015
Report of the Celebration of Dadi Janki's Stepping into Her 100th Year, on the evening of 19th March, 2015
Celebrating Diamond Dadi
A beautiful expression of the love of the double foreigners for Dadi Janki was played out including live telecast on Peace of Mind TV last Thursday evening.
The evening began with Dadi and the RCs sitting in the front row of the audience to watch a film by Sr Marie Edery, especially prepared for Dadi's 100th. This was followed by a rap from Br Brad Arkin from Miami. Afterwards, 95 of the first-timers, carrying lighted candles and a diamond with Dadi's angelic face pictured on it, formed a half moon below the stage, while 10 stood on stage with candles as Dadi Janki ascended to her diamond throne -- flanked on either side by Didi Nirmala and Sr Jayanti sitting on white thrones. On either side were banners depicting scenes from Dadi's rich and inspiring life.

Sister Jayanti
's News of Dadi's 100th Year Celebration in Gyan Sarovar on 19th March
20 March 2015
It was beautiful to have Dadi Janki come up the mountain on 20th morning, and we were able to have class with her for about an hour around 12 noon, in the Meditation Hall of Gyan Sarovar. Harmony Hall was being decorated for the evening celebration, and so 600 double foreigners squeezed into the Meditation Hall but it was a very warm, loving and intimate atmosphere. Everyone really enjoyed Dadi's sharing and afterwards there were beautiful scenes of love with many of the instruments.
In the evening, we had a very, very beautiful programme of honoring Dadi's 100th year. You may have seen it on Peace of Mind TV and probably a fuller report of this will be written and sent. Dadi is planning to stay in Gyan Sarovar for a couple of days before going downstairs to attend meetings with the Senior Teachers of Bharat.

Telugu Film Actor Bro. Gopichand Visits Madhuban and Meets BapDada
19 March 2015
Om Shanti
Telugu Film Star Bro. Gopichand visited Brahma Kumaris HQ Mount Abu with his Wife & Mother-in-law, met with BapDada on 15th Mar 2015.
He also met with Dadi Ratanmohini & shared his experience with BK Family in Diamond Hall on 16th Mar 2015.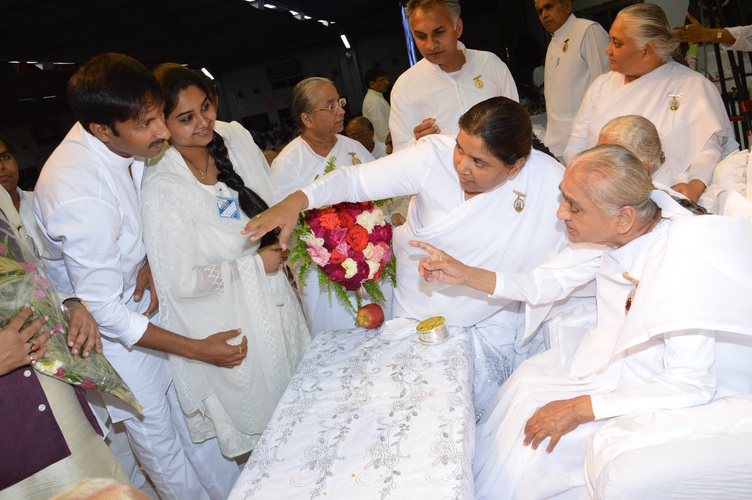 News from Sr Jayanti - 12 March - A Day of Ceremonies
16 March 2015
We had a ceremony to welcome everyone to Madhuban, this was the group of 1,200 double foreigners that have arrived in Madhuban including some first timers.
It was a very beautiful scene and some people shared their experiences of the challenges they had to face in coming to Madhuban. Then there was music and a dance. The RCs then all shared about what Baba, Mama, Dadi Prakashmani and Didi Man Mohini would say to the group when they saw them arrive. It was a very lovely scene with dristhi and toli at the end.
In the evening there was another ceremony and this was the honouring of the surrendered brothers and sisters in Madhuban, Pandav Bhavan. This was held in the Meditation Hall and they were all given golden scarves and lots of varieties of fruits, chocolates and tolis etc.
Before that Sr Vedanti, Didi Sudesh, Sr Jayanti, Manda and Waddy shared their experiences of the early days of Madhuban and what it was like for them to be in Pandav Bhavan and what Pandav Bhavan and Madhuban meant to service abroad. Dadi Ratan Mohini was with us and Dadi was then honouring the sisters who have left Bharat and have gone abroad to do service. It was again a very lovely scene of love, appreciation and gratitude.
Dadi Janki is in Shantivan with a gathering of 23,000 thousand people who are already there and both Dadi Janki and Dadi Gulzar met the huge gathering there.
Today in Gyan Sarvoar there were several courses being offered to the double foreigners, and in Pandav Bhavan there are classes for Hindi speaking people and Tamil speaking people, and so it seems everyone's needs are being taken care of in a very beautiful way.

Photos of Holi Festival in Pandav Bhawan
13 March 2015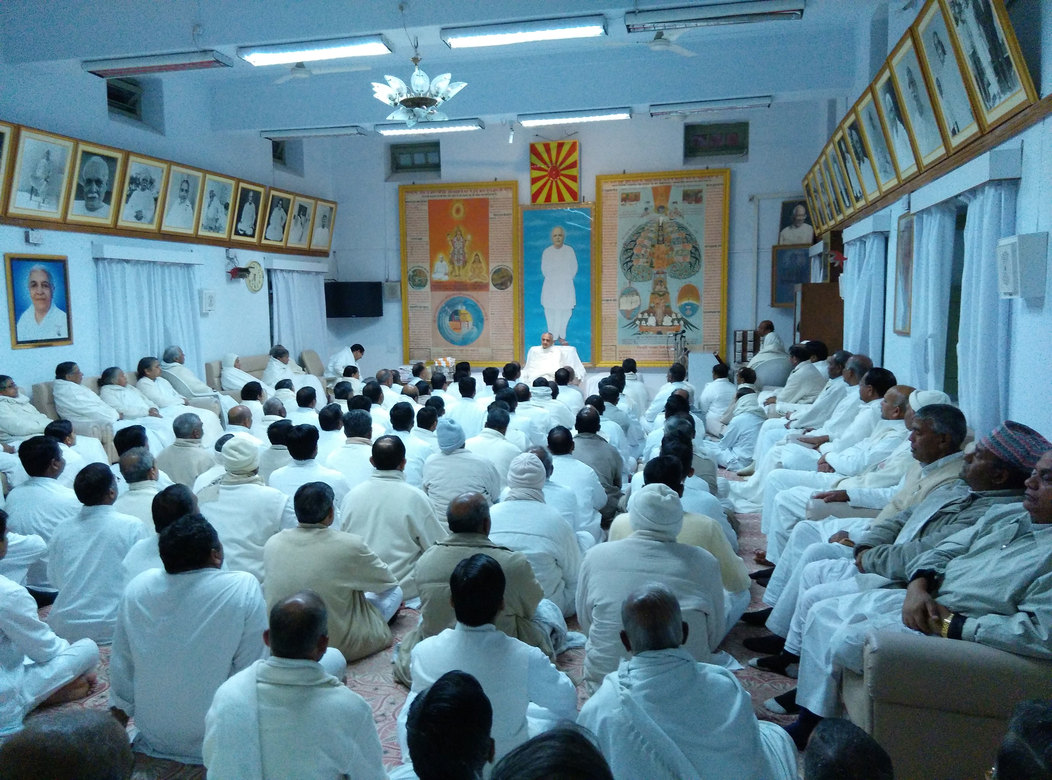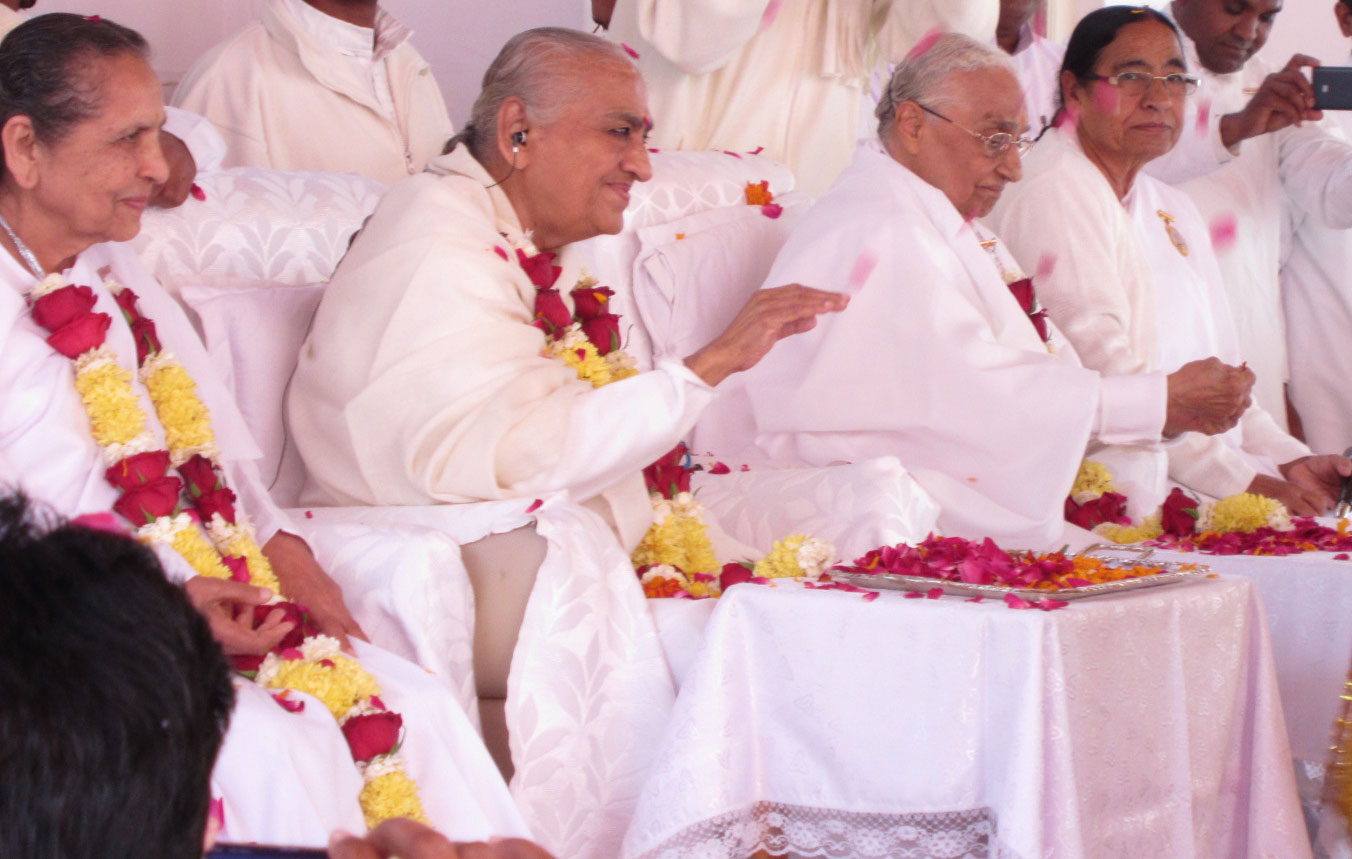 Br Surya of Madhuban to Receive Coveted Chanakya Award and Be Inducted into PRCI's Hall of Fame on 13th March 2015
12 March 2015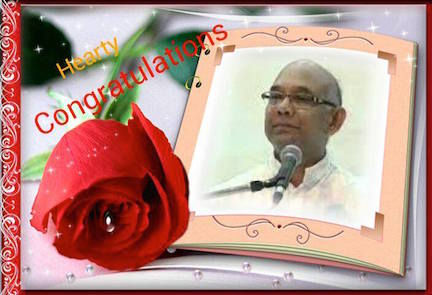 Double Foreigner Sustenance by Three Dadis in Gyan Sarover and Health News of Nirwairbhai & Madhuban Mohini - Sr. Jayanti, 11 March 2015
12 March 2015
On 10th, I was able to go to the Translators' Retreat. This is something that started in October and they have a one-day retreat, in which they are able to take a lot of spiritual sustenance for themselves. Br Marcelo and Sr Meera had organized this.
In the evening, Dadi Janki was supposed to go to PB to give class in Om Shanti Bhawan after everybody returned from Baba's Rock, but Dadi couldn't go, however, there was a very beautiful scene when Dadi Gulzar came from Pandav Bhawan to Gyan Sarover especially to see Dadi Janki. A few of us were gathered in Dadi's room for 7:00pm meditation and so Dadi Gulzar joining us was a very special experience. The two Dadis chatted together and the experience of Dadi Gulzar's drishti was really as if it was Baba, and she said, of course Baba uses this chariot and so everyone can feel that presence. Another question put to Dadi Gulzar was, 'have you always had such a quiet mind or has it developed gradually?' Dadi said, right from the beginning there was the thought of being totally obedient to Baba and Mama, and also the Dadis who were teaching us, so that has led to developing a quiet, obedient mind.
On the 11th, Dadi Ratan Mohini came up especially to meet the double foreigner group, and then Dadi Janki came to meet everyone and give toli. All three Dadis then went down to Shantivan by 11th afternoon. There are many, many new arrivals and over a thousand double foreigners are here already. We expect 1200 to be present on Baba's day.
Sr Maureen, Sr Pratibha from Kenya and myself went to Ahmedabad to see Nirwairbhai and Mohiniben who are in Sterling Hospital. Nirwairbhai had just returned to his room after completing a procedure. There had been various tests and it was good that they found nothing serious, however he had been in pain, but after a procedure he is now very, very comfortable. He plans to return Madhuban to be in front of Baba on the 15th.
Mohiniben of Madhuban was just across the corridor; she had been put on antibiotics for a lung infection. he still needs to be in hospital to be monitored for a couple of days, but also will be returning back to Madhuban for Baba's day. So it was a day trip to Ahmedabad, leaving at about 6am and returning back to Gyan Sarovar, after meeting Dadi Janki in Shantivan, by around 5pm. It was a very worthwhile day.

Madhuban News from Sr. Jayanti on 8th March
11 March 2015
It was wonderful to have the three Dadis together in Pandav Bhawan for 4-5 days. Yesterday at around noon, Dadi Gulzar met with the Madhuban Niwasis and then the two Dadis met together in the front garden just by the Tower of Peace, and they had a lovely photo session with many of us. Dadi Janki then went to Gyan Sarovar for a few days.
On 7th evening, Dadi Janki had a session with the Global Hospital family. Her class had been scheduled for the 6th evening, but it had got cancelled. They had made a variety of things to celebrate Dadi's birthday, and so it was a very lovely gathering with lots of love and a showering of gifts.
At night, Dadi had chitchat with the sisters of Dadi's Cottage. There had been a Silence Bhatti that the sisters had been having for two days. On the 8th, Dadi will be attending the Latino Retreat. I myself had a session with the 150 participants of this Retreat yesterday, and they are very, very receptive. They've actually come from around 18 countries.

10 March Madhuban News (35+ retreat and Dadi's Gems) from London's Sr Maureen
11 March 2015
News from Sr Maureen - 10 March
Dadi continues to serve in her amazing way. Sometimes her health is up and down but overall she is doing really well. As we experienced in London she really is the embodiment of love and she speaks of this all the time. She told us: now is the time to become complete with Godly love.
As you may have heard, it was cold on arrival and is still chilly in the mornings and evenings, but warming up now. We even had torrential rain one day! But now the skies are clear and blue.
The first few days was spent in preparing for the retreat for those over 35 years in Gyan. Amongst the participants were 8 jewels who were visiting Madhuban after 20 or 30 years! They were deeply touched. We created some beautiful banners for the meditation hall (the venue for the three day retreat) and for Om Shanti Bhawan (the venue for the celebration on the 4th March). Two collages of photos of Dadi Janki, a collage of photos from the early days of service and poster showing the world map and where centres were first established on each continent. The retreat itself was lovely, Dadi herself was very touched seeing the group. It was for Dadi as much as for any of us. We had discussions about the early days, about our stage, about the future and each day Dadi met us at 12 noon and at 7pm. On the evening of the 3rd March we each had personal drishti from Dadi and afterwards they played Dadi's favourite 'chalte, chalte' and Dadi danced with us!
Some of the jewels which touched me:
We have come to the door of the Bestower.
Hanuman is Mahavir and he set Lanka alight with his tail - his tail are the vibrations with which we serve the world. Our vibrations reach far and wide.
Forgive and forget; do not forget the past and do not have any expectations for the future.
It is not that I am remembering Baba, but I am drawing on Baba's power and it is His power that is making my body function.
This is not a question of faith - it is practical!
Don't have complaints about yourself!
Baba has given me this part and has created this game for me to show who He is.
Just after the meeting a small group met Dadi Gulzar and she shared how they have passed through many tests and that the main thing is that when a test comes, do not become careless at that time or think that it happens to everyone, but at that time especially have a deep conversation with Baba and have victory.
I asked Dadi Janki a question today: when there are challenges, as Baba says, you keep quiet and try to keep a loving stage, but inside you feel like you are avoiding doing something. What is the right thing to do? She asked someone else, what answer would you give and they said: face it with peace. Dadi said, to face it means that I have felt it inside. When something comes to me I am the same afterwards, I do not change inside. Make your nature unshakeable and immovable. To face something means that you have a delicate nature. These things come to all of us. No two human beings have the same part. The Gyan of the drama is very deep.

Special Madhuban Retreat for 180 Double Foreigner Sisters and Brothers from 27 Countries Who Are Over 35 Years in Gyan
9 March 2015
A beautiful group of 180 double foreigner sisters and brothers from 27 countries, who have been in gyan for +35 years, gathered in Mount Abu for a special Sneh-Milan/Retreat, in particular to honour Dadi Jankiji on completing 99 years and entering into her 100th.
Each spiritual jewel has led a fantastic life of commitment, renunciation and service and all are very pleased to have this opportunity of silence, gyan chit-chat and closeness with Dadiji.
Their sessions began on 1 March evening, and were held in Meditation Hall of Pandav Bhawan. The retreat culminated with a big birthday celebration on 4th March evening in Om Shanti Bhawan.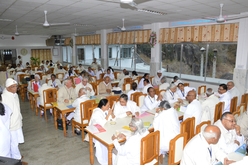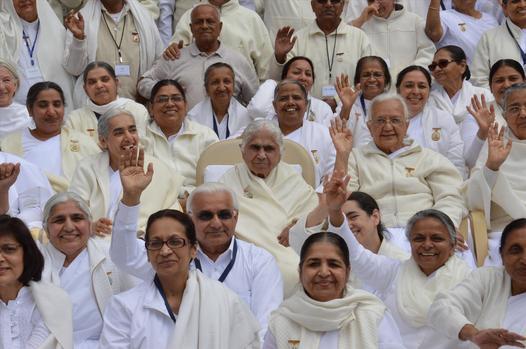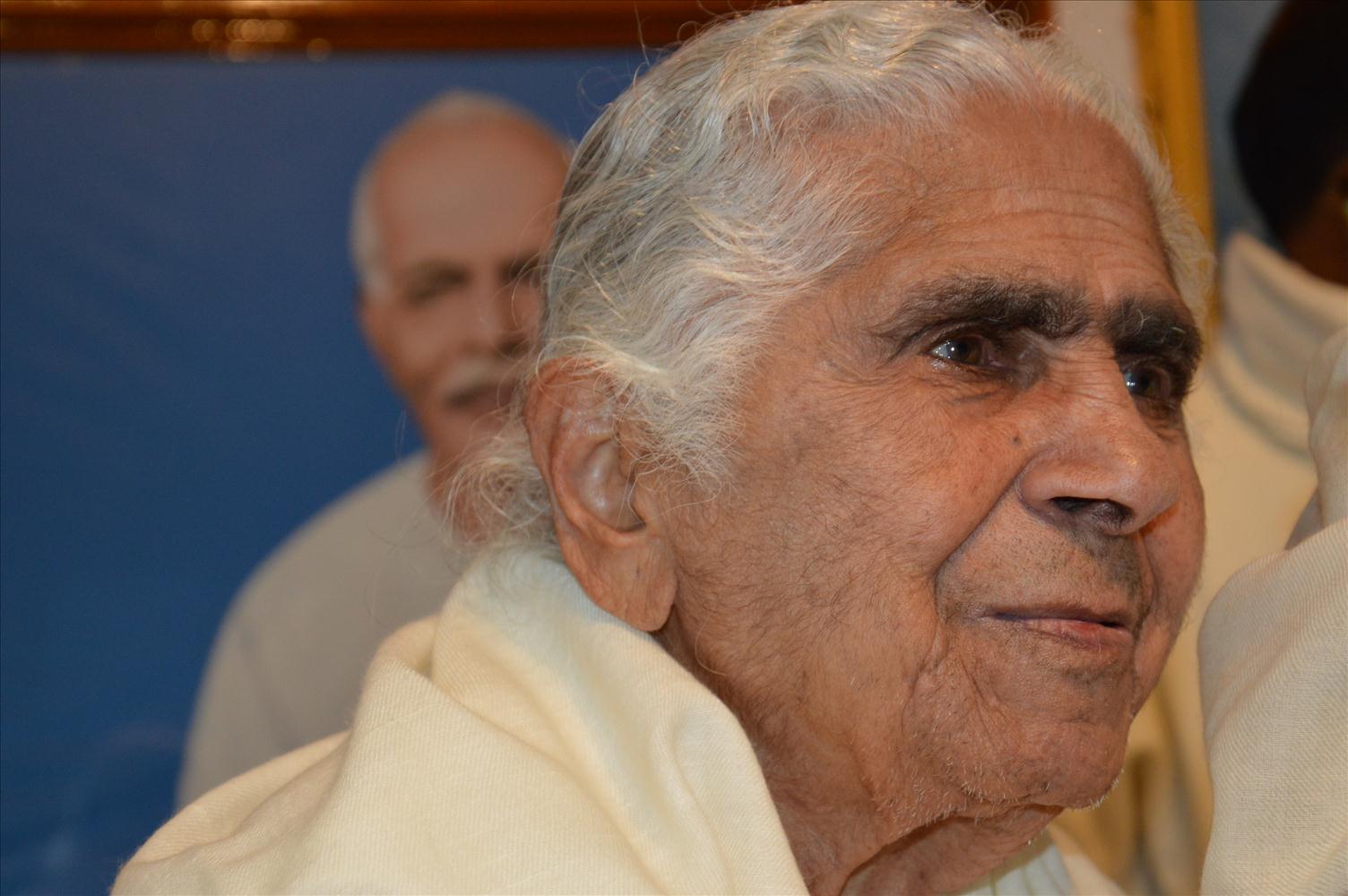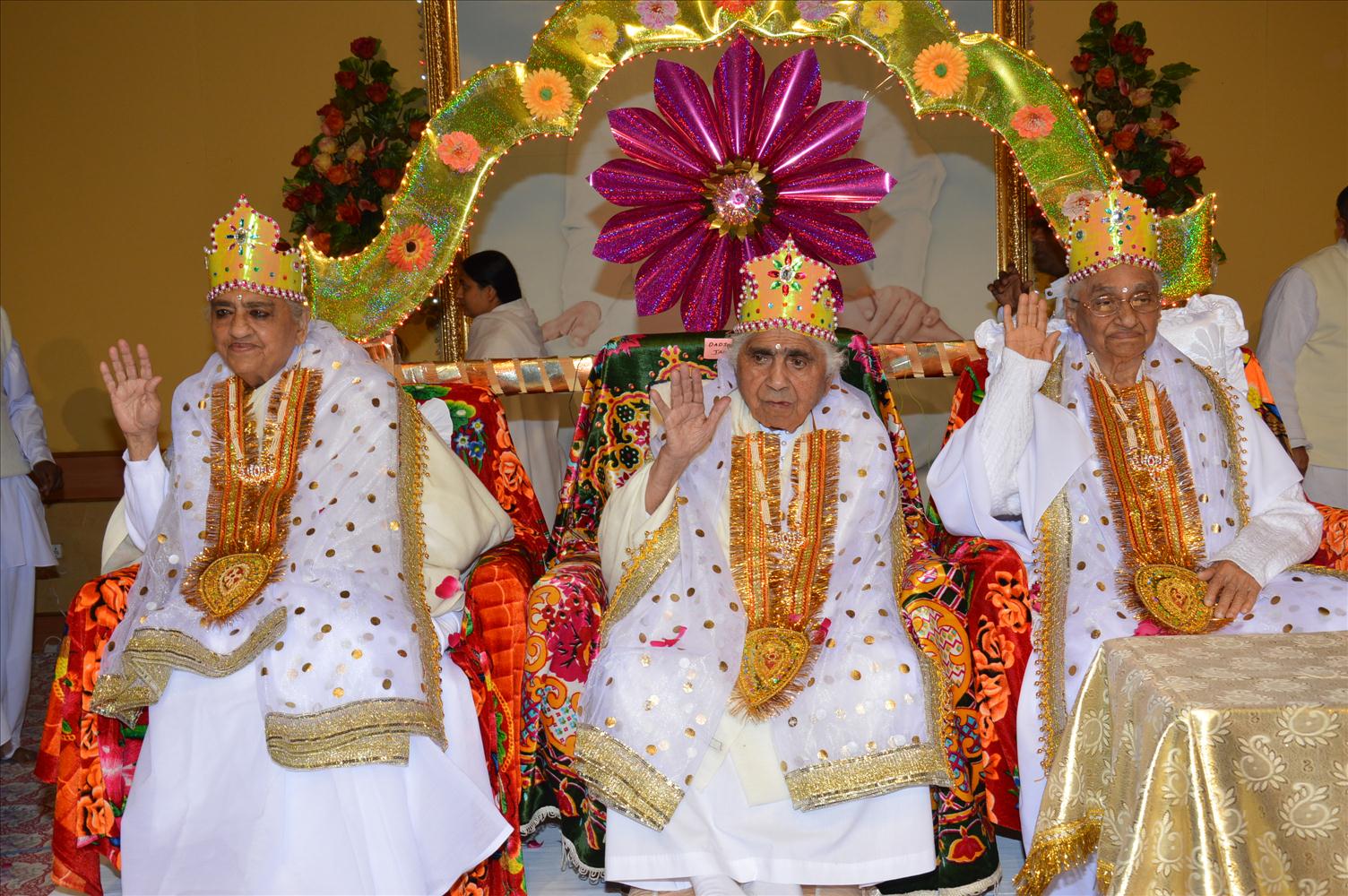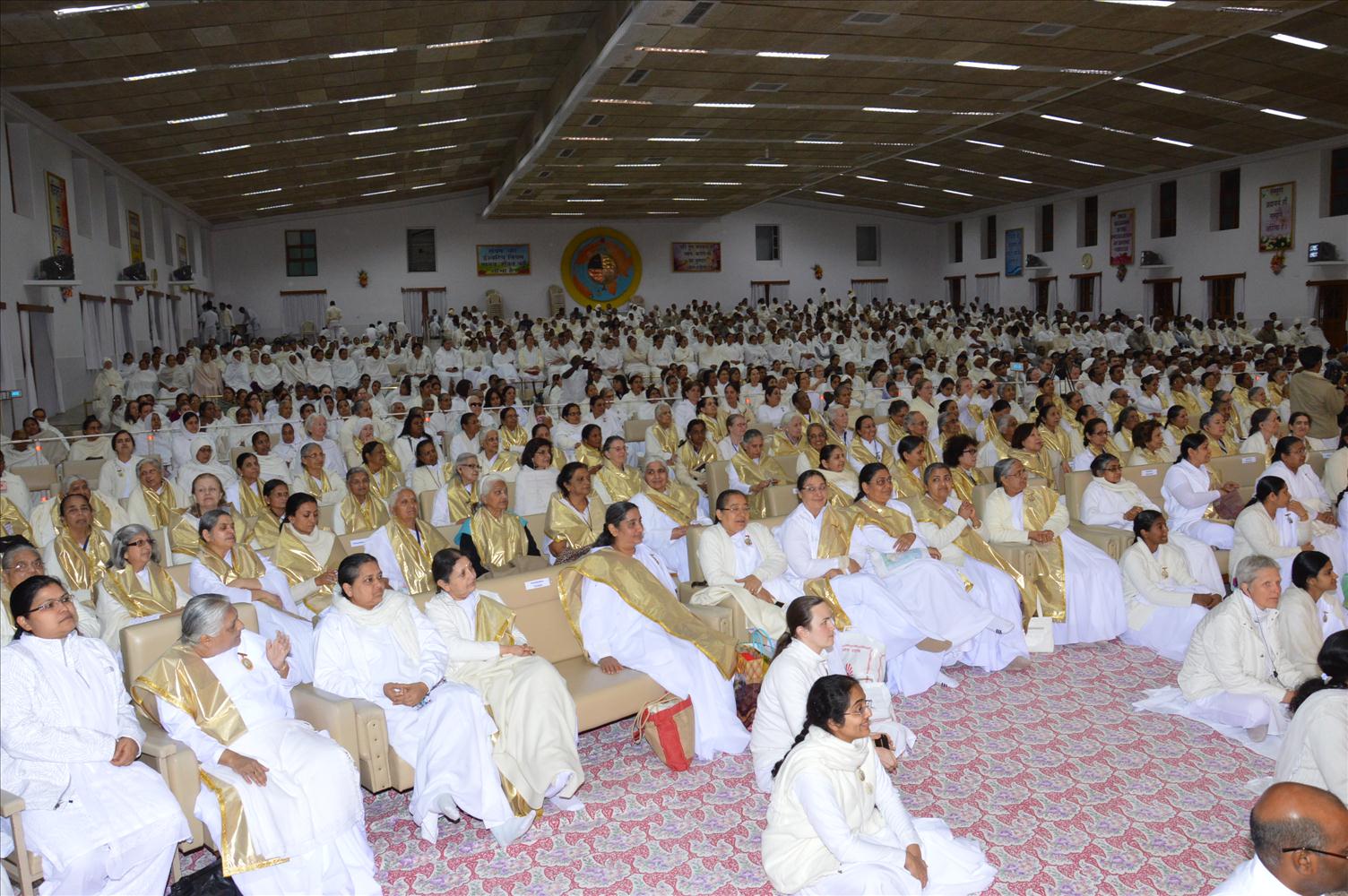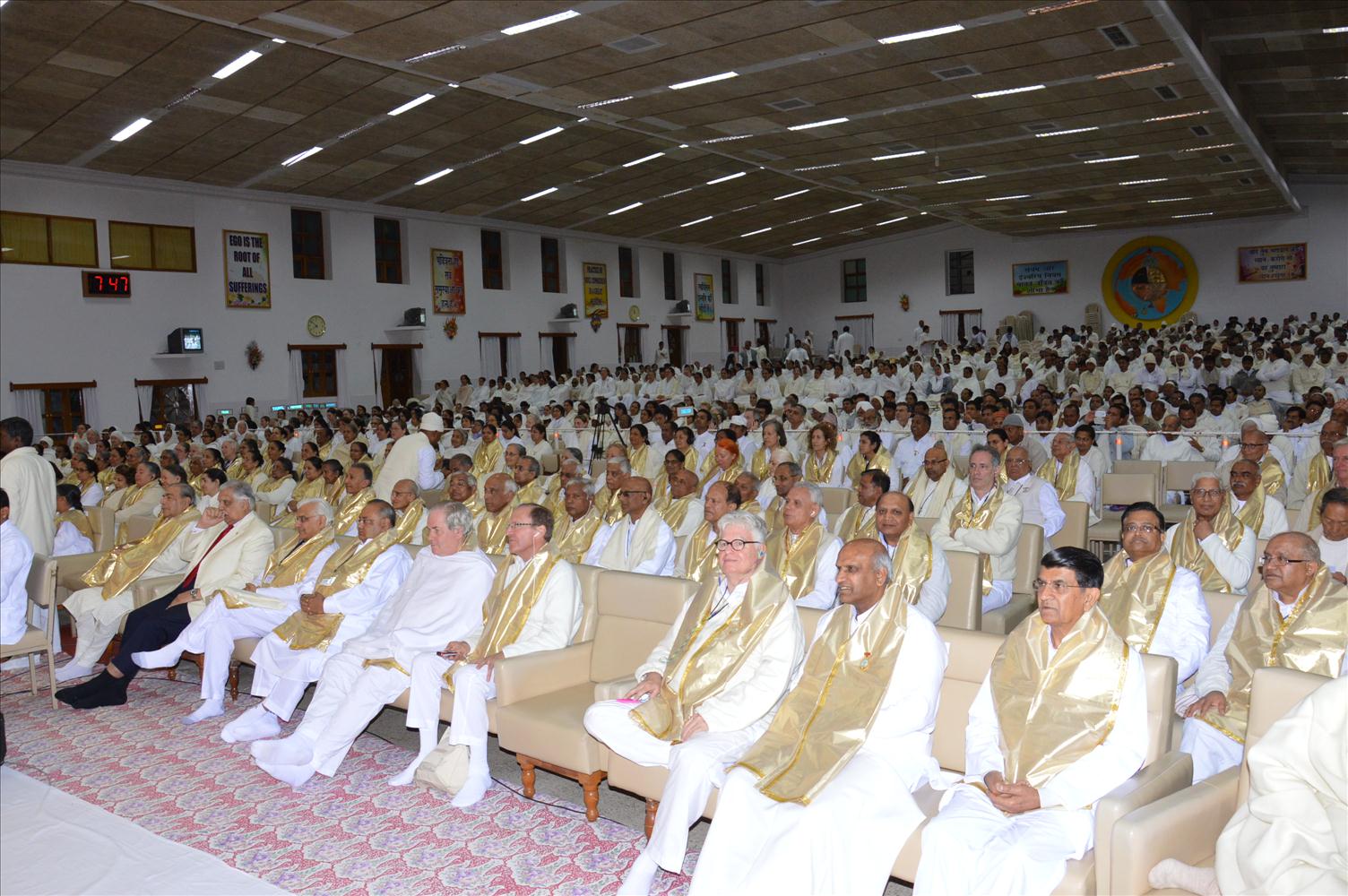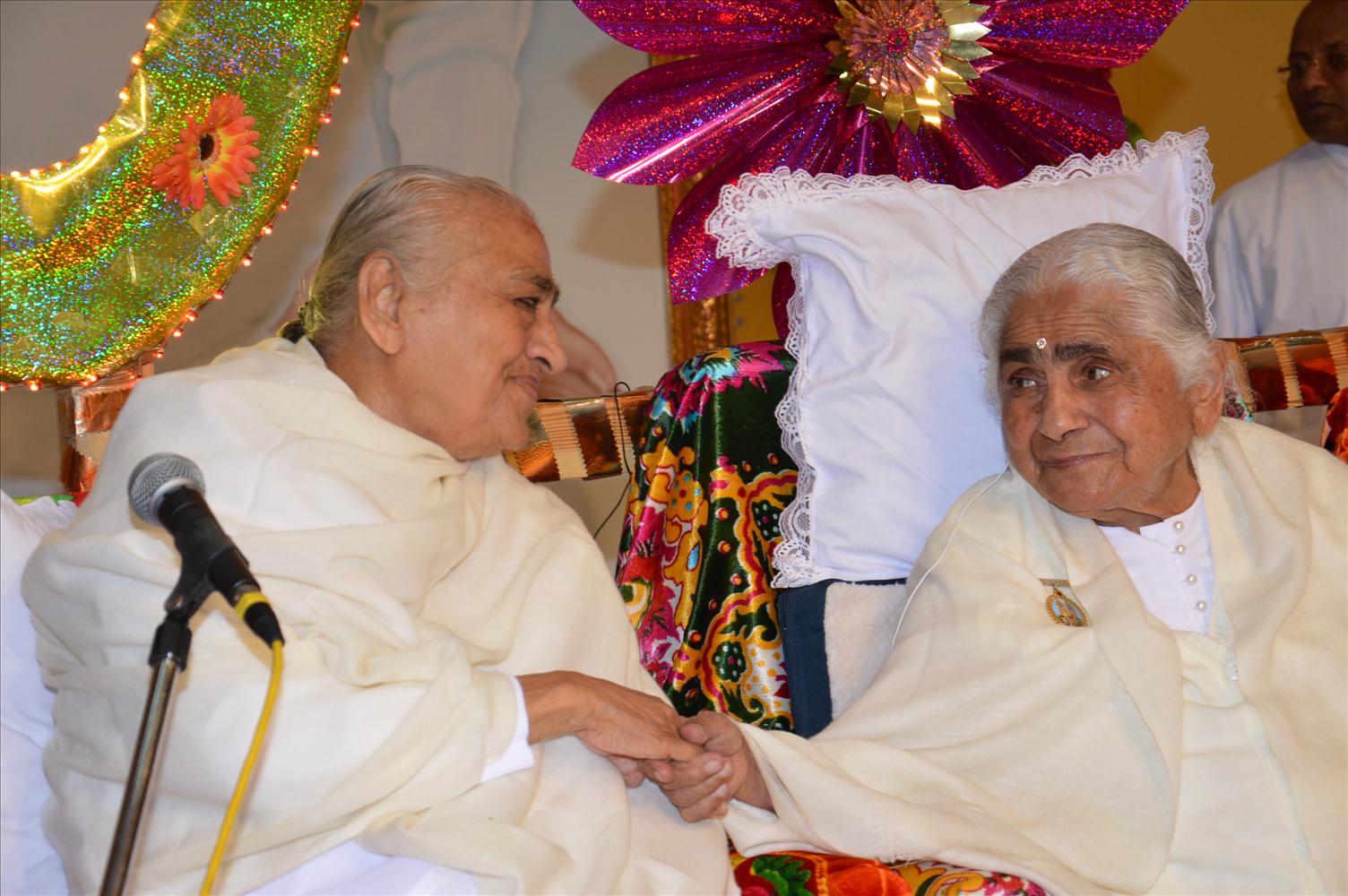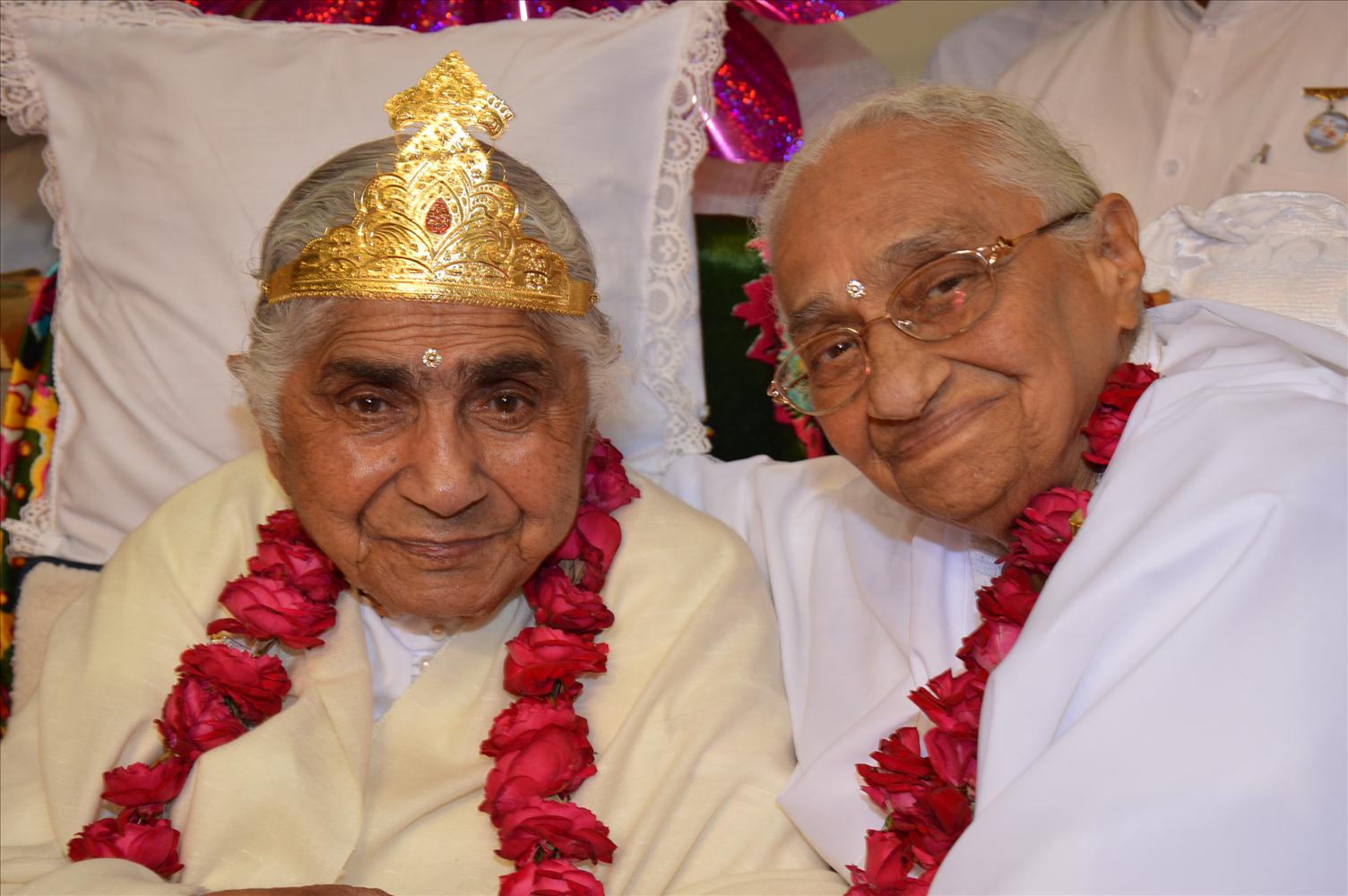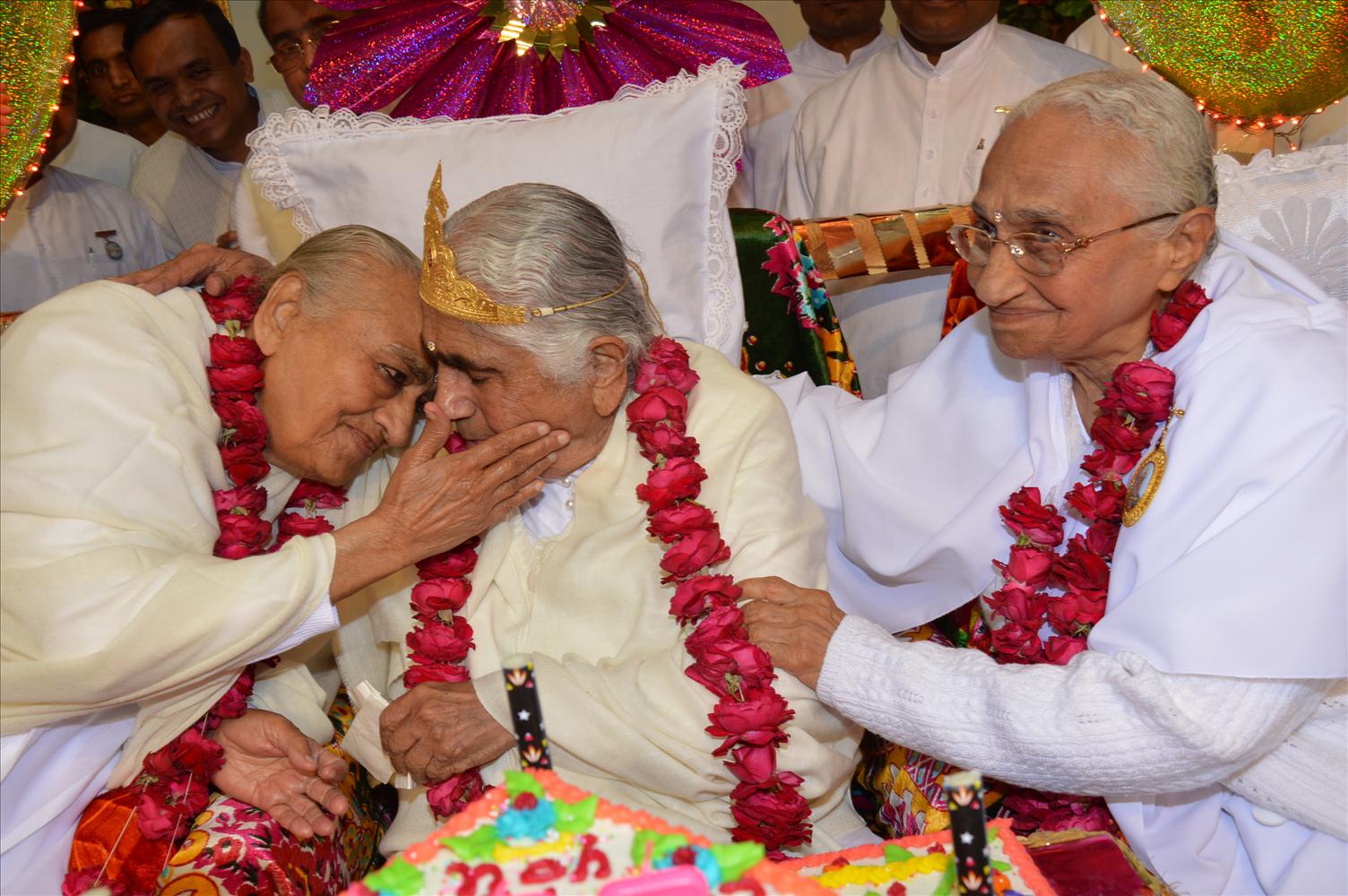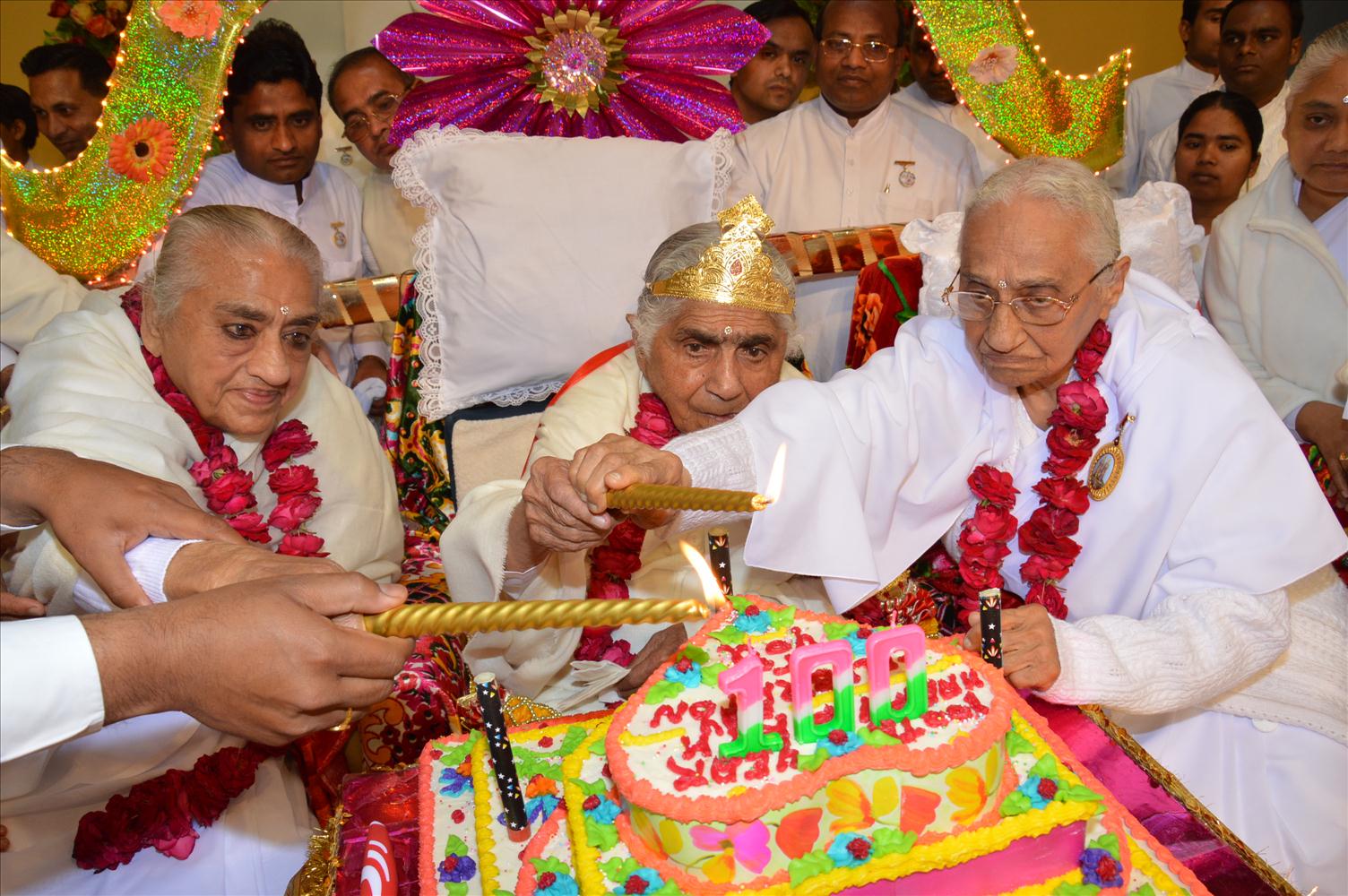 Governor of Punjab and Haryana, HE K. S. Solanki Inaugurates Social Leaders Conference at Abu Road
9 March 2015
Shantivan, Abu Road (Raj.) : The Governor of Punjab and Haryana, His Excellency Kaptan Singh Solanki, inaugurated a Social Leaders Conference and Meditation Retreat on 27th February.
The theme of the retreat, which lasted through 3rd March, was "Experiencing God's Love and Power through Social Service".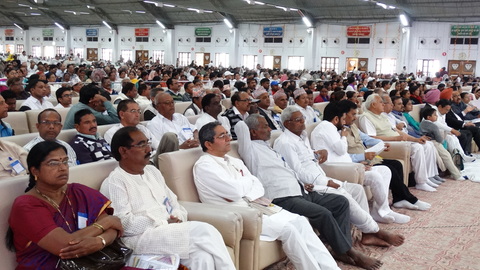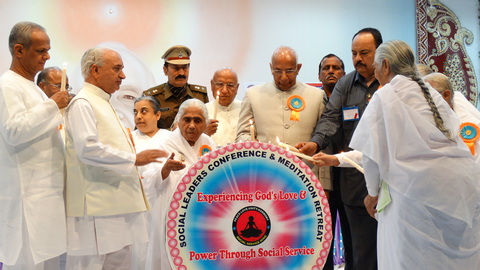 Announcing Upcoming National Media Conference on "Promoting Yoga & Spirituality: Role of Media"
8 March 2015
Dear Divine Family,
We are pleased to inform you that the Media Wing of RERF is going to organize a National Media Conference & Meditation Retreat on "Promoting Yoga and Spirituality: Role of Media" from from 5th to 9th June, 2015 at Gyan Sarovar Academy, Mount Abu.
We are sending herewith the following attachments:-
1. Media Conference Brochure in English - Page1, Page 2
3. Letter for Centres regarding conference in Hindi
4. Sample Invitation letter for Media Delegates
You are requested to collect the Conference Brochure from Media Wing Office (Anand Bhawan), Shantivan.
For registration, please contact: Br Shantanu, HQ Coordinator, Media Wing, Mount Abu (Raj.)
Email : mediawing@bkivv.org / mediawing@gmail.com

Sr Jayanti Reports on the Special Retreat for 35+ Years in Gyan BKs & Dadi's Centennial Celebration in Pandav Bhawan
8 March 2015
6th March
On 5th March the three Dadis had photographs taken with the Madhuban Niwasis on the steps of the Meditation Hall, and as you can imagine the Niwasis were very, very happy. After that, Dadi Janki came to join the +35 group, even though some had already left. Many had shared their experiences earlier in a session with Sr Waddy. Then a couple of people shared with Dadi being present, and melted everyone's hearts. Dadi then shared with the group.
In the evening, we had meditation in Om shanti Bhawan with Dadi after Didi Sudesh had taken class with the double foreigners. After meditation, Dadi met with the whole gathering, the +35 group, the other double foreigners, Madhuban Niwasis and sevadharis. After this, Dadi went on a wheel-chair tour of Sukdham, where the front courtyard had been transformed into an elegant dining room, and round to the back where they were making hot tandori rotis for all the double foreigners. Dadi gave drishti to the whole group and even tasted some of the things that were being prepared. Dadi then returned to the Tower of Peace. Dadi Gulzar happened to be on her evening walk at the time, and so the two Dadis met in front of the Tower of Peace with a lot of love. They also met together after dinner for chitchat. It was a very lovely scene.
On the 6th morning, Dadi Ratan Mohini celebrated Holi with the gathering after class in Om Shanti Bhawan. In Gyan Sarovar, we also had a small celebration. The senior teachers began the dancing and had the whole group up dancing too! Holi has been honoured in a very lovely way.
5th March
Yesterday morning was a very sweet conversation with the three Dadis. Firstly, it was with Dadi Ratan Mohini about all her early experiences about going to Japan and London, and then with Dadi Janki. Dadi Gulzar also joined us briefly and was then there for the gift ceremony also. It was very beautiful to see the love of the Dadis when they are together.
In the evening, there was a special programme for Dadi Janki's centennial year which everyone enjoyed. I think Dadi also enjoyed it but of course she said, don't remember me just remember the One!
There was also a great skit by Brothers Yogesh, Neville, David Goodman and Minesh and they acted out the five forms that Dadi's right index finger takes on to guide, inspire, and transform us: the first where she points upwards to remember only the One; the second pointing towards Brahma Baba to follow his footsteps when we have to make decisions in situations; thirdly towards the self when it comes to transformation 'I first'; fourthly to point to others when it comes to keeping others ahead on the field of service, and fifthly the 'wagging finger' of Dadi which comes when we need firmer handling and helps us have realisations. It was great fun!
4th March
The retreat for those over 35 years with Baba has been happening and in the morning after the Appreciative Enquiry style conversations that happened, Sr Maureen and Sr Sudha interviewed Dadi Janki, and what she shared was very lovely. Dadi then gave toli to all the participants. In the evening was the special Yoga Bhatti for the retreat participants with the RCs. From 7pm, Dadi gave drishti to each one individually and toli. Didi Nirmala gave everyone a very beautiful box of fruits and nuts that had been prepared. It was a very beautiful evening, with everyone taking benefit. At the end, it was lovely to have Dadi dance with many of the group. Everybody was clapping and dancing, and Dadi danced with a few in the front.
The 4th is the last day of the retreat and no doubt will be very special too, as our two other Dadis are coming up the mountain to meet the group in the late morning session. This evening is the celebration in Om Shanti Bhawan for Dadi Janki, and many senior Madhuban Niwasis including Brij Mohanbhai, Munniben and Sarla Didi will be joining us for that.

Photos of Madhuban Niwassis with the Trimurti Dadis
6 March 2015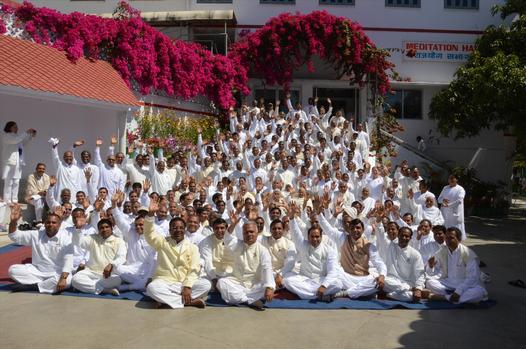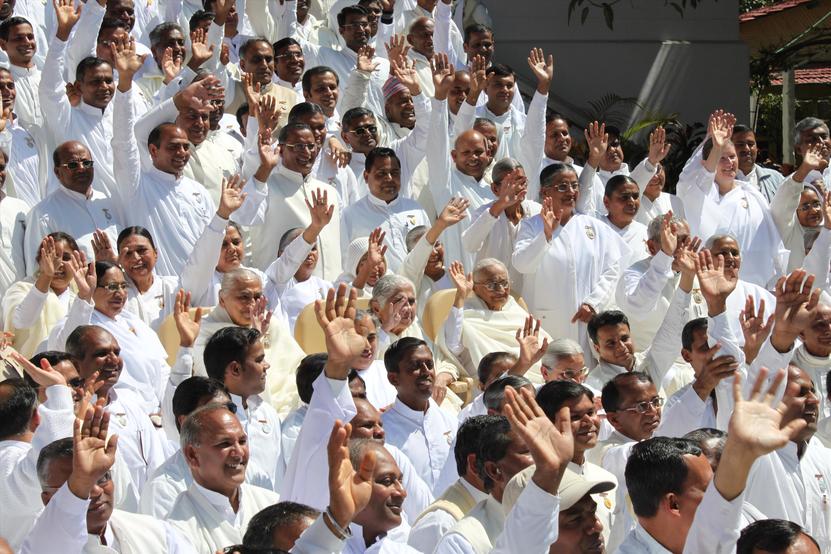 News from Sr Jayanti In Gyan Sarovar on 27 February
2 March 2015
Dadi Janki is in Gyan Sarovar and it's still very cold on top of the mountain, but in fact even Shantivan it is cold in the mornings, whereas a few days back we were having fans on all the time! Somewhere there's been snow and the impact of the cold has reached Abu.
Dadi usually meets groups from 12 noon and then in the evening conducts meditation and takes class. At night also Dadi has been meeting a few people for goodnight chitchat. So Dadi is having service and also relaxation for the moment.
Most of the double foreigners who were here for the last group have gone, and the new ones are only just beginning to arrive so it's a little bit quiet. But meanwhile, there are also preparations going on for the 35 year+ retreat which starts on 1 March. Dadi Gulzar and Nirwairbhai are still in Ahmedabad where Nirwairbhai is having checkups for his health.

Three New Hindi Audio CDs (ACD) of MP3 Songs Released on the Eve of Shivratri
23 Febuary 2015
Ruhani-Safar
Singers - Br Padam Kumar, Br Aditya, Br Devanand
Music - Br Padam Kumar
Lyrics - BK Ramesh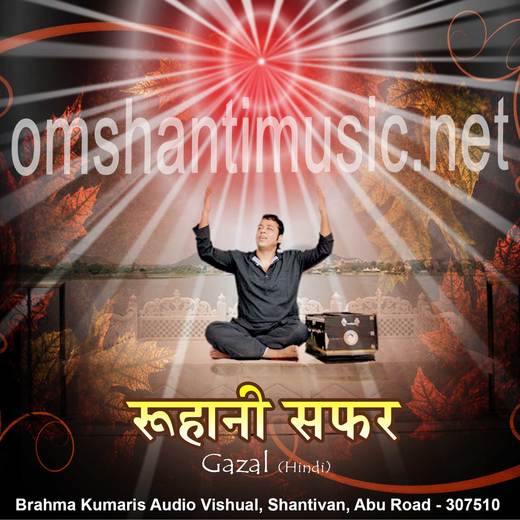 http://omshantimusic.net/ruhani-safar-gazal
Param-Histeshi
Singers - BK Hemant, BK Renu Jain (Panchkula), Abha Rana
Music - Pandit Subhash Ghosh (Chandigarh)
Lyrics - BK Ramesh
http://omshantimusic.net/param-hiteshi
Pathshah Duniya Da (Punjabi Songs)
Singers – Br Omprakashm, Sr Urmil, Br Dr. Nitish
Music- Bulley Shah
Lyrics - Br Omprakashm
http://omshantimusic.net/patshah-duniya-dapunjabi-songs

Head's Up Re: National Media Conference & Retreat to be held from 5th to 9th June in Gyan Sarovar
23 Febuary 2015
We are pleased to inform you that the Media Wing of RERF and Brahma Kumaris are going to organise a National Media Conference and Meditation Retreat from 5th to 9th June, 2015 at Brahma Kumaris Headquarters, Gyan Sarovar Academy, Mount Abu (Raj.)
Who can participate?
About 400 Senior Media Professionals like Owners, Editors, CEOs, Directors, Bureau Chiefs of Newspapers, Magazines, TV Channels, Radio; PROs, Cable TV Owners, IT Professional, Media Academicians and Experts will participate. Non-media persons and Family Members are not permitted to attend this Media Conference.
Programme (Tentative) :
Friday, 5th June, 2015: Arrival and Registration before 4 pm, Reception Session- 6.00 pm
Saturday, 6th June, 2015 : 10.00 am - Inauguration and Full Day Conference Sessions
Sunday, 7th June, 2015 : Full Day Conference Sessions
Monday, 8th June, 2015: 9.30 am - Sight Seeing, 5.00 pm onwards up to 9th June - Departure
Registration :
Please fill up the registration form provided in the link below. Registration forms will be accepted on merit and first come, first serve basis. A photocopy of the participant's Media Identity Card and Visiting Card may kindly be furnished along with the Registration Form.
For Registration and Details of the Program, please contact:
B. K. Shantanu, Coordinator, Media Wing (RERF) and Media Conference
Media Wing Office, Brahma Kumaris, Pandav Bhawan, Mount Abu (Raj.) 307501
or
Media Wing Office, Brahma Kumaris, Anand Bhawan, Shantivan, Abu Road (Raj.) 307510
Cell: 94141-56615, 99287-56615 Tel / Fax : 02974-238615
Email: mediawing@bkivv.org, mediawing@gmail.com
Best Regards
BK Omprakash
Chairperson, Media Wing (RERF)

Shiv Jayanti Celebrations at Gyan Sarovar in Photographs
23 Febuary 2015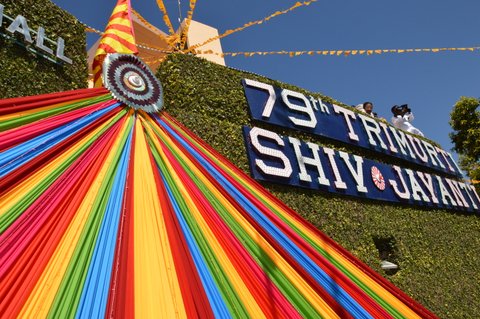 12 Febuary 2015 Shiv Jayanti Celebrations at Pandav Bhawan in Photos
23 Febuary 2015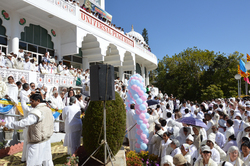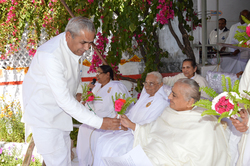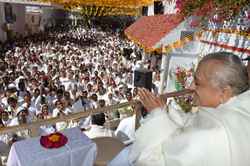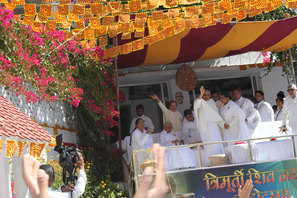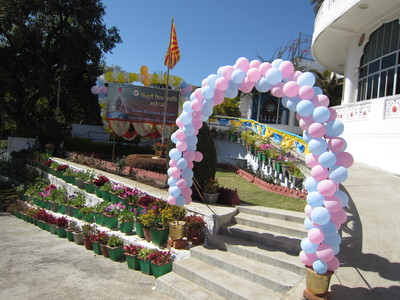 News from Sr Jayanti - 21 February
23 Febuary 2015
On Thursday, Dadi Janki was in Pandav Bhawan and then came to have a chat in Gyan Sarovar with the senior teachers from across the world. In the evening I shared the essence of the things we heard in the morning with a small group, and then Dadi added all the things I missed out which was great. On Friday morning I left for Amritsar and arrived on 20th afternoon. I went from Shantivan which was quite warm and Gyan Sarovar which was very pleasant (spring-like) to bitter winter. Here, in the morning, they'd just had hailstones and the night before the same, so it was very, very cold. There is a large group of double foreigners who have come to join the Future of Power programme. It's actually the largest group of double foreigners that's joined any of the Future of Power programmes.
On 21st, we had the Future of Power Dialogue in Amritsar in Holiday Inn, which is a very lovely place. There were 48 top-level people from all professional backgrounds, including one of the main priests from the Golden Temple. The Dialogue continued till 2.30pm. At 4.30pm we had class at the Retreat Centre, Vishwa Shanti Bhawan, where we are all staying. This was for around 250 souls from Amritsar and neighbouring places, and it went on till 6.30pm.

16 February 2015 Shiv Jayanti Celebrations with Avyakt Bapdada in Photographs
20 Febuary 2015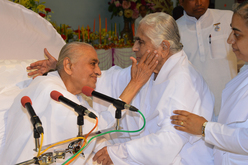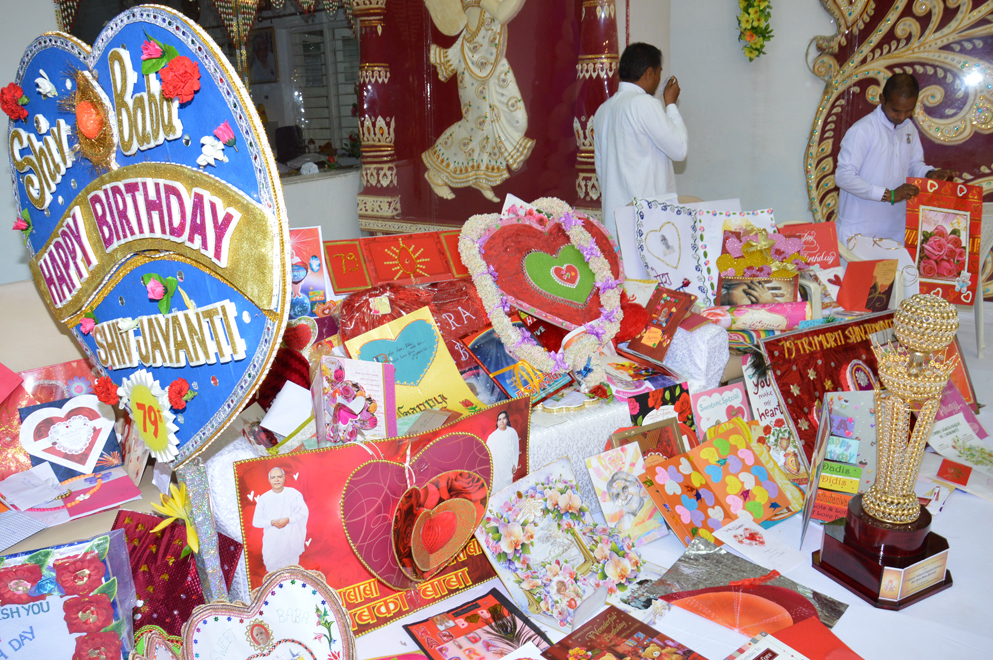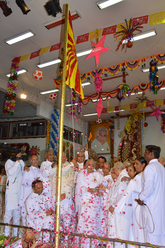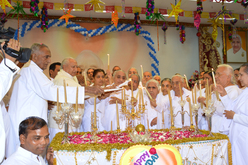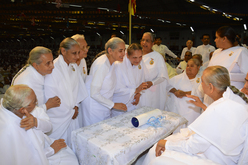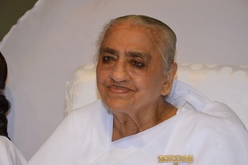 18th Febuary News from Sr. Jayanti - Dadi in Gyan Sarovar and Pandav Bhawan
19 Febuary 2015
The double foreigners put together a lovely celebration for Dadi's 99th birthday on the 18th morning in Gyan Sarovar. We had Chrissy from Australia narrate the story of Dadi's life, sisters from Canada present a dance, and brothers from Australia share beautiful music. Dadi was pleased to be with the global family.
The scene at the celebration's end was very touching. After the cutting of the cake, Dadi was taken in a wheelchair across the whole stage so that everybody could take drsihti. They then brought Dadi down into the audience, and took her in the wheelchair up one aisle of Harmony Hall and then down another aisle, so that everybody could get close up drishti. It was a memorable scene.
Though the plan had been to return to Shantivan after lunch, Dadi suddenly decided that she wanted to come to Pandav Bhawan in the afternoon, and stay the evening for class. So Dadi did come to meet everyone in Om Shanti Bhawan for evening meditation and short class. Dadi shared she really wanted to stay the night, which was met with applause and big smiles!
Dadi will return to Shantivan on Thursday and Dadi plans to travel to Ahmedabad to be present for the Opening of the new Diamond Lotus House on 22nd morning, Baba's new accommodation especially for double foreigners, close to Lotus House.

News of Sr. Jayanti's trip to Madhuban
17 Febuary 2015
I arrived in Abu, met both Dadis briefly and came up the mountain and there was a class in the evening. On Sunday Dadi Janki came up the mountain to meet the 1000 double foreignerswho are here. I came down the mountain to take the Teachers class in Shantivan and Dadi came down the mountain after taking class and giving toil to about 700 of the DFs and Sudesh Didi carried on afterwards.
Sunday was a silence day in Gyan Sarovar and of course it was the 3rd Sunday of the month and that was very beautiful. It began with Sister Mohini from New York doing a Skype call with all of us and sharing her insights and experiences through her period of intense tapasya in New York. She shared beautiful insights into silence and it closed in the evening with powerful meditation but also with many angels holding candles coming up the aisles and lining the stage. It was a very beautiful scene. We are all preparing internally for Baba's meeting on Monday.

"Life Beyond Business" Conference in Shantivan
, Feb 1st to 3rd
1 Febuary 2015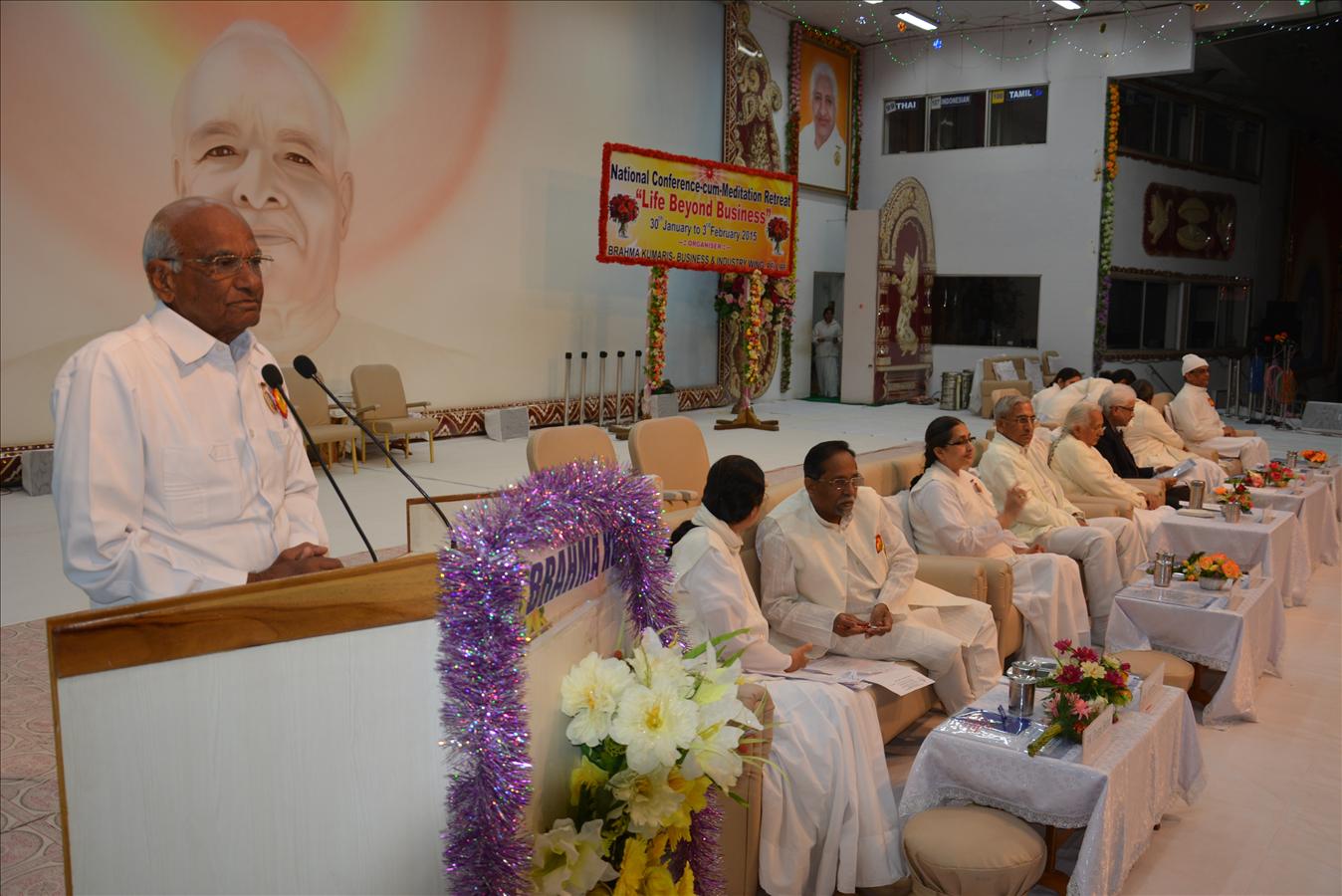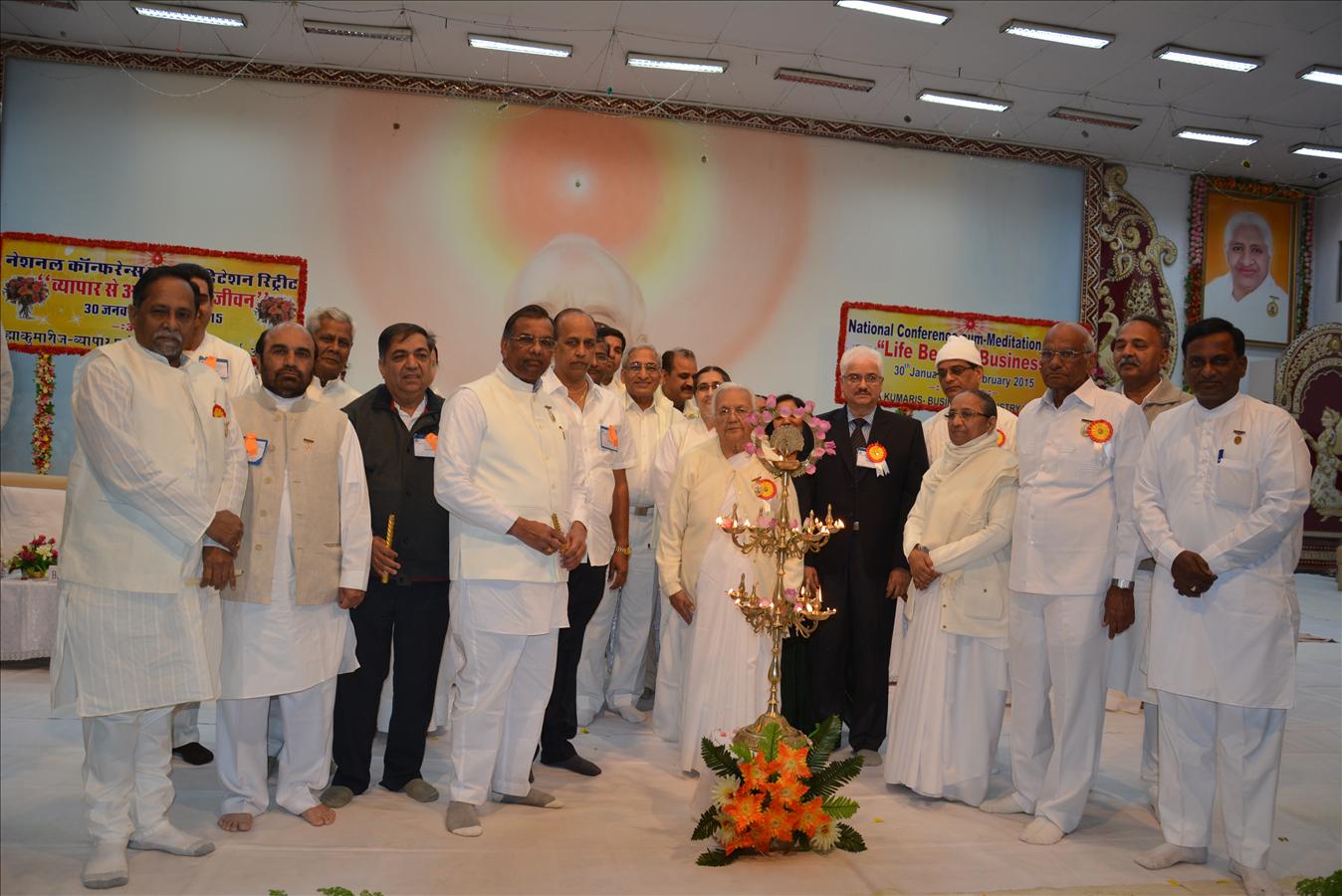 Dear Divine Sisters/Brothers,
Accept the greetings of love, peace and happiness from Business & Industry Wing, Vile Parle, Mumbai, National Co-ordinating Office.
With the blessings of Shivbaba and good wishes of all Dadijis and the Brahmin Parivar, Business & Industry Wing has organised a National Conference-cum-Meditation
Retreat on the theme of "Life Beyond Business", from 30th Jan. to 3rd Feb. 2015 at Brahma Kumaris Shantivan Complex, Abu Road.
We have attached herewith the programme schedule of same and also the photographs of the inauguration of the conference.
In Spiritual Services
BK Pratibha Behn
Click here for schedule in Hindi.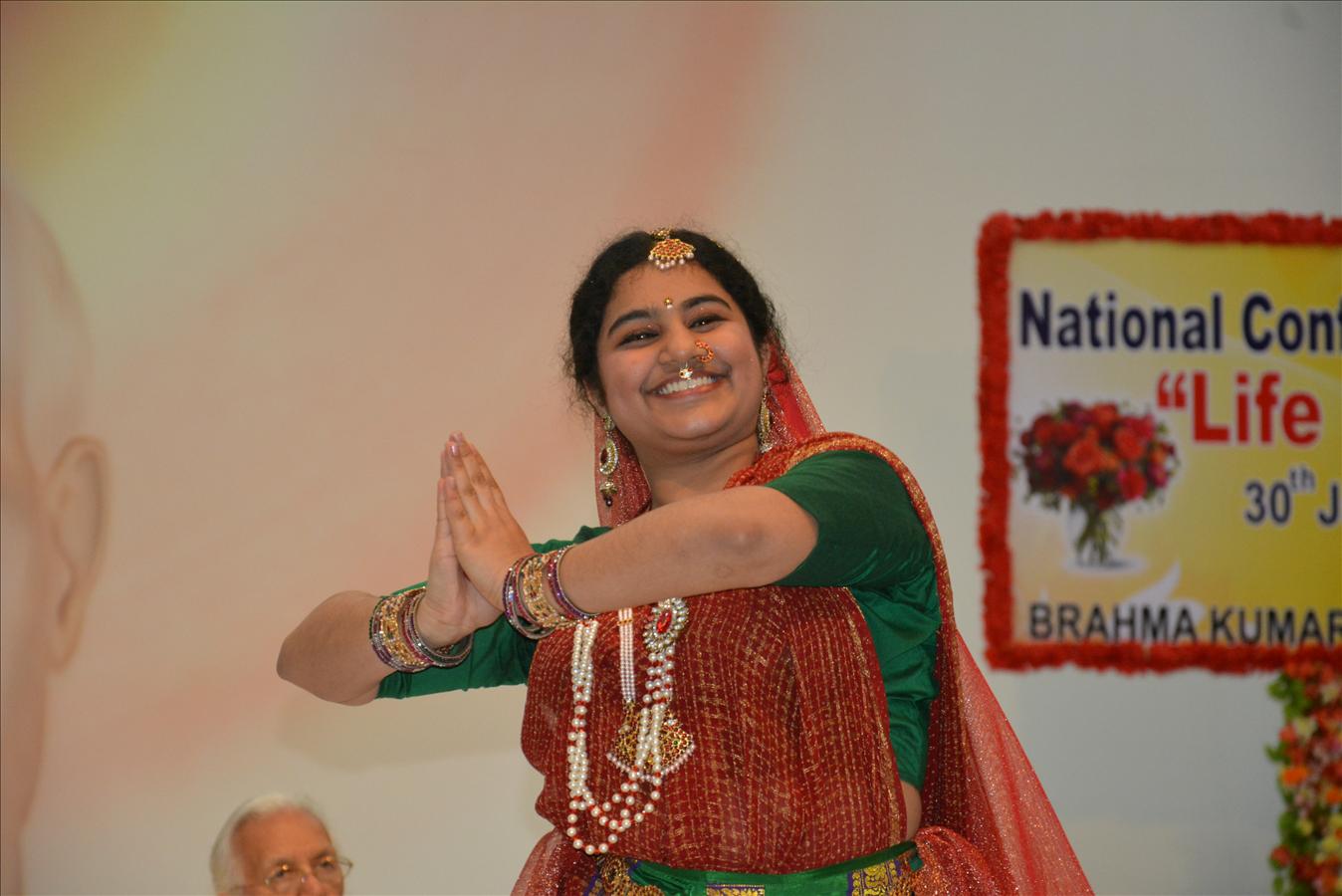 Photos of the Cultural Program presented by Sister Gracy Singh, well-known Bollywood Actress and Classical Dancer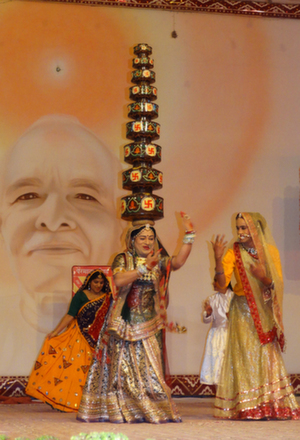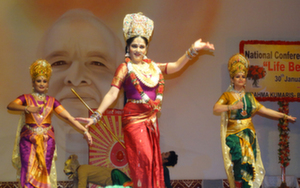 Madhuban Releases Five New Hindi Songs CDs
22 January 2015
Please click on the images below to reach the page from which you can download the songs:

News of Our Beloved Dadis Visit to Pandav Bhawan on the 18th
20 January 2015
Since the early morning hours of 18th morning, as expected, hundreds of Brahmins have been silently taking benefit from the four pilgrimage places and singing praise of our fortune of being sustained by Brahma Baba in this lifetime.
Dadi Ratan Mohiniji had come up last night and was present to read Baba's Murli on 18th morning to a very packed Om Shanti Bhawan. This was followed by Bhog offering, hearing Baba's message and then coming down and encircling Tower of Peace to pay our deepest respects to Brahma Baba.
We had a delicious breakfast of the traditional carrot-milk (always prepared for 18 January), and fruits (banana, apple, dates, coconut pieces).
At around 10.30am we started getting news that Dadi Jankiji is half way up the mountain! Our brothers prepared the courtyard to ensure that Dadiji could be steered in the best way through the four pilgrimage places, amidst 300-400 people who were taking their turns patiently. Everyone was truly elated on seeing Dadiji. There have been a few times in the past years when Dadiji has not been able to come up on 18 January due to cold weather and delicate health, so seeing her here was such a blessing: BapDada's first gift to us. After visiting the Hut, Dadiji shared that she wished to visit Baba's Bhandara (Kitchen).
While she set off to see the Bhandara, Dadi Gulzarji drives into the courtyard at 11.30am! That was Baba's second gift. Dadi Gulzarji went on her round of the 4 pilgrimage places while Dadi Jankiji and Dadi Ratan Mohiniji returned from the Kitchen and settled down in History Hall in Baba's sweet, silent remembrance.
It was beautiful to have Dadi Gulzarji join the two Dadis in History Hall. There was very sweet exchange of drishti, hugs, smiles and chit-chat amongst the Dadis for few minutes. Dadi Gulzarji then left for Shantivan, while Dadi Jankiji came to her favourite residence, Indraprasth (by Tower of Peace) to have breakfast at 12.15pm! She enjoyed the milk and a few dates. Dadi Janki shared how she was getting the deep pull since Amritvela to come up to Pandav Bhawan. She had shared this with Dadi Gulzarji who was saying she probably won't visit Pandav Bhawan because of it being Baba's day. But Dadi Jankiji was amused that Dadi Gulzarji decided to come up half an hour later. So it was Baba's energy and love that brought the Dadis comfortably up despite the delicate state of their chariots. That undoubtedly was proof of their commitment, dedication and love for Brahma Baba, and Shiv Baba of course.
Dadi Jankiji also visited Baba's Museum and Gyan Sarovar before returning to Shantivan.
Om Shanti
Madhuban Family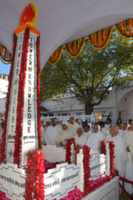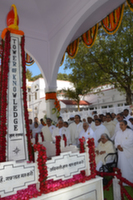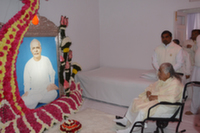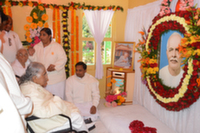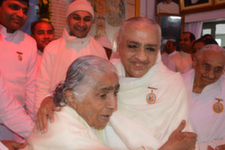 Loving Sentiments for 18th January from BK Nirwair, Madhuban
16 January 2015
Dear divine sisters and brothers across Bharat and the globe,
Please accept hearty greetings of peace and Baba's love.
We have been observing inner quiet from the beginning of January. Most of the sisters and brothers have been very focused on setting the past into the past, and rejuvenating the self spiritually for which collective efforts in meditation and individual attention on karma yoga (yoga in action) have proved to be very beneficial for one and all. It seems like 2015 will be very auspicious for all of us as the clarity of thought about making spiritual endeavours is crystal-clear after listening to the past Avyakt Murlis since October 2014.
Br Raju (Murli Department, Madhuban), on advice of Dadi Jankiji, has brought out a publication containing some of the Avyakt Murlis to be studied and imbibed through the Year. Dadi Jankiji, after returning from Ahemdabad on 13th in better health, was very eager to share those Elevated Versions in other languages and so this has come to you already in English from Jasuben of London.
Our prime focus for this month of January has been Sakar Baba's image of tapasya as an 'Easy Rajyogi', which would enable us to lead natural lives of being ever-immersed in God's love. The more we have interest in observing the image of togetherness with the One, the more we develop deep feelings of nearness and similarity/ equality with Brahma Baba. As we heard from Baba's versions time to time, He wishes for us to become natural yogis and not hatha yogis or 'hard yogis'! Just the mantra of two words would serve the purpose: Remain focused and determined while pursuing one's goal. There is no need to falter at any step when we have the Supreme Guide and His Guidance with us. Rather, we should remain ever-elevated and intoxicated in super-sensuous joy and accomplish our goal to become like Sakar Brahma Baba.
This communication is also to convey the good news that our Dadi Jankiji returned to Shantivan few days back in much better health, after receiving treatment from Dr Sudhir Shah, Senior Neuro-Physician, Dr Sudanshu Patwari, Senior Gastro-Enterologist and Dr Shiraz Munshi, Pain Management Specialist. We trust the present medication will aide Dadiji in leading a very meaningful life, as in the past, to serve humanity as she so greatly desires. In our chit-chats, Dadiji had been requested to record her memoirs of 78 years year-wise (if possible!) so that we have an additional record of Yagya History. She is quite enthusiastic about dictating the same, and has already started sharing stories in her classes!
With Godly love, remembrances and blessings from respected Dadi Jankiji, Dadi Gulzarji, Dadi Ratan Mohiniji and the divine family members of Madhuban,
B.K. Nirwair

Giving the Return of the Avyakt Sustenance: A Message from Dadi Janki
, plus:
A Tapaswi Life Booklet for 2015, The Year of Tapasya
16 January 2015
To BapDada's Dearest Divine family across the globe,
Greetings of love and peace for the powerful Avyakt month of January and the Year of Tapasya.
Now, in 2015, we are celebrating the newness of the New Year with January as the special Avyakt month.
This year, I would like us all to celebrate not just the month of January, but the whole of 2015 as the Year of Tapasya. By taking power and blessings from this year we can imbibe the qualifications according to our aim.
Our beloved Brahma Baba attained his stage of perfection in the month of January and became a resident of the subtle region. For 46 years, Brahma Baba has come from the subtle region to the corporeal world to make us complete and perfect. Brahma Baba's desire is to make us the same as himself, and he decorates us with so many teachings to give us the avyakt experience.
Our Beloved Avyakt BapDada has given us avyakt sustenance for so long, and now is the time to give the return by following in the footsteps of Father Brahma. Definitely have the aim to become the same as Brahma Baba. For this, let each one have the determined thought to remain introverted and free from waste.
Let every Brahmin child keep a new aim to do intense meditation to experience the different stages of tapasya. This small booklet has been printed with this in mind to support your practice of tapasya. Every fortnight, practise and experience a new stage, by doing this collectively the vibrations of so many pure souls will help to transform the tamoguni atmosphere in the world. As we practise in the gathering the atmosphere at every service place will become ayvakt and powerful, through which the revelation of the one Father, the Sun of Knowledge will definitely take place.
My pure wishes are that each and every one of Baba's children becomes an instrument to reveal BapDada through their face and behaviour. Become an image that grants visions
and enable the drums of victory to beat. I am sure that each one of you will keep this aim as you study this book carefully and become the embodiment of the points.
With all good wishes for my divine family
In Godly service
B.K. Janki
Note: We have only just received the Hindi manuscript to be able to translate the first four months for us to collectively work on the homework given to us by BapDada. The rest will follow soon. (We have already begun homework for month of January as these points are the at the end of each day's murli and have therefore, not included the points for the month of January with this.)
The Year of Tapasya (English Only)

Invitation to Radio Madhuban's 4th Annual Day Celebrations
16 January 2015

Message from Nirwairbhai Regarding Dadi Janki's Current Health Status
8 January 2015, 12:30pm
Dear divine sisters and brothers of Bharat and abroad,
Please accept hearty Godly love and remembrances, along with loving greetings from Dadi Jankiji.
Perhaps you would have heard that Dadi Jankiji needed to consult her doctor in connection with her medication, for which reason she was requested to be in Baba's home, Lotus House, Ahmedabad for a few days. She accepted Sister Jayanti's suggestion to come over, and has been in Lotus House since 7 January evening. Dr Sudhir Shah, a very senior Neuro-physician who has always had great love and regard for Dadiji, came to meet her on 7th night at 9.30pm and spent quite some time looking at Dadiji's old problem of hyper-acidity and a bit of change in medication.
Looking at Dadiji's present state of observing more silence that normally seen, he advised us to put her on intravenous drip simply to manage her energy level. He has also advised nil food by mouth for now so that she takes 24-hours rest to help bring back the digestion system to order.
In Lotus House, Dadiji is taking complete rest with our sisters: Hansaben, Jayantiben, Pravinaben, Shrideviben making her feel very comfortable. It took a while for her to sleep last night, but she is now more restful.
I have shared with Dadiji the loving remembrances of all those who had telephoned me, and Dadiji responds by saying, "Do convey my loving remembrances to all our sisters and brothers of the divine family."
We hope Dadiji will be back on the rails in a couple of days, so that she can return to Shantivan soon. We request everyone to continue to send Dadiji their healing and powerful vibrations of love in Baba's remembrance.
With Baba's love,
B.K. Nirwair
(from Lotus House, Ahd)

Celebration of Dadi Janki's 99th Birthday on New Year's Day - News, Photos

& Link to Videos
2 January 2015
Divine Family, Om Shanti.
We celebrated the 99th Birth Day of our Respected Dadi Janki on New Year Day with great rejoice and enthusiasm.
Dadi Gulzar ji, Dadi Ratanmohini ji, BK Nirwair Bhai, BK Ramesh Bhai, BK Jayanti Behen, BK Munni Behen and several other seniors shared their experiences with Dadi Janki.
More than 3000 BKs and Guests attended the programme.
Kindly see the attached photos herewith.
You can Watch Live Videos of 99th Birthday Celebrations of Rajyogini Dadi Janki Ji by just opening following link:
Rajyogini Dadi Janki Ji 99th Birthday Celebrations - 1/1/2015, Shantivan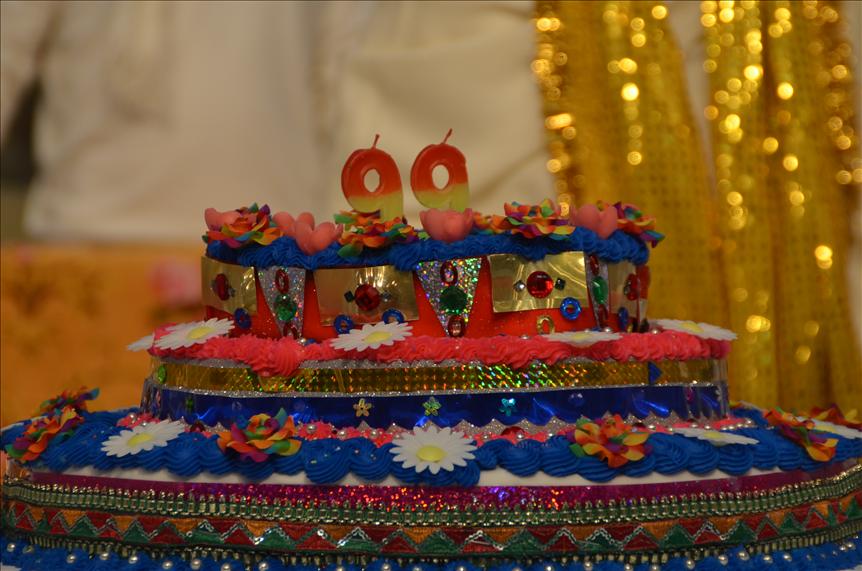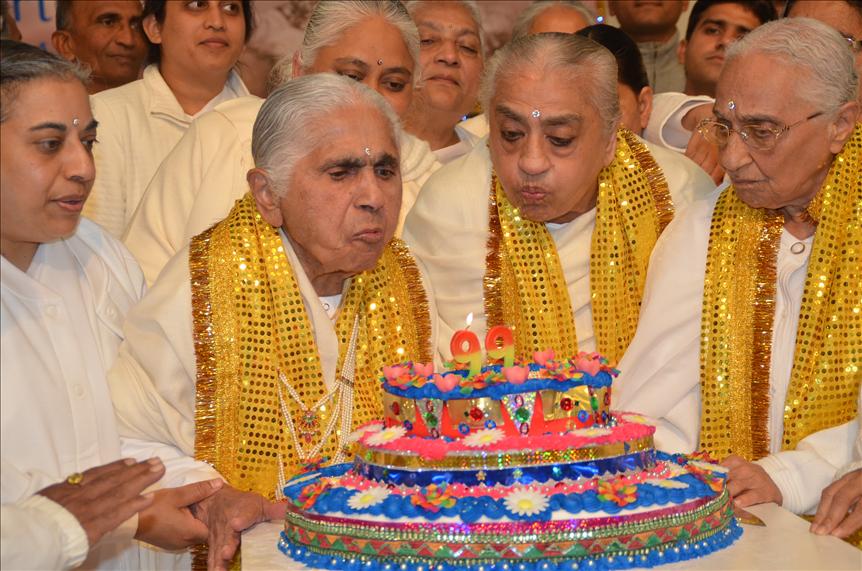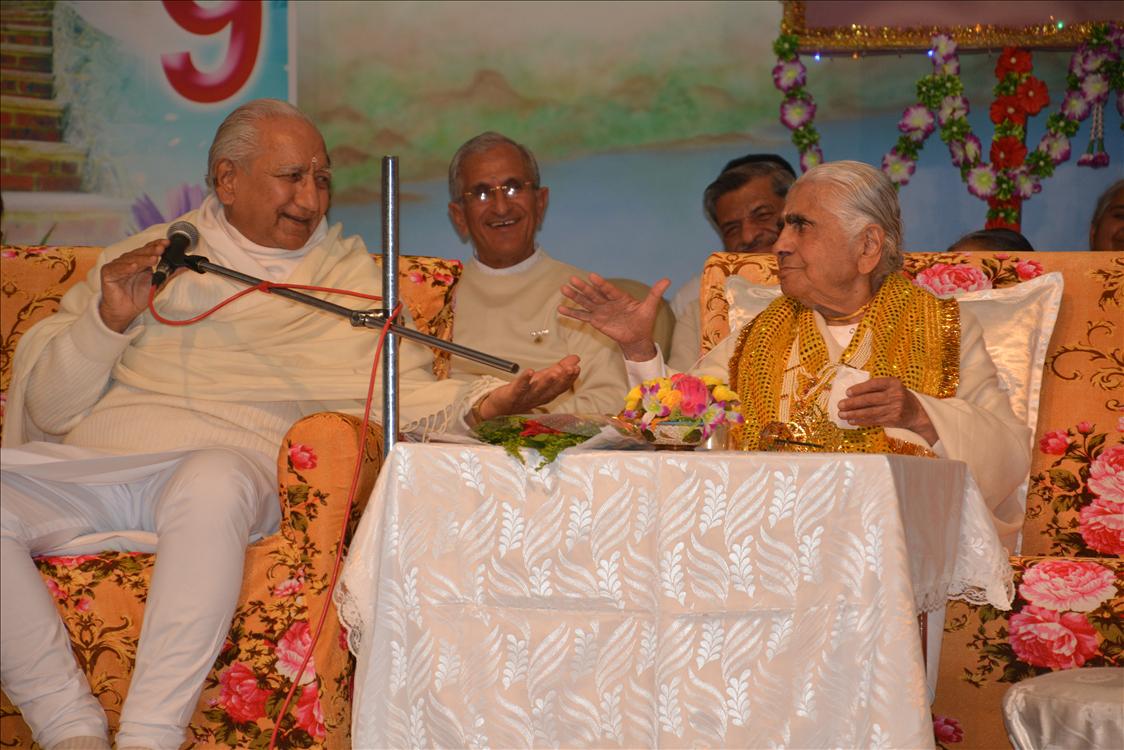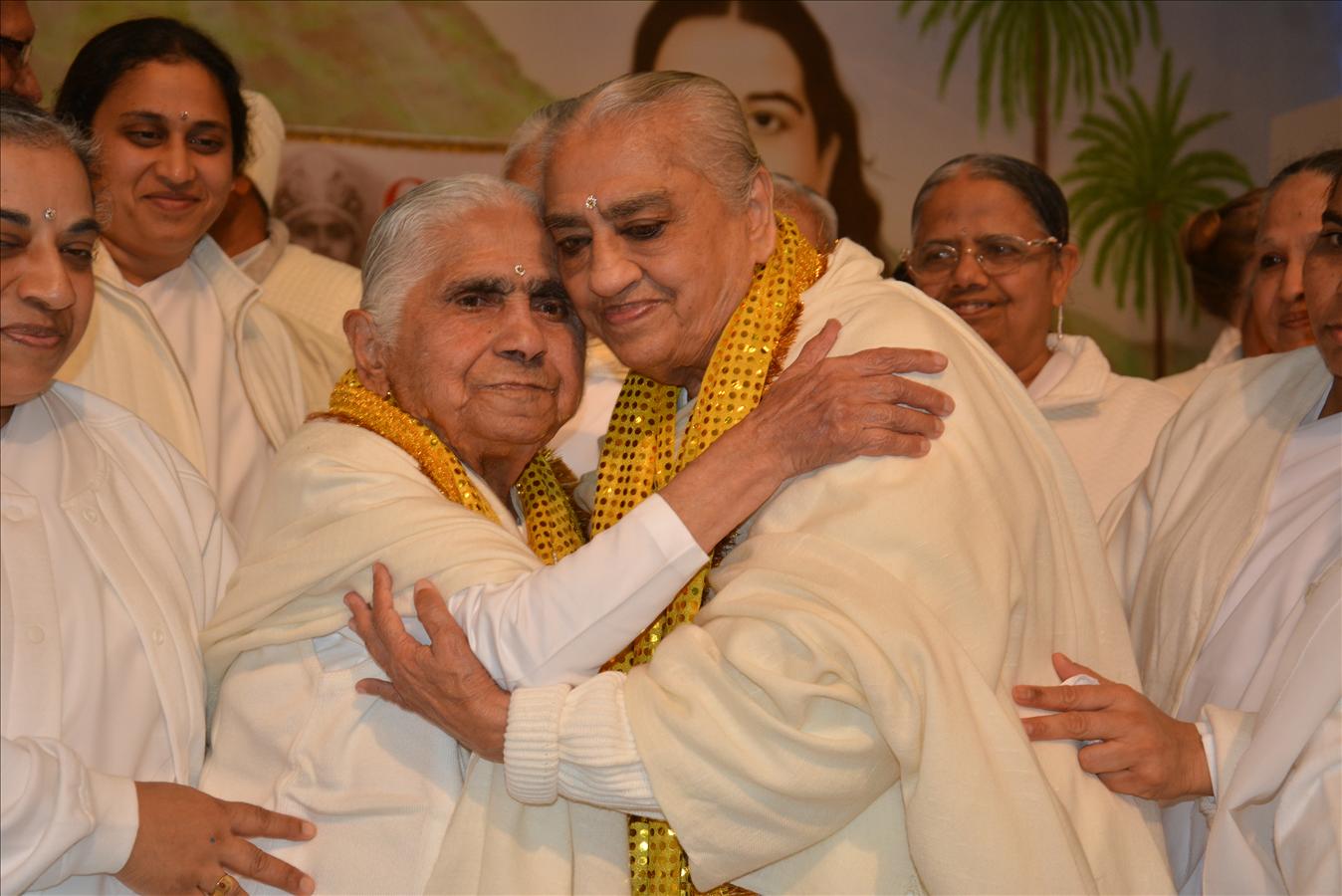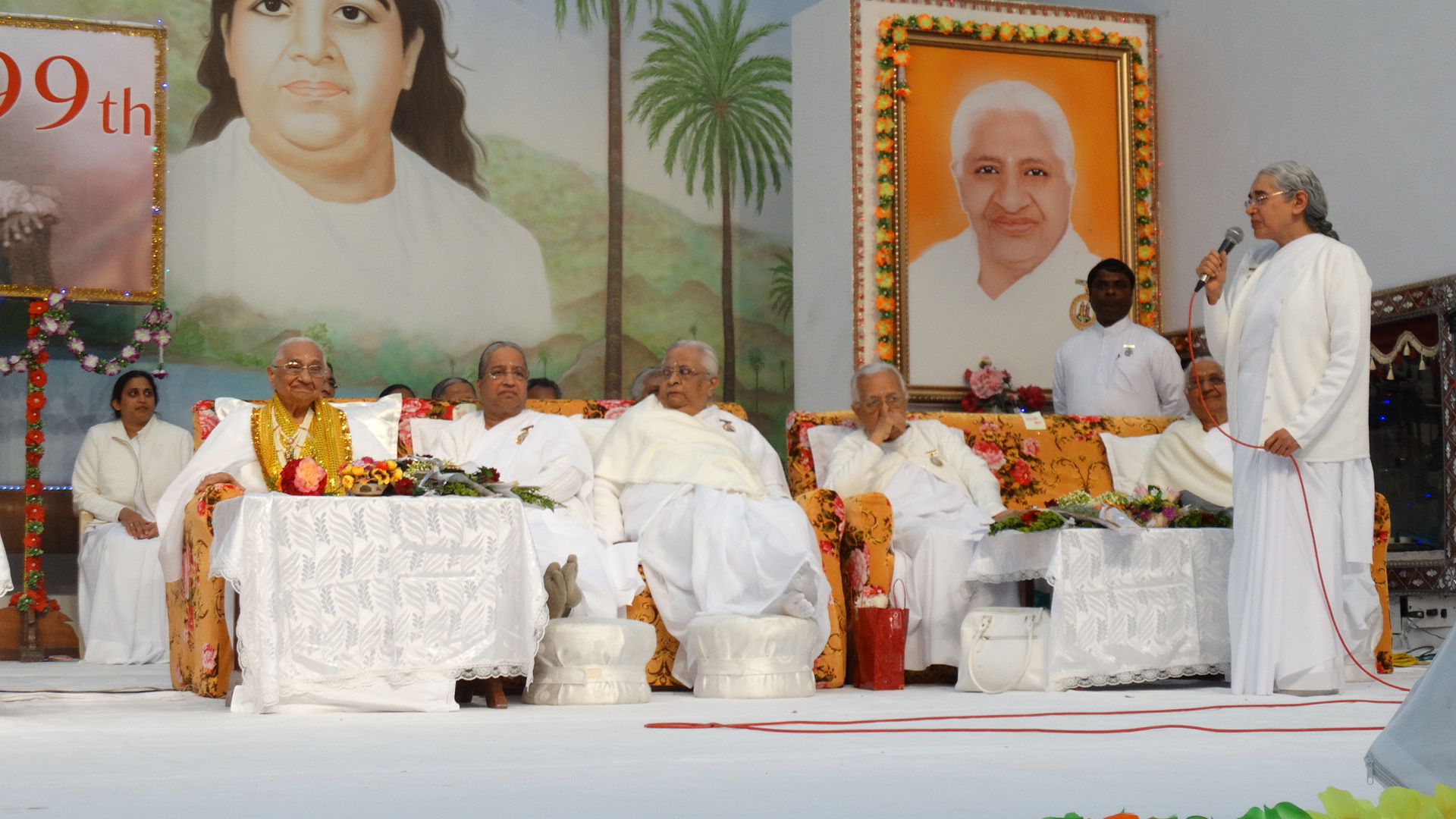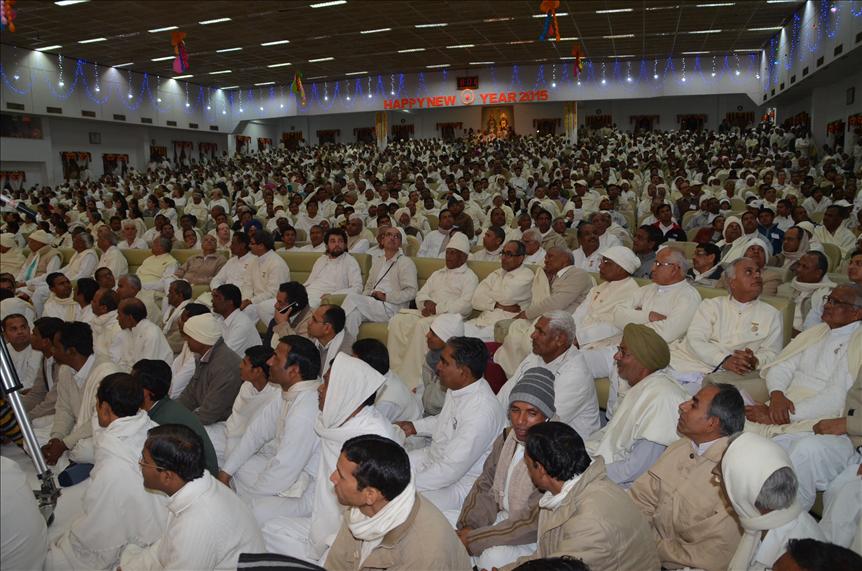 Madhuban New Year's Day News from Sister Jayanti
1 January 2015
We started the New Year with Thursday Bhog in Shantivan and a beautiful message from Baba about love and being happy all the time. Then around 11.30am we went into a celebration for Mohiniben's 74th birthday which was a sweet, lovely experience.
In the evening was a very grand celebration for Dadi Janki. It was meant to be simple but it turned out to be quite splendid. There must have been around 3,000 people who came to Conference Hall for the celebration according to the number of picnic plates that were prepared. There was literally only standing room at the back of the hall and by the doors. People were also seated in the passages since we had the families from Pandav Bhawan, Gyan Sarovar and Global Hospital come down to join the celebrations.
Dadi Gulzar spoke about how we all take inspiration from Dadi's courage in conquering whatever happens in terms of the body. Nirwairbhai spoke beautifully of the service Dadi has done from the very beginning and continues to do even now. Rameshbhai shared his experiences of the early days with Dadi in Mumbai and also in London, so many sweet moments were shared. There were several other tributes by seniors.
I shared the dream that Dadi had had of service in a place where the family was ready to become Baba's and be instruments for service, and what Dadi had seen in her dream had been Aunty Betty's and Uncle Steve's home in Georgetown, Guyana. When I had arrived, I recognised it as the same place she had described.
Dadi was really not very well on the 1st, but managed to join the celebrations in the morning as well as the evening. Dadi shared beautifully both times.
All good wishes for a very happy New Year to each and everyone!